Winter E3
Spanje / Spain 3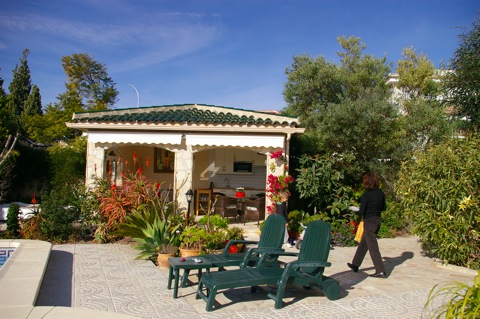 In Rojales zoeken we Astrid en Max op. Astrid is een klasgenote van Nutsschool Zorgvliet in Den Haag. We hebben elkaar ruim 51 jaar niet gezien. Sylvia en ik worden bijzonder hartelijk ontvangen. 's Nachts slapen we langs de stoeprand in een zijstraat, wat een stilte!
Not too far from Elche we visit an old school friend from the '50s and her husband, Astrid and Max. We are received with overwhelming hospitality.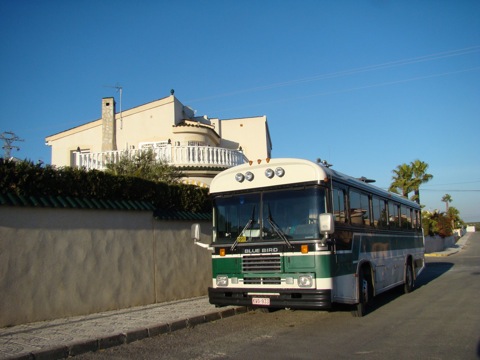 © foto: Astrid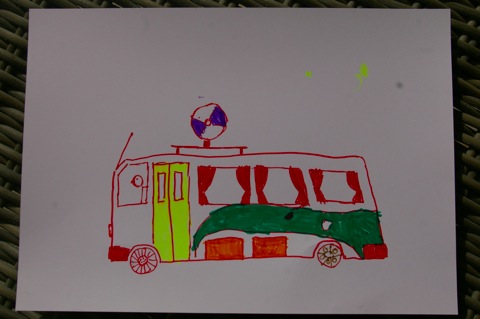 Kleinzoon Jaymie is dol op auto's. Hij heeft deze mooie tekening van onze bus gemaakt, compleet met satellietschotel.
Five year old grandson Jaymie made this detailed drawing of Skoolie. Notice the luggage hatches and the satellite dish!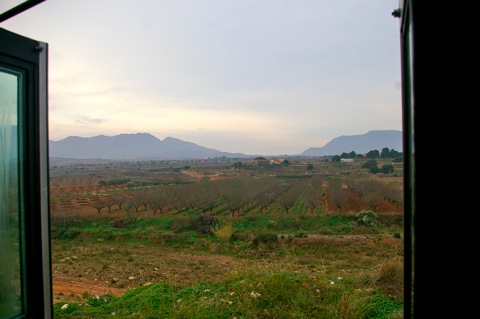 We vertrekken in de middag van Rojales verder zuidwaarts. De Area de Servicios Privada Multiservicios bij het Shell-station Belmonte Plus in Cartagena, die Sylvia op het web gevonden heeft, blijkt zo weinig uitnodigend te zijn, dat we snel doorrijden en stoppen op een braakliggend terrein vlak buiten het dorp Molinos Marfagones. Het uitzicht is adembenemend!
From Rojales we drive two hours south. The motorhome parking in Cartagena that Sylvia found on the web, looks awful, so we drive on and stop just outside Molinos Marfagones. From the bus we have a magnificent view.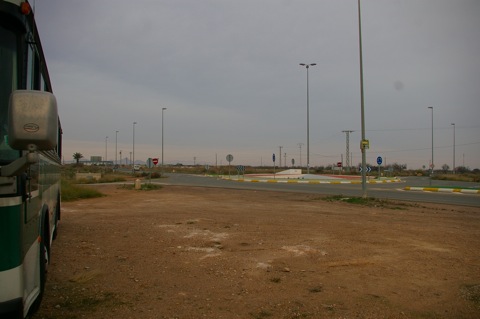 Het uitzicht aan de andere kant is een stuk minder fraai.
The view on the left is less inspiring.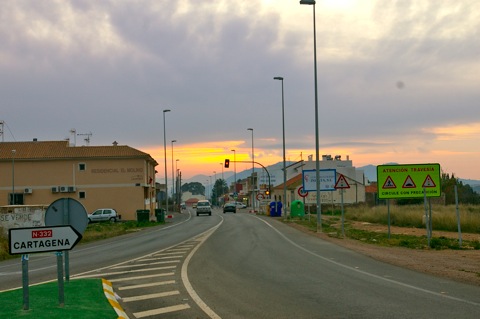 Early morning in Molinos Marfagones in de vroege morgen.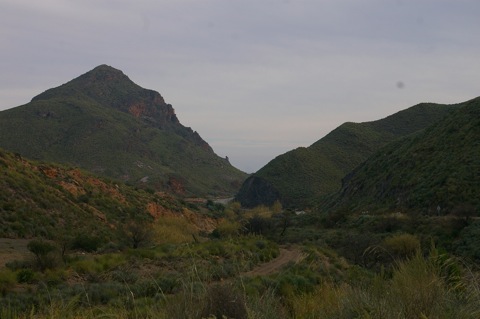 Verder zuidwaarts rijden we door bergachtig gebied,
Further south the mountains go all the way to the coast. Hence our road (we avoid the motorway) rises too.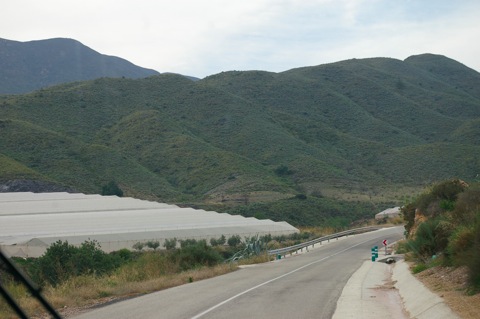 waar veel overdekte tuinbouw is. Men gebruikt hier plasticfolie i.p.v. glas.
This area has many plastic greenhouses.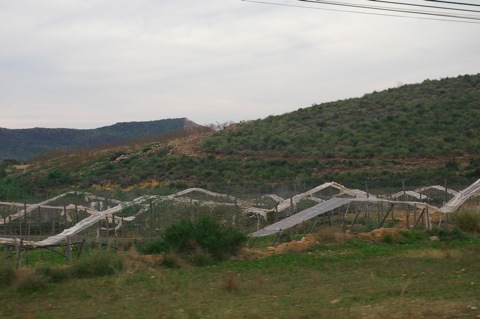 Na verloop van tijd is dit alles wat er overblijft van die mooie kassen. Geen wonder dat het landschap bezaaid is met resten plastic.
This is what the gales leave of the plastic. The rest is scattered in the landscape.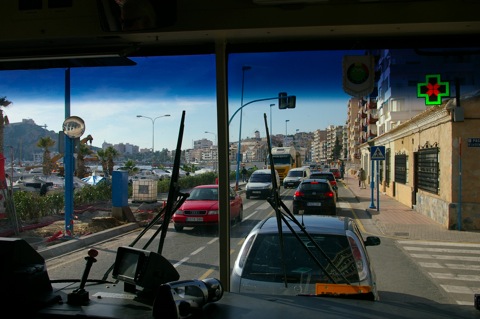 Via deze boulevard rijden we langs de kust in Aguilas.
Promenade of Aguilas.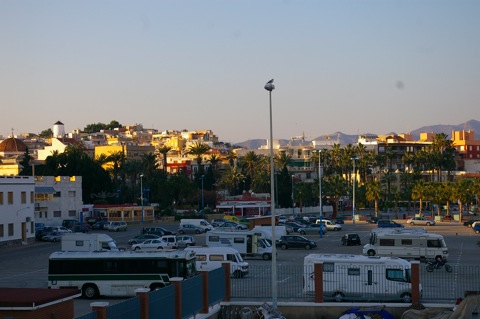 Naast de haven is een ruim bemeten parkeerplaats waar een aantal campers kunnen staan (tip van Paulv).
Motorhome parking at the Aguilas port.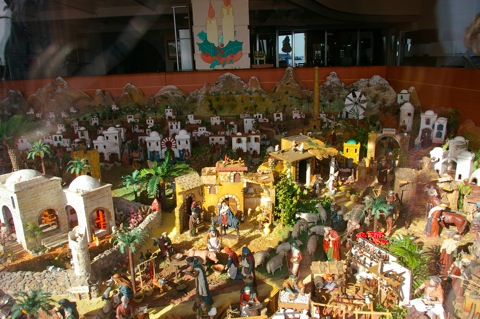 Het plaatselijke meubelpaleis heeft een compleet dorp i.p.v. een kerststalletje.
Spanish nativity scenes sometimes consist of a whole village.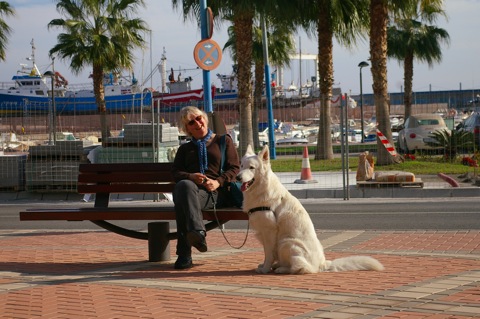 Het weer is inmiddels zoals we gehoopt hadden het in Spanje te vinden.
Mediterranean weather at last.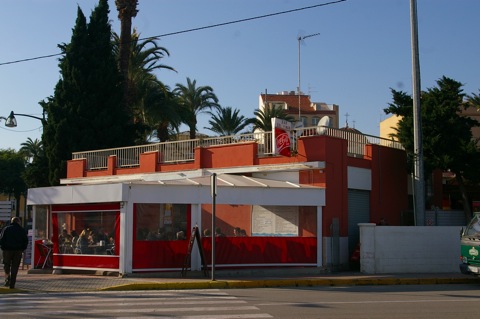 Bij Bar Sol y Mar geluncht met een baguette met tonijn en tomaat, weggespoeld met een biertje van de tap.
One of the many bars along the promenade serves us a nice roll and a beer for lunch.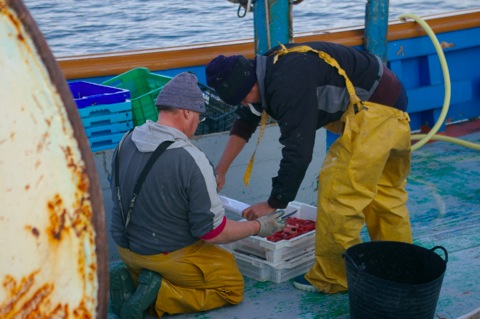 De vissersboten varen af en aan om hun (schamele) vangst aan wal te brengen.
The fishing vessels bring their (meager) catch on shore.
Go to top of page