Huelva-Tavira
Spanje / Spain - Portugal (Winter 2010/2011-7)


In San Juan del Puerto hadden we een rustige parkeerplaats naast het park aan de rand van het dorp. Dachten we... Tot een uur of vier kwamen er aangeschoten jongelui langs. We hadden er geen idee van dat dat allemaal bij Driekoningen hoort!
The quiet place on the outskirts of San Juan del Puerto turned out to be not so quiet after all. Nearly all night youngsters came along, shouting and singing, drunk from the Epiphany celebration. We didn't have a clue...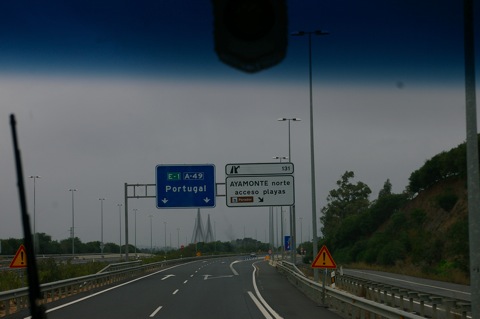 Van San Juan del Puerto is het maar een klein eindje naar de Portugese grens.
From our last night in Spain it is only 30 mi to Portugal.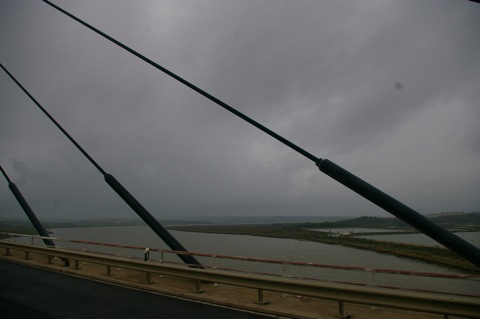 De grens wordt hier gevormd door de Rio Guadiana.
The Guadiana river is the border. Because of the European Union a road sign is all there is to see of the frontier.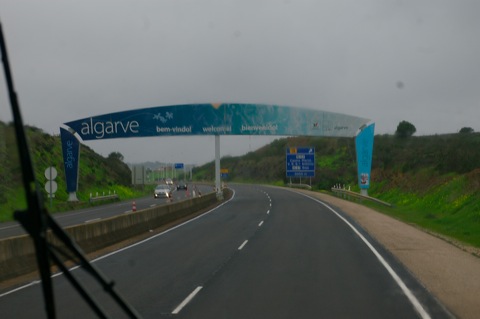 De Algarve heet ons welkom in meer dan één taal!
The first region in Portugal we enter is the Algarve.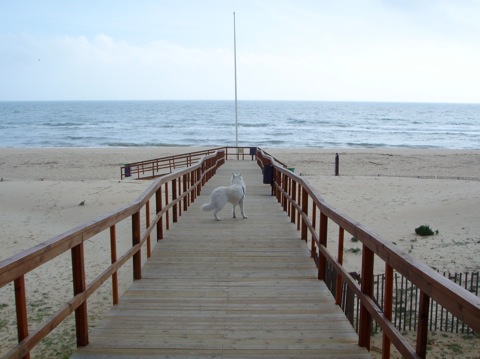 Monte Gordo (P)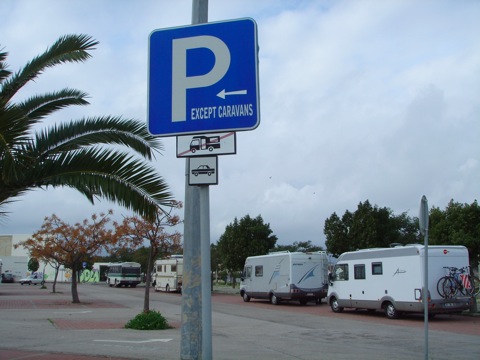 Tavira (P): niet echt een camperplaats, maar het staat er wel vol mee!
This is obviously no official RV parking, but parking overnight is tolerated.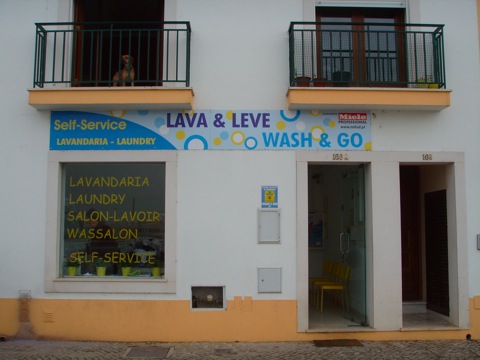 Hoewel we een wasmachine en centrifuge aan boord hebben, is - voor grote hoeveelheden wasgoed - een wasserette (€ 2.50 per 6 kg) een uitkomst.
For large quantities of laundry a self-service launderette like this one is a godsend.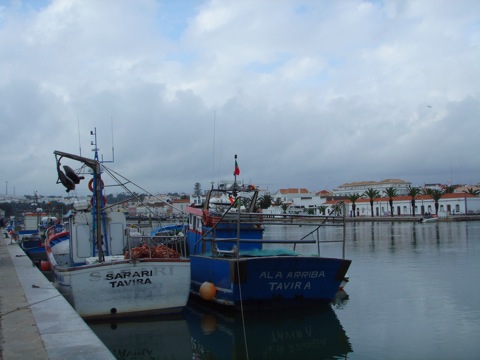 De rivier ligt vol met vissersbootjes.
Fishing vessels, both floating and on the muddy riverside.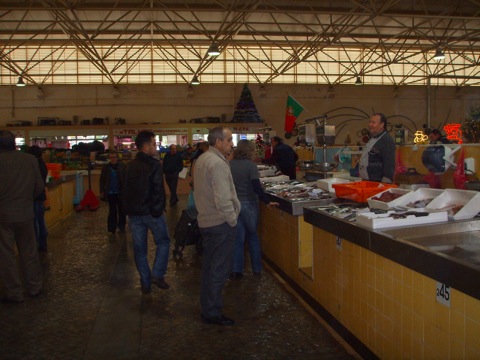 Het parkeerterrein waar we staan, hoort eigenlijk bij de gemeentelijke overdekte markt.
The parking that was almost empty last night, is full when the municipal covered market is open to the public.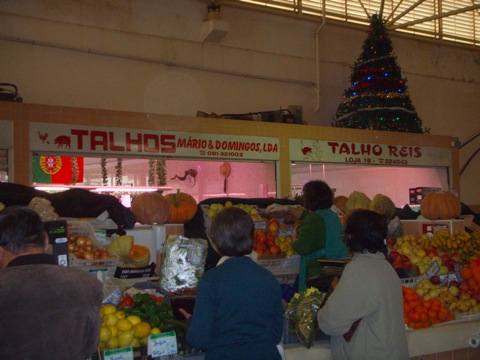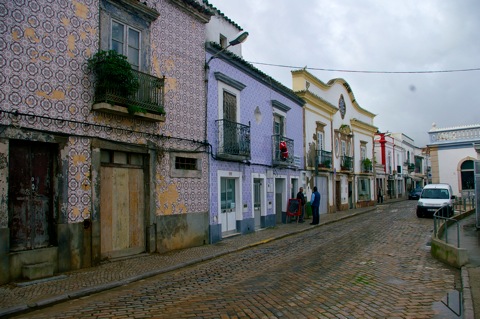 Tavira is een leuk stadje.
Tavira offers a nice mixture of old and new.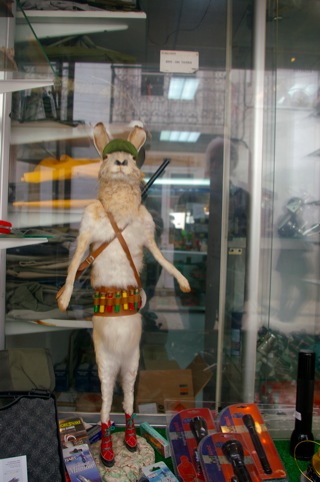 In een winkel voor jachtbenodigdheden.
Seen in a shop with hunters' supplies.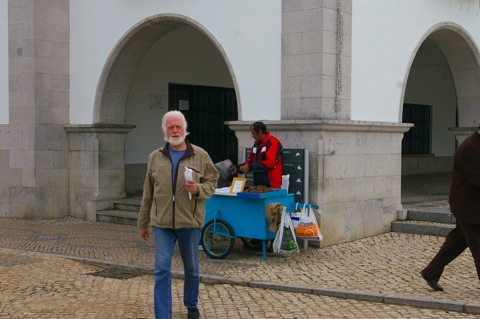 Mmmmm, gepofte kastanjes!
Yummie, roasted chestnuts!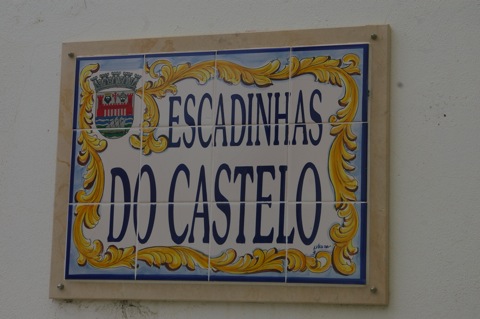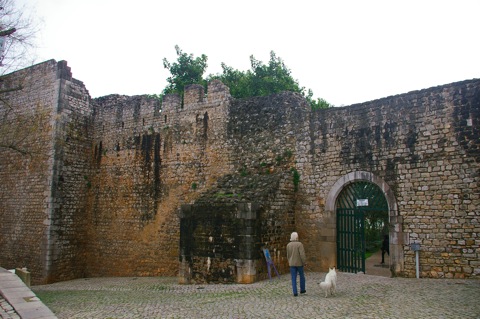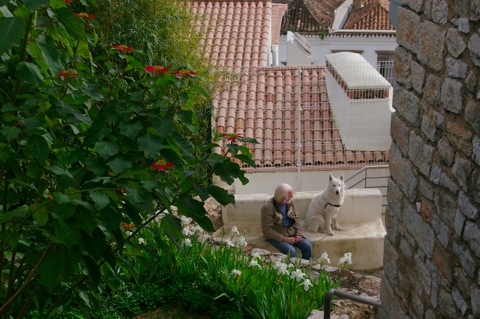 Het kasteel / The castle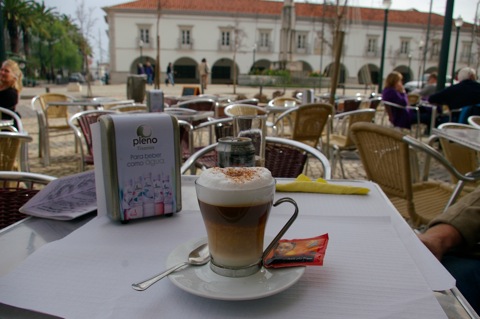 Voor de liefhebbers serveren ze hier een prachtige cappuccino.
A beautifully made cappuccino (only for those who drink coffee).
Go to top of page