Almería-Córdoba
Spanje / Spain (Winter 2010/2011-5)


Gelukkig Nieuwjaar / Happy New Year!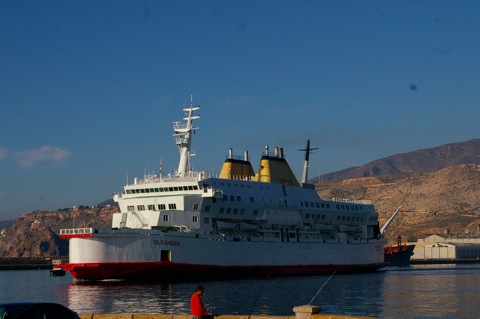 Op Nieuwjaarsmorgen vertrekt er gewoon weer een schip uit Almería.
1st of January or not, business as usual.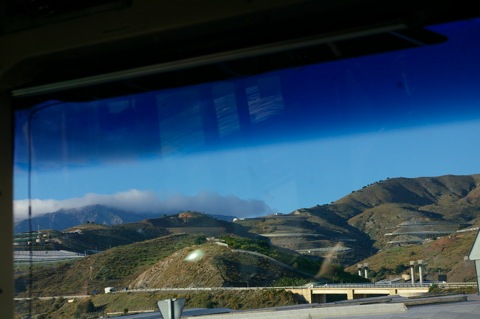 We vertrekken rond het middaguur en rijden door de uitlopers van de bergen in Westelijke richting.
From Almería we drive west along the coast. The weather is smashing.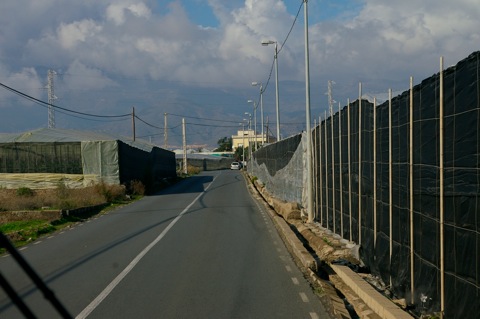 Soms loopt de weg dwars door de kassen. Er wonen en werken hier kennelijk vrijwel uitsluitend Afrikanen.
The road sometimes leads through greenhouses on both sides. We see nearly only African people in this area.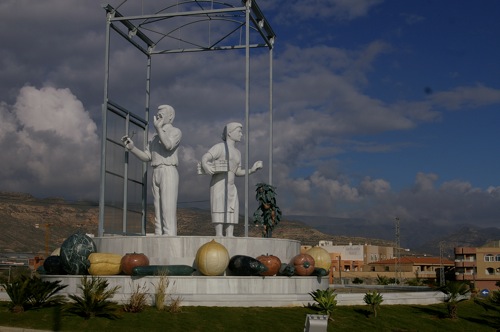 Dit soort beeldhouwwerken hebben we voor het laatst gezien in de metro van Moskou.
Idolizing the (agricultural) laborer reminds us of the former Soviet Union.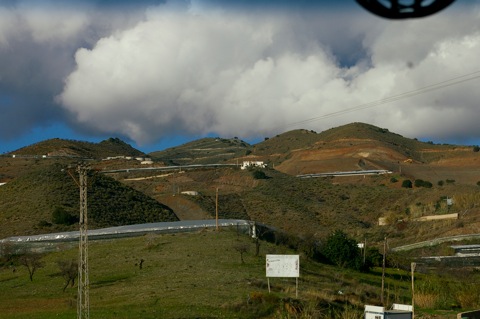 De plastic-tuinbouw strekt zich uit van de berghellingen...
The plastic greenhouses can be found high against the mountain slopes...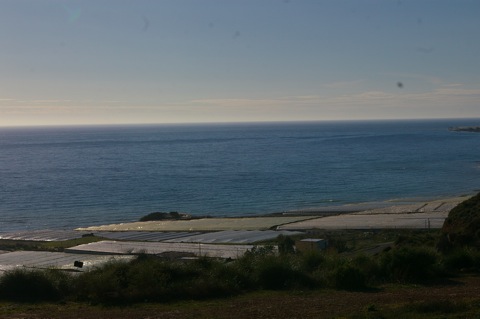 ... tot aan zee.
... as well as along the beach.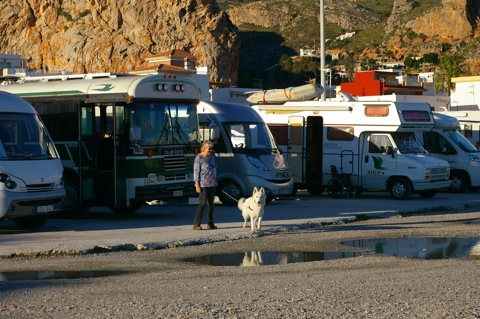 In Calahonda is een camperplaats, waar vandaag voornamelijk Zweden overnachten.
The motorhome parking in Calahonda is taken mainly by Swedes.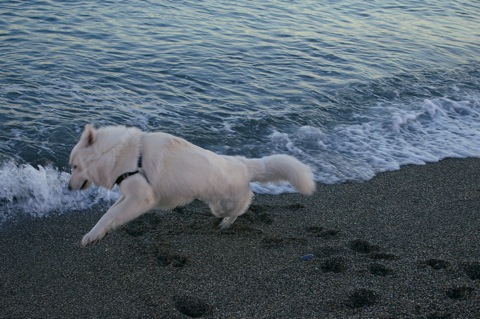 Motek heeft een nieuw spelletje: nèt voor de golf wegspringen.
Motek enjoys leaping away just before the surf reaches him. He doesn't always succeed ;-(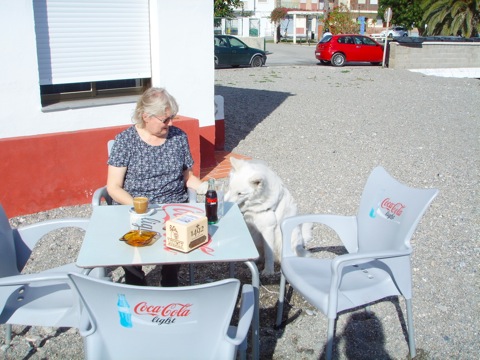 Restaurant Flores, Calahonda (Granada) 21℃ / 70℉
Aan de hand van de in onze boordbibliotheek aanwezige boeken besluiten we de Zuidkust te verlaten en in elk geval Córdoba in de route op te nemen.
After some reading we decide to choose for Córdoba rather than for the coast.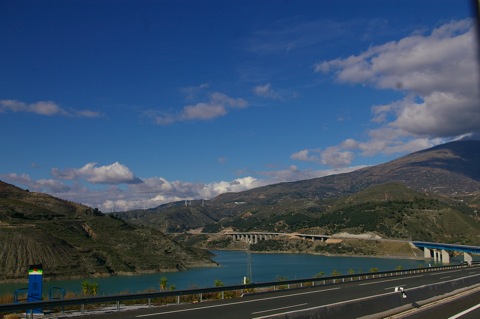 De A44 (Autovia de Sierra Nevada) is een prachtige, nieuwe autoweg.
The motorway through the Sierra Nevada is brand new and of astonishing quality.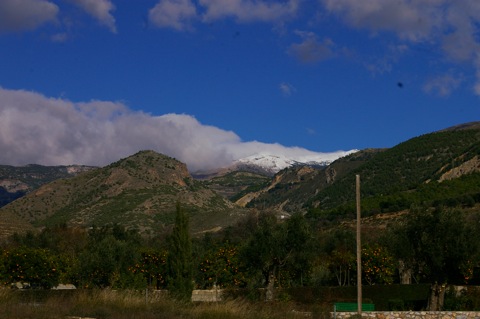 Aan onze rechterhand de Pico Veleta (3394 m). Op de voorgrond zijn de sinaasappelen rijp!
Behind the ripe oranges one can see the Pica Veleta (11135 ft).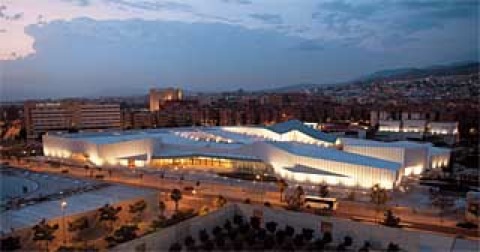 Met dank aan het Parque de las Ciencias in Granada, dat zo vriendelijk was een aantal hotspots open te zetten.
This site uploaded so far thanks to the Parque de las Ciencias with its open access point.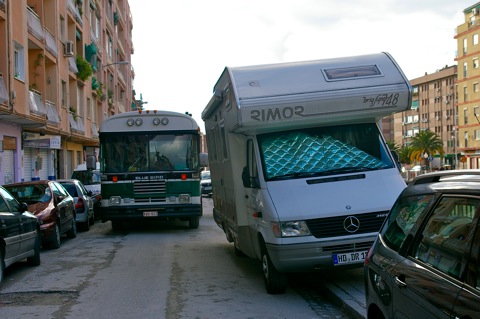 Bij het verlaten van Granada bleek de ene weg versperd door bouwactiviteiten... en de andere door een Duitse camper. De te hulp geroepen Policia Local vond het laten wegslepen van de Sprinter lastiger dan ons assisteren een kilometer achteruit te rijden. Dus dat kostte een half uurtje.
Our road was blocked by this overhanging German RV. The local police helped us to reverse more than half a mile through a narrow lane.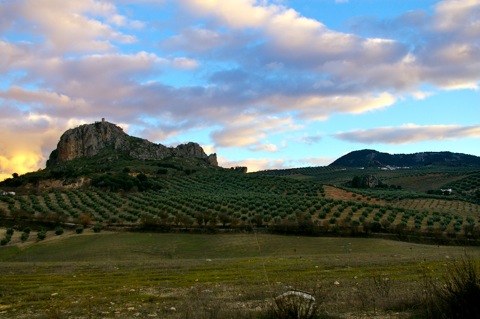 Vanuit Granada rijden we noordwestwaarts op de N432. Alweer een prima weg tussen olijfgaarden door.
The - excellent - road from Granada to Córdoba leads through many olive plantations.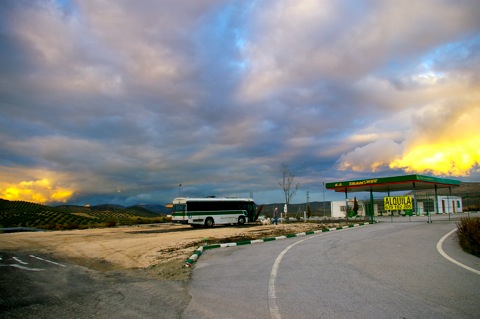 We stoppen in de absolute verlatenheid bij dit te huur staande tankstation. 's Avonds TV gekeken. Rond middernacht Motek uitgelaten en genoten van een ongelooflijk heldere sterrenhemel.
We stop for the night in the middle of nowhere at a fuel station which is no longer in service. After dinner we put up the satellite dish and watch one of our favorite programs. At midnight, when we take Motek for a walk, the stars are amazingly bright and incredibly many.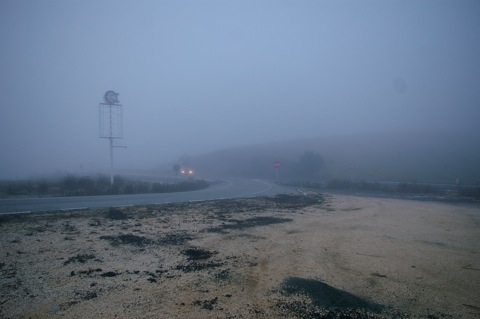 Maar de volgende morgen zitten we midden in de laaghangende bewolking. Het is 4℃, dus het kacheltje mag voor het eerst in vele dagen zijn nut weer eens bewijzen.
The next morning we wake up in the middle of a cloud. The temperature is 39℉. Glad we have our propane heater.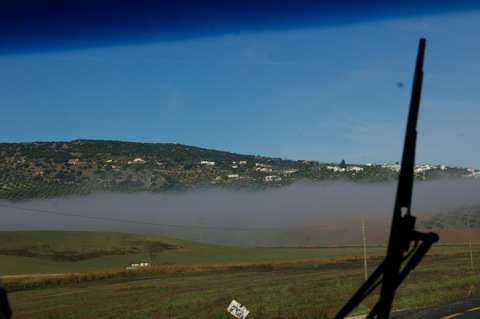 De laaghangende wolken gaan over in mistflarden.
The clouds dilute and all that rests are fog banks.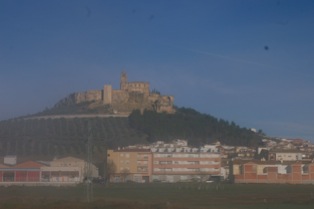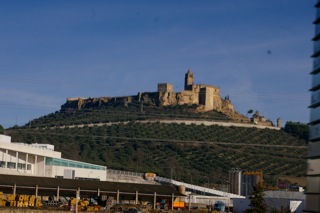 In het voorbijgaan gefotografeerd, met slechts twee seconden ertussen...
Pictures taken from the bus, two seconds apart.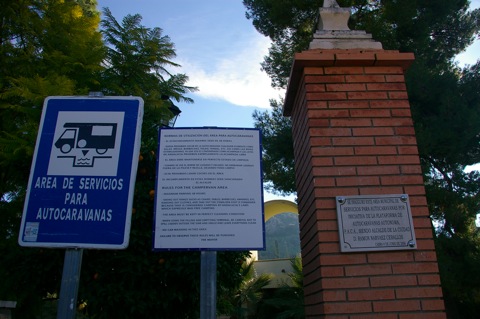 In Cabra (provincie Córdoba) vinden we een keurige plek voor Ver- und Entsorgung.
Time to fill up with clean water and to get rid of grey and black water (Cabra, Córdoba)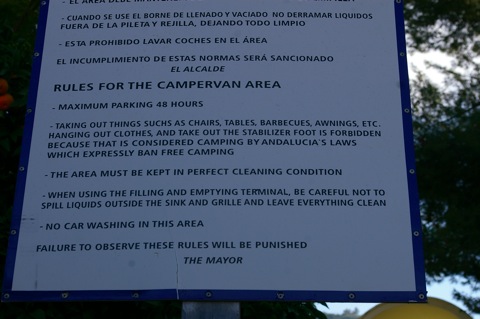 Hier blijkt duidelijk het verschil tussen camperen (toegestaan) en kamperen (verboden).
Spanish Law makes a difference between "sleeping in a camper van" and "camping"!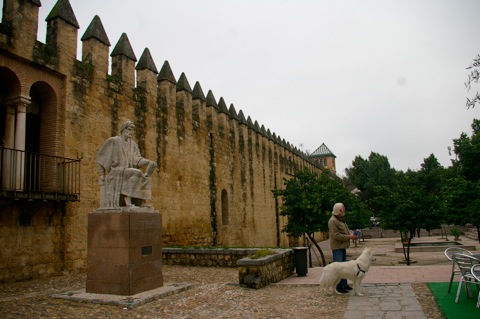 Averroés (1126-1198)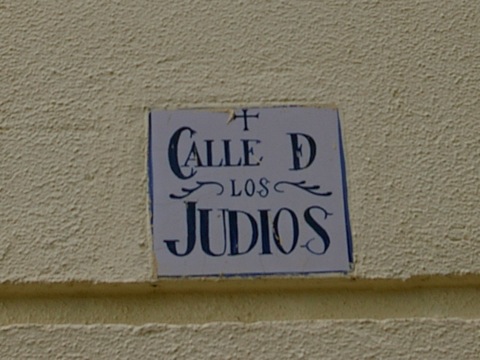 Judengasse, maar dan anders.
The Spanish variant of the Judengasse we have so often seen in France (Alsace), Germany, Austria and Switzerland.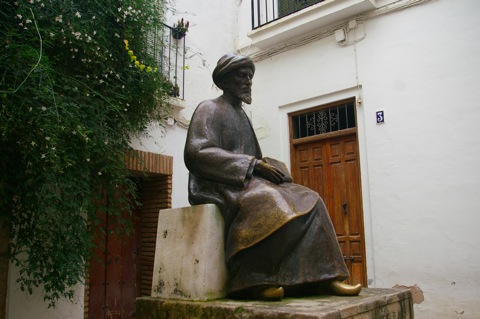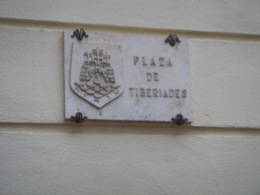 Maimonides (1135-1204)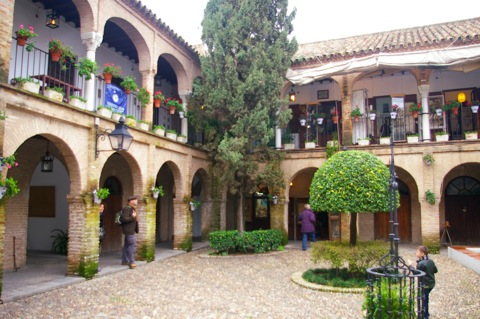 Zoco
Zoco (Mercado Municipal Artesano)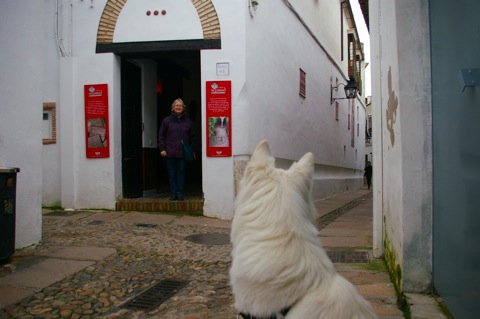 Casa de Sefarad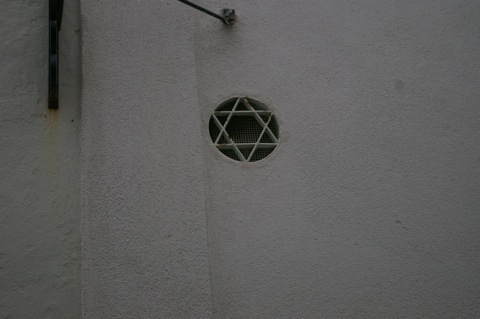 Al met al zijn er in de hele Judería maar enkele sporen van de joodse oorsprong terug te vinden.
There are not that many traces of the Jewish origin of the neighbourhood, apart from the name Judería.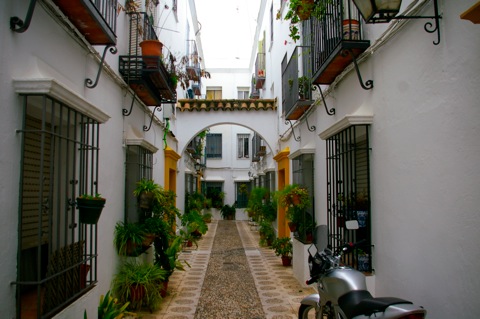 Hofje.
Well restored cul-de-sac.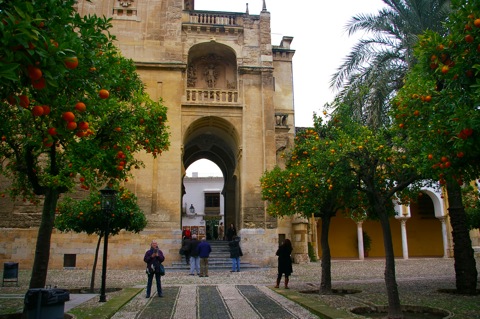 Binnenplaats van de voormalige moskee, nu kerk.
The famous orange court of the Mezquita.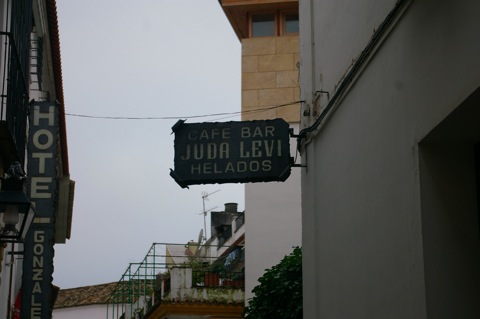 Juda haLevi exploiteert hier een café-bar-ijssalon.
Juda haLevi lives on in the name of a bar.
Go to top of page