2009 Uslar
We vertrekken vanuit Zoetermeer en slapen de eerste nacht tussen Utrecht en Arnhem.

We have dinner with friends in the western part of Holland. From there we drive east. After about 100 km we find a quiet place to sleep.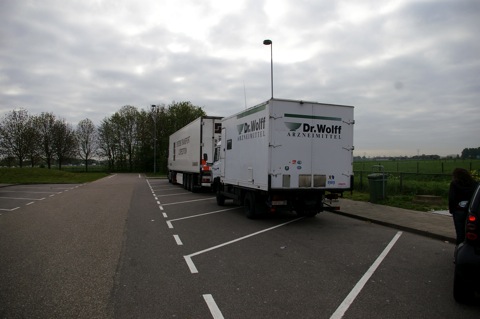 Na een bezoekje aan Makro en Office Centre in Duiven rijden we door naar Lippstadt. Dit is het graf van Sylvia d'r oudoom en zijn dochter en schoonzoon.

After some shopping we continue into Germany. In Lippstadt we visite the cemetery where Sylvia's great-uncle and his relatives are buried.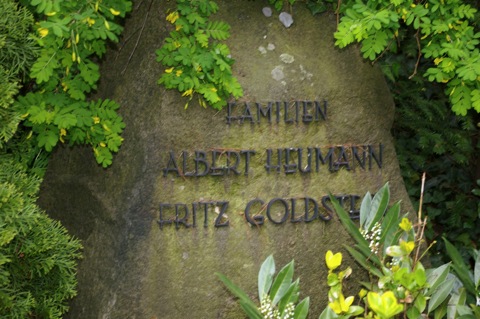 Ten Noorden van Paderborn is een fraaie Stellplatz aan de oever van de Lippesee.

Nice site north of Paderborn.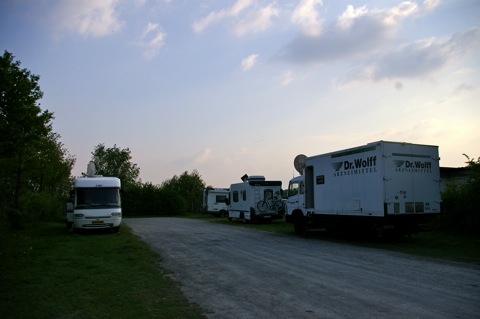 Het stadhuis van Uslar, vakwerk ten top!

Town hall of Uslar (Lower Saxony)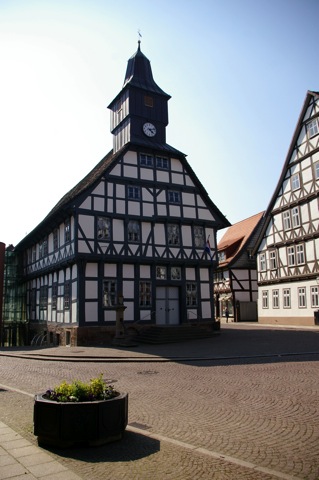 Ook de "gewone" winkelstraten zijn één groot openluchtmuseum.

All streets look like a living open air museum.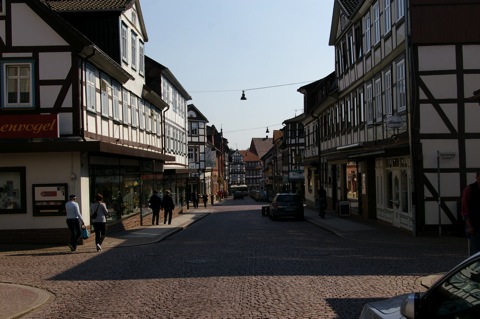 Feest in het dorp!

Party time!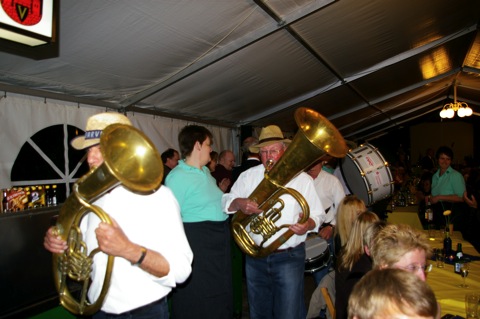 Ook hier een herinnering aan wat hier eens was...

At one stage the local Jews would gather here...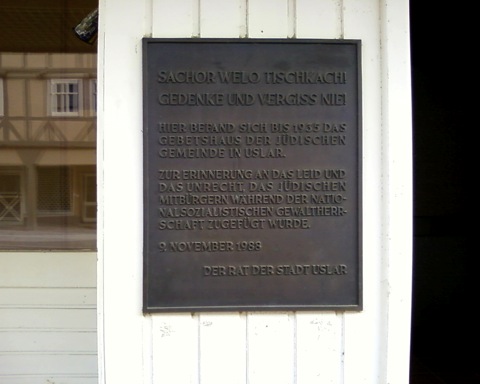 In het Stadtmuseum staat deze maquette van het sjoeltje van Bodenfelde.

In the local museum a room is devoted to the Jews of Uslar.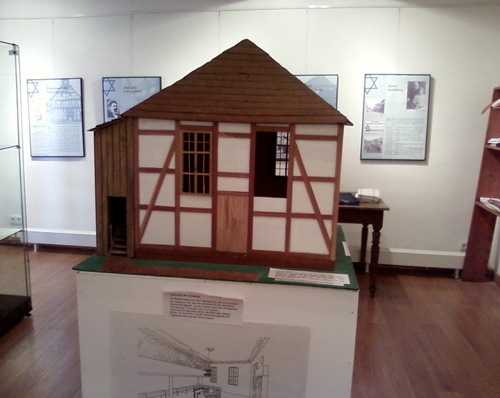 Hier in het echt: Het sjoeltje uit Bodenfelde: gesloopt en weer opgebouwd voor de liberale gemeente in Göttingen.

IRL: The little synagogue of Bodenfelde has been moved to Göttingen.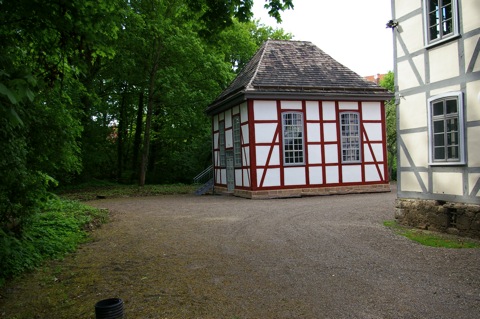 Energiebewust wonen in de regio Uslar.

Modern (energy saving) housing in the region.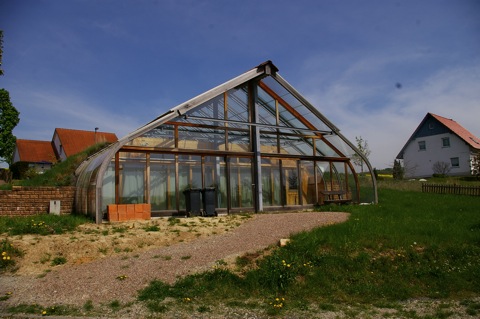 Stellplatz in Duderstadt revisited.

Duderstadt, once on the border between East and West.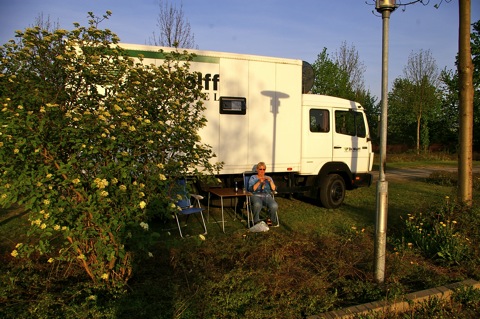 We blijken in de buurt te zijn van het KZ Dora-Mittelbau te zijn. Een bezoek aldaar is erg indrukwekkend. Helaas was het museum gesloten (maandag). Van de appelplaats had de DDR-regering een communistisch monument gemaakt. 

A visit to the former concentration camp Dora-Mittelbau is a moving experience.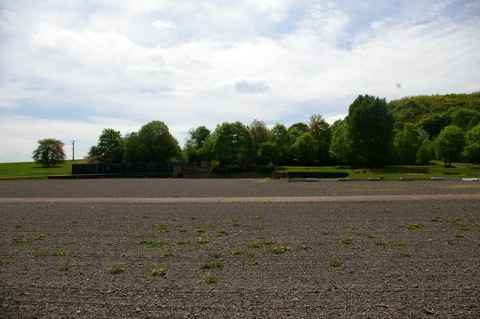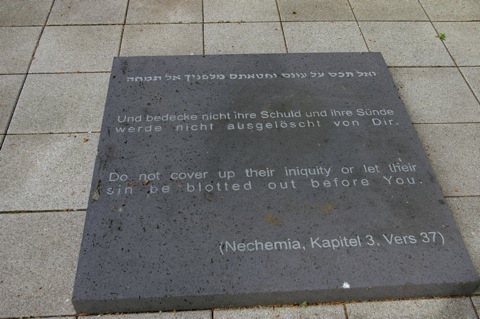 Het centrum van Meiningen is mooi qua architectuur, maar de sfeer is erg deprimerend. De sporen van armoede zijn alom aanwezig. Als vermoedelijke reactie daarop hangen er talloze skinheads rond. 

Meiningen (former GDR) looks a bit depressing to us. Povertry, decay, skinheads... But nice architecture!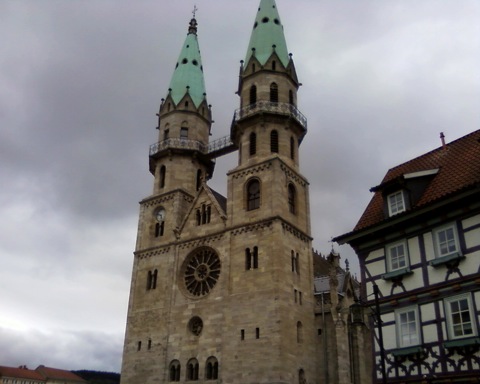 Ook in Meiningen was er ooit een bloeiende joodse gemeente.

Monument where once a synagogue stood.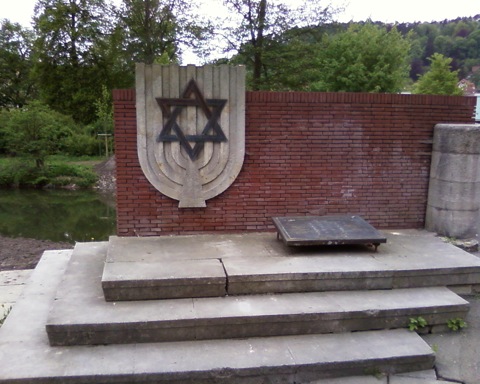 Aan de Werra is een Stellplatz. Bij het geluid van de snelstromende rivier is het goed slapen.

RV site along the Werra river.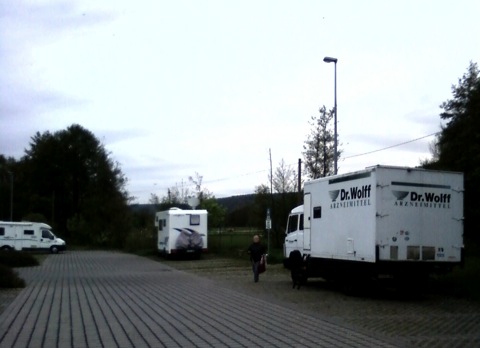 Overal zijn velden koolzaad te zien, véél groter dan op deze foto. Zo komen de Duitsers aan hun Rapsöl!

Rapeseed fields everywhere. Germany is big in Straight Vegetable Oil (for diesel engines).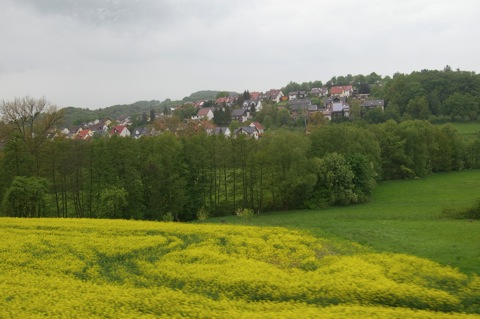 Van Thüringen naar Beieren hebben we zowaar regen!

After a long dry period we have some rain at last.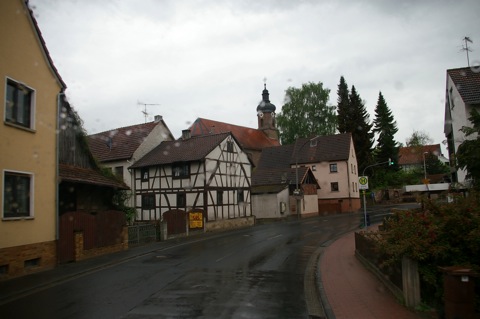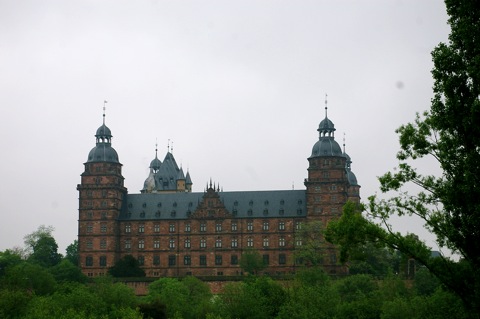 In Bodenheim (Rheinland Pfalz) heeft de SPD de plaatselijke bevolking een groot Walpurgis-vuur aangeboden. Helaas (voor de SPD) is het hout zo nat dat het alleen maar op een paar plaatsen kortstondig brandt. Op de foto lijkt het nog wat, maar in werkelijkheid was het bijna niets.

The bonfire on the occasion of Walpurgis Night is not spectacular because the wood is too wet.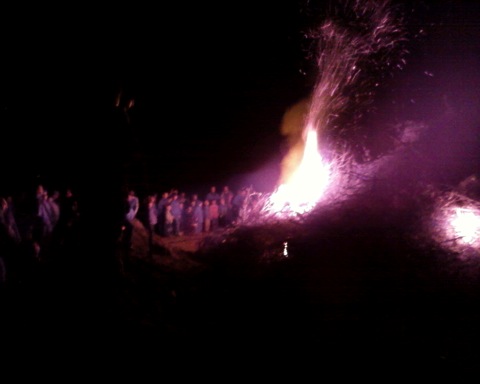 Het Leerkabinenforumtreffen in Bodenheim. Een prachtige collectie zelf ingebouwde busjes, verhuis- en andere vrachtwagens en enorme militaire MAN terreinvoertuigen (Kat)

The meeting of DIY RV convertors is as nice as last year's. Nice vehicles, nice people, nice food!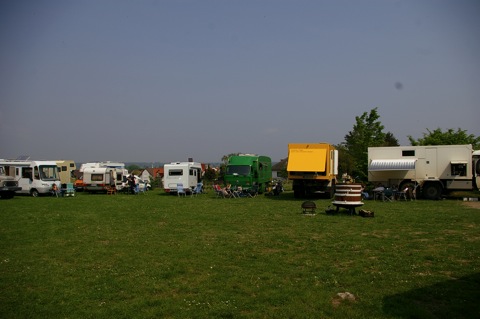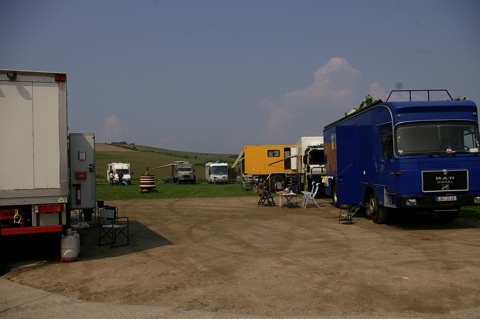 Het landje waar het Treffen is georganiseerd ligt midden tussen de wijngaarden.

And a nice site! Surrounded by vineyards.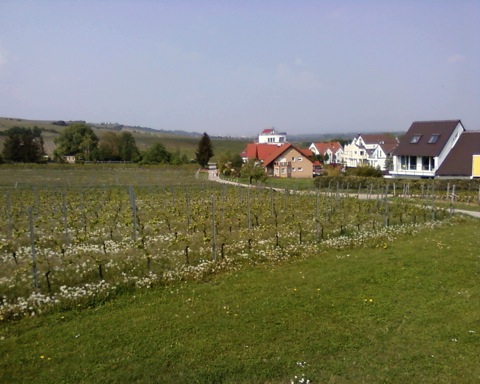 De terugreis verloopt probleemloos. We overnachten onderweg nog één keer bij een Hymerdealer in Heinsberg, pal op de Nederlandse grens. 's Morgens kopen we daar nog wat materiaal voor Skoolie.

The trip back is rather uneventful. We sleep on a camping shop's premises in Germany, very close to the Dutch border. About noon we arrive back home in Beerse. Everything looks like we have left it, only our guppies have a lot of little ones. 


Go to top of page