2022 June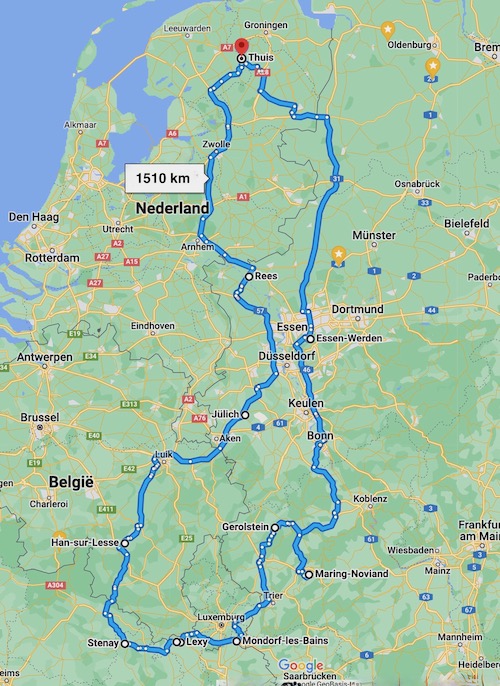 After I (Ernst) passed the test for a full radio amateur license, we could accept Stevie's invitation to attend his 60th birthday (cum pension) party in Maring-Noviand, Mosel region, Germany.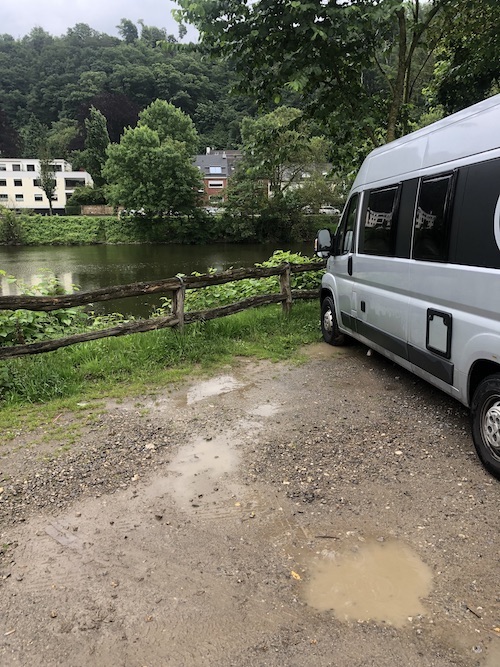 The distance was just a bit too far for one day's trip (we are retired as well!), so we slept half-way in Essen-Werden on the boards of the river Ruhr.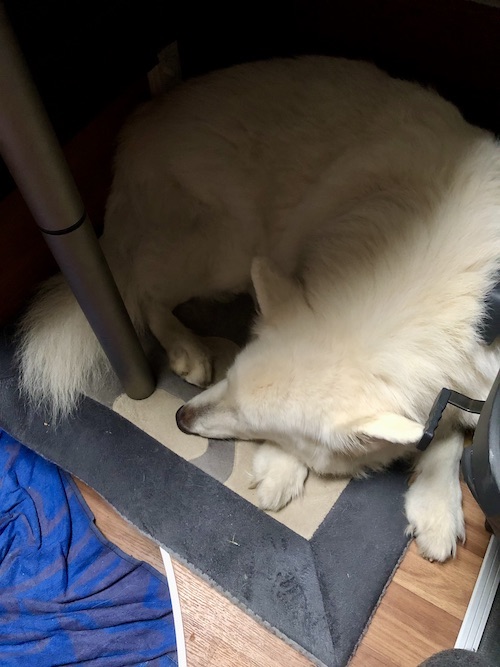 Motek, as usual, curled up under the table. Amazing how little space a relatively big dog needs for sleeping!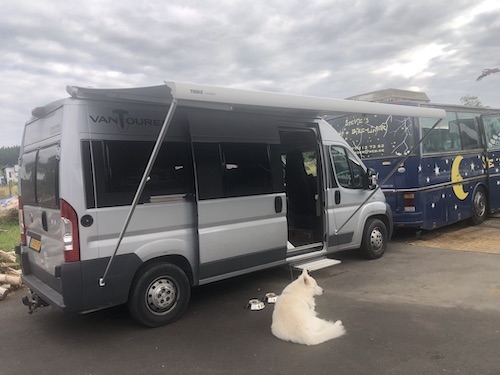 Parking behind Stevie's famous Setra. Thanks to this bus we got acquainted years ago in France.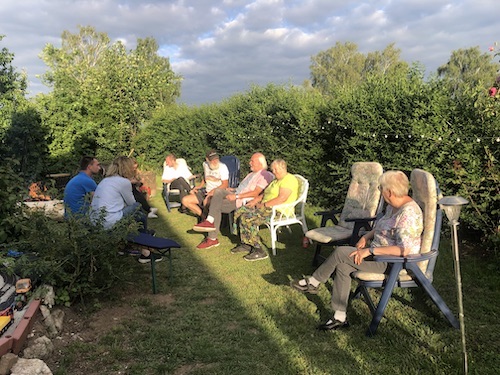 Enjoying the sunshine and practising our German.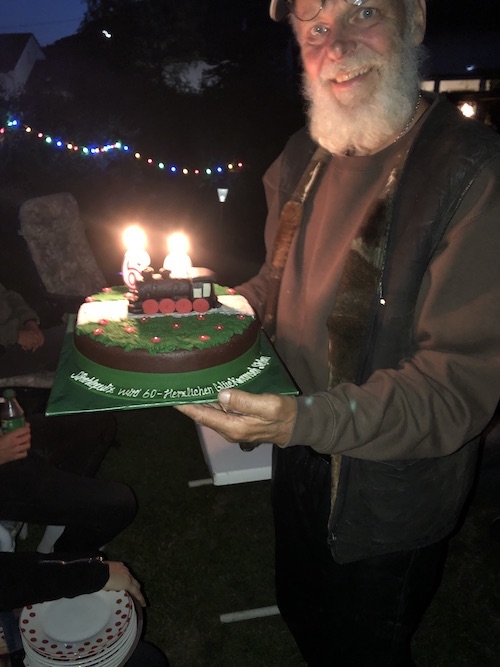 After the grill party Stevie got a very special birthday cake, at the same time dessert for all of us.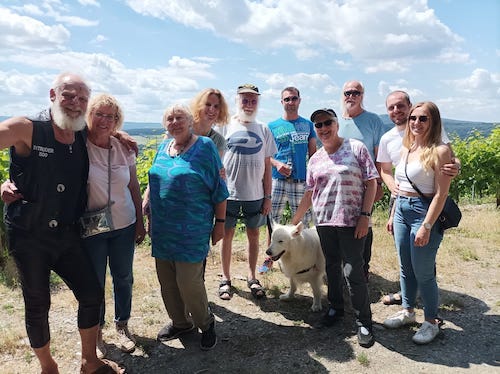 The next morning Stevie had organised a surprise for us: a trip by covered wagon through the vineyards, breakfast picnic included.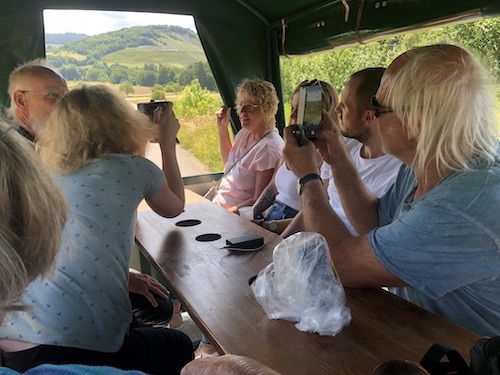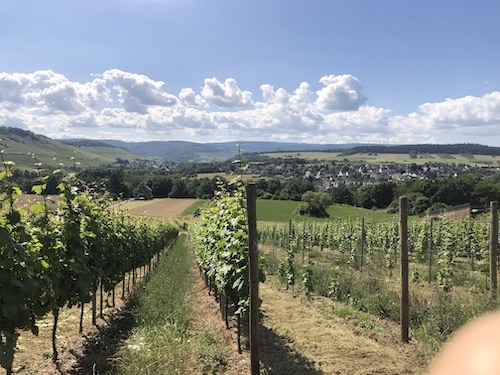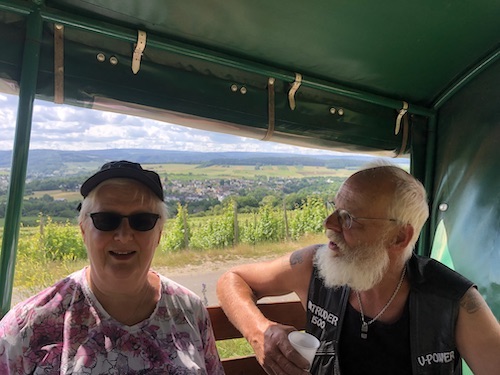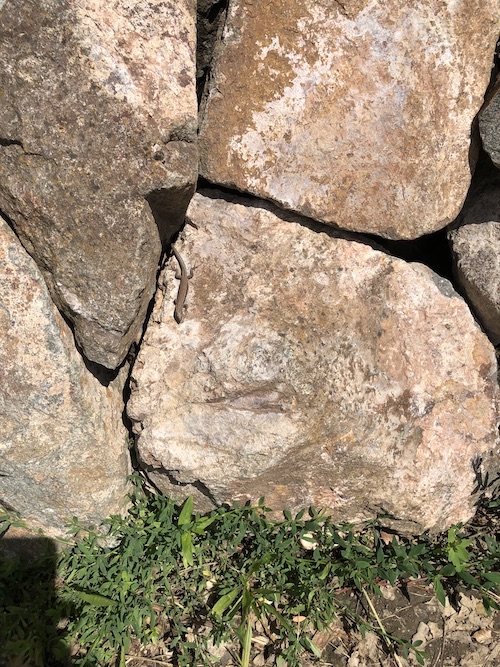 Can you find the lizard enjoying the sunshine?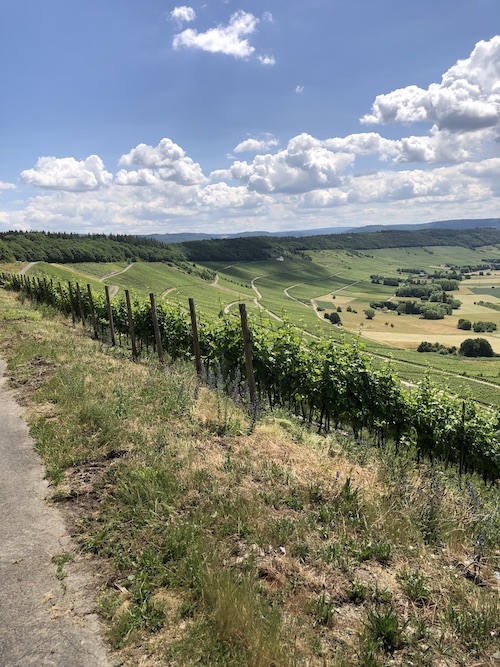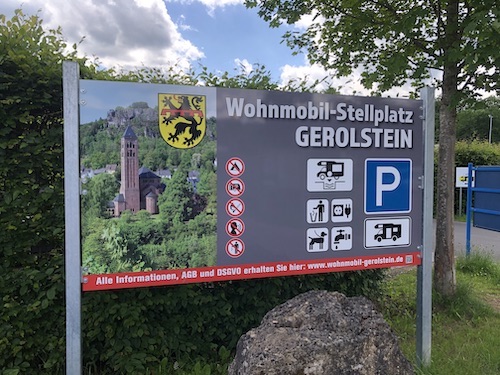 Our next stop is Gerolstein, where we will visit a Dutch friend.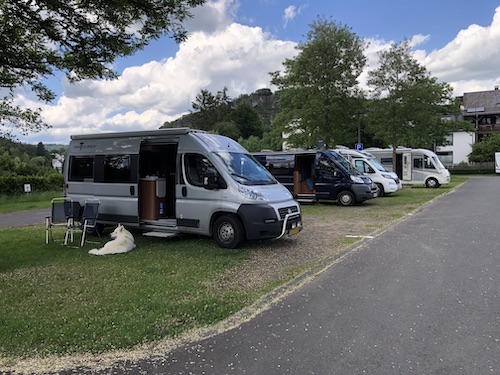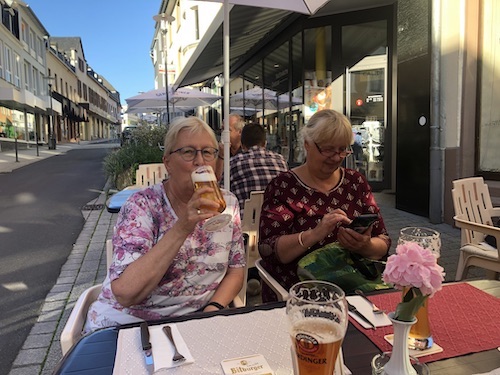 A lovely dinner,  with Monique and her son Tijmen.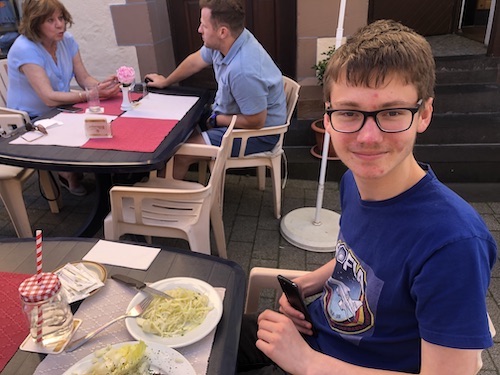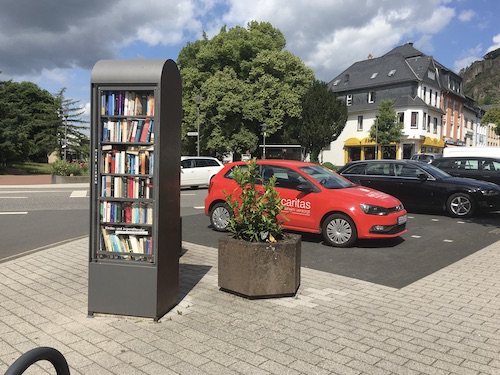 Some free books to be read during our holiday.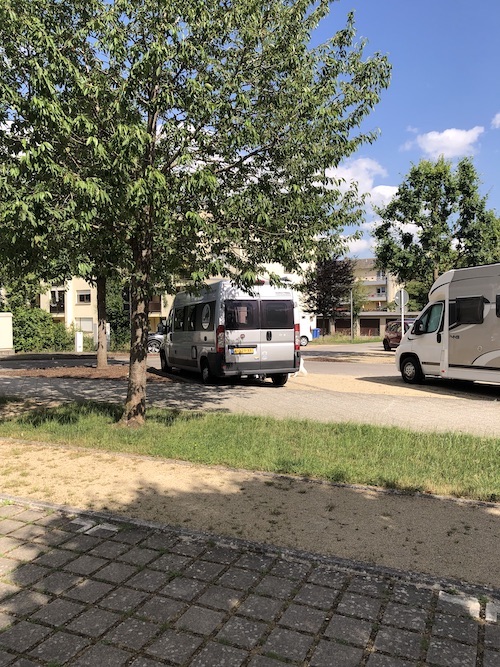 Driving to Luxemburg because fuel prices are lower there. Mondorf-les-Bains is a former spa. This is an official and free motorhome parking with fresh water and the possibility to empty the black water hold.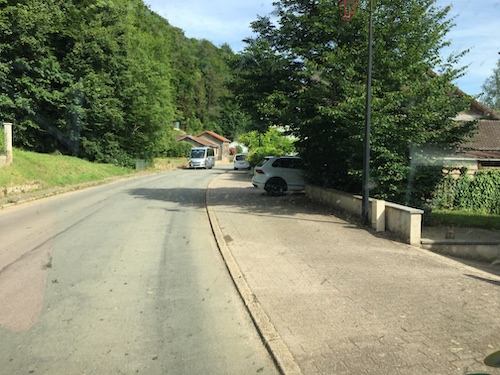 On to France.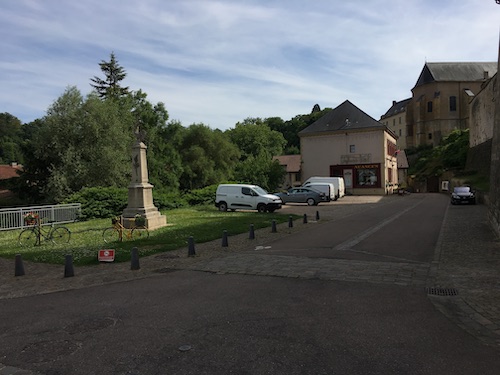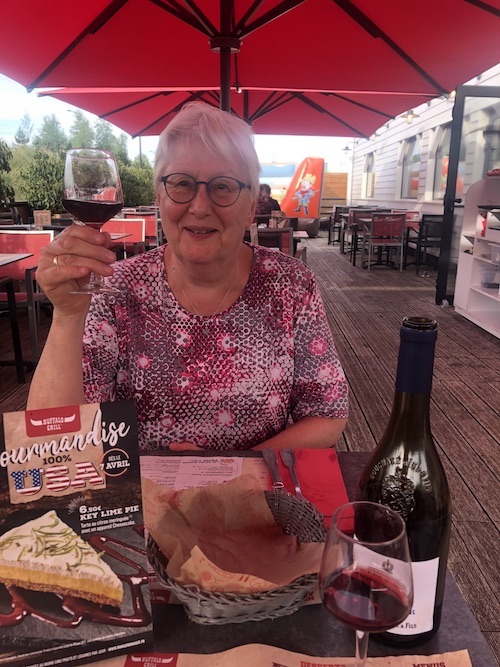 In Lexy we have a lovely dinner at our favourite steak restaurant Buffalo Grill. It has been some years since we were able to do this (remember Corona?).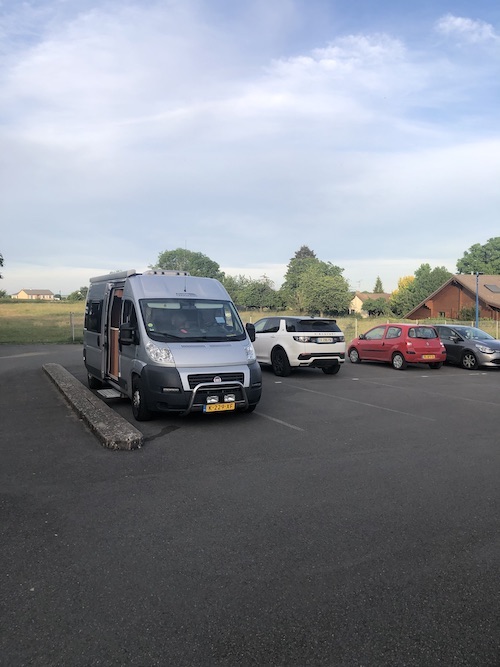 Lexy was selected specially because afterwards we have only a few miles to drive to our overnight parking in Villers-la-Chèvre.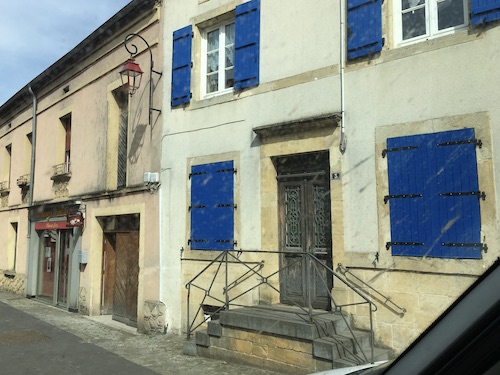 Typical French atmosphere and free books at the local busstop (Villers-la-Chèvre).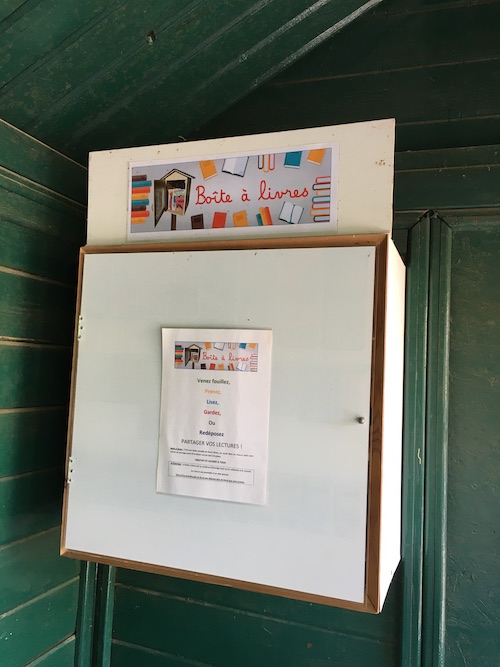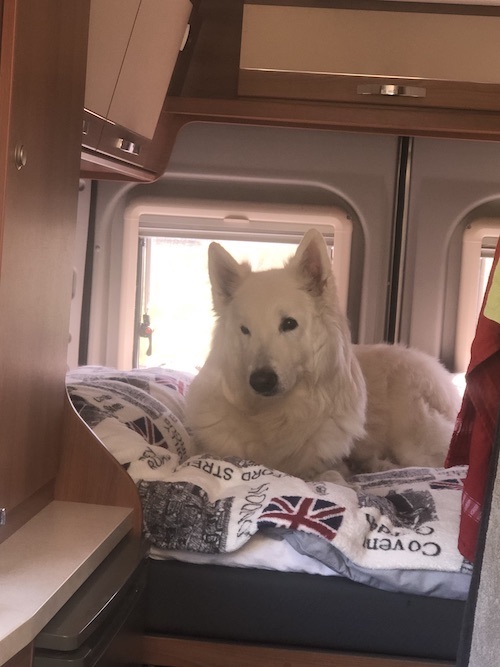 Motek at his favourite spot in our van. What is he thinking, we wonder …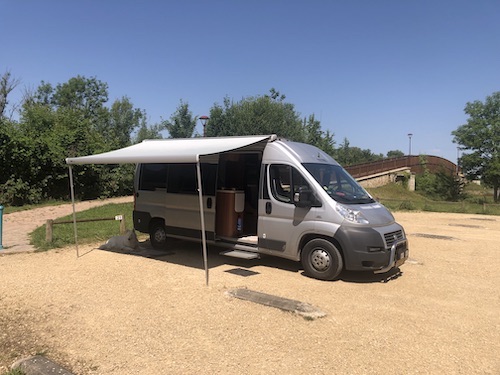 When we arrive in Stenay it is still 31℃ (88℉). At midday the awning does not provide a lot of shade....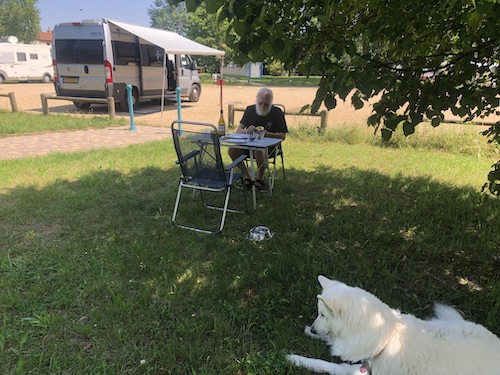 ... so we move to the nearest cooler place.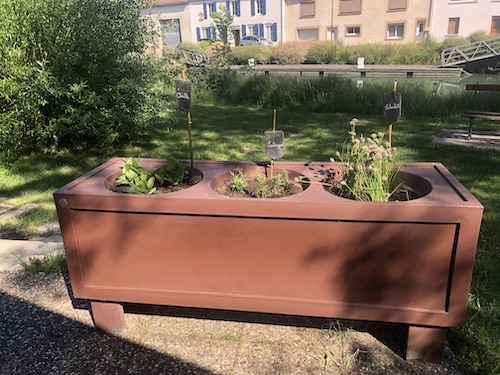 This motorhome place offers fresh herbs, free to take and use in your meal.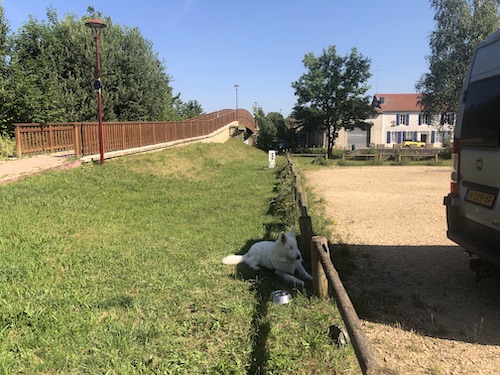 Stenay. Bridge over the harbour; to the left is the river Meuse.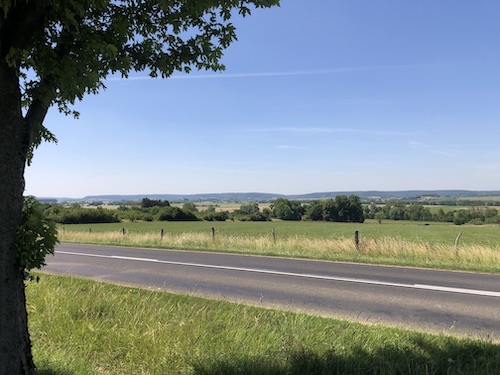 Beautiful landscape in the North of France, but …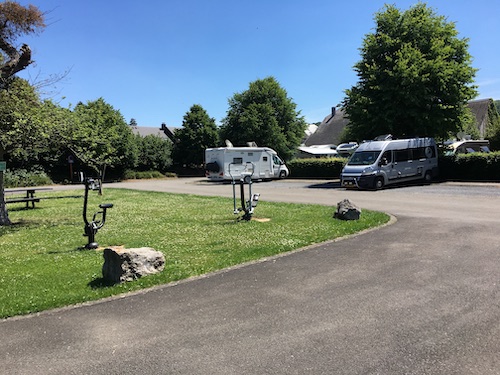 ... we need to head home through Belgium. Motorhome spot in Han-sur-Lesse. It is too hot to use these fitness devices.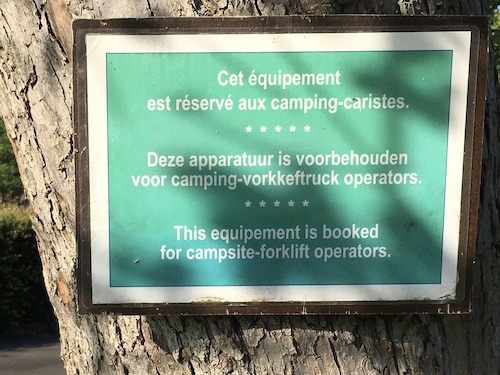 We are informed that the fitness equipment is exclusively for ….
The danger of computer translations!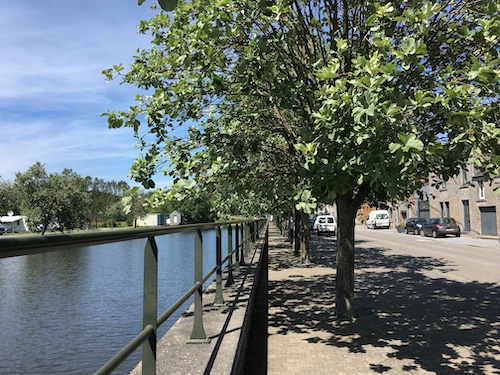 Quay of the river Lesse.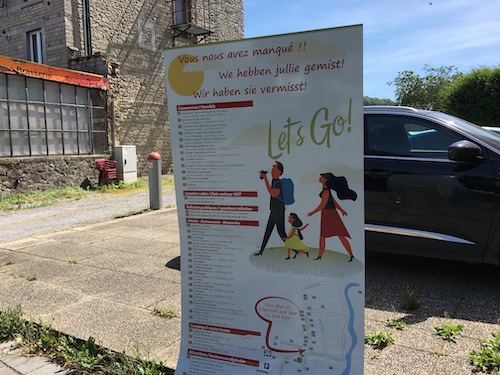 After Covid-19 the town is trying to get back on its (touristic) feet. Still, several shops and restaurants in the center are closed.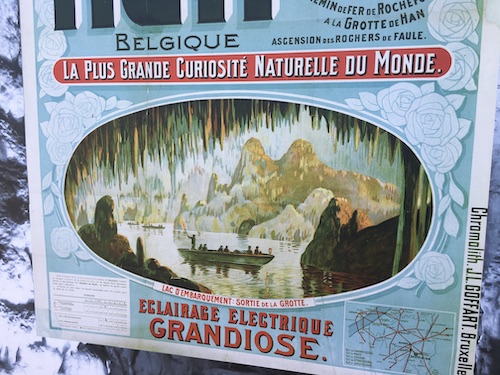 We both have visited the famous caves many years ago and shan't do it this time. Still, these old posters which are all over the town bring back nice memories.

Back to Germany, to visit friends and do some shopping. This is Jülich, where we meet a very nice British couple of co-campers, Jo and Ken from Portsmouth.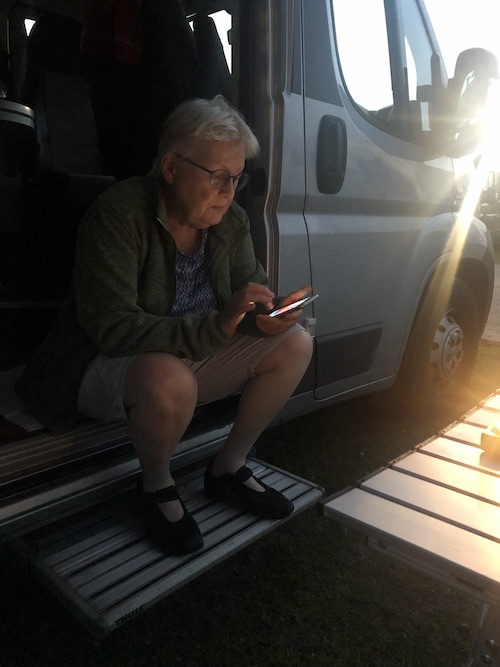 Jülich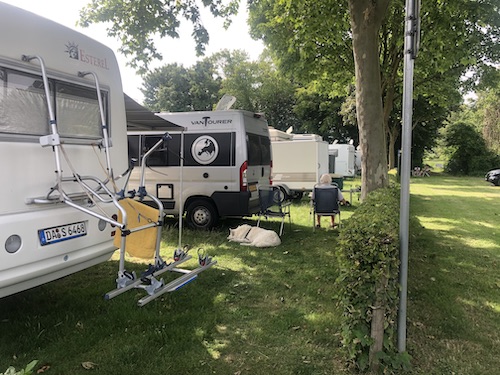 Finally Rees. This place is familiar to us, because our old friends Simon and Els live here. We spend a lovely evening with them in their garden.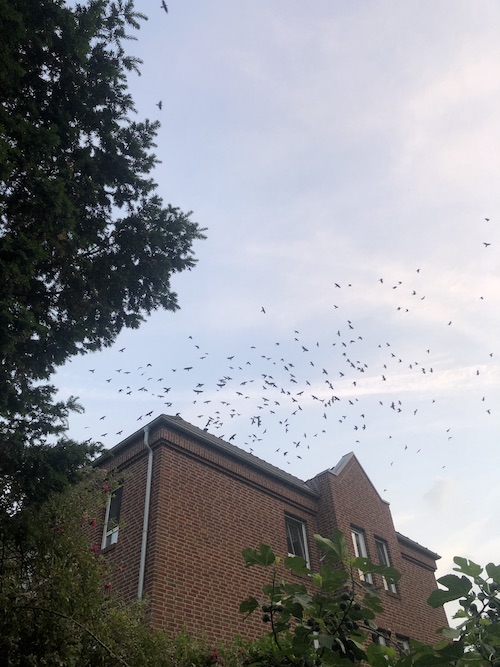 The rooks who live in the trees nearby make their regular evening appearance. Very impressive!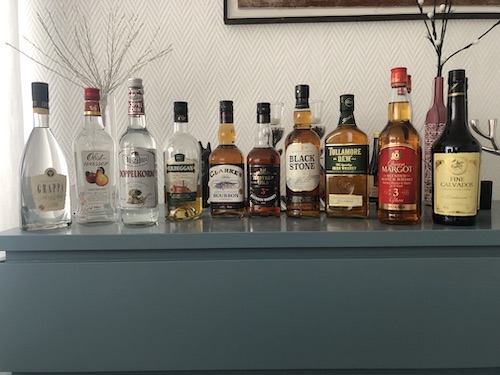 Alcoholic drinks are a lot cheaper in Germany (and available at every supermarket), so we bought a bottle here and a bottle there and put it away in the van. This is our eventual harvest. We can open a shop ourselves. Haulerwijk.