2018 May-June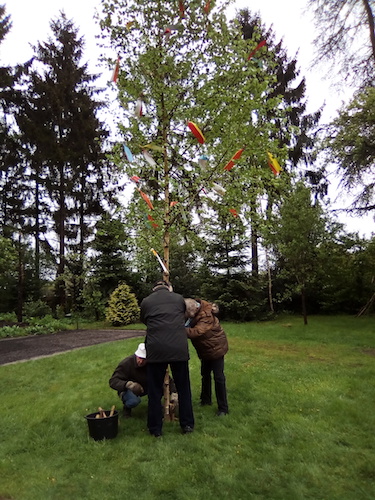 By now, planting a maypole has become a tradition (for us; for the neighbours it has been a tradition since centuries). This year it was Heike's and Dieter's turn to host the event. 
The men cut a young birch, the women decorate it with coloured strips of paper and the men erect the tree again.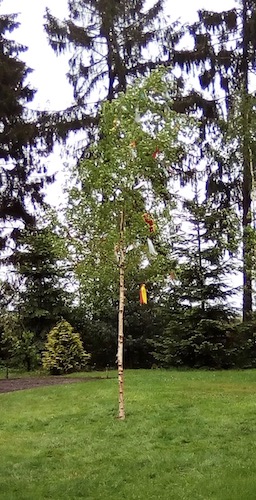 The final result.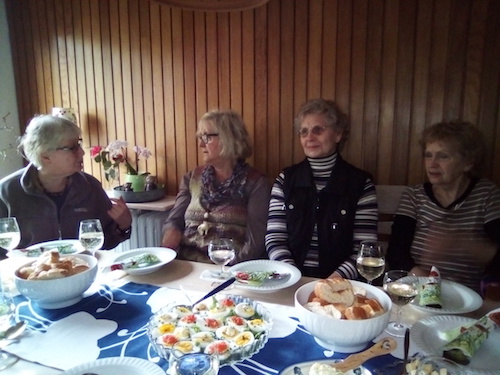 And after all this hard work, there is a festive meal.
Since 12 years we spend the first week of May in Bodenheim (Rhineland-Palatinate), where visitors of the womobox forum meet to exchange their experiences with building and/or converting their motorhomes.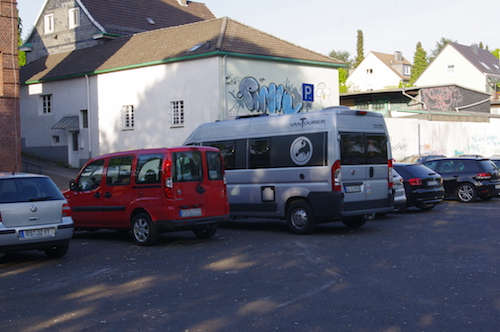 The first night we sleep on a motorhome site in Lennep. The voluntary  fire brigade, across the street, is cleaning up after yesterday's (1st of May) barbecue party.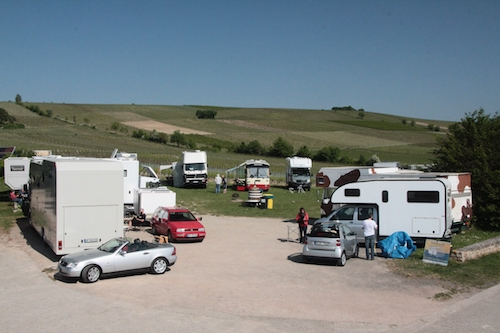 As usual, the meeting shows a motley collection of the most diverse vehicles.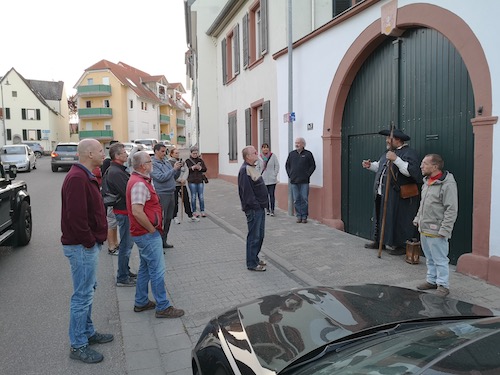 Wolfgang, the forum's administrator (Admin) has organised an interesting tour through Bodenheim, guided by an old-fashioned night watchman.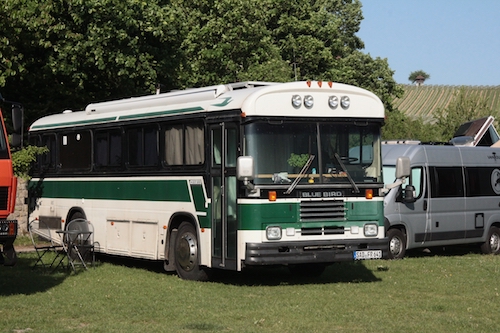 One of the visitors this year was Matthias, who bought Skoolie from us. The outside hadn't been changed, the interior was wholeheartedly adapted to his personal taste.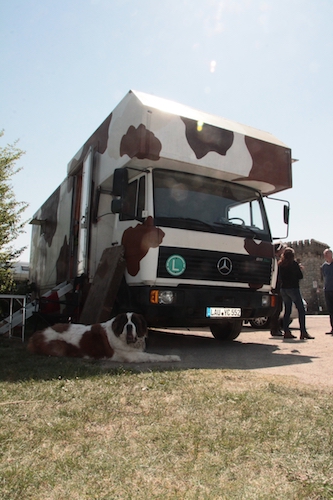 Motorhome and dog in matching pattern.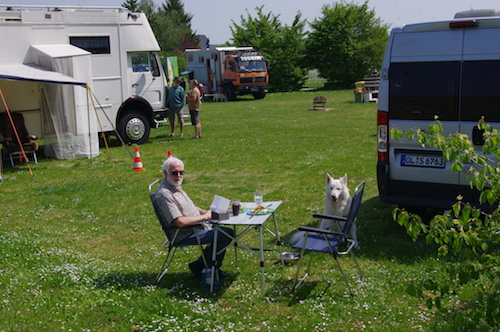 Motorhome driver and dog in matching colours.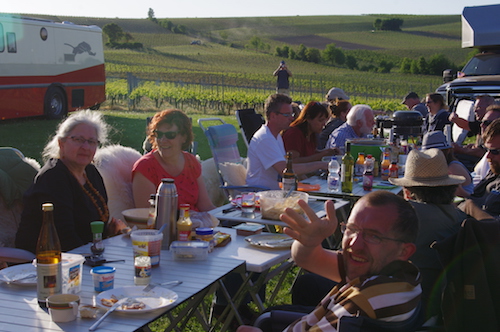 Barbecueing together also has become a tradition. We are lucky with the weather.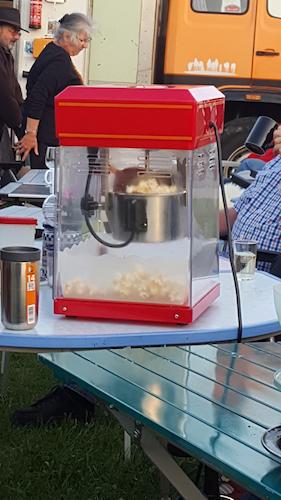 Where would one be in a motorhome without a popcorn machine?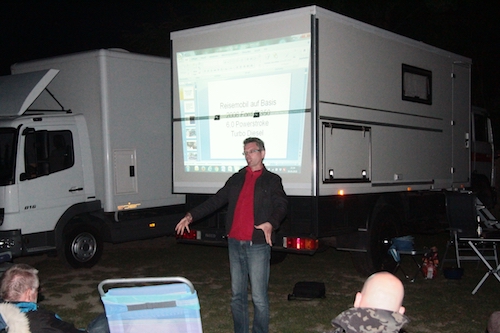 Wolfgang gives a presentation about the construction of his demountable camper unit. Each year is it approaching its completion a bit more.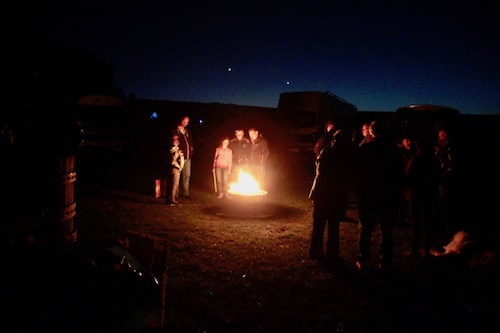 And of course the campfire is also part of it!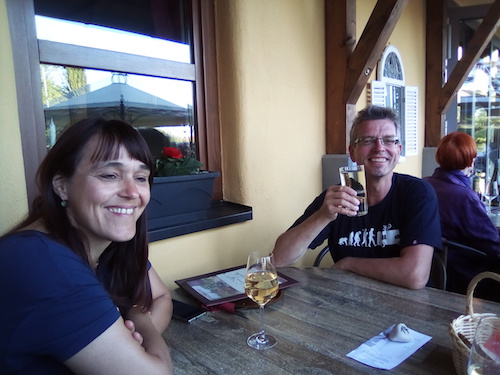 On Sunday night, when most visitors are gone, we enjoy a nice dinner with Wolfgang and Anja (who play a home game) and Matthias (who's not in a hurry either).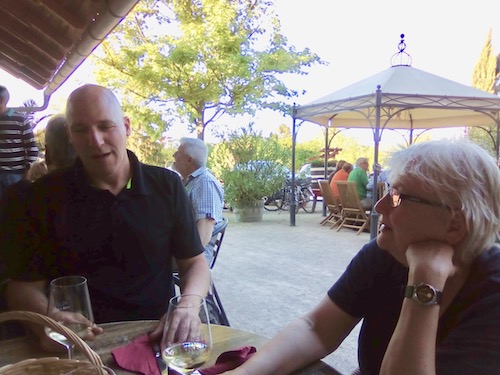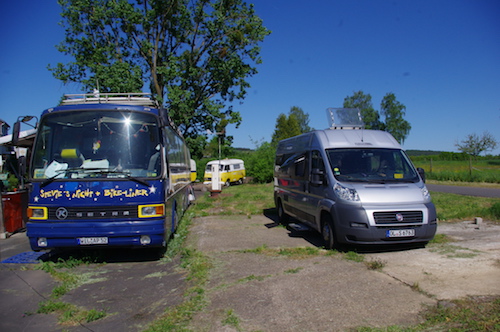 Because we are in the vicinity, we have a look at Stevie's estate. Because he's not there, we decide to drive on to Kesten, also in the Moselle valley.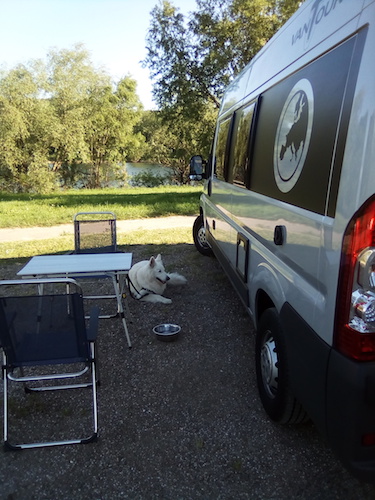 The motorhome place is right next to the river. It is perfectly maintained.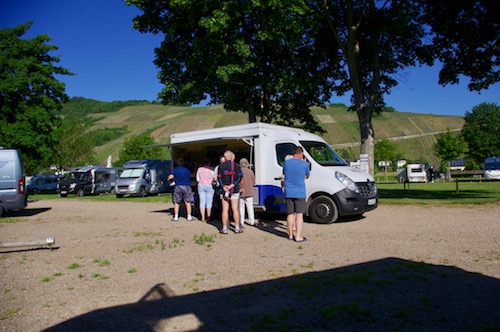 On this motorhome place the local baker appears each morning with her sales van to sell fresh bread, rolls and pastry. It's just like a holiday in France!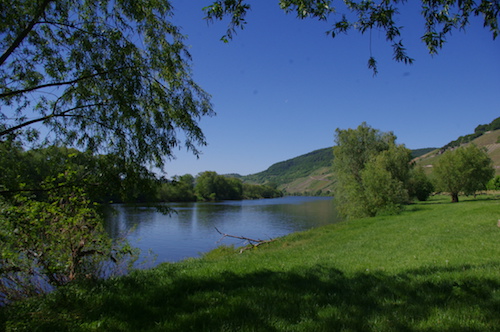 The Moselle is a particularly picturesque river.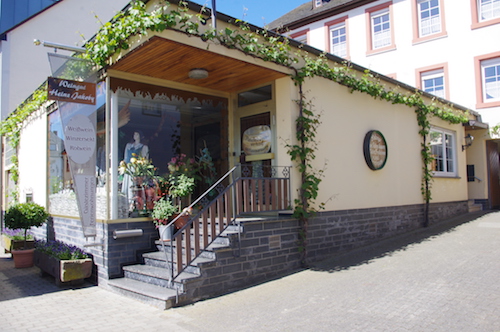 In the same village lives another old acquaintance: Heinz Jakoby. Heinz produces not only Moselle wines, but also a quite nice Trester, the German equivalent of Grappa. Time to purchase a box for consumption at home!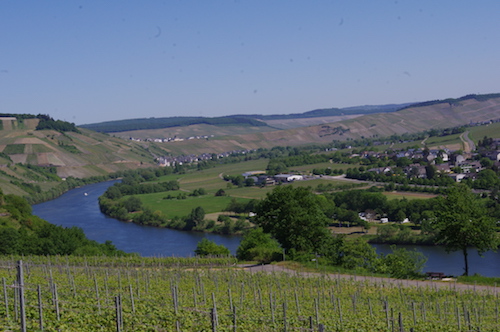 Two more impressions of the Moselle valley.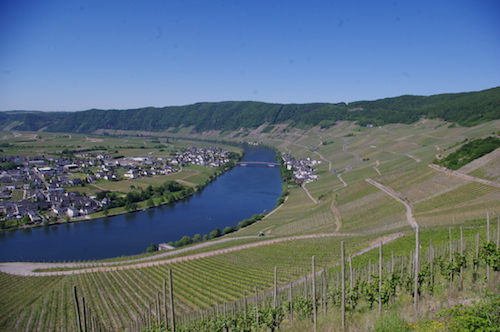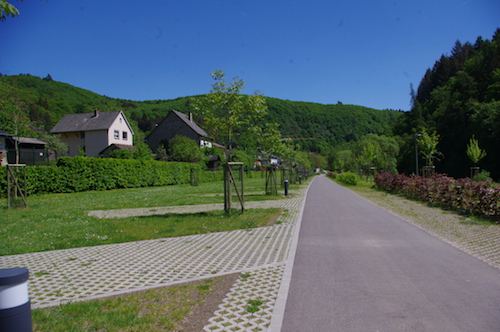 On this spot in Vianden, Luxemburg, was a campground where I have spent several holidays in the last 65 years. It has been converted into a motorhome site, but it obviously isn't finished yet and there is no visible change since last year. Maybe next year...?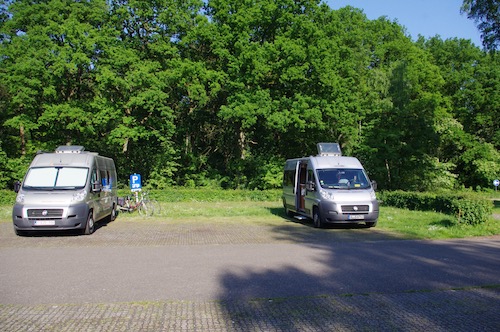 After filling up in Luxemburg (still the lowest fuel prices in Europe, for how long?) we continue to Belgium. We park at the site in Houthalen-Helchteren, where we have slept many a time before. But after dinner we realize that today is the day of the monthly Mensa pub meeting, not too far from where we are. So we decide to drive to Heist-op-den-Berg.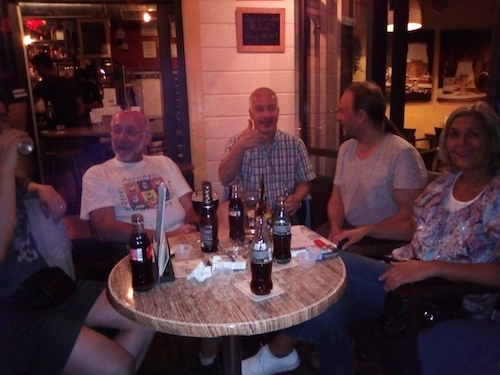 It was good to see some old friends (and some new) from the time we lived in Belgium and would often attend Mensa meetings.
Then we are two weeks at home.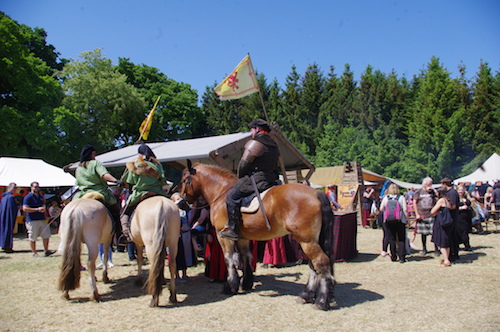 In the Pentacost weekend Ton and Kris come to visit us, together with their young Rhodesian Ridgeback bitch Ylva. Sunday morning we first have a glance at the Peat and Farmers Museum in Benthullen, 20 minutes from where we live.  In the afternoon we go to the annual Middle Age event in Ahlhorn.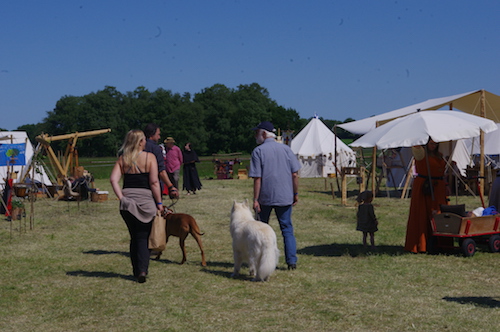 We saw a perfect re-enactment of medieval life.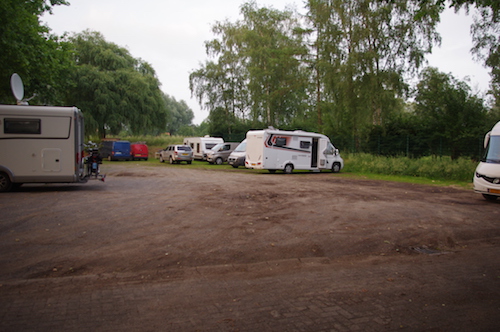 Our next trip brought us to the Netherlands again. In order not to drive the whole distance in one day, we slept in Schüttorf, close to the Dutch borden.
The next morning we drove to Werkendam to pick up a Travel Vision satellite dish, which we had purchased on line.  From there we went on to Zeist to celebrate grandson Abe's birthday.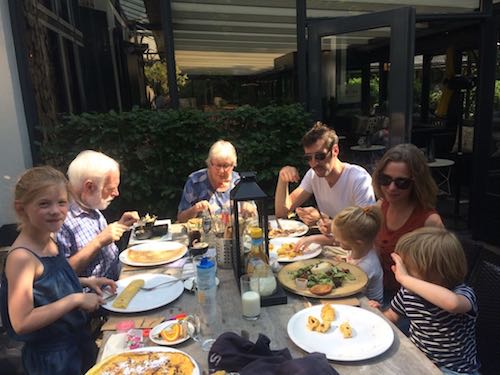 We haven't met children yet who don't like pancakes! 't Jagershuys offers a large variety, so that also those who prefer hearty over sweet will get their money's worth.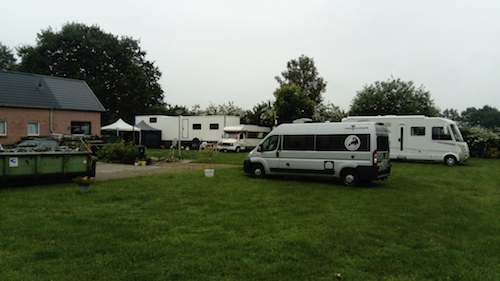 On the way back we stayed a night at De Bonenstee and had a look at the progress of Fred and Egbertje's semitrailer project.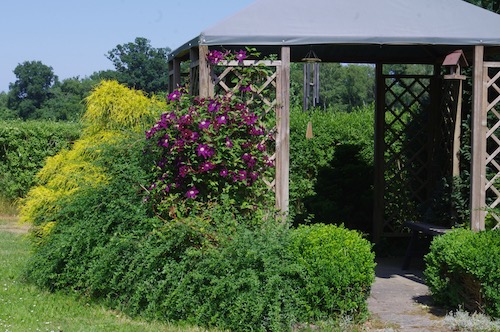 At home we had a great Summer, too. Look at this clematis! Unfortunately later this year, the drought had its influence. One acre is just too much to sprinkle daily from only one well.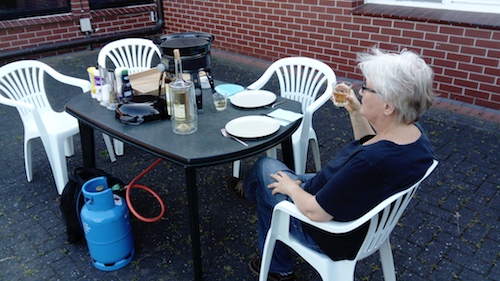 But our propane barbecue was used more often than ever before.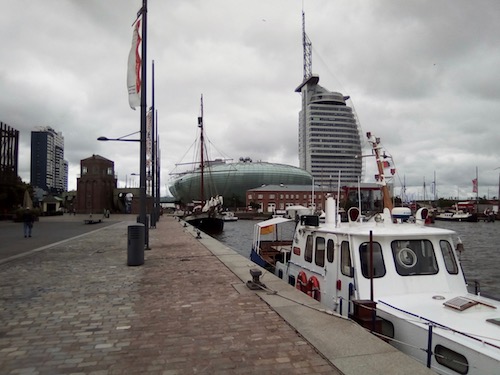 At the end of the monthe we made a trip with a large group of members of our synagogue to the Auswandererhaus in Bremerhaven. In this museum it is made visible what the emigrants in trhe past 150 years had to deal with. Recommended! Wandering around the neighborhood, with the so-called the new port, is not a punishment either.