Mansle-Beerse
Frankrijk (Winter 2010/2011-17)

Het eten gisteravond bij La Marmite was inderdaad heel lekker. De afgelopen nacht (in Mansle, Charente) de hele nacht regen gehad. We stonden vanmorgen in zeker 20 cm diepe plassen. In de loop van de middag klaart het gelukkig op. Het landschap is overwegend leeg.
After a nice meal at the local restaurant (see yesterday's blog) we can hear raindrops on our roof most of the night. This morning we wake up parked in deep pools.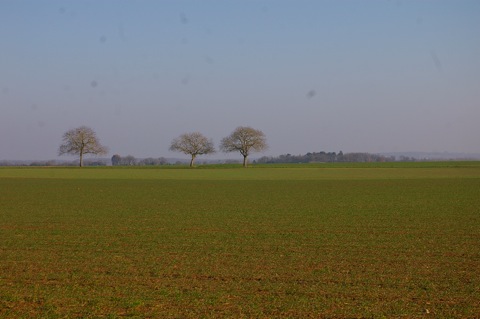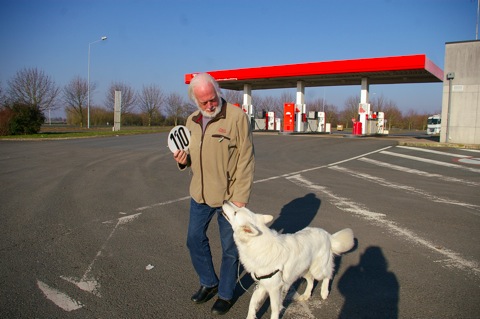 Bij een Centre Routier langs de N10 (nog steeds!) eindelijk de snelheidsstickers gekocht die in Frankrijk op onze bus horen te zitten (80-100-110).
At last we can get the speed stickers which we need in France to indicate we are a motor home and no bus.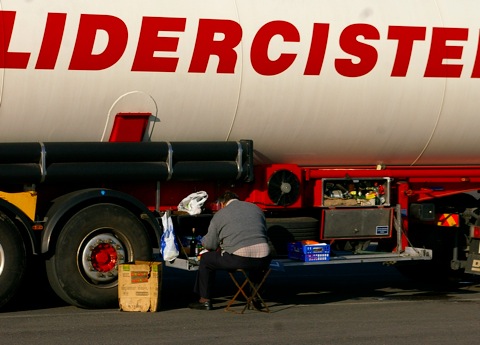 Wij nuttigen onze maaltijden in een beperktere ruimte dan deze chauffeur, maar wel minder fris!
As long as the weather co-operates this is the best kitchen/dining room one can wish. Still we are glad with our roof...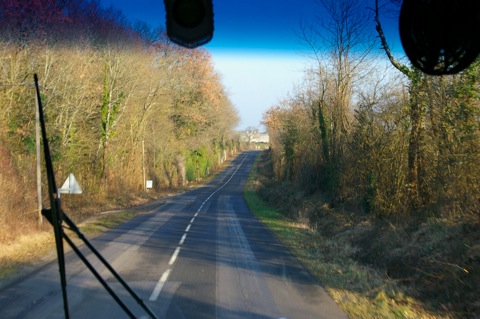 Vanaf het Centre Routier leidt Garmin ons over departementale weggetjes verder. We schatten dat we tien auto's per uur tegenkomen.
The last hour the navigator leads us via smaller roads. We're happy there isn't much traffic.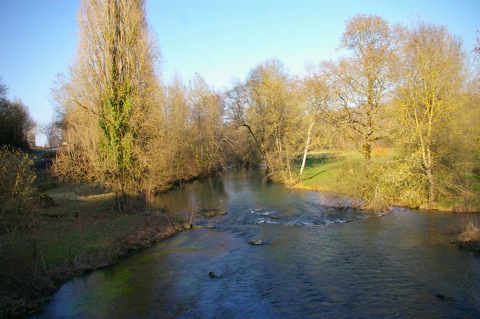 De weg kruist poëtische stroompjes,
Beside the road: beautiful streams,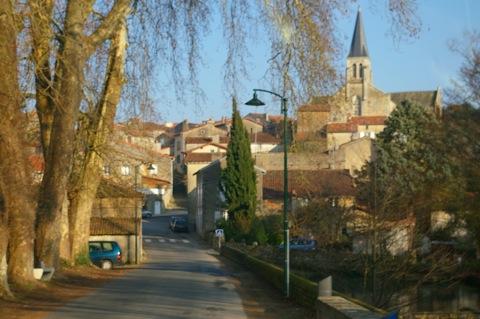 idyllische dorpjes,
picturesque villages,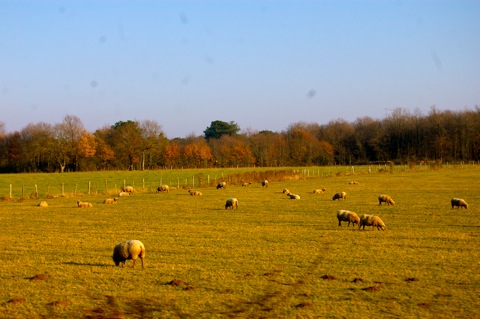 maar de leegte blijft de overhand hebben.
but above all: emptiness.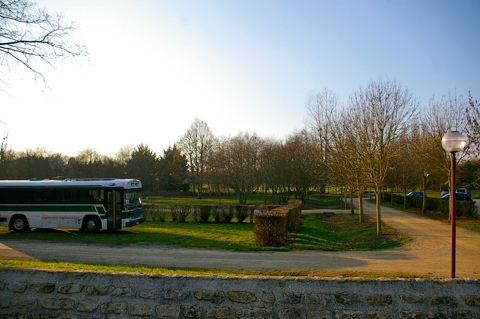 In Nieuil-l'Espoir is een prachtige camperplaats bij het Parc de Loisirs. Met een open hotspot!
Late afternoon we park on this beautiful RV parking in Nieuil-l'Espoir. Motek runs around in circles like a mad dog when we let him off the leash.

De volgende ochtend merken we dat de Truma gaskachel het niet meer doet. Bij de heersende buitentemperatuur is dat heel vervelend! Sylvia verzint alternatieve scenario's om de ijskoude nachten te overleven.
When we wake up it is always nice to switch on the propane heater to pre-heat the bus. Not today! The pilot flame fires, but the heater does not start. COLD!!! Especially Sylvia is not a happy camper ;-(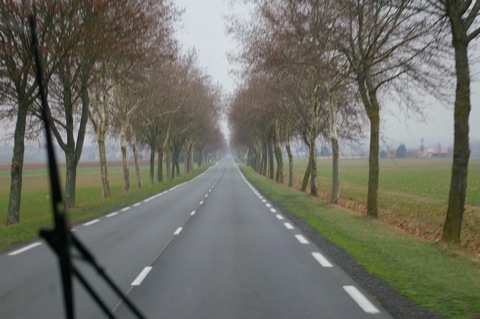 Gelukkig hebben we genoeg heet water in de boiler voor een warme douche. Daarna snel aankleden, motor starten, busverwarming aan en rijden maar. Tussen boompjes door,
After a hot shower we put on warm clothing ASAP. Once on the road again, the bus heaters (on the engine coolant) make life bearable. The road further north leads between trees,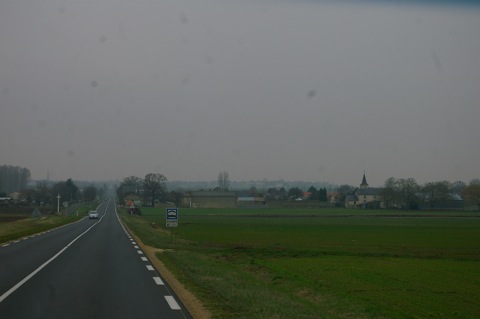 langs velden
along meadows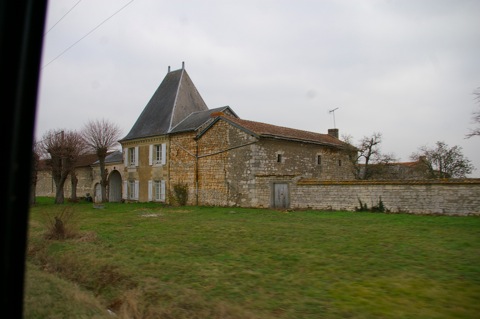 en langs boerderijen die bijna burchten zijn.
and passes farms that look like castles.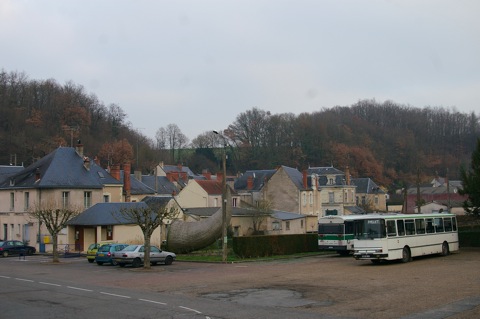 Water tappen en vuil water lozen is er vandaag niet bij in Villaines-les-Rochers, afgesloten vanwege de vorst. Maar een nette parkeerplaats bieden ze wel. Met zowaar een buurman zonder WEP of WPA...
In Villaines-les-Rochers the municipality has turned off the water because of the low temperature. But we still have enough fresh water for some days, so not to worry!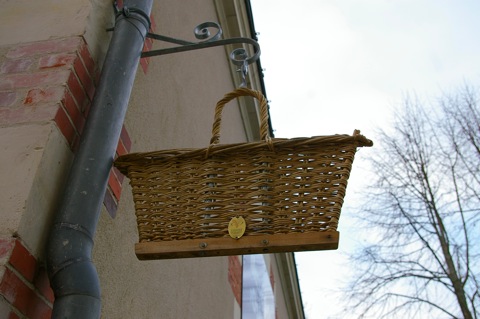 Villaines-les-Rochers blijkt te bestaan van het manden vlechten. Huis aan huis is een Atelier de Vannerie.
Villaines-les-Rochers is famous for its basketry.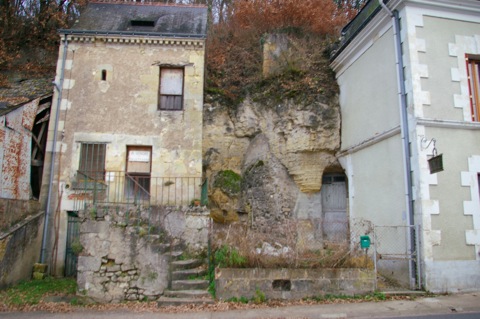 Sommige huizen in de hoofdstraat zijn voor een deel ìn de rots gebouwd.
Some houses are carved out in the rock.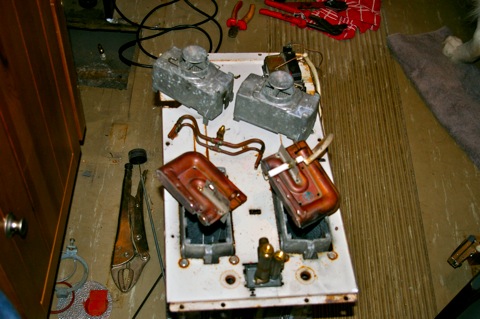 Meteen na aankomst de Truma gedemonteerd en helemaal schoongemaakt. Hij doet het weer. Hoera! Een van de waakvlammen (die met het thermokoppel) kreeg geen gas door een verstopt buisje.
After we arrive in the late afternoon it's time to take apart the propane heater. It turns out a thin tube between the two halves is clogged. A wire in the wire brush solves the problem.
[Problem solving: 10 sec. Dismounting and mounting: 2 hrs.]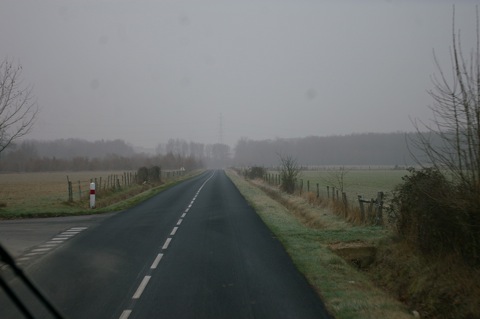 Maandagmorgen is het koud, grijs en winderig. Naar Tours voeren een aantal kleine en gelukkig vrijwel verlaten weggetjes.
The weather on Monday is grey, cold and windy. Garmin leads us to Tours via small, empty roads.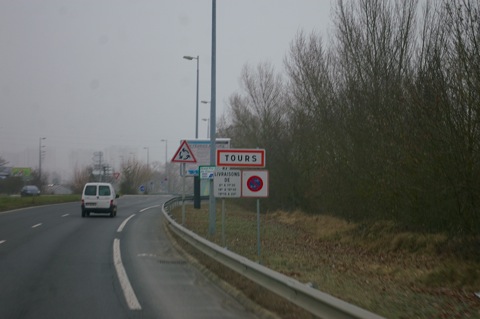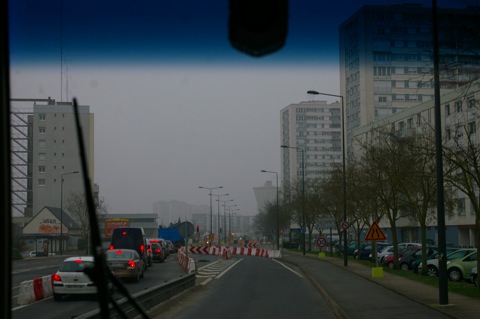 Er wordt stevig aan de weg gewerkt.
In Tours we take a ring road which is under construction.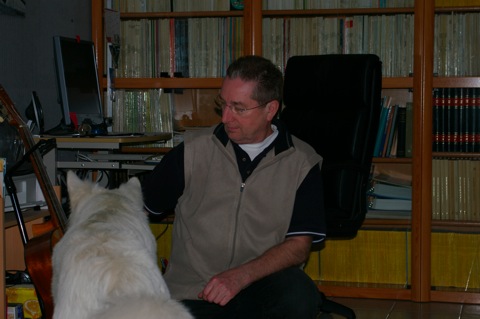 In La Ville aux Dames bezoeken we Lucas, zweefvliegvriend sinds 38 jaar. Motek is hogelijk geïnteresseerd in het geluid van de gitaar.
Near Tours lives Ernst's friend for almost 40 years Lucas who plays the guitar for Motek.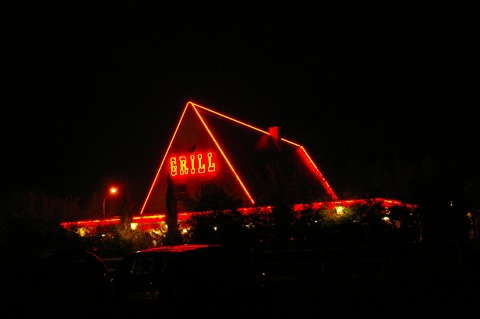 En route van Lucas richting Parijs zien we in Blois een Buffalo Grill, een keten van ruim 300 restaurants waarvan we de constante hoge kwaliteit van het (kosher-style) rundvlees kennen en waarderen. De beste bizon buiten Wyoming! Hun bus-parkeerterrein biedt ons meteen een overnachtingsplek (mèt toestemming).
In Blois we happen to see a Buffalo Grill, a restaurant chain we know for its excellent quality beef. We are allowed to stay on their parking lot for the night, so we can afford an alcoholic beverage with our meal.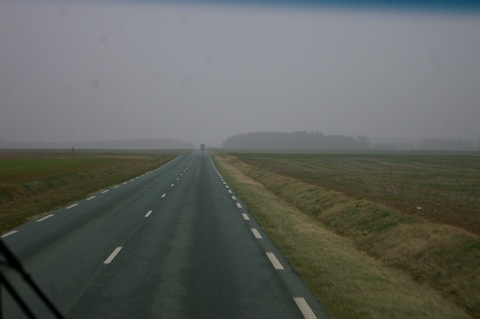 Vandaag alweer een grijze dag. Maar ja, het is pas 1 februari!
Another grey day. Frost on the fields and poor visibility. It's winter!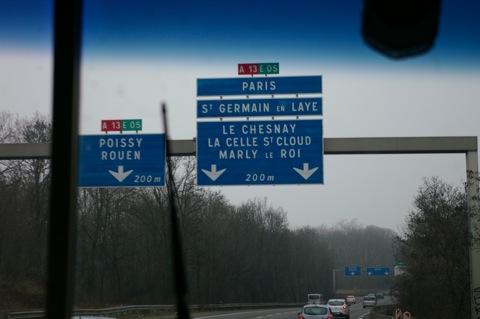 Van Blois leidt Garmin ons via Chartres naar Parijs. De route via Orléans heeft kennelijk beperkingen voor ons, Poids Lourds...
Because the shortest route is not fit for heavy vehicles, we have to make a (small) detour. An advantage of a navigator designed for trucks.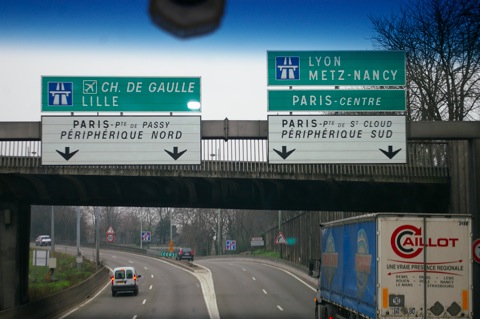 Gaan we linksom of rechtsom? Linksom is het kortste.
There is a 360° ring around Paris. 1/4 north; 3/4 south.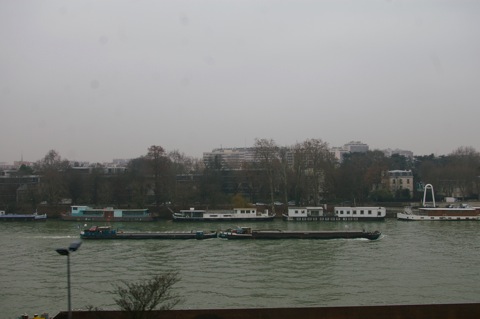 De Seine gezien vanaf de BP.
The river Seine where it leaves Paris on it's way to the sea.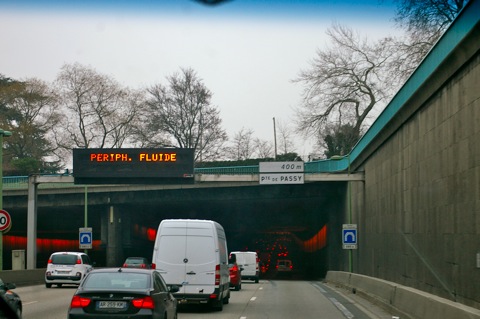 Wel vrij druk, maar gelukkig wel in (vloeiende) beweging.
On the he ring road (Boulevard Periphérique) it is rush hour 24/24.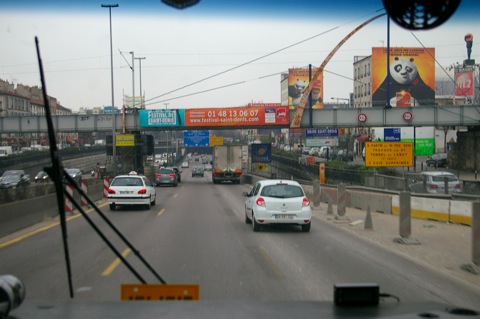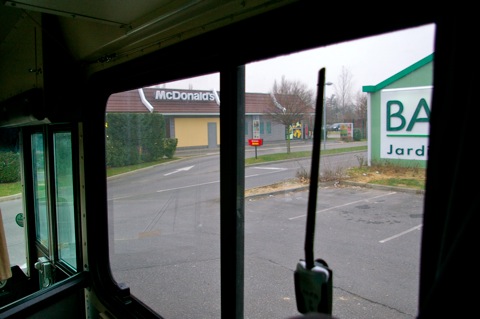 Mac, goed om mail te lezen en te verzenden, maar niet om de website te uploaden. Poort 21 staat op slot.
McDonalds offer free WiFi. The only issue is that one cannot FTP (at least in France), because they have closed port 21.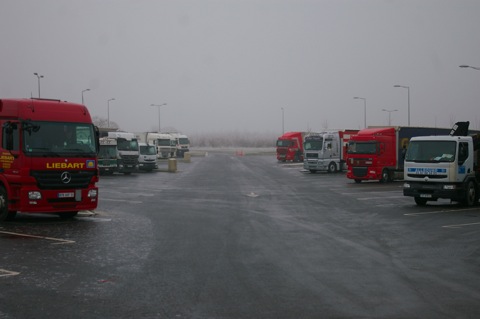 De GOP in Reims die het slechte camperboek ons adviseert, blijkt moeilijk te vinden - Garmin blèrt voortdurend dat we zwaarder dan 3.5 ton zijn - en àls we 'm eindelijk gevonden hebben blijkt-ie net geschikt voor een mini-campertje... Deze grap kost ons een uur! Zo'n 30 km voor Charleville-Mezières is een grote Aire (Woinic) met een plekje voor ons. Aan de koelaggregaten van de buren zijn we inmiddels wel gewend. Als we parkeren, rond 20 uur, bezetten we het allerlaatste plekje (de foto is van de volgende morgen, als driekwart alweer op weg is). Inmiddels is het zachtjes gaan regenen bij een temperatuur van net onder het vriespunt.
After the RV place in Reims turns out to be fit for tiny RVs only, we drive on north and find a place for the night at a gas station 20 mi before Charleville-Mezières. The cooling engines sound familiar by now. The picture was taken the next morning, when most of our neighbours were on the road again... It is very slippery because of frozen rain.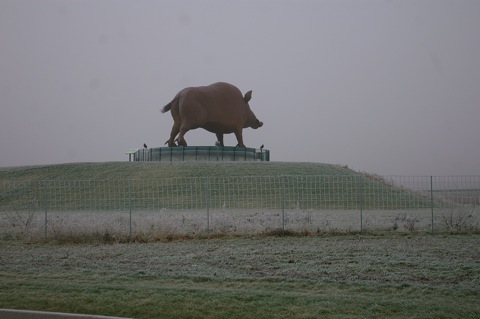 Naast de aire staat het grootste wilde zwijn ter wereld. Na het maken van deze foto gleed ik (Ernst) uit op het spiegelgladde wegdek naast de bus. Twee maanden zonder enig lichamelijk letsel en nu een blauwe knie, een blauwe elleboog en een stel dikke tenen. Allemaal aan de linkerkant, rechts had ik de camera vast.
Close to the parking is the biggest wild boar in the world. After taking this picture I fell on the icy road. It was so slippery I couldn't get up until Sylvia passed me a rubber mat from the cabin. So now I have a blue elbow, a blue knee and some bruised toes. Nothing wrong with the camera, though.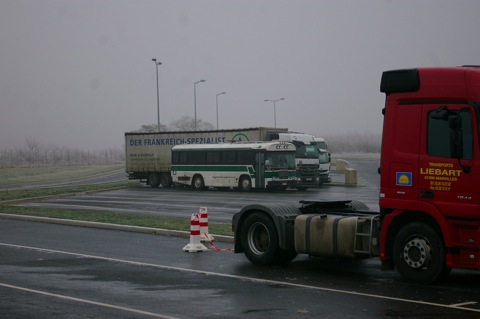 Voor iedereen die onze Skoolie zo groot vindt: kijk toch eens wat een bescheiden busje het eigenlijk is!
Some people think Skoolie is a big vehicle. But compared to the average freight truck, it has really a modest size.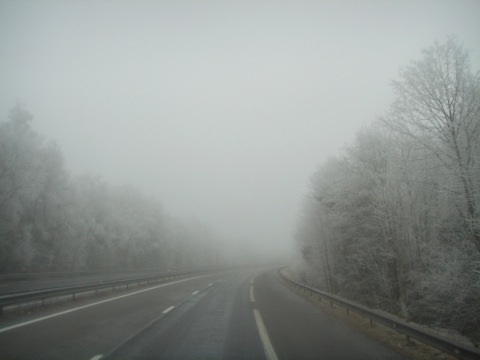 We zijn midden december in een wit landschap vertrokken; we keren in een witte wereld terug naar huis.
It was white when we left, two months ago. It is white again today.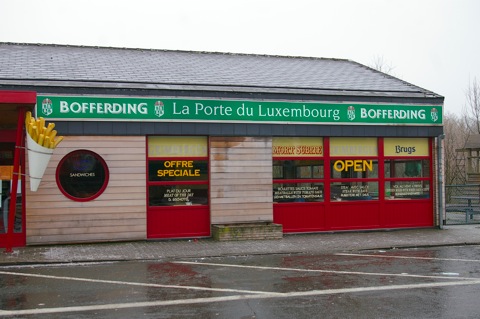 We lunchen langs de A411 tussen Bouillon en Brussel. Naast het Luxemburgse bier ook fritten, we zijn (bijna) thuis.
Our last lunch underway: the famous Belgian chips... Almost home!


Go to top of page