2012 Spring
April: zelfbouwtreffen in Meeuwen.
Our first excursion this year is to a meeting of self built or converted motorhomes in the Belgian province of Limburg.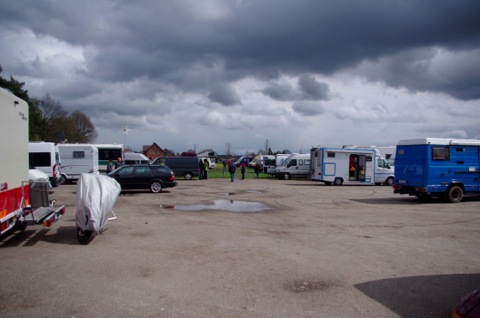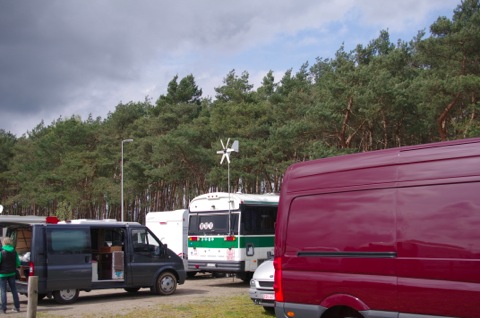 Onze windmolen blijkt een uitstekende aanvulling op de zonnepanelen.
When there's not enough sun to charge our batteries, this wind generator turns out to be an adequate addition.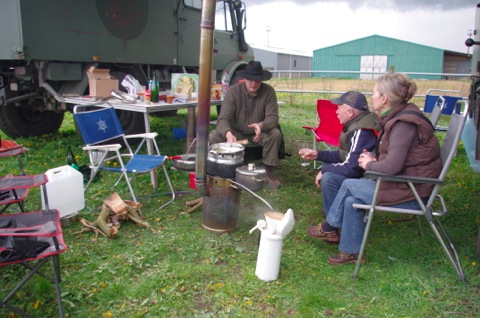 Behalve campers zijn er nog andere producten van huisvlijt te zien, zoals deze allesbrander, fornuis, annex koffiezetter.
Another home built construction: stove, cooker and coffee maker in one.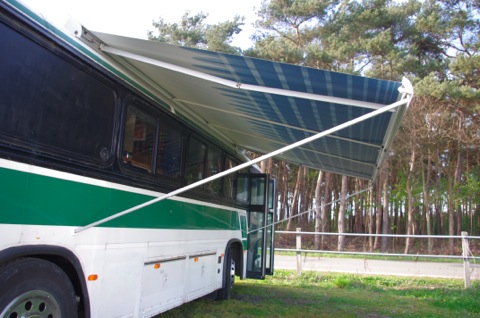 Omdat we hier eindelijk de breedte hebben om de nieuwe luifel uit te draaien, meteen maar de steunen aan de bus gemonteerd.
We finish the awning supports. Now we are a real motorhome ;-)

Mei: Bodenheim.
May: trip to Germany.


Op weg naar het Treffen van het Womobox Leerkabinen forum overnachten we de eerste nacht bij hotel-restaurant Krickenbecker See in Nettetal.
The first night of our German trip we sleep on the parking lot of a hotel, just across the German border from the Netherlands.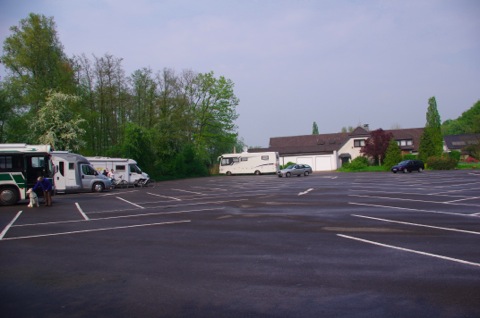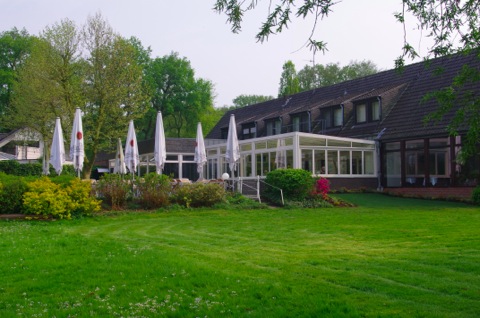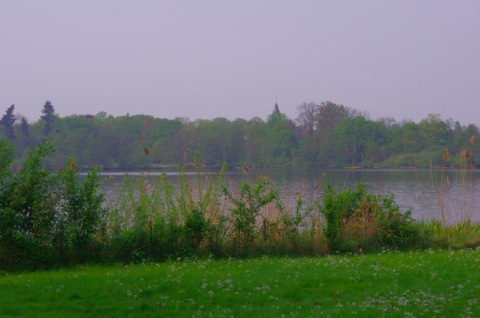 Dit kasteeltje temidden van de meertjes heb ik honderden malen vanuit de lucht gezien.
When gliding from the Venlo airfield in the seventies I have seen this little castle from above hundreds of times.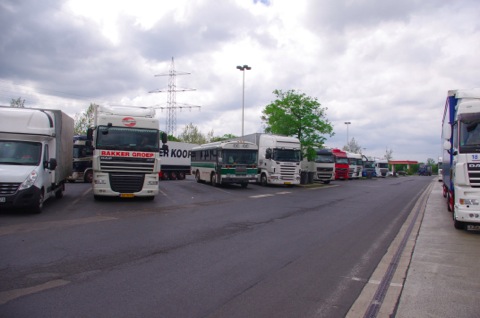 Gezellig plekje voor de lunch.
No need for a camp ground for preparing a meal!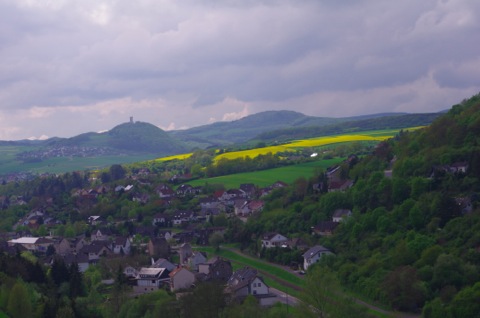 Langs de weg zijn vele koolzaadvelden.
Bright yellow rape seed fields along the motorway.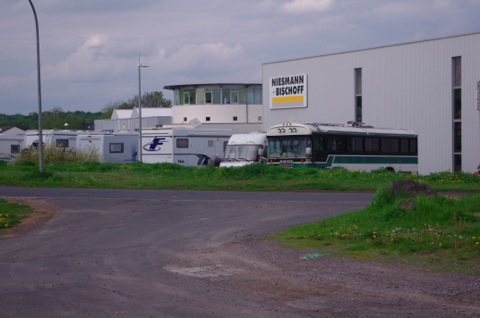 In Polch slapen we op de Stellplatz van de firma Niesmann+Bischoff. We zijn de enige zelfbouw-camper, maar ook de langste.
The well-known motorhome builders Niesmann+Bischoff offer a place for the night. Ours is the only steel one.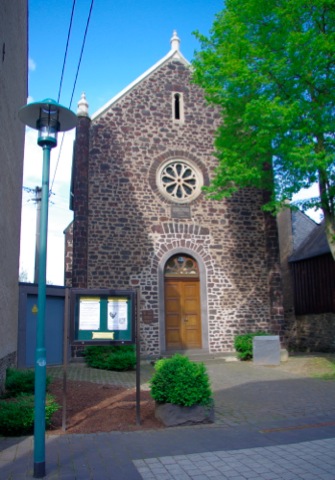 Het sjoelje van Polch. Na de verwoesting tijdens de Kristallnacht is het in de afgelopen jaren gerestaureerd.
The Polch synagogue, destroyed in 1938 and recently restored.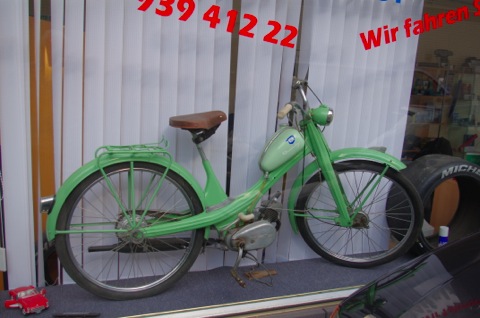 Nostalgie/nostalgia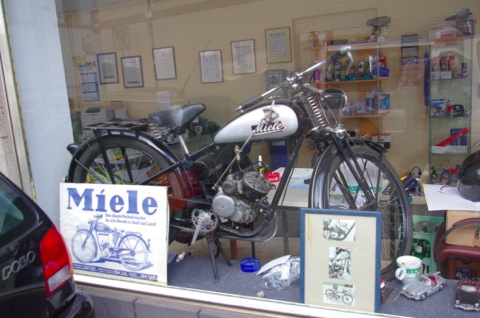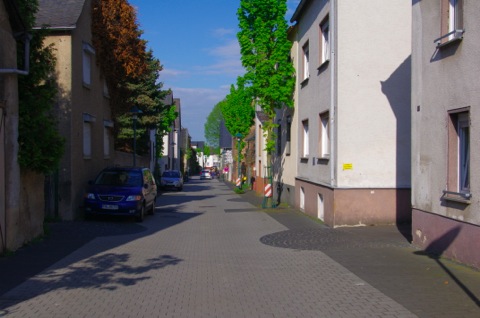 Beetje slaperig straatje.
Polch street.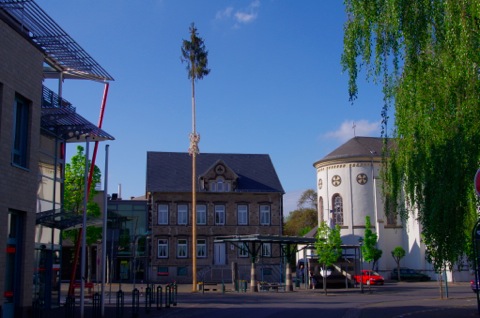 Markt, gemeentehuis, meiboom.
Polch town hall, market with May pole.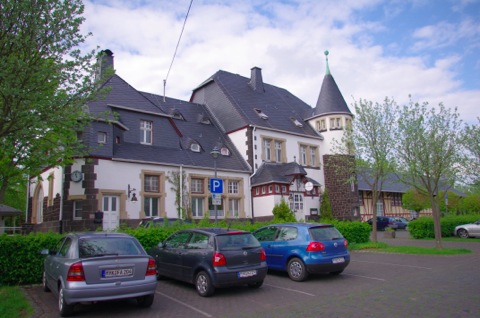 Het oude station, nu een restaurant.
The old railway station now is a restaurant.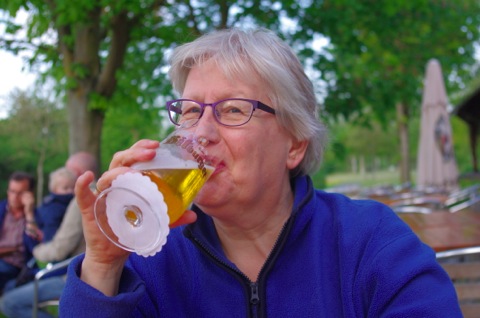 Lekker - echt Duits - biertje!
Nice German beer to match the atmosphere. Although the sky is slowly turning to grey, we are still sitting outside.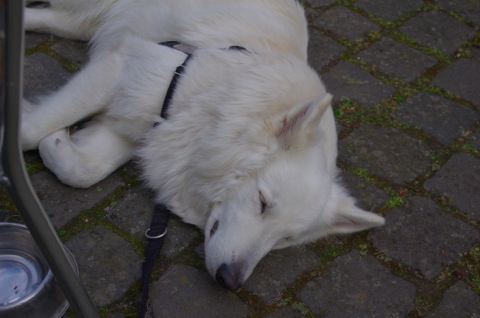 Motek voelt zich hier ook wel op z'n gemak.
After some water Motek feels like a little nap (we have done some walking).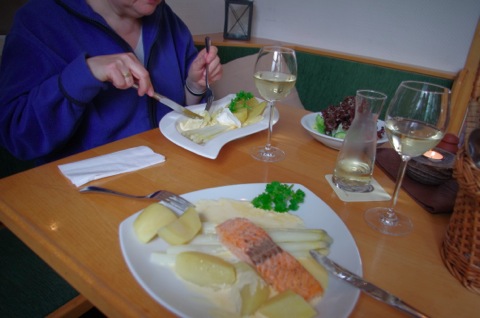 Om het aspergeseizoen te vieren eten we deze zeer smakelijke maaltjes.
Asparagus with salmon and asparagus with goat cheese, delicious!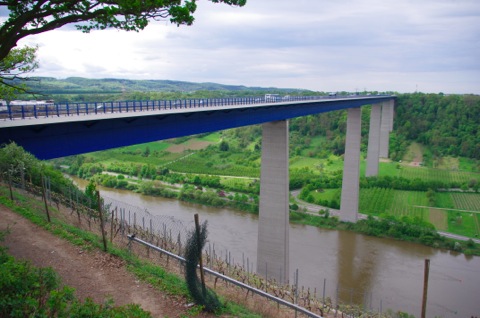 We kruisen de Moezel.
On our way onward to Bodenheim we cross the River Moselle.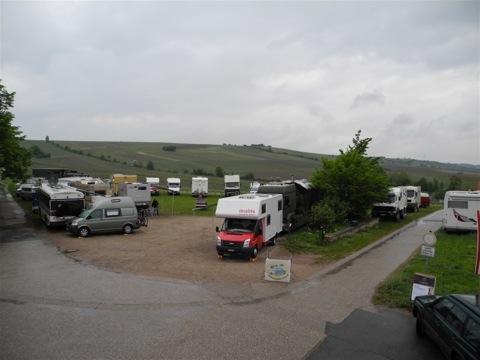 Foto Tiffy
Overzicht van het zelfbouwtreffen.
Impression of the meeting on the motorhome area of Bodenheim.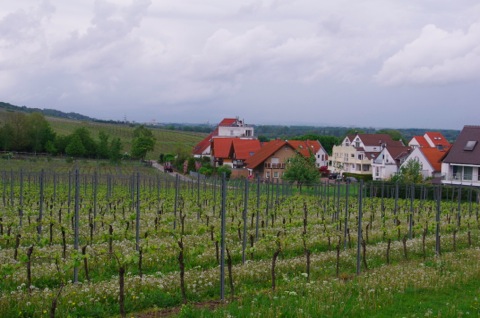 De wijnstokken zijn rondom ons, maar zijn nog bedroevend kaal.
The vines around us still have a long way to go…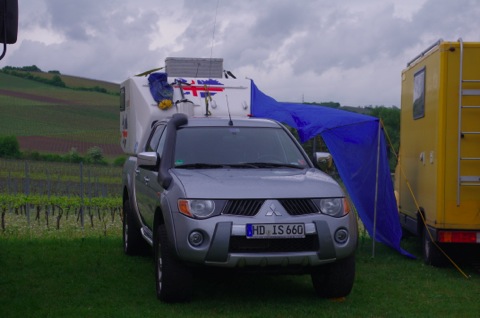 Allemaal eigen ideeën. Hier de kleinste...
A lot of own constructions, from small...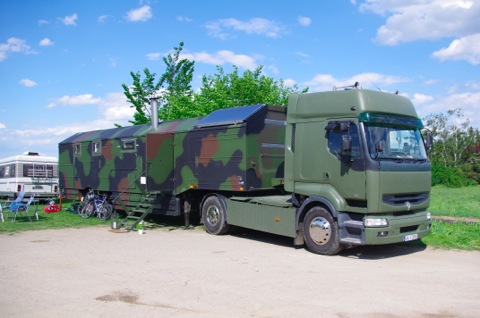 … en de grootste.
… to big.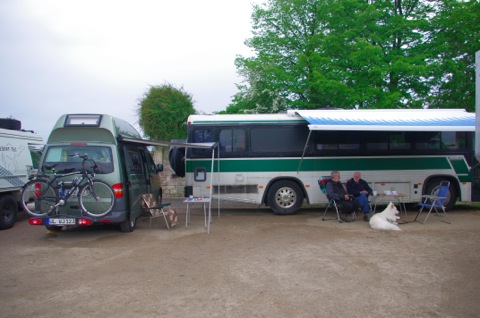 We hebben lange gesprekken met Walter en Eva, die met hun compacte VW camper bij ons staan. De luifel werkt ook prima tegen de regen.
Under the awning - against the rain - we have long talks with our new friends from Baden-Württemberg.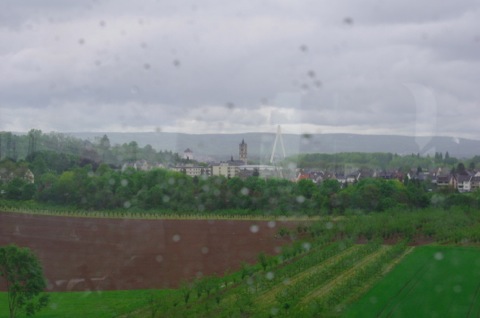 Zondag vertrekken we in noordelijke richting. Deze foto spreekt voor zich v.w.b. het weer…
When we drive north on Sunday we could have done with a submarine.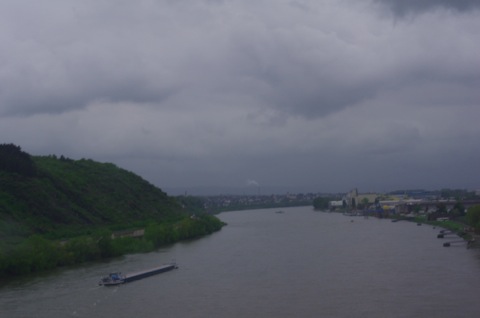 Rijn/River Rhine.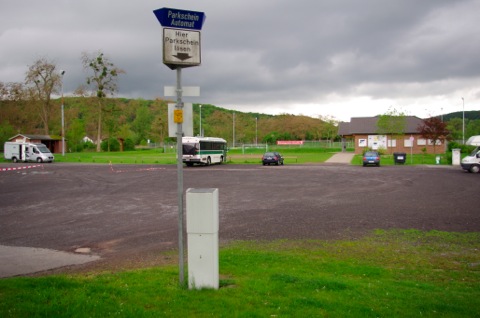 Stellplatz in Sinzig. We zijn hier eerder geweest en weten dat er altijd wel een plekje is.
Motorhome parking in Sinzig where we also were last year. Or was it the year before…?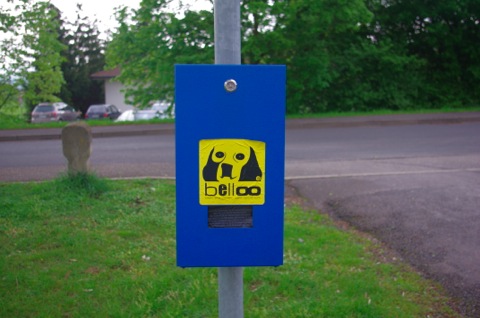 Een handige voorziening, tenminste, als je met 'n hond reist.
Dog poop bag dispenser. The German authorities look well after their visitors.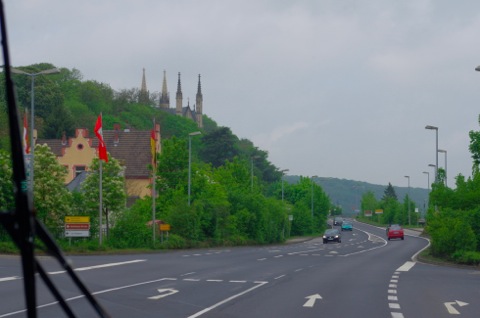 Remagen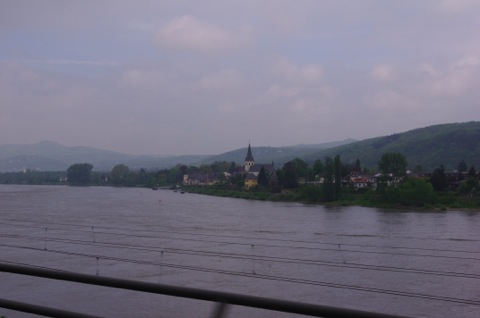 Rijn / Rhine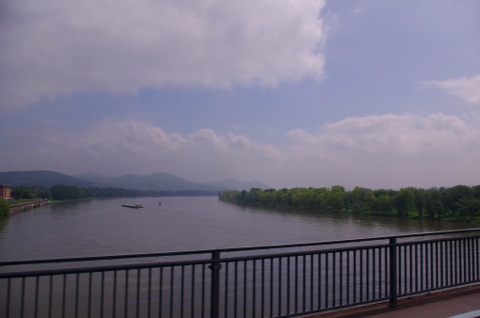 In Bonn steken we dan eindelijk de rivier over.
Bridge across the River Rhine in Bonn, Germany's former capital.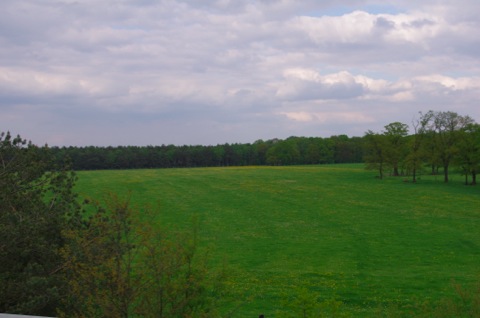 Oostfries landschap. De turf is afgegraven.
After the peat has been excavated, a flat fertile field remains.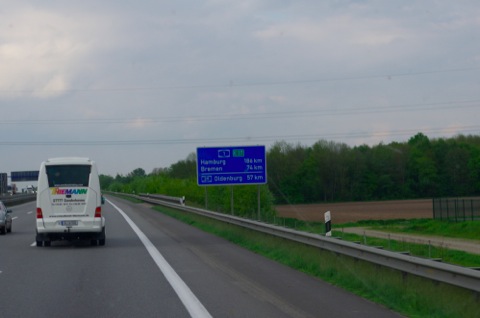 Richting Oldenburg.
Further north.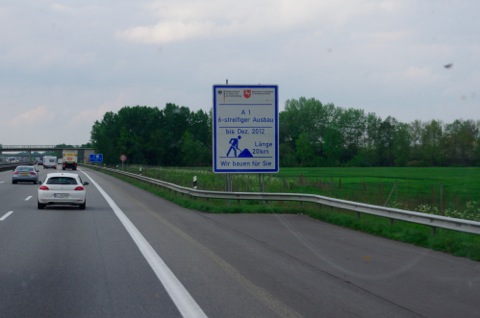 20 km wegwerkzaamheden.
Road works German style: 12.4 mi!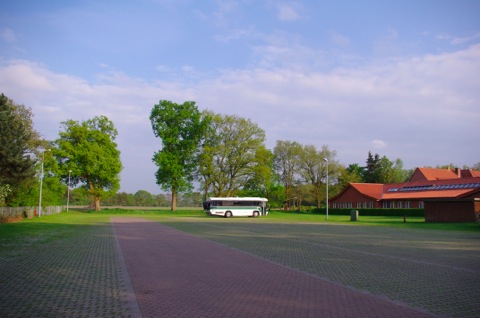 Huntlosen GOP.
Motorhome parking in Huntlosen.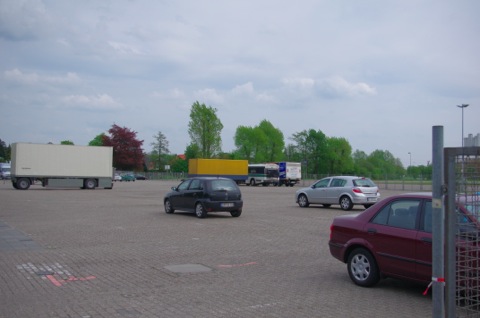 Stelplaats bij de Weser-Ems Halle.
Motorhome parking at the Oldenburg exhibition grounds.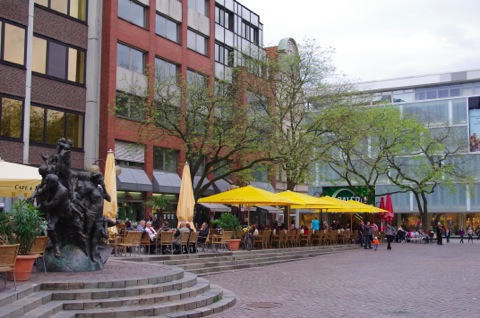 Oldenburg mark(e)t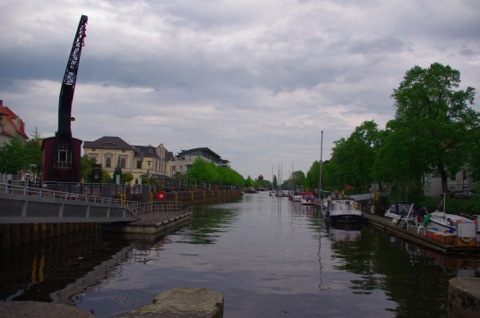 Haven van Oldenburg.
Old port (and new marina) in the river Hunte in Oldenburg.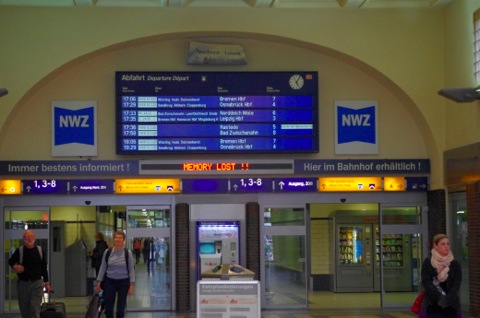 Problemen bij de Bundesbahn.
I wonder how the German railways keep running with their current EDP problems…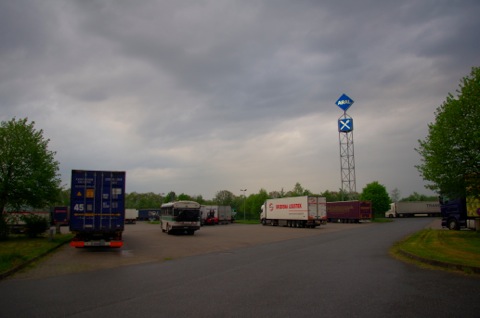 Aral Autohof Apen-Remels (Uplengen-Jübberde)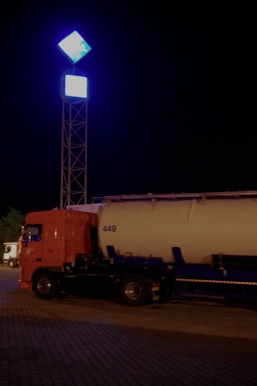 Welterusten!
Sleep well!
Go to top of page