2009 USA
Nadat Sylvia op Ravelry had gelezen over de Madrona Fiber Arts Retreat leek het haar leuk daaraan deel te nemen. Omdat wij toevallig ook al een poos een paar vrienden in het Noordwesten wilden gaan opzoeken, was Madrona een perfecte aanleiding voor een tripje van 10 dagen naar de staat Washington.

February 2009: time to visit the Northwest once more. Sylvia wants to take part in the Madrona Fiber Arts Retreat and we have friends there as well.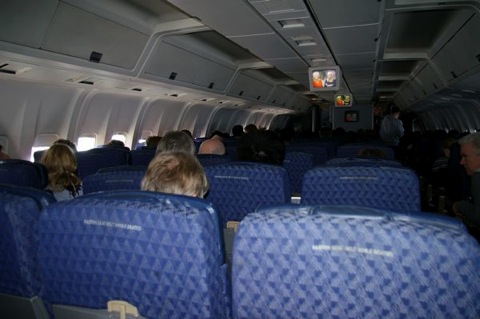 Hoewel we geboekt hadden via Chicago O'Hare, vlogen we i.v.m. een defect vliegtuig in Brussel via New York JFK. Een uur langer onderweg, maar - naar we achteraf hoorden - veel minder riskant v.w.b. eventueel stranden. In praktijk betekende dit dat we vijf minuten i.p.v. een uur hadden om te boarden. Complimenten aan het grondpersoneel van American Airlines dat erin slaagde onze koosjere maaltijden ook binnen die korte tijd van het defecte toestel naar het onze over te brengen! 

Due to a broken down aircraft our tickets Brussels-Seattle via Chicago are changed to Brussels-Seattle via New York. This meant that after checking in we had about five minutes to reach the gate where boarding had begun 20 minutes earlier. American Airlines succeeded in getting our kosher meals from the Chicago plane to ours within that limited time. Incredible!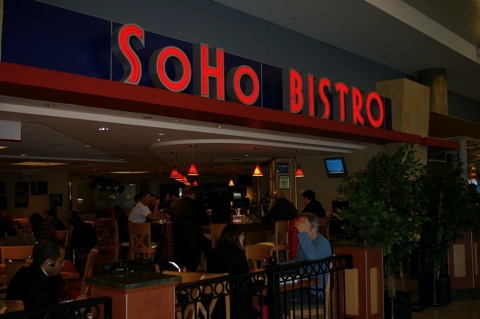 Op JFK (dat er trouwens behoorlijk verlopen uitziet) hadden we genoeg tijd en genoeg dorst voor een ijskoud biertje. Zo koud, dat de ijskristallen ìn het bier uitvlokten!

A few hours on JFK proved that everything over there is bigger, better and.... much colder. Our beer was freezing.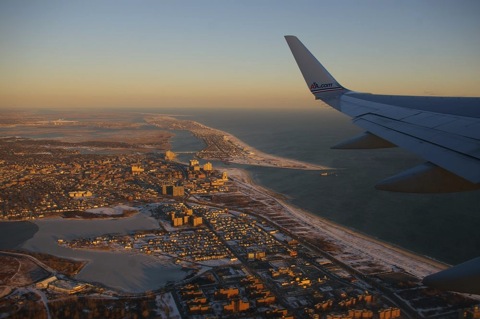 Vertrek van New York naar Seattle. Eerst naar het Oosten, over Jamaica Bay (foto) en dan linksom via het Noorden naar het Westen.

A last view on New York on our way to Seattle.
Go to top of page