2015 USA-USVI
Onze vriendin Marna had ons uitgenodigd haar op te zoeken in de periode dat zij als rabbijn werkte op St. Croix (spreek uit: Seent Kroj), het grootste van de Amerikaanse Maagdeneilanden. Marna zien, een tropisch eiland bezoeken, even weg uit de winterkou…. dat lieten we ons niet ontgaan. 
Our friend Marna had invited us to visit her during the time she worked as a rabbi in St. Croix (seɪnt ˈkrɔɪ), the largest of the US Virgin Islands. To see Marna, to visit a tropical island, to be away from the winter.... we were not going to miss it!
Unsere Freundin Marna hatte uns eingeladen, sie während der Zeit, die sie als Rabbinerin in St. Croix (Amerikanische Jungferninseln) arbeitete, zu besuchen. Marna sehen, eine tropische Insel besuchen, weit weg vom Winter... das lassen wir uns nicht entgehen.

De Škoda hebben we geparkeerd bij Relaxpark in Ratingen, heel betaalbaar en met een keurige service. Een aanrader voor iedereen die vanaf Düsseldorf vliegt.   
We parked the Škoda at Relaxpark in Ratingen, very affordable and with a great service. A must for anyone flying from Dusseldorf airport.
Den Octavia parkten wir bei Relaxpark in Ratingen, sehr erschwinglich und mit einer sehr guten Service. Ein Muss für jeden Flug von Düsseldorf.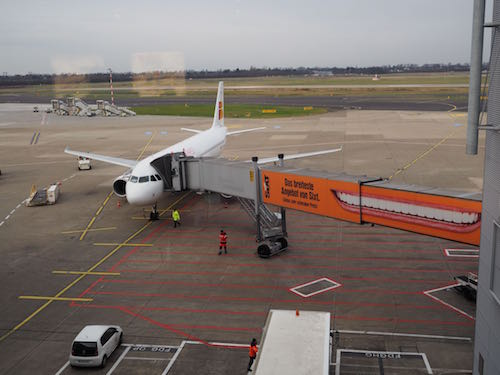 En zo vertrokken we in januari 2015 uit een kil Duitsland via het vliegveld van Düsseldorf. De Europese vluchten van Iberia Express (met een A320-200) zijn verstoken van elke vorm van luxe. Gelukkig duurt de vlucht maar zo'n tweeëneenhalf uur.
And so we left chilly Europe via the Düsseldorf airport. Iberia Express's European flights are devoid of any kind of luxury. Fortunately the flight only takes about two and a half hours.
Und so verliessen wir im Januar 2015 eine kaltes Deutschland über den Flughafen Düsseldorf. Europäische Flüge von Iberia Express sind frei von jeglicher Art von Luxus. Glücklicherweise dauert der Flug nur etwa zweieinhalb Stunden.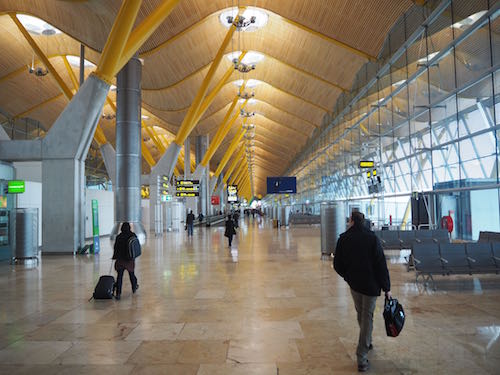 In Madrid stappen we over op een gloednieuwe Airbus A330-300. Negeneneenhalf uur is een hele zit, maar we hebben het overleefd.
In Madrid we change to a brand new Airbus A330-300. Nine and a half hours is a long time to stay put, but we survived.
In Madrid steigen wir um auf einen brandneuen Airbus A330-300. Neun und eine halbe Stunden ist ziemlich lange, aber wir haben es überstanden.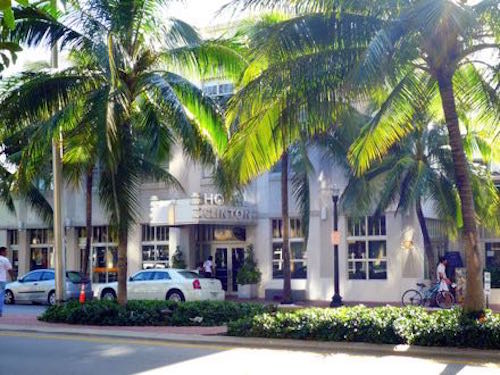 Het Clinton Hotel in Miami Beach wordt op het Internet heel verschillend beoordeeld. Gelukkig is het wel schoon, maar bouwkundig had het allemaal wel wat beter gekund.
The Clinton Hotel in Miami Beach has various reviews on the Internet. Fortunately it is clean, but architecturally it could have been a little better.
Das Clinton Hotel in Miami Beach wird im Internet sehr unterschiedlich bewertet. Glücklicherweise ist es sauber, aber architektonisch hatte es ein wenig besser sein können.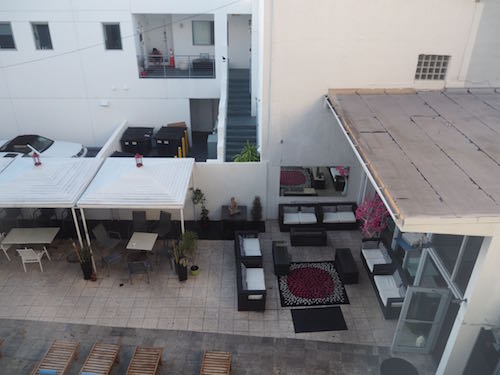 Op dit binnenplaatsje vindt een feestje plaats op de avond van onze aankomst. We zijn niet blij. Gelukkig blijft het bij deze ene keer.
This inner court is the venue of a party on the night of our arrival. We are not happy. Fortunately, it occurs only once.
Hier gibt es am Abend unserer Ankunft eine Party. Wir sind nicht froh! Zum Glück passiert dies nur einmal.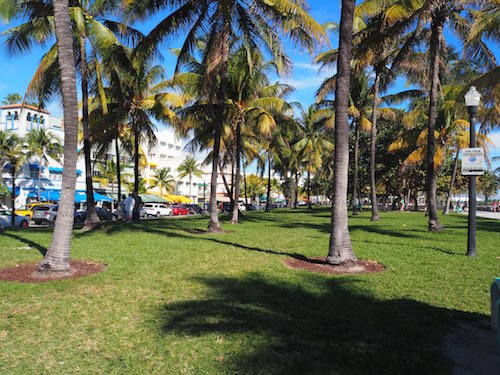 Miami Beach: de boulevard langs de Atlantische Oceaan.
Miami Beach promenade along the Atlantic Ocean.
Miami Beach: Promenade am Atlantischen Ozean entlang.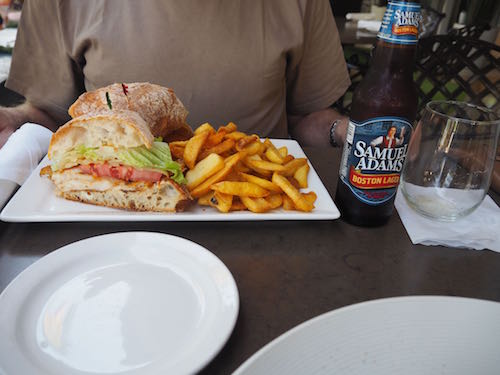 Een broodje vis op z'n Amerikaans: een complete maaltijd.
Fish sandwich American way: a complete meal.
Ein Fisch-Sandwich in der American way: eine komplette Mahlzeit.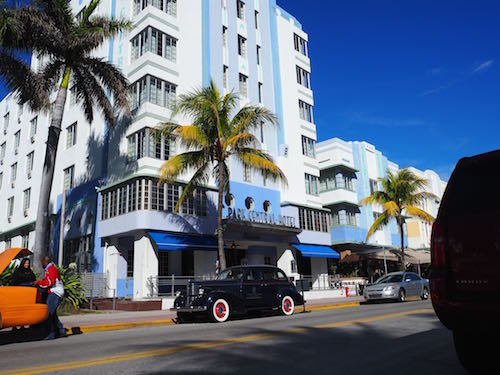 We zitten midden in het beroemde Art Deco District. Dit hotel is slechts één van de vele gebouwen in die stijl. Sommige exploitanten hebben als publiekstrekker een bijpassende auto voor de deur geparkeerd.
We are in the famous Art Deco District. This hotel is just one of the many buildings in that style. Some owners have parked a matching car in front of the door as a public attraction.
Wir sind im berühmten Art Deco District. Das Hotel ist nur eine der vielen Gebäude in diesem Stil. Einige Betreiber haben als öffentliche Attraktion ein passendes Auto vor der Tür geparkt.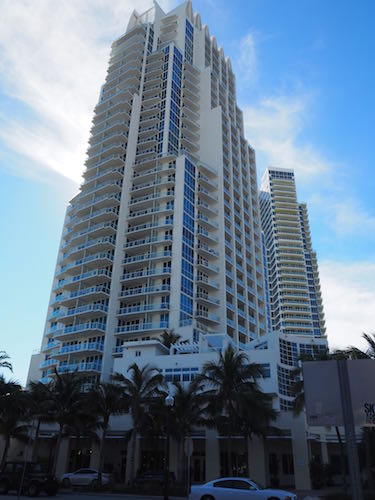 Stukje nieuwbouw op de zuidpunt van Miami Beach.
New building at the southern tip of Miami Beach.
Kleines Gebäude an der Südspitze von Miami Beach.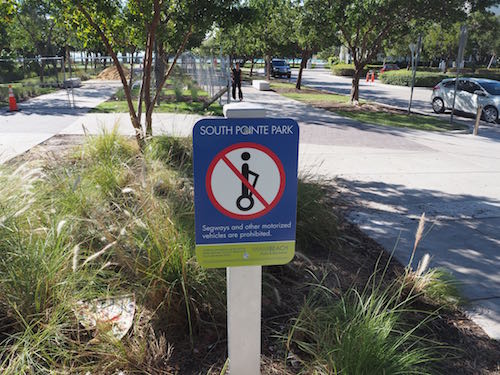 Geen Segways toegestaan!
Segways not allowed!
Segways nicht erlaubt!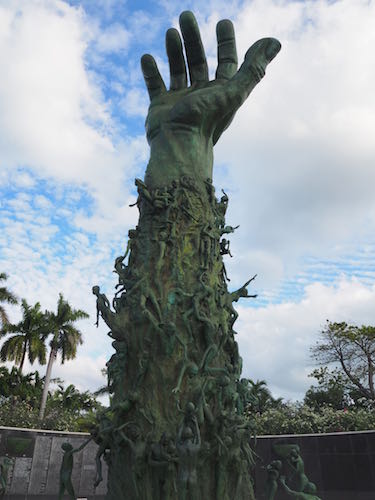 Het indrukwekkende Holocaustmonument. Indrukwekkend zowel qua onderwerp als qua afmetingen.
The impressive Holocaust Memorial. Impressive both by theme and by size.
Das beeindruckende Holocaust Denkmal. Beeindruckend sowohl nach Themen und Größe.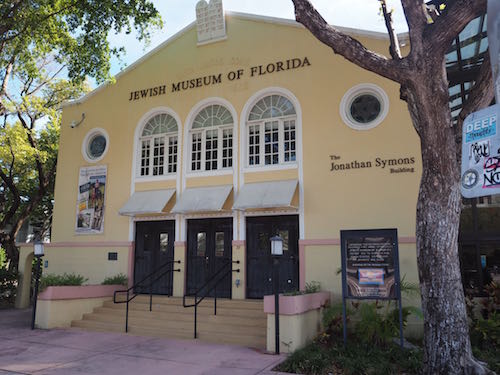 Het Joods Museum is gevestigd in twee naast elkaar gelegen sjoels.
The Jewish Museum is housed in two adjacent synagogues.
Das Jüdische Museum ist in zwei benachbarten Synagogen untergebracht.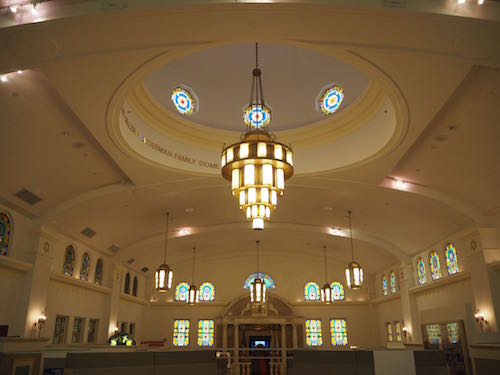 Kroonluchter, ook in stijl.
Chandelier, also in style.
Kronleuchter, auch im Stil.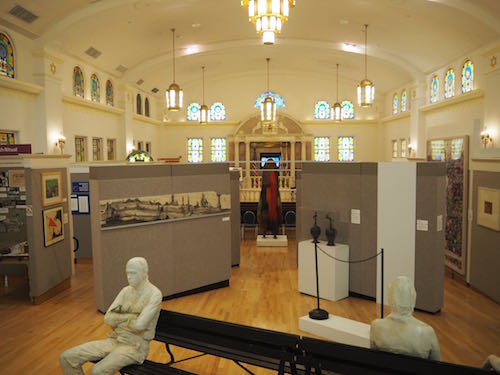 Overzicht van het interieur.
Overview of the interior.
Übersicht des Innenraums.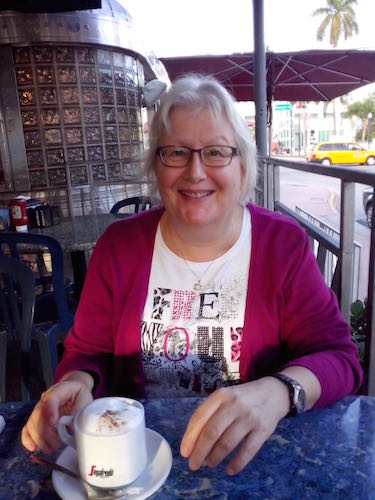 We ontbijten in een erg Amerikaanse diner, bijna even authentiek als Blondie's Restaurant vorig jaar in Shelton Wa.
We have breakfast in a very American diner, almost as authentic as Blondie's Restaurant, last year in Shelton Wa.
Wir frühstücken in einer sehr amerikanischen Diner, fast so authentisch wie Blondies Restaurant im letzten Jahr in Shelton Wa.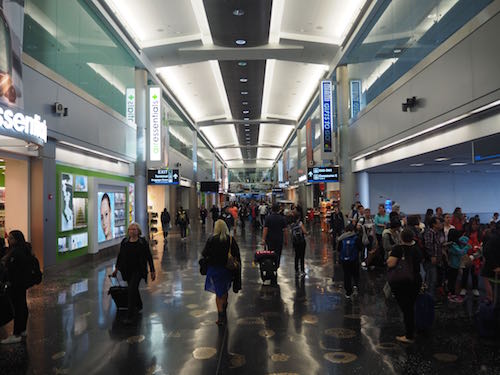 En dan is het tijd om door te reizen naar de Maagdeneilanden. Dit is de domestic terminal van Miami.
It's time to travel further, to the Virgin Islands. This is the domestic terminal of Miami Airport.
Und dann ist es Zeit, zu den Jungferninseln zu reisen. Dies ist der Terminal für Inlandsflüge von Miami.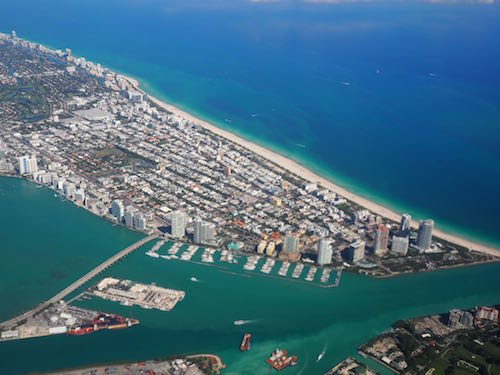 Een laatste blik op Miami South Beach.
One last look at Miami South Beach.
Ein letzter Blick auf Miami South Beach.
Tweeëneenhalf uur later staan we op St. Croix. 29℃! Het weerzien met Marna is hartelijk.
Two and a half hours later we are on St. Croix in 84℉. It's good to see Marna again!
Zweieinhalb Stunden später sind wir auf St. Croix. 29℃ im Schatten! Gut Marna wiederzusehen!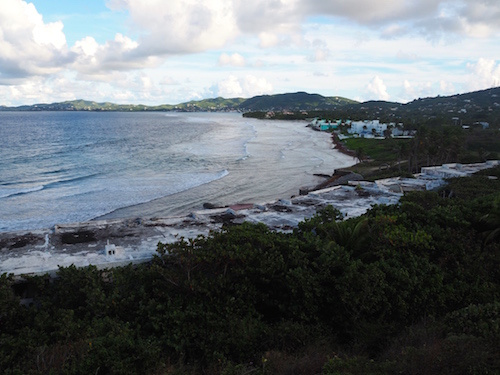 Dit is het uitzicht uit Marna d'r appartement. 
This is the view from Marna's apartment.
Dies ist die Aussicht von Marnas Wohnung.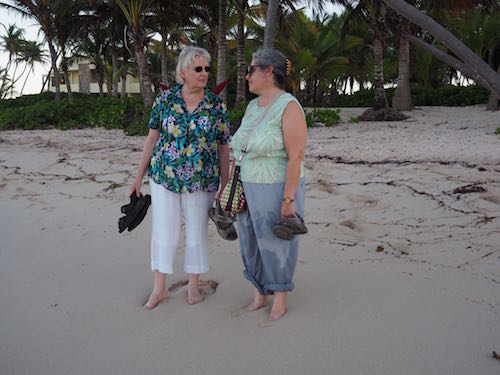 Nachtvorst in Großenkneten, tijd voor een strandwandeling.
Frost in Grossenkneten, time for a walk on the beach.
Frost in Großenkneten, Zeit für einen Strandspaziergang.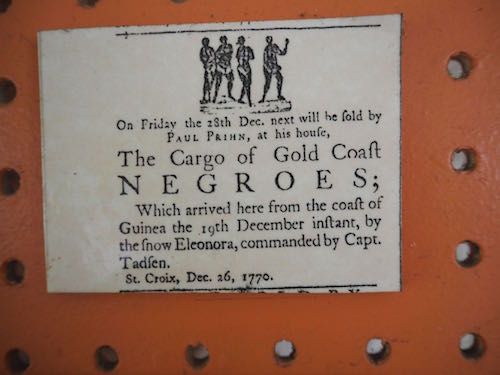 We bezoeken Estate Whim Museum, een voormalige Deense suikerrietplantage met suikerfabriek. Hier komt de gruwelijke slavenhandel van relatief kort geleden wel èrg dichtbij!
We visit Estate Whim Museum, a former Danish sugar cane plantation. Here the horrific slave trade - relatively recent - comes very close!
Wir besuchen das Whim Plantage Museum, eine ehemalige dänische Zuckerrohrplantage. Hier kommt die entsetzliche Sklavenhandel vor relativ kurzer Zeit ganz in der Nähe!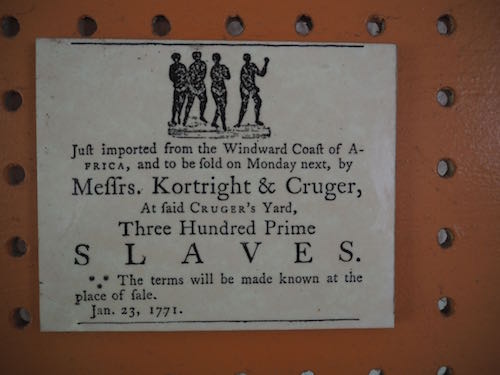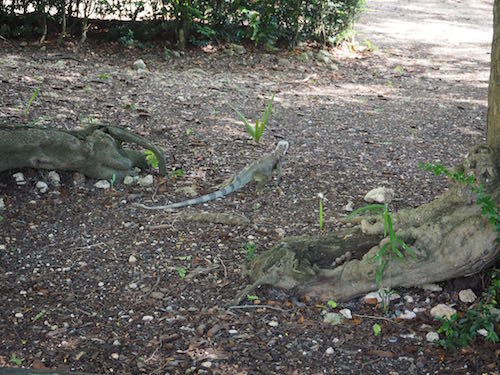 Deze iguana woont in een holle boom op de plantage. Volgens Marna niet eens zo'n grote.
This iguana lives in a hollow tree on the plantation. According to Marna not even a big one.
Dieser Leguan lebt in einem hohlen Baum auf der Plantage. Nach Marna nur ein kleiner.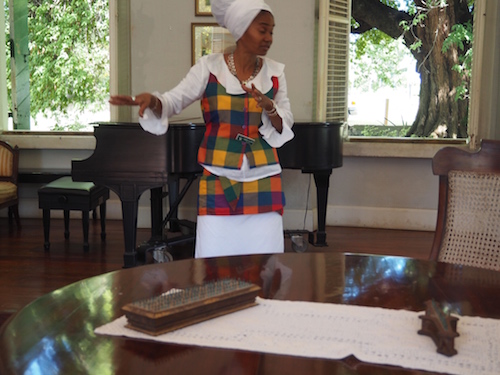 In de voormalige planterswoning leidt een gids in authentieke dracht ons rond.
In the former planters house a guide in authentic costume shows us around.
In dem ehemaligen Plantagenhaus führt eine Führerin in authentischen Kostümen uns herum.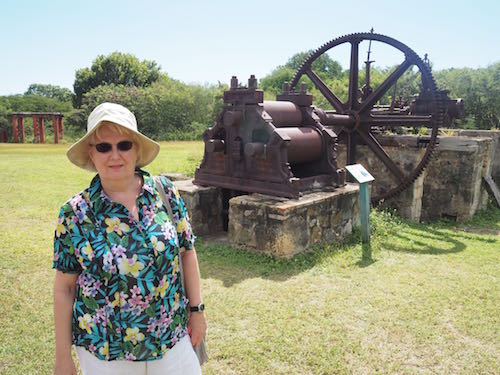 Restanten van een stoommachine die eens de pers aandreef waarmee het sap uit het riet werd geperst.
Remnants of a steam engine that once drove the press that squeezed the juice from the cane.
Reste einer Dampfmaschine, die einst die Presse antrieb mit der der Saft aus dem Zuckerrohr gepresst wurde.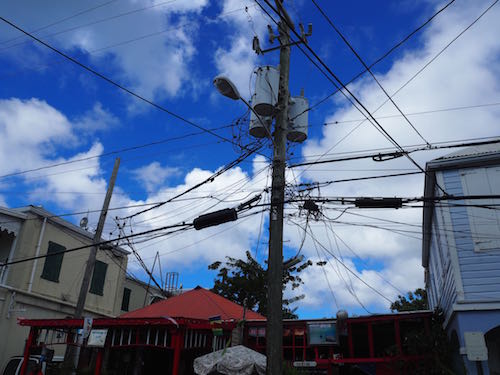 In Fredereriksted, de tweede stad op het eiland is ook elektriciteit aangelegd.
Fredereriksted, the second largest city on the island, now also has electricity.
Auch in Fredereriksted, der zweitgrößten Stadt der Insel, ist Strom eingeführt worden.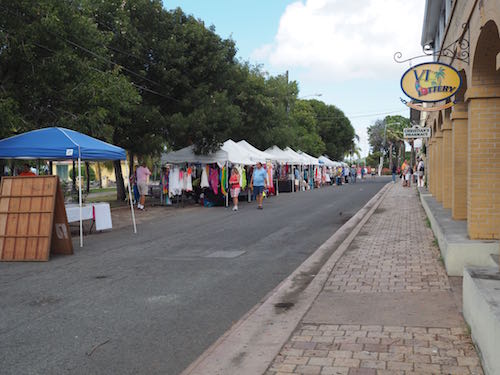 Een marktje met mogelijk voor toeristen interessante zaken lijkt heel levendig. Maar dit marktje is er alleen die paar dagen per maand dat er een cruiseschip langskomt.
A market with potentially interesting things for tourists seems very lively. But this small market only exists those few days each month when a cruise ship passes by.
Ein Markt mit potenzial für Touristen interessante Sachen scheint sehr lebendig. Aber dieser kleine Markt existiert nur die paar Tage im Monat, dass es ein Kreuzfahrtschiff gibt.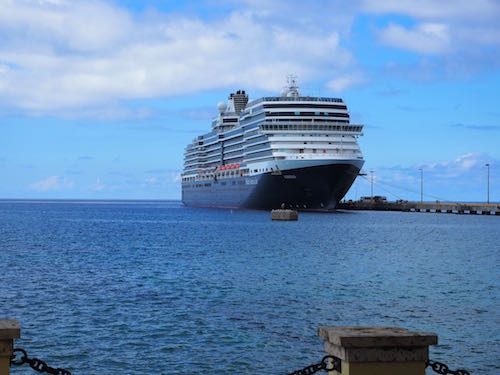 In dit geval de Eurodam van de HAL. Als het schip is vertrokken, is Frederiksted weer een slapend stadje.
In this case the Holland-America Line Eurodam. After the ship's departure, Frederiksted is a sleeping town again.
In diesem Fall wird die Eurodam der Holland-Amerika Linie. Nach der Abfahrt des Schiffes ist Frederiksted wieder eine Schlafstadt.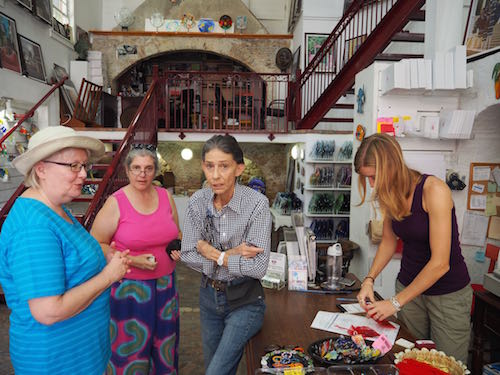 In Christiansted zijn de winkel en de werkplaats van Jan Mitchell. Jan maakt (o.a.) glaskunst.
In Christiansted are the shop and studio of Jan Mitchell. Jan makes (among other things) glass art.
In Christiansted gibt es Geschäft und Werkstatt von Jan Mitchell. Jan ist (unter anderem) Glaskünstlerin.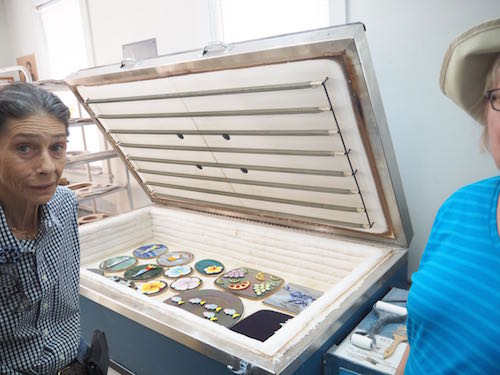 De losse delen worden in deze oven samengesmolten. Het resultaat is prachtig!
The individual parts are fused together in this oven. The result is stunning!
Die Einzelteile werden in diesem Ofen zusammengeschmolzen. Das Endprodukt ist wunderbar!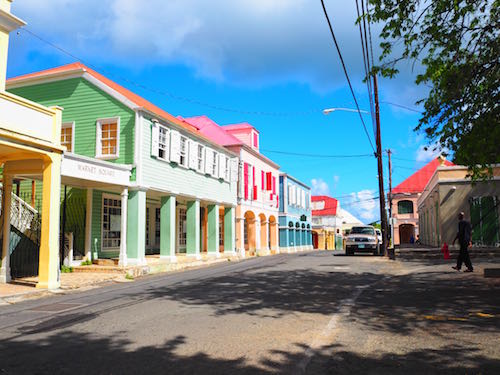 Een winkelstraat in Christiansted. Er zijn er drie.
A shopping street in Christiansted. There are three of them.
Eine Einkaufsstraße in Christiansted. Es gibt drei.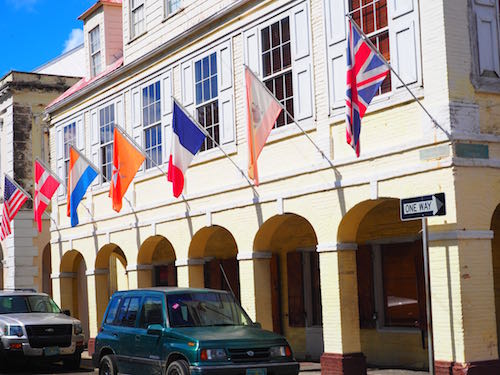 De zeven vlaggen die in de loop der geschiedenis over St. Croix hebben gewapperd.
The seven flags that ever have flaunted over St. Croix.
Die sieben Flaggen die je über St. Croix geweht haben.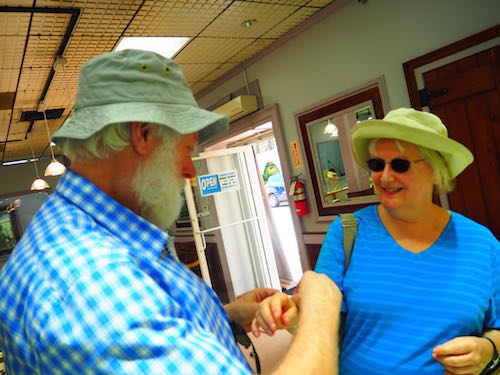 Beroemd zijn de Cruzan hook bracelets. De maker legt de betekenis uit op zijn website. 
The Cruzan hook bracelets are famous. The manufacturer explains the meaning on his website.
Berühmt sind die Cruzan Hakenarmbänder. Der Hersteller erklärt die Bedeutung auf seiner Website.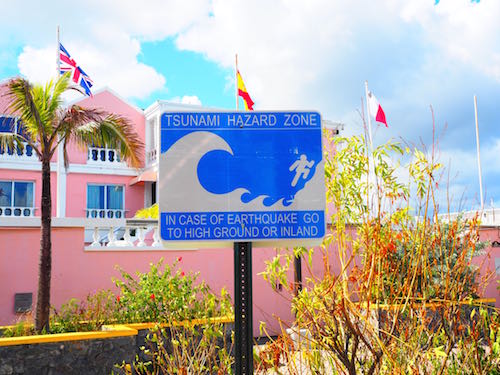 Tsunami gevaar - hazard - Gefahr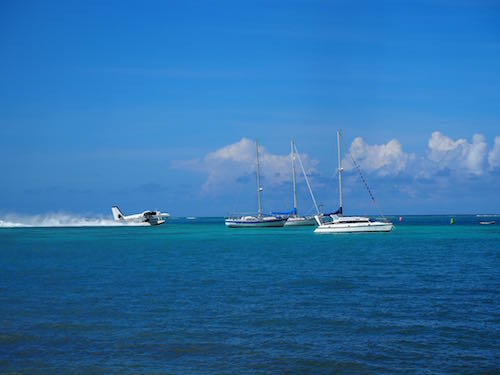 De lijnvlucht naar St Thomas vertrekt van tussen de jachten.
The scheduled flight to St Thomas takes off from the marina, between the yachts.
Der Linienflug nach St Thomas beginnt zwischen den Yachten.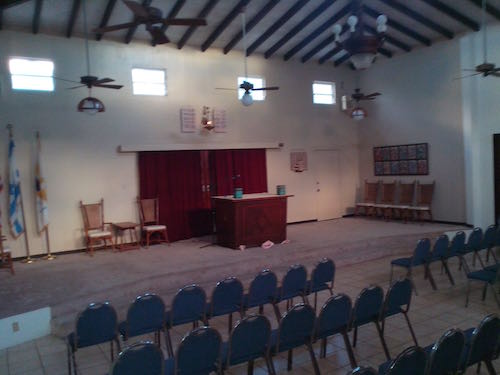 Dit is de locale sjoel. Bij de Kabbalat Sjabbat-dienst die wij bijwoonden waren uiteindelijk 17 mensen aanwezig, waarvan een groot deel niet op het eiland woonde.
This is the local shul. At the Kabbalat Shabbat service which we attended eventually 17 people were present, many of whom did not live on the island.
Dies ist die lokale Synagoge. Im Kabbalat Schabbat-Gottesdienst den wir besuchten, waren schließlich 17 Personen anwesend, die größtenteils nicht auf der Insel leben.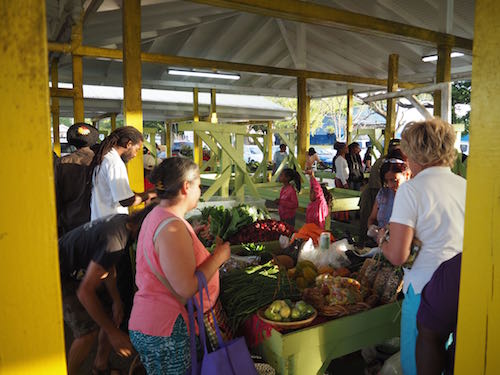 De Farmers' market, waar de meest exotische soorten groenten, fruit en vis te koop zijn.
The Farmers' Market, where the most exotic fruit, vegetables and fish is for sale.
Bauernmarkt, wo exotischen Früchten, Gemüse und Fisch angeboten werden.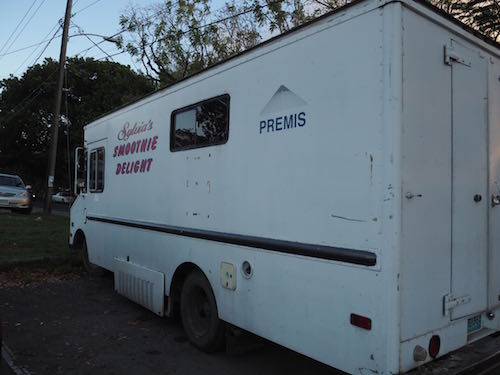 Sylvia's Smoothie Delight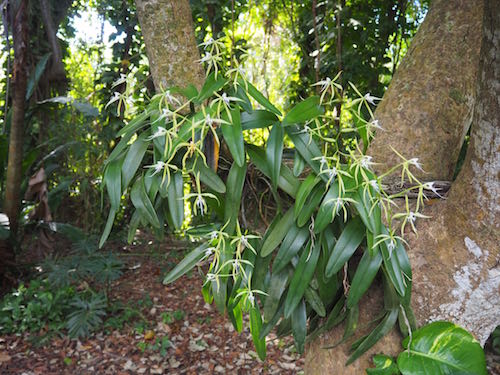 In de botanische tuin St. George Village fotografeerde Sylvia deze orchideeën.
In St. George Village Botanical Garden Sylvia photographed these orchids.
In St. George Village Botanical Garden fotografierte Sylvia diese Orchideen.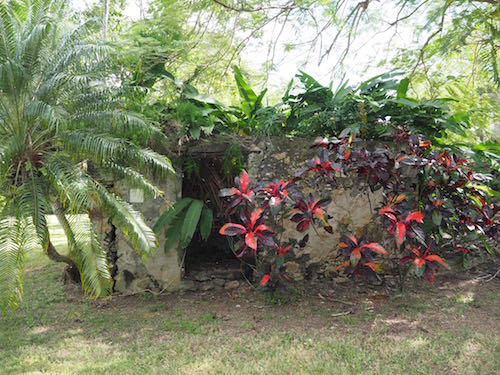 ... en dit overgroeide huisje.
... and this overgrown cottage.
... und dieses überwachsenes Haus.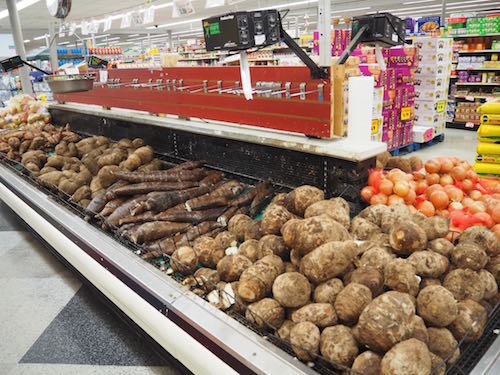 Op weg naar huis even een tussenstop bij de supermarkt. Volop knollen die wij nog nooit gezien hadden.
On the way home a stop at the supermarket. Plenty of tubers that we had never seen before.
Auf dem Heimweg als Anschlag im Supermarkt. Viel Knollen, die wir noch nie zuvor gesehen hatte.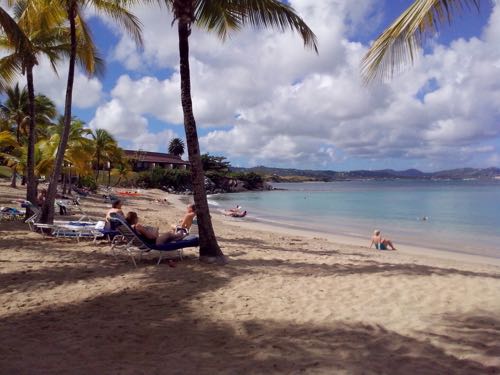 De laatste dag op het eiland nog wat zon gepakt op het privéstrand van The Buccaneer.
The last day on the island we caught some sun on the private beach of The Buccaneer. 
Auf dem letzten Tag auf der Insel noch etwas Sonne gefangen am Privatstrand vom Buccaneer Hotel.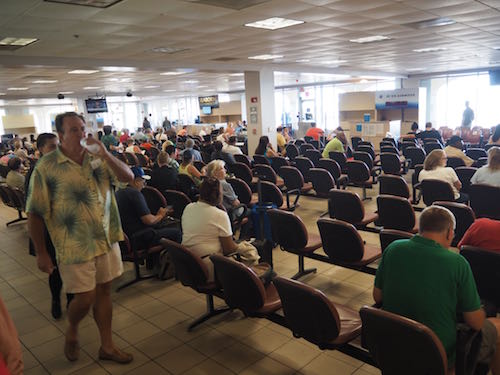 Incheckbalie buiten, vertrekhal gemeenschappelijk voor alle maatschappijen. De luchthaven STX.
Outside check-in, departure terminal common to all airlines. The STX airport.
Einchecktheke außen. Eine Abflughalle für alle Gesellschaften. Die STX Flughafen.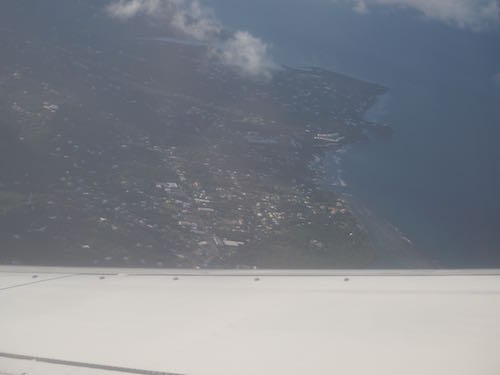 Vanuit de lucht een laatste blik op het appartement van Marna.
From the air one last look at Marna's apartment.
Aus der Luft einen letzten Blick auf die Wohnung von Marna.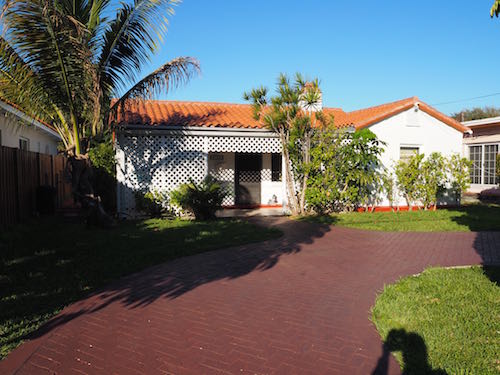 Na aankomst in Miami vinden we in Surfside onderdak bij Guido en Patricia.
After arrival in Miami we find shelter with Guido and Patricia in Surfside.
Nach der Ankunft in Miami Surfside finden wir Unterstand bei Guido und Patricia.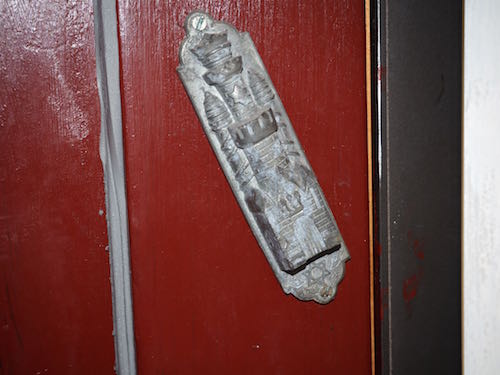 We delen onze achtergrond met Guido, wiens voorouders in de jaren '30 uit Berlijn zijn gevlucht.
We share our background with Guido, whose ancestors fled in the 30s from Berlin.
Wir teilen unser Hintergrund mit Guido, dessen Vorfahren in den 30er Jahren aus Berlin flohen.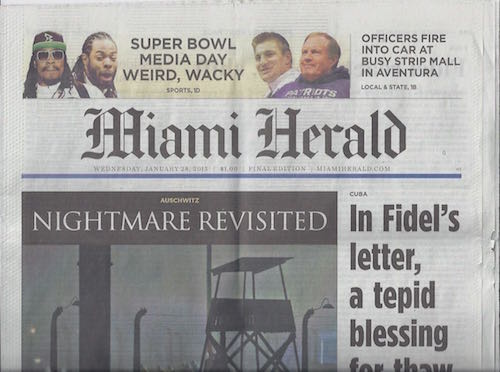 In Miami wordt nog wèl aandacht besteed aan 70 jaar bevrijding van Auschwitz. Op de voorpagina zelfs!
Miami is paying attention to 70 years of liberation of Auschwitz. Even on the front page!
Miami ist immer noch auf 70 Jahre Befreiung von Auschwitz konzentriert. Auch auf der Startseite!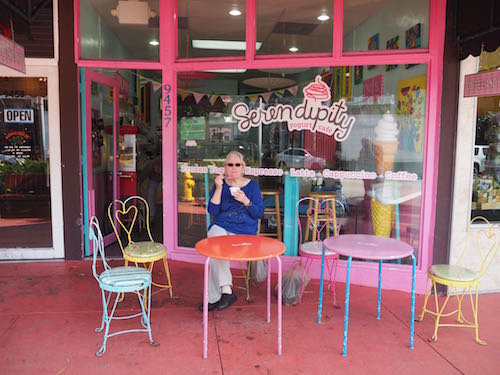 Heerlijk ijs en (voor Syl) koffie bij Serendipity. En zonder ons zorgen te hoeven maken over het kasjroet. 
Delicious ice cream and (for Syl) coffee at Serendipity. And without us having to worry about the kashrut.
Leckeres Eis und (für Syl) Kaffee in Serendipity. Und ohne Sorgen über die Kaschrut.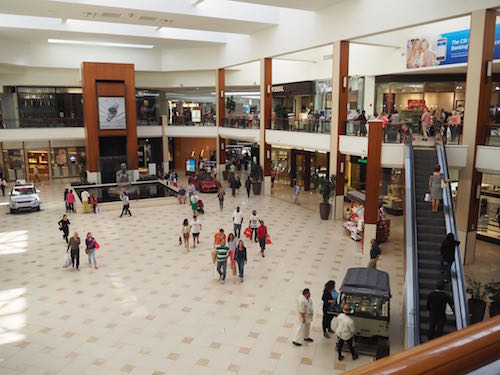 De Aventura mall, groot, groot, groot! Gelukkig hebben we weinig ruimte in onze koffers over.
The Aventura mall, huge! Fortunately, we have very little space in our suitcases.
Die Aventura Mall, groß, groß, groß! Zum Glück haben wir nur sehr wenig Platz in unseren Koffern.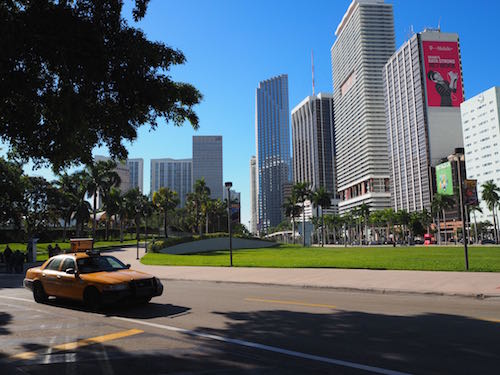 Via het web hebben we een tochtje door de Everglades geboekt. De bus pikt ons om 10:15 h op in downtown Miami.
Through the web we have booked a trip through the Everglades. The bus picks us up at 10:15 h in downtown Miami.
Über das Web haben wir eine Fahrt durch die Everglades gebucht. Der Bus holt uns ab um 10:15 h in der Innenstadt von Miami.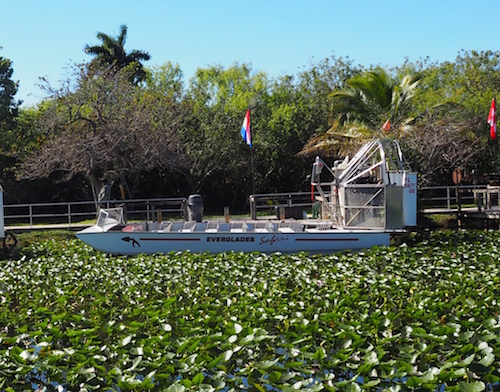 Dit soort "airboats" brengt toeristen door en over het moeras dat zich van horizon tot horizon uitstrekt.
This kind of "airboats" takes tourists through and over the marsh that stretches from horizon to horizon.
Diese Art von "Airboats" nimmt Touristen mit, durch und über den Sumpf, der sich von Horizont zu Horizont erstreckt.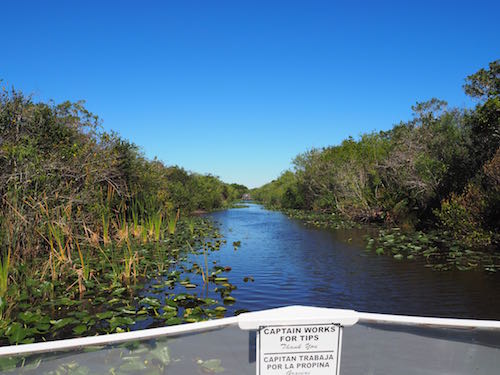 Zoals veel personeel in de US, moet ook de schipper van de airboat het hebben van de fooien.
Like many staff in the US, the airboat skipper also badly needs the tips.
Wie viele Mitarbeiter in den USA, braucht auch der Schiffsführer die Tipps.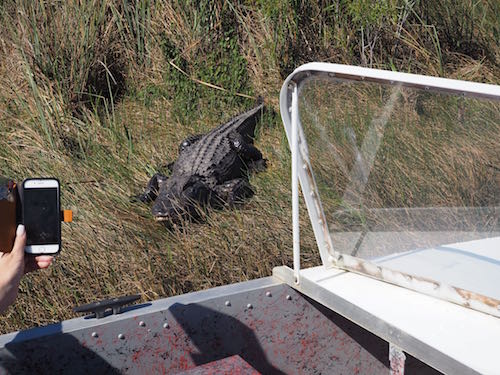 En daar is er dan een….. een alligator!
And there it is: the first alligator!
Und hier gibt es: den ersten Alligator!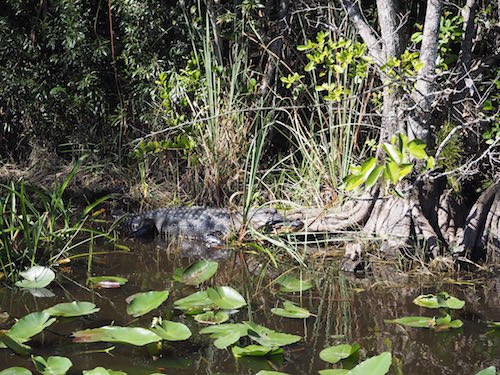 Later op de dag zullen we er nog een heleboel tegenkomen, zowel te water….
Later that day we will encounter a lot more, both in the water ....
Später am Tag werden wir noch viel mehr begegnen sowohl im Wasser ....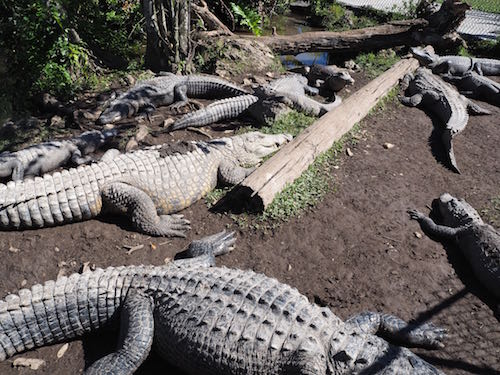 …. als op het land.
.... as on land.
.... wie an Land.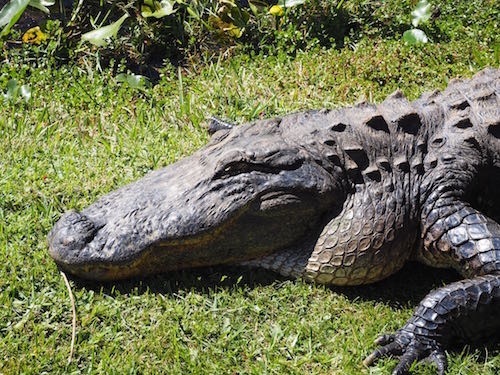 Het blijven intrigerende wezens.
Really intriguing creatures!
Es bleiben faszinierende Geschöpfe.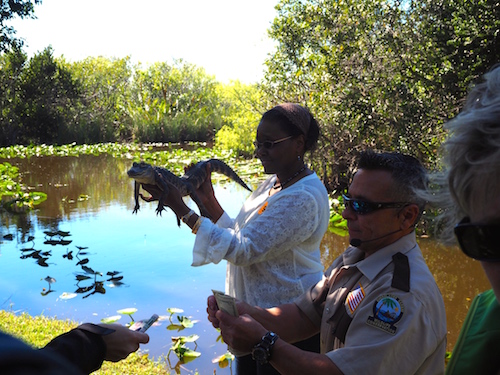 Een ranger demonstreert hoe je een boa constrictor en een alligator moet vasthouden. Tenminste, zolang ze niet te groot zijn.
A ranger demonstrates how to hold a boa constrictor and an alligator. At least, as long as they are not too large.
Ein Ranger zeigt, wie man eine Boa constrictor und ein Alligator halten muß. Zumindest solange sie nicht zu groß sind.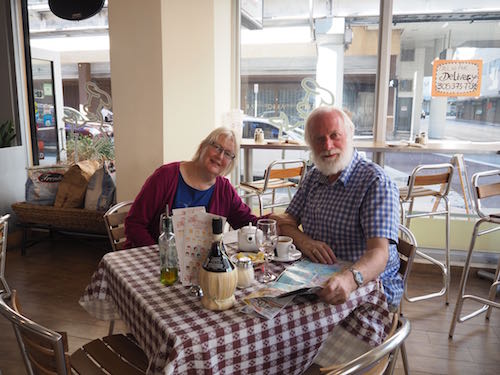 Terug in Miami een heerlijk Italiaans maaltje bij Spaghetto.
Back in Miami we enjoy a delicious Italian meal at Spaghetto's.
Zurück in Miami: eine köstliche italienische Mahlzeit bei Spaghetto.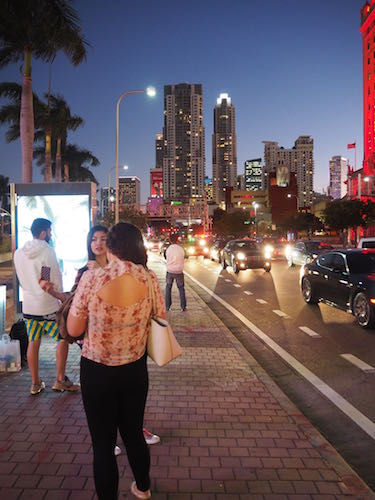 Tegen de tijd dat we weer naar ons logeeradres gaan, is het donker.
By the time we go back to our lodgings, it is dark.
Wenn wir zurückkehren zu unserer Unterkunft, ist es dunkel.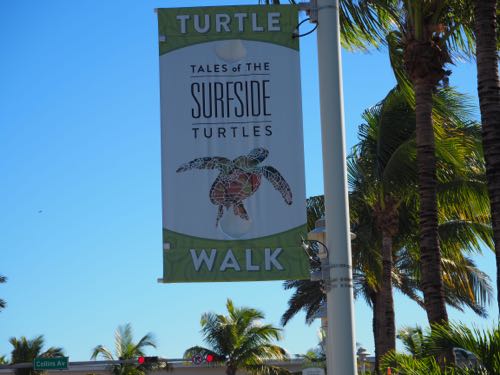 De gemeente Surfside heeft een aantal kunstenaars uitgenodigd grote kunststof schildpadden te decoreren. Weer eens wat anders dan koeien of varkens. Zo kwam de Turtle Walk tot stand. Hieronder twee voorbeelden (van de twaalf).
The Surfside municipality invited a number of artists to decorate large plastic turtles. Something else than cows or pigs. So the Turtle Walk came about. Here are two examples (out of twelve).
Die Gemeinde Surfside hat eine Reihe von Künstler eingeladen, große Kunststoff-Schildkröten zu schmücken. Etwas anderes als Kühe oder Schweine. So kam es zur Schildkröte-Straße.Hier sind zwei Beispiele (von zwölf).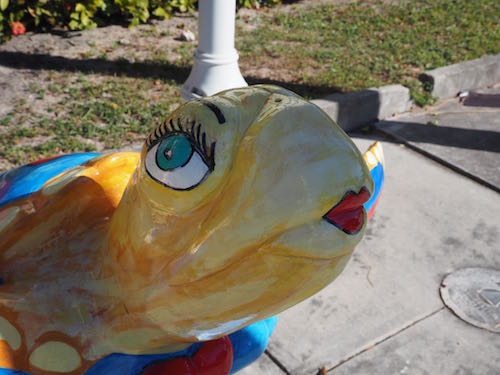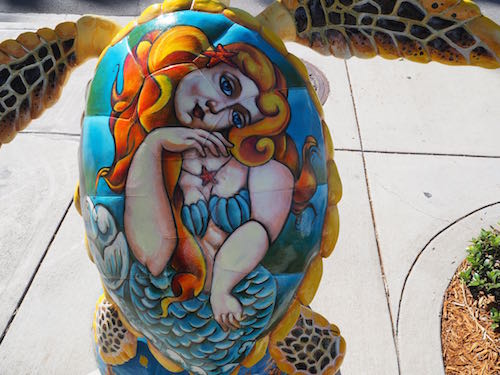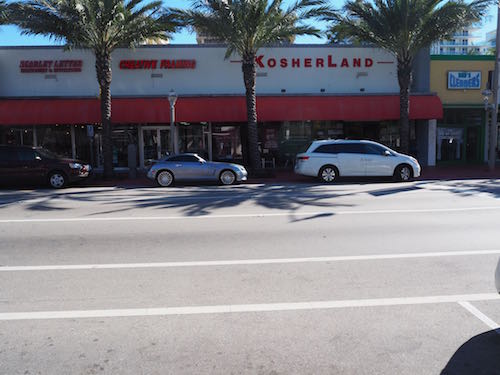 Nog wat laatste boodschappen gedaan, kleine en lichte zaken die bij ons in de buurt moeilijk (of helemaal niet) te vinden zijn.
Done some final shopping. Small and light things which are difficult to find where we live (or not available at all).
Einige letzte Einkäufe erledigt, kleine und leichte Dinge die es bei uns nicht gibt.
Na een lange nacht (drie bioscoopfilms) landen we probleemloos in Düsseldorf. We hoeven maar een paar minuten op Relaxpark te wachten. Met de auto naar José. Iedereen die Motek kent, zal kunnen bedenken hoe blij hij was!
After a long night (three movies!) we landed smoothly in Dusseldorf. We only have to wait a few minutes for Relaxpark to pick us up. By car to José. Anyone who knows Motek, can imagine how happy he was to see us back!
Nach einer langen Nacht (drei Filme) landeten wir in Düsseldorf. Wir haben nur ein paar Minuten auf Relaxpark warten müssen. Mit dem Auto zu José. Wer Motek kennt, versteht wie glücklich er war!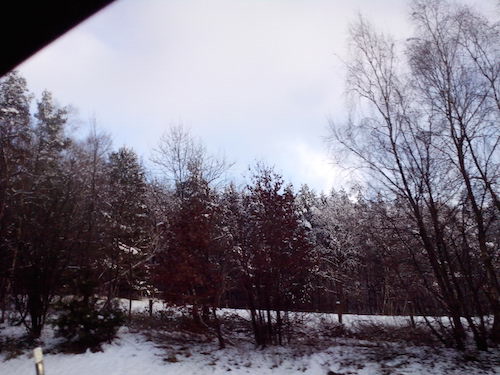 Na nog een nacht bij José geslapen te hebben, rijden we door het besneeuwde landschap naar huis. Onze eerste handeling is het omhoogdraaien van de thermostaat van de CV….
After another night at José's place we drive home through the snowy landscape. Our first act is turning up the thermostat of the central heating!
Nach noch einer Nacht bei José fahren wir durch die verschneite Landschaft nach Hause. Und jetzt erst die Heizung wieder hochdrehen!
Met hartelijke dank aan Marna voor de gastvrijheid, aan José voor het verzorgen van Motek en aan Inge voor het legen van onze brievenbus!
With heartfelt thanks to Marna for the hospitality, to José for caring for Motek and to Inge for emptying our mailbox!
Mit herzlichen Dank an Marna für die Gastfreundschaft, an José für die Betreuung von Motek und an Inge für das Entleeren des Briefkasten!