Lisboa
Portugal (Winter 2010/2011-11)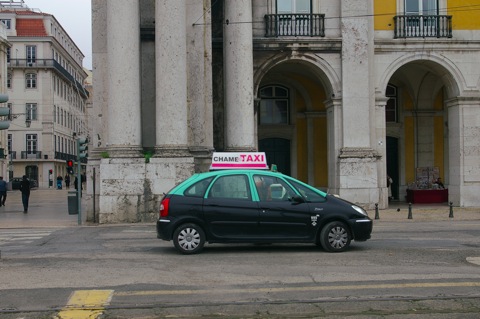 Omdat honden in Lissabon alleen gemuilkorfd in tram en bus mogen (en Motek geen muilkorf heeft en ook beslist niet wil dragen) gaan we van de camping in Monsanto met een taxi naar het centrum.
Dogs are allowed in tram and bus in Lisbon only when muzzled. Motek doesn't have a muzzle - nor is he willing to wear one - so we take a taxi to the centre of the city.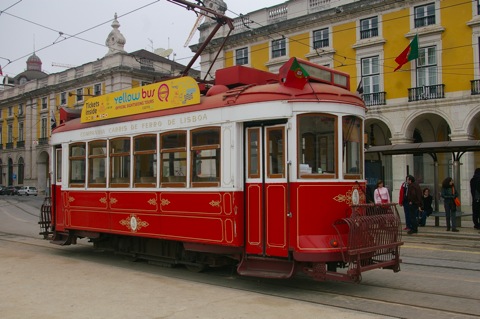 Eén van de beroemde trammetjes. Dit is de toeristenlijn.
The famous Lisbon streetcars, some "normal" lines, one line specially for tourists.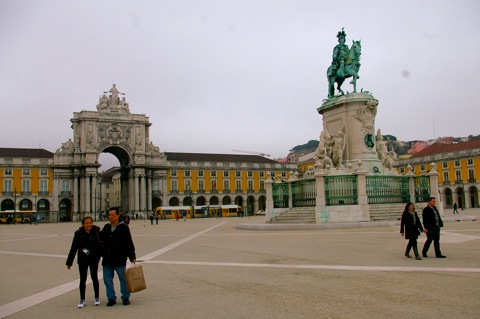 Praça do Comercio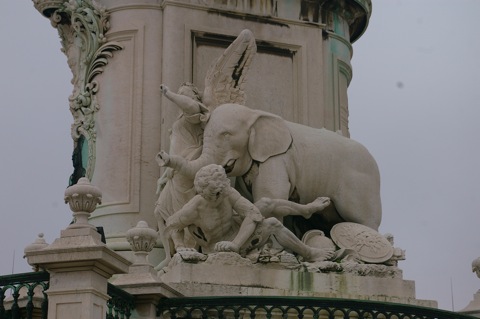 Detail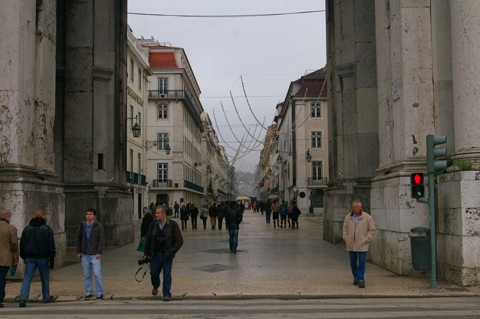 Baixa, het voetgangersgebied in het centrum.
The pedestrian area in the Baixa neighbourhood.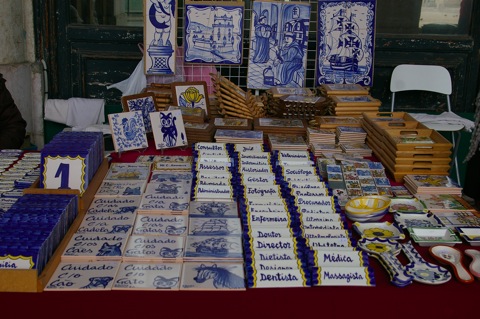 Azulejos (tourist type)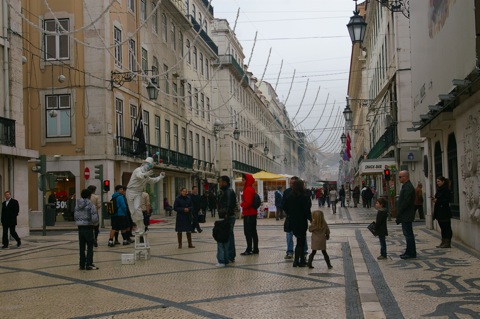 Levende standbeelden proberen een extra centje te verdienen.
Several living statues were "active" in the pedestrian streets.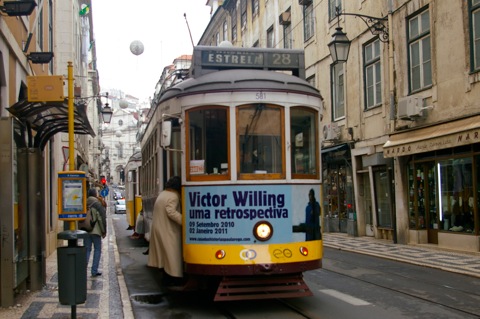 Lijndienst.
The other streetcar, this one in regular passenger service.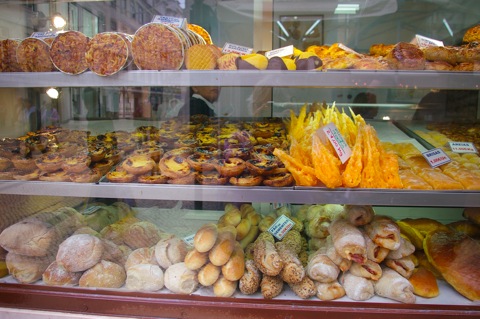 Zoetigheden bij de banketbakker.
Sweets.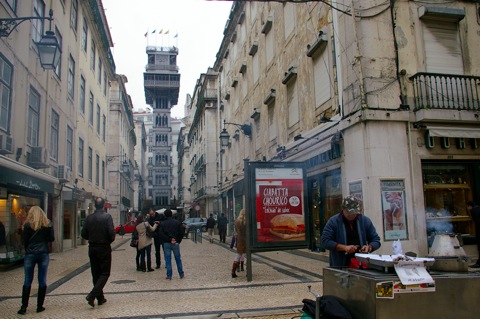 Gustave Eiffel ontwierp en bouwde deze lift in de eerste jaren van de 20e eeuw.
The elevator connecting the lower and upper city was constructed by Gustave Eiffel in 1902.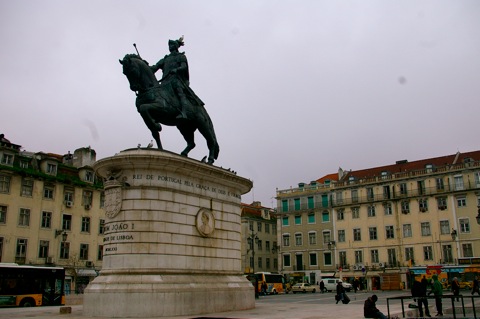 Praça da Figueira.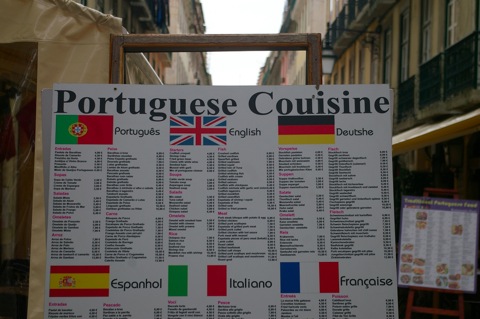 Omdat Motek nergens in Portugal in een restaurant binnen mag, lunchen we op een terrasje. Ondanks de talloze spelfouten in het menu, smaakte het verrukkelijk.
Because dogs are not allowed inside restaurants in Portugal (like in Spain), we have our lunch outside. The food is better than the spelling of the menu.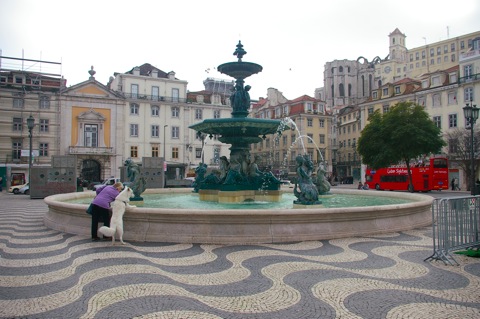 Praça dom Pedro IV (Rossio)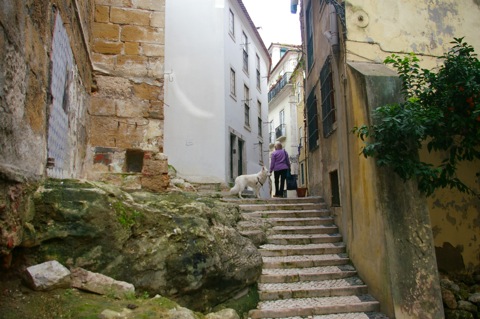 De Moorse wijk Alfama, het oudste deel van Lissabon.
Alfama, the Moorish neighbourhood from which Lisbon originated.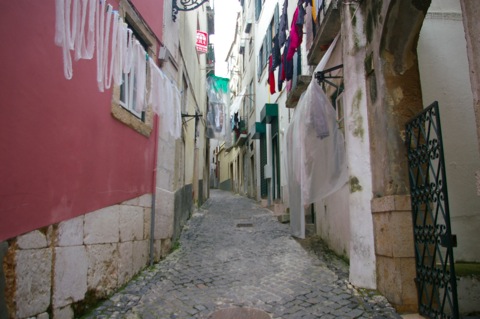 Bezoekers worden gewaarschuwd dat ze hier kunnen verdwalen. Dat is ons gelukkig niet gebeurd.
The rumour goes that one can easily get lost in these narrow alleys. We were lucky we came out again...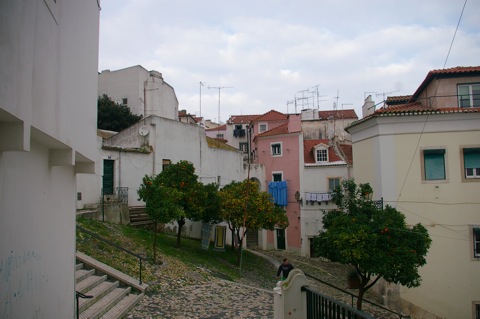 Midden is de nauwe steegjes opeens een paar sinaasappelboompjes.
And all of a sudden a little square with orange trees.
Go to top of page