May 2014
Op 30 april hebben we, samen met de gehele Nachbarschaft en met onze house sitters Tony en Denise, een meiboom geplant. 
April 30th we planted a maypole, together with our neighbours and our Australian house sitters.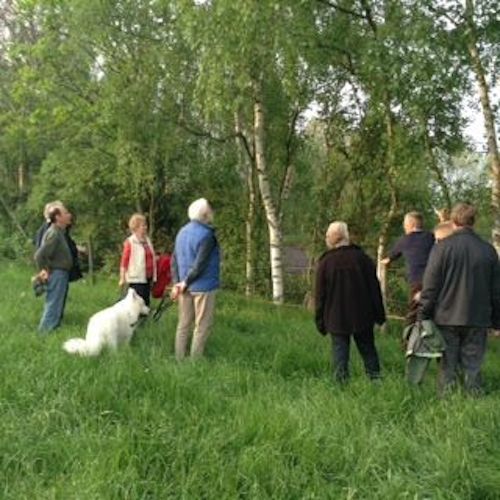 Dit lijkt een geschikte berk...
First we select a suitable tree.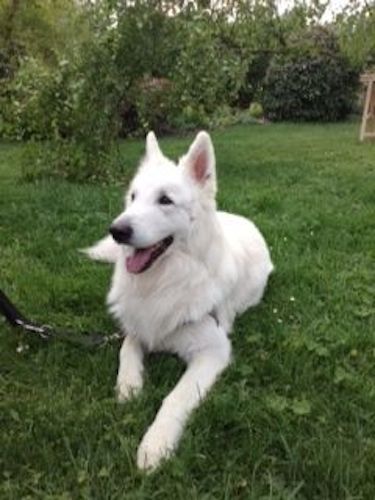 ... onder het toeziend oog van Motek.
Motek seems to approve our choice.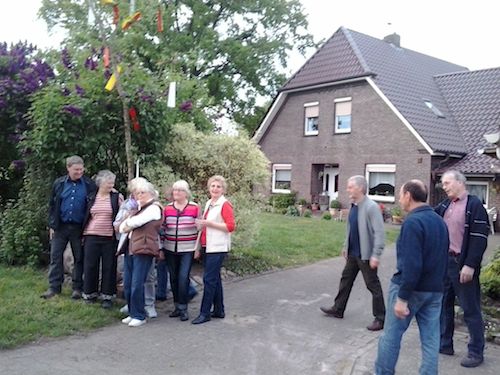 Vervolgens wordt de afgezaagde boom versierd en in de daartoe aanwezige betonnen voet opgesteld. De gastheer en -vrouw verzorgen ruimschoots de bijbehorende drankjes en serveren zelfs een uitgebreide maaltijd. 
The tree is then cut down, decorated and put up in a concrete tube which was dug in long ago. Our hosts keep our throats wet and serve a nice meal once the tree is put up.
De volgende morgen vertrekken we met Skoolie op vakantie. Voor onze route: zie de kaart hieronder.
The next morning we leave for our motorhome trip through Germany (with little excursions to Austria and France). Our route is plotted in this map: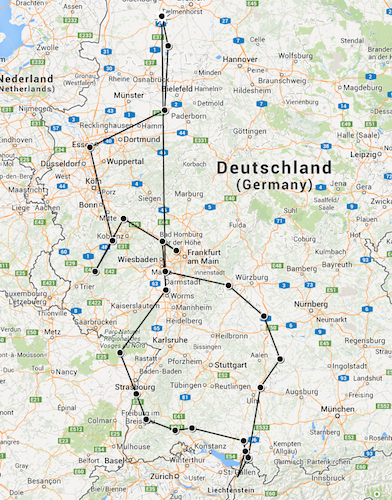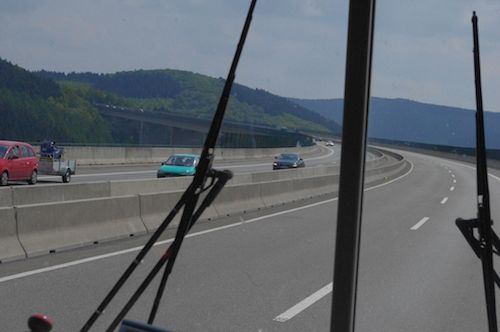 1 Mei is een feestdag in Duitsland. De wegen zijn dus vrijwel uitgestorven. Om 16:30 h zijn we in Bodenheim.
Because May 1st is a German holiday there is no heavy traffic. And hardly any other traffic. Within seven hours we arrive in Bodenheim.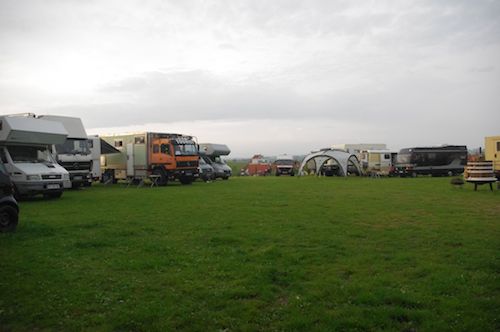 Ook dit jaar is er weer een bonte verzameling campers, de meeste zelfgebouwd. Er zijn meer campers dan ooit tevoren, rond de 40!
Like other years (this is our 7th time) there is a motley collection of DIY motorhomes. By now some of the occupants have become good friends.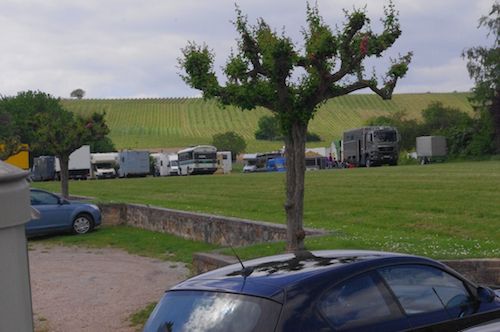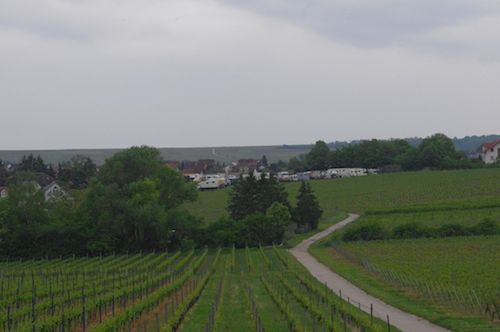 De camperplaats in Bodenheim ligt midden tussen de wijngaarden. Wat een uitzicht!
There aren't many motorhome places as green as the one in Bodenheim. Vinyards all around!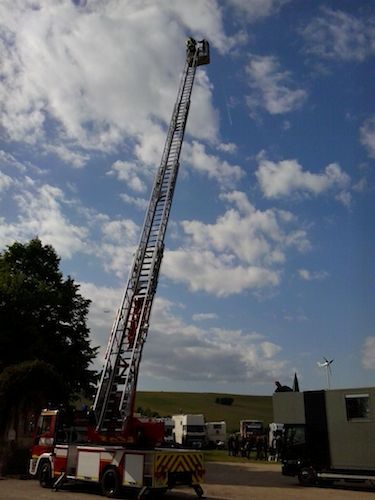 Er is ruime belangstelling voor het treffen van de kant van de overheid. De burgemeester krijgt een cheque aangeboden van de bezoekers om een Sanizuil bij de camperplaats mogelijk te maken. De brandweer laat de burgemeester, een persfotograaf en een deelnemer alles van boven zien.
The Bodenheim mayor and the local fire brigade show up. The mayor, a press photographer and a participant are taken up in a giant cherry picker.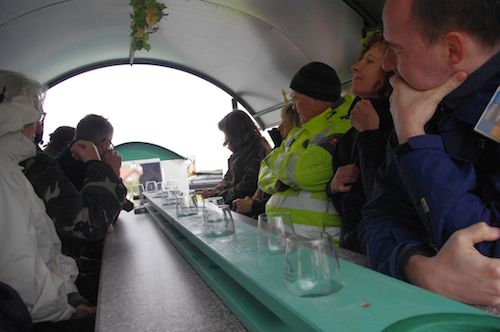 In twee aanhangers achter een tractor maakt een groep camperaars een wijnrondrit, waarbij de wijngaarden buiten en de flessen binnen bijdragen aan de feestvreugde. Er staat een ijzige wind.
A wine tour in two trailers behind a tractor. The participants enjoy the scenery outside and also the wine inside. It helps a bit against the cold.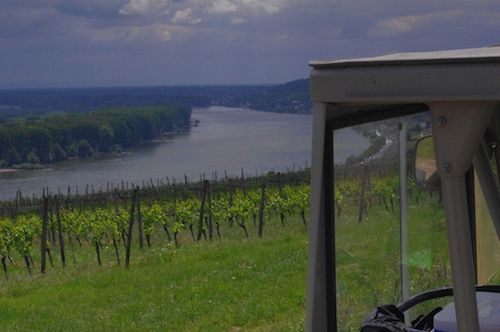 De Rijn bij Nierstein.
The turning point of the trip is close to the River Rhine.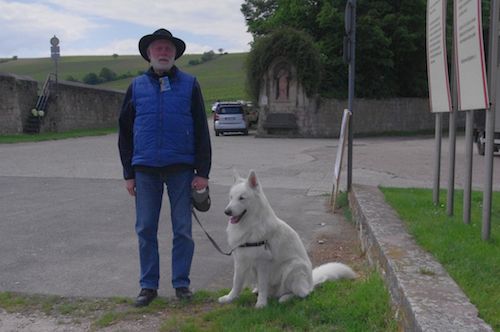 Behalve koud is het nu ook nat. Motek trekt zich daar niets van aan.
Despite the cold and wet weather Motek needs his walks.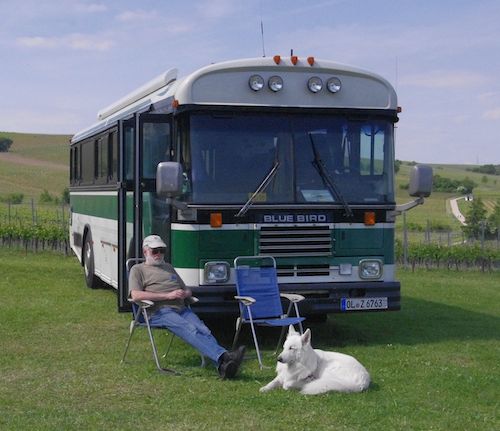 De volgende dag is het weer prachtig weer!
The next day it is dry again and much warmer.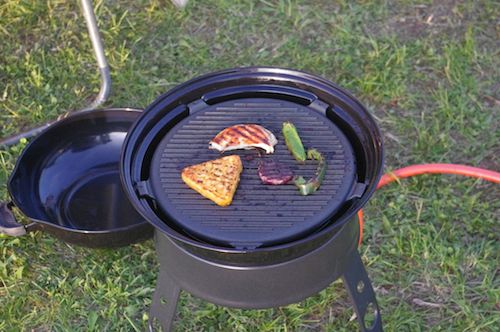 Ons pas verworven Safari Grilletje bewijst goede diensten.
Barbecue time!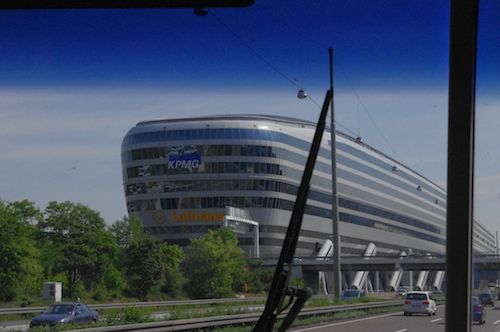 Onderweg van Bodenheim naar het Oosten komen we langs de luchthaven van Frankfurt am Main. Hier het futuristische gebouw dat kantoren en parkeergarages herbergt.
Close to the Frankfurt airport is this modern building which houses offices and parking.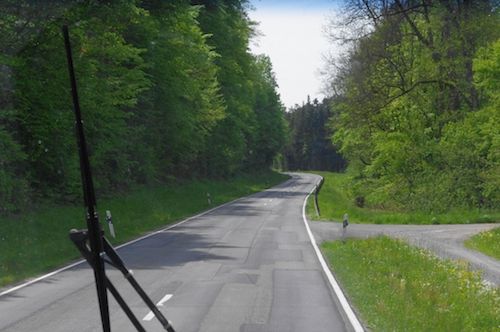 Niet de hele weg is Autobahn.
Pretty secondary road from the motorway to the town of Wertheim.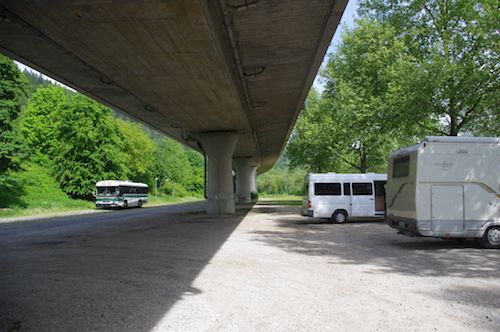 Stellplatz in Wertheim.
Wertheim, where Main and Tauber flow together.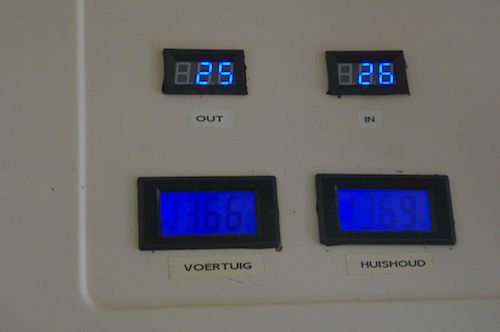 Zomerse temperaturen. En zon op de panelen.
It is summer!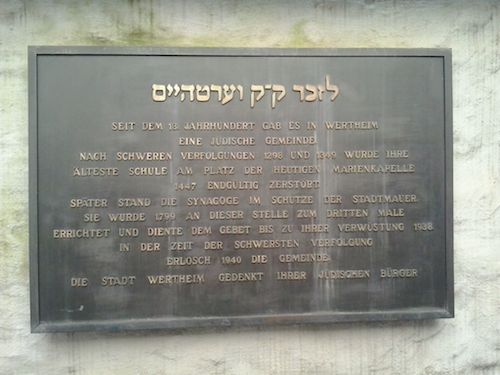 Wertheim heeft sinds ons laatste bezoek, vier jaar geleden, veel gedaan om zijn joodse geschiedenis zichtbaar te maken.
In the last few years the town has started to show respect to its Jewish inhabitants from the past. The synagogue has been destroyed several times.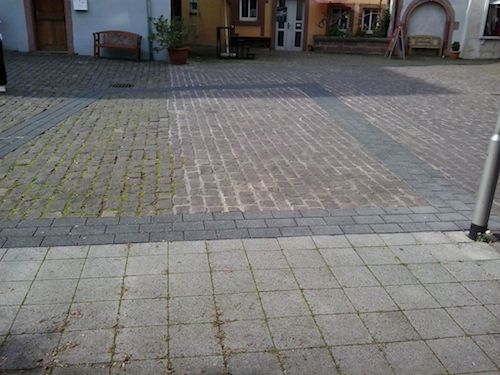 In het plaveisel is aangegeven waar ooit het mikwe heeft gestaan. Het eigenlijke bad is door de archaeologen geconserveerd, ònder het plaveisel.
The outline of the former mikwah.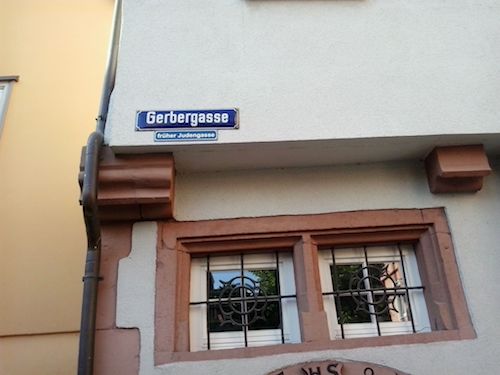 Voorheen: Judengasse
Former Judengasse (Jews' alley)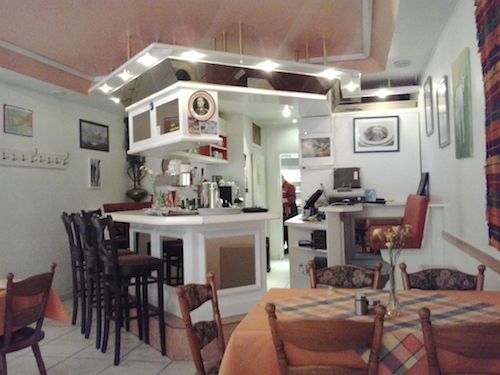 Heerlijk gegeten bij ons favoriete Turkse restaurant, dat van Süleyman Ulusoy.
We especially visit Wertheim to have a meal at Süleyman's.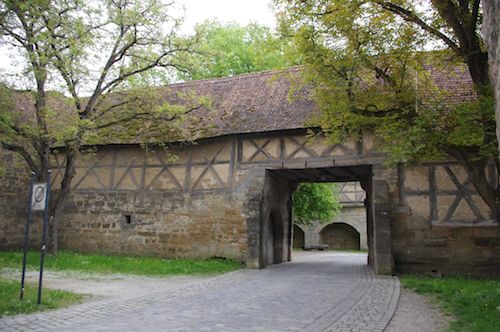 Dinsdag zijn we in Rothenburg ob der Tauber. Hier de overdekte stadsmuur.
On May 6th we are in Rothenburg ob der Tauber, a well-preserved medieval town.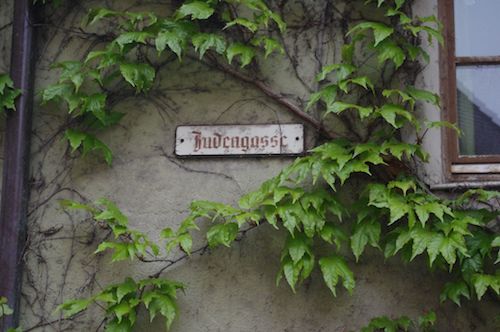 Ook hier een Judengasse.
Here, too, a Jews' alley.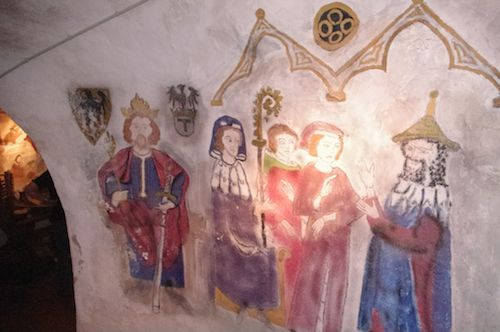 In de gewelven onder een tapijtenwinkel heeft een amateur vele wandschilderingen rond joodse thema's aangebracht. We hebben geluk dat we erin kunnen, want de winkel wordt binnenkort opgeheven.
We have a look at the wall paintings in the underground passages under a carpet shop. The late owner of the shop was an amateur painter and very committed to medieval Jewish themes.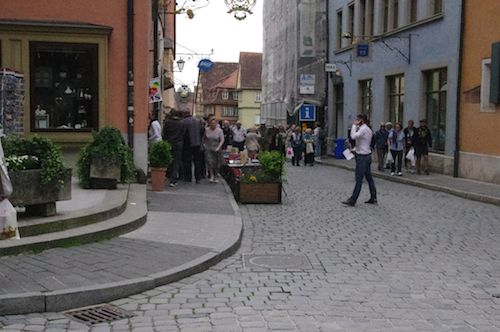 Rothenburg is behoorlijk toeristisch. Grote groepen Amerikanen en Japanners volgen hun respectieve gidsen.
The town is well known in the tourist industry, mainly to Americans and Japanese, but we also hear Italian, British and French.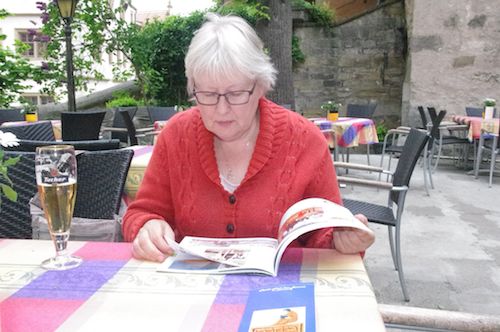 Even rust!
Briefly unwinding on a terrace.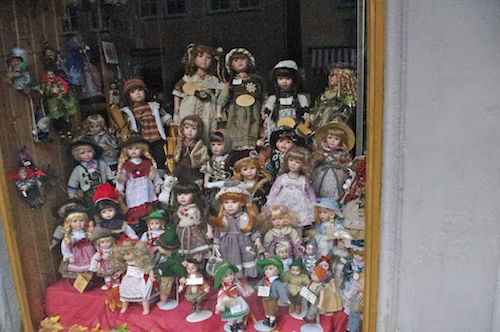 Etalage van een speelgoedwinkel.
Toys' shop with a nice collection of costume dolls.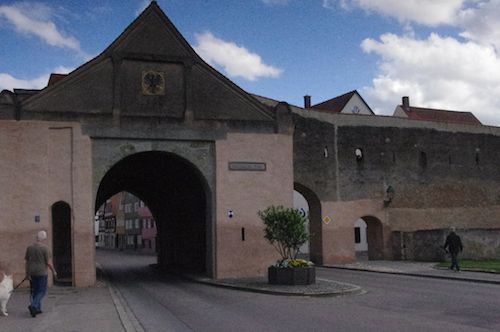 Nördlingen heeft ook een overdekte stadsmuur...
Another medieval town: Nördlingen. Here they also have a covered city wall...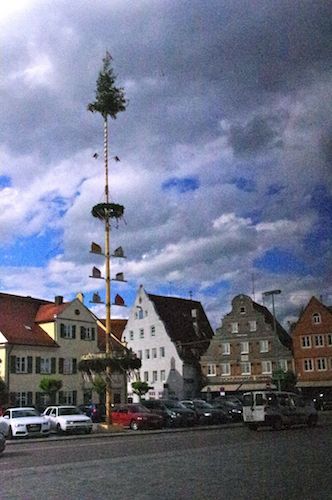 ... en een meiboom.
... and a maypole.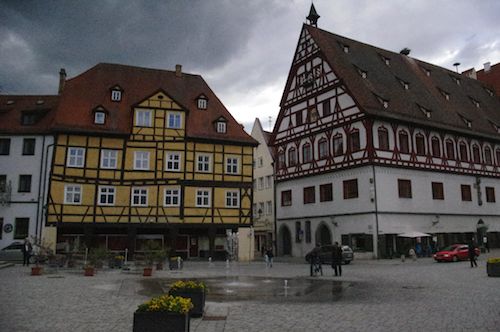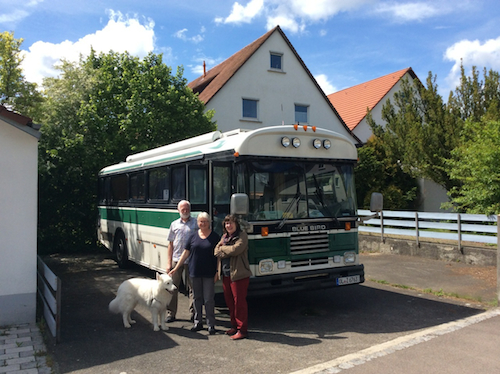 In Langenau bezoeken we Walter en Eva. We passen net op de oprit van het bedrijf.
In Langenau we visit Walter and Eva. Skoolie and we sleep on the driveway of Walter's business premises.
Foto: W. Jolowicz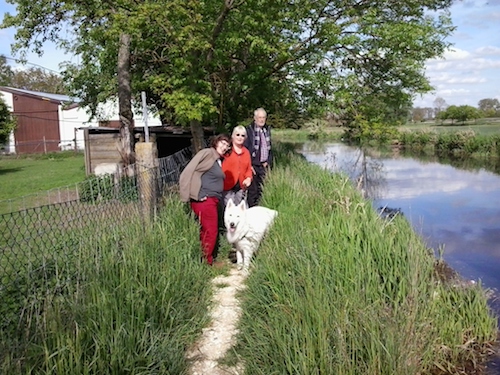 Ze nemen ons mee op een wandeling langs het riviertje ...
A walk along the river ...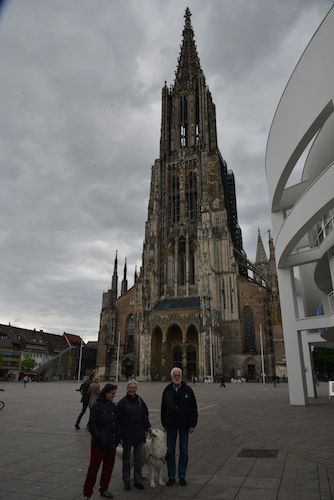 ... en de volgende dag door Ulm, waar Sylvia ruim 45 jaar geleden voor het laatst was.
... and the next day an excursion to Ulm.
Foto: W. Jolowicz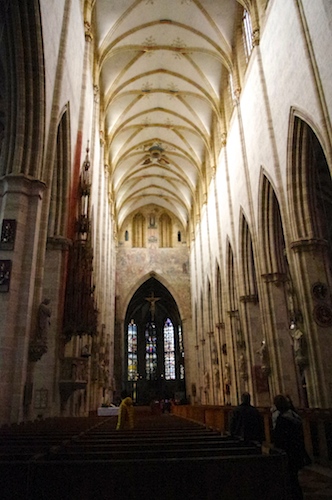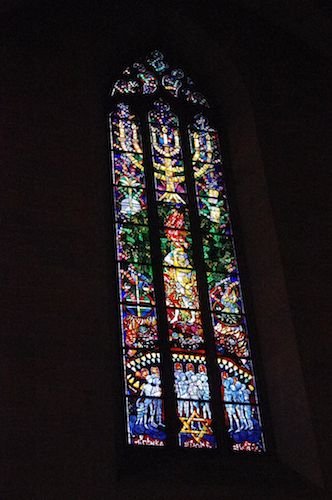 In de kathedraal (Münster) is een modern glas-in-lood venster met als thema Israel.
The modern Israel stained glass window in the cathedral.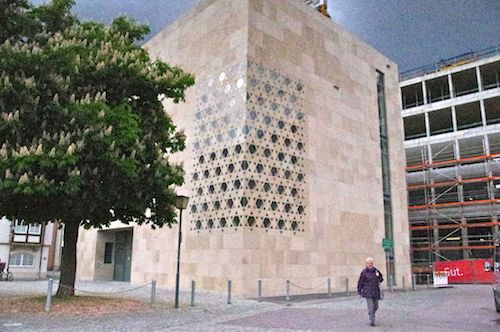 De moderne synagoge (2012).
Newly built synagogue.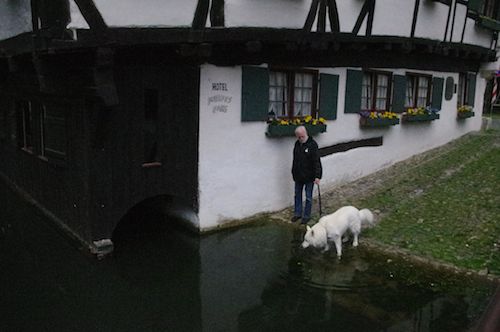 Maar ook héél oude gebouwen, zoals dit "Schiefes Haus" uit de 14e eeuw. Motek drinkt een slokje uit de Blau.
The old centre has been kept and/or restored after WWII.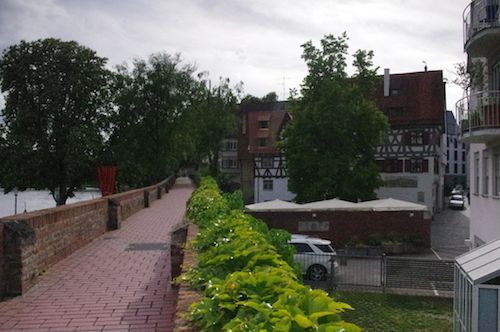 De stadsmuur (15e eeuw) is een geliefde promenade.  
From the city wall one has a nice view: the Danube river on one hand, the old city on the other.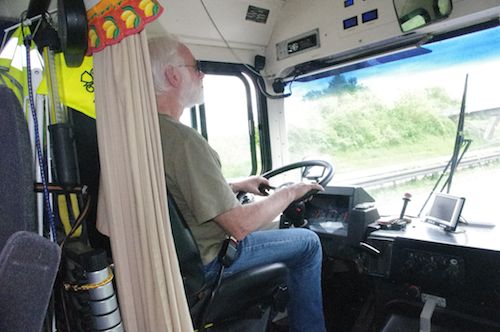 Na twee gezellige dagen gaan we verder richting Allgaü, waar we met Peter en Christl hebben afgesproken.
On we go, towards the southern border of Germany.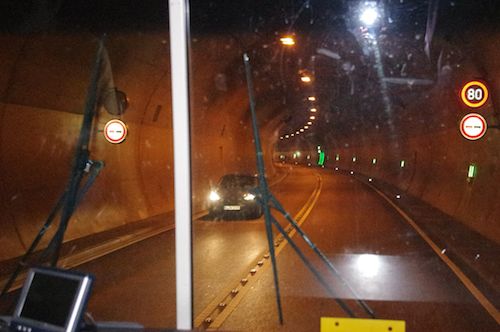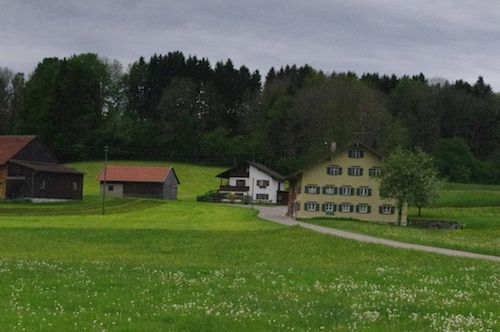 Het landschap wekt al snel associaties met ansichtkaarten van de wintersport. Alleen de sneeuw ontbreekt.
Landscape and architecture start showing an Alpine influence.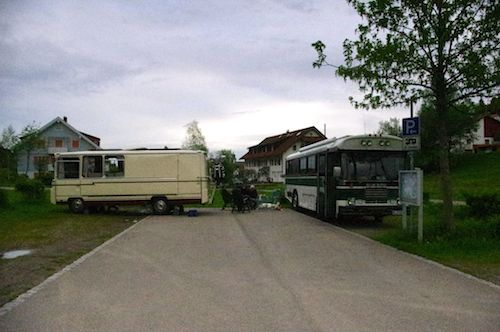 Peter en Christl staan met hun Van Hooltje op de Stellplatz in Lindenberg. Christl heeft een heerlijke quiche gebakken. Wij hoeven vanavond niet te koken!
Our friendship with Peter and Christl started long ago as a virtual one. But once we met in real life, we remained friends. Who claims that the Internet leads to superficial contacts only?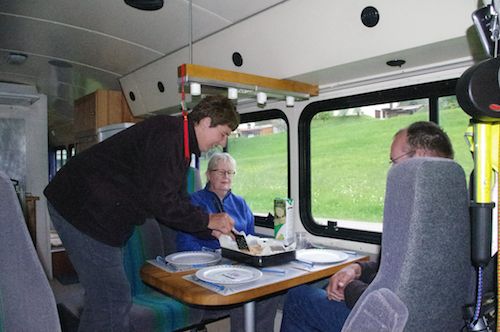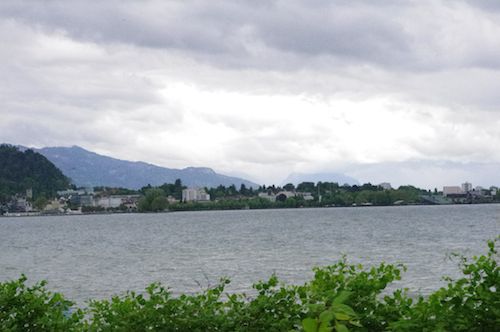 Bij Lindau verlaten we Duitsland en rijden langs de Bodensee richting Bregenz.
We drive into Austria along Lake Constance.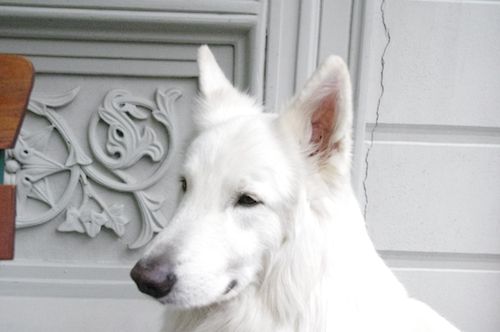 In Hohenems gaan we naar het joods museum, het doel van onze Oostenrijkse excursie. Omdat Motek er niet binnen mag, gaan we om beurten. Motek zit heel braaf met één van ons op de veranda van het museum.
We go to the Jewish Museum in Hohenems, the goal of our excursion into Austria. While one of us sees the beautiful exhibits, the other stays with Motek on the museum's porch.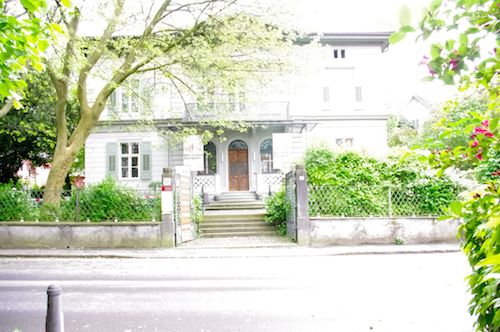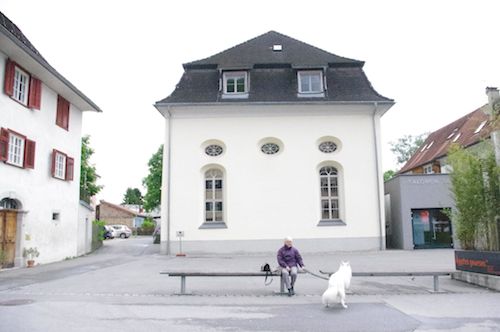 De voormalige sjoel van Hohenems, nu muziekschool.
Former synagogue.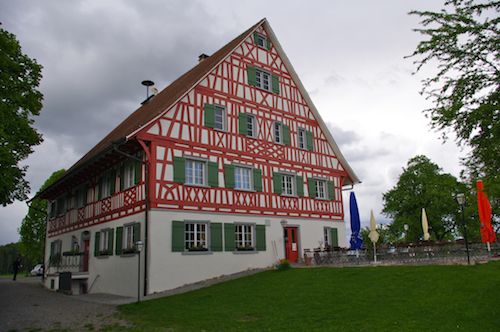 's Avonds eten we heerlijk bij Landgasthof Klosterhof in Karsee (bij Wangen). Gevonden in de Bordatlas, omdat restaurantgasten er met hun camper mogen overnachten. Een aanrader.
That night we park next to this beautiful hotel/restaurant in Wangen-Karsee. We enjoy a great meal and an extremely quiet night.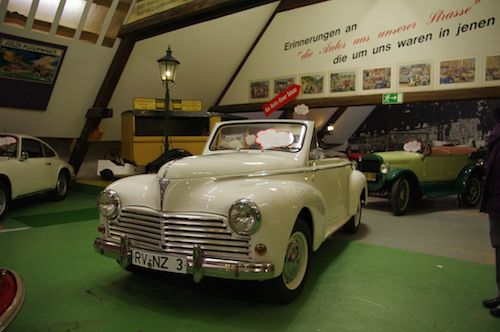 Bij een korte stop in Wolfegg ontdekken we dit leuke automuseum, opgericht door de autojournalist Fritz W. Busch. Onze Vlaamse mede-camperaar Clement heeft dit museum al in 2011 aanbevolen. Hij heeft geen woord te veel gezegd.
This car museum is a nice suprise! And ... Motek is allowed to enter, so we can enjoy the cars all together.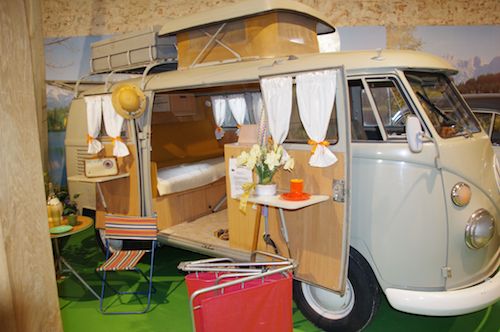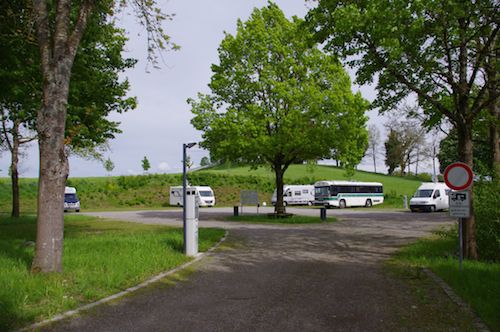 De stelplaats in Wolfegg is betaald, maar daarvoor dan ook mooi aangelegd.
Motorhome parking in Wolfegg.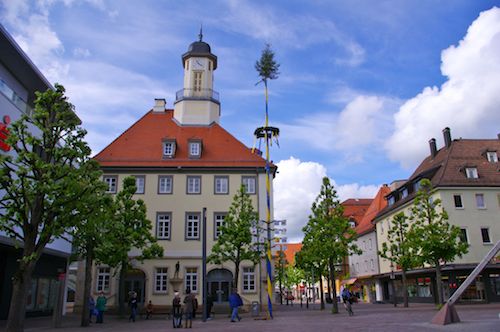 Langzaam naar het westen. Volgende stop is Tuttlingen, met - jawel - alweer een meiboom. Hier in het zuiden zien ze er wel anders uit dan bij ons.
Another may pole, this time in Tuttlingen - our next stop.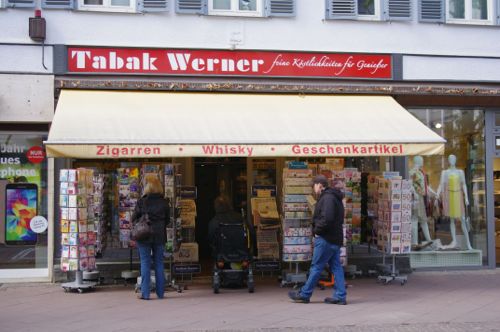 Sylvia d'r grootvader heette Werner en had een tabakszaak...
Just like Sylvia's grandfather, Mr. Werner, who sold tobacco (no whisky.)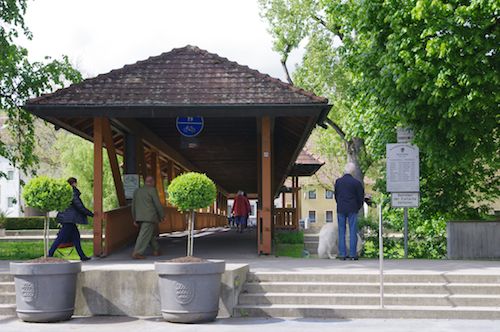 Bij deze brug over de Donau staat aangegeven dat we nog maar 36 km verwijderd zijn van de bron van deze rivier.
Covered bridge over the Danube river.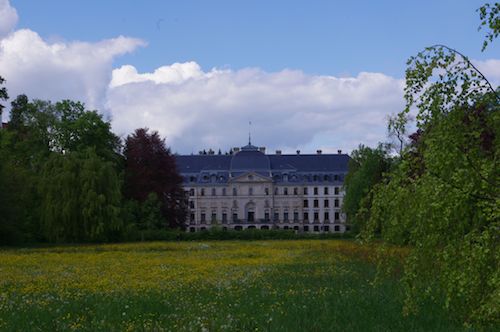 Dus op naar Donaueschingen. Hier het paleis van Prins Fritzi. De camperplaats is in het slotpark!
We want to see the source of the Danube, so on we go to Donaueschingen.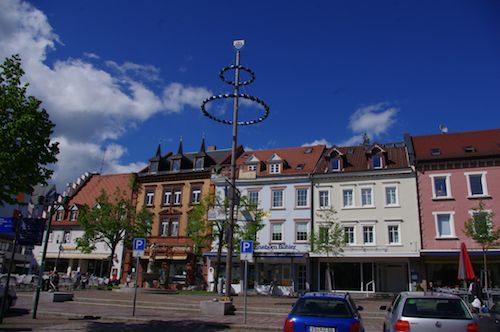 En uiteraard de onontkoombare meiboom.
Yet another maypole, in Donaueschingen.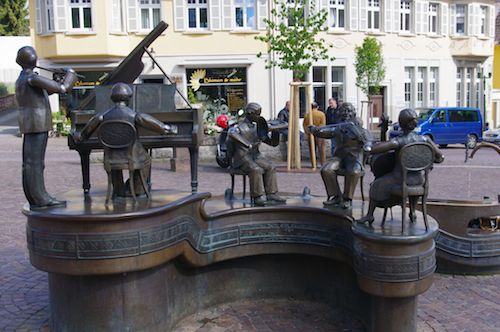 Na een grote brand in het begin van de 20e eeuw is het centrum in Jugenstil-stijl herbouwd. Voor het stadhuis staat dit gezelschap te musiceren. 
Musicians in the centre of Donaueschingen, next to a lot of Jugendstil villas.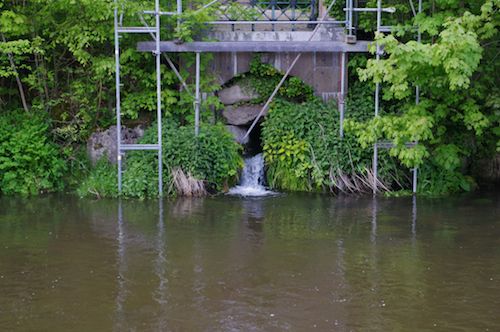 Donautempel waar de Donaubach in de Brigach stroomt. Brigach en Breg vormen vervolgens de Donau.
One of the sources of the Danube.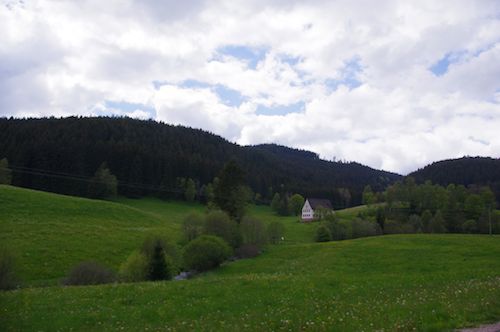 Dit deel van Duitsland heet Schwarzwald. Het is erg groen!
Black Forest. Green Forest would have been an equally fitting name.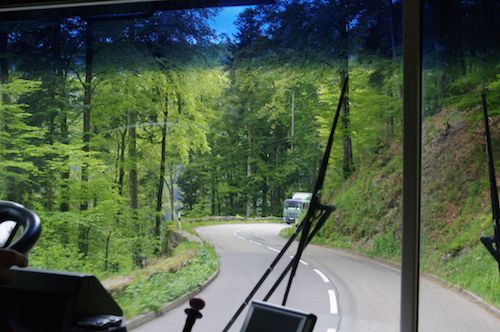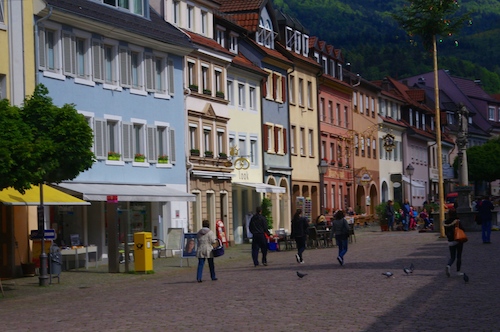 Waldkirch im Breisgau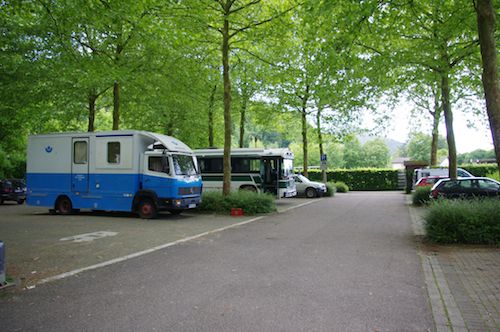 De locale Stellplatz vereist enig manoeuvreren.
The Waldkirch motorhome parking has a very narrow access.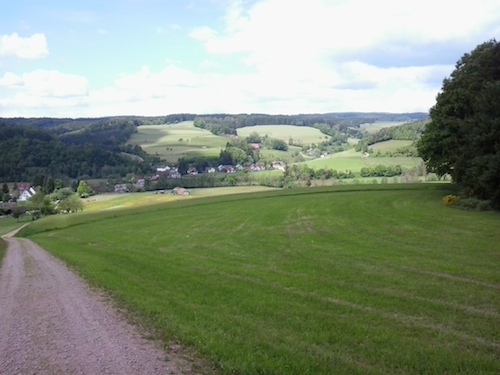 In Prechtal zoeken we Ton en Margriet op. Met Ton maken we een wandeling door het prachtige Schwarzwald-landschap.
Prechtal (in the Black Forest), where Ton and Margriet have moved to from the Netherlands. The scenery is stunning.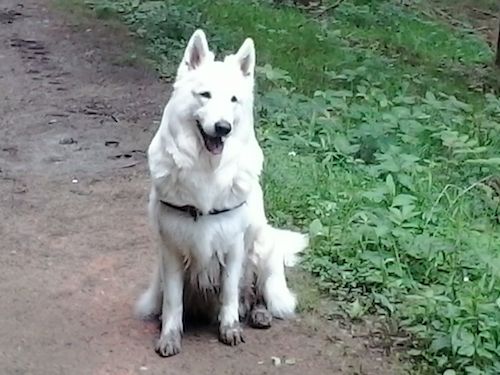 Motek ontdekt dat het glasheldere beekje in het bos een modderige bodem heeft. Gelukkig weet Ton een plek waar hij z'n poten in de Elz (met kiezelbodem) weer kan wassen. Zo is hij binnen het uur weer een Witte Herder. 
Motek likes to paddle in the mud. We have to rinse him in the river Elz.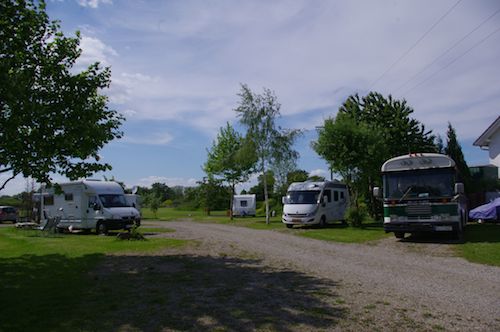 Die avond strijken we neer in Meißenheim, op een voor ons doen vrij luxe camperplaats (Wohnmobilpark Ortenau). 
A luxurious place with water, sewerage and electricity. We stay two nights.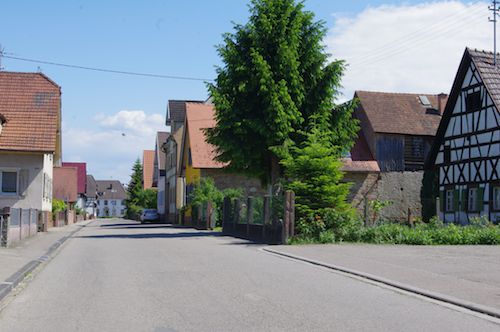 Meißenheim is een leuk, maar nogal slaperig, stadje.
Saturday afternoon in Meißenheim: nobody outside!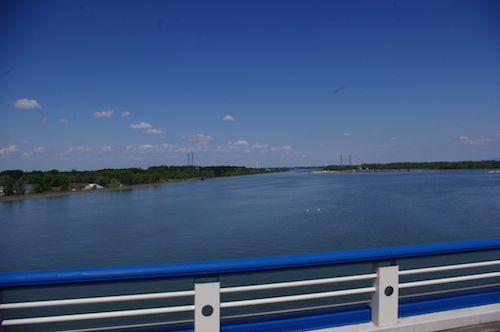 Voor de zoveelste keer deze trip steken we de Rijn over, ditmaal naar Frankrijk. 
And again we cross the River Rhine, into France.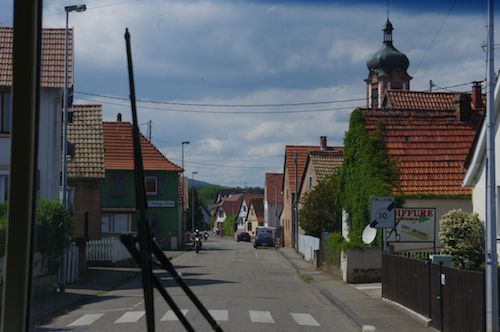 De Franse Elzas heeft een heel bewogen geschiedenis (klik op de link).
For some reason we nearly always end up in the Alsace ...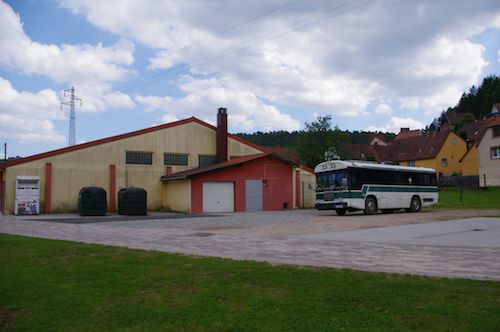 In Reipertswiller is een camperplaats achter de Salle Communale. Mooie, grote visvijver om omheen te wandelen, maar verder helemaal niets.
Behind the Community Hall is a dedicated motorhome parking. For Foneros there are plenty connection options. This is France!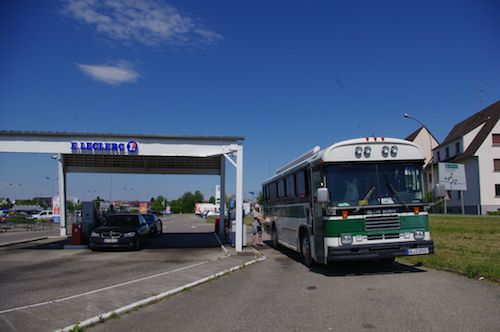 Nèt iets duurder dan in Oostenrijk, maar toch een stuk goedkoper dan in Duitsland, bieden de erven Édouard Leclerc ons hun dieselolie aan.
This French supermarket chain always offers less expensive fuel.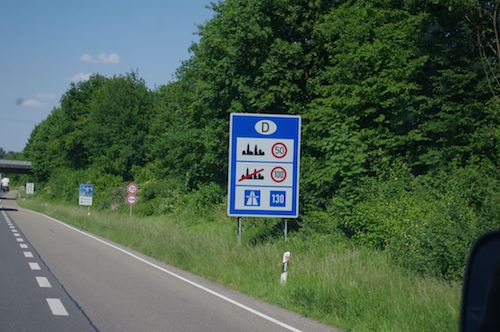 De volgende dag rijden we via perfect onderhouden wegen Duitsland weer binnen.
The roads back into Germany are really perfect!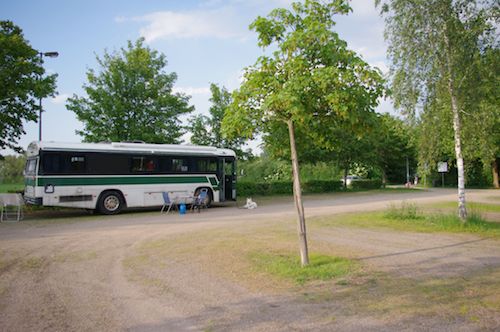 Osthofen heeft twee Stellplätze. Die in het centrum is vrijwel geheel ingenomen door Roma uit het Verenigd Koninkrijk. Maar de Stellplatz buiten de bebouwde kom ligt er verlaten bij.
Two dedicated motorhome places in Osthofen. The downtown one is almost completely taken bij British Roma families with incredible caravans.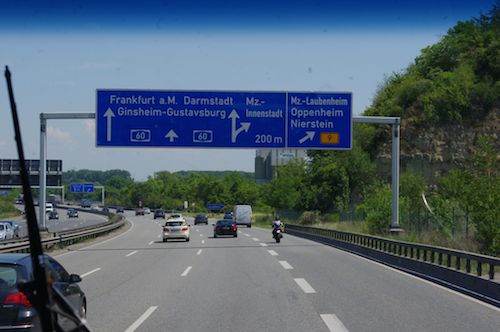 Op weg naar Kronberg im Taunus komen we dicht langs Bodenheim, waar we 16 dagen geleden nog waren.   
Today we cross the Frankfurt area. We now are quite close to Bodenheim again.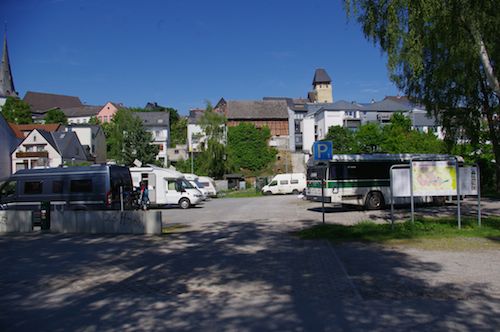 De Stellplatz in Bad Camberg is nogal rommelig. Dat komt met name door de wegwerkzaamheden in het centrum.
In Bad Camberg is a motorhome parking close to the town centre. This week it is a bit hard to reach, because there are road works going on all around the place.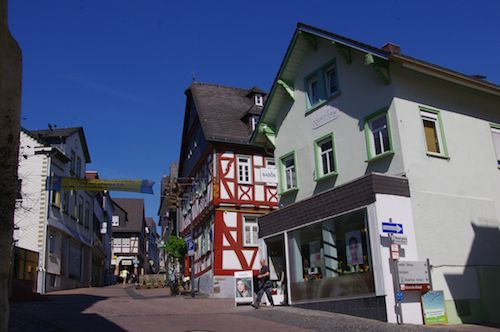 Het stadje blijkt een aangename verrassing.
Bad Camberg itself is a nice surprise!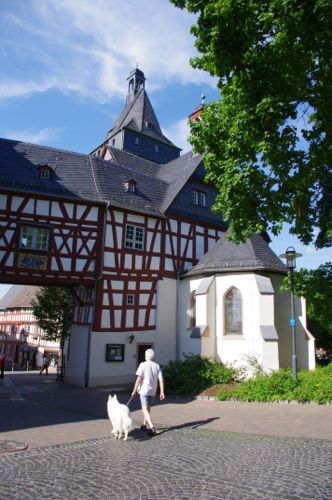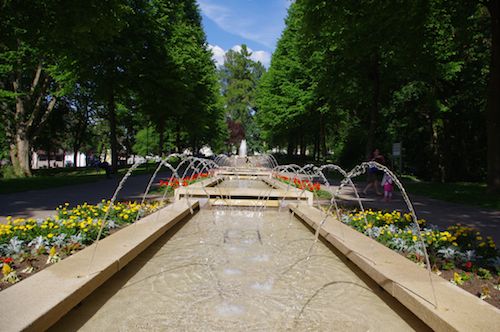 Kneippheilbad Bad Camberg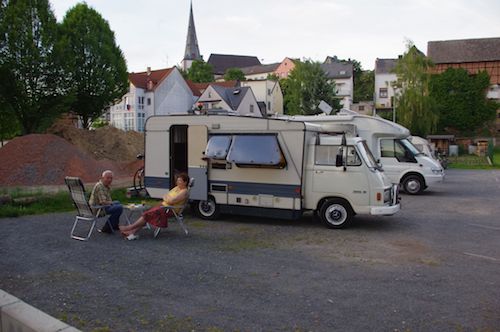 's Avonds draaien onze Vlaamse vrienden Jan en Irene de Stellplatz op. Het wordt een gezellige avond met wijn en (Pools) bier.
In Bad Camberg we also meet our Flemish friends with their beautiful veteran-motorhome. We spend a nice evening together.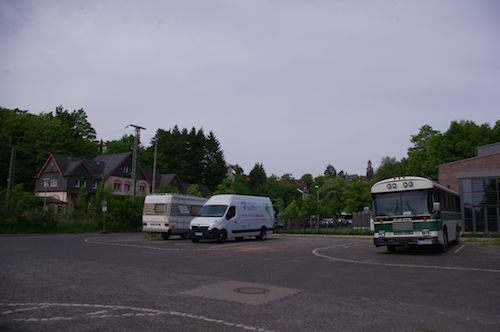 Dit grote parkeerterrein ligt naast het (kop-)station in Kronberg.
Next to the railway station of Kronberg im Taunus is ample space for some motorhomes.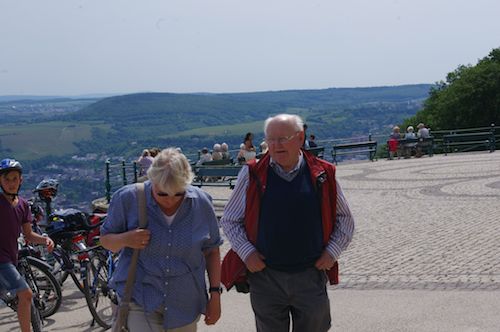 Sylvia d'r neef Gerd neemt ons mee naar het Niederwalddenkmal "Die Wacht am Rhein".
Sylvia's cousin, who lives in Kronberg, takes us to the Niederwalddenkmal near Rüsselheim.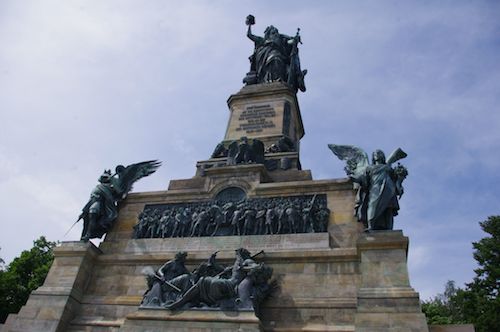 Het monument met Germania in top is nogal pompeus... 
The monument is quite pompous...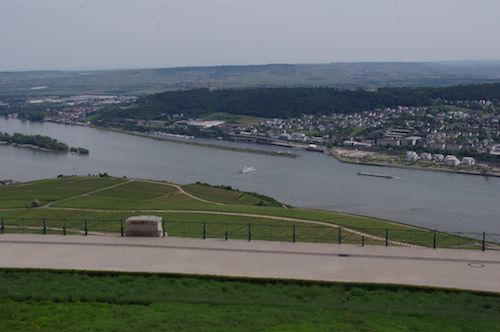 ... maar het uitzicht over de Rijn is prachtig
... but the Rhine view is overwhelming.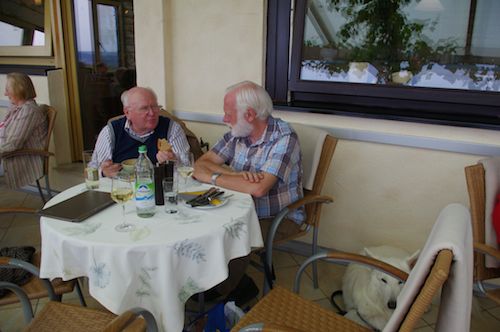 Gerd kent de beste restaurants in de regio.
Gerd takes us to one of the restaurants where he is a habitué. Now we understand why!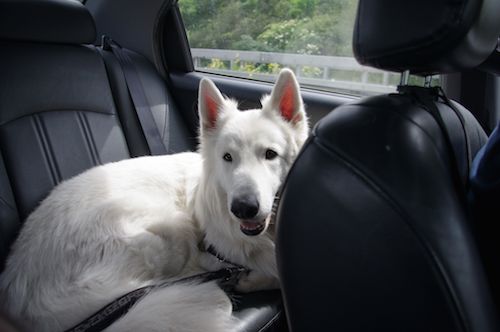 Motek is duidelijk niet gewend in een "gewone" auto te reizen, maar hij gedraagt zich voorbeeldig.
The second time in Motek's life he travels in an ordinary car. Still, he behaves as if it all is completely obvious.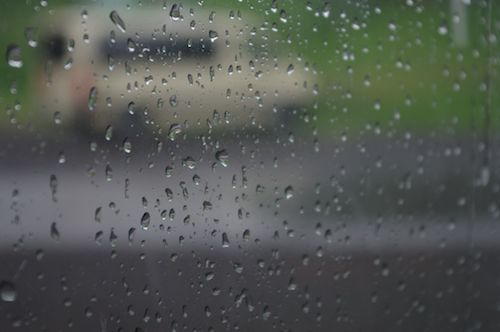 Het kan natuurlijk niet altijd zonnig zijn.
At last some rain.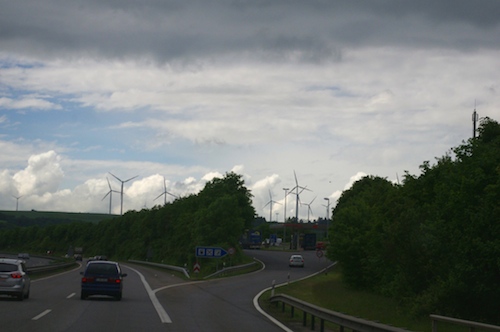 Windmolens op de eerste heuvelrug van de Eifel. 
Here we drive into the Eifel region. Apparently the hills catch some wind.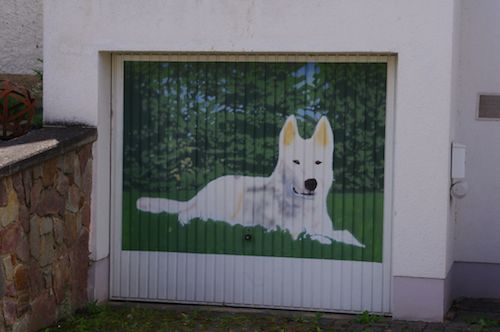 Deze onmiskenbare witte herder is geschilderd op een garagedeur in Kesten.
On a garage door in Kesten someone has painted this white shepherd. Later we'll find out it is in memory of the painter's first white one. He now has a second.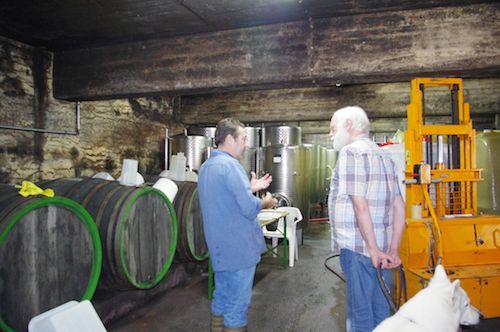 We gaan even langs bij Heinz Jakoby om een doosje Trester te kopen. We krijgen meteen een volledige rondleiding!
Also in Kesten lives wine grower Heinz Jakoby where we stop to buy a box of his famous Trester. Heinz shows us around.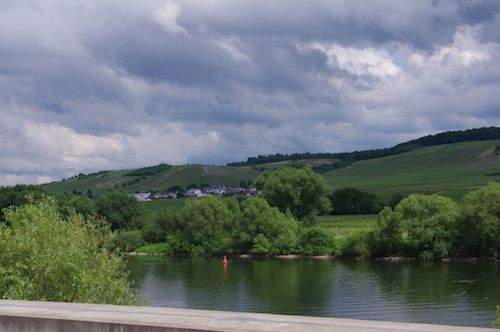 Moezel - Moselle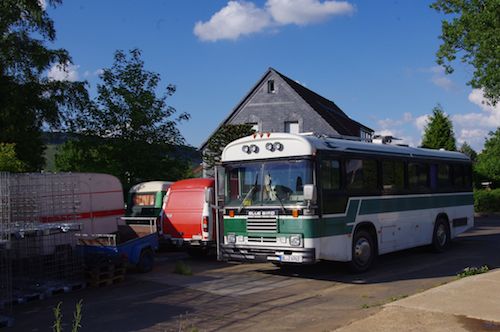 In Maring-Noviand wonen onze vrienden Stevie en Elke. Bij hen genieten we van een lekkere barbecue.
Our friends Stevie and Elke have organised a very nice barbecue for us. And on their yard there's always space for one bus more.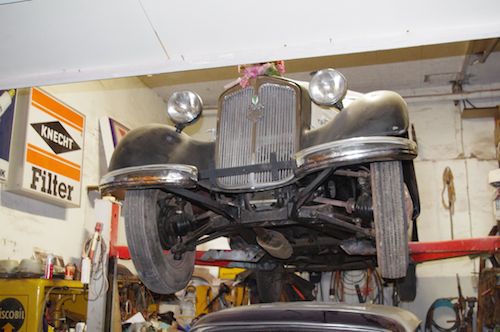 Stevie brengt ons naar Erny's Nostalgiemuseum.  Erny heeft een fantastische collectie opgebouwd, met o.a....
In Wittlich is Erny's Nostalgiemuseum. An incredible collection of nostalgic objects, gathered in the old Coca Cola factory.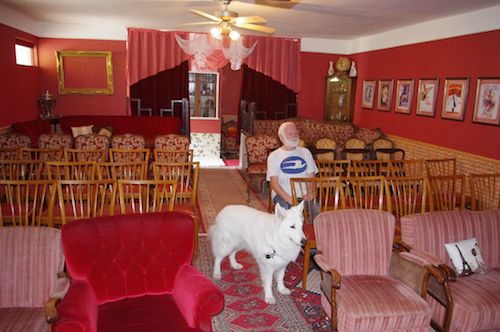 ... een Parijs theatertje en ... 
The museum houses a Parisian theatre and ...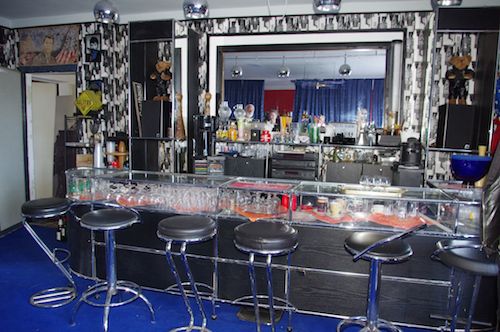 ... een Hollywood bar. 
... an Fifties American bar.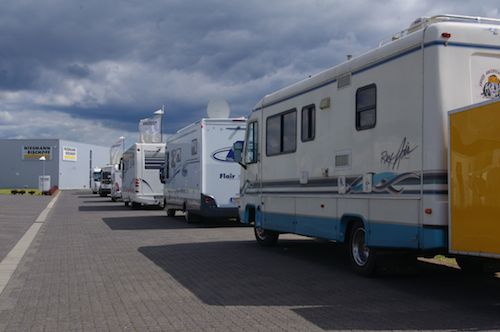 Bij de fabriek van Niesmann+Bischoff in Polch kunnen alle campers - ongeacht het fabrikaat - overnachten.
In Polch all motorhomes can stay overnight at the Niesmann+Bischoff factory.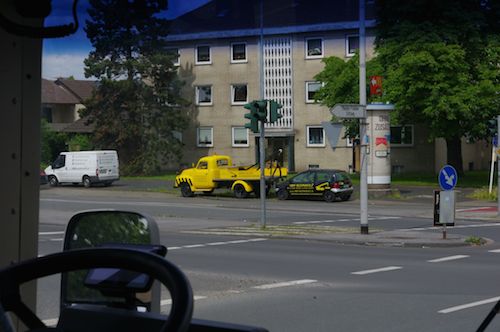 Op weg naar Sylvia d'r nicht Eva en haar man Titus zien we deze prachtige Blitz geparkeerd staan.
This beautifully restored Opel Blitz tow truck we see in Mülheim an der Ruhr.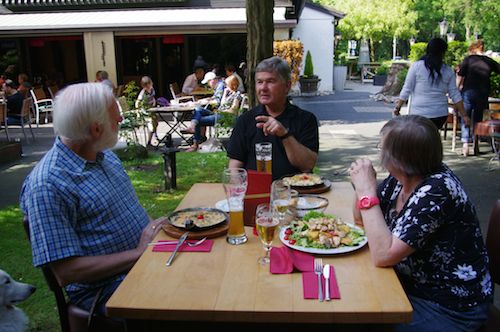 Het weer laat weer een maaltijd in de Biergarten toe.
The weather is too good to sit inside.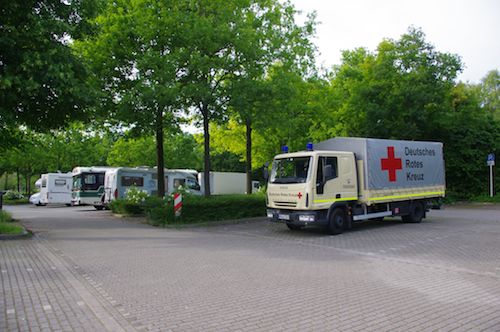 Stellplatz in Mülheim. Onder de bomen, dus niet zo geweldig voor zonnepaneel en satellietschotel.
This is the municipal motorhome parking of Mülheim an der Ruhr.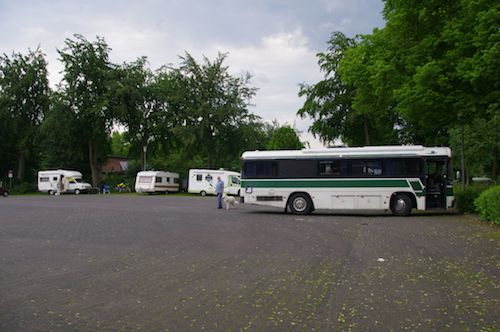 In Rheda is nog wel ruimte voor een stuk of 50 campers.
The Rheda motorhome place is huge!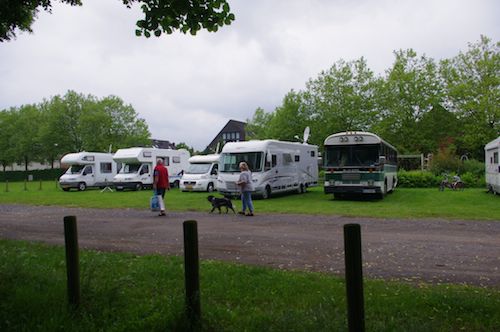 Onze laatste overnachting, in Diepholz. Gelukkig zakken we niet weg in de natte bodem.
The last day of our trip we sleep in Diepholz, less than 40 miles from home.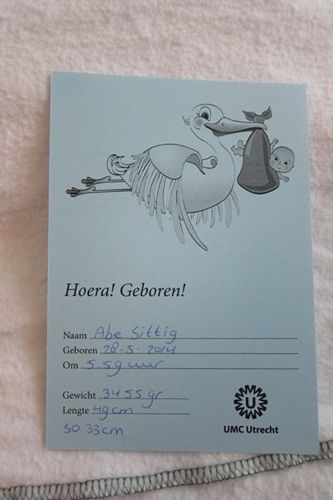 's Morgens belt Judith on wakker met heuglijk nieuws!
At 8 AM Judith calls us to announce Abe's birth!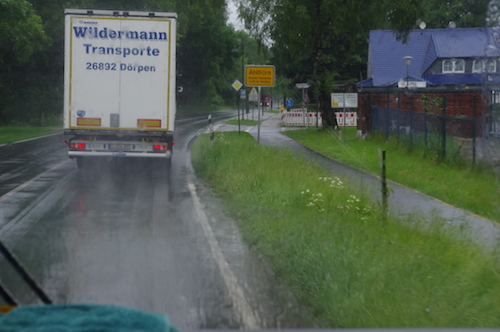 Door de regen leggen we de laatste paar kilometers naar huis af.
Less than an hour and we are home again.
2477 km in 28 dagen - 1540 miles in 28 days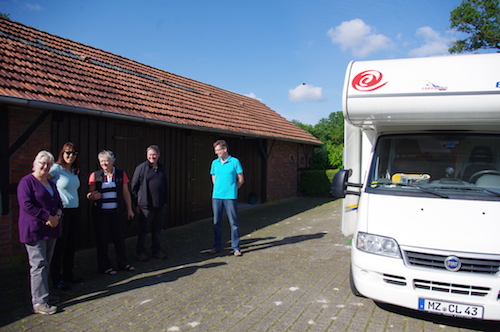 Op Hemelvaartsdag komen Wolfgang en Anja langs, met hun camper van Bodenheim op weg naar Scandinavië.
Wolfgang, the organiser of the Bodenheim meeting, and his friend Anja make a stop-over in Sage-Haast on their way to Denmark.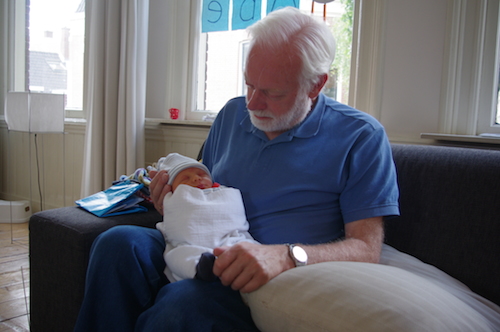 De volgende dag rijden we met de Škoda naar Utrecht. Wat lief en wat klein!
Maternity visit in Utrecht. So sweet!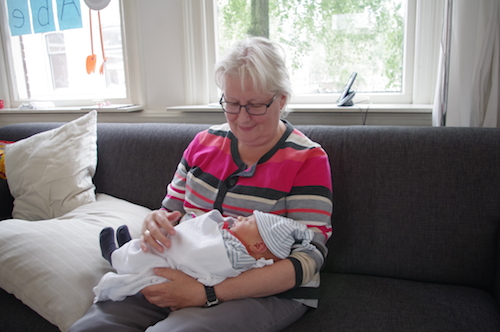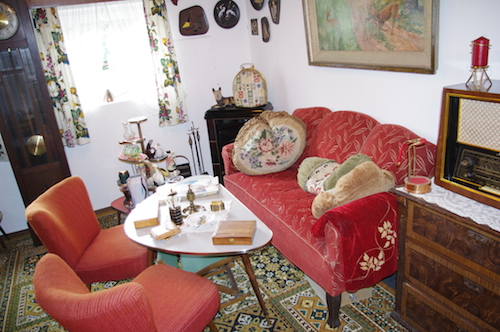 Eerste Pinksterdag is het Moor- und Bauernmuseum in Benthullen open. We nemen Tony en Denise mee en zien o.a. deze jaren '50 stijlkamer. Ook maken we een toertje met een huifkar met tweespan.
Together with Tony and Denise we visit the close by "peat- and farmers' museum".  We also make a wagon ride through the vicinity.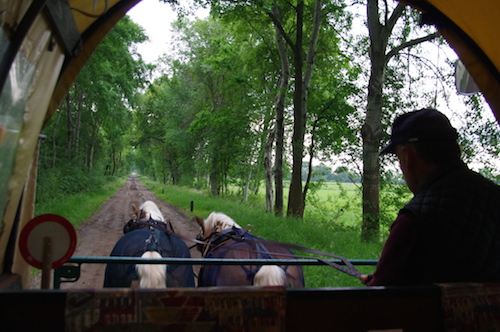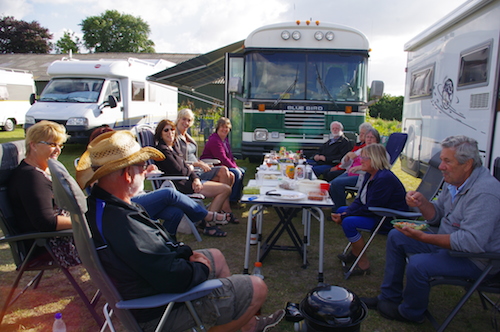 13-14-15 juni is er een campertreffen in Nunspeet. Hier de gemeenschappelijke barbecue. Iedereen blijkt opeens een Safari Chef te hebben :-)
The 13th through 15th of June we go to a motorhome meeting in the centre of the Netherlands. The picture shows the common BBQ meal.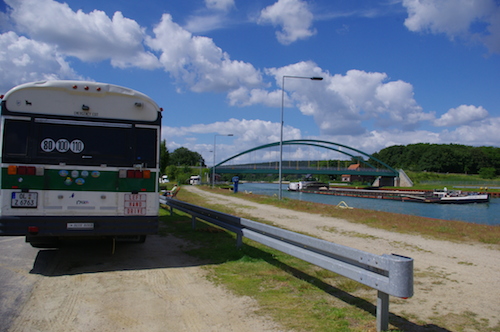 Op de terugweg overnachten we in Hörstel Riesenbeck.
One more night along the Dortmund-Ems-Kanal.
Go to top of page