2010 Misc.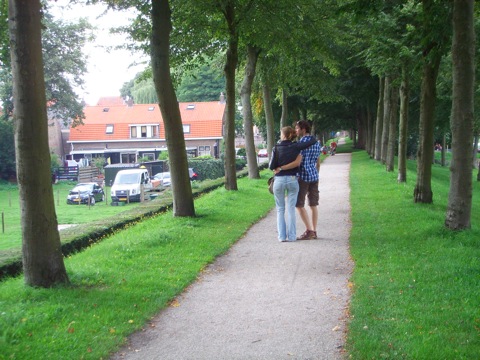 Judith en Marcel hebben ons uitgenodigd voor een historische/culturele/culinaire verkenning van de Veluwe. Dit parkje maakt deel uit van de oude verdedigingswerken van Elburg.
Daughter Judith and her partner Marcel have invited us for a trip to Elburg and surroundings.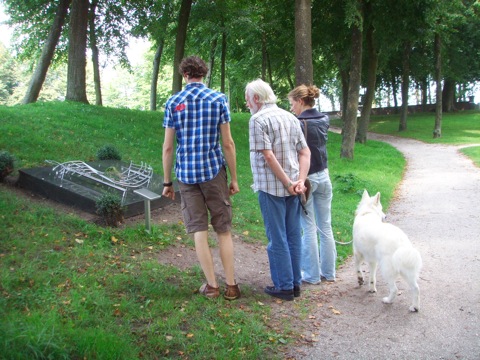 Monument voor de in 1994 in Duitsland verongelukte leden van het koor De Lofstem.
Elburg monument for the members of a choir who were killed in a road accident in Germany in 1994.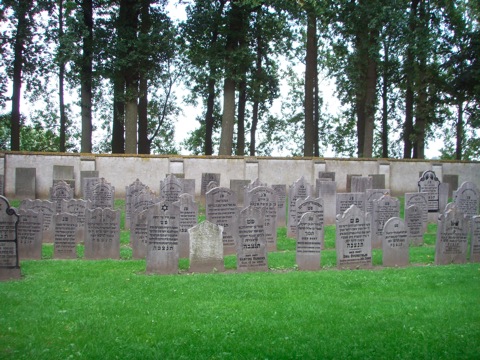 De perfect onderhouden joodse begraafplaats van Elburg.
Elburg's Jewish cemetery, perfectly kept.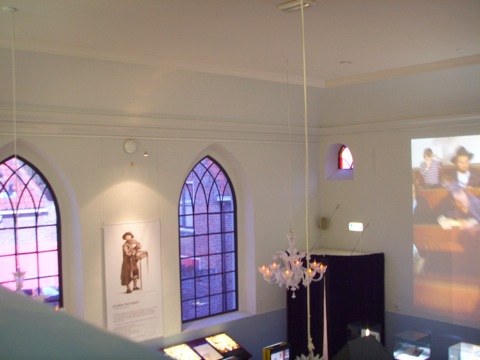 Het oude sjoeltje van Elburg huisvest nu een museum over joods leven in het vestingstadje.
The former Elburg synagogue now is a museum of local Jewish heritage.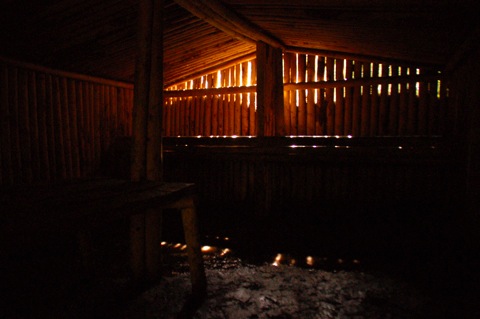 In de bossen tussen Nunspeet en Vierhouten was in de oorlogsjaren het "Verscholen Dorp", waar een groep onderduikers (helaas niet allemaal) de oorlog overleefd heeft.
In semi-undergound huts like this replica, a group of Jews and gentiles went into hiding during the second World War. Most of them survived.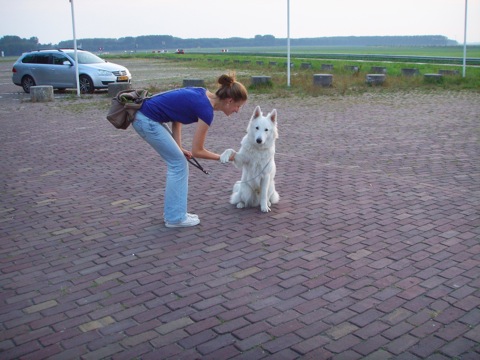 De dag werd afgesloten met een heerlijk diner. Dank je wel, Judith, voor een heel geslaagde dag!
A very nice dinner concluded the day. Thank you Judith. It's been a beautiful day!
Augustus/September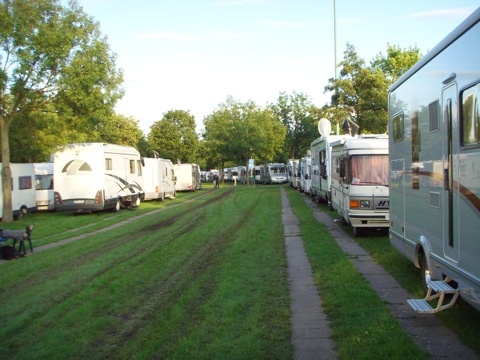 In Düsseldorf vindt elk jaar de grootste beurs van Europa op het gebied van campers, caravans, accessoires en reizen plaats. De parkeerterreinen zijn gedurende 10 dagen omgetoverd tot een gigantische Stellplatz.
The biggest RV-related exhibition is held every autumn in Düsseldorf, Germany. The normal car park is converted into a huge parking place for up to 2000 motor homes.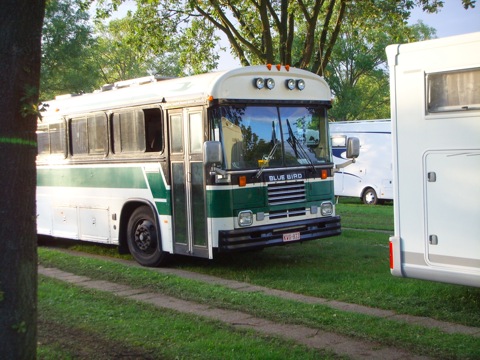 De meeste campers komen uit de fabriek en zijn dan ook van wit plastiek. Maar niet allemaal.
Among the white, plastic, factory-built motor homes were only a few converted commercial vehicles.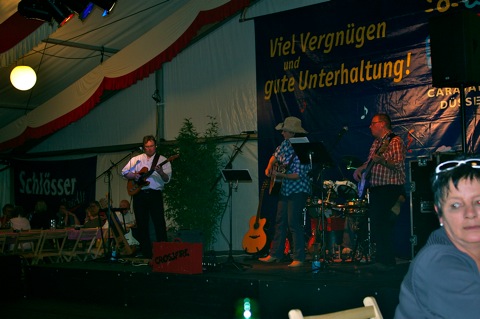 In een grote tent is elke avond een ontspanningsprogramma voor de camperaars. Hier treedt Crossfire op.
For the campers an entertainment program is offered in a big tent. In this picture country band Crossfire performs.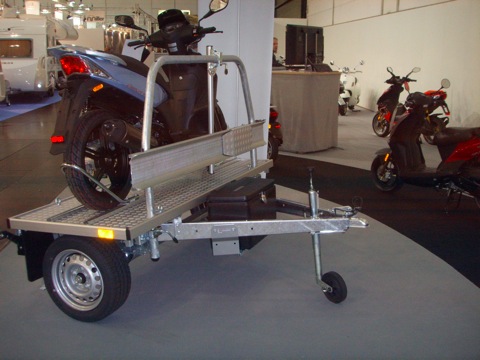 Misschien wel het kleinste voertuigje op de beurs...
The smallest trailer...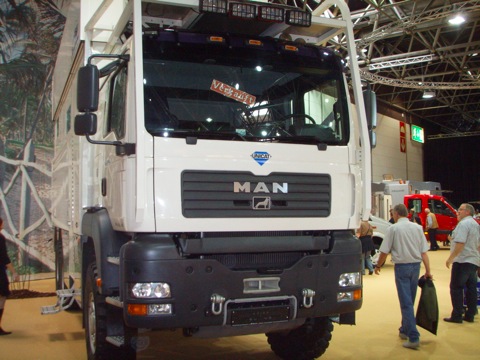 ... en vermoedelijk het grootste. € 495 000. Verkocht!
... and the biggest expedition truck. Sold. At US$ 636 330!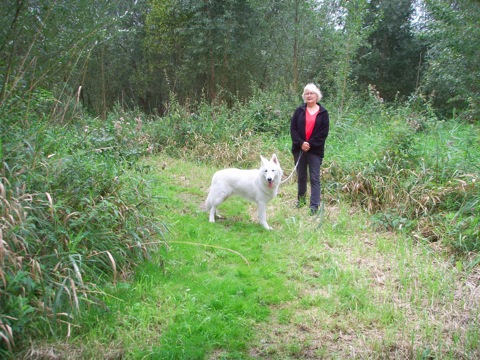 Onderweg van Düsseldorf naar Marknesse maken we een kleine omweg om nieuwe huishoudaccu's aan te schaffen en om een Raskelf oplegmatras op te halen. Hier tussendoor een wandeling door het Harderbos in Flevoland.
To break the long trip from one event to another, we have to walk Motek now and again. Here he explores a nature reserve under sea level.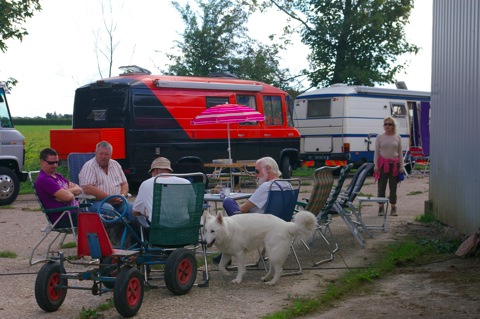 In Marknesse is een mini-treffen georganiseerd voor en door bezoekers van het forum Campertechniek.eu.
On the farm of one of them, some visitors of a technical Internet forum meet.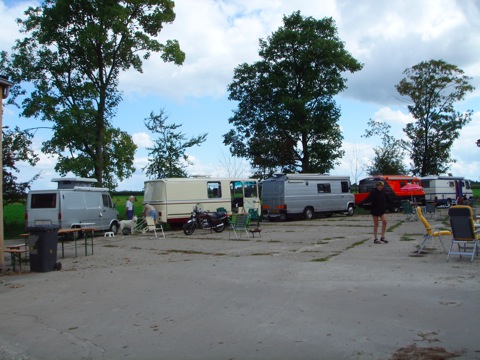 September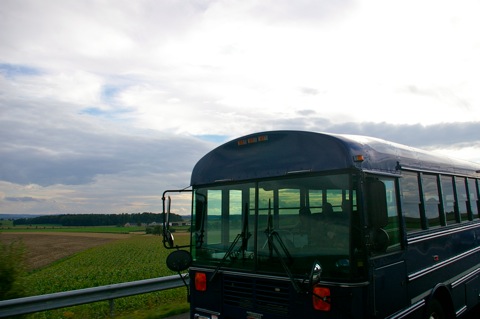 Vanuit het forum voor omgebouwde bussen Touringcamper is er een treffen georganiseerd in Klüsserath aan de Moezel. Vlak voor we er zijn, halen we een echte schoolbus in! Een Thomas. Er wordt over en weer uitbundig gezwaaid, want hoeveel van dit soort bussen rijden er al met al in Europa?!
In Klüsserath on the River Moselle is a meeting of bus conversions.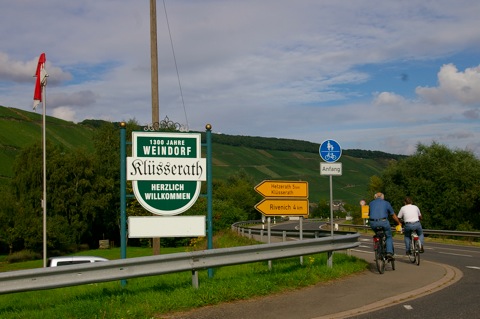 Welkom/Welcome.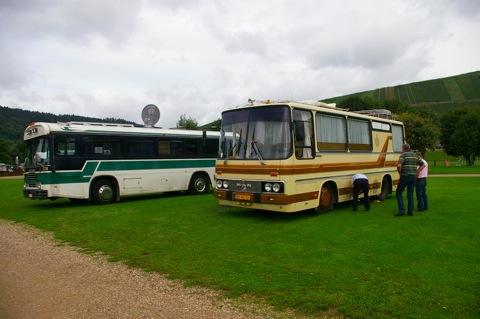 Helaas valt de opkomst (in aantallen) wat tegen. Hier de klasse 8-10 m...
There are only four participants. Two (relatively) short ones...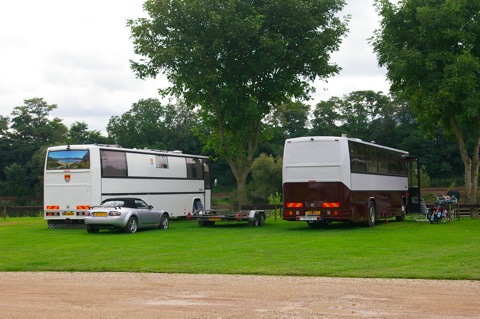 ... en hier de klasse 12 m.
... and two full size (40 ft).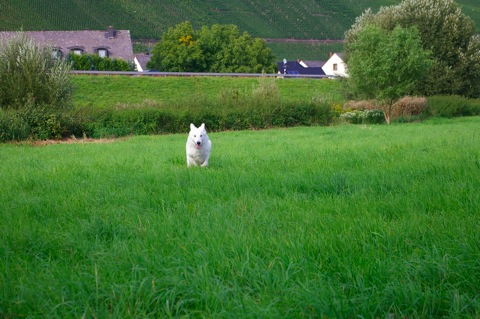 Naast de grote Stellplatz (400 campers!) is een terrein waar Motek weer eens even goed op snelheid kan komen.
After so many hours in a coach, Motek here could run to his heart's content.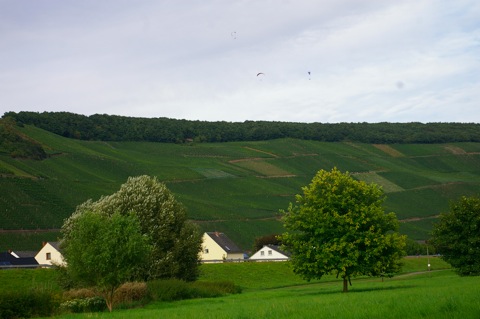 Wijn/Wine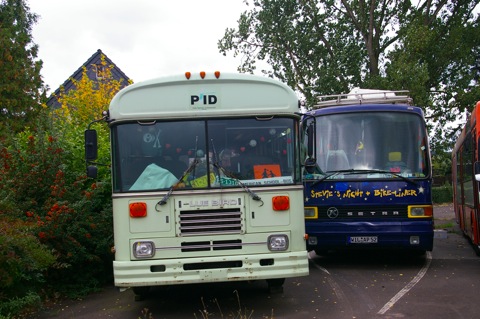 Na Klüsserath bezoeken we Stevie en Elke die we eerder dit jaar in Pont-au-Mousson hebben leren kennen. En ja... nog een Blue Bird!
From the bus conversions meeting we drive a short while to see Stevie and Elke whom we met this year in Pont-au-Mousson. They, too, have a Blue Bird, waiting to be converted.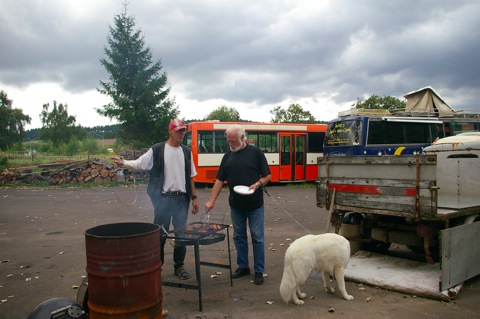 Nog net op tijd voor de stortbui is het vlees op de barbecue gaar.
We have a nice barbecue. The meat is done, just before the rain shower starts.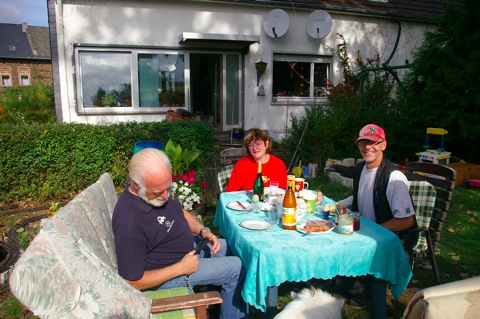 De volgende ochtend is het weer weer goed genoeg om buiten te ontbijten.
The next morning the weather allows an outside breakfast.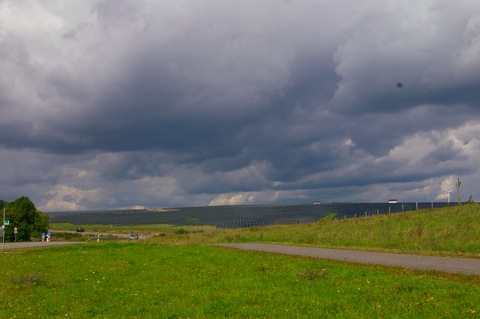 Als je goed kijkt, zie je hier een deel van de hectares vol zonnepanelen in Laufeld. Van horizon tot horizon... Daar voelen wij ons met onze 350 Wp héél klein bij!
Part of the Photo Voltaic park in Laufeld.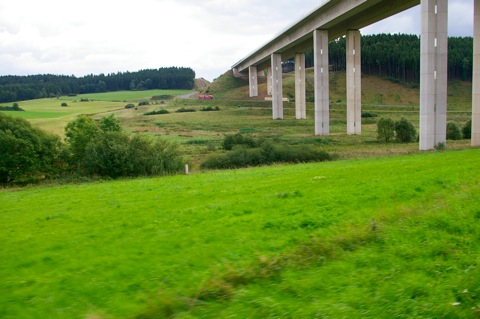 Autobahn van de onderzijde gezien.
High viaduct. Not even the highest.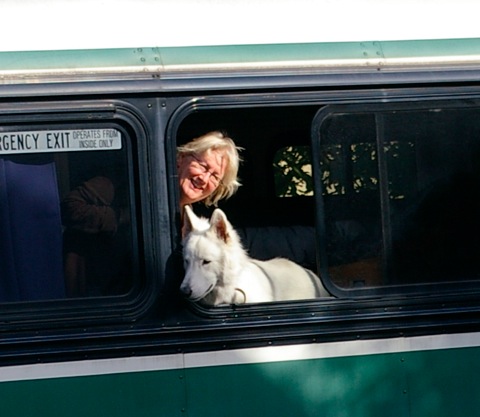 Aankomst in Hillesheim.
Glad to arrive in Hillesheim.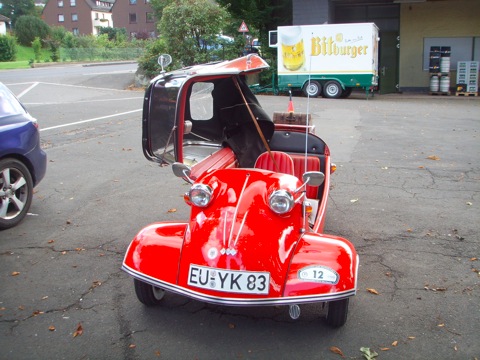 Er is net een Oldtimer-Treffen geweest. Nog enkele voertuigen staan te wachten om opgehaald te worden.
Yesterday there has been an Oldtimer meeting. Some of the vehicles are waiting to be picked up.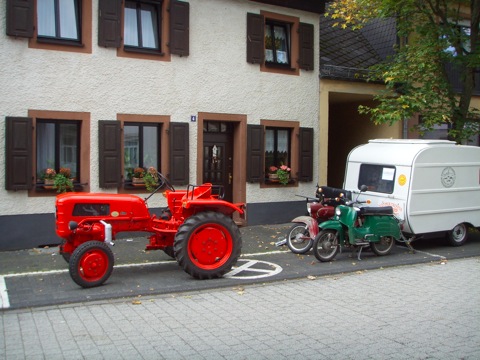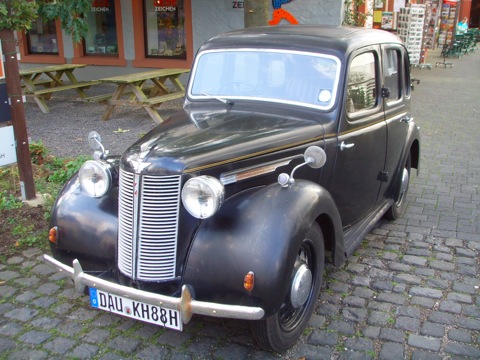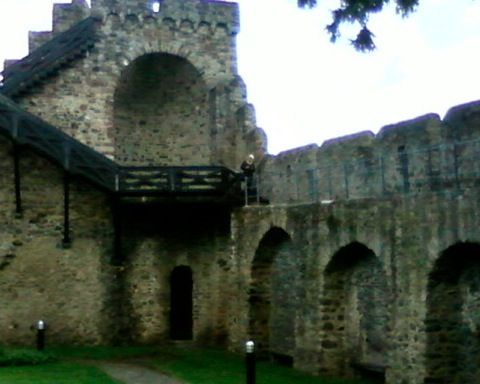 Stadsmuur en burcht uit de Middeleeuwen.
Hillesheim has a 13th century city wall.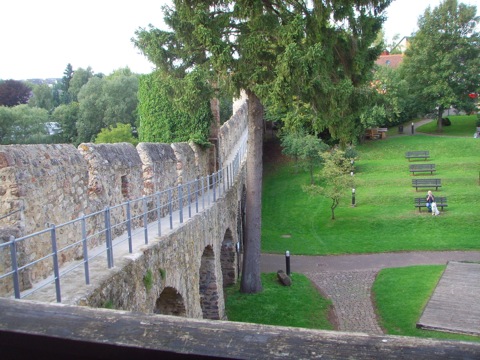 Sylvia beklimt de muren, terwijl Ernst en Motek in het openluchttheater op haar terugkeer wachten.
Inside the old castle is an open air theatre.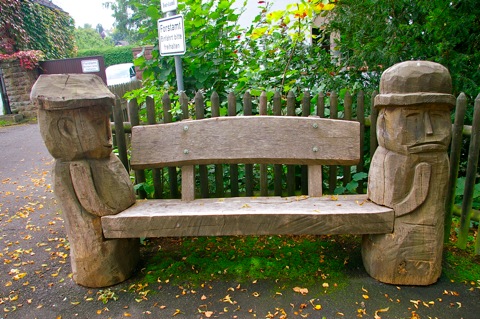 Bank bij het kantoor van de boswachterij.
Forester's bench.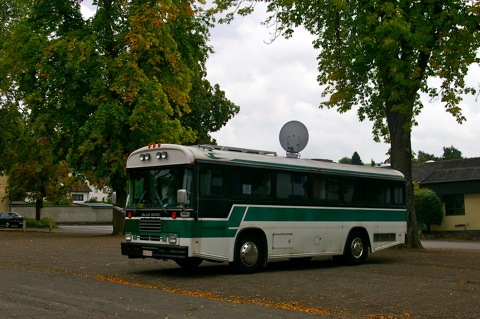 Op de oude veemarkt kunnen we tussen de bomen door net verbinding maken met Hellas Sat - en dus deze pagina uploaden.
After some shifting we find a spot where we can point our dish between the trees at 39º E, necessary to connect to Hellas Sat and so update this website.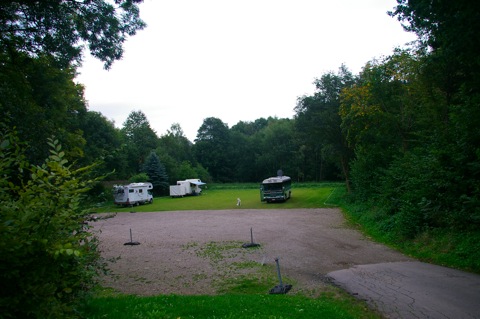 Na een dik uur rijden door het mooie landschap (Vulkaneifel, Ruhreifel, Nordeifel) stoppen we op deze fraaie Stellplatz te Hürtgenwald-Zerkall. Als groente eten we vanavond de tomaten uit eigen hof die onze vriendelijke Vlaamse buurvrouw in Klüssenrath ons heeft gegeven.
After a trip of about an hour through the beautiful volcanic Eifel area, we stop at this nice motor home place in Zerkall.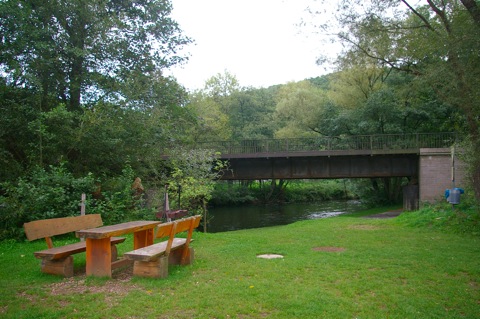 Motek had wel graag een duik willen nemen in de Kall, maar daar waren wij tegen.
The Kall stream with the railway bridge. There are trains every few minutes, but we hope (and expect) they stop running at night.
Go to top of page