Fig.Foz-Valença
Portugal (Winter 2010/2011-13)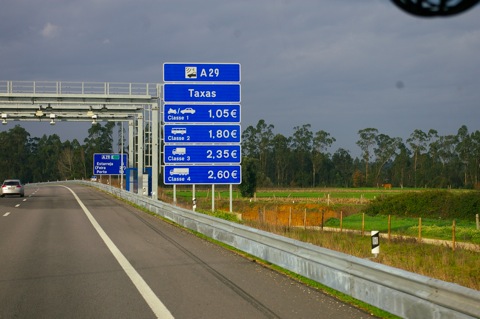 Hoewel Garmin ons niet via de tolweg zou leiden, komen we een aantal van dergelijke tolpoortjes tegen. We zijn benieuwd hoe ze de tol gaan innen!
While the Garmin navigator is supposed to avoid toll roads, we encounter a number of such toll gates. We wonder how they will collect the toll!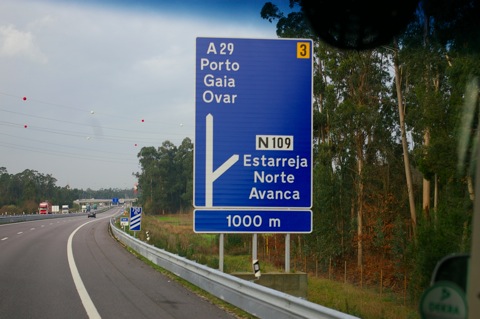 De A29 is een prima autoweg. Vermoedelijk (!) met tol.
The A29 is a great highway. Presumably (!) with toll.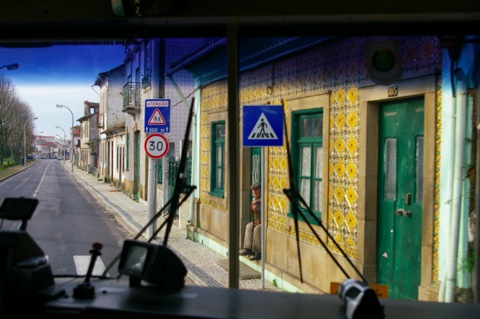 In Ovar worden we dwars door het centrum naar de haven geleid. Maar de haven blijkt onbereikbaar.
In Ovar we are sent through the centre to the port. But the port turns out to be impossible to reach by car.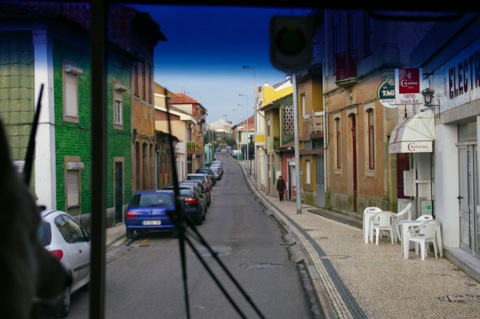 De straatjes van het centrum naar het strand zijn niet echt berekend op onze bus.
The streets from downtown to the beach are not really meant for our bus.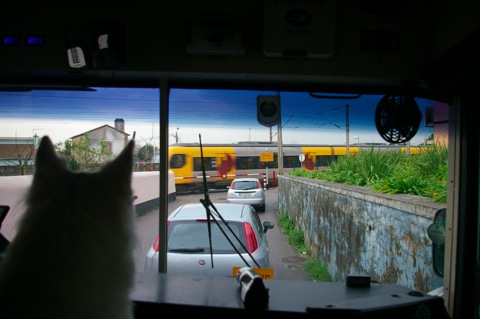 Vlak voor we er zijn moeten we nog wachten voor een echte trein.
Just before we get there we have to wait for a real train.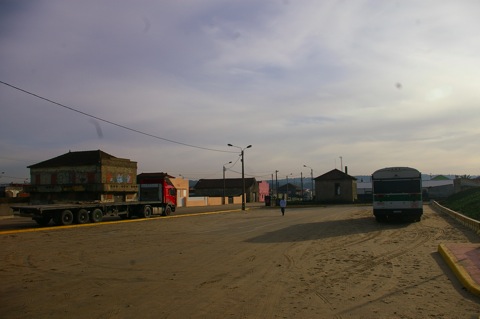 Uiteindelijk parkeren we aan het strand in Paramos, even ten Zuiden van Espinho. Sylvia ontdekt, bij het achtervolgen van ons op hol geslagen hondje, een locaal barretje. Als Motek weer gevangen is, gaan we er een wijntje drinken. Alle klanten bekommeren zich (in het Frans in verschillende maten van verstaanbaarheid) om ons welzijn.
Eventually we park on the beach in Paramos, just south of Espinho. Sylvia discovered, when chasing our runaway doggy, a local bar just around the corner. With Motek, once caught again, we have a glass of wine there. All customers are concerned about our wellbeing (in French in various degrees of understandability).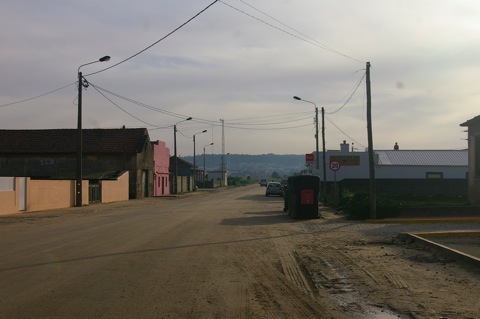 Rua de la Praia.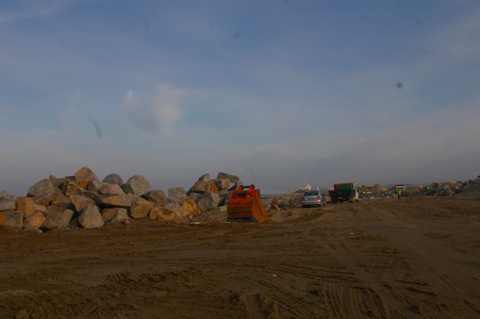 Ze zijn hier bezig met een nieuwe zeewering,
For constructing a new seawall trucks drive in and out with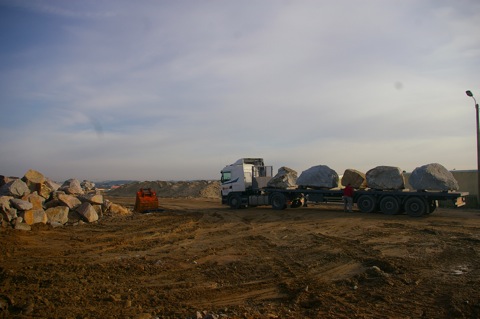 opleggers met stenen rijden af en aan,
big stones and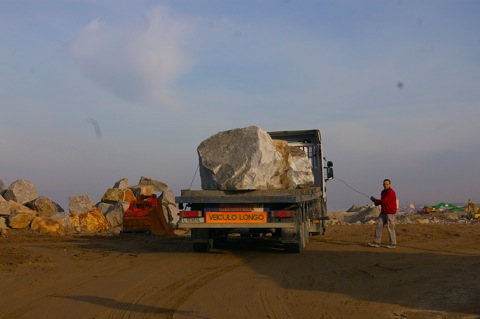 grote stenen en héél grote stenen!
still bigger stones.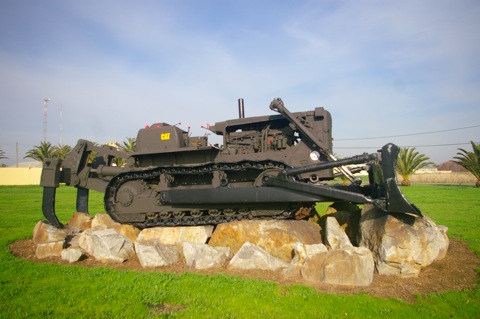 Vlak bij het strand is een kazerne van de genie (Regimento de Engenharia). Deze afgedankte Caterpillar staat ervoor.
This impressive Caterpillar tractor marks the nearby Egineering Corps barracks.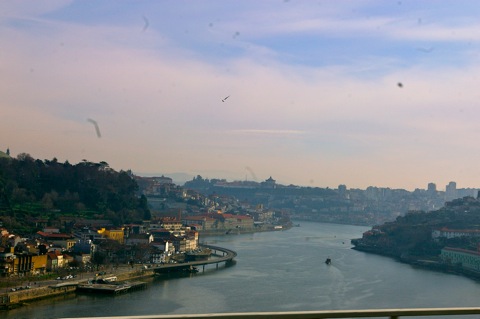 In Porto steken we de Douro over.
The Rio Douro crossing in Porto.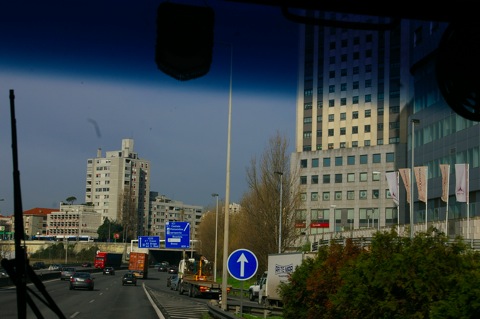 Porto: weer eens een grote stad / another big city !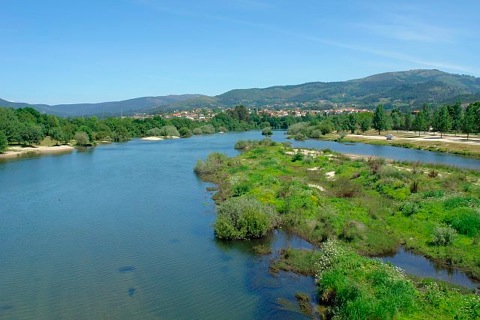 De traagstromende Lima, hier gezien in Ponte de Lima, een stukje landinwaarts.
The lazy river Lima, seen here in Ponte de Lima, a little inland. Because of its velocity in old days it was thought this was the Lethe, the river of unmindfulness in the Underworld.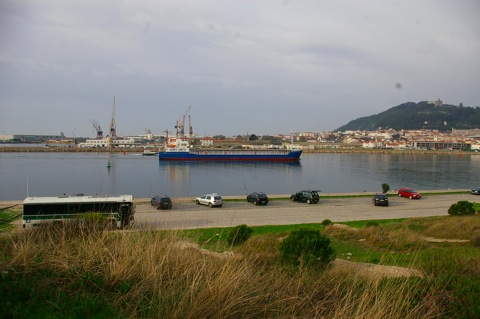 Cabedelo, waar de Lima in zee uitmondt. We staan aan de zuidoever. Aan de noordoever ligt de stad Viana do Castelo. De auto'tjes zijn van vissers van wie we verwachten dat ze voor de avondmaaltijd naar huis zullen gaan...
Where the river Lima flows into the ocean are the city of Viana do Castelo (north shore) and the village of Cabedelo (south shore). We park in the latter. We hope (and expect) the anglers will take their cars and drive home tonight.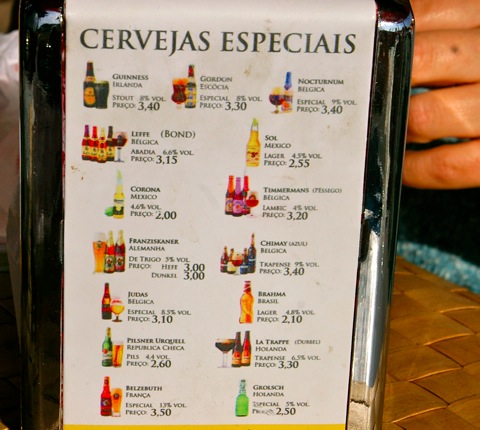 Ze hebben hier een boel buitenlandse bieren. Waaronder de Bonde Leffe (sic).
The famous Belgian "Leffe Blond" beer here is called "Leffe Bond"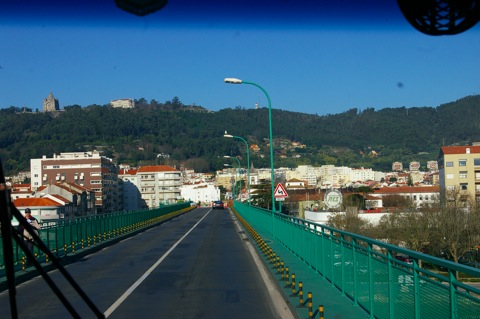 Om naar Spanje te gaan, moeten we de Rio Lima over. Zo komen we in Viana do Castelo.
Bridge across the Rio Lima...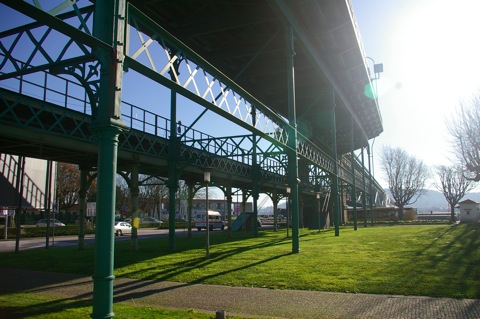 Aan de andere kant blijkt de brug een gecombineerde auto- en spoorbrug.
... turns out to be a two storey bridge.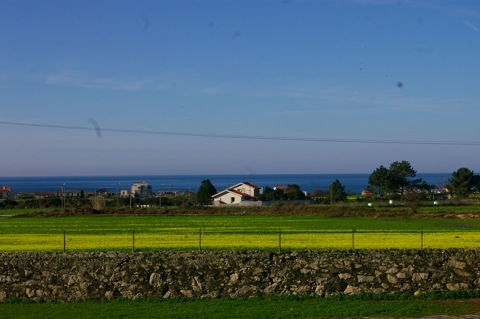 Verder noordwaarts houden we de oceaan aan onze linkerhand. Er zijn hier nauwelijks duinen.
The Atlantic on our left hand. The land is hardly protected by dunes.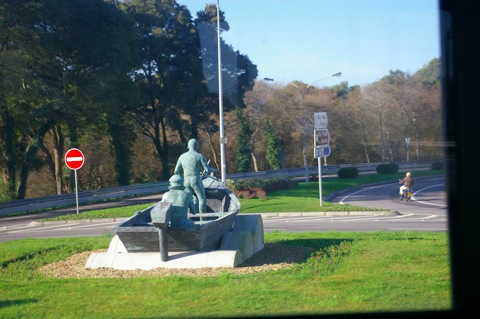 Het monument op de rotonde verraadt de voornaamste nijverheid.
Concrete fishermen on a roundabout show the main industry of the region.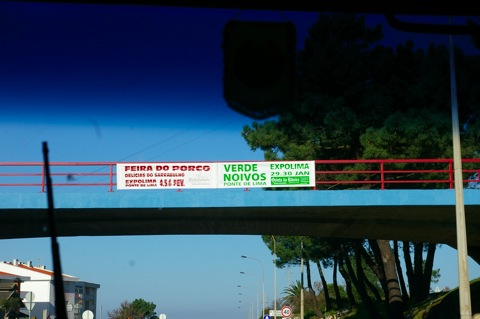 Veel reclame voor het varkensfeest. (Niet voor ons.)
What would a "Pigs Festival" be?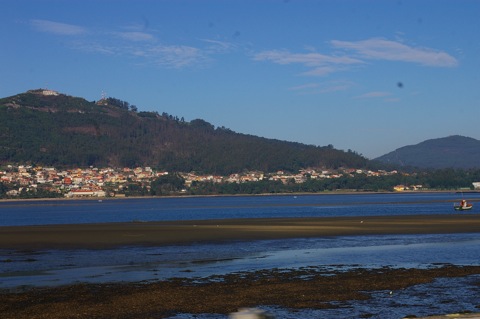 Op een gegeven moment krijgen we aan onze linkerhand de uitmonding van de Rio Minho, de grensrivier tussen Portugal en Spanje.
The river which flows between Spain and Portugal, the Rio Minho.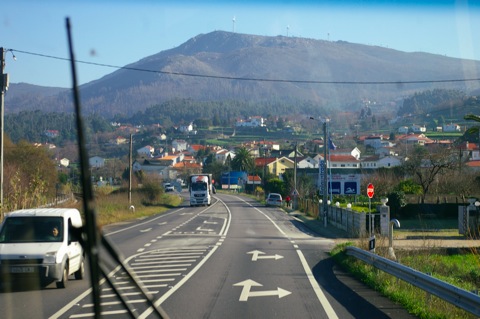 De Portugese grensplaats, Valença.
Last town on the Portuguese side, Valença.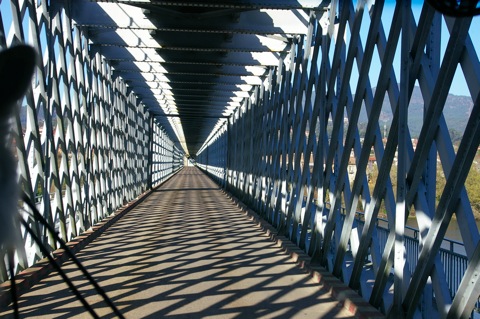 Over deze smalle brug uit 1884 over de Rio Minho verlaten we Portugal, waar we ons twee weken uitstekend geamuseerd hebben.
This bridge probably was quite wide in 1884.... Today it is very narrow. The last we see of Portugal (this winter).
Go to top of page