Tavira-Sagres
Portugal (Winter 2010/2011-8)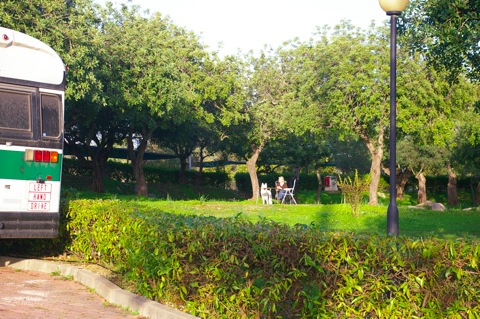 Op het parkeerterrein bij de overdekte markt kwam een mannetje van het Parque de Campismo de Tavira ons werven met een aantrekkelijk aanbod. Daarom hebben we besloten hier nog een nacht te blijven en alle tanks en accu's eens helemaal te legen resp. vullen.
Because of a good offer from the local camping site we decide to stay another night in Tavira. For Sylvia sitting outside on a folding chair is the ultimate vacation.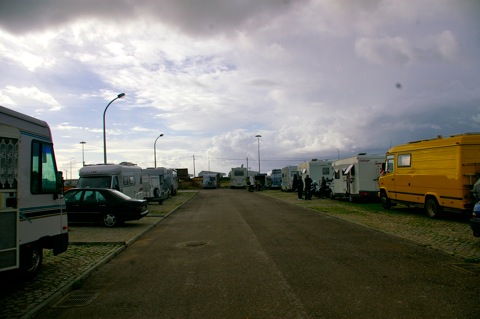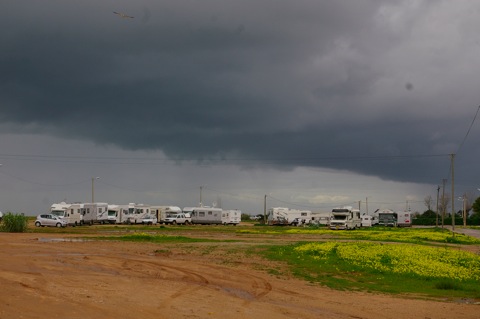 Even ten Westen van Quarteira staan tientallen campers langs stoepranden en in de modder te wachten op mooier weer.
On the west side of Quarteira there is a whole village of motor homes, old and new, big and small.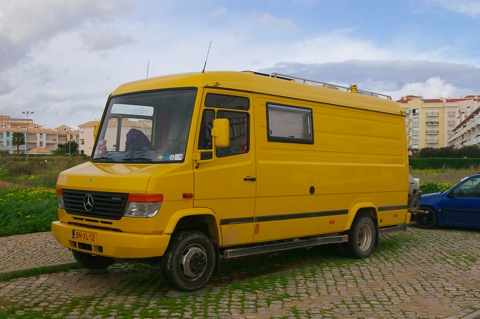 De gele Vario die je ook ziet twee foto's hierboven, is die van onze oude bekenden Henk en Gerda. Het is heel gezellig na vijf jaar weer een avondje bij te praten.
In this Bundespost-yellow van we recognise the motor home of Henk and Gerda whom we haven't seen for five years. They are full timing since three years and have made fascinating trips.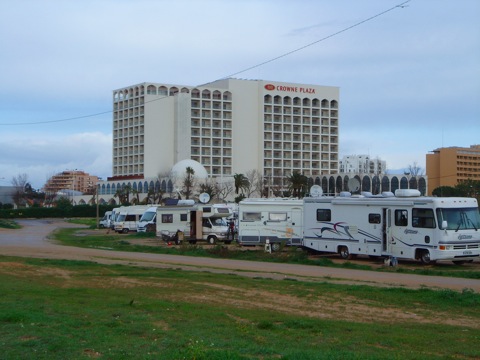 Het Crown Plaza is 's avonds fraai verlicht, maar we kunnen ons niet voorstellen dat er in deze tijd van het jaar ook gasten verblijven.
The hotel is just sitting there, waiting for the tourist season. Still they illuminate it at night.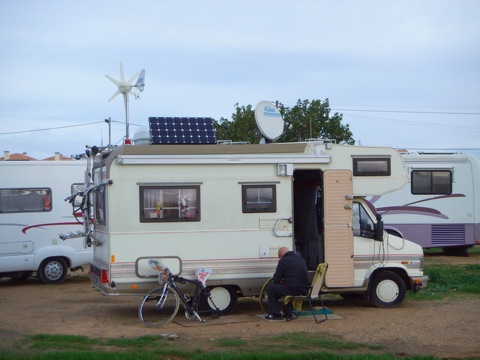 Autark bij alle weersomstandigheden!
Self-sufficient in all weather conditions!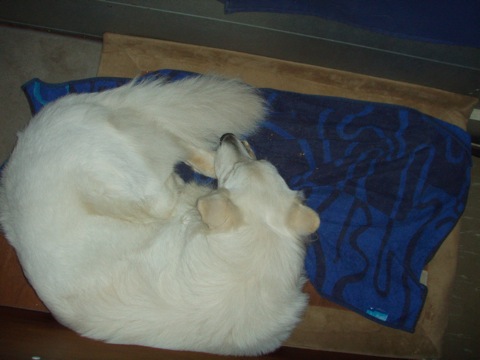 Gelukkig waakt Motek 's nachts over ons vanaf zijn bedje boven de wielkast ☻
And at night Motek watches over us from his bed over the wheel.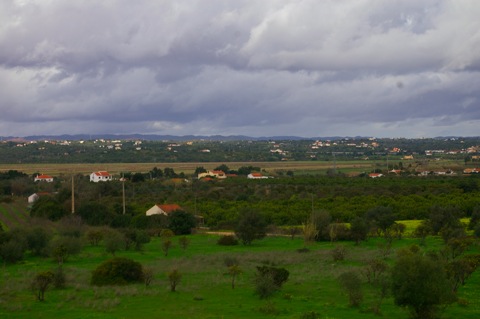 We rijden door het duinlandschap van de Algarve naar een overnachtingsplaats in Portimão.
From Quarteira to Portimão the road leads through a dunelike scenery.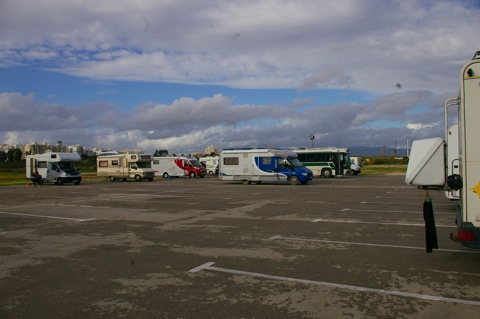 Een prima plaats (Praia da Rocha) bij de Marina. €1 (€2 voor grote campers...?)
The motorhome parking in Praia da Rocha offers ample space.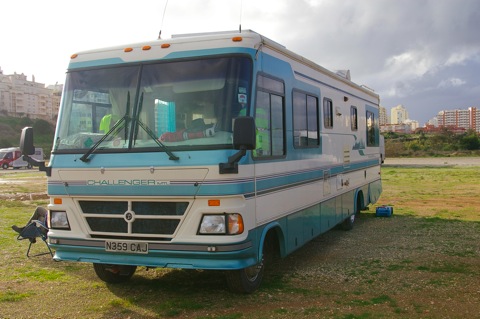 En ook een plaats waar meer grotere campers staan, zoals deze Engelse Challenger...
For a change we are not the longest vehicle. Here is a Challenger Class A from Britain...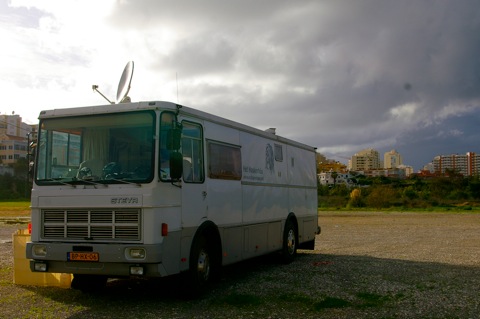 ... en de rijdende schapendoeskennel van Peter en Janny Wierda uit Oudehaske.
... and here an Austrian Steyr former school bus owned by the Wierdas in The Netherlands.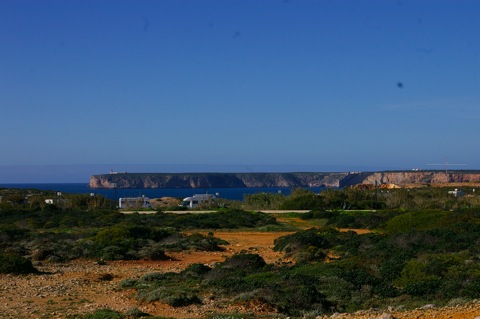 Het meest westelijke puntje van Europa, Cabo de São Vincente, nabij Sagres
Cabo de São Vincente, the most western place in Europe.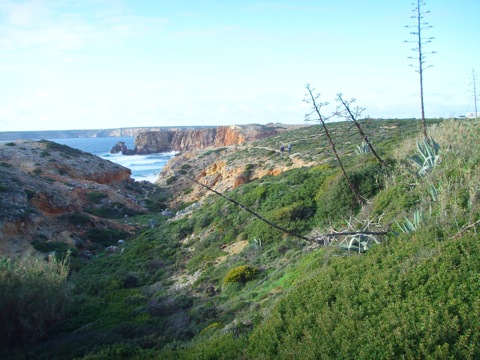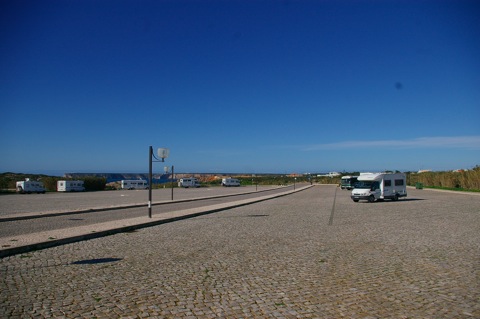 Ook hier hebben de camperaars (met name Fransen, Engelsen en Duitsers) een plekje gevonden.
Here, too, the parking is full, well, not completely... with French, German and British motor homes.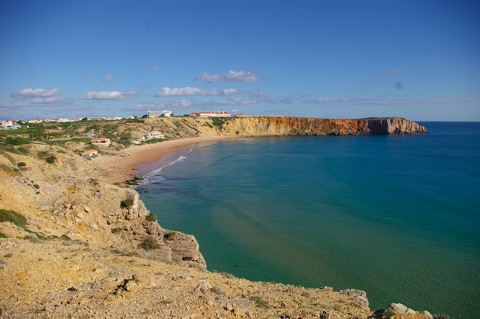 Gezicht naar het Westen, op Sagres.
Towards the west is the town of Sagres.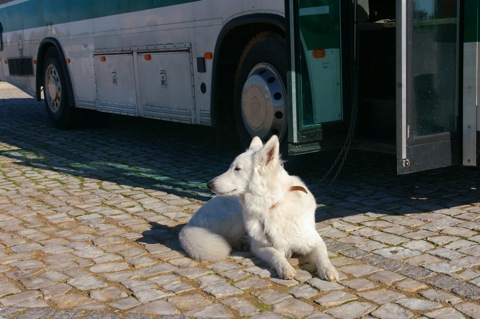 We blijven hier een dag langer dan we van plan waren. Omdat Motek steeds minder eetlust had en twee dagen geleden gewoon stopte met eten, zijn we gisteravond naar de plaatselijke dierenarts gegaan. Zij heeft medicatie gegeven waardoor Motek gisteravond wel wat heeft gegeten, maar vandaag alweer niet. Vanmiddag worden we terugverwacht op het spreekuur.
Because of Motek's alarming loss of appetite we have taken him to the vet last night. This afternoon she wants to see him again. Therefore we stay here a bit longer.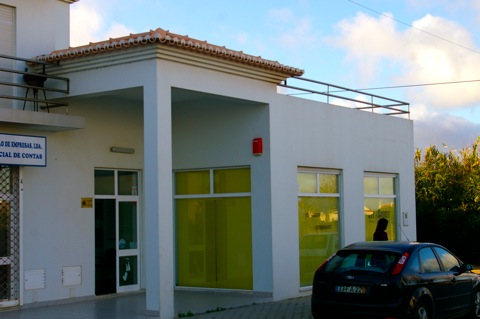 De dierenarts, Carla Ribeiro, vindt het goed dat Motek verderreist, nu hij heeft laten zien wel íets te kunnen eten, hoe weinig ook. Hier laat zij voor het begin van het middagspreekuur nog even haar eigen Labrador uit.
The vet, here seen walking her dog in front of her surgery, is satisfied that Motek has eaten a little bit and thinks it is safe to travel on.
Go to top of page