2013 USA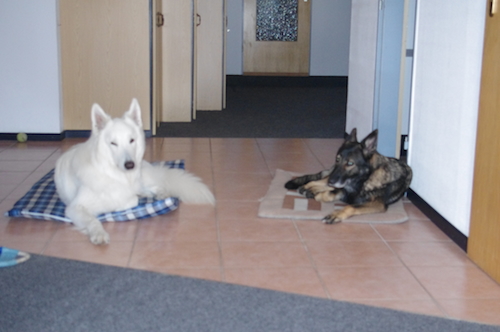 Tijdens onze reis naar de States zal José op huis en hond passen. Motek en Dyna gaan uitstekend samen.
Our house- and doggy-sitter José brings her Alsatian bitch Dyna as a playmate for Motek. The two are good friends.
José betreut unser Haus und unseren Hund. Dyna ist Motek's gute Freundin.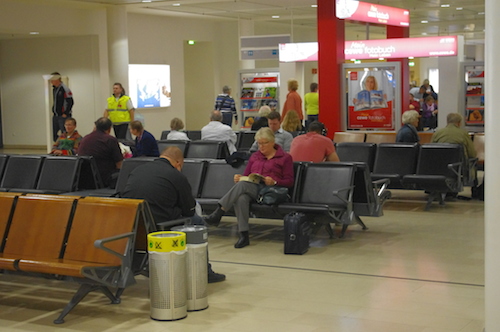 Wachten! Voor dag en dauw (05:00 h) zijn we op het vliegveld van Bremen.
Bremen Airport, (very!) early in the morning.
Mehr als eine Stunde warten vor Abflug von Bremen.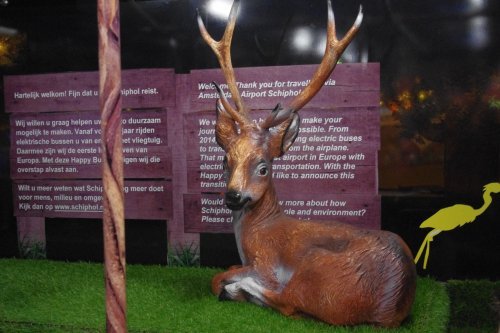 Wat is dat nou? Reclamedisplay in de bus die ons van het platform naar de transithal brengt.
Roadkill? No, an environment display on the bus from aircraft to transit lounge.
Werbeanzeige im Bus von der Piste zur Transit-Lounge.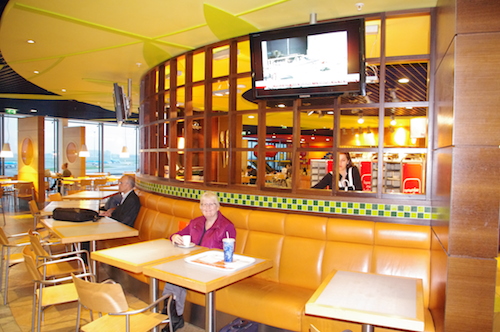 Wachten! Een paar uur op Schiphol. Gelukkig met koffie, cola en iets erbij.
A few hours on Amsterdam Airport with nothing more to do than drinking coffee and Coke.
Noch einige Stunden warten (Amsterdam), mit Kaffee und Kuchen.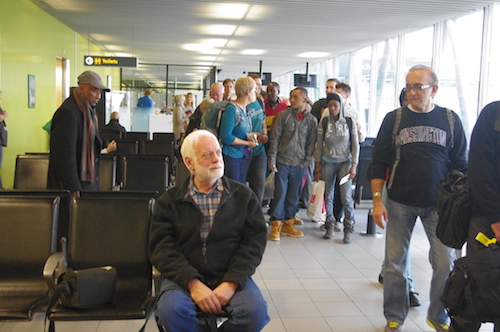 Door de security. Dan... wachten!
More waiting (at the gate).
Noch einmal warten....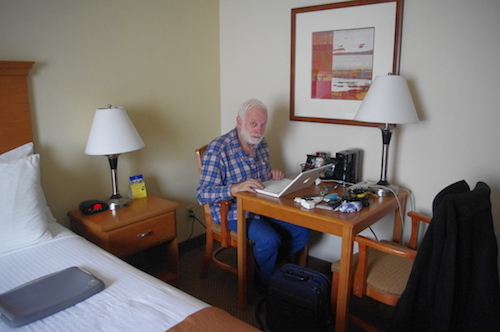 Na nog meer wachten en 10 uur vliegen (maar op de klok maar twee uur later) zitten we in het Executel op SeaTac airport.
First thing to do in our SeaTac hotel: check the mail! 
In unserem Hotel auf dem Seattle-Tacoma Flughafen: E-mail lesen via WiFi.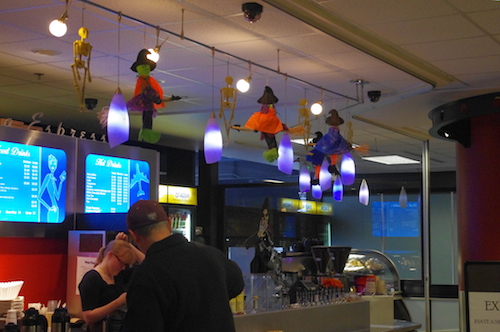 Aan de decoraties zien we dat het bijna Halloween is. Hadden we in Niedersachsen nog niets van gemerkt.
Almost Halloween. The first time we notice. Many more pumpkins to come. 
Halloween ist ein beliebter Tag zum Gruseln. Wir werden später noch eine Menge von Kürbissen sehen.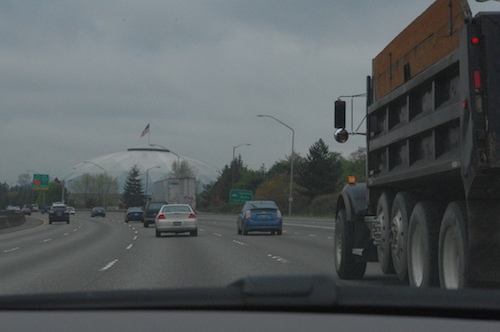 De Tacoma Dome, waar we in 2009 vlakbij geslapen hebben.
A familiar sight (from back in 2009): the Tacoma Dome, one of the largest wood domed structures in the world. 
American Football Stadion in Tacoma (Holzbau!)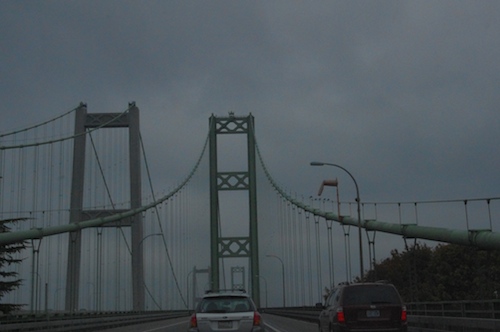 Sinds de verdubbeling van de brug over de Tacoma Narrows is het geen bottleneck meer in het spitsverkeer.
The Tacoma Narrows bridge used to be a real bottleneck in rush hour traffic. It is better now that they duplicated it.
Die doppelte Brücke über die Tacoma Narrows.
Niet alle voertuigen zijn van de moderne soort...
There still are some veteran cars around.
Man sieht auch noch (wenig) ältere Fahrzeuge.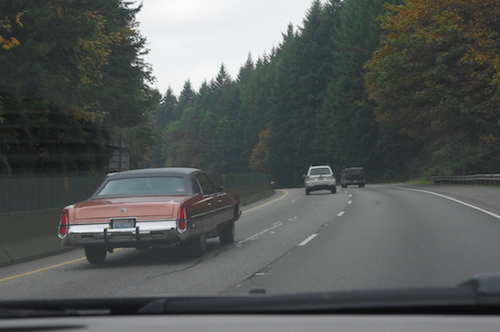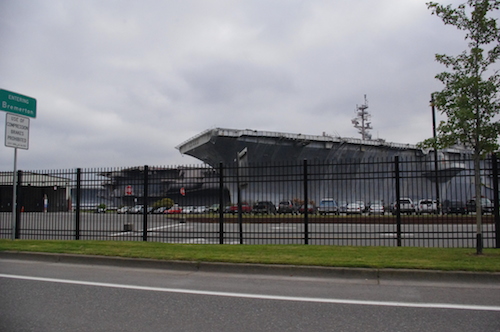 Bij Bremerton liggen een aantal oorlogsbodems, waaronder vliegdekschepen, opgelegd. Wachtend op een oorlog...?
Aircraft carriers "in mothballs" at the Bremerton Navy Yard.
Flugzeugträger "in der Mottenkiste" an der Bremerton Marinebasis.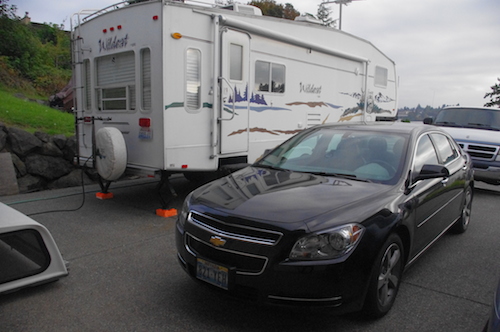 De fifth wheel waar we logeren. De Chevrolet is onze huurauto.
Fifth wheel as a self-contained guest room.
Sattelwohnwagen als Gästezimmer.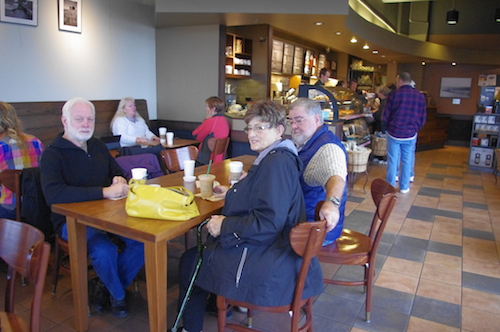 BJ & Charlie - Starbucks Bremerton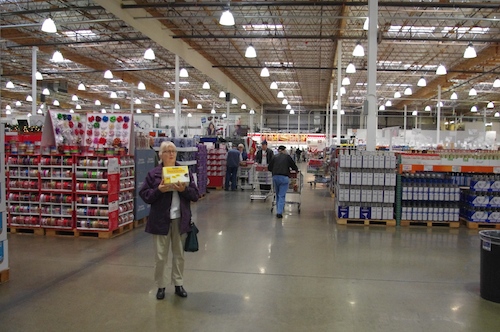 Costco. Makro, maar dan wat groter...
To the European eye incredibly huge.
Wie Metro, aber dann groß!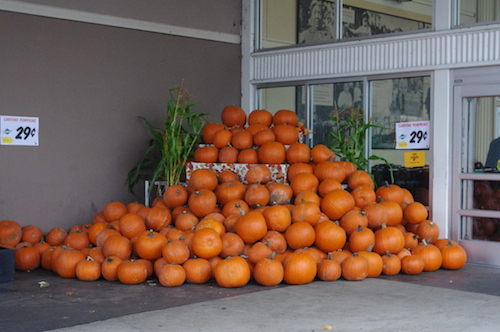 Nog een keer: / Once more: / Noch ein Mal: Halloween!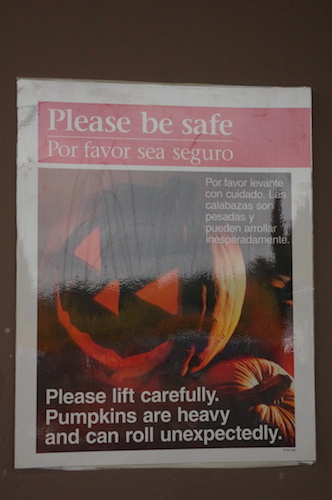 Gevaarlijk speelgoed. Wij zijn niet aansprakelijk...
You can't sue us if you drop a pumpkin on your toes! 
W
enn eine Kürbis 
auf den Zehen fällt, ist das
nicht unsere Schuld!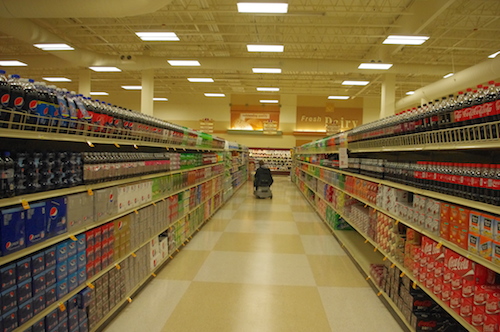 Fred Meyer's Supermarket. Scootmobiels staan bij de ingang.
If necessary, grab an 
electric scooter!
Wenn nötig, schnappen Sie sich einen 
Elektroroller.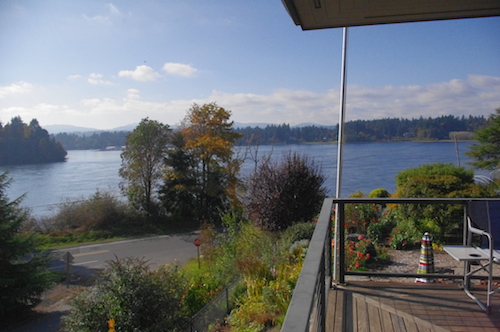 Puget Sound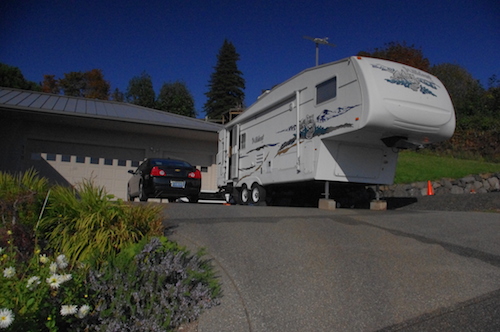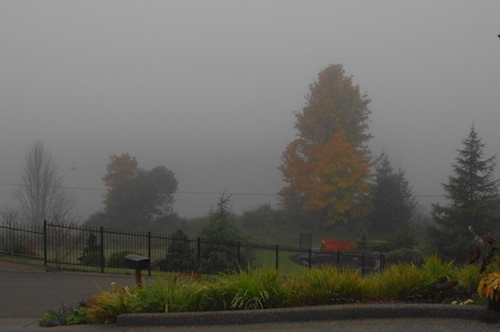 Vandaag gaan we met Marna naar het Mount Rainier National Park. Jammer van die mist!
With this visibility Marna takes us to Mount Rainier National Park. 
In diesen Nebel nimmt Marna uns zum Mt. Rainier.
Logging!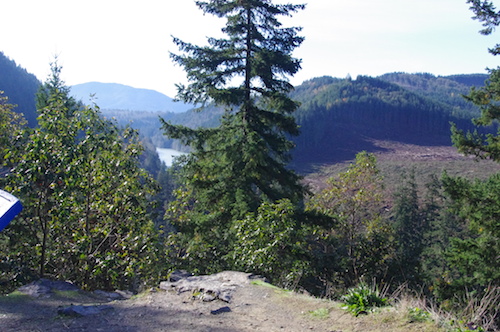 Maar dan, ter hoogte van het Nisqually River Project (stuwmeer) breekt de zon door.
But then, off the Nisqually River Project reservoir, all of a sudden the sun breaks through.
Aber dann, auf bei dem Nisqually River Stausee bricht die Sonne durch.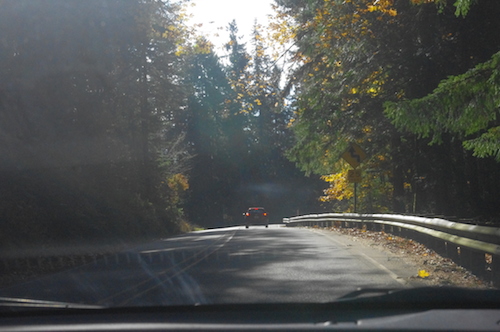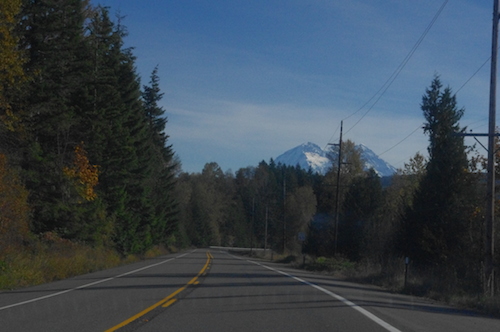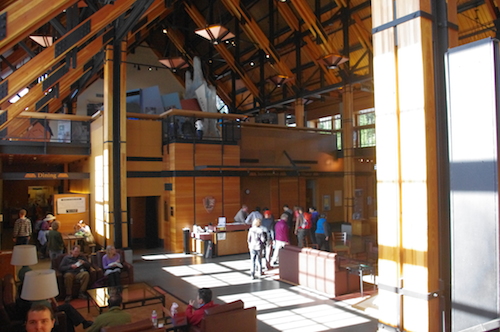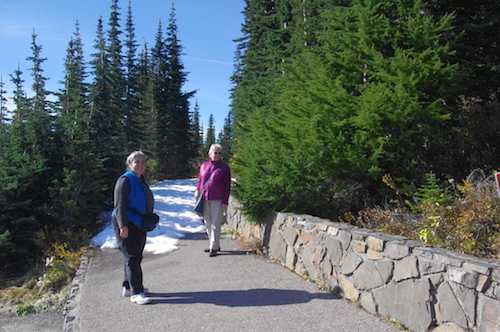 Tot hier en niet verder. Sneeuwschoenen vergeten. Maar er is  ook onder de sneeuwgrens nog een prachtige natuurwandeling uitgezet.
Without snow boots, this is as far as we can walk. But also below the snowline a beautiful nature walk is laid out. 
Ohne Schneeschuhe nicht weiter als hier. Aber es gibt auch unterhalb der Schneegrenze eine sehr schönes Naturlehrpfad.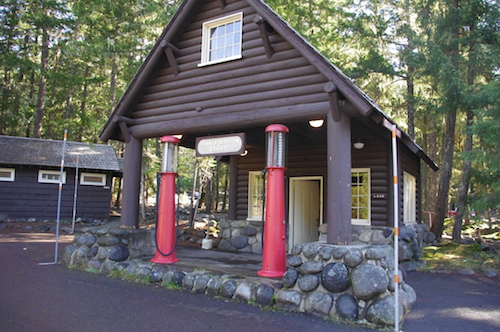 Dit tankstation in Longmire stond er nèt zo in 1929!
Longmire service stations hasn't changed since 1929. Well, the gas tanks are empty now...
Tankstelle, 
unverändert seit 1929.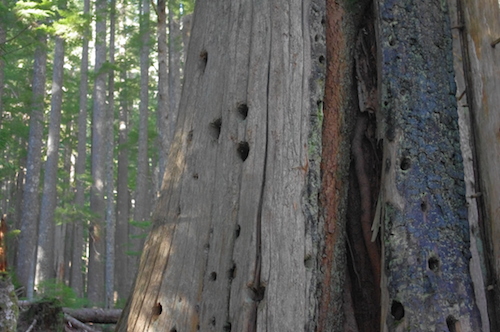 Spechten /  woodpeckers / Spechte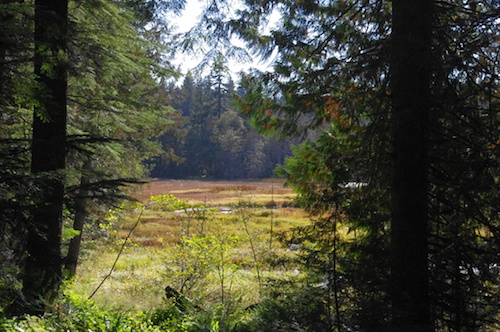 Moeras met vulkanische bronnen.
Swamp with volcanic pools everywhere. 
Sumpf mit vulkanischen Quellen.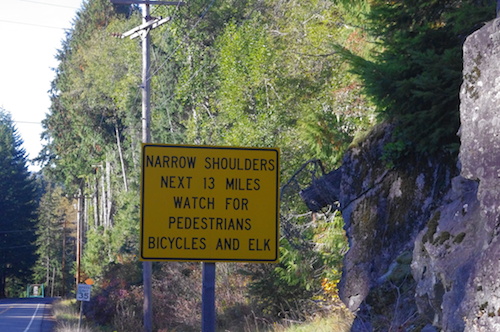 Pas op voor voetgangers, fietsers en elanden. 
Sign speaks for itself.
Hüten Sie sich Fußgänger, Radfahrer und Elch.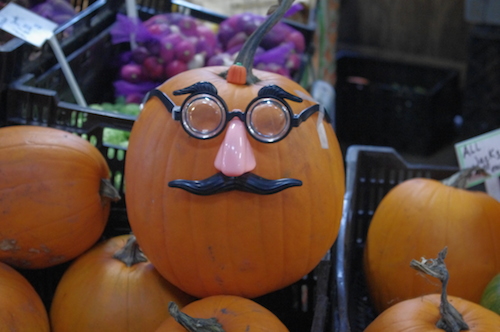 Ook op de Farmers' Market in Olympia is het bijna Halloween.
Halloween approaches, also for the Olympia Farmers' Market. 
Bauernmarkt in Olympia. Auch hier fast Halloween.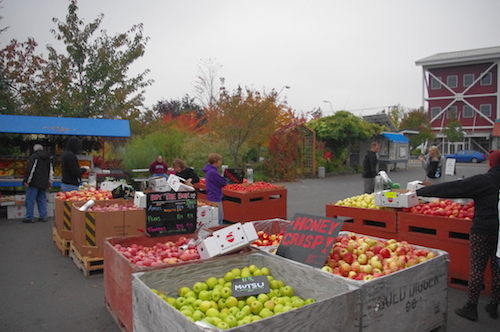 Washington is de Appel-staat 
Wahington State = Apple State.
Washington State ist berühmt für seine Äpfel.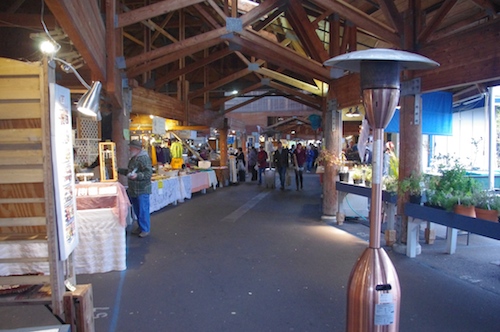 Deel van de overdekte Farmers' Market.
Covered part of the Olympia Farmers' Market. 
Teil des Bauernmarktes ist unter Dach.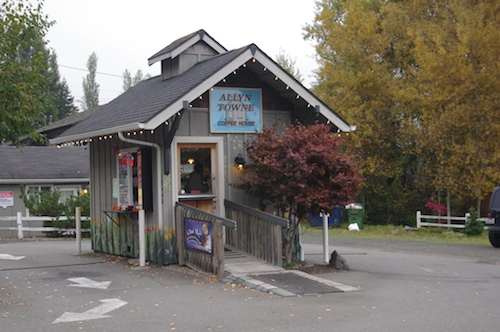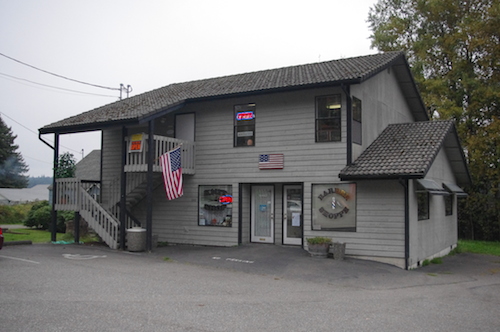 Sylvia haalt haar hart op in deze wolwinkel, ook in Allyn.
Wool shop where Sylvia buys some yarn, for own use and as present.

Typisch-amerikanische Wollladen. Sylvia genießt.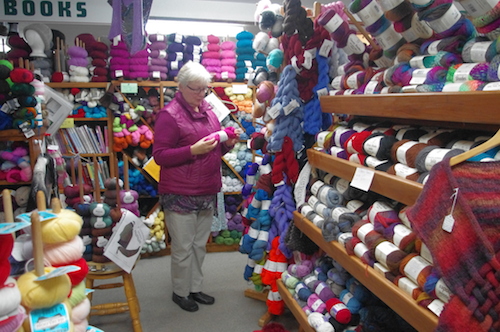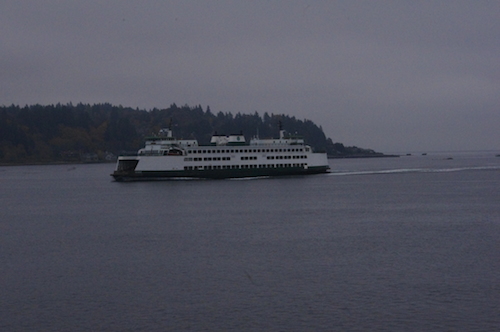 Ferry van Bremerton naar Seattle. Volgens de navigator de kortste weg. En als je 65 bent, krijg je korting. 
Bremerton-Seattle ferry. With a discount for retirees.
Bremerton Seattle-Fähre. Rabatt für Rentner.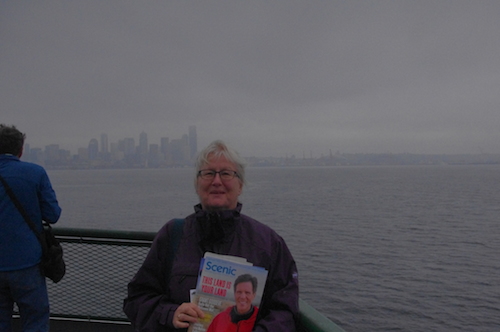 Seattle skyline.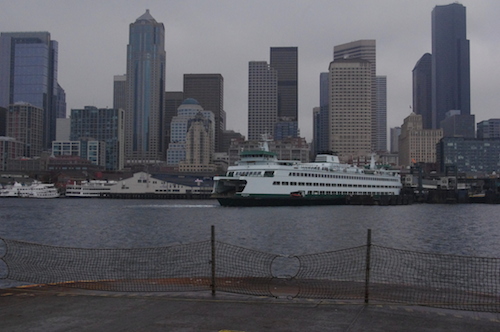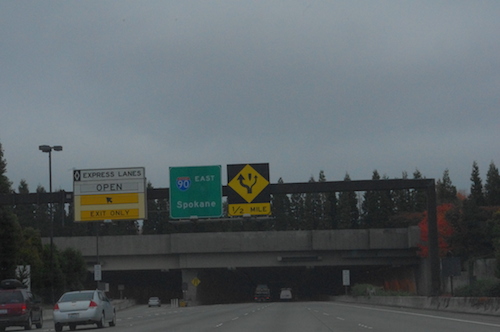 Met ons tweeën mogen we al gebruik maken van de diamond lane. Soms maakt het geen verschil, maar in de spits zoef je alles voorbij!
The diamond (express) lane lets us reach our destination in no time!
Mit zwei oder mehr Personen in einem Auto kann man die Rennbahn verwenden.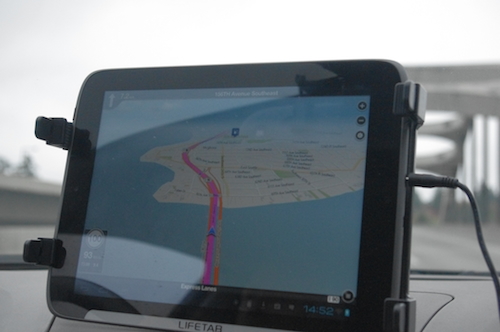 Android NavFree.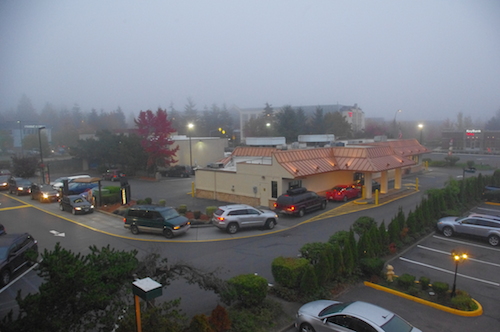 Zo ontbijten de Amerikanen: even langs de McDrive voor het ontbijt. Onder het raam van onze hotelkamer.
Breakfast in America. McDrive, seen from our hotel room.
Frühstück im Auto. Gesehen von unserem Hotelzimmer.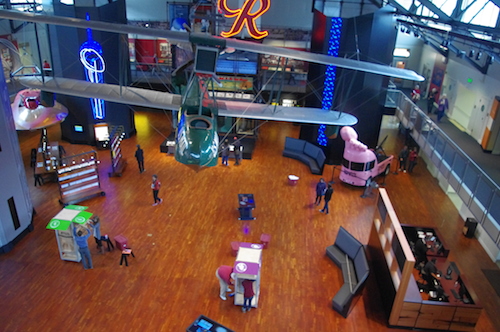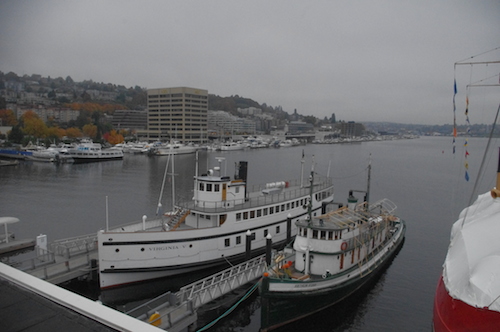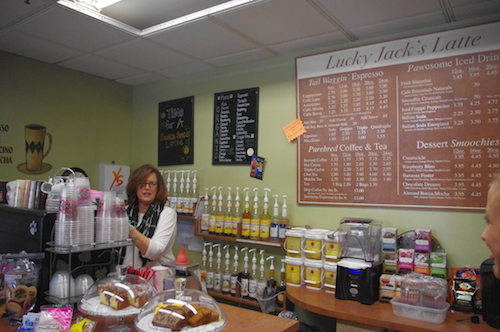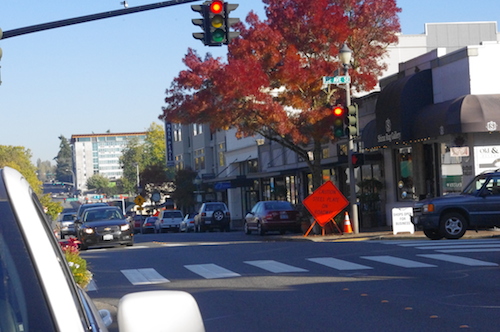 Main St, Bellevue, WA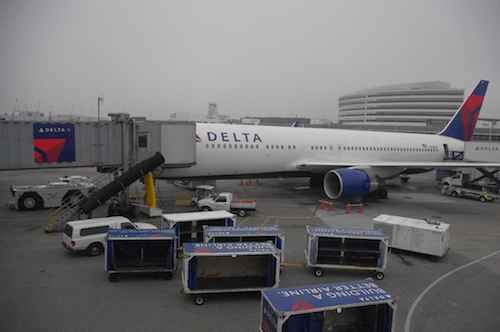 SEA-CDG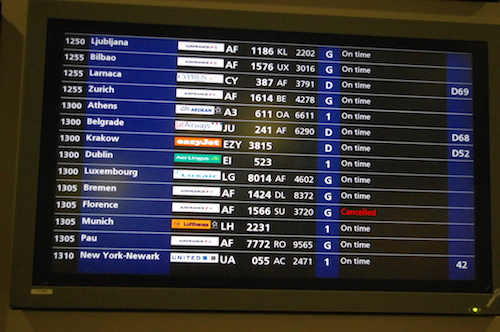 Om 13:05 het laatste hopje, per HOP! van Charles de Gaulle naar Bremen.
One more hour to Bremen. We fly HOP!, a daughter of Air France-KLM.
Letzte Strecke (Paris-Bremen) mit HOP!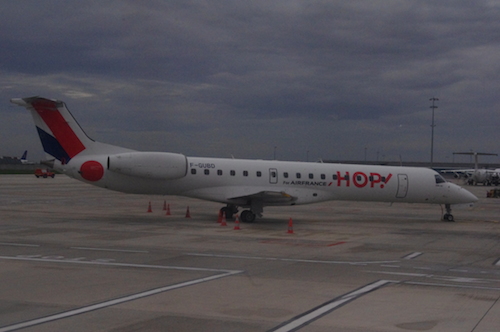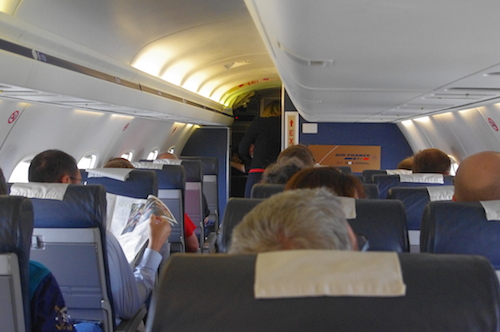 Interieur van de Embraer ERJ145.
Out of the 50 seats 47 are occupied.
Der kleine ERJ145 aus Brasilien (50 Sitze).
En dan zijn we weer thuis. Met een heel blije Motek.
Less than two weeks. José meets us at Bremen Airport, with two dogs in the back of the car. One of them is extremely happy. 
José trifft uns am Flughafen Bremen, mit zwei Hunden im Auto. Einer von ihnen ist extrem froh.
==============================
BJ Wise is op 19 november 2013 overleden na een moedige strijd van acht jaar tegen een heel zeldzaam type pancreaskanker.
Elizabeth Jane (BJ) Wise of Bremerton, WA passed away on November 19, 2013 after a courageous 8 year battle with an extremely rare form of pancreatic cancer.
Am 19. November 2013 ist BJ Wise, nach einem Kampf von acht Jahren gegen Pankreaskrebs, verstorben.