Sagres-Lisboa
Portugal (Winter 2010/2011-10)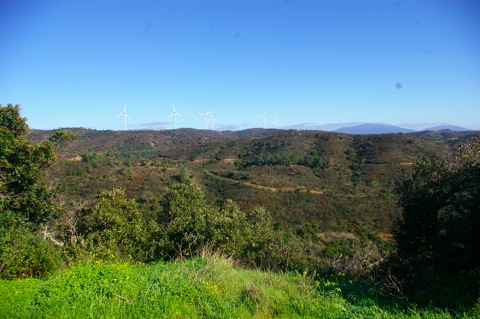 Nadat we uit Sagres zijn vertrokken - tegen de avond, nà het dierenartsbezoek - moeten we een klein stukje terug in oostelijke richting, voordat we naar het Noorden kunnen afbuigen. We overnachten bij een tankstation vlakbij Lagos, waar de N125, de A22 en de N120 bij elkaar komen.
De volgende dag rijden we noordwaarts de Alentejo binnen met aan de linkerhand de vrij vlakke duinen en aan de rechterhand een dichtbegroeide, glooiende vlakte die meer dan een derde van het land uitmaakt.
After we leave the vet in Sagres, we drive east for a few miles. There we sleep at a Galp station where we are the only heavy vehicle for most of the night.
Wednesday we drive north through the sloping plains of the Alentejo.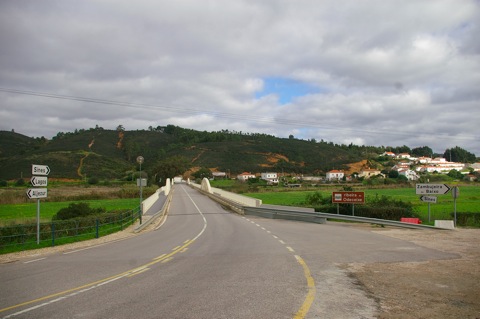 Op weg naar Odemira een pas gerestaureerde brug. Gerestaureerd, maar niet verbreed!
Narrow bridge across the river Odeceixe.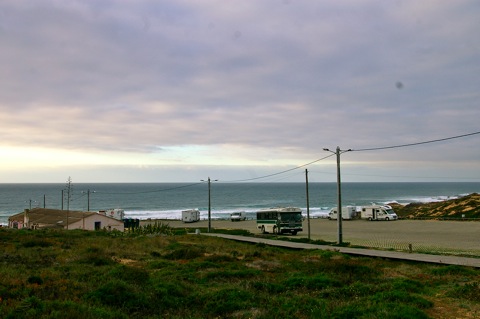 De overnachtingsplek Almograve. In de winter is er geen badgast te bekennen.
The beach square of Almograve with just a few motorhomes.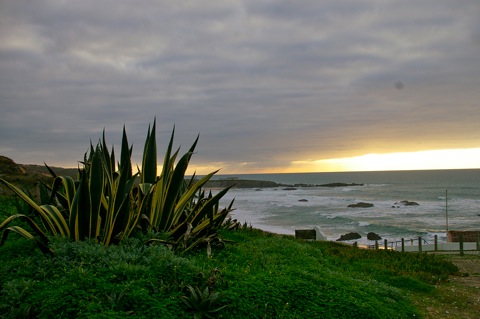 Vanaf dit punt heeft men spectaculaire uitzichten over de Oceaan, naar het Zuiden...
From the square one has a spectacular view on the Atlantic, to the south...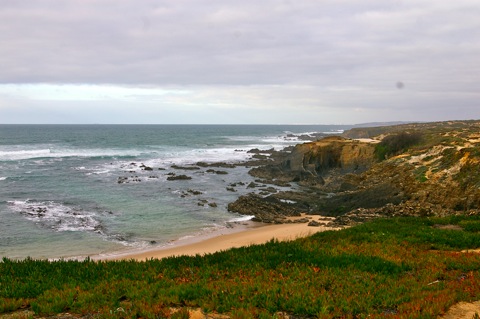 ... en naar het Noorden.
... as well as to the north.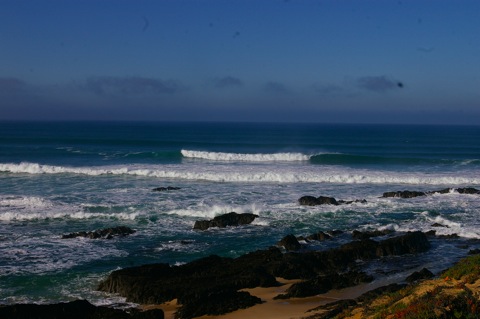 De volgende morgen: een strandwandeling.
After the descent to the beach one understands why this is a surfers' paradise.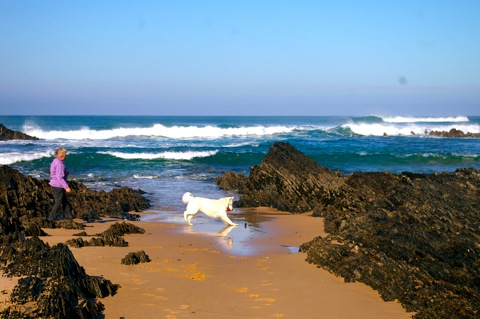 Het gaat Motek weer wat beter dan de afgelopen dagen. Het apporteren van de Kong doet hij weer met verve, zelfs van onder water.
Motek is slowly starting to eat his food again. You can see he is a lot more lively than de days before.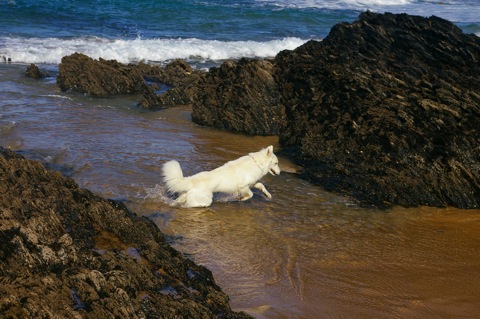 Het eeuwige haat-liefde-spel van Motek met de branding.
Motek hates to get his feet wet, but once they are wet, he doesn't care at all.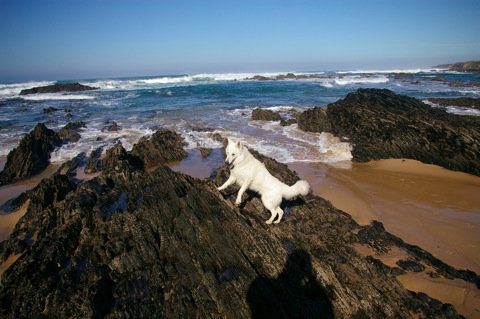 Motek als bergbeklimmer.
On top of the rock one remains dry.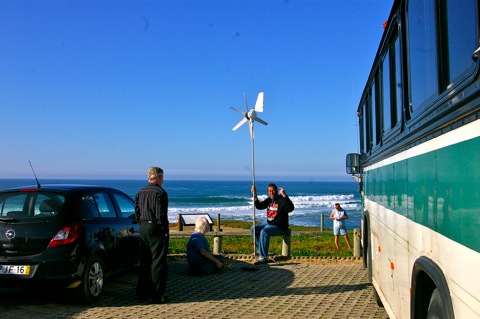 's Middags proberen Ernst en Uli uit Hamburg de juiste stand van de propellerbladen van de windgenerator. Tegen de tijd dat we het optimum gevonden hebben, is de wind gaan liggen.
We try to get the optimal position for the propeller of a wind generator. When we have found it, the wind has stopped.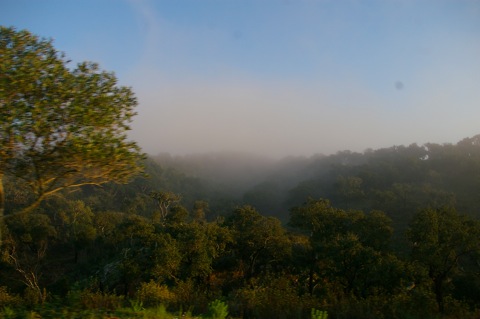 Als we vanuit Almograve verder noordwaarts rijden, zien we dikke mist in de valleien naast de weg.
On our way further north, a thick fog is visible along the road...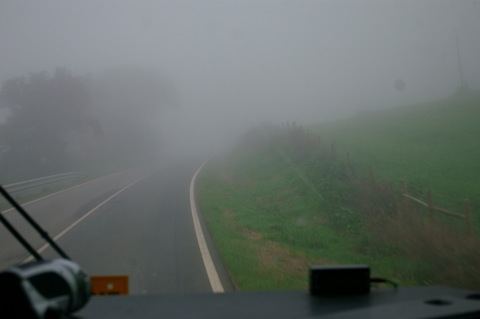 En een minuut later rijden we de wolk binnen.
... and soon also above the road!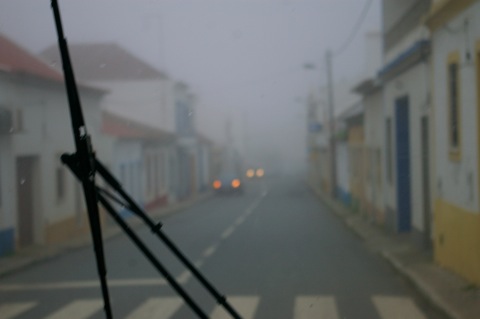 Van Cetal zien we nauwelijks iets.
Even within the villages the visibility is very poor.

Ter hoogte van Sines maakt de mist plaats voor de uitlaatgassen van de procesindustrie. Iets minder dicht, maar véél smeriger!
On the Sines ring road the fog disappears... to make place for the much smellier smoke of the refinery.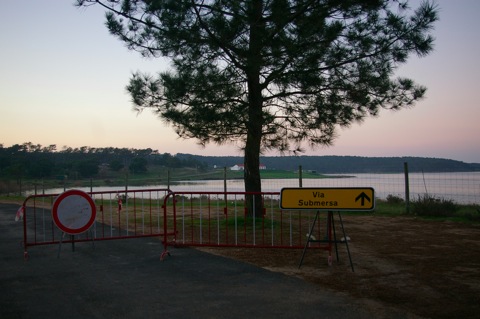 Het strand van Forto is onbereikbaar omdat de weg ondergelopen is.
The first sleeping place we had in mind can't be reached because of the floods.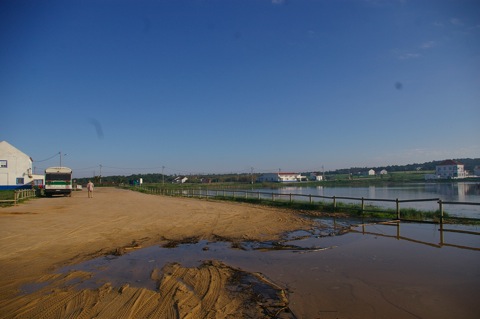 We overnachten aan de Lagoa do Santo André. Ook hier staat het water van de lagune tot op het parkeerterrein.
So we drive on to the next laguna. Here too, the water stands very high.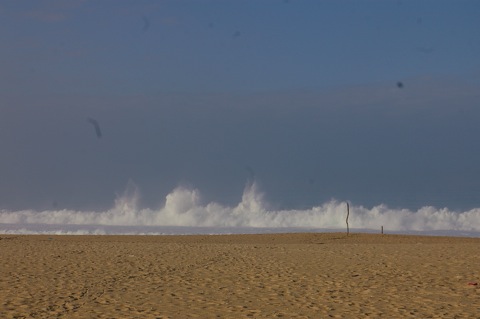 En 100 m van ons vandaan buldert de Oceaan onophoudelijk op het strand.
At the same time, 300' to our left, the Atlantic beats the shore.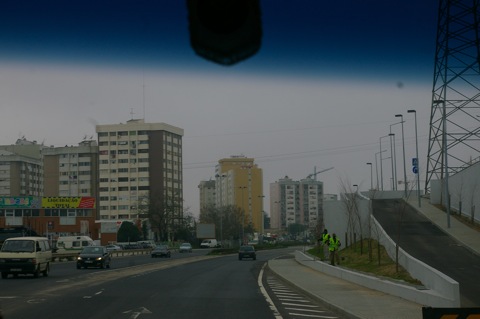 We rijden weer de hele morgen door de mist tussen de kurkeiken door. Hier, in Setubal, lost de mist langzaam op.
Another foggy day. Left and right the cork oak trees are hardly visible. In Setubal the fog slowly dissolves.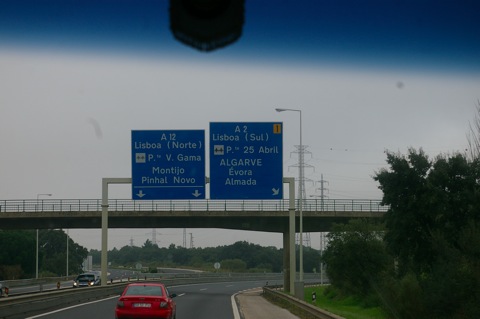 Een moeilijke keuze: gaan we (langzaam) naar huis òf terug naar de Algarve?
Here we have the choice to drive on north, or go back south, to the Algarve...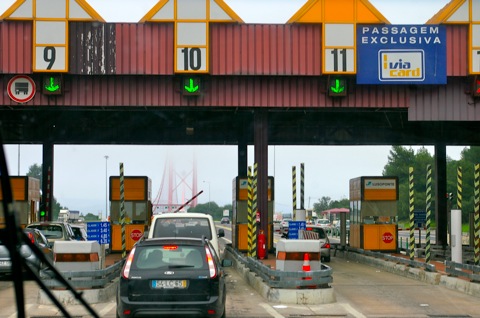 Het laatste stukje naar Lissabon nemen we de tolweg.
The toll toad to Lisbon.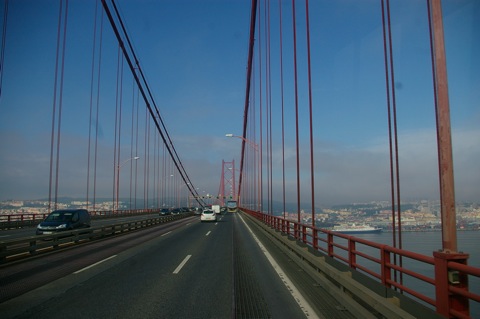 Via de Ponte 25 de Abril komen we Lissabon binnen.
We enter the Lisbon area via the spectacular Ponte 25 de Abril.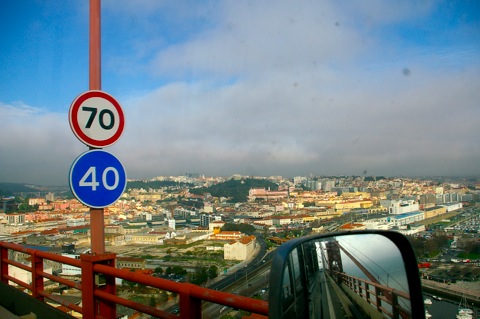 De eerste "echte stad" in lange tijd!
After all the rural areas we have seen: quite a contrast!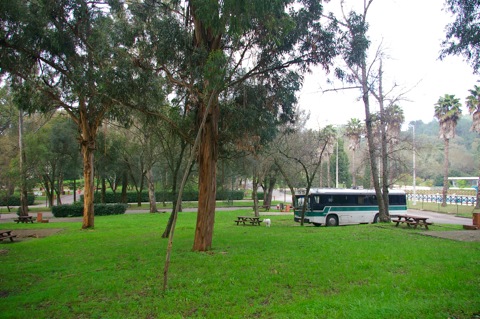 Op de gemeentelijke camping van Lissabon is ruimschoots plaats voor ons. Weer even gelegenheid gebruik te maken van wasmachine en (vooral) droogtrommel. Ondertussen proberen we Motek wat te laten eten.
On the Lisbon municipal camp ground there are only a few motorhomes and no tents at all!

Morgen zonder Skoolie de stad bekijken. Meer op een volgende pagina.
The next page will show pictures of our visit to the city of Lisbon. Tomorrow.

Go to top of page