Astorga-Irun
Spanje (Winter 2010/2011-15)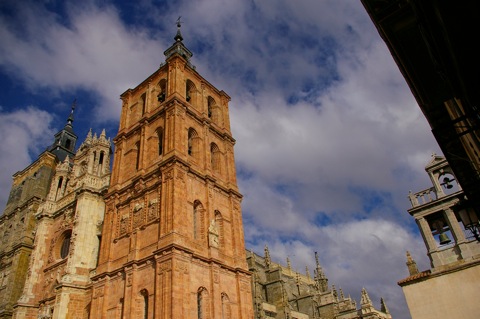 Na een koude nacht (- 5.6℃, lang leve Truma) gaan we het stadje bekijken. Dit is de 15e eeuwse kathedraal.
A cold night (22℉), but the heating is working again. In the morning we have a look at Astorga: cathedral from the 15th century.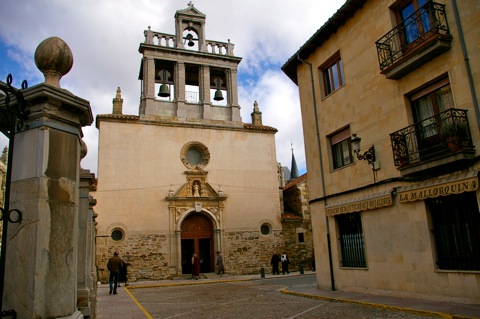 Terwijl de kathedraal als museum in gebruik is, gaan de vromen in dit wat minder opzichtige gebouw ter kerke.
Sunday morning: people go to church.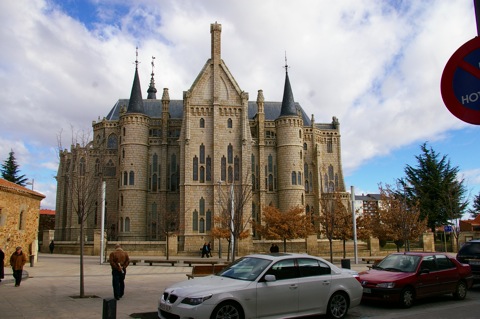 Bisschoppelijk paleis van Gaudi uit 1889. Hoog Efteling gehalte.
The Spanish architect Gaudi built this palace for the Archbishop in 1889.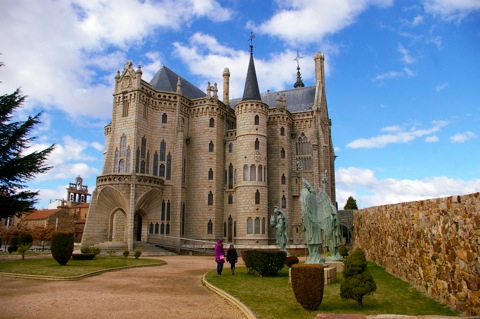 De beelden zijn net sprookjesfiguren, toch?
It looks like a (tacky) fairy-tale.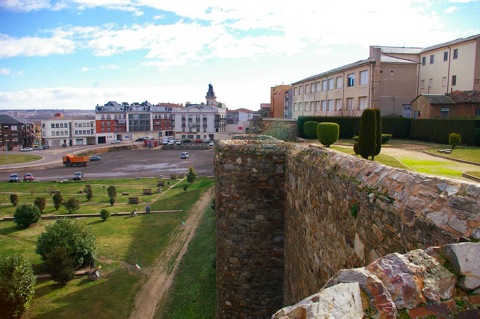 Romeinse stadsmuren
Remains of the Roman walls.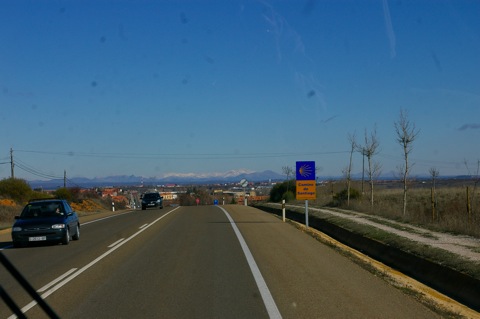 Vandaag een kort traject: van Astorga naar León via de N120. Langs deze weg loopt ook een van de wandelpaden naar Santiago de Compostella. Uit de bewegwijzering maken we op dat er hier geen scheiding is tussen kerk en staat. We zien zowaar een enkeling met rugzak en soms met staf, onderweg!
We drive on to León. Next to the road is the footway for the pilgrims to Santiago de Compostella.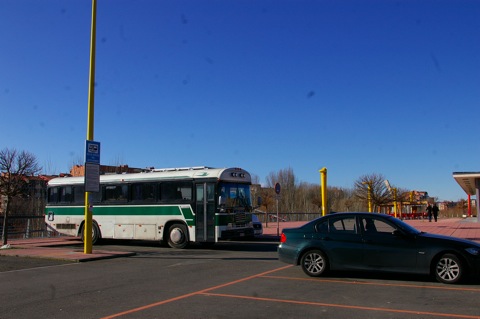 Voor de officiële gemeentelijke Area de Servicios para Autocaravanas in León zijn we wat aan de lange kant, maar ja, over lengte wordt met geen woord gerept en je bent Autocaravana of je bent het niet!
Official parking place for motorhomes. Several people take a picture of our bus (and also of Motek when we walk with him in the city centre).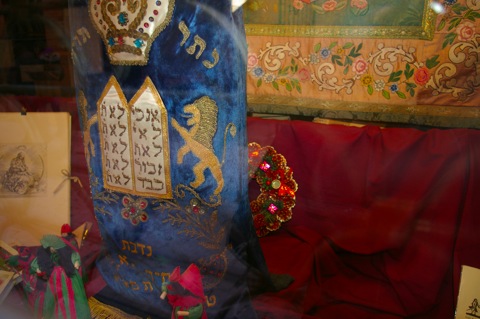 Surprise! In de etalage van een kalligrafisch atelier zien we opeens een Tora-rol, in een kerststal!
In a shop window we find the surprising combination: a Torah scroll and a nativity scene in front of it.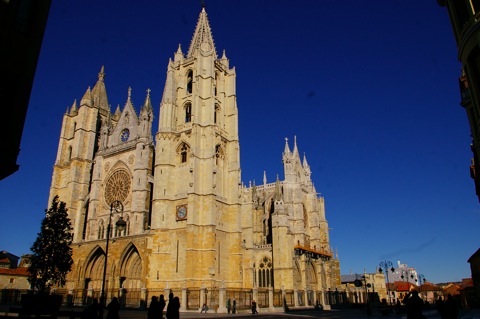 Tweede kathedraal op één dag.
The second cathedral today: this time in León.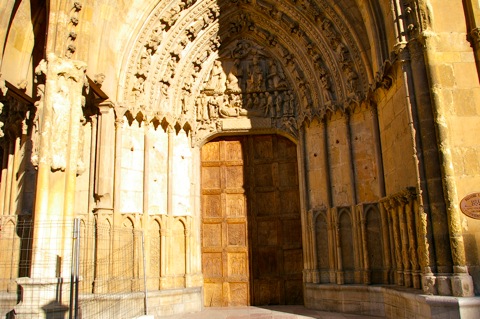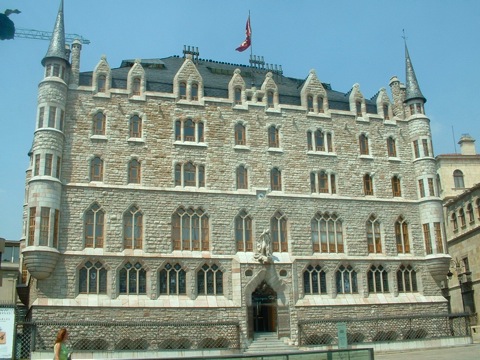 Tweede Gaudi op één dag.
And another Gaudi building.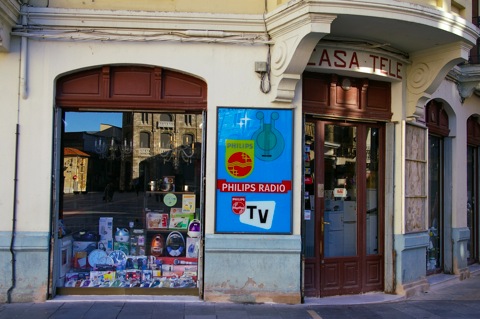 Nostalgie
Nostalgia. An old advertisement for the Dutch Philips firm. We grew up with this logo!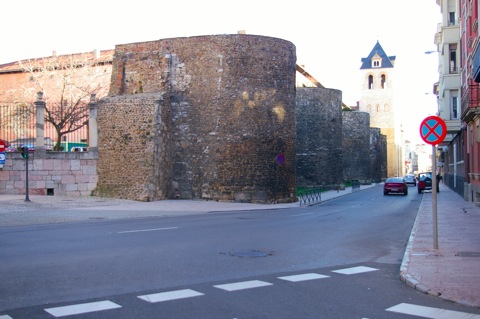 Tweede geval van Romeinse stadsmuren op één dag.
In León there are also remains of Roman walls.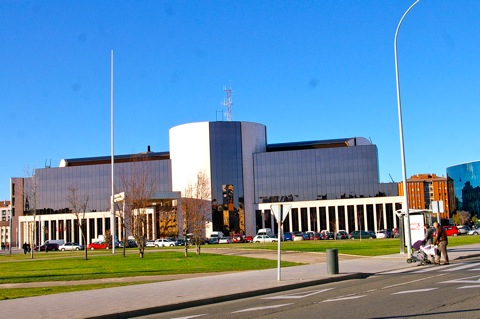 Regionaal kantoor van de Junta de Castilla y León
The local administration has a beautiful new building.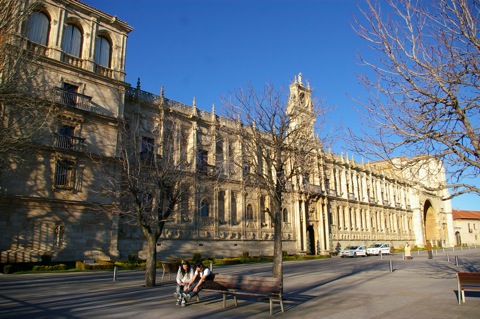 Deze eeuwenoude overnachtingsplaats voor pelgrims, het Hostal San Marcos, is nu een luxe Parador, compleet met sterren en taxi's.
The Hostal San Marcos, now a hotel.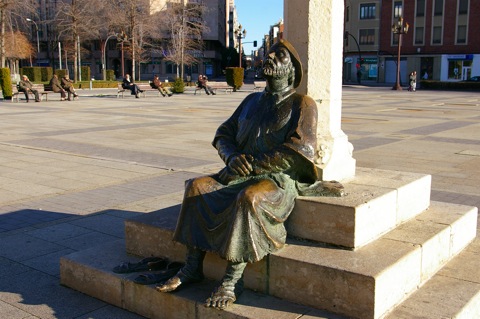 Vermoeide pelgrim met zere voeten. Geen plaats in het hostal?
This is sort of how we feel after our walk through town. Time to go back to the motorhome and take our shoes off.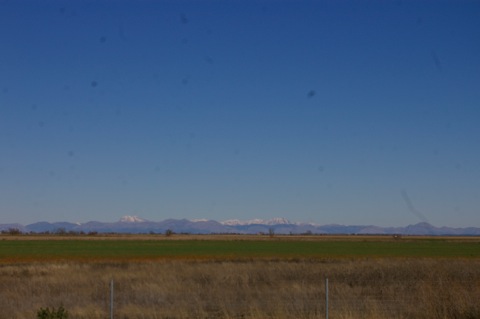 Bij het opstaan is het -6,5℃. Van León nemen we de (gratis) autoweg A231 naar het Oosten. We rijden enkele uren over de hoogvlakte waar een snijdende, harde wind staat. De Picos de Europa die we in 2004 al van zéér dichtbij hadden gezien, laten we (letterlijk) links liggen.
We take the motorway A231 from León to the East. After 75 mi we turn left on the A67. These motorways are of an outstanding quality and completely free. This time we don't cross the Picos de Europa - like we did in 2004.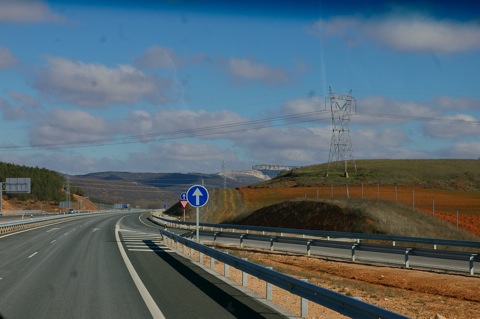 Ter hoogte van Osorno draaien we de A67 op naar het Noorden. De bergen komen dichterbij, links de Picos de Europa, rechts de Cantabrische Alpen.
Well, we have to cross the mountain ridge anyway, but on a motorway that is quite simple: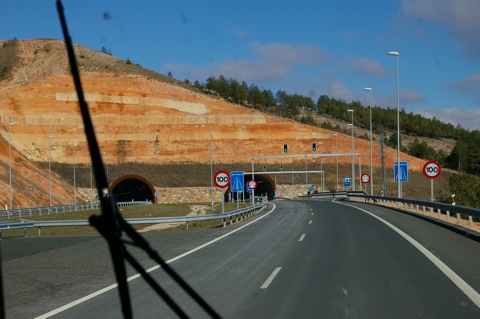 Ditmaal dus geen bergweggetjes met tientallen haarspeldbochten, maar een riante vierbaansweg die zacht glooiend over viaducten en door tunnels voert. Wegen bouwen kùnnen ze!
No steep, narrow roads with lots of hairpins, but four lanes over high bridges and through long tunnels. The cruise control does the work!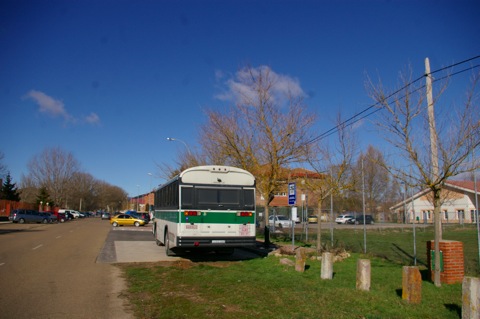 In Aguilar de Campóo even alles gevuld en geleegd... Keurige plek maar nu te koud voor ons.
Nice Area de Servicio in Aguilar de Campóo. Too cold for us to stay, but good for filling up with fresh water.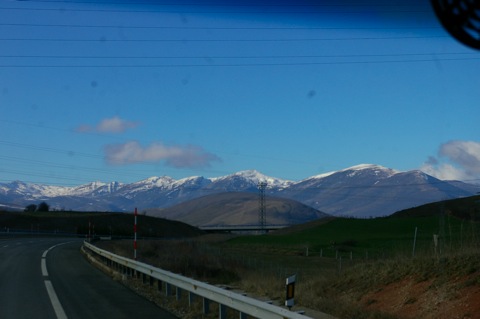 En verder noordwaarts naar de kust. In een uur tijd stijgt de buitentemperatuur van 2℃ naar 9℃
Through the mountains to the North, destination: the coast, where it will be a bit warmer.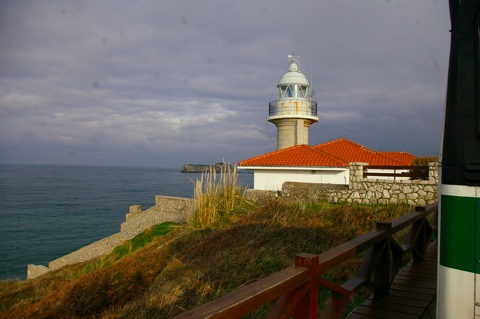 De vuurtoren van Suances. Prachtig uitzicht, maar het parkeerterrein aldaar is niet voor bussen berekend.
And here we are: the lighthouse in Suances. Nice parking lot, but too small for our bus.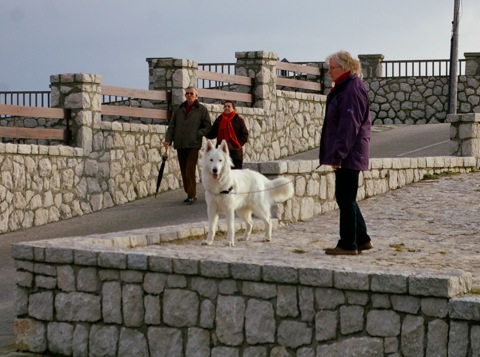 Na een lange rit wil Motek ook wel even z'n pootjes strekken.
Motek needs some movement after such a long drive.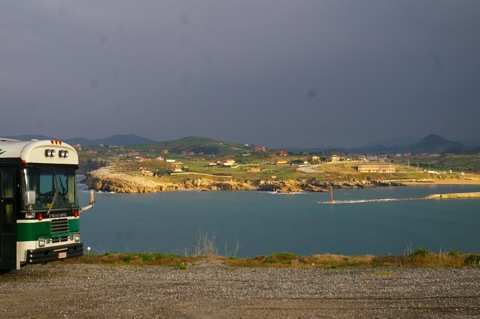 We parkeren in de ondergaande zon aan een zeearm in Suances. Het is nu 11℃, dus we verwachten niet de vorst van de afgelopen nachten. Je zou eigenlijk het zonnige, heldere weer op de hoogvlakte overdag willen hebben en de bewolking van de kust 's nachts...
A bigger parking lot with a nice view. It is now 52℉, so we hope that we won't have frost (read: frozen pipes) tonight. After all, we are ca. 800 m/2500 ft lower now than in León last night.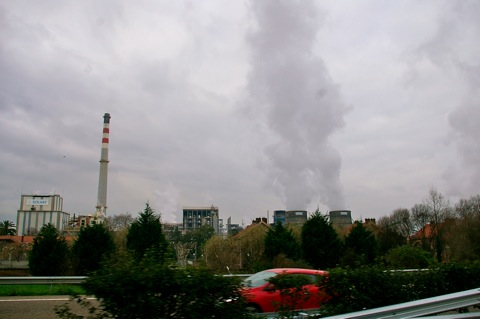 Na dagen over een vrijwel lege hoogvlakte gereden te hebben (behoudens wat middeleeuwse steden met bijpassende kathedralen), zien we vandaag aan de Spaanse noordkust voor het eerst weer de nodige nijverheid: plasticfabrieken, olieraffinaderijen en scheepswerven. We zijn weer terug in West-Europa!
Today we see a lot of industries along the way. Quite a change from the emptiness of the previous days.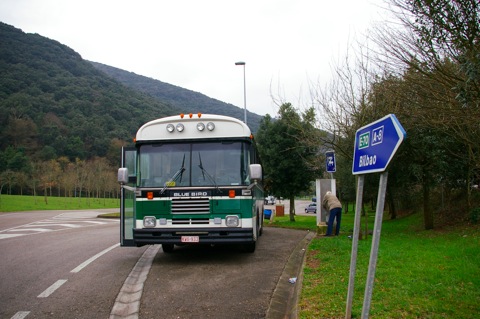 Aangegeven met een bord langs de autoweg: een service-area.
Along the motorway an RV service area is mentioned.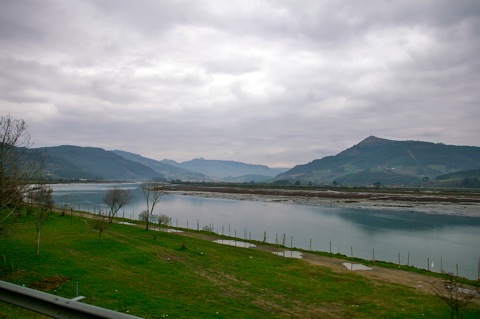 Het is moeilijk te zeggen of deze brede wateren de monding van rivieren zijn of zee-armen.
The rivers are wide and end in the sea.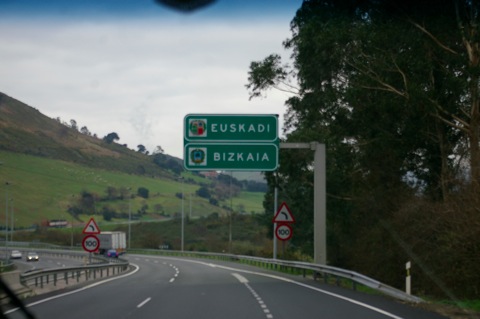 Hier rijden we de provincie Bizkaia in het Baskenland binnen. Vanaf hier zijn de borden tweetalig.
In the Bask country people have their own language, which is very different from Spanish.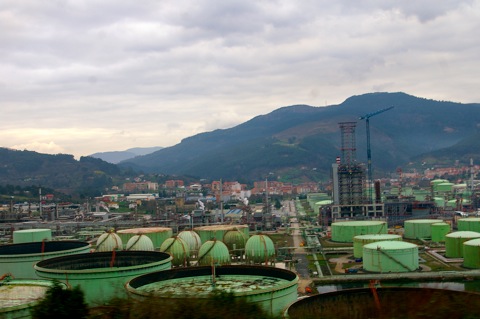 Nog een voorbeeldje van de industrie onderweg.
Oil industry along the road.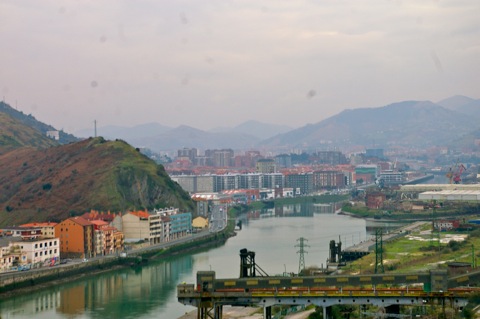 Blik op de Nervión in Bilb(a)o, de hoofdstad van Bizkaia.
The capital of Bizkaia is Bilb(a)o with over 1,000,000 inhabitants, on the river Nervión.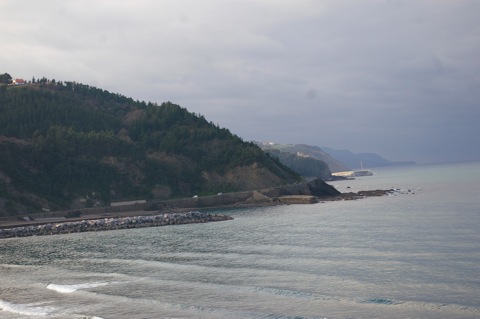 Zoals op deze foto te zien is, loopt het gebergte op de meeste plaatsten tot in de oceaan, géén duinen, géén strand...
The mountains reach the ocean. No (or very small) beaches.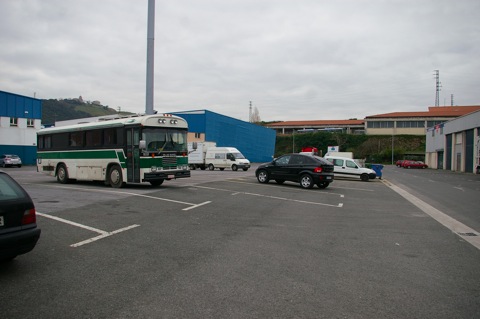 We stoppen voor de nacht in Zumaia. De Stellplatz bij de jachthaven is er niet meer. Nu is er een plek (met water en loosput) langs de rivier op 10 minuten wandelen van het dorp. De vakken zijn aangegeven voor vrachtwagens (Kamioiak), maar er staat van alles.
We stop in Zumaia. We have been here before (in 2004) and then stopped in the Marina. Nowadays there is a service point along the river and a (truck) parking nearby. Not as attractive as the previous spot, but we do have internet access here!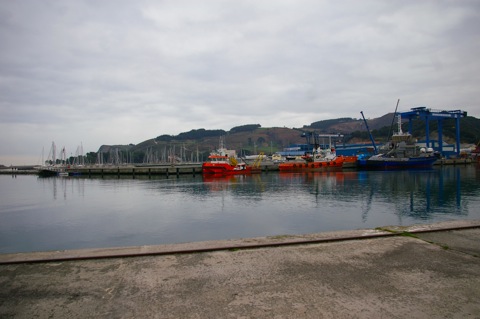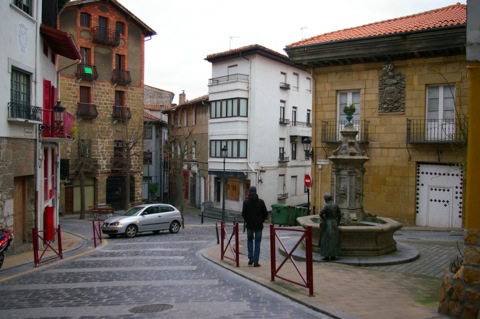 Willekeurig straatje in oud Zumaia.
We make a walk in the brisk morning. Zumaia is a nice mixture of old and new.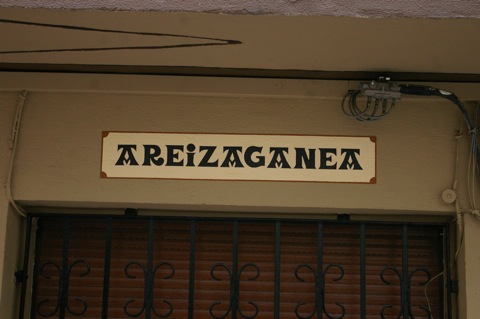 We zullen er wel nooit achter komen wat of wie Areizaganea betekent.... Google Vertalen kent het ook niet.
Basque is a very special language. It is not related to any known Indo-European language. We can only guess what or who Areizaganea is. Even Google Translate doesn't know.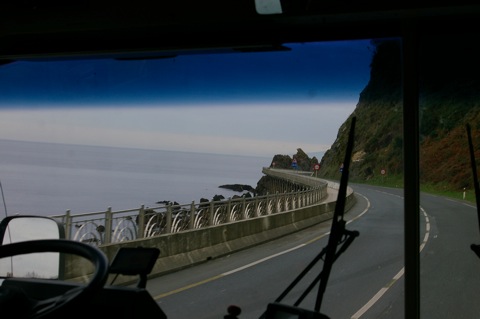 Van Zumaia rijden we langs de Atlantische kust richting Donostia (San Sebastián). De weg is bochtig, soms smal, maar het uitzicht is wonderschoon.
The road east to the French border winds along the Atlantic coast...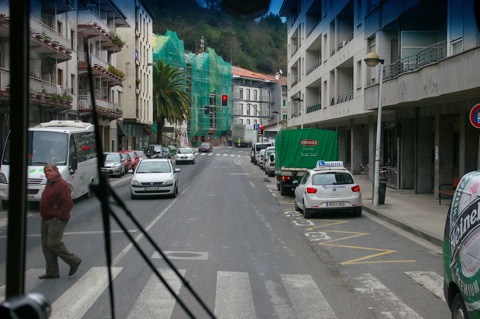 De weg voert ons ook door diverse steden en stadjes. Het valt weer op dat hier zo veel bedrijvigheid is.
... and sometimes through busy towns.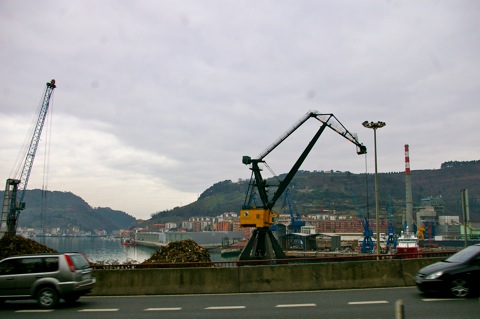 Deel van de haven van Donostia.
Port of Donostia, seen from the highway.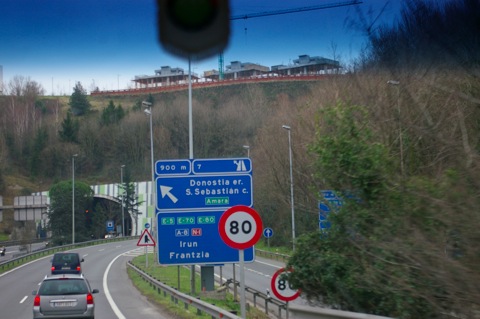 Bijna het land uit.
Almost in France!


Go to top of page