Europe 9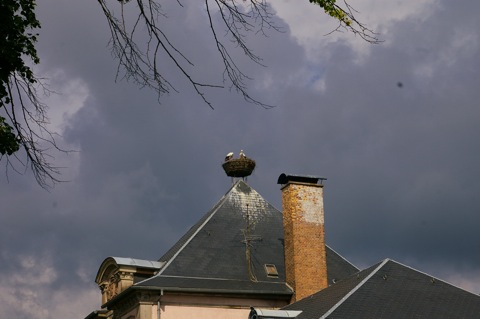 De volgende morgen blijken er overal in het stadje ooievaars te huizen, zoals hier op een dak aan de overkant.
The next morning we find out there are storks everywhere, on their nests and soaring in the air.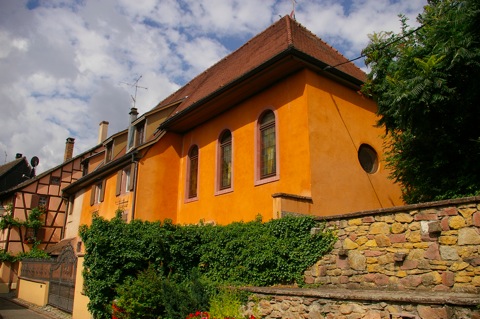 Tot begin 20e eeuw was dit de sjoel van Turckheim. Nu is het een woonhuis. De VVV wist niet dat er ooit een sjoel geweest was...
This house used to be the synagogue until 100 years ago. The Tourist Office denied there ever had been a synagogue in Turckheim.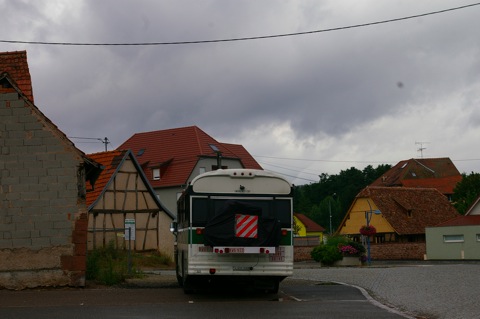 Twee uur verder naar het Noorden vinden we een plekje bij de evangelische kerk van Ingwiller. Hoewel hel plaatsje veel minder toeristisch is, weet de locale VVV hier wèl waar de plaatselijke sjoel is.
In Ingwiller (North Alsace) we stay on a parking lot in the town centre. Here the local Tourist Office does know where the synagogue is...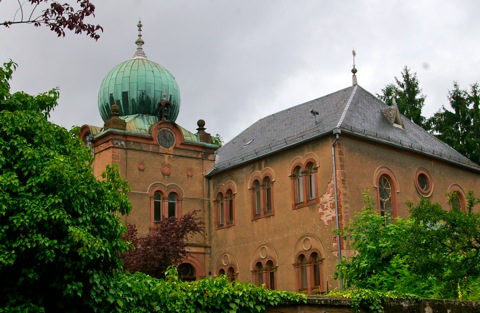 Het is dan ook een sjoel waar je moeilijk naast kunt kijken!
No surprise if you look at the dimensions!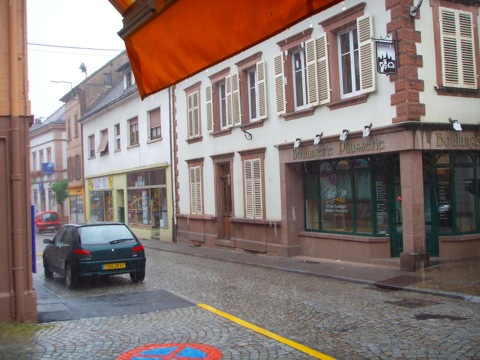 Ondertussen is er een ware wolkbreuk losgebarsten. Onze nylon regenjackjes blijken alles behalve waterafstotend, laat staan waterdicht.
A torrential downpour has started. Our nylon emergency raincoats turn out to be permeable for water.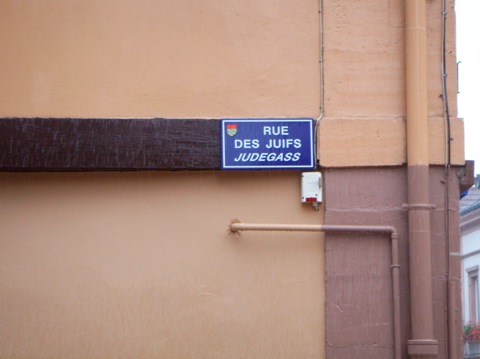 In de Elzas hebben joden gewoond sinds de Romeinse tijd. Behalve 176 sjoels (van de 256 in het hele land) en begraafplaatsen bij vrijwel elke stad en elk stadje, hebben veel steden een Judengass.
There has been Jewish life in the Alsace since Roman times. Hence the traces: shuls, cemeteries, mikva'ot and Jews' streets.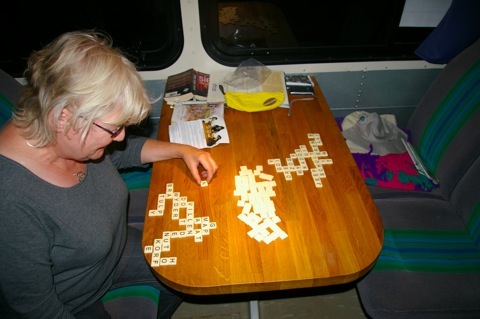 's Avonds lezen we een boek, verzinnen een bestemming voor de volgende dag of spelen we Bananagrams (the game that will drive you bananas), een snelle versie van Scrabble.
At night we read a book, decide where we'll go the next day of play some games of Bananagrams, a fast Scrabble lookalike.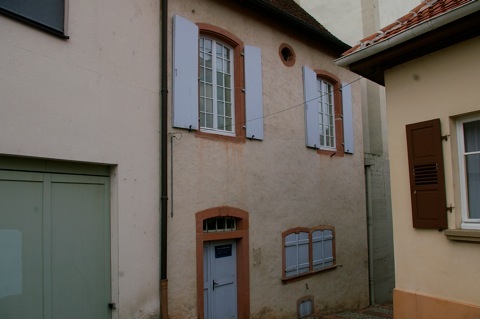 Op weg door de Franse Elzas richting Duitsland zien we dit sjoeltje in Pfaffenhoffen.
In Pfaffenhoffen, just before leaving France on our way to Germany, we have a look at this tiny shul from 1791.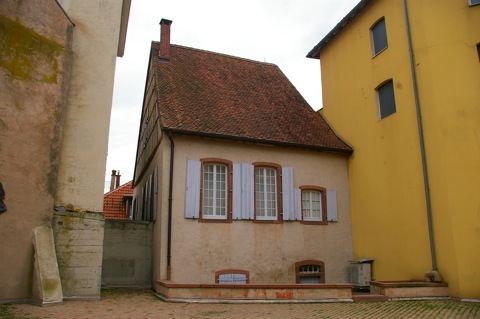 Achterkant.
Back side.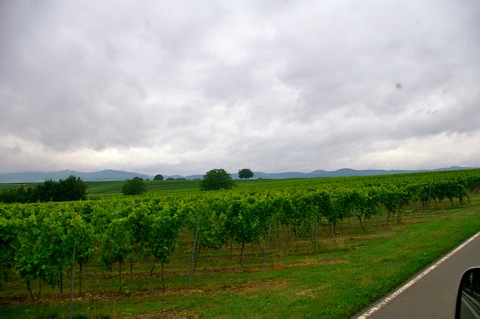 Ook in Duitsland volop wijngaarden. Deze Kreis heet dan ook Südliche Weinstrasse.
On both sides of the French-German frontier there are vineyards everywhere.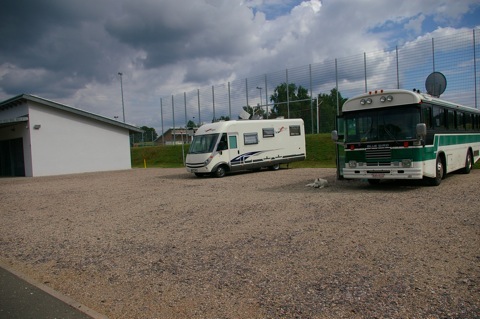 Stellplatz in Dierbach (Dld).
Motorhome parking in Dierbach a few miles from the French frontier in Germany.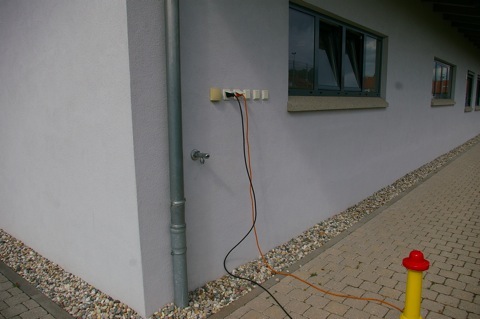 Je betaalt hier € 5 per 23 uur, maar dat is inclusief stroom, water en het lozen van vuil water en toilet.
The price is € 5 a day, which is including electricity, fresh water and getting rid of your grey and black water.