Europe 6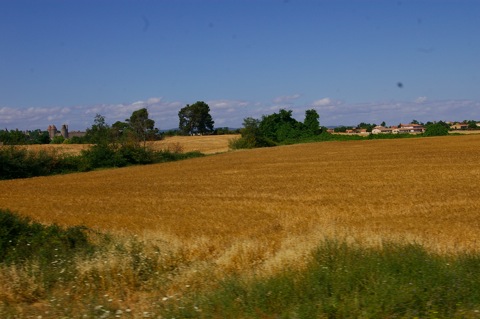 Van Fanjeaux naar Narbonne Plage (Gruissan) loopt een prima weg. Hooguit wat veel rotondes.
From Fanjeaux we take excellent roads East.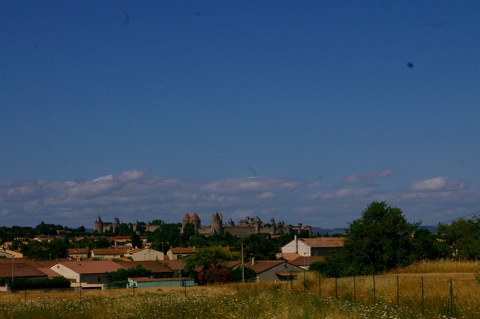 We passeren de versterkte stad Carcassonne.
The fortifications of Carcassonne are on our right hand side.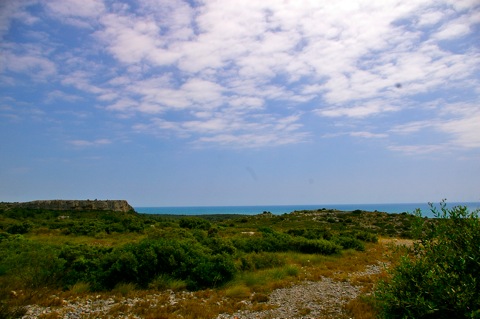 En dan zien we de Middellandse Zee.
And finally: the Mediterranean.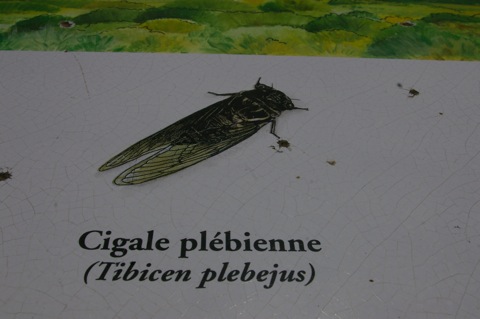 Verantwoordelijk voor het altijd maar doorgaande achtergrondgeluid: de cigale.
The cigale, responsible for the ever continuing background sound.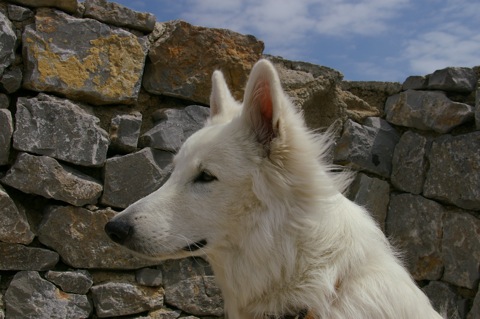 Motek in gespannen afwachting van z'n volgende zee (na de Noordzee in Katwijk).
Waiting for new things to happen: a new sea.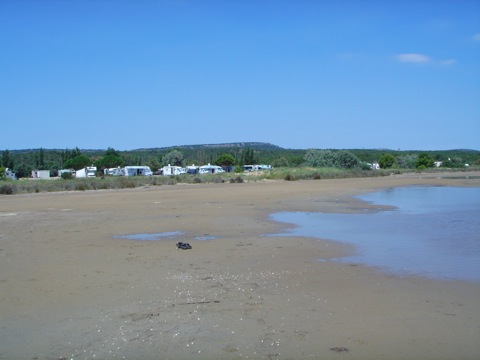 Camperplaats in Gruissan (Etang de Mateille); de ene van Narbonne Plage bleek niet meer te bestaan, de andere was stampvol.
RV park in Gruissan. The other ones mentioned in the guide book were either non-existent or full.

Apporteren waar je niet meer kunt lopen blijkt geen enkel probleem.
And when it's too deep to walk, you swim. Just like that.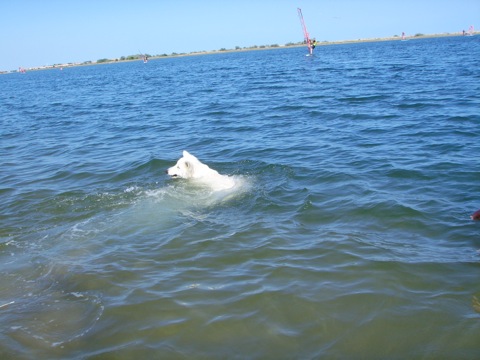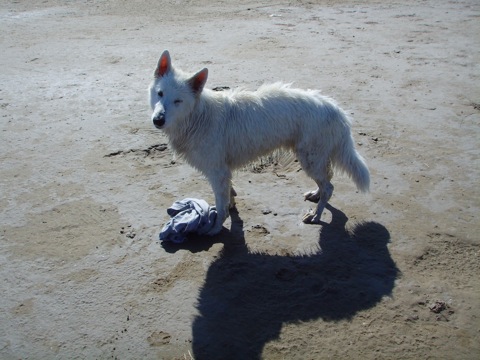 Dat T-shirt ruikt naar baasje.
This shirt smells familiar.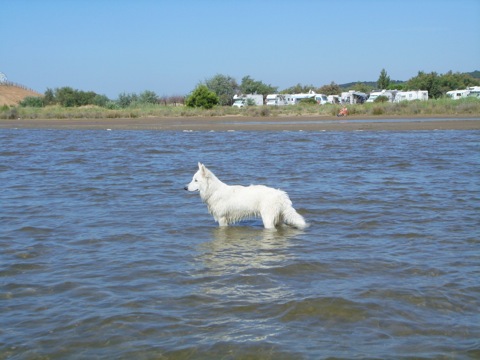 Vrijdagmorgen nog even met Motek de zee in en dan de bus opruimen, grijs en zwart water lozen, schoon water innemen en op pad. Alle plaatsen langs de kust blijken volledig vol te zijn.
The next day we continue, after bathing with Motek, emptying the black and grey water tanks and filling the fresh water tanks. All places mentioned in our book turn out to be either full or not suitable at all for our size vehicle.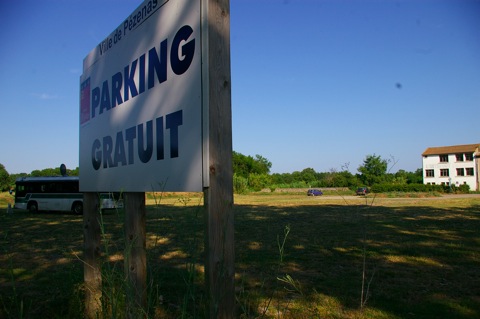 Ook de grote parking in het centrum van Pézenas staat helemaal vol, vermoedelijk in verband met de feesten van het komend weekend. Gelukkig heeft de gemeente een groot veld aan de rand van de stad beschikbaar gesteld.
Since the inner town is completely full, we're lucky the Pézenas authorities have reserved a big field just outside the town as parking space.

De volgende dag is het zwaarbewolkt, maar het blijft helemaal droog.
Although it is very cloudy the next day, not a drop of rain!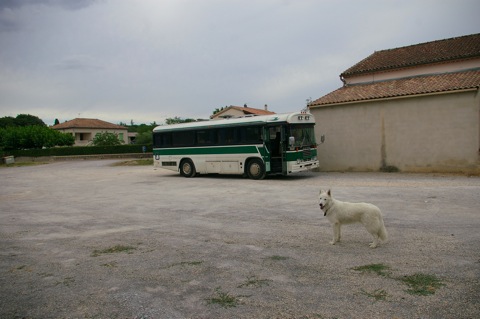 's Avonds drinken we een drankje met onze campervrienden Ron en Yvon die in Ruoms werken. Omdat de politie ons had gemeld dat het verboden was op het gigantische parkeerterrein in Ruoms te overnachten, gaan we naar St. Alban Auriolles, 10 km verder.
In Ruoms we meet with Dutch RV-friends, who work in the tourist business. Because it is not allowed to sleep on the giant parking lot in town, we drive 6 mi further, to St. Alban Auriolles.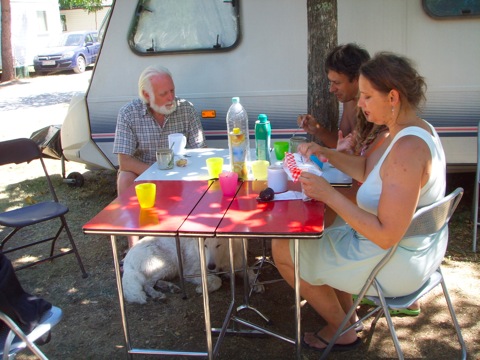 Na een rit via een smal bergpaadje (voertuigen tot 10 m toegestaan; over de breedte stond er niets!) zoeken we in Joyeuse Fran, Pat en de kids op.
After a (short) trip via a narrow mountain road, we meet friends on their camp ground in nearby Joyeuse.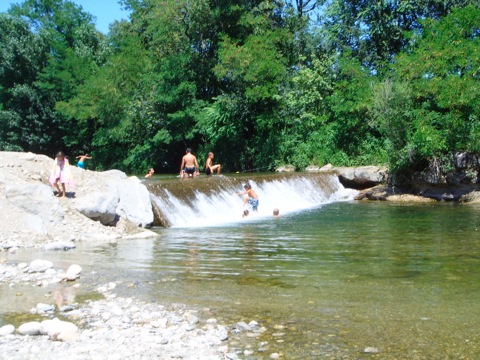 Dichtbij de camping is een prachtig zwem- en poedelriviertje, vooral door de kinderen erg gewaardeerd. Ook Motek zoekt verkoeling door z'n poten in het water te steken.
Next to the camp site is a nice river where grown-ups and children (and Motek) seek refreshment.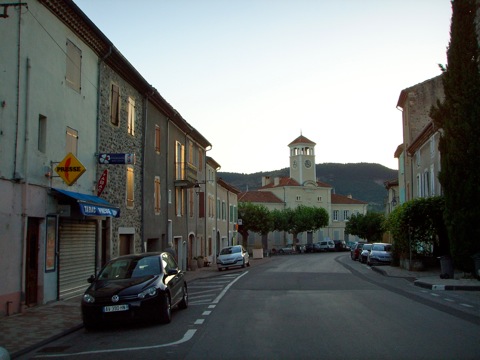 's Avonds overnachten we op de uitgestrekte camperplaats van Alba-la Romaine, een klein, maar uiterst vriendelijk oud stadje.
Alba-la-Romaine, a small medieval town with ...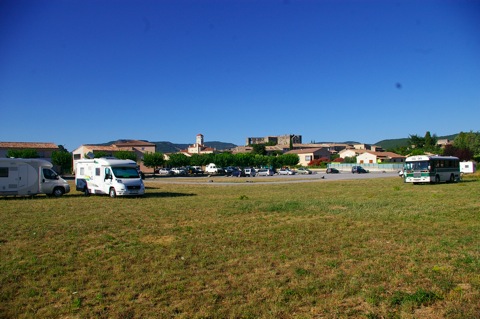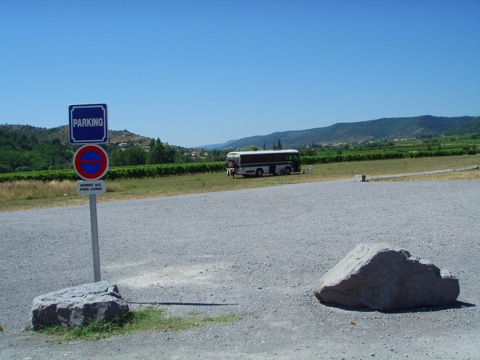 De camperplaats schat ik op zo'n 200 x 600 m.
... with a giant RV parking.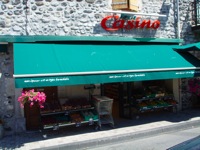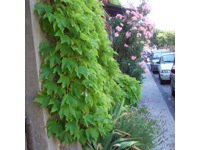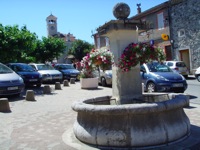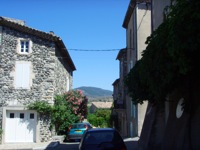 Go to top of page