Europe 13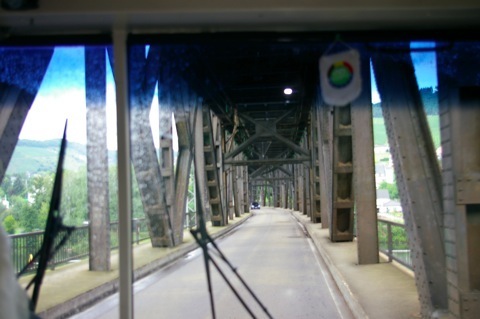 We rijden een stuk làngs de Moezel en gaan enkele malen òver de Moezel. O.a. over deze brug, met de spoorbaan bovenop.
We drive along the River Moselle and cross it several times. This is a combined railway (top) and car (bottom) bridge.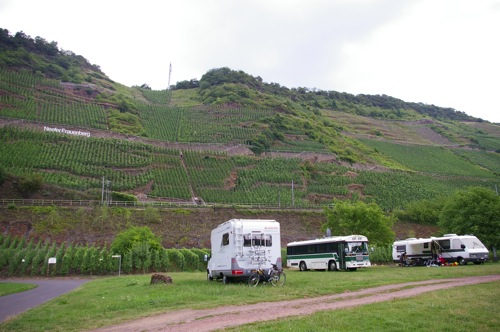 In Neef-Frauenberg leren we hoe het eigenlijk hoort op zo'n grote Stellplatz: veldje Belgen, veldje Nederlanders, veldje Duitsers, veldje rest...
In Neef-Frauenberg we are part of the Flemish field. Our neighbours have a huge American motorhome, seven feet longer than our bus.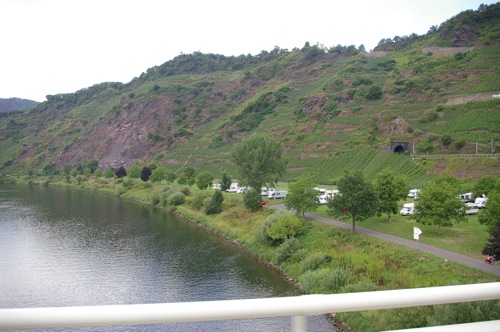 Gezicht op de stelplaats vanaf de brug over de Moezel.
The parking is next to the River Moselle and the wine fields.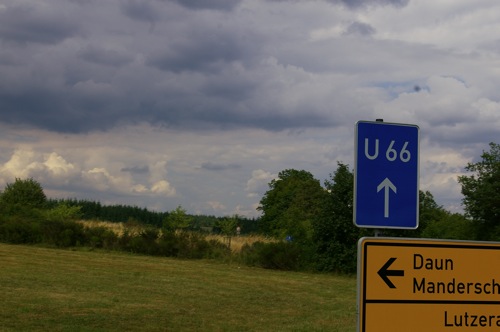 Op weg naar Manderscheid.
On our way to Manderscheid.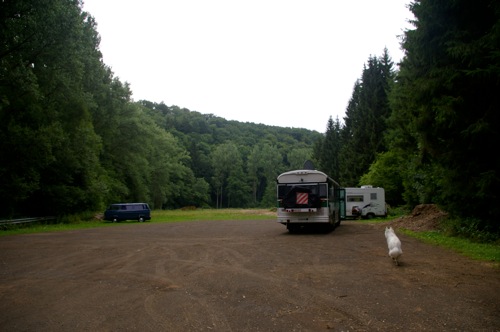 Bij hotel Heidsmühle is er groot parkeerterrein, gratis voor restaurantgasten. Het eten is er heerlijk, maar je loopt de kans dat er een visgraatje in je keel blijft steken ;-(
Only a few motorhomes on the parking of hotel Heidsmühle. Here you can stay overnight for free if you have dinner in the restaurant. The dinner was nice but a fish bone got stuck in Ernst's throat ...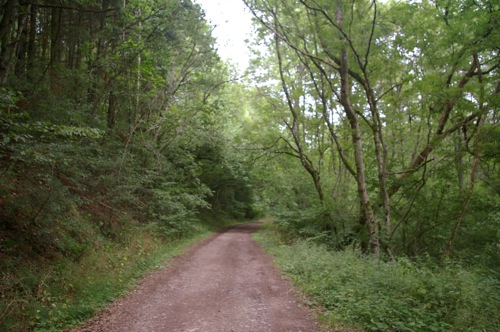 De Vulkaneifel is bekend om zijn mooie wandelingen.
The next day Sylvia and Motek take a walk. The region has a lot of old volcanoes.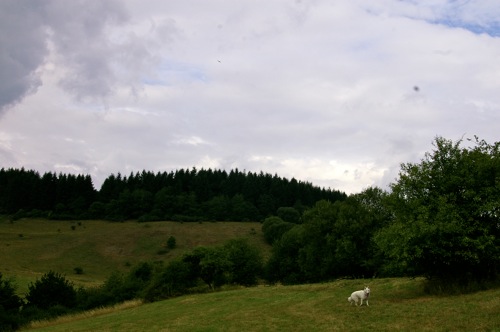 Het einddoel ligt achter deze dennebomen.
The destination is just behind these trees, on top of the hill.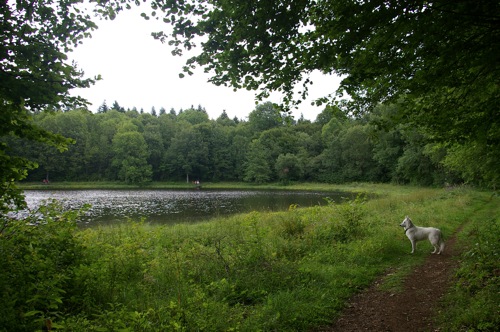 Eindelijk, de mare!
After a long walk: the crater lake.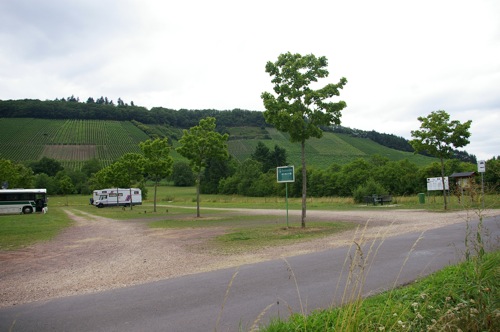 Een bekende stop voor ons: Wittlich. Ernst besluit dat hij toch beter een KNO-arts naar zijn keel kan laten kijken, want dat graatje doet wel erg pijn. Na drie uur ziekenhuis (eerste hulp) komt hij weer naar buiten met een foto van bijna het hele spijsverteringsstelsel, onder narcose gemaakt. En ja, de dienstdoende internist heeft geconstateerd dat er een ontstoken plek in zijn keel zit. Als hij last blijft houden moet hij maar naar een KNO-arts gaan!
Next stop: Wittlich. We have been here before. Ernst's throat is still hurting so he pays a visit to the hospital. Germans are very thorough... Instead of an ENT specialist just looking in his throat, an internist looks at oesophagus, stomach and duodenum... The only conclusion: a sore spot in the throat. If it doesn't go away by itself, you'd better see an ENT specialist!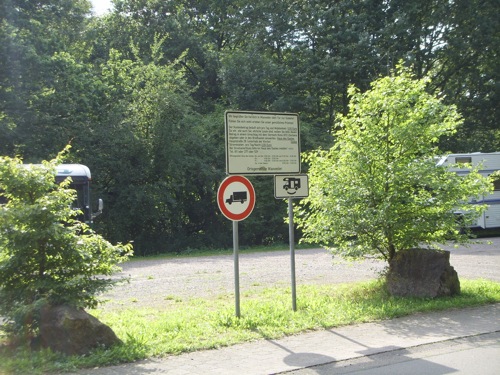 In Waxweiler is een Stellplatz op loopafstand van het centrum. Nou ja, centrum?
We go on to Waxweiler, not far from the Luxemburg border. The parking is next to the railway station which is no longer in use.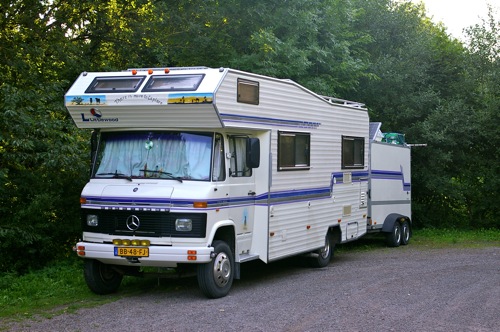 We ontmoeten weer oude bekenden, Jan en Eke, full timers, onderweg van Marokko naar Nederland. Wonderlijk, we ontmoeten in zeven weken twee Dubbelluchters, allebei in een 613 met aanhanger!
More members of the Mercedes Motorhome Club: Jan and Eke live full-time in their van and are on their way from Morocco to the Netherlands.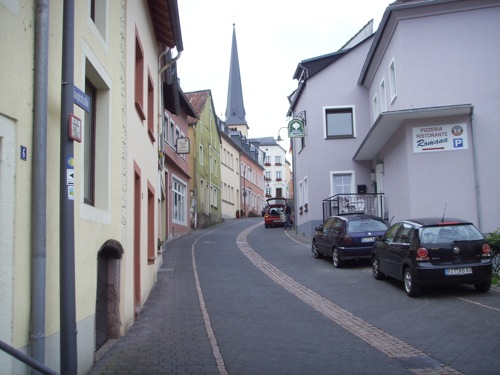 Waxweiler, tussenstop op weg naar het tanken in Luxemburg.
The not very inspiring centre of Waxweiler. Even the pubs are closed. But close to Luxemburg where Diesel fuel is very cheap.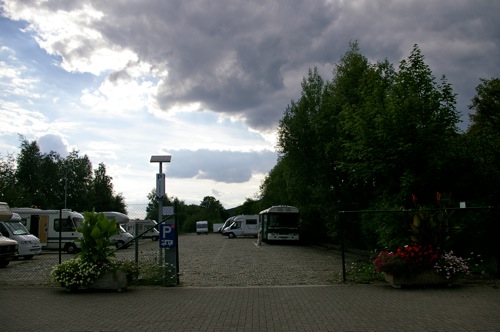 Na Luxemburg zijn we dan weer terug in België. Omdat de stelplaats in Sankt-Vith vol is met personenauto's vanwege de antiekmarkt die vandaag in het centrum wordt gehouden, rijden we door naar Malmedy, een in alle opzichten toeristisch oord.
We had intended to stay in Sankt-Vith, but the parking was full because of a fair. So we go on to Malmedy, where we again park next to a railway station which is not in use anymore. Here they offer more facilities.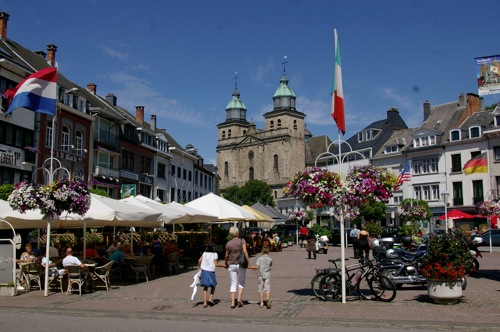 De markt en omgeving zijn vol restaurants en café's.
Centre of Malmedy on a nice saturday afternoon.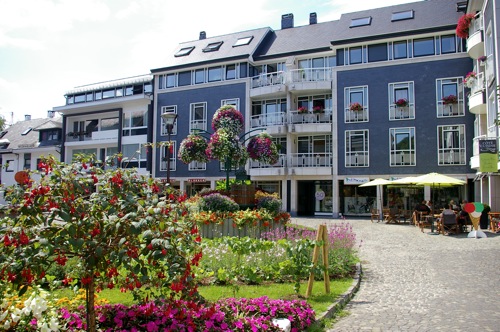 Hoewel er ook heel vriendelijke plantsoentjes zijn, die vergeten lijken.
And another square full of flowers.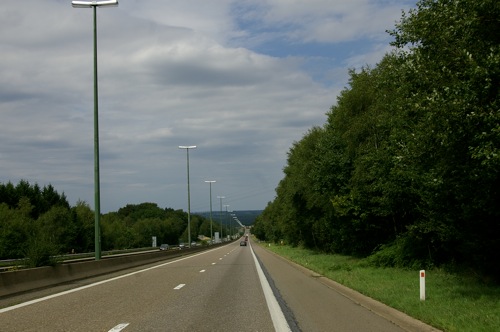 Door de Ardennen via een perfecte autoweg naar het Noorden.
We drive north through the Ardennes hills, up, down, up, down, up, down ...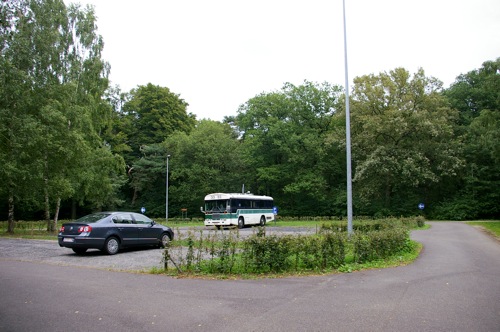 In Houthalen-Helchteren is het parkeerterrein van de Abdijhoeve uitgebreid met een speciaal vak voor campers.
A new camper place in Houthalen-Helchteren.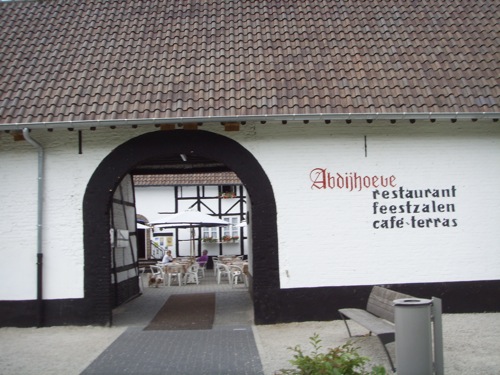 Omdat we nu weer in België zijn, drinken we weer een Blonde Leffe op het terras.
Back home in Belgium, so we have a Belgian beer!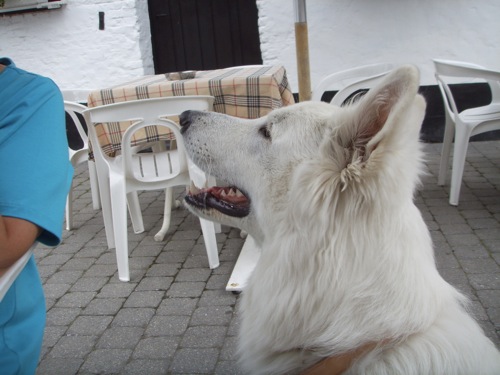 Je zou haast zeggen dat Motek hier ruikt dat we bijna thuis zijn. Ook al duurt dat nog een hele nacht plus een paar uur...
Motek knows that we are almost home. Only one night and a two hours drive.

Go to top of page