Europe 7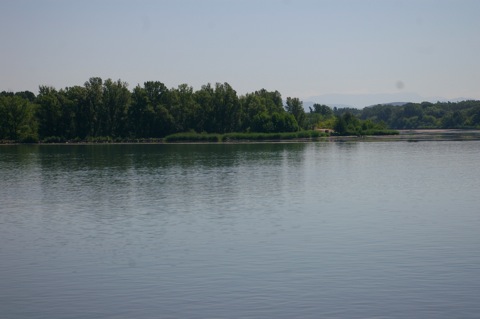 Vanuit Alba rijden we naar het Oosten, tot we op de D86 de Rhône tegenkomen. Langs de rivier gaan we Noordwaarts.
From Alba we drive east. After some time we encounter the river Rhône.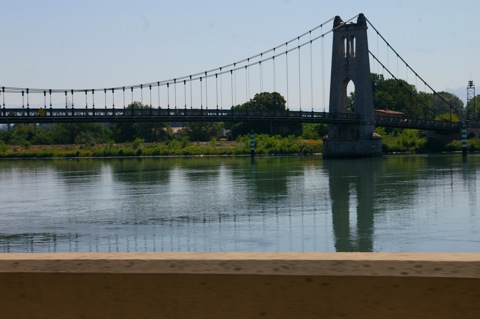 Voetgangersbrug over de Rhône.
Pedestrian bridge across the river Rhône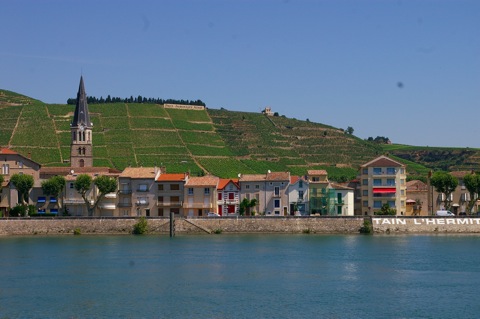 Ons doel van vandaag: Tournon sur Rhône. Recht ertegenover ligt Tain l'Hermitage, mij vooral bekend van z'n Routiers restaurant.
View across the river from Tournon towards Tain l'Hermitage, where I have enjoyed many a meal when I was driving trucks in the 70's.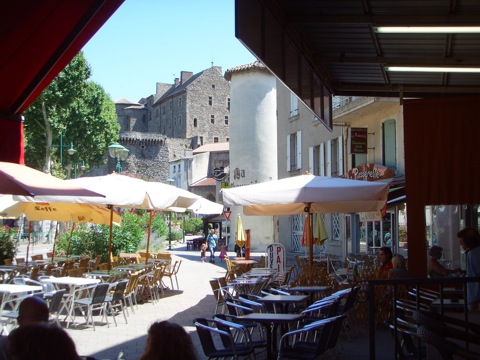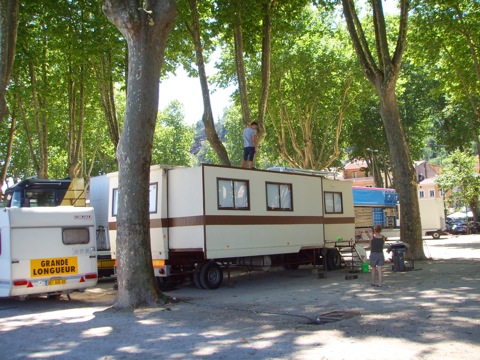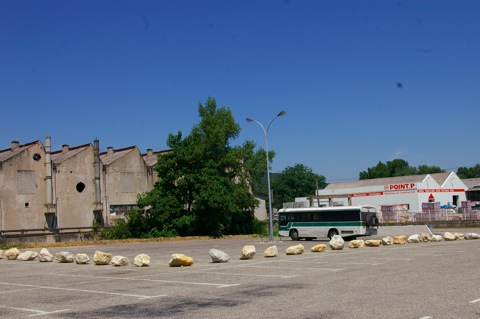 Tournon heeft twee camperplaatsen, één midden in het centrum, waar helaas de kermis staat. De andere is deze deprimerende plek aan de rand van de stad. Er staat wel een (gratis) sanistation.
The RV parking in town is occupied by the annual fair. So we drive to the other place, which is rather depressing. But fresh water is free, as well as emptying the grey and black water tanks.
Uiteindelijk gaan we naar Beausemblant, een klein stukje verder langs de N7.
Eventually we park for the night at Beausemblant (seems nice!).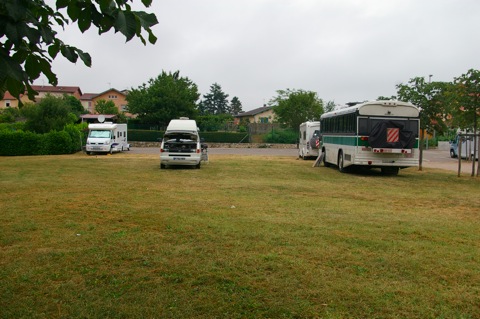 In Beausemblant zijn we de hele ochtend actief geweest op het internet. 's Middags rijden we weer een klein eindje naar St. Georges Espéranche. Daar ontmoeten we het Nieuw-Zeelandse echtpaar waarmee we een paar weken geleden in Souillac een praatje hebben gemaakt. We ruilen ook nog wat Engelstalige boeken.
After updating our website and answering a lot of mail messages we drive to St. Georges Espéranche. There we meet the Kiwi couple that we met a few weeks ago in Souillac. It's a small world!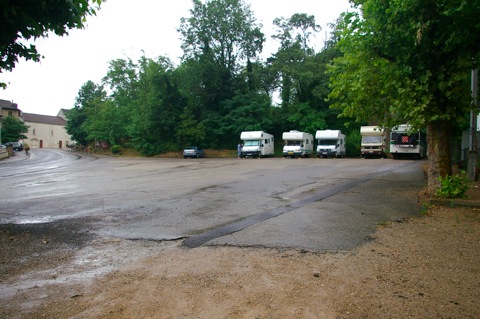 Onderweg naar onze volgende overnachtingsplaats, Cousance, heeft het zowaar een klein beetje geregend! De voorruiten zijn weer schoon. In het dorp is een bar/tabac waar ze blonde Leffe van de tap hebben!
The next day it is raining a little bit (first time in weeks!) We stay in Cousance, where they serve Leffe on draught, our favorite beer.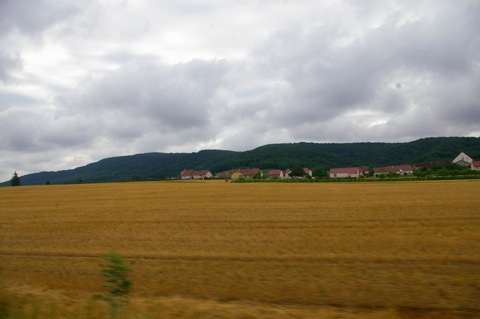 We rijden door de Jura naar het Noordoosten.
From Cousance we head north-east, through the French-Swiss border area.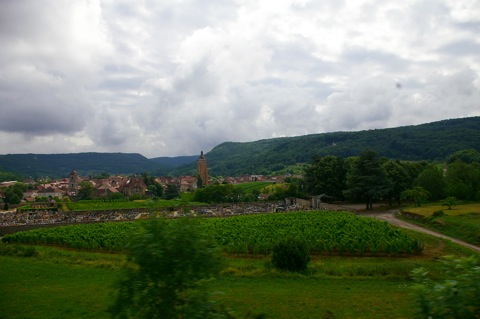 Arbois (Jura) (NL)
Arbois (Jura) (Eng)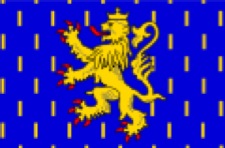 Vlag van Franche-Comté
Flag of Franche-Comté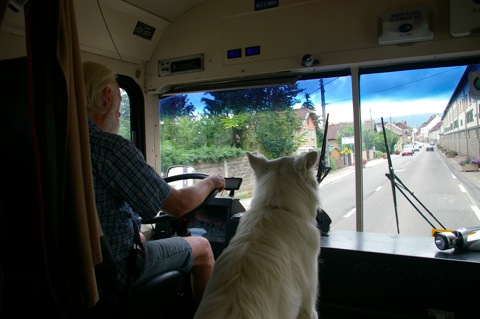 Sylvia en Garmin navigeren, Ernst en Motek houden de weg in de gaten.
Sylvia and Garmin decide which way to go, Ernst and Motek keep an eye on the road.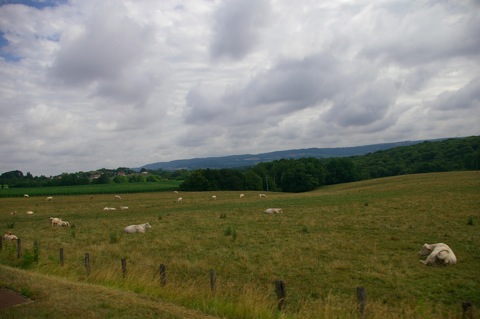 We komen van de Jura in de Doubs.
Within the Franche-Comté area, from the Jura department we reach the Doubs department.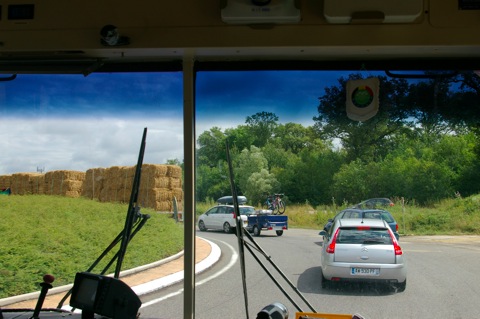 Zomaar een plaatje van een van de vele tientallen rotondes die we dagelijks moeten nemen.
Just one of the numerous roundabouts which we encounter each day.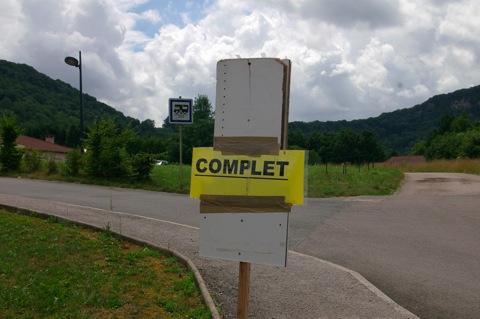 Op diverse internet-fora wordt hoog opgegeven over de overnachtingsplaats in Baume-les-Dames. Dit bord helpt bepaald niet een positieve indruk te krijgen van de gastvrijheid. Gelukkig vertelt een vriendelijk Vlaams paar ons dat ze "zoals meestal" vergeten zijn het bordje weg te halen. Er is volop plaats.
The RV parking of Baume-les-Dames is mentioned very positively on numerous internet forums. Unfortunately we are met by a "complet"-sign! But a friendly Flemish couple tells us they have "as usual" forgotten to take away the sign. There's plenty of space.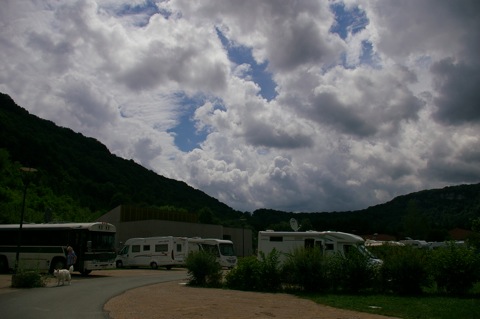 Als we een plekje (nou ja) hebben gevonden, zien we het snel dichttrekken.
Within 15 minutes we see the blue sky filled with ominous clouds.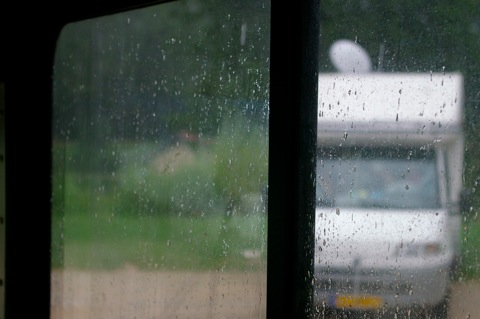 En kort daarop hebben we voor het eerst in vijf weken een serieuze regenbui, compleet met stormvlagen.
The first real rain shower in five weeks.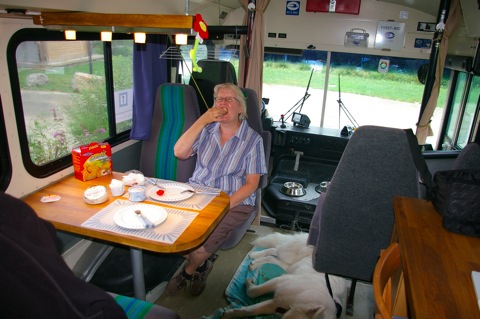 En wat kun je zoal doen als het regent? Om te beginnen: eten!
What to do when it's raining outside? To start with: have a meal.
Go to top of page