Europe 3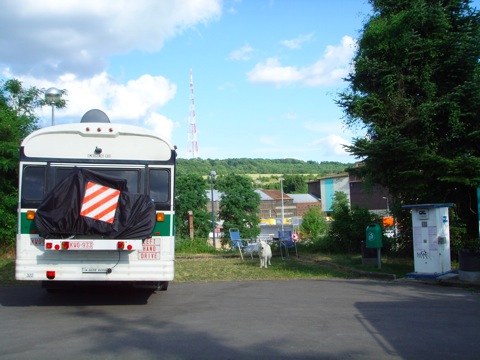 En wederom staan we in Dudelange, in het land waar de brandstof (nog) zo goedkoop is.
We sleep at Dudelange, close to the French-Luxemburg border. We've been here before and we know it is a noisy place.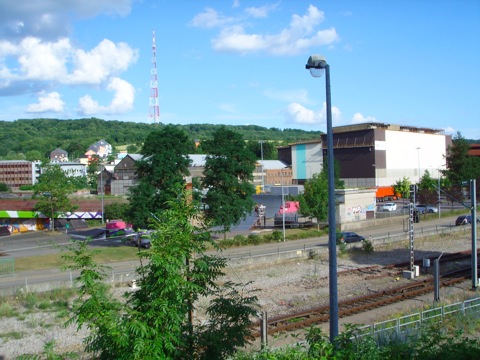 Het geluid wordt bepaald door de spoorlijn, de doorgaande weg en... de skateboardvoorzieningen. De skateboarders maken meer lawaai dan rail- en wegverkeer bij elkaar. Gelukkig slapen ook skateboarders 's nachts.
The noise comes from trains, road traffic and skateboarders. But still we sleep like a baby.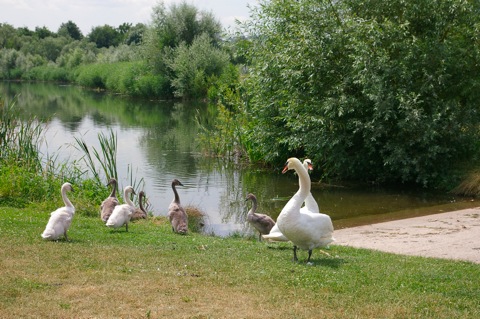 Op de camperplaats in Pont-à- Mousson (F) is een mooie ramp om je bootje te water te laten. Dat leek ons wel wat voor Motek. Maar het zal voor een andere keer zijn, want er woont daar een familie Zwaan.
In the north of France Bordatlas shows us a beautiful place on the river Moselle. We have to keep nosy Motek away from this Swan family, in order to prevent accidents.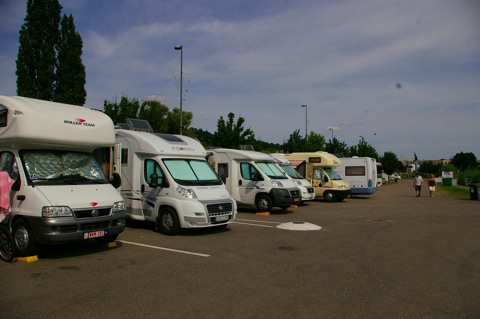 Het is comple(e)t vol, met Fransen, Belgen, Duitsers en Nederlanders (plus één Zweed en één Zwitser).
Because of the nice location, it fills up completely every afternoon.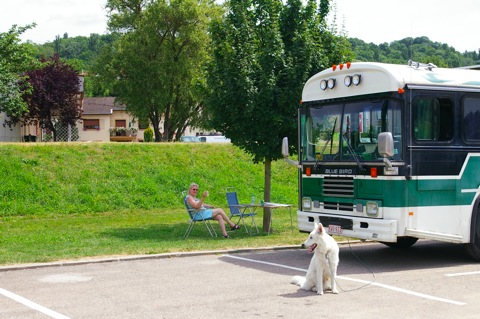 Motek waagt zich af en toe uit de schaduw. En wil dan weer afkoelen in de Moezel!
Outside the shade it is quite hot. Motek cools down in the river.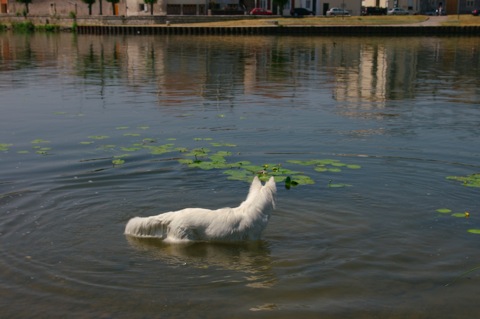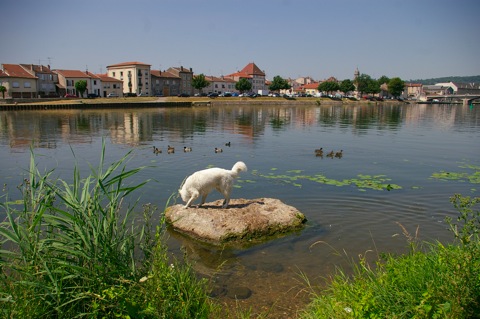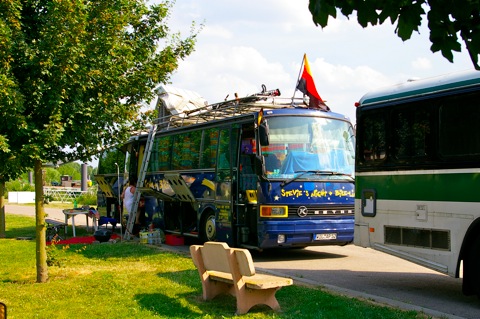 We blijven twee nachten in Pont-à-Mousson. Achter ons staan voetballiefhebber Stevie en Elke met hun Setra, de enige andere niet-kunststof camper.
We sleep two nights in Pont-à-Mousson. Behind us soccer-fan Stevie en Elke park their Setra. Theirs and ours are the only motorhomes which are not white plastic...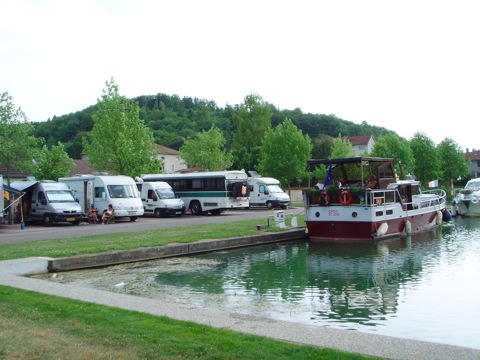 Na een korte dagmars staan we aan het jachthaventje (met de Maas verbonden) in Ligny-en-Brasson.
Only an hour and a half further south we find this nice place in Ligny-en-Brasson. Skoolie is a bit long for the parking space but we sleep well anyway.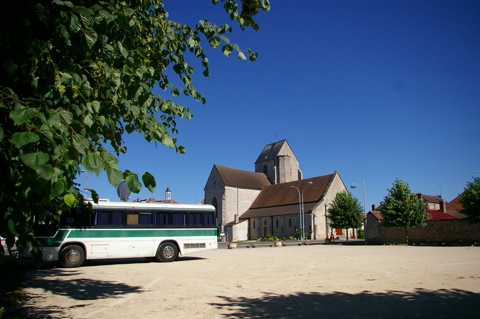 We koersen naar een camperplek in Sézanne. Maar dat lukt niet, want de Sézanne rétro Mobile is aan de gang. Een dorpsplein vòl antieke auto's. Mooi gezicht, maar helaas voor Skoolie geen plaatsje over. Dus rijden we een stukje door naar Esternay.
Because the motorhome parking in Sézanne is taken by a veteran car convention, we have to drive on to Esternay.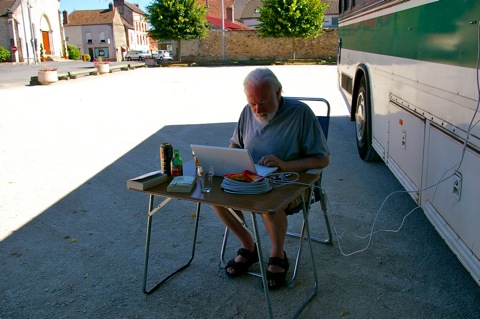 Met de lange netwerkkabel kunnen we voortaan náást de bus zitten i.p.v. erin als we het Internet op willen.
At Saturn in Nancy-Frouard we bought a long RJ-45 cable. Now we can escape the heat inside the bus and work the computer on line outside.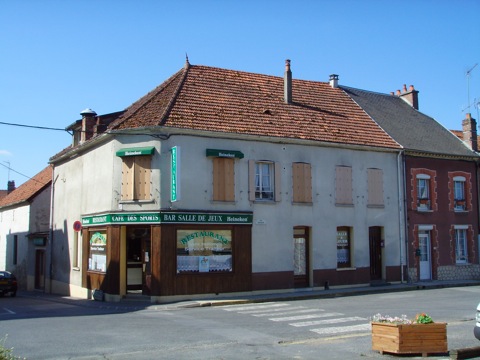 In het Café des Sports in Esternay genieten we van een heerlijk en geheel authentiek Frans maal. Alle stamgasten hopen dat Nederland wereldkampioen wordt ;-)
Behind the simple façade of this village bar one can find a meal of unexpected quality.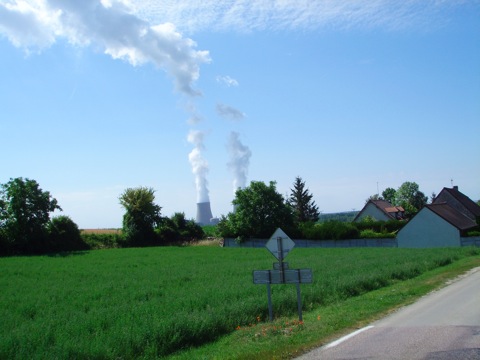 Aan de stoom uit de koeltorens van deze (kern)centrale kun je zien dat het op lage hoogte volkomen windstil is.
The steam from this nuclear power plant shows there is no wind at all on a low altitude.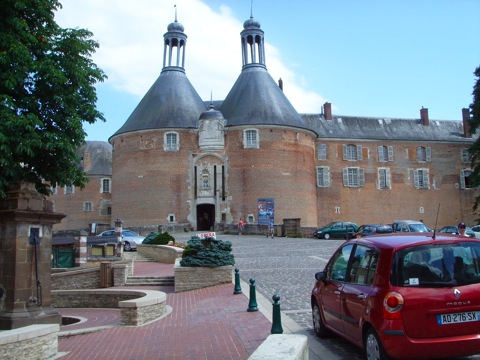 En route bekijken we het indrukwekkende Chateau van Saint-Fargeau.
France is full of castles (Chateaux). This one is in Saint-Fargeau.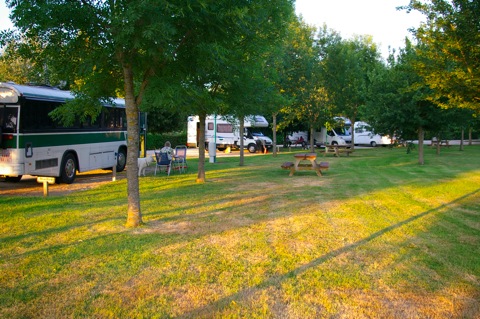 De camperplaats van Vailly-sur-Sauldre blijkt zowat een complete camping te zijn, compleet met sanitairgebouw en (mini-) containerpark.
This RV parking has all the facilities you expect in a much more expensive camping. Just no tents and no caravans.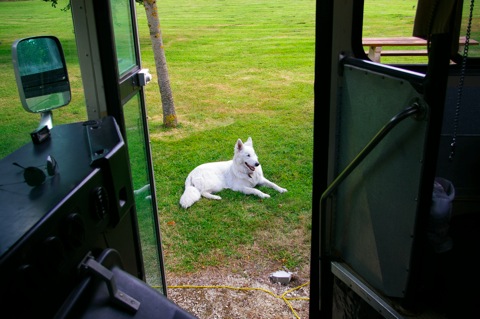 En na een warme dag in de bus, lig je in het koele gras fijn de wacht te houden.
Our watchdog enjoys the cool lawn after a day in a hot coach.
Go to top of page