Europe 8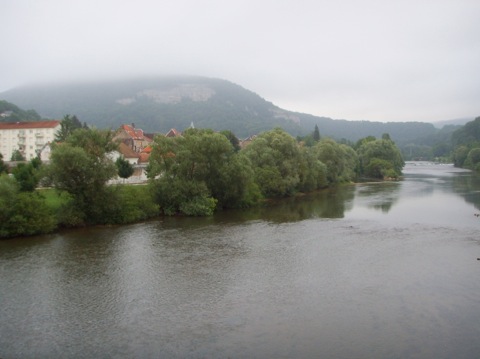 De Doubs bij Baume-les-Dames. Foto genomen toen ik op de fiets boodschappen ging doen in het stadje.
River Doubs seen from the bridge at Baume-les-Dames.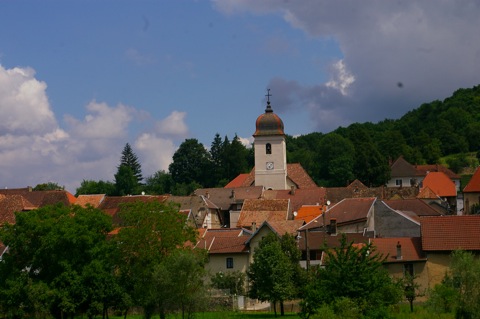 De kerkjes in de dorpen langs de Doubs hebben allemaal een apart gevormde torenspits.
Along the river Doubs there are many villages with this peculiarly shaped steeples.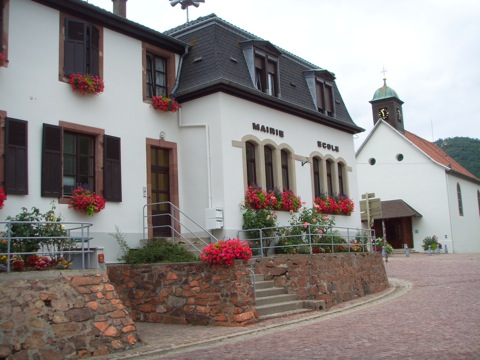 Bourbach-le-Haut (Haut-Rhin) heeft gemeentehuis en school in één.
In our next stage, Bourbach-le-Haut (Haut-Rhin), town hall and school are combined in one.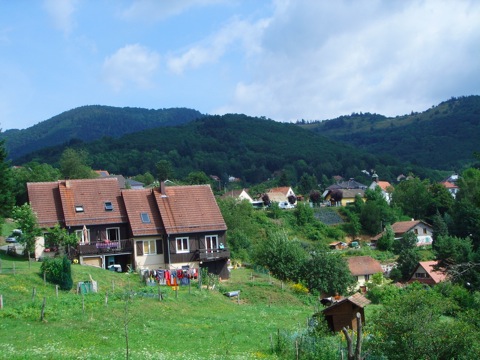 Overzicht over Bourbach-le-Haut.
Bourbach-le-Haut city centre.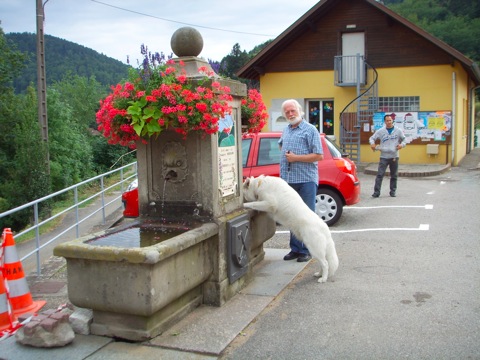 Motek speelt hier voor paard. Achter het gele gebouwtje (de kleuterschool) is een aire de camping-car.
Who'll drink the water if there are no horses around? Behind the yellow kindergarten is the motorhome parking.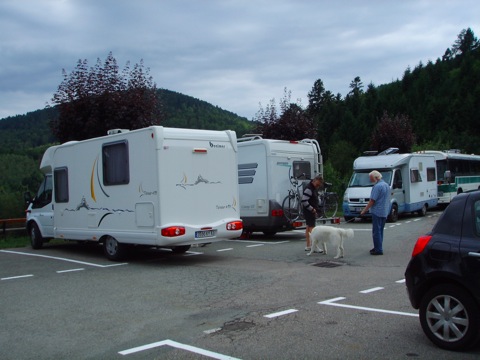 Officieel is het een aire voor vijf campers. Maar dan wel heel erg kleine...
The parking is meant for five motorhomes. Small ones...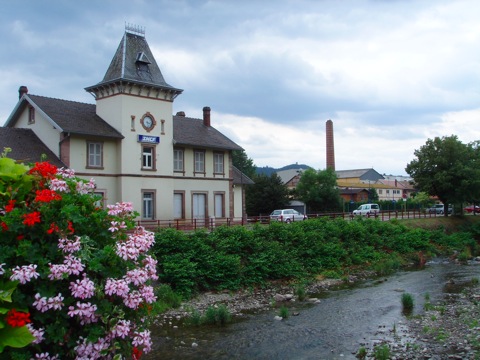 Niet zo ver naar het Noorden ligt het oude vestingstadje Turckheim. Er is een camperplaats langs de spoorbaan, bij het station.
Close to Turckheim railway station (photo) is a motorhome parking.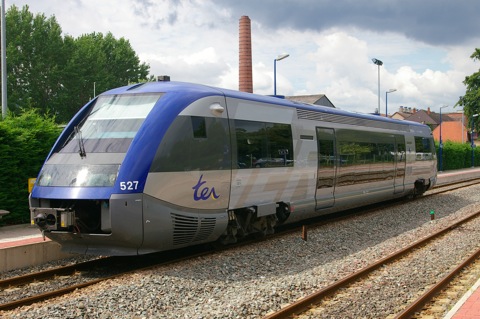 Er komen maar een paar treinen per dag voorbij, van dit type.
Only a few trains pass each day. The regional French trains have an advanced design.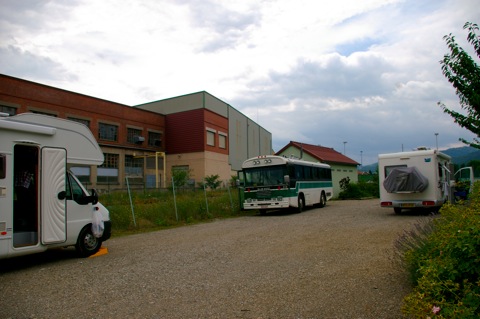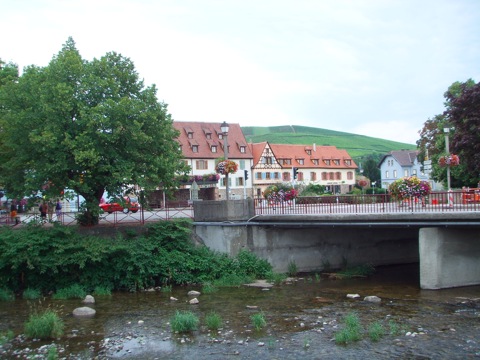 Om in de oude stad te komen, moeten we via een brug de Fecht over.
Between the railway station and the old town runs the river Fecht.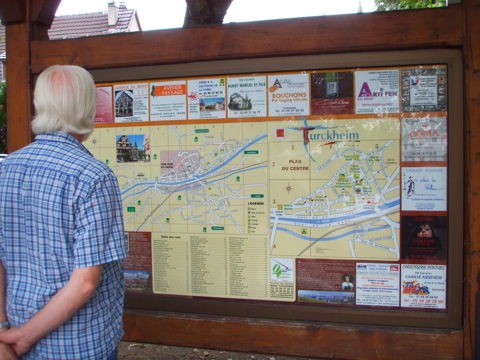 Het toerisme is hier behoorlijk ontwikkeld.
Tourism is developed much more than in most of the towns we have visited lately.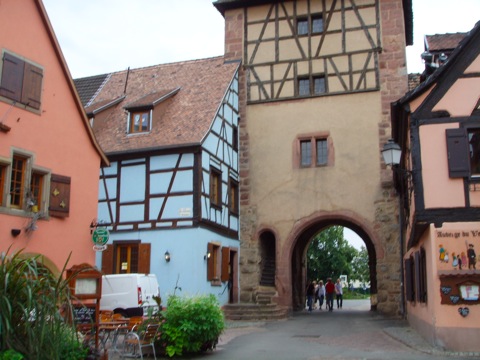 Een van de drie stadspoorten...
One of the three city gates...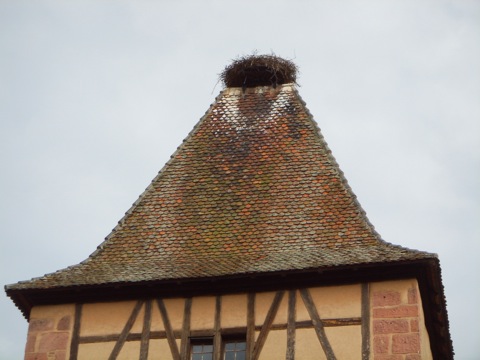 met bovenop een ooievaarsnest.
with a stork's nest on top.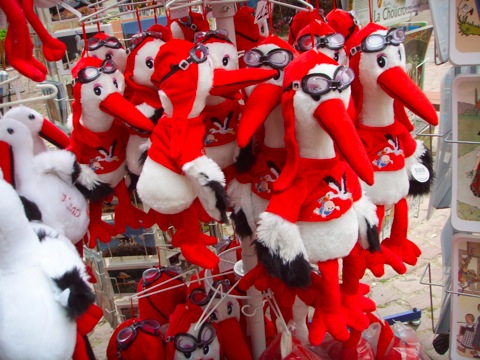 Ooievaars doen het ook goed in de toeristenindustrie.
The stork is quite popular in Alsace merchandising.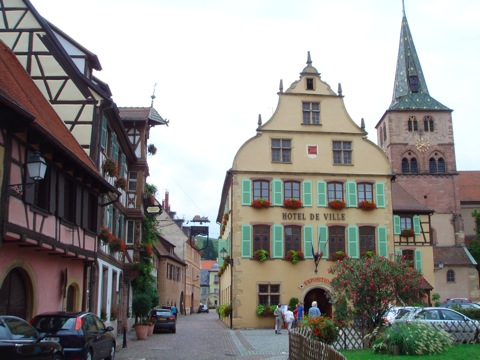 Dorpsplein met stadhuis (16e eeuw) en St. Anna-kerk (11e eeuw).
Town square with town hall (16th c.) and church of St. Anne (11th c.)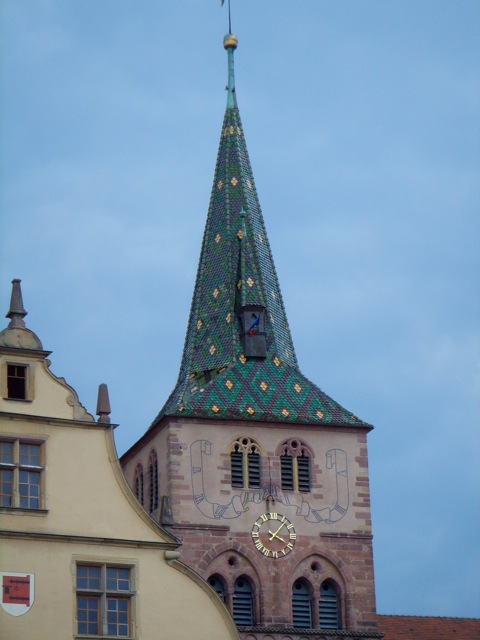 Weer zo'n fraai versierde toren met gekleurde leitjes.
Slate artists have been busy here as well.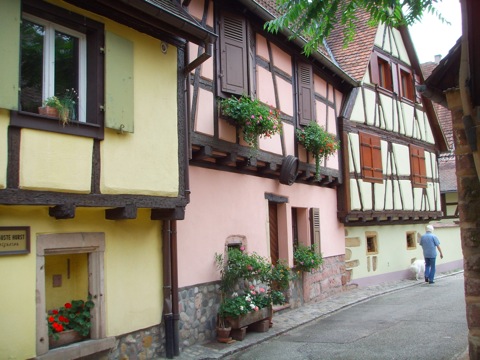 Vakwerk alom.
Half-timbered houses galore.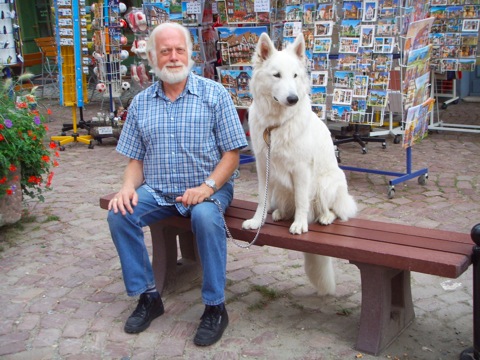 Terwijl Sylvia wat bekijkt, gaat Ernst er even bij zitten. Motek kiest ervoor hem gezelschap te houden.
Ernst sits down while Sylvia is doing a bit of window-shopping. Motek joins him.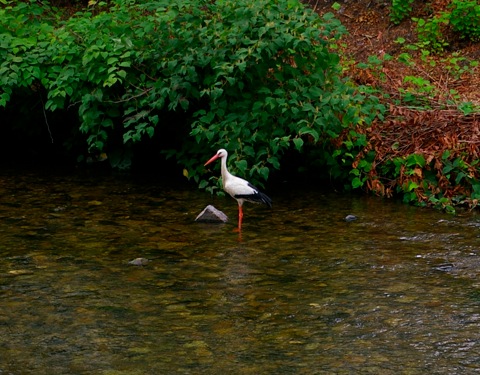 's Avonds verscheen deze buurman opeens in de Fecht, vlak naast onze bus.
Around sunset this bird appeared in the river, quite close to us.
Go to top of page