Netanya-Tveria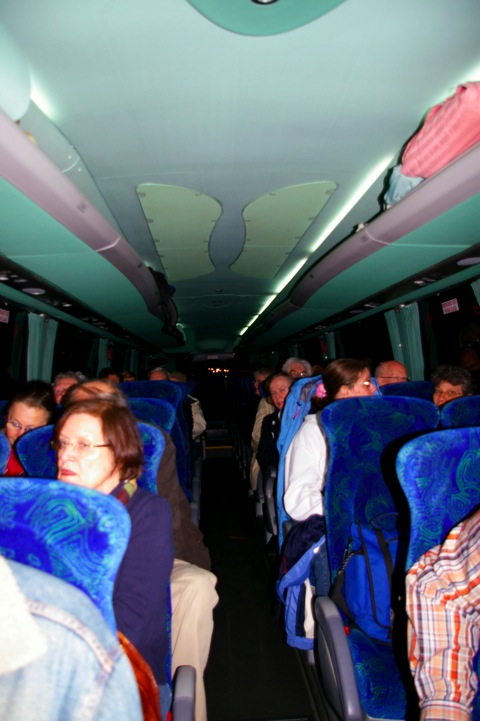 Zondag/Sunday
Na aankomst op Ben Gurion even in de rij voor de paspoortcontrole (de invulformuliertjes zijn kennelijk afgeschaft). Voordeel van even wachten is dat de koffertjes al aan het ronddraaien waren toen we bij de carrousel aankwamen. De bus met chauffeur David en Ron, onze gids voor de eerste paar dagen, stonden al op ons te wachten.

Having to wait for Immigration, has a big advantage: you don't have to wait for the suitcases! Our private coach and Ron, our guide, are waiting for us.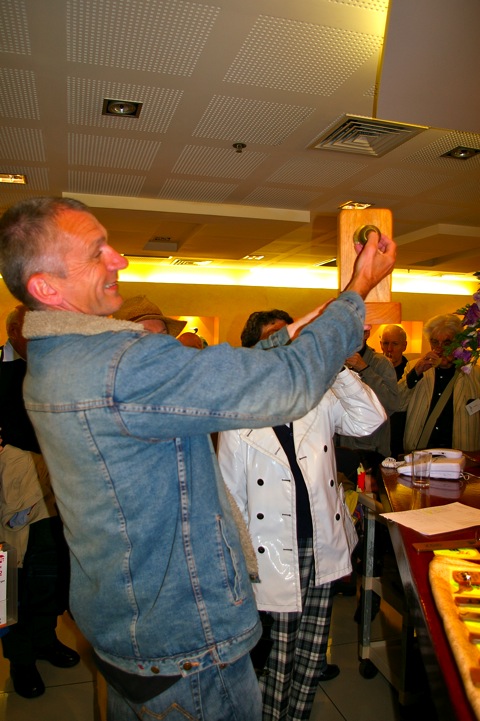 Aangekomen in het Margoa Hotel in Netanya demonstreert Ron de werking van de deursloten.

For those who are not familiar with the locks, Ron explains...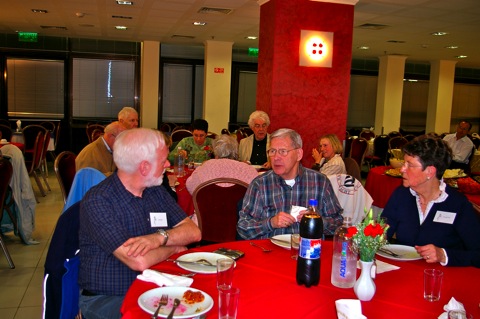 En dan is er nog een maaltijd. Relaxed dat het kasjroet hier vanzelfsprekend is!

After a whole day of travelling, a nice Israeli meal is more than welcome.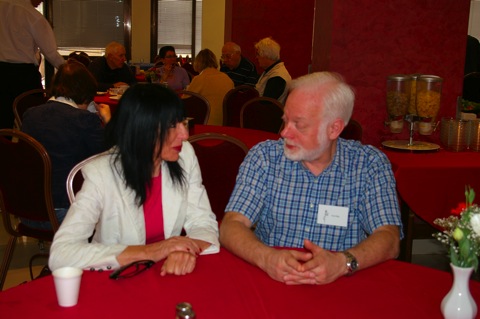 Maandag/Monday

's Morgens in alle vroegte (we moeten om 08:15 h vertrekken) komt onze vriendin Ann ons even gedag zeggen.

Our friend Ann - who lives only two streets away - gets up very early in the morning to be able to say "Hello" to us. Unfortunately the "Goodbye" has to follow soon, because we have to leave at 08:15 h.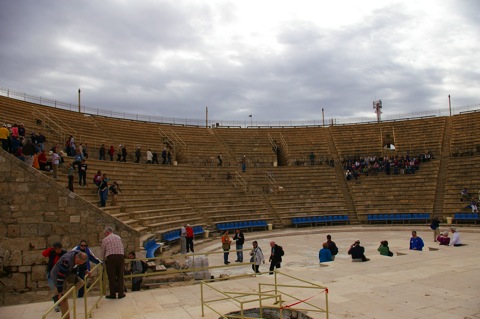 In Qesaria zien we een heleboel, o.a. het theater (boven), het hippodroom, de haven en tot slot een drankje op een terras met uitzicht over de zee.

In Qesaria we see the theater, the hippodrome and the old harbour. We finish our visit with a drink.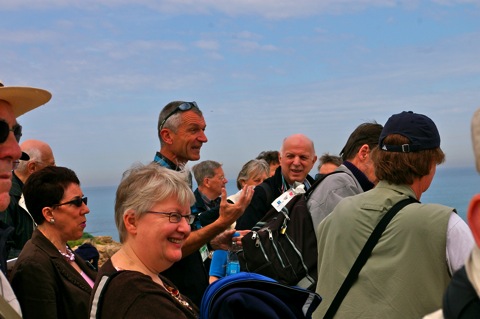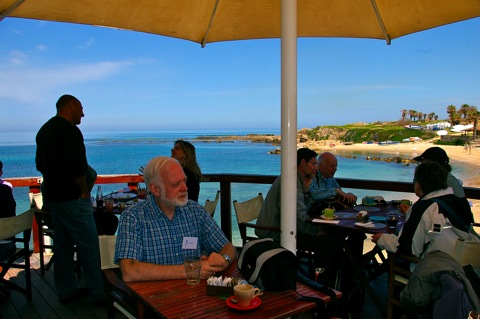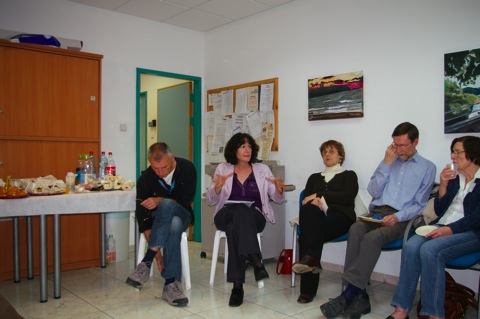 In het Amcha Centrum in Kiryat Motzkin worden we ontvangen met een lunch en krijgen we te horen hoe Amcha werkt. Een Sjoa-overlevende vertelt haar heel aangrijpende levensverhaal.
In Kiryat Motzkin we visit the regional Amcha Center. The manager explains how Amcha works and a Holocaust surviver tells us the incredible story of her life. And - of course - there is food!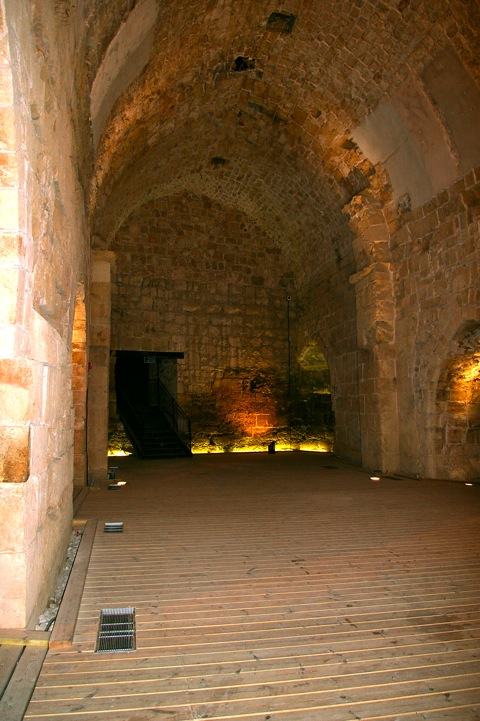 Volgende stop op weg naar Tveria is Akko. Ron laat ons een hele reeks archeologische sites zien, van de Romeinse tijd via Kruisvaarders en Ottomanen tot de 20e eeuw.

From Kiryat Motzkin we ride to Acre. Ron shows us several archaeological sites, from the Roman time, the Crusaders, the Ottoman empire and the British Mandate period.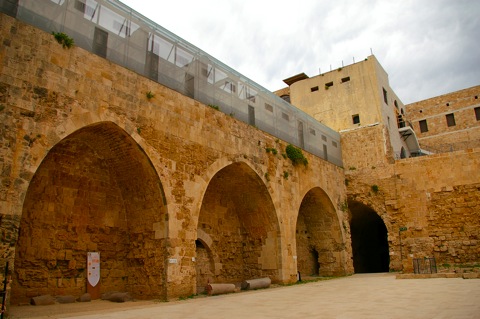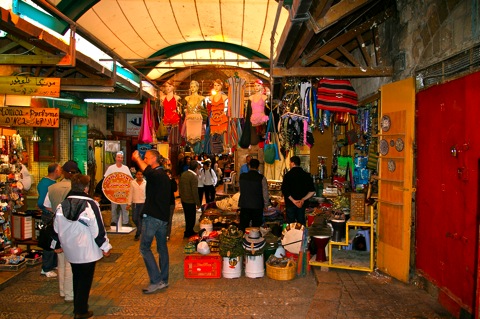 De souk. The Acre souq.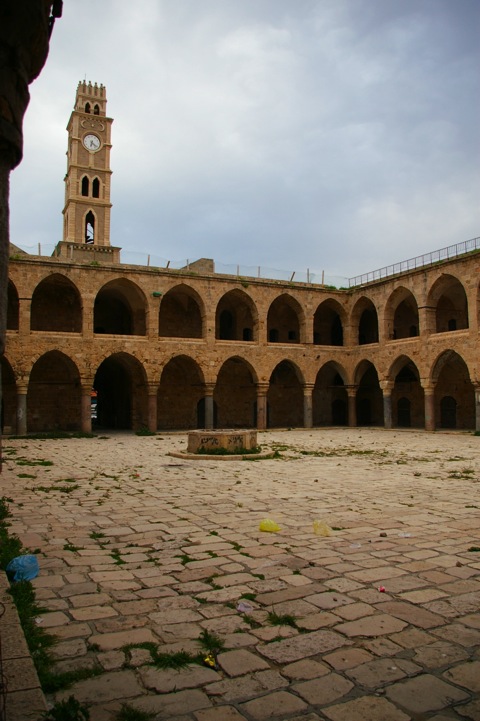 De caravanserai. The caravanserai.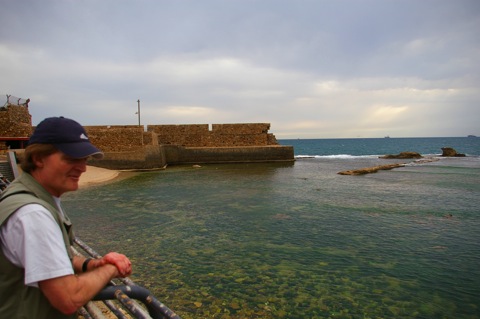 Dror kijkt uit over de Middellandse Zee. Op de bodem van het glasheldere zeewater zijn duidelijk de fundamenten te zien van de muren van het fort dat hier ooit stond.

One of our group members with the Mediterranean in the background. In the water one still can see where the walls of the Crusaders' castle used to be. 
Go to top of page