Modi'in
Donderdag/Thursday
Vertrek uit Jerusalem-Lunch in Jad Hasjemona-Modi'in-Ben Gurion-Schiphol

Jerusalem-Yad Hashemonah-Modi'in-Ben Gurion-Amsterdam A/P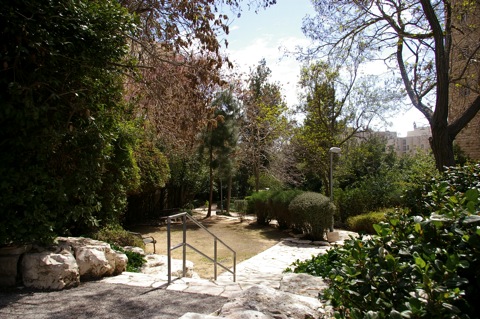 Omdat we pas om 11:30 h hoeven in te schepen in de bus, hebben we tijd voor een blokje om in Rehavia.

We leave at 11:30 AM, so after breakfast we have time to walk around a bit. We meet Ya'akov again and say bye-bye.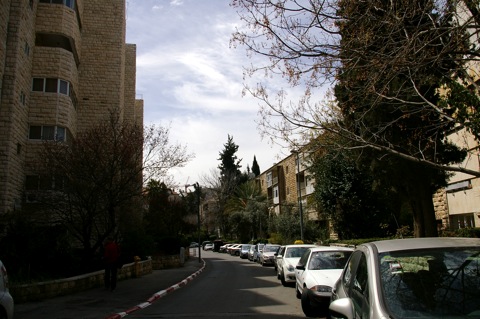 Misschien wonen hier de buren wier access point wij zo prettig mochten gebruiken.

Would this be the dwelling of the neighbours who so generously provided us Internet access?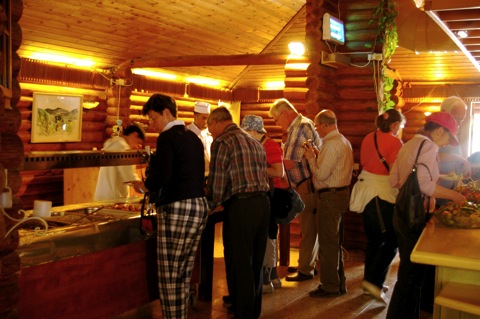 We lunchen in de kibboets Jad Hasjemona. Het blijkt een kibboets te zijn, gesticht door Finse christenen en "messiaanse joden". Toch serveren ze een heerlijke maaltijd. Achter de eetzaal is een "Bijbelse Tuin". De Amcha-leiding krijgt inspiratie voor een volgende reis.
We have lunch at the Finnish-christian kibbutz Yad Hashemona.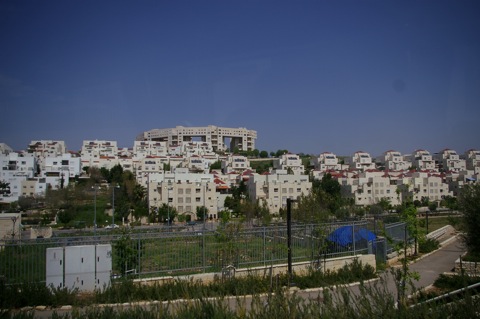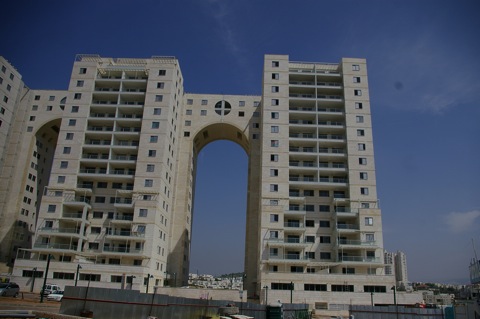 David, die in die stad woont, vertelt uitgebreid over Modi'in. Margalit vertaalt. Het is leuk mee te maken hoe trots David is op "zijn" stad. 

Our driver David lives in Modi'in. He drives through the city and proudly explains what there is to see. Margalit translates.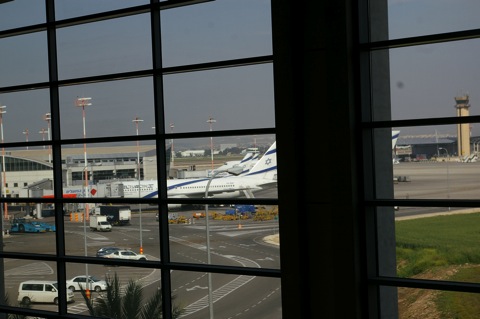 Op Ben-Gurion kunnen we als groep door de eerste security-check. Dat houdt in dat er alleen maar wordt gevraagd of je je koffer zelf hebt ingepakt. De rest van het inchecken tot en met het boarden verloopt in de gebruikelijke balagan. We vertrekken bijna een uur later dan gepland, nadat een groot aantal dubbelgeboekte passagiers in-, uit- en weer ingestapt zijn.

Ben-Gurion Airport is crowded as usual. The Hebrew word is "balagan". We take off an hour late.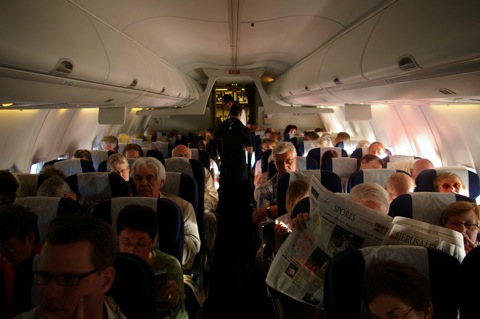 En nu zijn we weer op reis naar Schiphol. Onze groep zit ver naar achteren in de 737-700.

Here we are en route to Amsterdam.



Auto opgehaald op P3 en zonder problemen naar Beerse gereden. Om 00:20 h thuis. Even website updaten en dan lekker in ons eigen warme bedje!

Our car was sitting in the long term parking lot. After an hour and a half we were home. A provisional look at this website and then a long night sleep!
Go to top of page