Galil-Golan
Woensdag/Wednesday: Kfar Nachum, Gamla, Ginnosar, Ein Gev, Deganya Alef, Tveria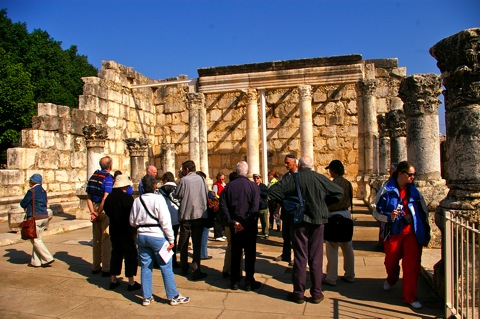 In Kfar Nachum (AKA Capernaüm, Kafarnaüm) bezoeken wij een archeologisch complex dat door Franciscanen vanaf de 19e eeuw wordt beheerd. Bij de wijze van conservering moeten uit wetenschappelijk oogpunt een aantal vraagtekens worden gezet. Zo wordt bovenstaand gebouw, vermoedelijk daterend uit de Byzantijnse periode, geadverteerd als de synagoge waar Jezus van Nazareth zou hebben opgetreden. 

The Franciscans have tried to reconstruct the ruins of Kfar Nahum (AKA Capernaum) where Jesus is supposed to have acted. This white building dates back from the 3rd to 5th century. Still they claim it is the synagogue where Jesus has preached. (The basalt foundations underneath may very well be those of that synagogue.)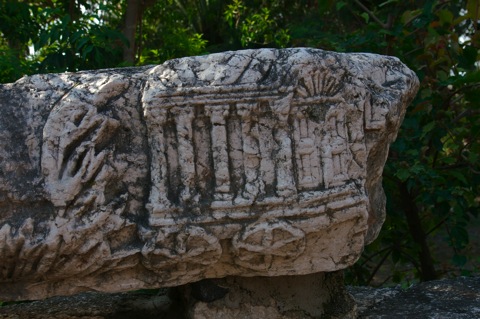 Deze "tempel op wielen" is misschien een gestyleerde voorstelling van een strijdwagen, misschien ook van de Ark des Verbonds.

Relief, possibly of a war charriot, possibly of the Ark of the Covenant in its cart.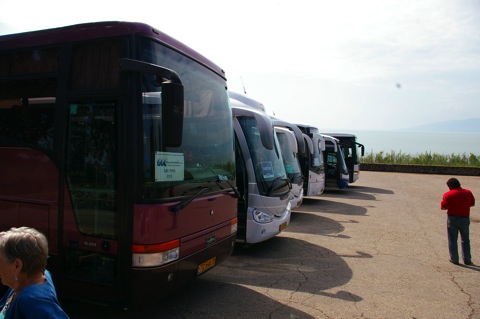 We waren de eersten en enigen die morgen. Maar toen we het terrein weer verlieten, helemaal niet meer. 

After we started our tour of the site, many more buses arrived.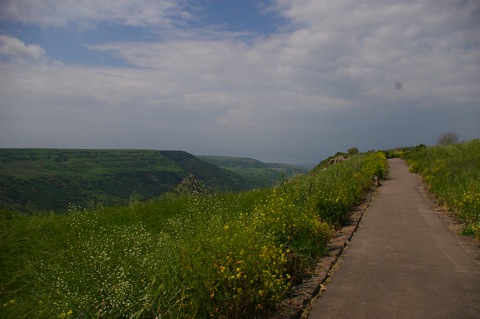 In de Golan bezoeken we het vogeluitkijkpunt en de opgravingen van de oude stad Gamla. De natuur is nog overweldigend groen.

Near the ancient city of Gamla in the Golan Heights we see the excavations (from a distance) and we look for the birds of prey.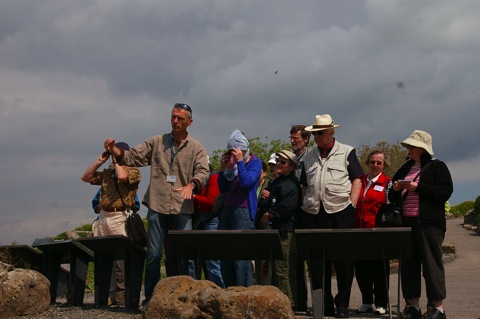 Ron vertelt ons het verhaal van de belegering van Gamla (66 ndgjt) en de afloop daarvan: een grootschalige collectieve zelfmoord en het afslachten van de overgeblevenen. Doordat Massada al meteen in 1948 binnen de Israelische grenzen lag, is het sterk vergelijkbare verhaal van Massada (70 ndgjt) veel bekender geworden.

Ron explains what happened in the year 66 CE when the Romans besieged Gamla. After the Roman legions eventually invaded the city, 5,000 Jews jumped from the cliff to their death. The remaining 4,000 were slaughtered by the Romans.
The story of Gamla is very similar to that of Massada, but it never reached the same level of fame because the Golan area has been Syrian until 1967.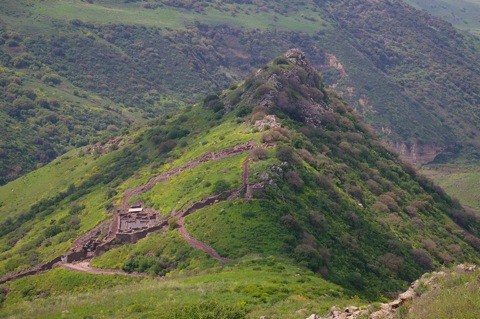 Ook op deze grote afstand is de oorspronkelijke lay-out duidelijk te zien.

Even from a distance one can clearly see where once was a city.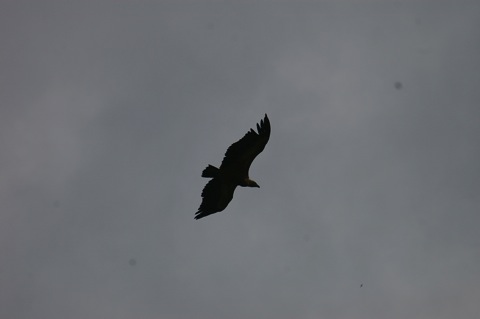 Door verkeerd gebruik van vergiften heeft er een grote sterfte plaatsgevonden onder de gieren. De paar die wij statig konden zien zweven, hebben het kennelijk overleefd.

The vulture population was decimated by poisoning. Some farmers put poison on cattle carcasses to eliminate wolves. But if a group of vultures discover the carcass first, that whole group will die.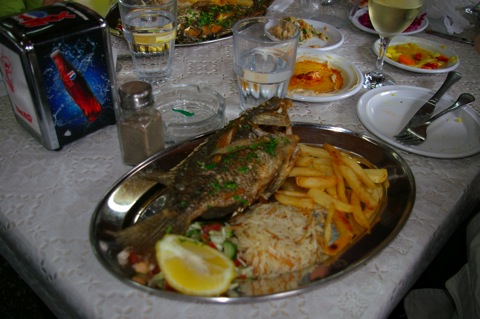 In Ginnosar lunchen we. De liefhebbers bestellen de zgn. Petrusvis, een zoetwater-tilapia met zo te zien behoorlijk wat graten en graatjes. Wij kiezen de lekker gekruide kebab.

The Ginnosar restaurant where we take our lunch, is famous for the "St. Peter fish" they serve. Because of the amount of bones in the fish, we keep to beef kabab.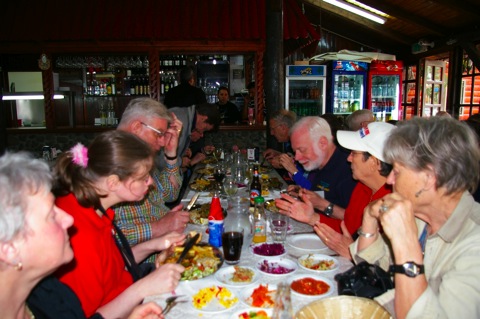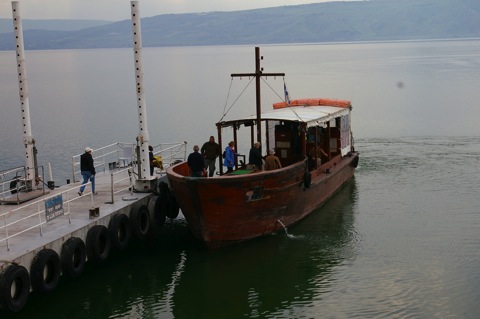 Ons "rondje Kineret" brengt ons in Ein Gev, waar we een boottocht over het meer maken met deze, in 1967 in Amsterdam gebouwde, houten boot,
A boat trip on a mirror-like Kineret from a jetty in Ein Gev.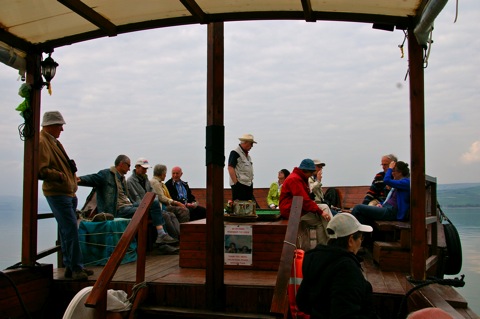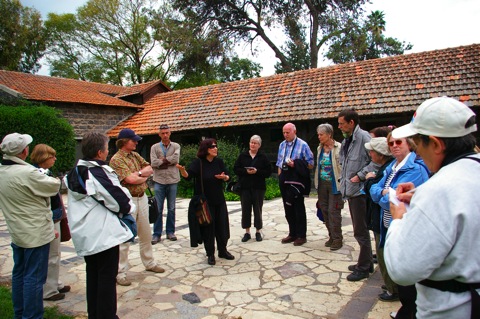 Laatste agendapunt vandaag is een bezoek aan Deganya Alef, de eerste kibboets ever, gesticht in 1912 door seculiere Oekraïeners. Irith brengt op betrokken wijze de geschiedenis van ontstaan tot heden aan ons over, af en toe aangevuld met Ron's ervaringen uit zijn kibboets. 

The last event today is a visit to the very first kibbutz in the country, Deganyah Alef, founded in 1912.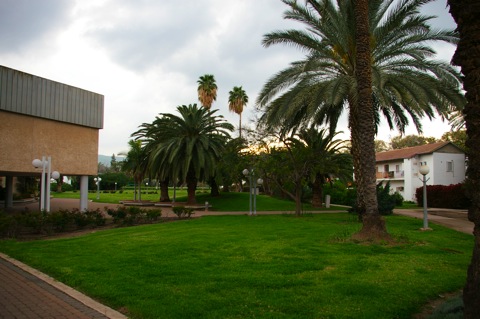 Het was alweer een stevig gevulde en heel interessante dag!

One more quite full but very interesting day!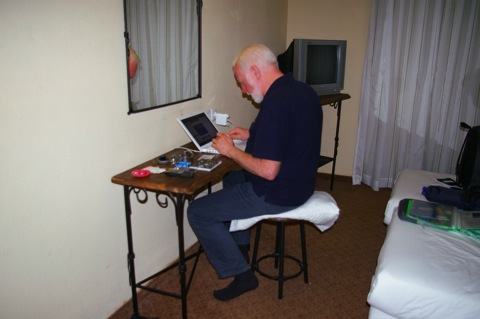 En zo wordt de website dezelfde dag nog bijgewerkt.

Back at the hotel we copy the photos from the camera to the MacBook and update the website.