Amman-Petra
Vrijdag/Friday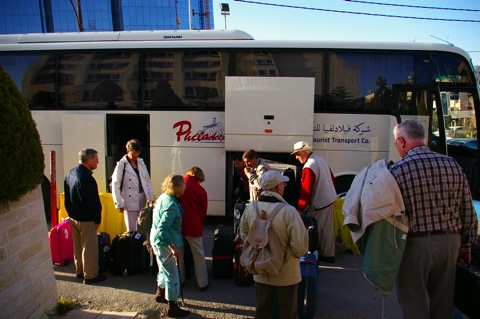 Onder het toeziend oog van Nadjeh wordt de bagage door de bellboy ingeladen. Zodra je zeker weet dat je koffer is geladen, mag (moet) je instappen.

Nadjeh supervizes the loading of the luggage. As soon as one is sure his/her luggage is on board, he/she has to board the coach.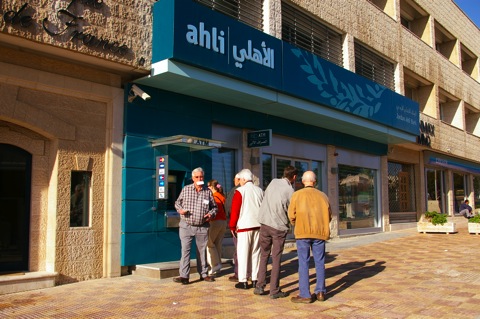 Nog in Amman hebben we gelegenheid dinaren uit de muur te halen.

After ten minutes we stop at an ATM for dinars.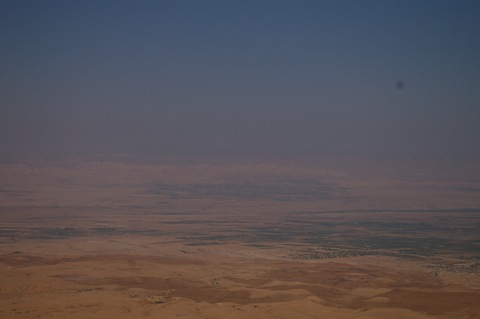 Dit moet zo ongeveer zijn hoe Mosjé Rabbenoe het land voor zich zag, dat hij niet mocht binnengaan.

View from Har Nevo on Kanaan, as Moshe Rabbenu must have seen it.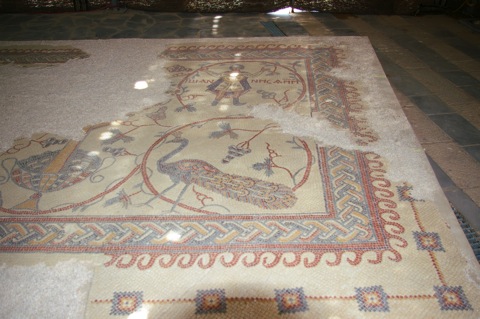 Op de berg Nevo hebben de Franciscanen een katholiek bedevaartsoord gesticht. De kerk aldaar heeft een fraai mozaïek op de vloer.

On Mount Nevo the Franciscans have established a Catholic pilgrimage place. Part of it is this mosaic church floor.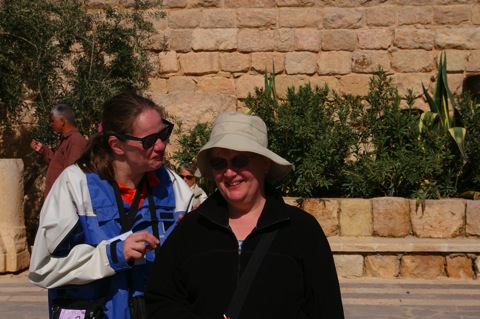 Lilian moet erg hard lachen als Sylvia haar vertelt dat onze wekker om 02:30 h was afgelopen en dat ik me had geschoren, tanden gepoetst en gedouched, voor we er achter kwamen dat we nog vier uur konden slapen.

Sylvia told Lilian how we got up at 2:30 AM because of a faulty alarm clock. Lilian seemed to like the story very much.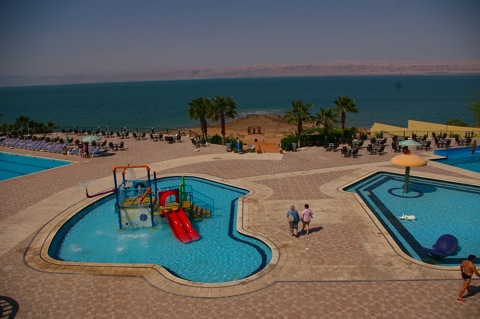 Koffie, zonnen, zwemmen en lunchen in het luxe Dead Sea Spa Resort.

Coffee, sunbathing, swimming and lunch at the poche Dead Sea Spa Resort.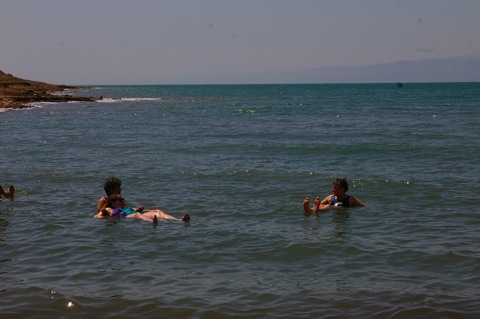 Het "zwemmen" in de Dode Zee blijft een evenement!

Experiencing the extreme buoyancy in the Dead Sea is something special!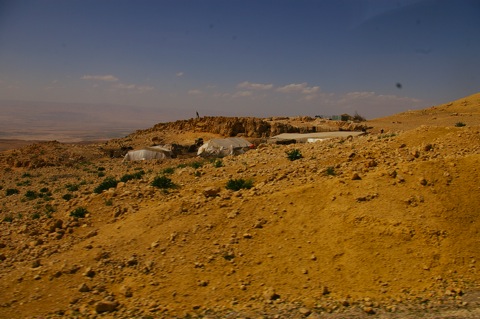 Verder richting Madaba is het land dor en droog. Toch wonen hier mensen.

Further in the direction of Madaba the countryside is barren and dry. Still there are humans living here.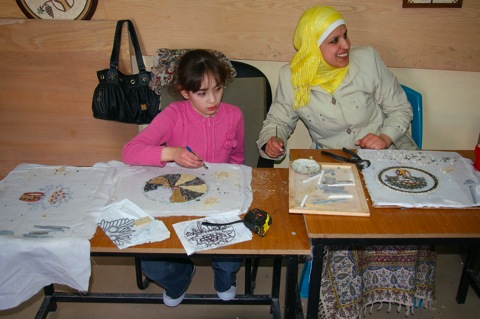 Nadjeh brengt ons naar een atelier waar vrijwilligsters mozaïeken maken ten behoeve van gehandicapte familieleden.

In some small mosaic workshops women make mosaic art to be sold to earn money for handicapped relatives.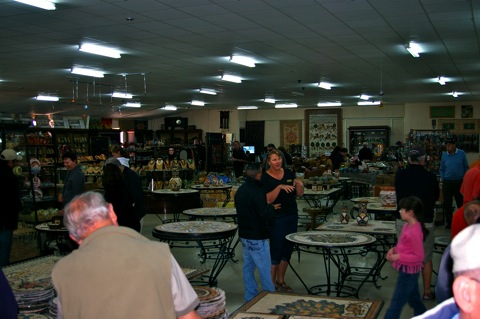 Achter een tussendeur blijkt een gigantische souvenirwinkel schuil te gaan.

Behind the small workshop is this huge souvenir shop.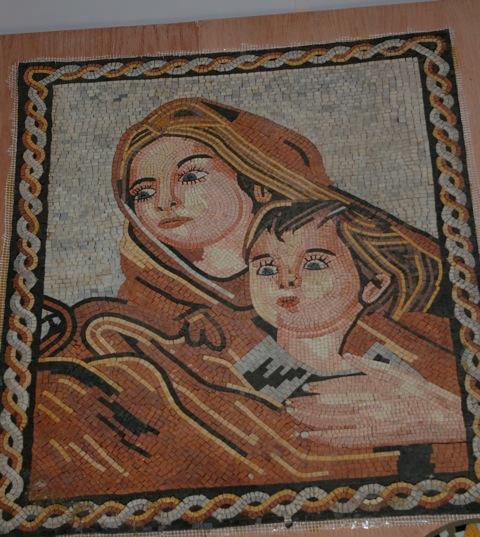 Niet alle mozaïeken spreken ons evenveel aan. Wat te denken van deze verwilderde Madonna met kind?

This "Madonna with child" looks a bit wild, doesn't it?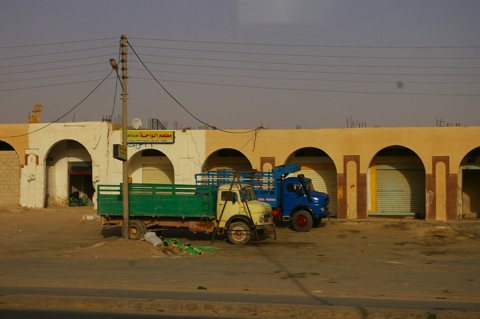 Vrijwel alle vrachtwagens in Jordanië zijn van het merk Mercedes. Ook van deze Kurzhauber zien we er tientallen.

These Kurzhauber trucks are just two of the dozens we see. Nearly all trucks are Mercedeses.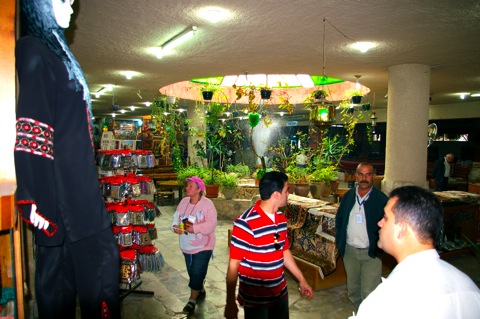 En route stoppen we nog een kwartiertje voor "coffee in, coffee out", zoals Ron dat noemde. Vanaf deze uitspanning is het nog dik anderhalf uur rijden naar Petra. Het grootste deel van die rit vindt plaats in een stofstorm die het zicht beperkt tot soms niet meer dan 20 meter en die de bus van links naar rechts laat zwalken op de weg.

After coffee and toilets in this big roadside café and shop, we continue to Petra. The trip takes longer than expected because a sandstorm badly affects visibilty and stability of the bus.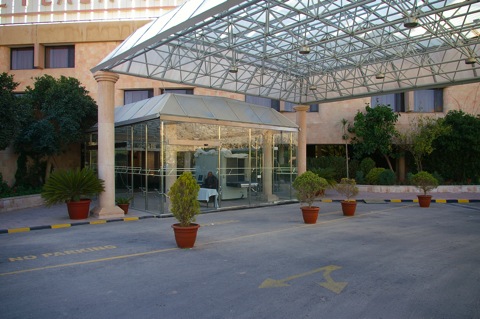 Het Petra Crown Plaza

The five star Crown Plaza.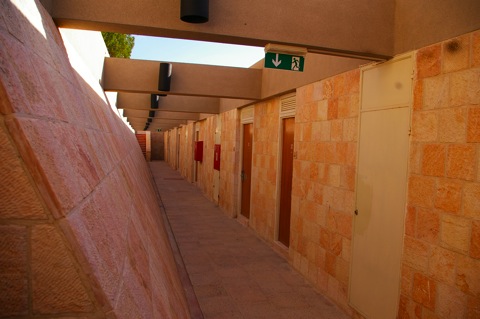 Zwerftocht door de tochtige loopgraven, tot je je kamer gevonden hebt. De kamer is mooi; de maaltijden prima; de bediening heel slecht.

Looking for ones room one has to walk through draughty trenches. Once you've found your room, it is very nice. The meals are also nice. The service, however, is utterly rude.
Go to top of page