Negev
Maandag/Monday
Tijdens de avondmaaltijd gisteren heeft de reisleiding besloten eerder te vertrekken dan gepland. Begrijpelijk, want het programma bevatte heel veel kilometers. Maar we vinden het sneu voor de mensen in onze groep die zich hadden verheugd het onderwater observatorium te kunnen gaan zien. Lilian en Hans zijn vroeg op pad gegaan. Zodoende heeft Lilian met de dolfijnen kunnen zwemmen. Ze is daar erg gelukkig mee.

Last night the tour leader has decided to leave today a few hours earlier than planned because of the long trip from here to Jerusalem. It is a pity for those in our group who looked forward to visit the underwater observatory. Lilian and her father have gotten up very early. Lilian has succeeded in swimming with the dolphins. She beams when she shows us the pictures of herself in a wetsuit!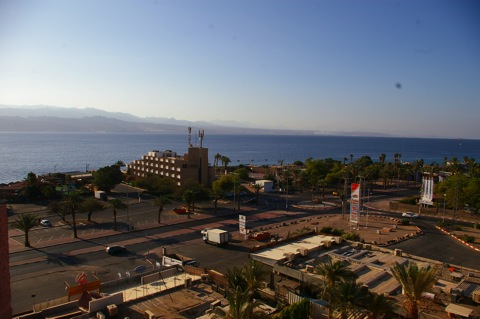 Uitzicht uit ons hotelraam. Aan de overzijde van de Golf is Jordanië te zien (en mogelijk rechts nog een stukje Saoedi Arabië; Jordanië heeft slechts 30 km kust).

View from our hotel room. Across the Gulf one can see Jordan and possible Saudi Arabia on the right hand side. The jordanian coastline is only 20 mi. long.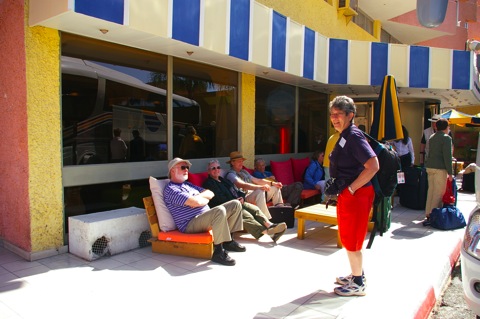 Eilat zoals we het ons voorstellen.

Eilat as it is presented in the tourist brochures.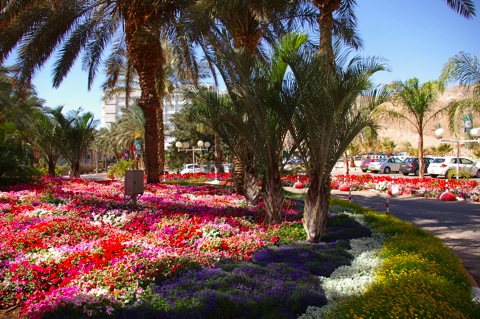 Met een klein beetje water blijkt er opeens van alles te groeien!

A little bit of water is all which is needed to change the desert into a flower garden.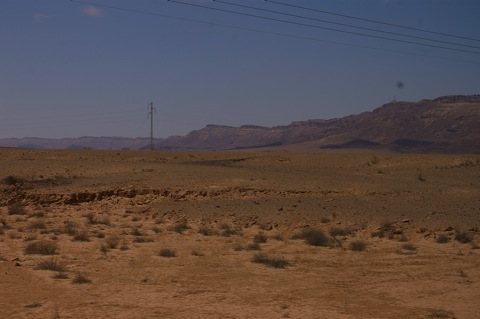 Vanuit Eilat gaat het noordwaarts door de Arava-vallei. Overwegend droog met een groene streep waar een wadi af en toe water heeft bevat.

The Arava valley is very dry. Still the green vegetation shows where a wadi has contained water.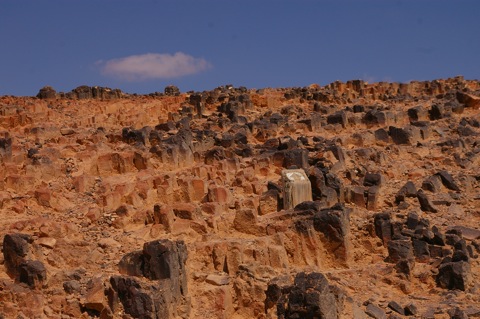 In de Ramon krater laat Margalit ons de "timmermanswerkplaats" zien, zo genoemd naar de staven gestolde lava die hier en daar als balken lijken te zijn opgestapeld.

Margalit shows us the "carpentry", so called after the stones that look like piled up wooden beams.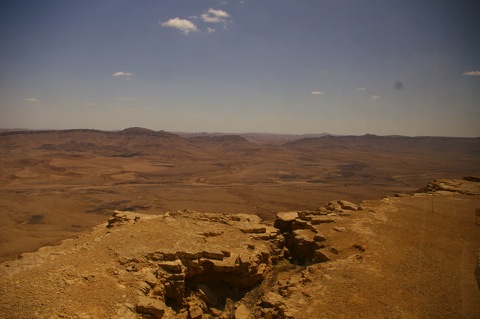 Uitzicht op de Ramon krater vanuit het bezoekerscentrum.

View on the Ramon crater from the top floor of the visitor centre.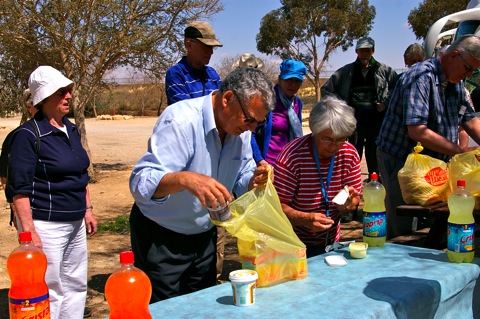 Margalit en David hebben een gigapicknick voorbereid met pitot, tonijn, kaas, maïs, dadel- en chocoladepasta, chalva, verschillende frisdranken. Als iedereen zijn/haar buikje vol heeft gegeten, blijft er nog voldoende over om een lokale bewoner blij te maken.

The giant picknick Margalit and David have prepared leaves us with a full tummy. A local passer-by is happy with the left-overs.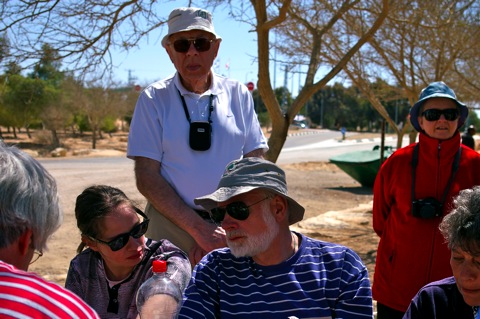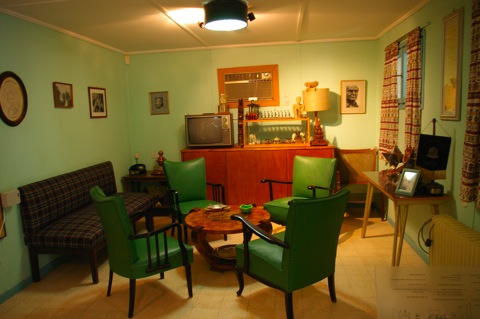 In S'de Boker zien we de bungalow van David en Paula Ben-Gurion. Hoe zo'n groot man genoeg had aan een relatief eenvoudige woning!

"Ben-Gurion's hut" in Sede Boqer is hardly a hut!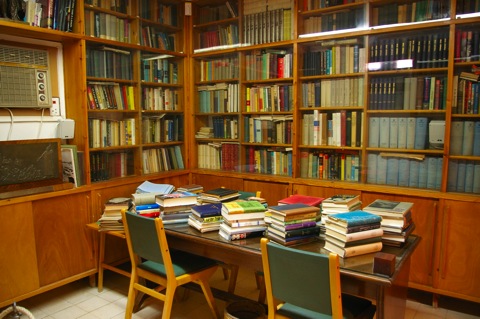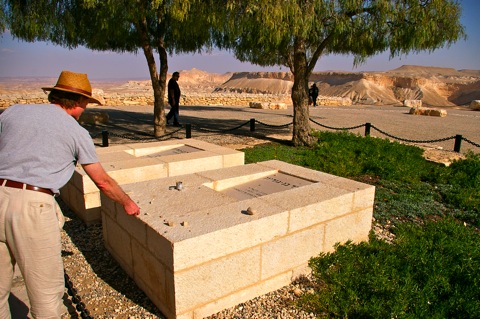 We leggen een steentje op de graven van Paula en David.

The graves of David and Paula,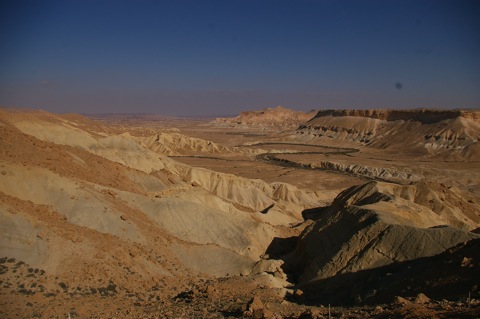 Vanaf het plateau van de graven heb je een ongelooflijk uitzicht over de Tzin vallei.

The amazing view on the "Wilderness of Zin" from the Ben-Gurion graves site.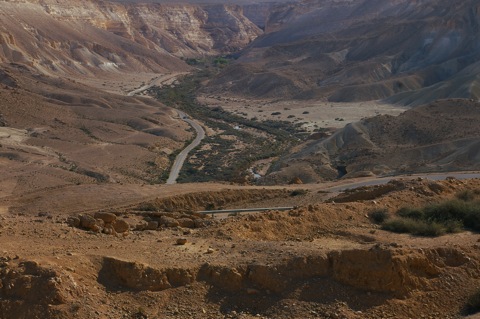 De Tzin rivier bevat zowaar nog een klein beetje water. Vorige week was het nog een wild kolkende stroom.

The river Zin is not yet completely dry. Last week it was an impressive stream.


Rond 19:00 h komen we aan bij het Prima Royale Hotel in Jerusalem. Hier zullen we de resterende nachten van deze trip slapen.

About 7 PM we arrive in the Prima Royale Hotel in Jerusalem. We'll sleep here the remaining nights of this trip.
Go to top of page