Tokaanu-Auckland
10 december 2007: Tokaanu-Rotorua 133 km

's Nachts regent het en de volgende ochtend is Mount Tongariro onzichtbaar. Dus gaan we richting Rotorua. Aan de kust van Lake Taupo zien we zwarte zwanen en kleine albatrossen. De overzijde van het 30 km brede meer is vandaag nauwelijks zichtbaar.
It has been raining all night and when we wake up Mount Tongariro cannot be seen. So we decide to drive straight to Rotorua.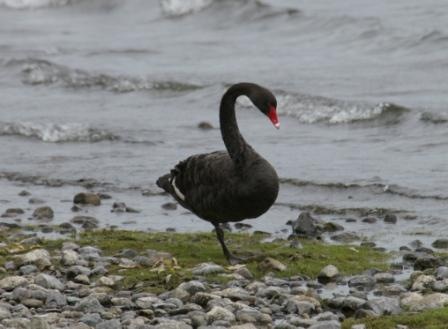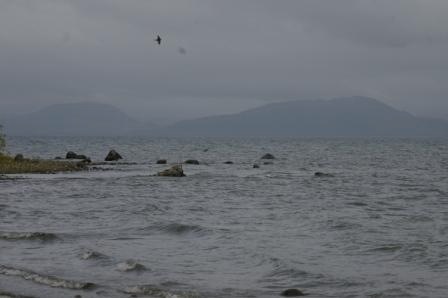 Van Taupo nemen we de "Thermal Explorer Highway" (SH5) met aan beide zijden een aantal "thermal valleys". In Rotorua bezoeken we Te Puia, een vulkanisch park en een Maori cultureel centrum.
From Taupo we take the "Thermal Explorer Highway" (SH5) with "thermal valleys" on both sides. In Rotorua we go to see Te Puia, a volcanic reserve and a Maori cultural centre.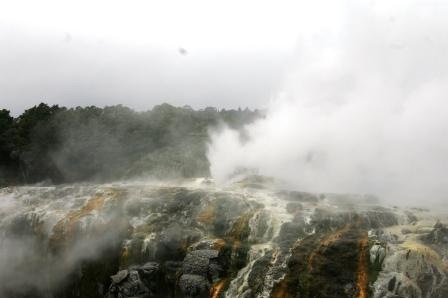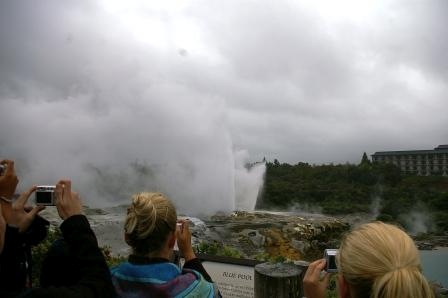 Op verschillende plaatsen langs het pad spuit stoom uit gaten in de grond. De oorspronkelijke bevolking maakt hiervan gebruik om maaltijden te bereiden.
Dit plateau is gevormd door neergeslagen mineralen uit het water van de Pohutu geiser. Deze spuit af en toe gedurende langere tijd (tot ruim twee uren aan toe) tot wel 20 meter hoog. Dat er daarbij veel water vrijkomt, hebben we aan den lijve gemerkt. We hebben overigens vandaag voor het eerst deze vakantie onze regenjacks aan.
Steam escapes from holes in the ground. The Maori population uses these holes to cook their meals.
The plateau on the picture consists of minerals that precipitate from Pohutu geyser's water. Pohutu erupts on average once or twice each hour and can reach heights of up to 70 feet. We are lucky we are wearing our rain coats (first time this vacation) because the geyser's water spreads widely.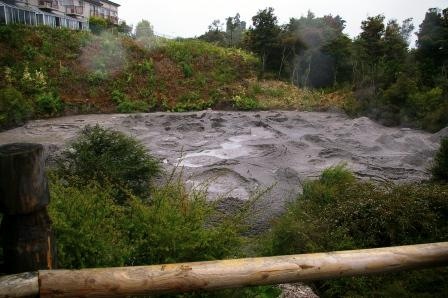 In deze en soortgelijke modderpoelen borrelt oververhitte zure stoom door vloeibare kaoline (klei).
Het harde gesteente lost hierbij op, zodat het grote hotel op enkele tientallen meters afstand van deze poel binnenkort zal moeten verhuizen.
Large pools of boiling mud are the result of acid gases and steam that cause the decomposition of minerals to form a clay called Kaolin.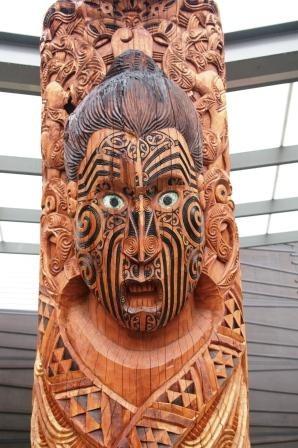 Een voorbeeld van het alom aanwezige houtsnijwerk waarin de voorvaderen worden afgebeeld.
In the omnipresent intricate design of woodcarving the ancestors are depicted.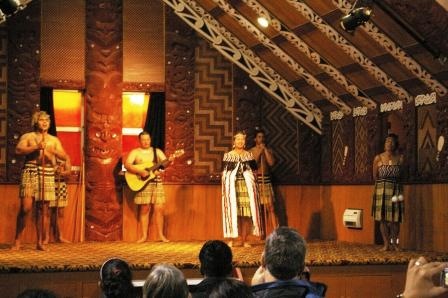 Onderdeel van de rondleiding is een show van traditionele dans en zang van de Maori's.
Part of the tour is a cultural show of traditional Maori song and dance.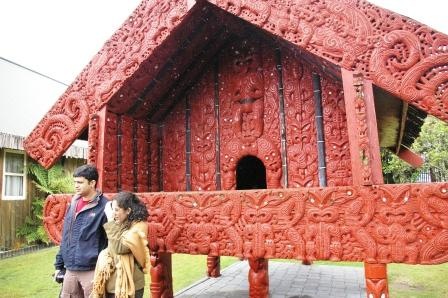 Deze voorraadschuur toont volop houtsnijwerk. De voorstellingen hebben de functie van geschreven taal.
Because Maori did not have a written language, the carved images tell stories that are passed down through the ages.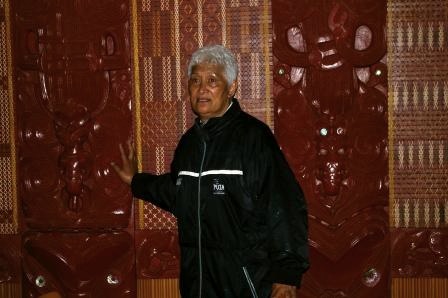 Onze gids Ana geeft uitleg bij de architectuur van het ontmoetingshuis Te Aronui a Rua.
Ana, our guide, in Te Aronui a Rua meeting house.

Na ons bezoek dat vijf uur duurde, vinden we een slaapplaats aan de rand van Rotorua. Er zijn niet veel restaurants in deze buurt, maar de mevrouw van de Indiase Takeaway is zo vriendelijk speciaal voor ons enkele gerechten in overeenstemming met het kasjroet te brengen. Het was alweer erg lekker!
We spent five hours at Te Puia and afterwards stay at the Roturua Redwood Family Park. We have a nice Indian meal at a small takeaway place across the street. The lady kindly cooks some kosher-style dishes specially for us.

11 december 2007: Rotorua-Waihi Beach 167 km

Via SH30, SH33 en SH2 ("Pacific Coast Highway") rijden we van Rotorua naar Tauranga. Net buiten Tauranga zien we een stel Pukeko's in het gras langs de weg rondscharrelen. Deze vogel hebben we al veel in de souvenirwinkels afgebeeld gezien. Hij schijnt zeldzaam te zijn!
In Otumoetai zoeken we Bert Priest op, Ernst's huisbaas in Massey, 29 jaar geleden. We lunchen gezamenlijk in het shoppingcenter aan de overkant van de weg. 's Middags vervolgen we de Pacific Coast Highway naar het Noordwesten. We stoppen na een paar uur in het Bowentown Holiday Park, gesitueerd op de uiterste punt van de landtong tussen de Stille Oceaan (die vandaag niet zo stil is) en Tauranga Harbour.
We take the Pacific Coast Highway from Rotorua to Tauranga. There we see Bert, Ernst's landlord of 29 years ago. After lunch with Bert we continue our trip until we stop at Bowentown Holiday Park, on the extreme tip of the narrow peninsula between the Pacific and Tauranga Harbour.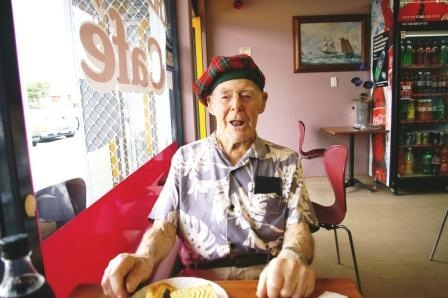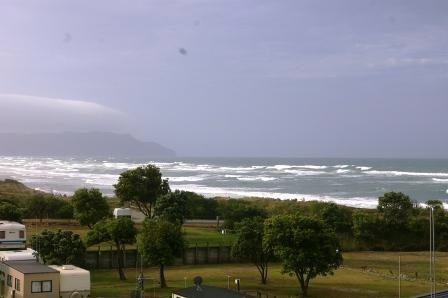 12 december 2007: Bowentown-Auckland 198 km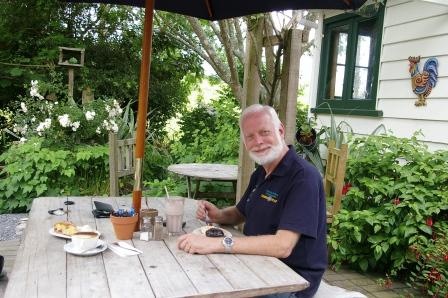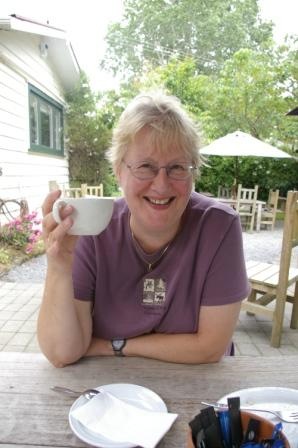 We vertrekken in de stromende regen van het motorcamp. Vanwege het weer besluiten we niet naar de Coromandel te gaan. Het wordt geleidelijk wel droog, maar het blijft zwaar bewolkt.
Bij een als café ingericht boerenhuis, laten we ons de koffie/thee met een cake-je best smaken.
Because of the rain we decide to skip our trip to the Coromandel peninsula. As soon as it is dry again we enjoy the baking skills of the chef of a nice country café.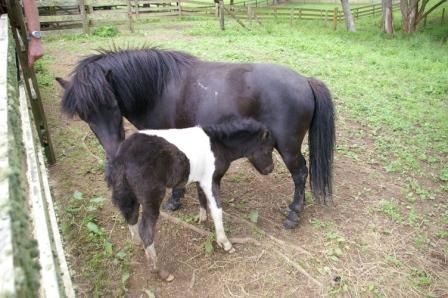 De boer/cafébaas nodigt ons uit naar zijn één week oude veulentje te komen kijken.
The café's owner asks us to have a look at this foal, one week old.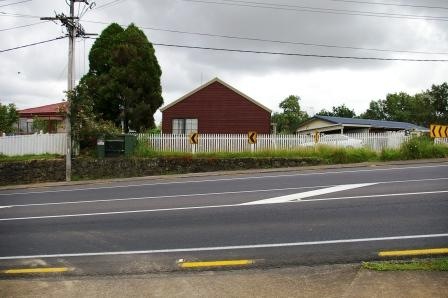 Via een heuse autoweg rijden we Auckland binnen en aan de westkant weer uit. De grote wijngaarden langs Lincoln Road zijn restloos verdwenen. Het huis waar Anat, Eva en Ernst 30 jaar geleden woonden, heeft plaatsgemaakt voor drie huizen.
The last bit of the State Highway 2 is a real motorway! The city of Auckland and the Henderson/Massey area have greatly changed. In most gardens some new houses have been constucted. Don Buck Road 34 now consists of A, B and C.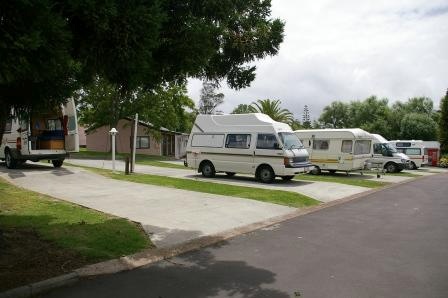 In Avondale boeken we de laatste drie nachten in het Kiwi Holiday Camp.
For the last three nights in NZ we find a place on the Avondale motor camp.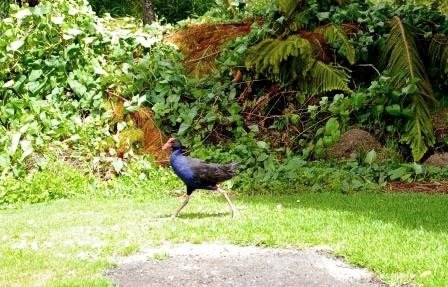 Behalve mussen, duiven en merels scharrelt er ook een pukeko door het gras.
Among the birds on the grounds is a pukeko with its bright red beak.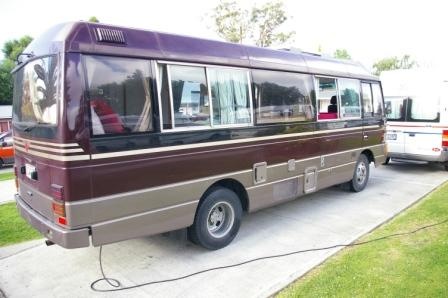 Op het Avondale motor camp staat ook deze fraaie kampeerbus. Jammer dat deze maat in Europa nauwelijks te vinden is!
We meet a NZ/English couple who live in this bus conversion. What a pity this size of bus hardly exists in Europe.



Go to top of page