New Plymouth-Tokaanu
8 december 2007: New Plymouth

Eindelijk eens uitgeslapen. Je moet hier namelijk altijd al om 10 uur van het motorcamp weg zijn, dus dat is behoorlijk doorwerken voor ons. Maar hier zullen we twee nachten blijven omdat we vandaag Marie-José zullen gaan bezoeken. Naar haar huis blijkt een stevige wandeling, hoewel het op de kaart wel meeviel. Het is vandaag zonnig en warm en we moeten bergop ...
Because we booked for two nights, we don't have to check out before 10 AM this time. This means a lazy morning! Although is seems very close on the map, it turns out to be quite a stroll from our campsite to Marie-José's house. Specially because the weather today is sunny and hot and because we have to walk uphill.

We maken gebruik van haar internetverbinding om mail te lezen en het blog bij te werken. Daarna gaan we wandelen in het Pukekura Park en het Brooklands Park. Ongelooflijk hoe rustig en groen het hier is. In de Bowl of Brooklands heeft twee dagen geleden Elton John opgetreden. De kaartjes kostten NZ$ 200 en dat in de stromende regen.
We may use her broadband Internet to update the weblog and read our mail. After that she takes us to the Pukekura Park and the Brooklands Park. Very quiet and peaceful. Two days ago Elton John gave his one NZ concert in the Bowl of Brooklands in the rain. Tickets were NZ$ 200.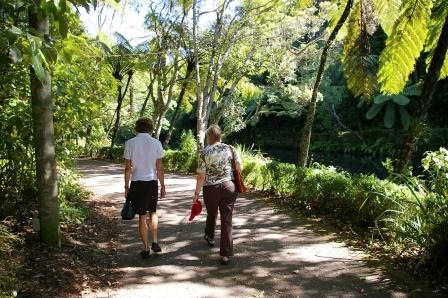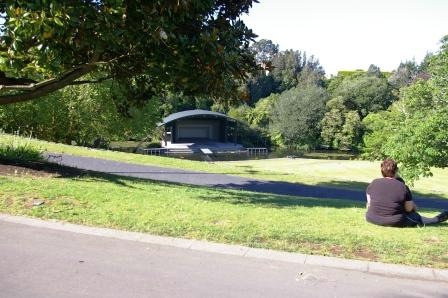 's Avonds hebben we Marie-José mee uitgenomen. We hebben trendy Indiaas gegeten (èn lekker!) bij Pankawalla.
That night we had a nice Indian dinner at Pankawalla, a trendy place in downtown New Plymouth.

9 december 2007: New Plymouth-Tokaanu 251 km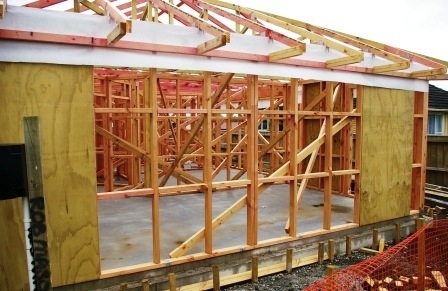 In Stratford zien we een mooi voorbeeld van de houtskeletbouw, die hier overal wordt gebruikt. De huizen zijn hier duidelijk goedkoper dan in West-Europa.
Almost all NZ house have a timberframe construction. Houses here are not as expensive as in Western Europe.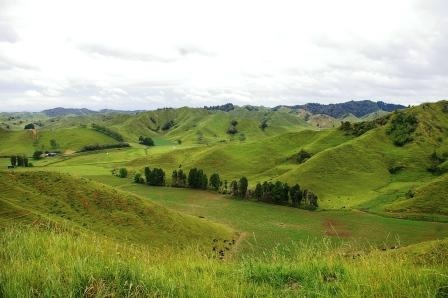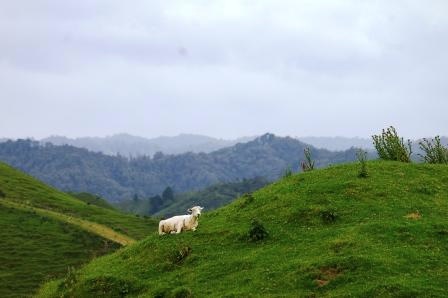 Vanuit Stratford nemen we de "Forgotten World Highway" (SH43), 155 km, waarvan 12 km nog ongeplaveid, en zonder één enkel benzinestation. Het lijkt alsof de tijd hier heeft stilgestaan.
From Stratford we take State Highway 43, nicknamed "Forgotten World Highway", 96 miles, partly unsealed and without any petrol stations. Here time has stood still.

Langs SH43 zijn een groot aantal historische sites te vinden.
There are several heritage sites along the SH43.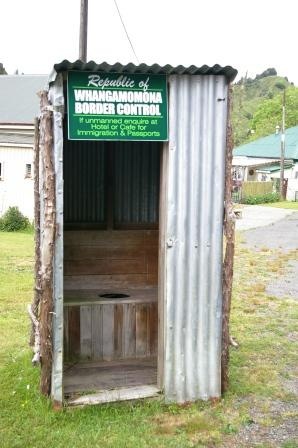 Whangamomona is een van deze historische plekken. Op vrijwel elk pand vermeldt een bord de geschiedenis ervan.
Whangamomona is one of these sites. There are signs on most of the old houses telling their history.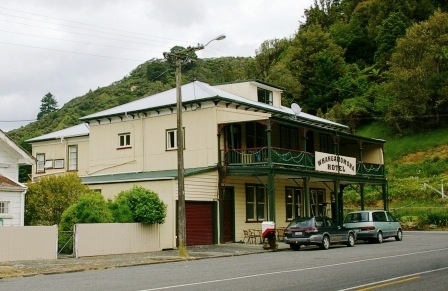 Hier is in 1989 de republiek uitgeroepen, omdat men het niet eens was met de regionale herindeling. Er is dus een heuse grenspost; let op de zitplaats van de douanier. In het Whangamomona Hotel zijn paspoorten van de republiek te verkrijgen. Ondanks de volledig geïsoleerde ligging hebben ze al enkele keren een prijs voor de beste pub gewonnen.
In 1989 the people of Whangamomona proclaimed the republic in protest against regional government boundary changes. The local hotel sells passports. This hotel -in the middle of nowhere- has won several awards over the last few years.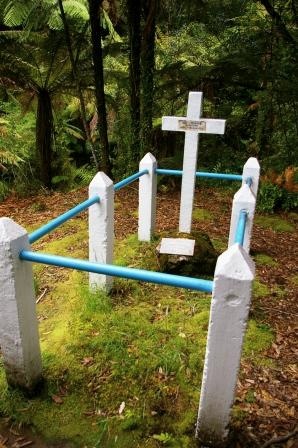 Verderop bevindt zich het graf van Joshua Morgan, de pionier-landmeter die in 1893 op deze plek onder primitieve omstandigheden op 35-jarige leeftijd, vermoedelijk aan een buikvliesontsteking, is overleden. De as van zijn vrouw is 60 jaar later bij hem verstrooid.
A few miles further is Joshua Morgan's grave. The respected early surveyor died of suspected peritonitis and was buried at this site in 1893, aged just 35. His wife Annie never remarried, and waited 60 years to lie with her husband again when her ashes were scattered at the site.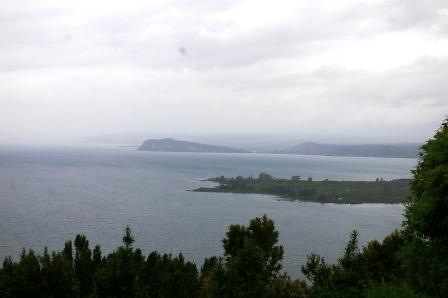 Uiteindelijk komen we uit bij Lake Taupo. Het zicht is inmiddels afgenomen.
When we reach Lake Taupo, the visibility has deteriorated.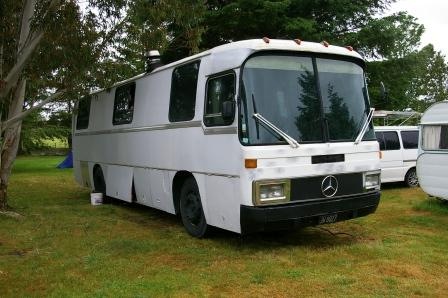 We overnachten in Tokaanu, omdat het motorcamp hier beschikt over thermische baden met natuurlijk mineraalwater (heerlijk warm en geneeskrachtig) en bubbelbaden met gewoon water. Buiten regent het maar wij zitten lekker warm in bad. Daarna brengen we nog even een bezoekje aan Michael en Claire die sinds kort wonen in hun gezellig ingebouwde O303. Een van de eerste Mercedessen die we in dit land zien.
The Tokaanu motorcamp offers its campers nice, hot and healing thermal pools and also "ordinary" whirlpools. Soaked clean again. Outside it has started to rain.
We meet Michael and Claire who live in their cosily coverted Mercedes O303 coach, one of the very few Mercedes coaches we have seen in this country.