Hokitika-Picton
1 december 2007

De baas van het motorcamp had ons geadviseerd een rondje om Lake Kaniere te maken met een zijsprongetje naar de Kowhitirangi, de Hokitika gorge en de Rimu Lookout . Dat hebben we gedaan en daar hebben we geen spijt van!
Our host at Hokitika motorcamp advised us to have a look at Lake Kaniere, Kowhitirangi, the Hokitika gorge and the Rimu Lookout. This turned out to be worth while!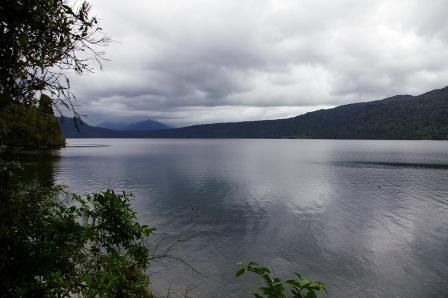 Lake Kaniere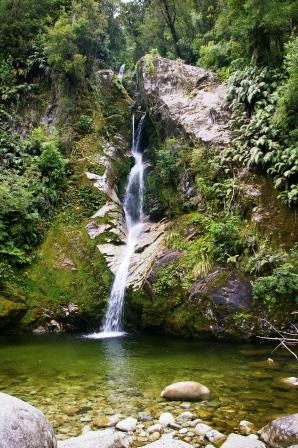 Dorothy Falls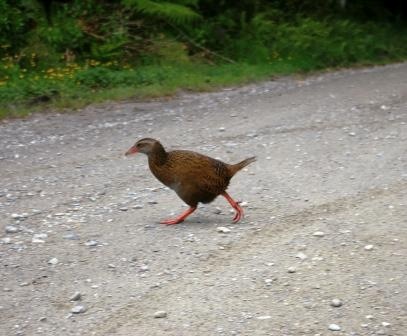 Deze kip bij de waterval is vermoedelijk een weka.
We think this bird may be a weka.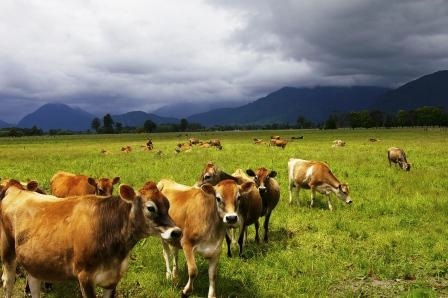 Nieuwsgierige kalveren achter het monument voor het Kowhitirangi Incident memorial, op de plaats van NZ's eerste massamoord.
Behind the Kowhitirangi Incident memorial some kind calves came looking what we were doing.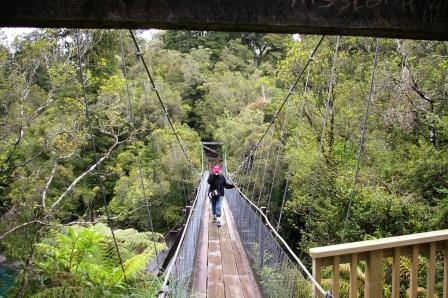 Hangbrug over de Hokitika gorge.
Swingbridge across Hokitika gorge.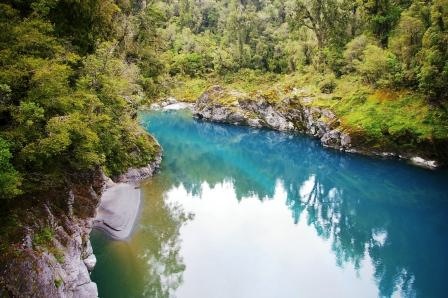 Hokitika River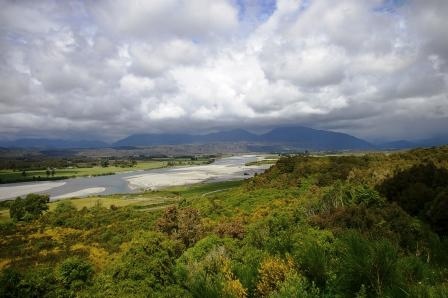 Voor de "goldrush" van 1880-1950 kronkelde de Hokitika River zich hier door een rimu-woud. Daar is weinig van over.
The native rimu forest was nearly completely cut down by golddiggers from 1880 to 1950.
Ons verblijf in Hokitika hebben we afgesloten met een bezoek aan Eco World, het plaatselijke aquarium, annex "National Kiwi Centre". Interessant waren vooral de tuatara (een voorhistorische hagedis) en de reuzenpalingen, maar het leukste was... de kiwi! Die scharrelde in het schemerduister rond, met z'n lange snavel in de grond poerend, op zoek naar insectjes. Toen het licht aanging, kort na sluitingstijd, wist-ie niet hoe vlug hij in z'n ondergrondse hol moest duiken.
Finally we paid a visit to Eco World, the " National Kiwi Centre". They had on display a couple of tuataras (living fossile lizards), a huge tank with a lot of giant eels and... a real live kiwi.
When they switched on the lights at closing time, the bird quickly disappeared in its hole in the ground. Fascinating!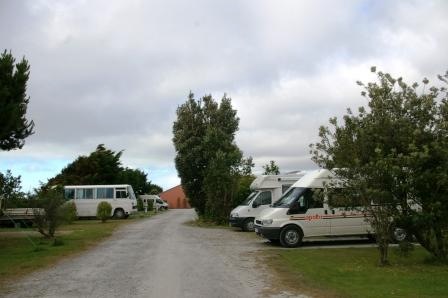 Een half uurtje rijden naar het Noorden vinden we een motorcamp in Southbeach, een voorstadje van Greymouth.
Twenty miles north of Hokitika we find a suitable holiday camp in Soutbeach (Grey District).

2 december 2007

Vanuit South Beach vandaag 221 km gereden naar Westport.
A lazy Sunday with 137 mi from South Beach to Westport.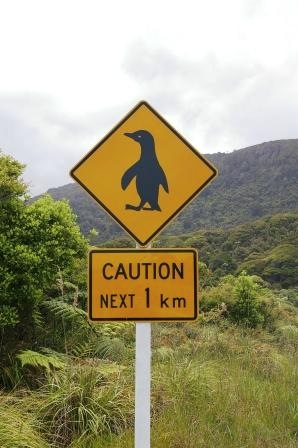 Langs dit deel van de kust schijnen pinguïns voor te komen. Jammer genoeg hebben we ze niet gezien.
Unfortunately this is the only penguin we have seen today.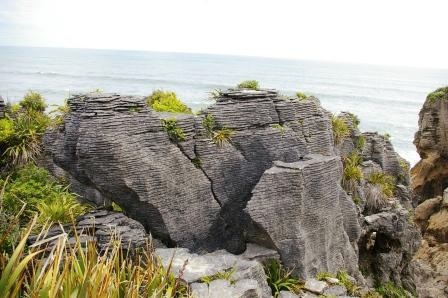 Maar we hebben wel deze boeiende rotsformaties gezien die Ernst sterk doen denken aan Indische spekkoek.
These rocks look like a pile of pancakes, hence their name.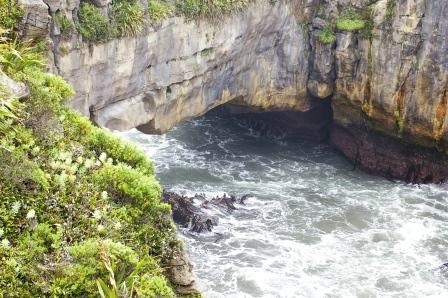 Door erosie ontstaan grote gaten ter hoogte van de waterlijn.
The surf eroded big holes over the past few millennia, nowadays called blowholes.

Ook zijn we vandaag de Nijl overgestoken.
Completely unexpected: we had to cross the river Nile.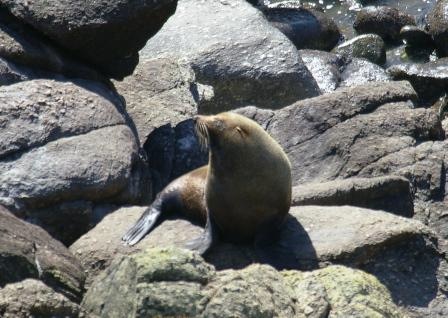 In de buurt van Westport is een kolonie Teneko zeehonden, prachtig om te zien hoe ze genieten van de zon en spelen in het water. Er zijn ook al jonge zeehonden.
Near Westport: a Teneko seal colony. They are basking in the sun and playing in the water.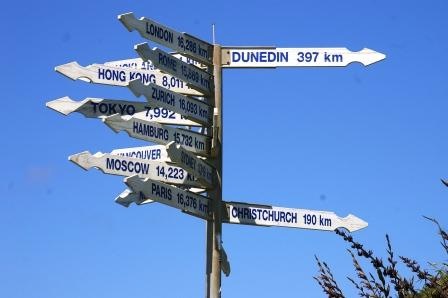 We zijn toch wel een stukje van huis .....
Home is far away ....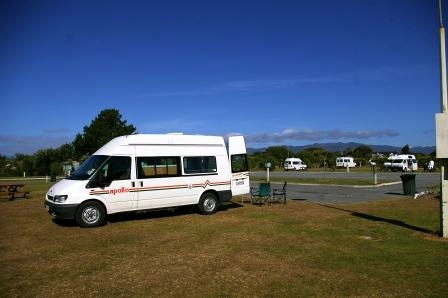 Het holiday park van vandaag heet Seal Colony. Vlakbij het strand en met uitzicht op de bergen.
Today's motor camp is called Seal Colony. Near the beach and with a view of the mountains.

3 december 2007 - 229 km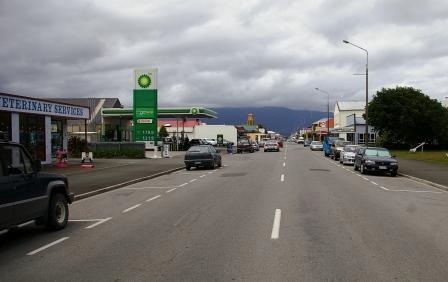 's Morgens eerst wat boodschappen gedaan in het Western-stadje Westport.
Westport looks like a Wild West town.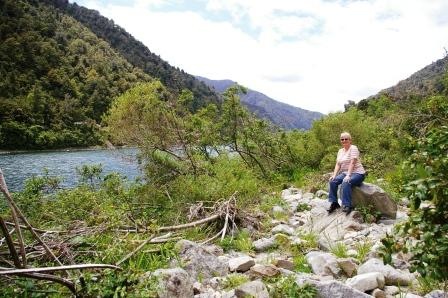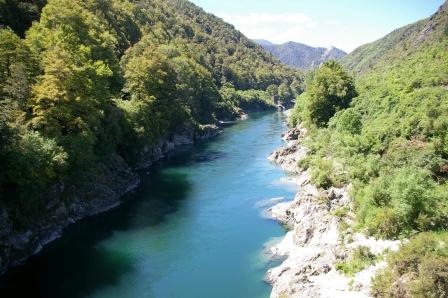 Vanuit Westport volgen we de Buller River in noordoostelijke richting.
From Westport we drive along the Buller river in northeastern direction.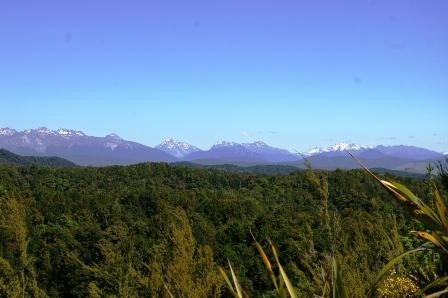 Onderweg is er een uitkijkpunt (Hope Saddle) waar we een laatste blik kunnen werpen op de Southern Alps.
The Hope Saddle lookout allows us to say goodbye to the Southern Alps.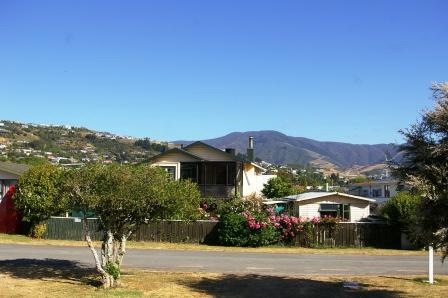 Vlak voor Nelson zien we de eerste wijngaarden. Ook is hier fruitteelt. Nelson zelf is weer helemaal bewoonde wereld (40.000 mensen). Het lijkt of elke vierkante meter gebruikt is voor woningbouw. Een heel verschil met het dunbevolkte Westen. Maar dit is dan ook de stad waar de Nieuw-Zeelanders – als ze mochten kiezen – het liefste zouden wonen.
In the Nelson region one finds wineries and orchards. Nelson itself has 40.000 inhabitants. It is the most beloved place for New Zealanders to live in. So there are houses everywhere.

Morgen gaan we naar Picton en de dag erna met de ferry naar Wellington. De overtocht duurt drie uur.
Tomorrow we'll drive to Picton. The day after we'll take the ferry to Wellington, which takes three hours.

4 december 2007: Nelson-Picton 114 km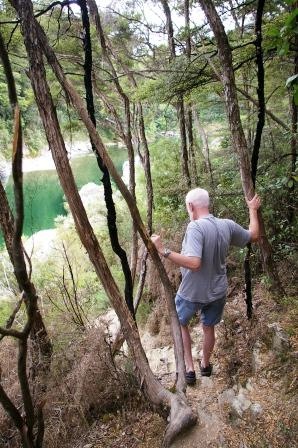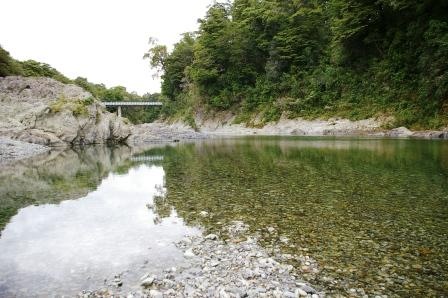 We volgen weg nr 6 door Nelson, eerst een stukje langs de Tasman baai, dan het binnenland in naar Pelorus Bridge. We nemen de moeilijke weg naar de rivier. Later ontdekken we 50 m verder een mooi strak grindpad...
State Highway 6 leads from Nelson to Blenheim. We take the first half, until Havelock. An hour after Nelson we cross the Pelorus River at Pelorus Bridge (name of both the bridge and the hamlet).

In Havelock verlaten we de 6 en gaan verder over de smallere Queen Charlotte Drive. De weg is nog steeds geasfalteerd en in prima staat van onderhoud, maar wel bochtig.
After Havelock we turn left along the Queen Charlotte Sound, so called by captain Cook, when he first landed in this area.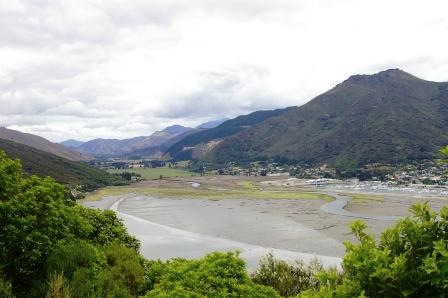 Havelock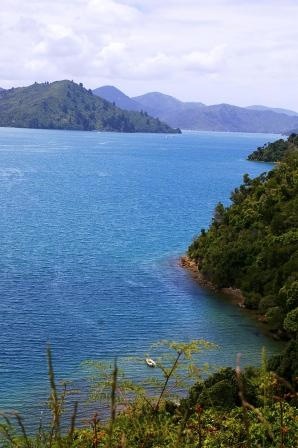 Queen Charlotte Sound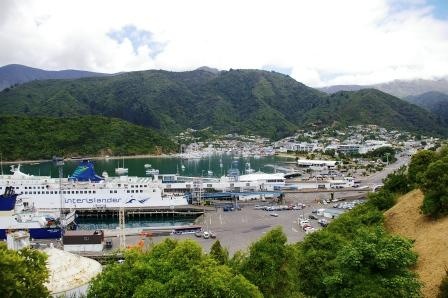 Na nog heel veel bochten komt Picton in zicht. Zo zien we meteen waar we ons morgen moeten inschepen.
After many more curves we see Picton and the ferry, which will take us across Cook Strait to Wellington.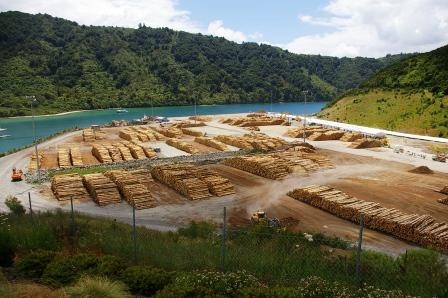 Nelson en Picton zijn bekend om hun houtindustrie.
Nelson and Picton have a thriving logging industry.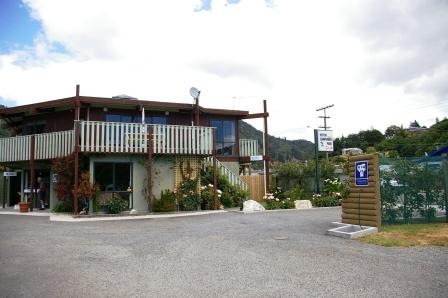 We vinden een plekje op het Picton Campervan Park, vlak bij de haven. Morgenochtend geen stress.
The Picton Campervan Park is an stone's throw away from the ferry terminal. Tomorrow morning will be a piece of cake.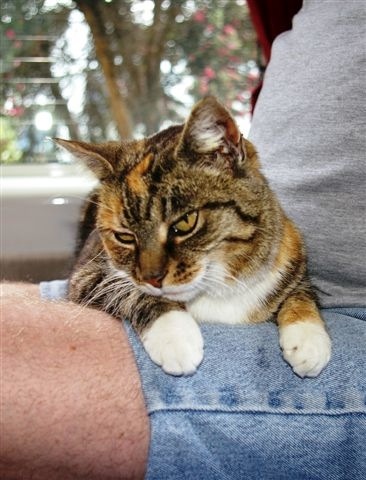 De poes van de beheerder komt de camper binnen en is nauwelijk meer weg te krijgen.
The Park's cat almost immediately picks our van as shelter.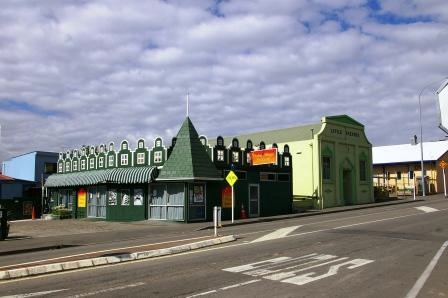 's Avonds nog wat door Picton gewandeld. De uithangborden van deze broodleverancier vermelden "bakkerij" en niet "bakery"!
Before our dinner we take a stroll through downtown Picton. What do you think of the Dutch gables of this bakery?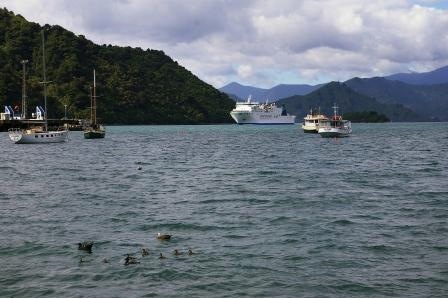 In de haven komt de late ferry aan.
We watch the ferry arriving. Have a look at the duck chicks.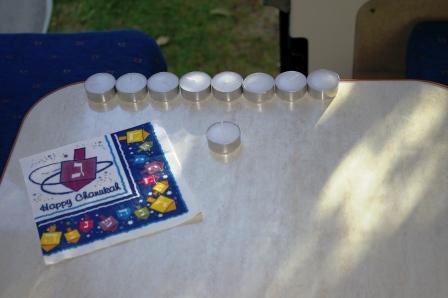 Chanuka sameach voor iedereen/for all of you!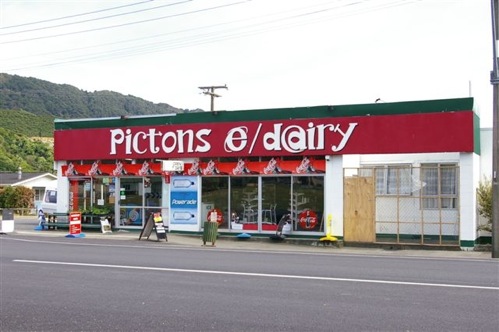 En dit alles wordt zichtbaar dank zij...
This post is sent to you through...