Beerse-Sgp
Beerse-Singapore
November 21st, 2007


Als eerste met onze eigen auto naar Rees
First we drove to Germany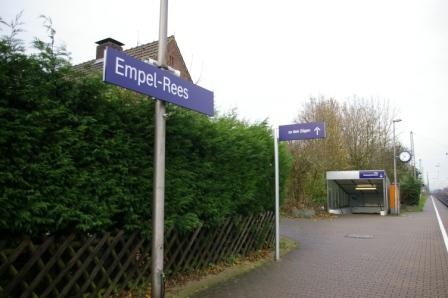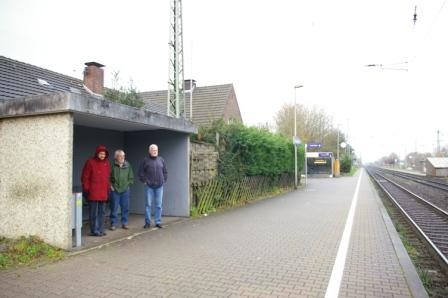 ... waar Simon en Els ons naar een nogal guur station brengen.
... and our friends who live there brought us to a wet and windy railway station.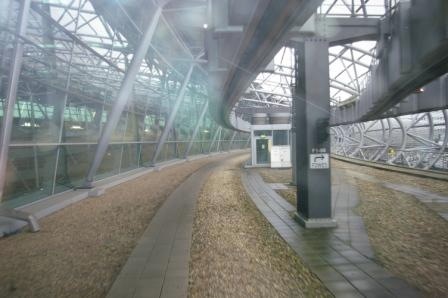 Zoals te verwachten brengt de Regional-Express ons in "sneltreinvaart" naar Düsseldorf Flughafen, waar we met een computergestuurde zweefbaan naar terminal C gaan.
As one can expect the German railway system delivered us exactly on time at Düsseldorf A/P. There they have automatic hanging trains connecting the terminals.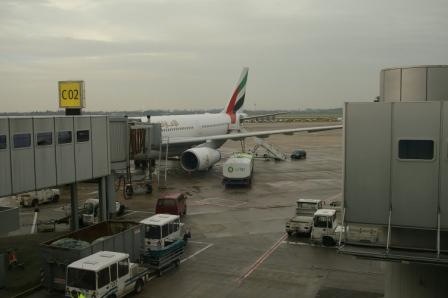 De Emirates Airbus stond al klaar.
The Emirates Airbus was waiting for us.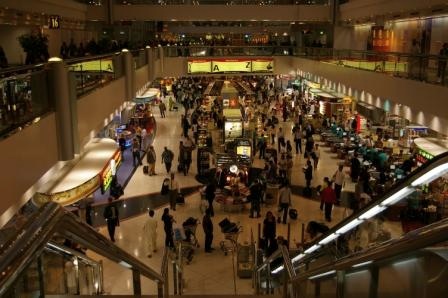 Na ca. zes uur vliegen mochten we in Dubai even de benen strekken (en een biertje drinken in de Ierse pub). Als je Zaventem gewend bent, kun je hier kennismaken met de èchte 24-uurs economie!
The flight to Dubai took about 6 hours. Although in the middle of the night, life went on as usual. After a couple of beers at an Irish pub we continued our flight to Singapore.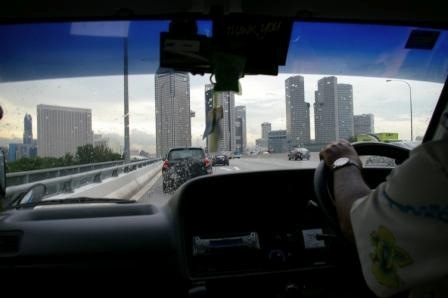 Het eerste voordeel van onze boeking via een echt reisbureau: er stond een taxichauffeur in de aankomsthal met een bordje "Ernst William". Dat kwam goed uit, want precies op dat moment viel er een tropische regenbui.
A taxi took us to the Albert Court hotel through a tropical downpour.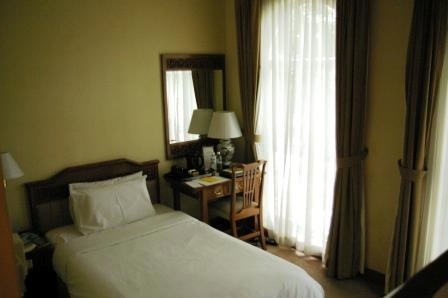 Ook de reservering (reservatie voor de Vlaamse lezers) bleek te zijn doorgekomen bij het Albert Court Hotel. Alleen vonden we de kamer wat aan de kleine kant (en het bed nogal smal).
The room was quite small and the bed quite narrow.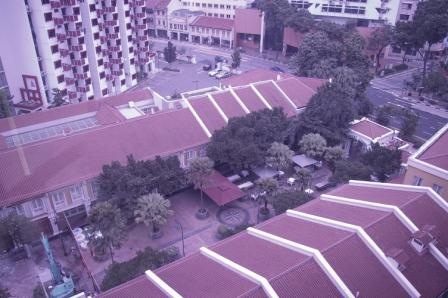 ... maar dat bleek bij nader onderzoek een administratieve vergissing. Woensdagmorgen konden we verhuizen naar een echte tweepersoonskamer.
... but it turned out that by mistake we had got a single room. This was rectified the next morning.

Dinsdagavond heel authentiek gegeten bij een van de vele kleine tentjes op het binnenplein (de eigenlijke Court). Vanuit het hotel kun je zien hoe het er daar uit ziet. Alleen doet de grijsblauwe plexiglazen wand van de lift iets vreems met de kleuren. En 's avonds en 's nachts krioelt het er van de mensen, Chinezen, Indiërs, Maleiers en een enkele verdwaalde Europeaan.
Close to the hotel there are many small places for eating and drinking. All very authentic, catering for their own ethnic groups: Chinese, Indian, Malayan and of course the Western cuisine. The picture was taken from the hotel elevator, hence the distorted colours.

Tweede dag Singapore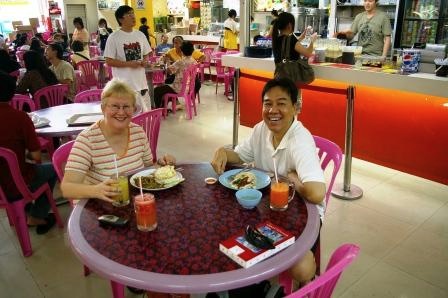 Tiong (SIGHT coördinator van Mensa Singapore) heeft ons alle hoeken van de stad laten zien.
Tiong of Mensa Singapore showed us around in the city.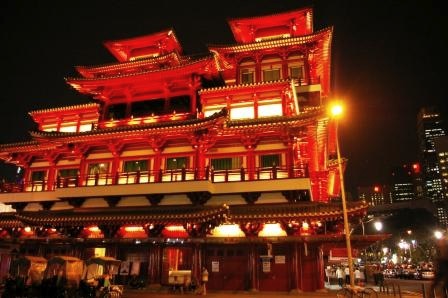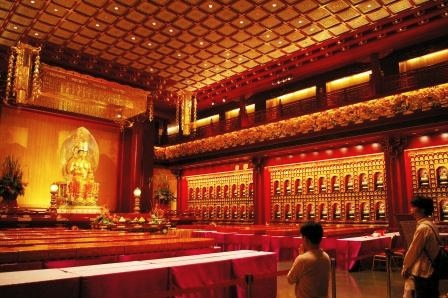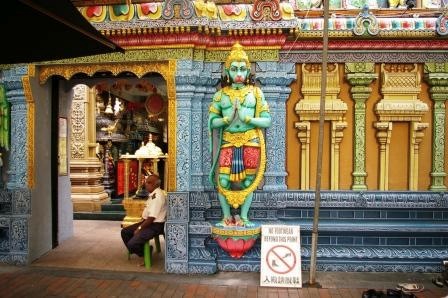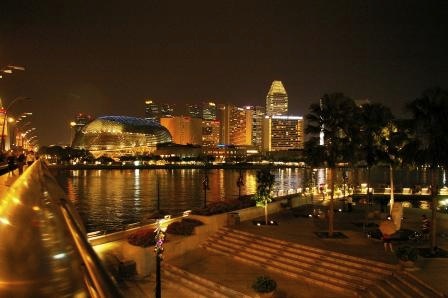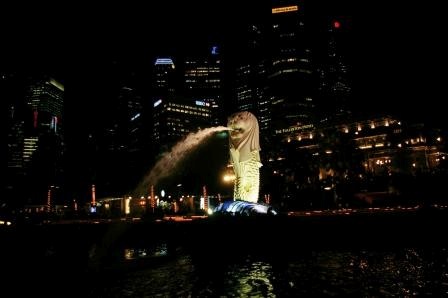 Merlion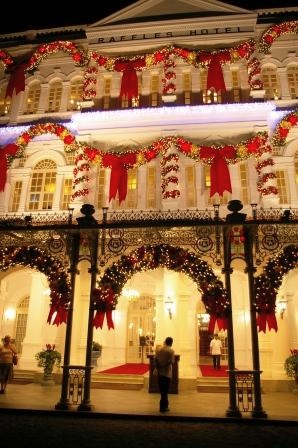 The Raffles Hotel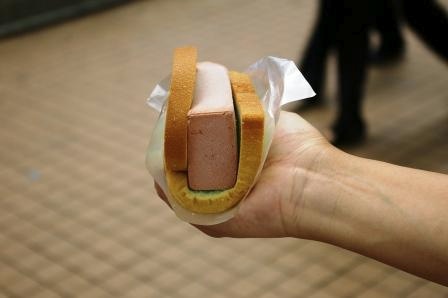 IJsjes worden in een boterham geserveerd.
Icecream is served in a slice of bread.

Derde dag Singapore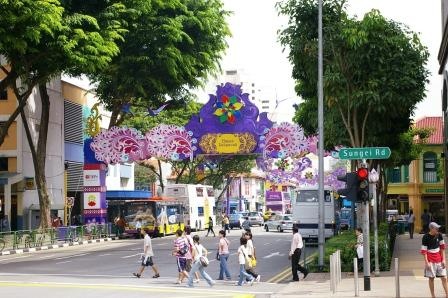 Ons hotel is vlakbij Little India, dus dat bekijken we eerst. Veel veranderingen sinds Ernst's laatste bezoek in 1979, maar de verkopers willen nog steeds graag verkopen....
Our hotel is near Little India so we explore that neighbourhood first. Many changes since Ernst's last visit in 1979, but the shopkeepers behave the same...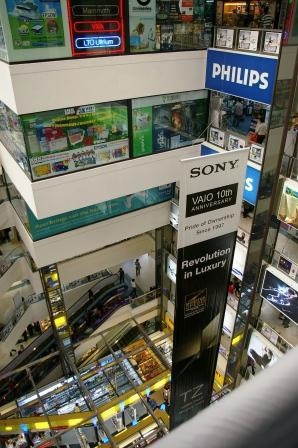 Sim Lim Square is een paradijs voor iemand die in elektronica geïnteresseerd is: zes verdiepingen met kleine winkeltjes. We kopen er twee adapters en een (Skype) telefoon.
Sim Lim Square is heaven on earth for those who are interested in electronics: six storeys of small shops. We buy two adapters and a (Skype) phone.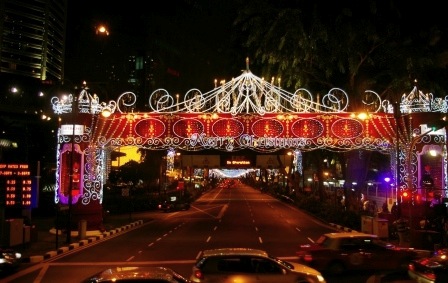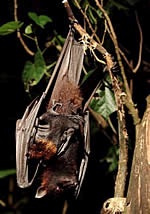 Voor de avond heeft Tiong ons twee activiteiten geadviseerd: een bustour langs de kerstverlichting (vandaag de eerste dag dat ze brandt) en daarna de Night Safari door de dierentuin. Het is spectaculair om bij een temperatuur van 25°C door een tropisch park te lopen en rijden en alle dieren 'in het wild' te zien.
Tiong advised us to do two things in the evening: the tourist bus tour along the Xmas light-up (first day today) and after that the Night Safari in the Zoo. It is spectacular to walk and ride through a tropical park on a 25°C evening and see all the animals 'in the wild'.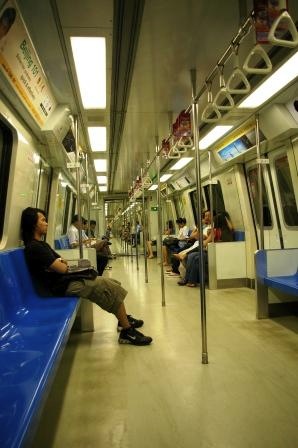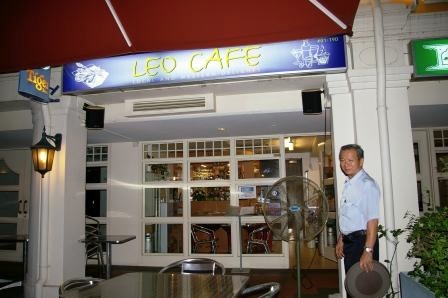 Met de metro naar huis en daarna nog een biertje bij onze 'stamkroeg' op het binnenplaatsje van Albert Court.
We take the subway home and have a final beer at Leo's café in Albert Court.
Laatste dag Singapore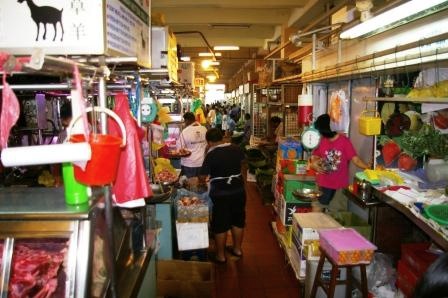 Tekka Market (Little India)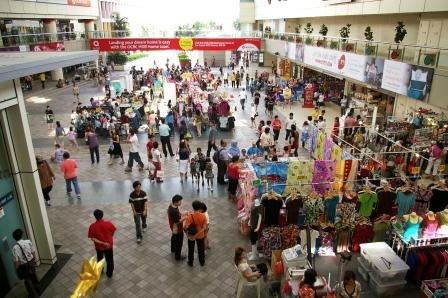 De volgende dag hebben we weer een afspraak met Tiong. Hij neemt ons mee naar Toa Payoh, de eerste nieuwe stadswijk (jaren '60) buiten het centrum. Hier krijgen we uitleg over het systeem van sociale woningbouw in Singapore. Vrijwel alle huizen zijn eigendom, met zeer redelijke prijzen en elk flatgebouw heeft quota voor Chinezen, Maleiers en Indiers en andere minderheden.
The next day Tiong shows us examples of social housing at Toa Payoh and explains about the system. Every apartment building has quota for Chinese, Malay and Indian and other minorities. Apartments are owned and prices are very reasonable (in our eyes).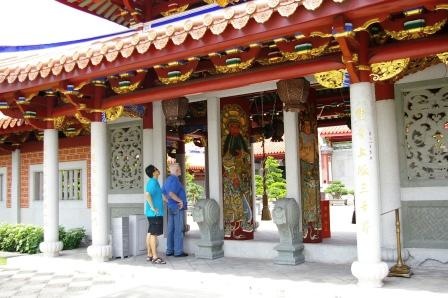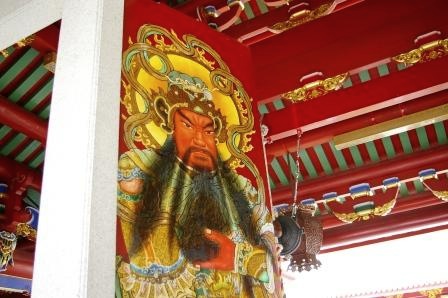 Daarna bezoeken we het prachtige Lian Shan Shuang Lin klooster/tempelcomplex, grotendeels Boeddhistisch, maar met ook een ruimte ingericht als Tao tempel.
Vandaag is het echt warm en vochtig; je zou bijna terugverlangen naar de regenbuitjes van twee dagen geleden. Lunch is in het airconditioned food court in het buurtwinkelcentrum naast het metrostation.
After that we visit a beautiful Buddhist monastery/temple complex with a Tao temple next to it.
Today it is really hot and humid. Therefore we have lunch in the airconditioned food court in the neighbourhood shopping mall.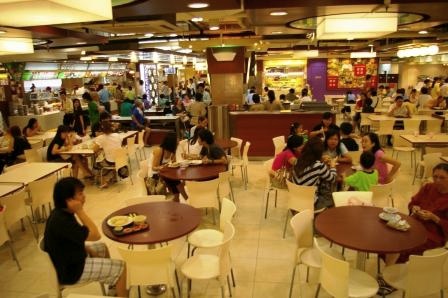 Onze laatste activiteit in multiculti Singapore was een drankje gemaakt van warme yoghurt en sago in een Indiaas eethuis. De uitleg van Tiong heeft ons laten zien wat een perfect (over)georganiseerde samenleving Singapore is.
We finalise our stay in multicultural Singapore with a drink made out of warm yoghurt and sago in an Indian restaurant. Thanks Tiong, for the drink and all your time and explanations.