Melbourne-Beerse
16 december 2007: Melbourne


Op zondagmorgen genieten we van het ontbijtbuffet in het hotel, lekker maar niet zo lekker als dat in Singapore. Het is hier ook gewoon om ergens te gaan ontbijten en dan ondertussen de zondagskrant te lezen.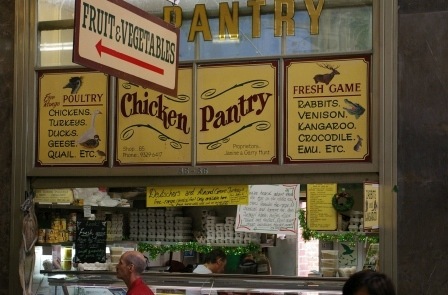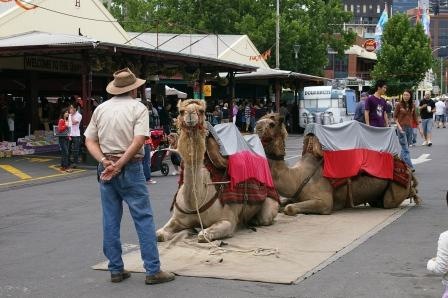 Victoria Market is een van de toeristische attracties. Het blijkt vlakbij ons hotel te zijn. Niet alles daar is koosjer!
After breakfast in the hotel we visit the nearby Victoria Market where not everything is kosher!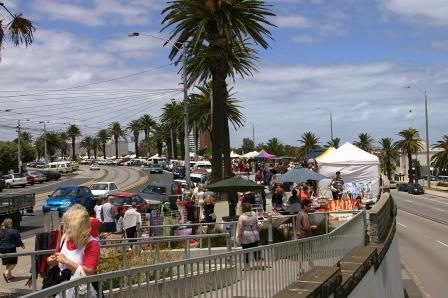 Rond het centrum rijdt de gratis Circle Line met oude trammetjes. Voor de rest van het openbaar vervoer heb je een dagkaart nodig. Wij hebben geluk: er is ook een Sunday Saver voor $2,50.
We nemen de tram naar St Kilda waar op zondag een kunstnijverheidsmarkt is. Syl koopt er een zonnehoedje. We lunchen met bagels met zalm en cream cheese in een continentaal Europees tentje.
The free Circle Line tram takes you to all interesting places around the city centre. But we want to go to St. Kilda today to see the Sunday art market so we have to buy a ticket. We are lucky: the Sunday Saver costs only $2.50.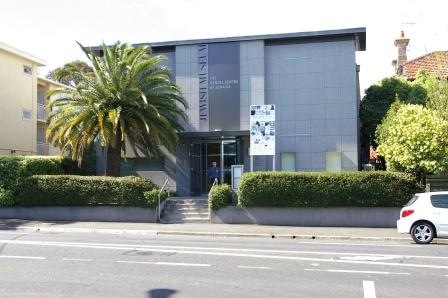 Dan lopen we naar het Jewish Museum, waar we zeer hartelijk ontvangen worden. Het museum hoort volgens de Amerikaanse vakpers bij de top-10 van de joodse musea. Vanuit het raam kunnen we zien dat in de sjoel aan de overkant een choppe plaatsvindt; chatan en kalla arriveren beiden in hun 'eigen' roomwitte Rolls Royce.
We also visit the Jewish Museum, according to the US press one of the ten best Jewish museums in the world. It turns out Melbourne has the largest Jewish population of Australia. We see that there is a chupah in the shul across the street.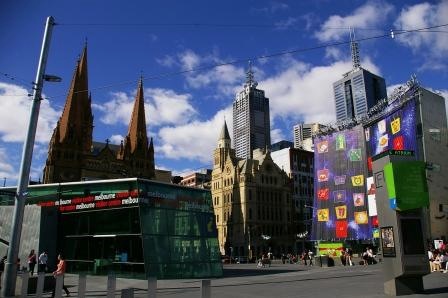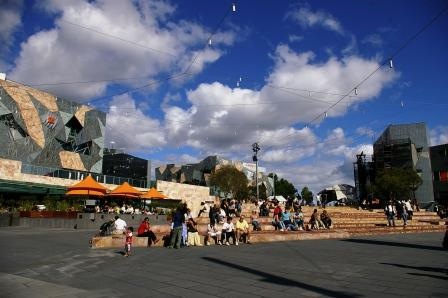 Vanuit de Circle Tram zien we een deel van de stad.
From the Circle Tram we see part of the town.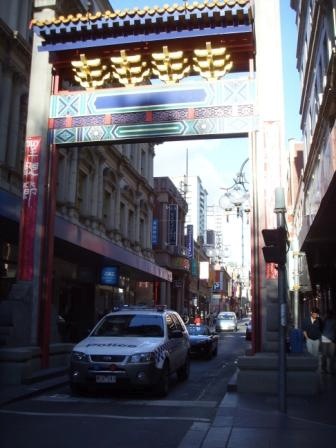 's Avonds hebben we in Chinatown allebei een verschillende Maleisische vis gegeten. Chinatown bestaat slechts uit een straat. Ze zijn er hier heel trots op (hebben zelfs een speciale folder) maar na Singapore is het toch wel erg kleinschalig.
The Melbourne Chinatown is smaller than the one in Singapore, but they do serve a nice Malay fish meal.

17 december: Melbourne

Inmiddels weten we dat je pal naast het hotel bij het bakery café ook heel lekker kunt ontbijten en voor de helft van de Ibis-prijs. Dat geld kunnen we dan weer besteden aan de aanschaf van een half uur wireless internet in de hotel lobby. Maar eerst moet de blogtekst nog worden geschreven en vertaald.
Now we know that next to the hotel the bakery café serves a nice breakfast for half the Ibis price. We can spend that money again on the wireless internet. But first we have to write and translate the blog text.


17 december 2007: Melbourne (posted in Dubai)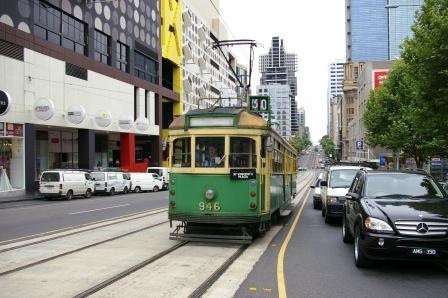 Met het "trammetje" op weg naar de Botanic Garden. Toen de kaart niet langer klopte met de afgelegde route, bleken we als zwartrijders in de verkeerde tram te zitten. Vergelijk deze foto maar eens met die van het trammetje bij morgen, dan wordt onze vergissing wel duidelijk...
By mistake we board the wrong tram line. If you compare this picture with the one we post tomorrow, you will understand our mix-up.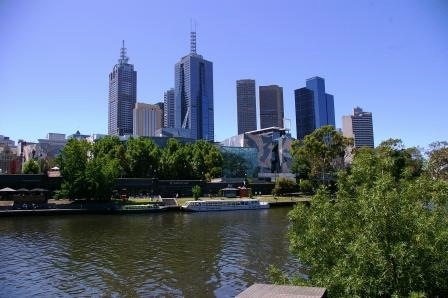 De skyline vanaf de Southbank van de Yarra River.
Melbourne skyline as seen from the Yarra river bank.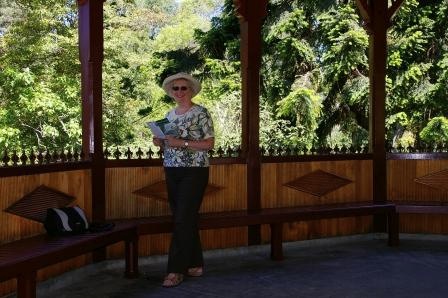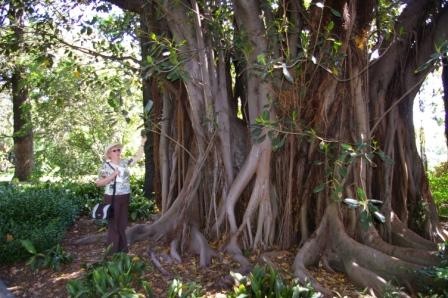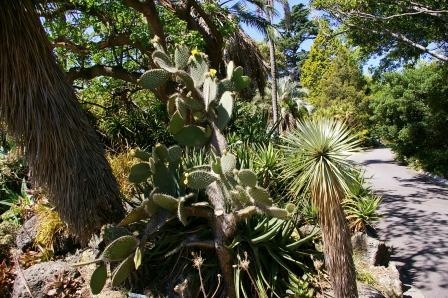 Een paar impressies van de Botanic Garden.
A few impressions from what we saw at the Botanic Gardens.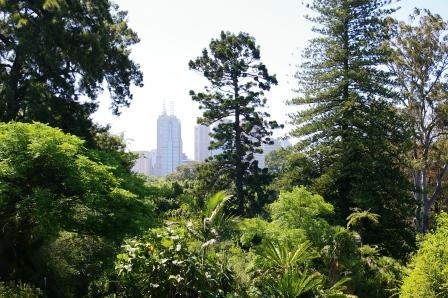 En altijd bevindt je je op loopafstand van een miljoenenstad!
Although it feels as if we are in the middle of nature, the dazzling city never is more than a few hundred yards away.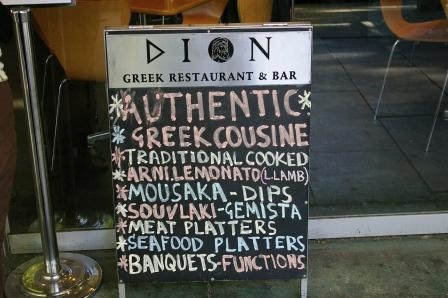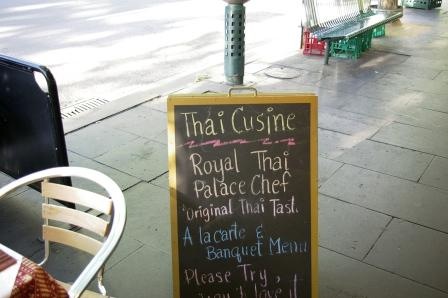 's Avonds in de "Greek Precinct" heerlijk Thais gegeten. Wat ze hier met hun nichtjes doen wil je niet (w)eten.
We find a nice Thai restaurant in the "Greek Precinct". In this area apparently their cuisine has become part of their family.

18 december 2007: Melbourne (posted in Dubai)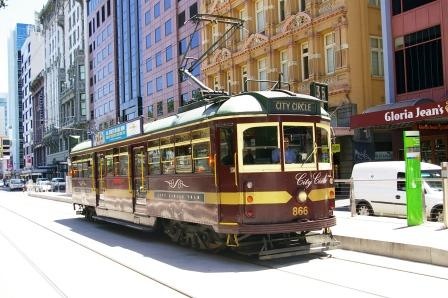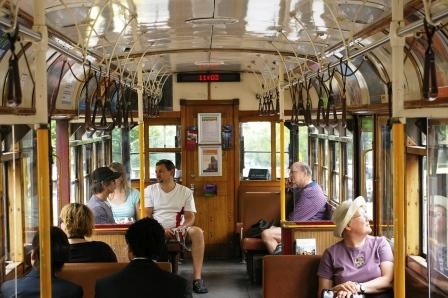 Met de City Circle naar het Immigration Museum, gevestigd in het oude Customs House. Een heel mooie en ook aangrijpende expositie over wat de immigranten dreef en hoe het hun is vergaan van de 18e eeuw tot heden.
From the hotel we rode to the Immigration Museum in the former Customs House. Many moving personal stories of immigrants from 1755 until today.

Daarna het zaken- en het shopping-centrum van de stad doorgewandeld. Als we op een straathoek onze kaart staan te raadplegen, vertelt een behulpzame voorbijganger waar het goed lunchen is: bij Café de Tuscany in Little Collins Street.. Hij blijkt gelijk te hebben.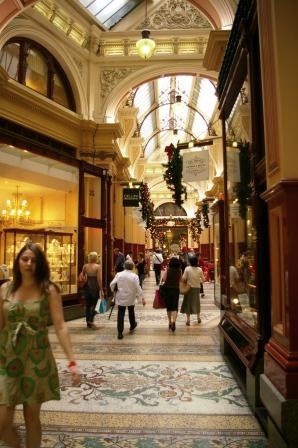 Om vijf uur komt de shuttle naar het vliegveld bij ons hotel, dus we zorgen dat we op tijd terug zijn.
For the last time we cross Melbourne's business and shopping centre. We enjoy a nice lunch at the Café de Tuscany.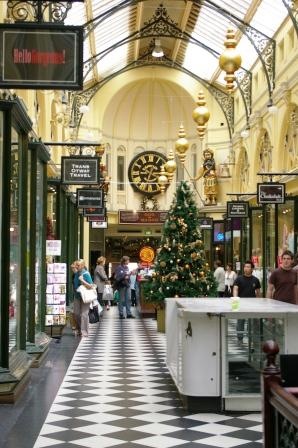 19 december 2007: Melbourne-Beerse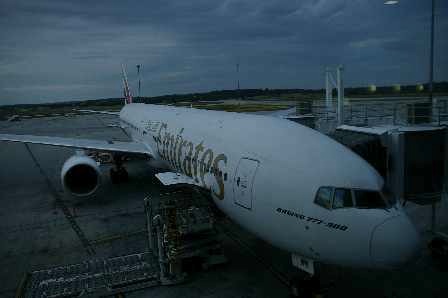 Dinsdagavond 18:00 h ingecheckt op luchthaven in Melbourne. Woensdagavond 20:00 h thuis in Beerse, dus 26 uur later. Tel daarbij 10 h tijdverschil, dan hebben we dus 36 uur gereisd. Netto vliegtijd ca. 21 uur. Vliegen is dus niet zo'n efficiënte manier van reizen.
From Tuesday 6 PM (Melbourne time) until today 8 PM (MET) we've been underway. Plus 10 hours because of the clock... 36 hours, in which 21 hours flying time. The rest was waiting, waiting and waiting...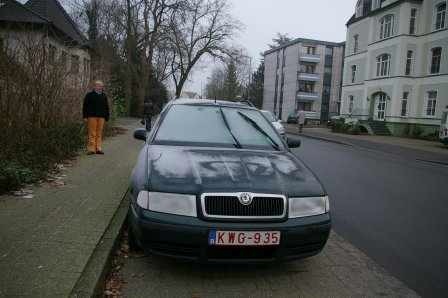 En zo stond onze Škoda op ons te wachten in Rees, geheel berijpt!
Our car was sitting in Germany. It was covered with ice!


Go to top of page