Zomer 5
Vanmorgen vertrokken uit Meddersheim. Verder naar het Westen...
What came after Meddersheim: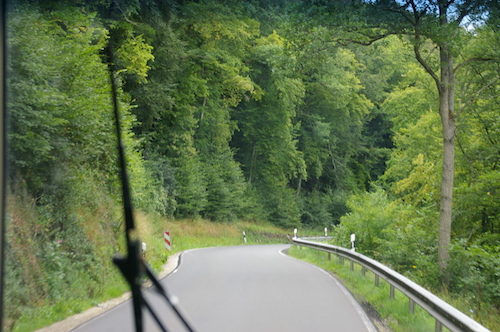 Vrij snel ruilen we de B41 in voor de 421 Een heel mooie weg door een dal langs een rivier. Soms wat smal.
We drive along a little river in a valley, very beautiful but sometimes narrow...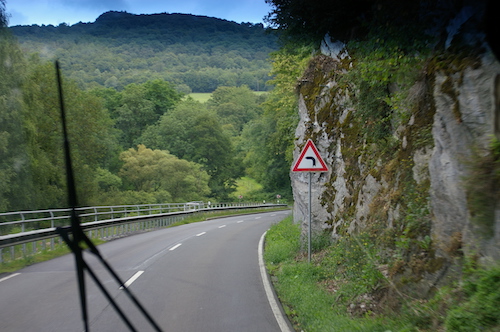 En soms wat bochtig.
... or with curves.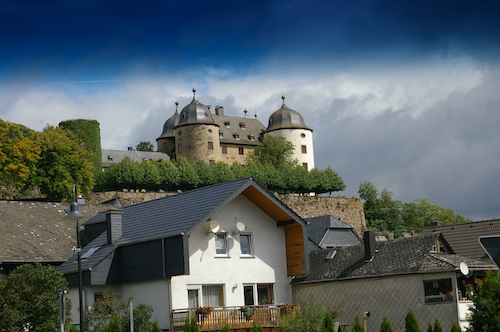 Schloß Gemünden.
Gemünden castle.

.

Het landschap van de Hunsrück doet ons denken aan de serie "Heimat" die in deze regio speelt.
Landscape in the Hunsrück, where a famous television series "Heimat" was shot.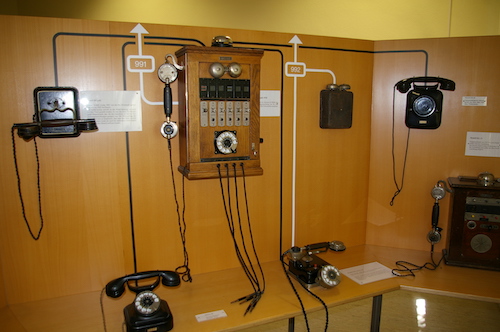 In Morbach bezoeken we het Deutsches Telefon Museum. Voor de liefhebbers een aanrader. Vrijwel alles is werkend.
In the Telephone Museum in Morbach a lot of the old phones can still be used.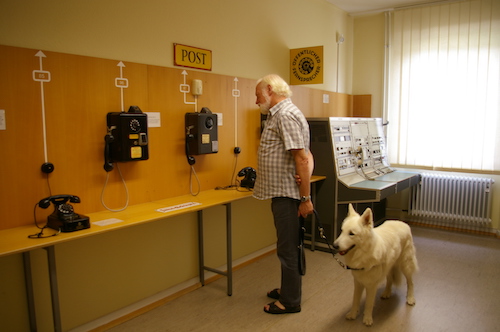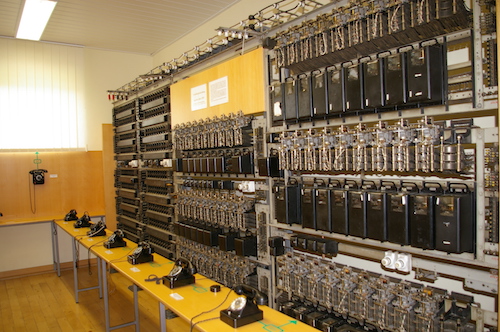 Een van de vele telefooncentrales.
One of the telephone exchanges on exhibit.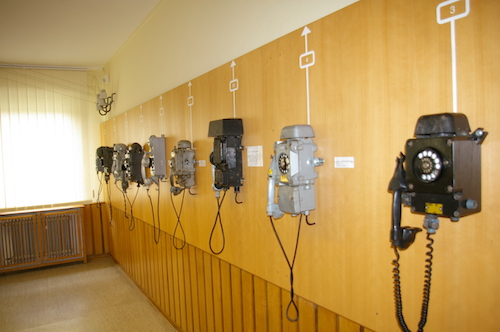 Zalen vol speciale toestellen, zoals hier de explosieveilige.
A whole room full of intrinsically safe phones.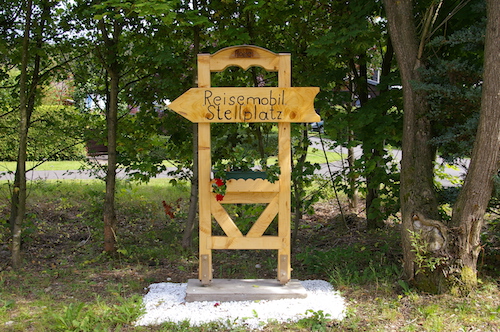 En dan overnachten we in Morbach-Hoxel op de Reisemobil Stellplatz voor € 7 inclusief stroom. Eerst staan we helemaal alleen, later komt er nog een camper en een Hollands stel met een tentje die het ontbreken van sanitair voor lief nemen.
In another part of Morbach is a special motorhome place. We start out all alone, but get some neighbours later on.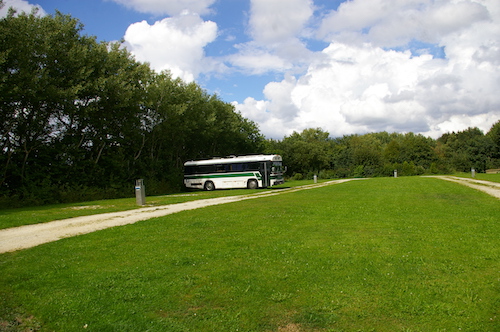 Er kunnen hier 40 campers staan dus ruimte zat voor een treffen.
40 RVs can spend the night here.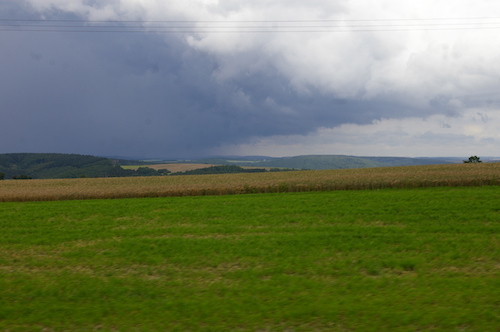 De volgende dag rijden we door de Hunsrück met zijn glooiende akkers...
From Hoxel we drive through the gentle slopes of the Hunsrück area.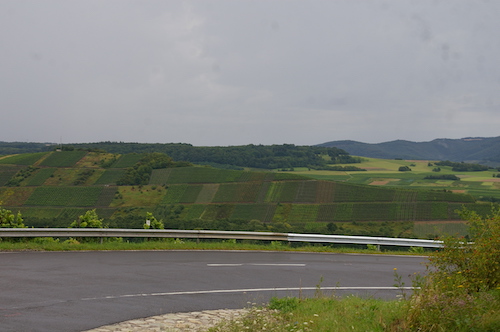 ... totdat het toenemende aantal wijngaarden het Moezeldal aankondigt.
Then we see the many vineyards of the Mosel valley.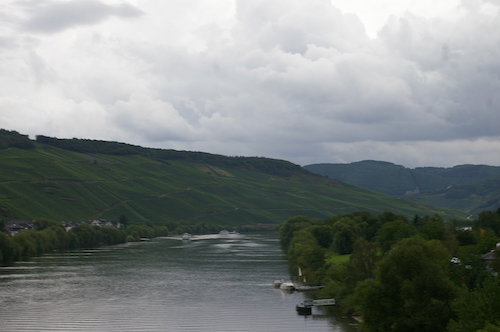 We kruisen de rivier via de brug bij Mülheim.
The River Mosel, seen from the bridge in Mülheim.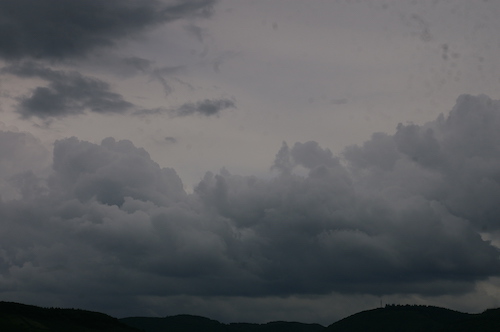 Sinds we zijn vertrokken is het droog gebleven. De lucht is echter steeds dreigender.
The day started dry. These clouds, however, promise something else.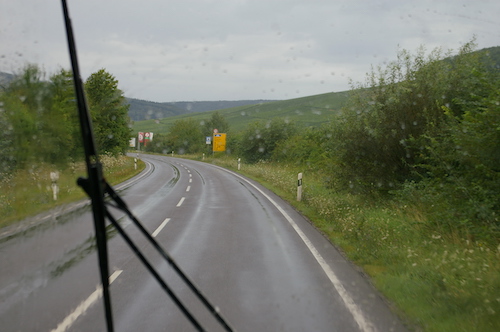 Dan gaat het ècht regenen. We vinden een Stellplatz in het dorp Klausen in de stromende regen.
And by the time we reach the town of Klausen, a thunderstorm with a heavy downpour has started.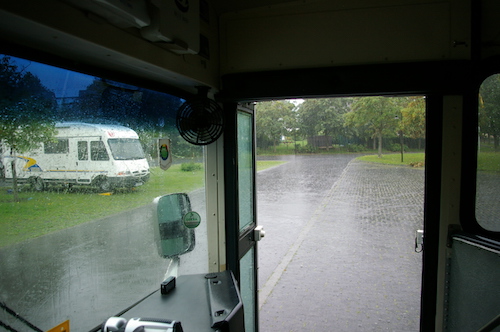 Slechts één andere camper heeft het onweer en de regen getrotseerd.
Apart from us only one other motorhome is out today!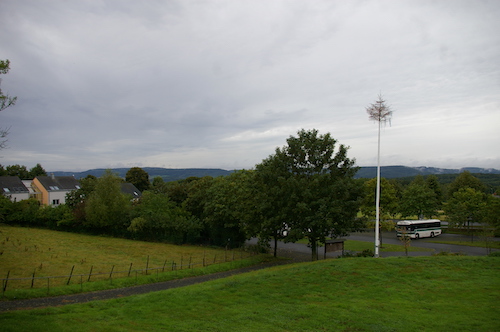 Zo ziet de Stellplatz er uit vanaf de heuvel (waarop een hotel/restaurant is).
Parking seen from the restaurant on the hill.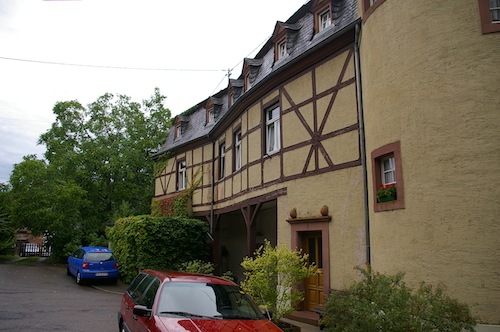 Straatbeeld in Klausen.
Just a street view. Klausen is not a very busy place ;-)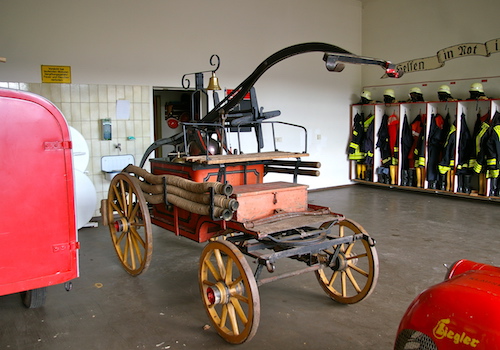 Tegenover de Stellplatz is de garage van de vrijwillige brandweer. Zou dit museumstuk (1897) nog inzetbaar zijn?
The voluntary fire brigade of Klausen have this 1897 horse-drawn pump on display.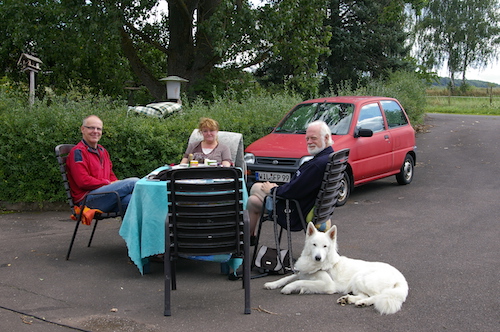 Zondagmorgen: kopje thee bij onze bus-vrienden Stevie en Elke.
On Sunday morning we visit our friends from previous years.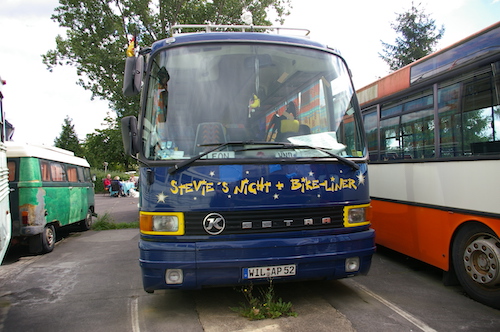 Stevie heeft deze vakantiebus te koop. De Duitse milieuwetgeving maakt het vrijwel ondoenlijk met een oudere bus rond te rijden.
This great bus is for sale, because the German environment legislation makes driving old(er) vehicles extremely expensive.



Vanaf de Moezel gaat het via de Autobahn A60 naar het Noordwesten.
Great motorway from the Mosel area in the direction of Liège.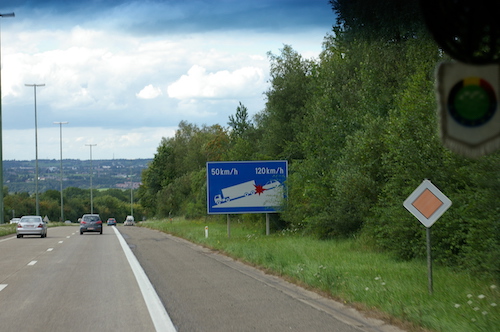 Ter hoogte van St. Vith duiken we even Luxemburg in om te profiteren van het prijsverschil van de brandstof. Als je 200 l tankt, telt dat aardig aan!
Het Belgische vervolg van de autoweg is veel steiler dan het Duitse. De waarschuwingsborden staan er niet voor niets.
We fill up in Luxemburg, about 10 miles from the road. The price difference is significant.
The Belgian motorway has much steeper slopes than the German. Hence the warning signs.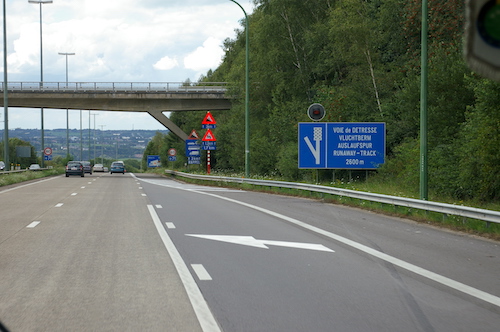 Verviers. We zijn weer in België!
The town of Verviers, seen from the motorway.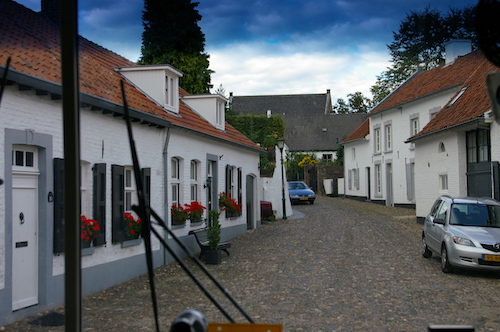 In het witte stadje Thorn (Nederlands Limburg) zoeken we camper-vrienden. We vinden hen echter niet.
In the South of the Netherlands is a beautiful little town with white houses (and narrow streets!)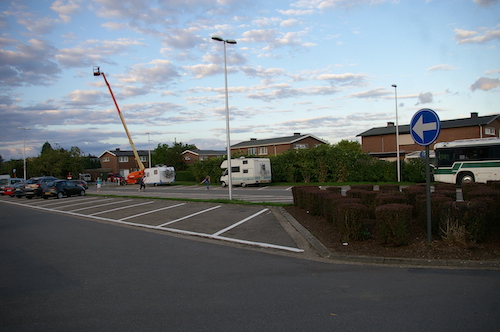 Bij de sporthal in Maaseik is plaats voor 20 campers.
Big parking site in the Belgian town of Maaseik, just across the River Maas from the Netherlands.

's Morgen vertrekken we rond 9:30 h en anderhalf uur later zijn we weer thuis. We hebben 2128 km gereden en enorm veel gezien. En behalve een lek in de brandstofleiding - wat uiteindelijk met een rolletje teflon-tape gerepareerd werd - heeft Skoolie het perfect gedaan.
We leave quite early (for us!) and are home around 11 AM. We have travelled 1322 mi and we have seen a lot! And Skoolie has proved itself a wonderful travel companion, apart from a little leak in a fuel line, which was repaired with some teflon tape.
Go to top of page