Zomer 1
Terwijl Ingrid voor ons huis zorgt, reizen wij op ons dooie gemak richting Duitsland.
This year we have a fellow Mensa member as house sitter. While she takes care of our house we travel at ease to the East.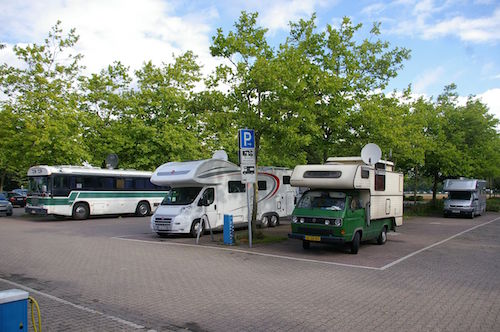 De eerste overnachting is op een Stellplatz in Viersen, niet zo gek ver van Venlo, over de Duitse grens.
The first night we spend on the parking lot of the Viersen swimming pool. Our bus is a bit long for the marked areas, but fortunately there are not many cars when we arrive.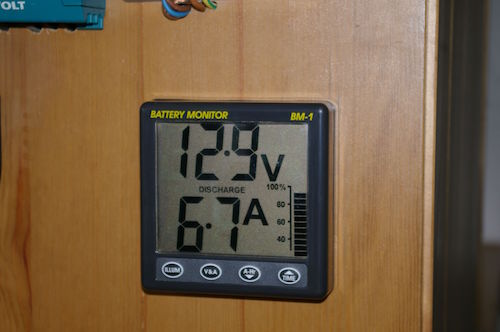 Onze laatste aanwinst, de NASA battery monitor blijkt veel nuttige informatie te verschaffen over ons elektrisch systeem.
Our newly acquired battery monitor proves very useful. It provides much more relevant information than we had before from only a voltage meter.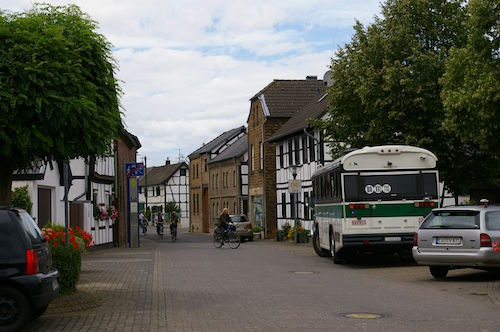 Hier staan we in het centrum van Schweinheim, het dorp waar Sylvia d'r oer-grootmoeder begin 19e eeuw vanuit Wittlich naartoe is verhuisd, nadat ze weduwe was geworden.
Schweinheim is the town where Sylvia's great-great-grandmother moved around 1815.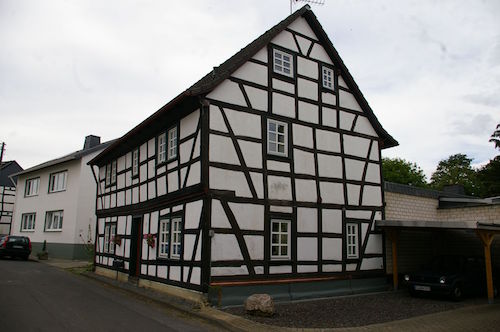 Ook hier volop vakwerkhuizen.
Lots of half-timber house to be seen here.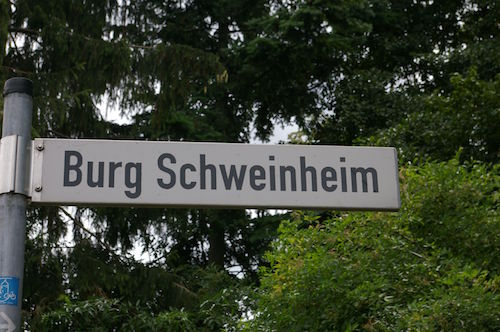 Het bordje is nieuw; het weggetje moet er ook al geweest zijn toen de weduwe van Leib Oster met haar vijf kinderen hier neerstreek.
Maybe the Schweinheim 'castle' was already here when Leib Oster's widow came here with her five children?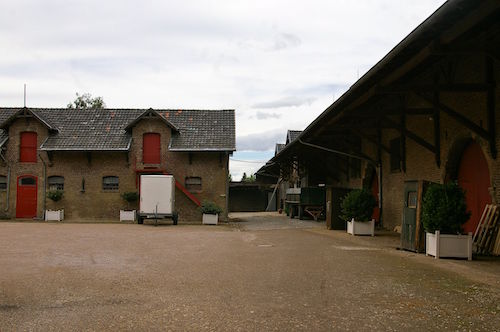 De burcht blijkt een kolossale, ommuurde boerderij.
The old castle tuns out to be a huge walled farm complex.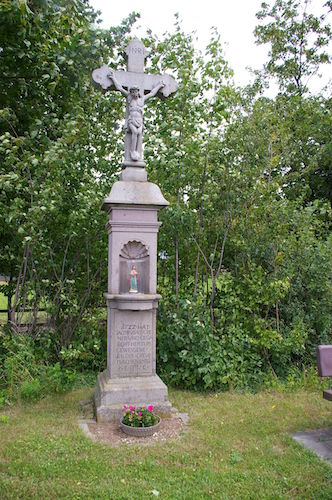 Waar ooit een joodse begraafplaats moet zijn geweest, staan sinds enkele eeuwen een kruisbeeld.
There seems to have been a Jewish cemetery at this spot in nearby Flamersheim. Someone erected a crucifix instead.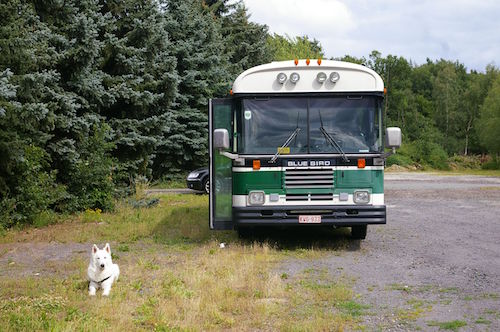 Stellplatz bij de Panorama sauna in Grafschaft.
Near the village "Grafschaft" the parking of a health farm serves as a motorhome place.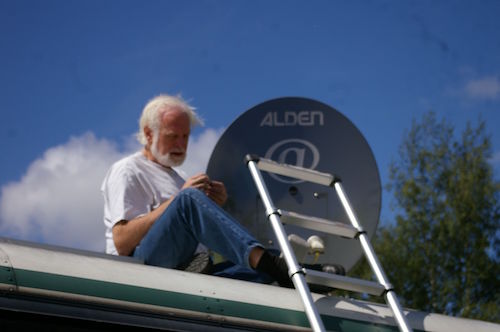 Omdat de satelliet-installatie wèl televisie-transponders vindt, maar niet het Internet via Hellas Sat, moeten er wat proefjes gedaan worden. Alles wijst op een defecte LNB.
Problems with our satellite system cause me to climb on the roof.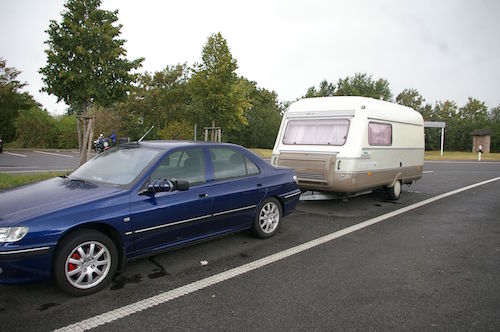 Op een parkeerterrein en route zien we een BIOD caravan. Van het Campertechniek-forum weten we dat dit een collector's item is.
A very rare Dutch caravan, built by a factory which is long gone.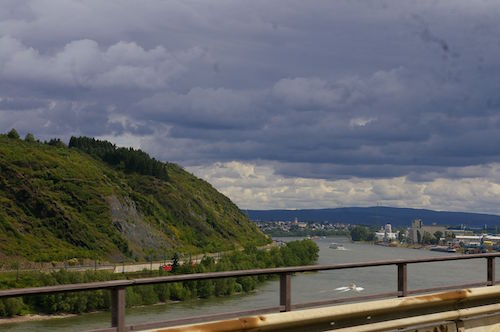 Warum ist es am Rhein so schön?
The road follows the River Rhine for a short distance.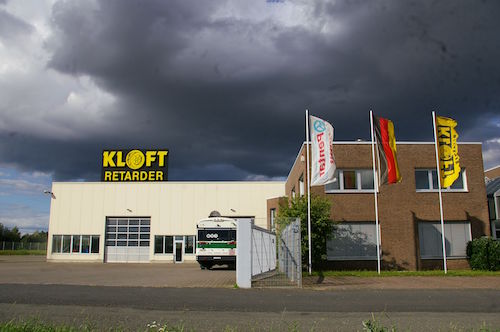 In een buitenwijk van Limburg an der Lahn gaan we naar de firma Kloft. We hebben een afspraak om de volgende dag een retarder te laten inbouwen. De volgende dag blijkt helaas dat Kloft geen raad weet met de Amerikaanse cardan-as van Skoolie. Jammer!
Here we intended to have an extra brake installed. Unfortunately the firm cannot handle our American vehicle, so we leave without the wanted retarder.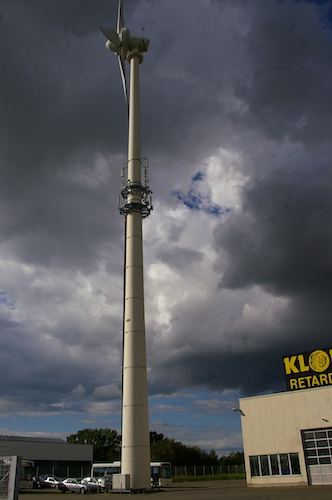 Kloft draait zijn eigen stroom (en vermoedelijk die voor de rest van het industrieterreintje) met een volwassen windmolen. Ons 90 W molentje is wel een echt dwergje, hierbij vergeleken!
This full-grown wind generator makes our little wind generator very modest.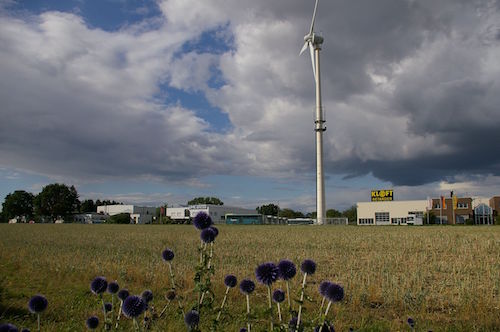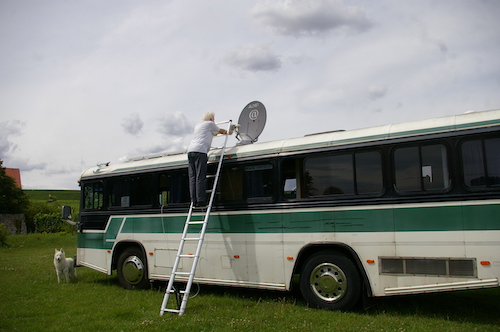 Na Limburg gaan we naar het ons vertrouwde Bodenheim. We gaan 's avonds heerlijk Italiaans eten met onze vriend Wolfgang, die al 10 jaar het "Leerkabinenforumtreffen" op deze plek organiseert.
Our next stop is Bodenheim, where we have participated in an annual meeting in May for the last four years. We spend a very nice evening with Wolfgang who organises these meetings. The next morning Wolfgang comes with fresh rolls and we have breakfast together.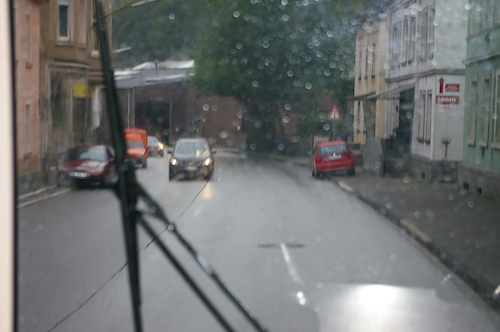 De woensdag vertrekken we in de loop van de middag uit Bodenheim. Het regent de hele dag, afwisselend hard en zacht.
The next day is a rainy one. Maybe good for agriculture, but a bit depressing for us.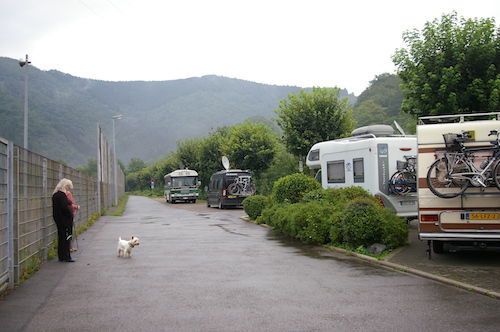 In Altena is een mooie Stellplatz tussen het sportpark en de rivier de...
The Altena official motorhome parking is a narrow road along the river...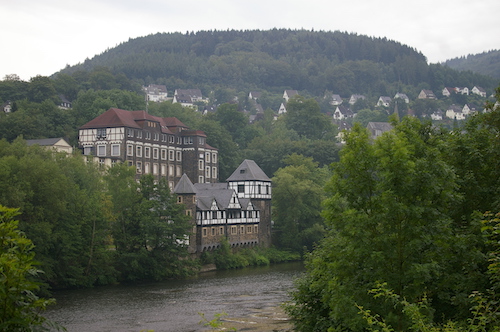 ... Lenne.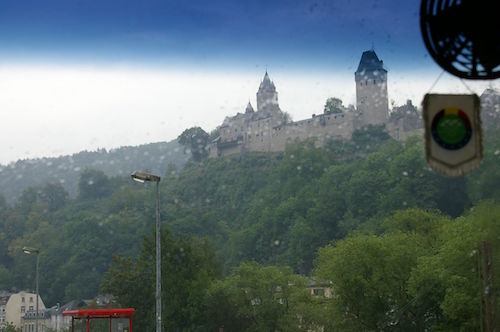 Schloß Altena in de regen.
From Altena Castle one has a view over the town.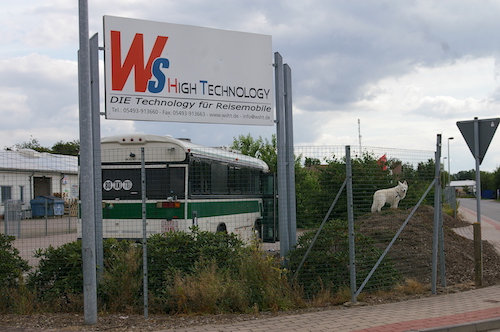 Vanuit Altena vertrekken we 's morgens in de stromende regen naar het Noorden. In de loop van de middag stoppen we in Neuenkirchen-Vörden waar we de volgende ochtend vroeg een afspraak hebben om het internet-deel van de satelliet te laten repareren. We mogen overnachten op de parkeerplaats van het bedrijf. Aan de overkant van de straat begint het platteland.
After a very rainy morning and another drive of some three hours to the North, we park at the firm where, hopefully, tomorrow morning our internet connection will be restored. Next to us is this field. We wanted to have a real German beer to celebrate that the sun is out again, but the nearby hotel-restaurant is closed till 5 PM. Don't want to wait for 1.5 hours.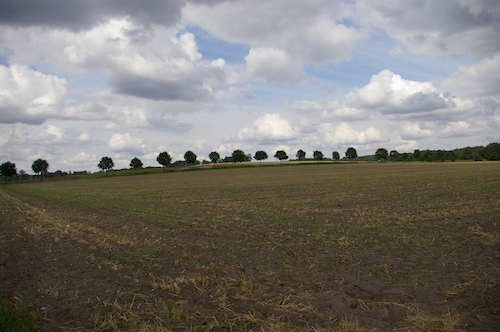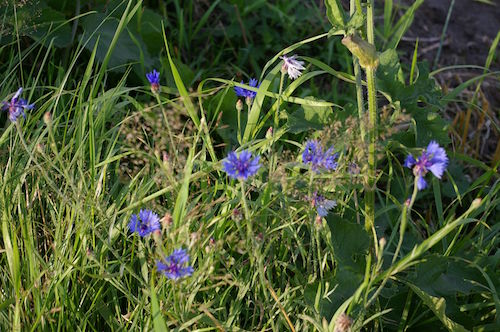 De omgeving van het industrieterrein waar we staan, staat vol met korenbloemen. Waar wij wonen is dit inmiddels een zeldzame plant.
All around us are cornflowers. Where we live this has become a rare species!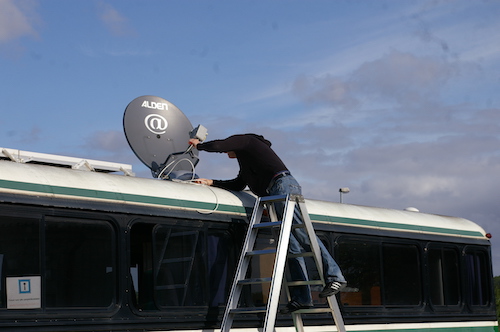 Bij WSHT (Alden Deutschland) wordt onze satellietinstallatie gerepareerd. De data-LNB blijkt defect en wordt vervangen. En als ze toch bezig zijn, wordt meteen de interne bedrading van de schotel vernieuwd om problemen in de toekomst te voorkomen. En we krijgen een DC-DC converter mee om het geheel toekomstvast te maken. We behoeven slechts een deel van de gewerkte uren te betalen. Alle hardware krijgen we. Dat is pas betrokkenheid bij het eigen product!
The satellite people where we bought our Internet and television equipment three and a half years ago replace the LNB and upgrade the wiring. They only charge a very reasonable sum for labour, because all new hardware is part of their support. (And according to Sylvia their coffee is excellent.)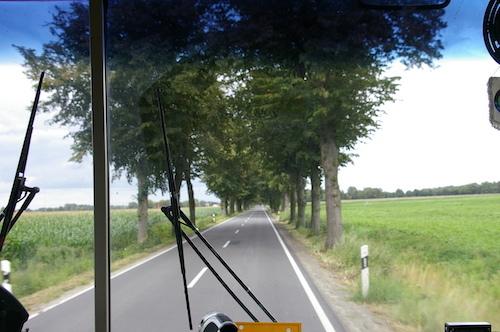 We rijden oostwaarts via smalle wegen door een bijna Nederlands landschap.
From Neuenkirchen-Vörden we drive east via very pretty, but also quite narrow roads like this one.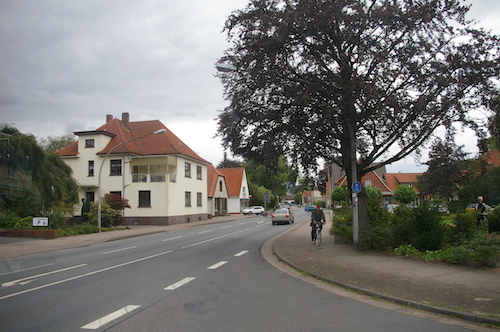 In Wagenfeld slaan we linksaf en komen we op een iets grotere weg.
The town of Wagenfeld, where we change roads. This probably is where the ancestors of the Wagenfelds we know, came from.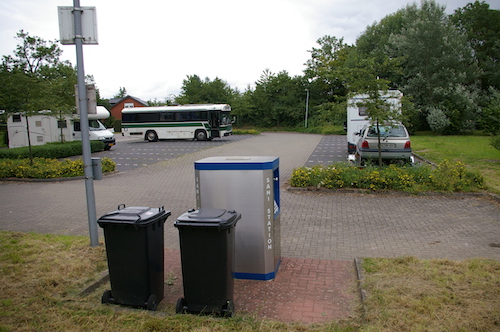 In Sulingen is een officiële Stellplatz, midden in het groen en toch op een paar minuten lopen van het oude stadscentrum. Niet vergeten: voor we weer vertrekken vuilnisbak en grijs en zwart water legen!
Another motorhome parking. Although one shouldn't think so, it is very close to the town centre of Sulingen (Lower saxony). One can empty ones grey and black water holds and buy fresh water.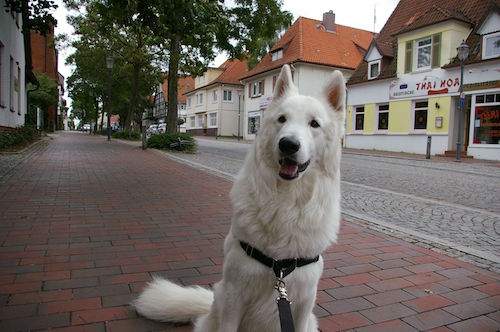 De Lange Straße ligt er op zaterdagmiddag nogal verlaten bij. Woensdag en zaterdag is er hier 's morgens een kleine markt met streekproducten, fruit en vis (Holländische Matjes!).
The main street of Sulingen on Shabbos afternoon.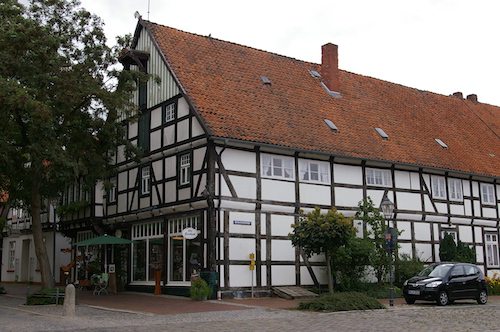 Ook hier volop vakwerkhuizen.
Here, too, many old half-timbered houses.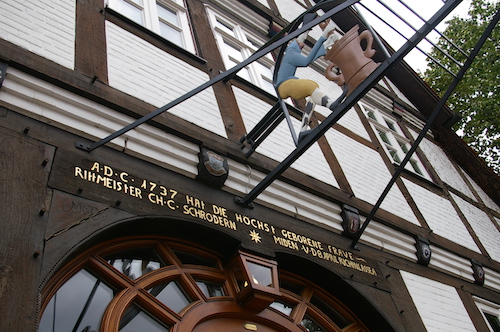 Apotheek/Pharmacy in Sulingen.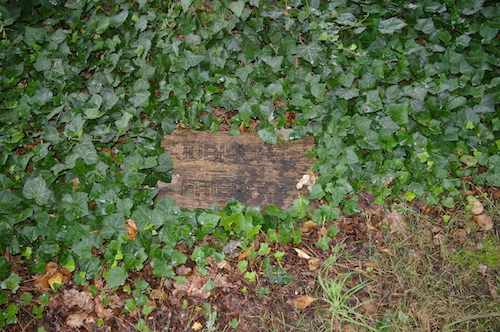 In Sulingen is ook een joodse begraafplaats die in gebruik is geweest tot 1934. In het gras ligt een half vergane houten plank met de nog net leesbare tekst "Jüdischer Friedhof"
The Jewish cemetery of Sulingen.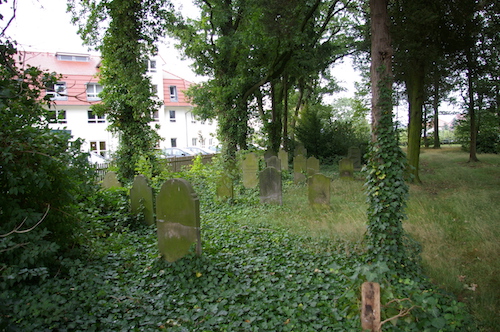 Er zijn ongeveer 30 grafstenen, met de Duitse tekst aan de achterzijde en de Hebreeuwse tekst aan de voorzijde.
The about 30 headstones show the Hebrew text on one side and the German on the other.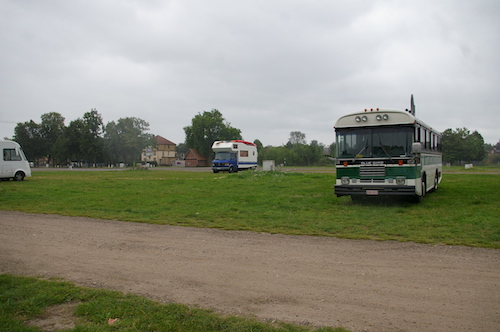 Na een paar uur over natte wegen, arriveren we in Celle. Langs het riviertje de Aller is een gigantisch parkeerterrein. We stonden hier twee jaar geleden ook.
In Celle is a huge parking area within walking distance from the historic centre. It has been raining most of the day.

Go to top of page