Zomer 3
Vanaf Gotha weer een nieuwe pagina. Anders gaat het laden wel èrg lang duren.
As from Gotha a new page so that loading in a browser doesn't take too long.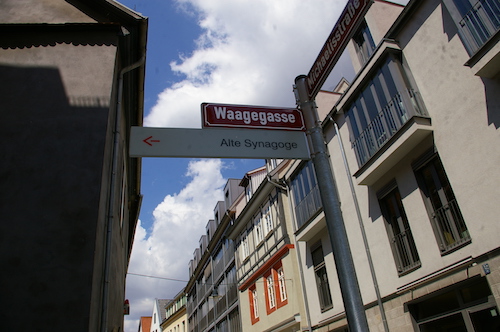 In Erfurt hebben we een probleemloos plekje gevonden aan de Juri-Gagarin-Ring, bij het gemeentelijke bussen-parkeerterrein. De oude sjoel is de oudste in Midden-Europa. Helaas is de dame achter de kassa zo onvriendelijk, dat we geen tweede kaartje kopen...
Erfurt has (had) several synagogues, from the 11th century onwards. This sign points to the "old synagogue" - a museum where the staff is rather unfriendly (in the old GDR style).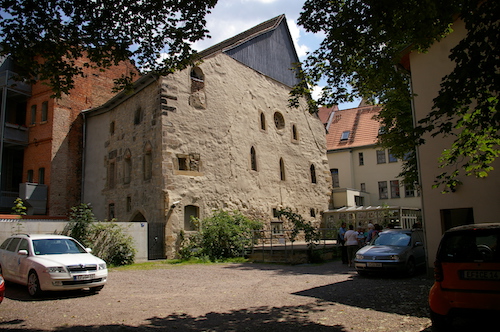 De buitenkant van de Alte Synagoge.
Outside of the Old Synagogue. Inside is a museum with a golden treasure that was hidden in the 14th century because of a pogrom.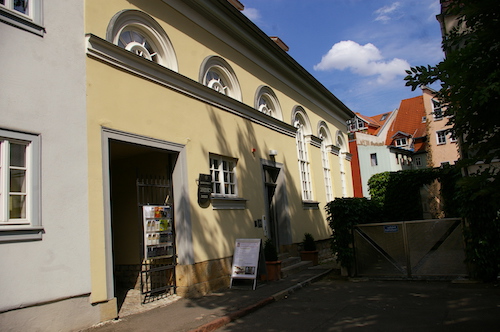 Buitenzijde van de Kleine Synagoge, nu een ontmoetingscentrum. Doordat het gebouw als woonhuis in gebruik was, is het de verwoesting ontkomen. De ontvangst hier is bijzonder vriendelijk.
The small synagogue was built in the 19th century. In the 1930 it was used as living quarters and hence it escaped being destroyed by the Nazis. Now it is a place for cultural Jewish activities. Here the staff is very friendly.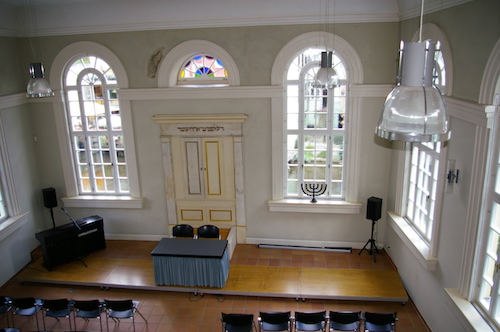 Interieur van de Kleine Synagoge, gezien vanaf de vrouwengalerij.
Interior as seen from the women's gallery.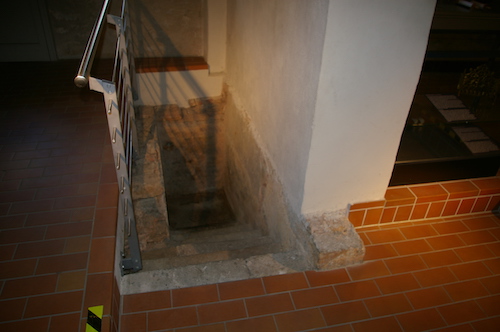 Het mikwe, dat gevuld werd met rivierwater van de Gera die langs het gebouw stroomt.
The mikvah was filled with water from the nearby river Gera.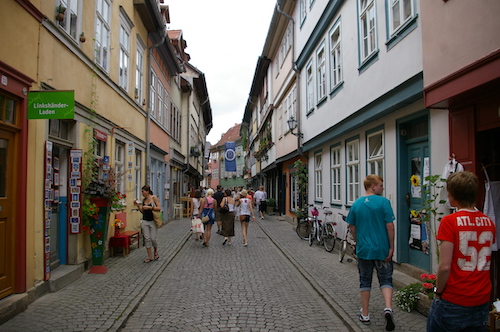 Het lijkt een straat, maar het is een brug! De beroemde Krämerbrücke over de Gera.
This bridge over the Gera has houses on both sides and hence looks like a street.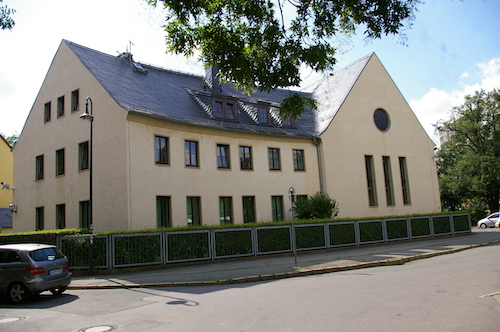 Sinds 1952 is er in Erfurt een nieuwe sjoel, de eerste die na de oorlog in de DDR werd gebouwd.
The present synagogue, built in 1952 under the GDR regime.

Op weg naar Bad Berka, door het mooie Thüringse landschap.
On our way to a motorhome parking in Bad Berka.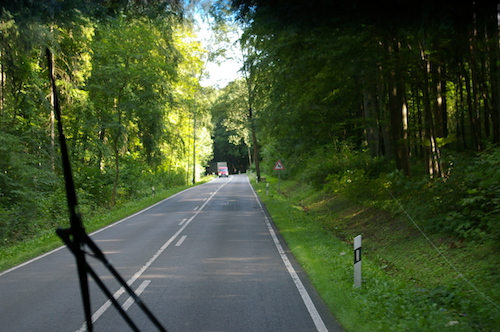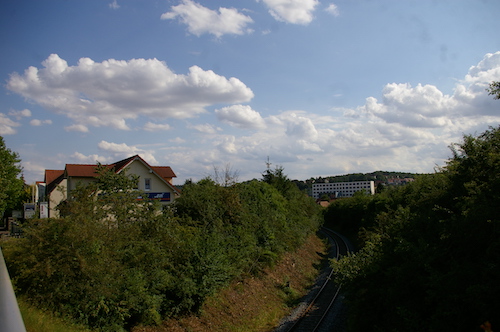 In het Kurort Bad Berka is de aangegeven Stellplatz slechts bereikbaar voor voertuigen tot 2.9 m hoog. Dus niet voor ons :-(
Unfortunately we cannot reach the motorhome parking, so this is what we see of Bad Berka. We drive on to Uhlstädt-Kirchhasel.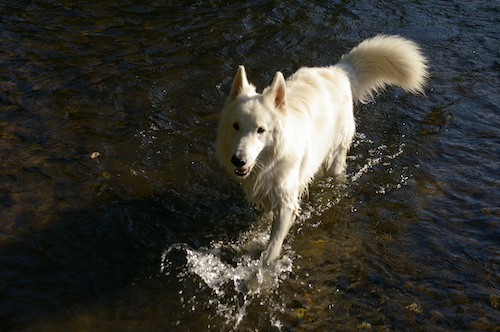 Motek koelt af, na een warme dag, in de Saale.
We finally find a place next to the river Saale, where Motek takes a bath. Deserved after a long and hot day.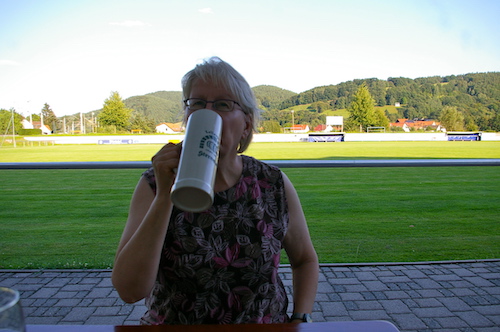 Sylvia koelt af, na een warme dag, aan de Saale. Niet geheel volgens het Atkins-dieet maar wel lekker. Het bier wordt gevolgd door een zander-filet - het enige gerecht op de kaart zonder varkensvlees - erg lekker!
Sylvia is also cooling down with a local beer, followed by a nice fish dinner. The local restaurant is next to the soccer field.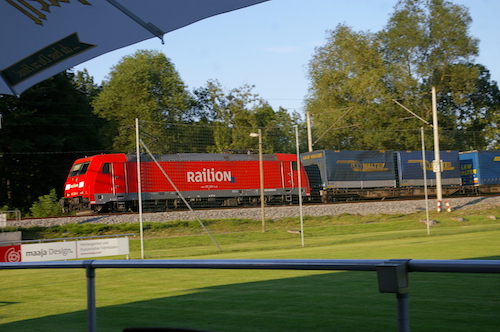 Er rijden voortdurend treinen langs de Stellplatz, lange goederentreinen, afremmende en optrekkende Regio Expressen en voorbijrazende ICE's. Gelukkig zit er een huis tussen onze bus en de spoorbaan. De uiterst vriendelijke mevrouw van de VVV heeft ons voor de treinen gewaarschuwd en ons de bus zo laten parkeren dat we er zo min mogelijk last van hebben.
The very nice lady of the tourist information already informed us about the many trains that pass during the day and night. She made us park Skoolie in such a way that there is a building between us and the railroad.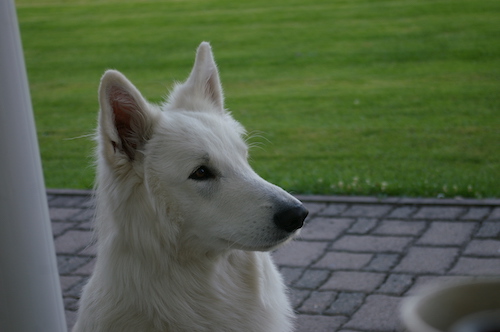 Terwijl wij eten en drinken vraagt Motek zich af hoe lang het nog duurt voor er weer gespeeld kan gaan worden.
Motek is waiting for us to finish our dinner. He prefers playing and swimming!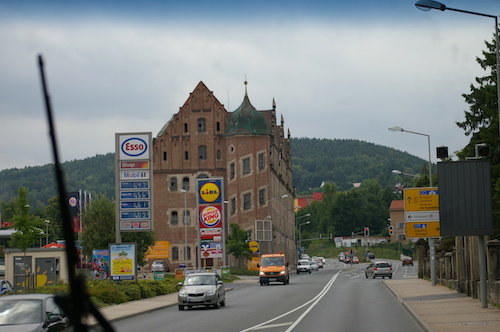 De volgende dag: merkwaardig gebouw onderweg naar Saalfeld.
The next day: funny stone building on our way to Saalfeld.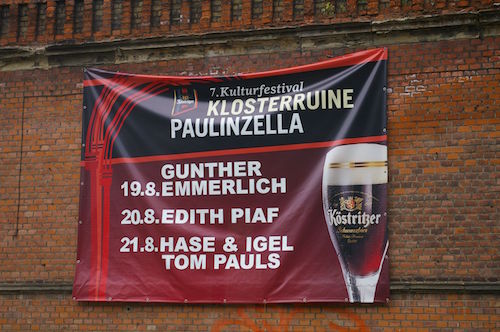 En wij maar denken dat Édith Piaf op 10 oktober 1963 overleden was...
And we thought that Edith Piaf passed away in 1963 ...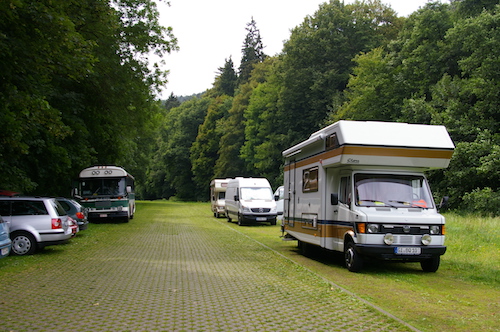 Bij de Feengrotte in Saalfeld is een mooie Stellplatz, maar...
Lunch break in Saalfeld, where we had planned ...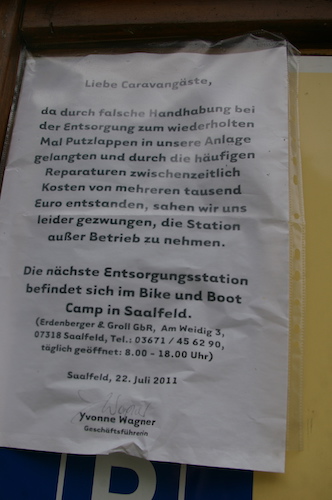 ... wij willen ook een dezer dagen het zwart water lozen, dus rijden we maar weer door.
... to empty the grey and black water, but the 'sanitary station' is closed since last week because the users caused too many expensive repairs.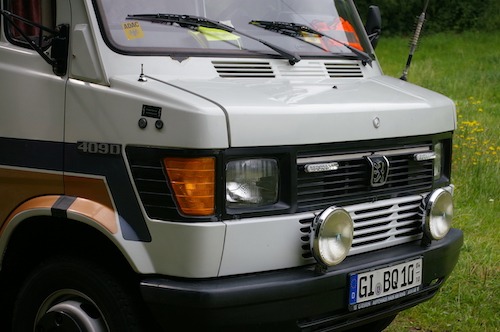 Zoekplaatje.
Exaggerated expression of brand loyalty?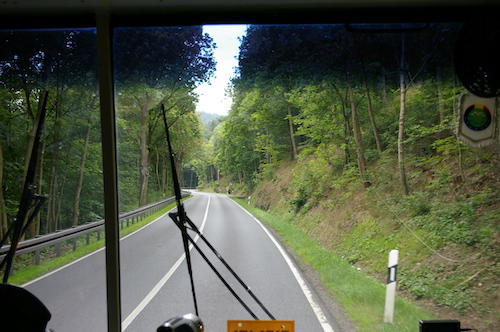 Via mooie, maar soms steile (12 %) wegen rijden we naar het Westen.
We drive through the National Park Thüringerwald (Thueringen Forest). Beautiful but steep, 12% up and down.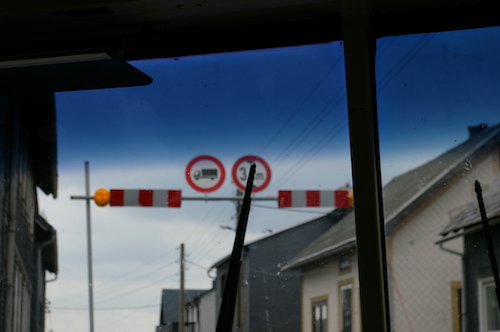 In één dorp is een omleiding. Logisch dat ze hier zwaar verkeer willen weren. Maar bussen zijn toegestaan.
We have to make a detour due to road works. Buses/vehicles lower than 3.40 m are allowed.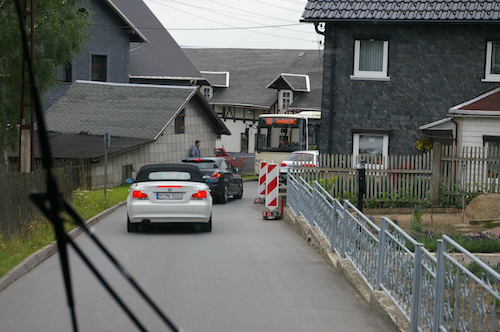 O jee, daar komt (nog) een bus.
So there is another bus.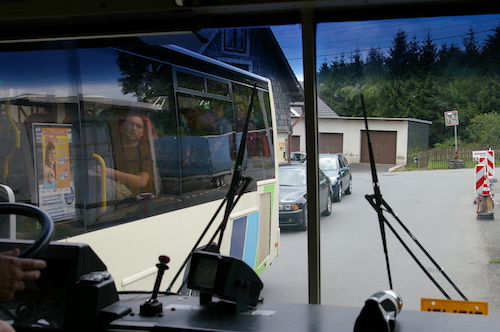 Het gaat allemaal nèt, maar het houdt beslist geen centimeter over.
Less than an inch to spare.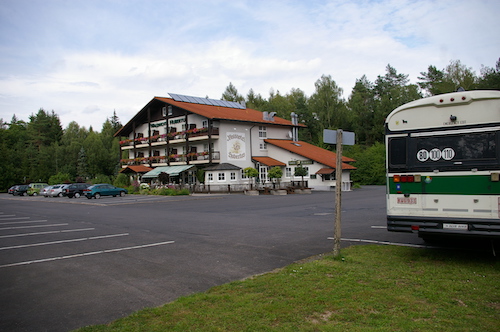 Eind van de middag stoppen we bij dit pittoreske Waldhotel Hubertus. Wie hier komt eten, mag 's nachts blijven staan. En het scheelt weer in de afwas :-)
Dit hotel staat in Eisfeld, eens een grensplaatsje tussen Bondsrepubliek en DDR.
Today's goal is this forest hotel, where restaurant guests can stay the night in their motorhome for free. So we are forced to have dinner in a restaurant for the third day in a row. The hotel is just outside Eisfeld, once the border between BRD and GDR.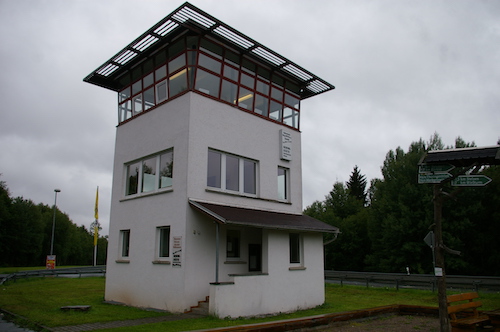 Een paar honderd meter verderop staat deze voormalige observatietoren, nu een klein monumentje. Sleutel af te halen bij het Tankstation. Gaan we morgen doen.
A little bit further on the road is this former observation tower, now a memorial. The key can be obtained at the petrol station.
In de toren is een smaakvolle en boeiende expositie van wat er bij de voormalige Innerdeutsche grensovergang kwam kijken, inclusief mijnenvelden en elektrische hekken.
Inside it is explained how this "frontier between the two Germanys" was organized. A small but tasteful exposition.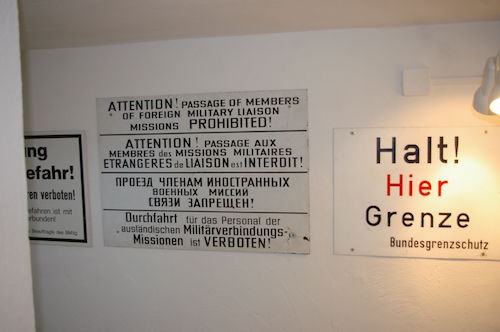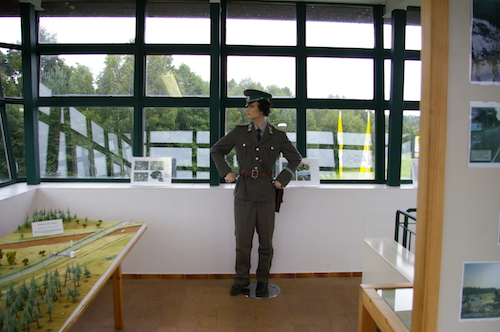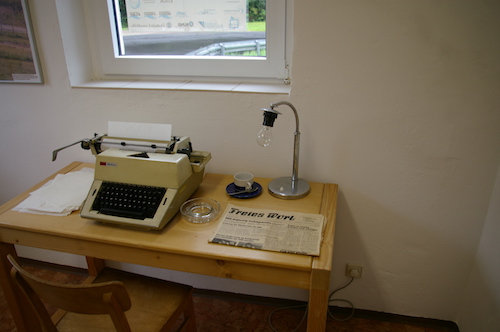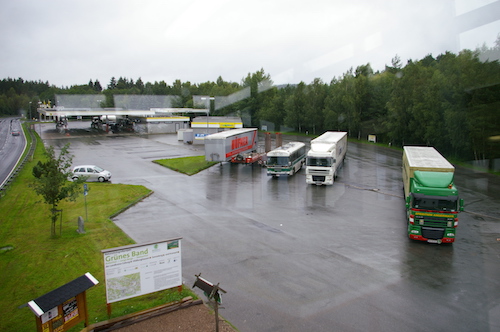 Het douane-emplacement is nu parkeerterrein bij het tankstation.
The former customs part is now being used as a parking next to the petrol station.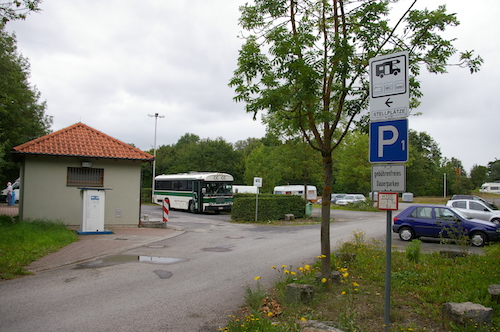 In de loop van de middag arriveren we in Münnerstadt (Beieren) in de stromende regen. Even wat foto's op ons blog zetten en dan de stad in.
Today is another rainy day. We will spend the night on the free motorhome spot in the small town of Münnerstadt in Bavaria.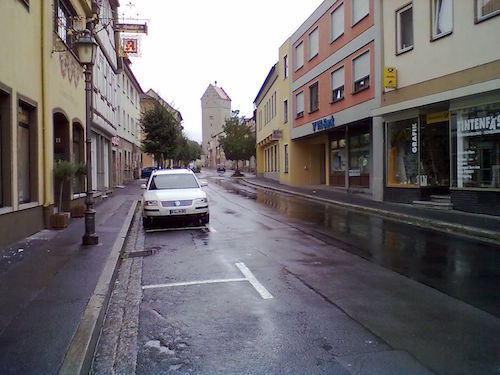 Münnerstadt is een klein stadje, waar met regenachtig weer de straten er verlaten bijliggen.
Is it because of the rain? Or because it is Saturday afternoon and the shops are closed? Münnerstadt is deserted.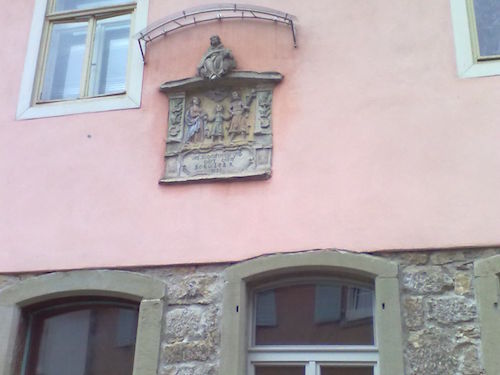 Go to top of page