Zomer 2
Aangekomen in Celle. En dan...
Further to Celle...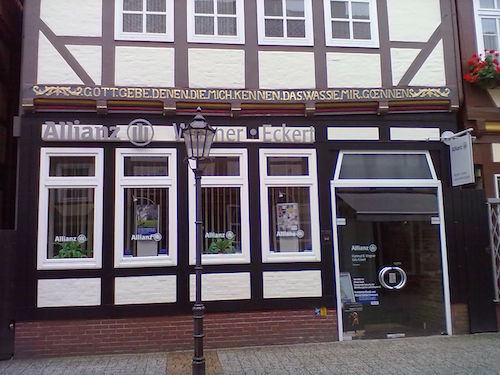 sorry, cell phone instead of camera
De meeste vakwerkhuizen hebben fraaie spreuken op de gevel.
Many of the houses are decorated with pious christian sayings.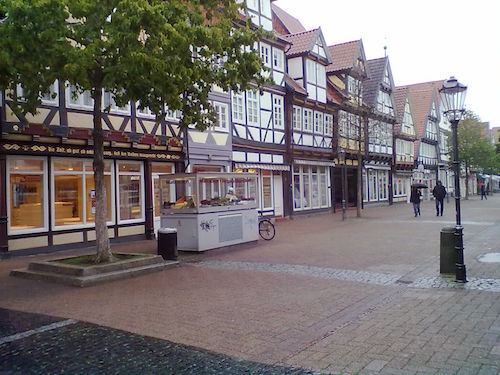 sorry, cell phone instead of camera
... en vakwerkhuizen genoeg
Celle has 450 half-timbered houses. In this shopping area all houses belong to this category.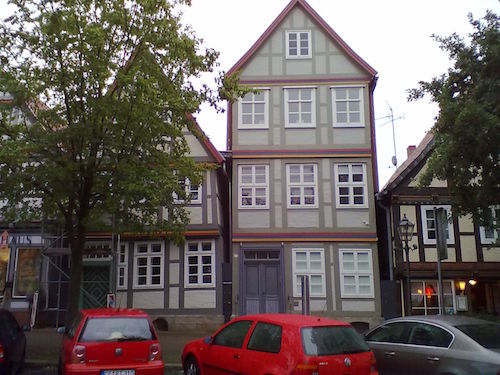 sorry, cell phone instead of camera
Achter deze twee huizen (ooit schooltje en woning van de rabbijn/sjocheet/leraar) bevindt zich de sjoel van Celle.
Through these two houses one enters the old shul.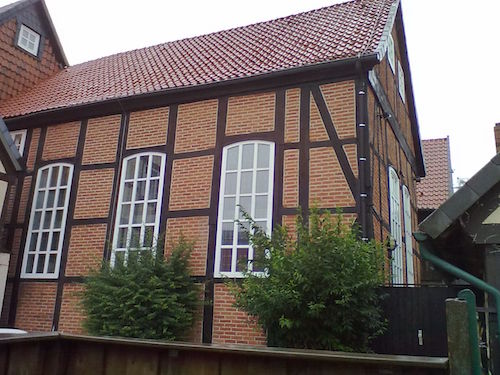 sorry, cell phone instead of camera
De eigenlijke synagoge, gezien van de achterzijde.
The actual sanctuary, seen from the back side.

Net als twee jaar geleden eten we heerlijk bij het Indiana Steakhouse. Hun op ons verzoek zuivelloze rib eye steak is perfect (uiteraard alleen voor carnivoren)!
We rediscover the steaks of the Indiana Steakhouse. Leaving out all dairy for us was no problem at all.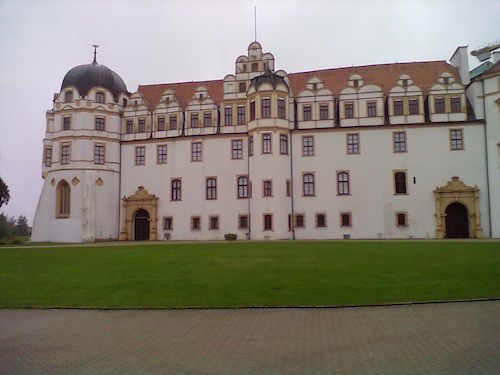 sorry, cell phone instead of camera
Celle burcht/castle.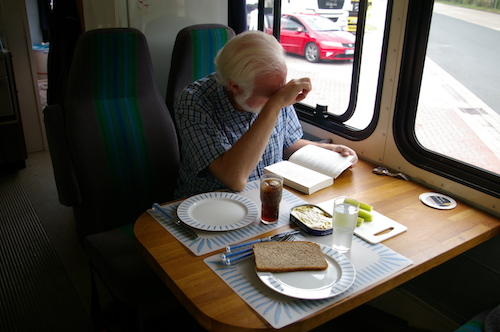 De Henning Mankell is zo spannend, dat ik de lunch vergeet.
Reading a good detective makes me forget lunch!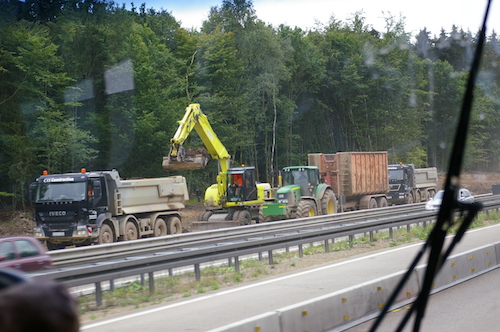 Onderweg van Celle naar Northeim wordt hard aan de weg gewerkt...
Even road works in Germany are handled thoroughly...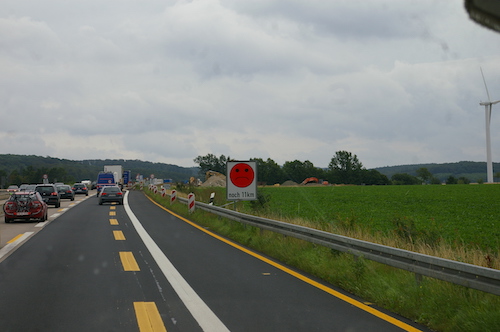 ... en niet zo maar een stukje, maar ruim 12 km lang.
... which means over seven miles of traffic jam.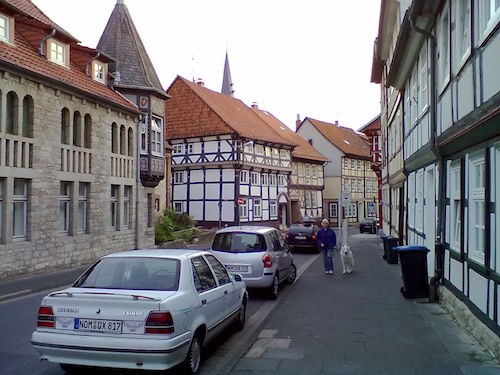 Northeim is een keurig onderhouden stadje met - hoe kan het ook anders - vakwerkhuizen.
The very clean town of Northeim with - surprise - half-timbered houses.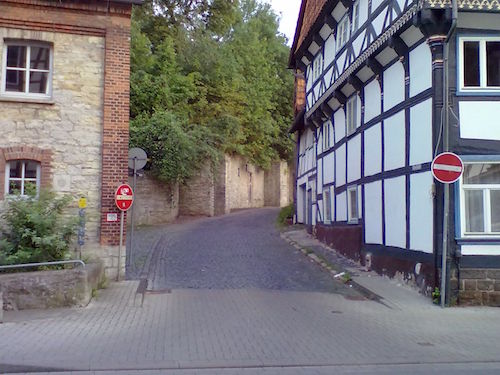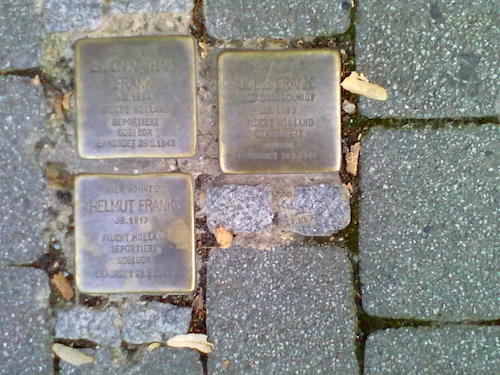 Op verschillende plaatsen in de hoofdstraat zijn er Stolpersteine aangebracht. Deze drie zijn ter nagedachtenis van Simon Nathan, Helmut en Julie Frank, die naar Nederland zijn gevlucht, maar daar toch zijn opgepakt en uiteindelijk in Sobibor zijn vermoord.
Here, too, Gunter Demnig has placed Stolpersteine. These three commemorate three members of the Frank family who fled to the Netherlands, but were eventually caught and murdered in Sobibor.



We staan op een groene parkeerplaats, "In der Fluth", vlak bij het centrum.
This parking place is only five minutes walking from the town centre.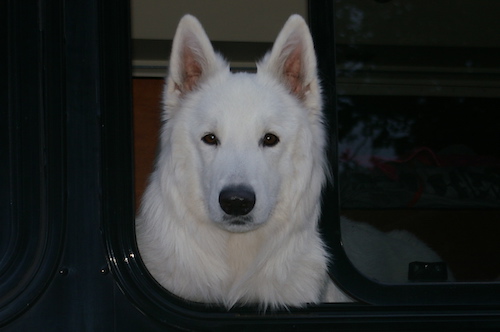 Detail van de vorige foto. Als de baas een foto gaat maken, moet ik toch zeker in de gaten houden dat hij niet te ver weg loopt.
When I walk away from the bus, Motek keeps an eye on me. See the previous picture.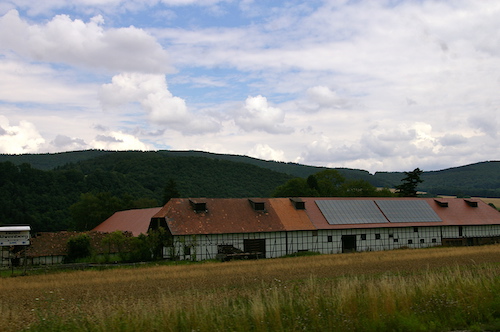 Langs de rand van de Harz rijden we zuidwaarts naar Eisenach. Dit hotel vertoont een merkwaardige mix van oud en nieuw: vakwerk en zonnepanelen!
We drive to the south to Eisenach. This hotel combines old architecture and modern solar panels.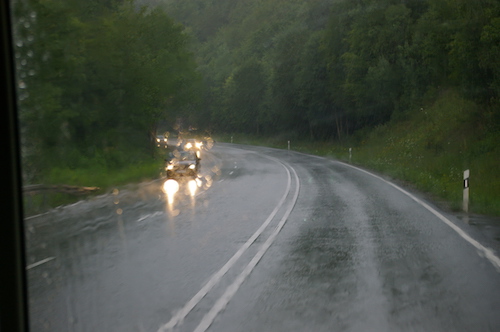 Het is niet de hele dag droog...
Some rain during the day ....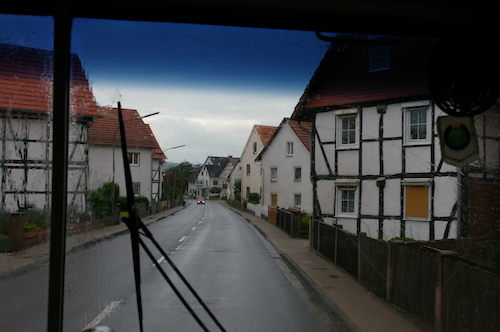 Omdat de huizen schuin op de weg staan, lijkt de weg minder smal.
These houses are situated at an angle to the road, which gives a nice view.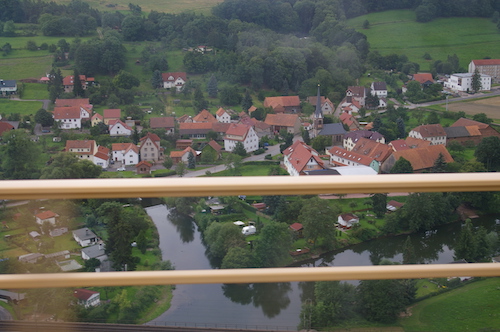 De weg gaat op grote hoogte over het dal van het riviertje de Werra.
A village along the river Werra, seen from the highway (literally).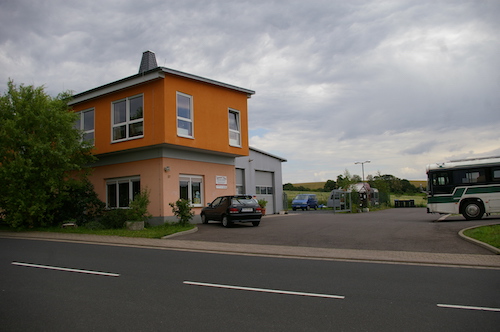 De firma Andreas Waldhelm Wohnmobile heeft een eigen Stellplatz (in Eisenach-Strega). Vandaar kun je het hele dal overzien
We spend the night at the parking next to a motorhome dealer, with a great view over the valley.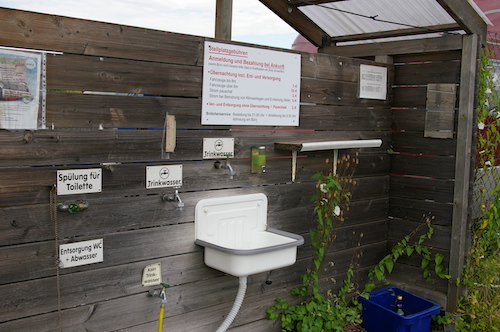 Dit knusse hoekje is het equivalent van de roestvrijstalen zuilen die bij de meeste Stellplätze staan. Let op het spiegeltje om je haar te kammen!
This time we have to pay, but in exchange they offer everything from fresh water to a mirror.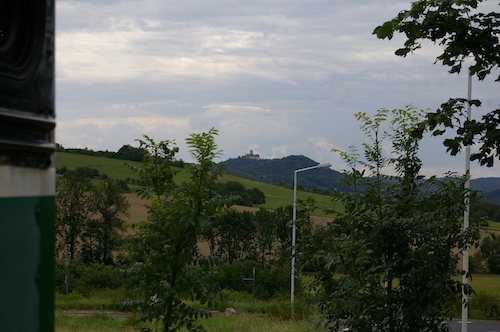 Vanuit de camper (in ons geval als we onze tanden staan te poetsen) uitzicht op de Wartburg.
The valley with the famous Wartburg castle, as seen from the bus.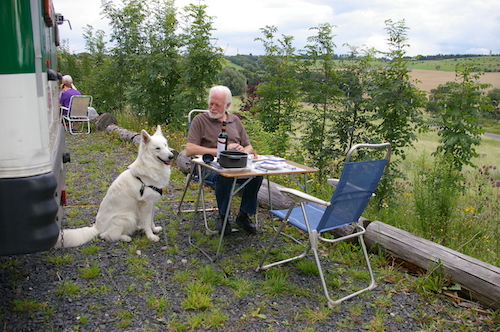 Ondertussen is het droog geworden. Zodoende hebben we voor het eerst deze vakantie het diner buiten!
We can have our dinner outside, now that the rain has gone. First time this trip!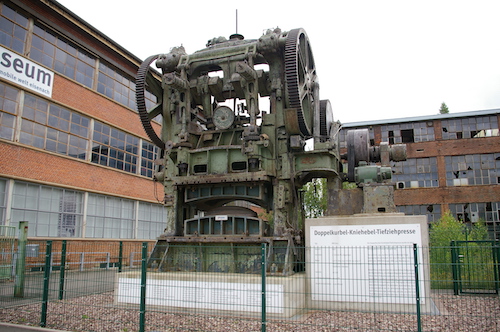 Eisenach was ooit centrum van de automobielindustrie. Tot 1949 kwamen hier BMW's vandaan, in de DDR-tijd heette dezelfde auto EMW (Eisenacher i.p.v. Bayrische). Deel van de fabriek (het linker) is ingericht als museum. Voor de ingang staat een indrukwekkende Doppelkurbelkniehebeltiefziehpresse (sic) uit 1928.
The Eisenach automobile museum shows the history of the cars manufactured here, BMW, EMW, Dixi and Wartburg. Today they manufacture Opels here. The entrance to the museum is marked by a huge 166000 lbs heavy press which pressed car parts since 1928.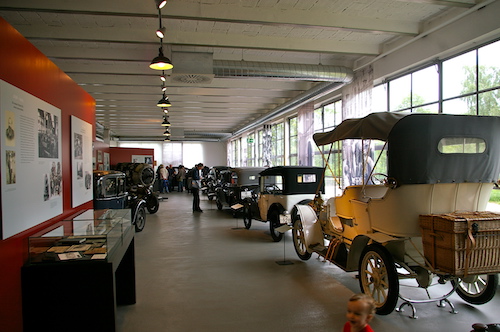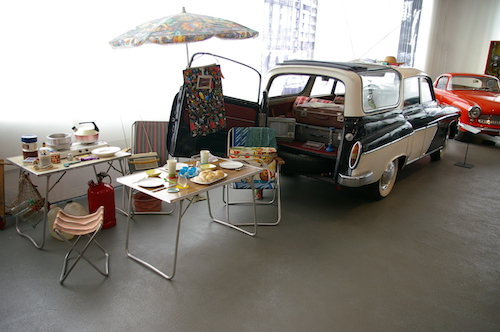 Ook de DDR-burgers recreëerden, met de klaptafel achterin hun Wartburg.
Those who could afford a car in the GDR, went camping and picnicking, not unlike today.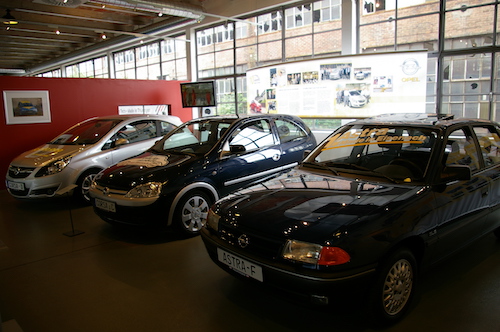 Tegenwoordig komen er Opel Corsa's en Astra's uit Eisenach.
Some samples of modern production.



Van de synagoge van Eisenach is alleen nog te zien waar die heeft gestaan. Het gebouw zelf is in de Kristallnacht verwoest.
Until 1938 this was the site of the Eisenach synagogue.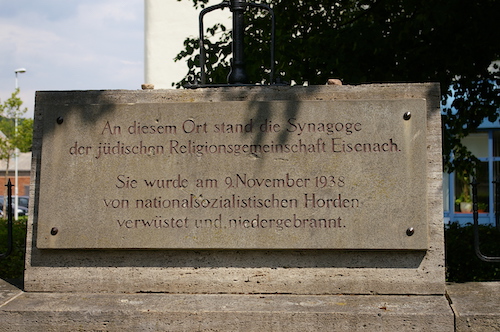 Op de plaats waar eens de aron stond, staat deze gedenksteen.
Memorial where once the torah scrolls were.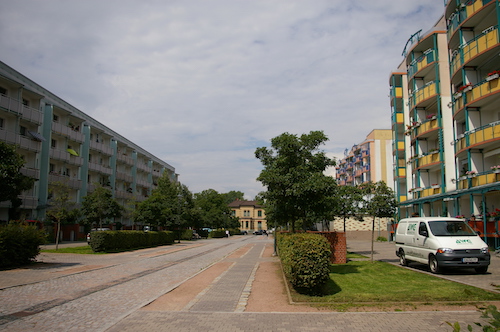 De grauwe communistische flatgebouwen zijn in de afgelopen 22 jaar aardig opgeleukt.
Former communist flatbuildings with some new paint.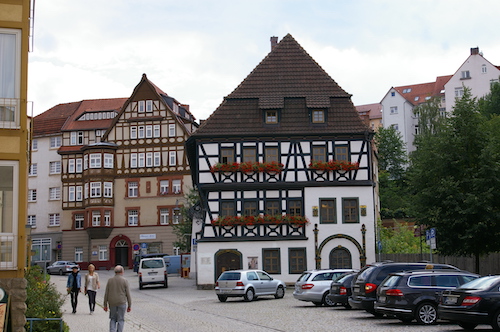 Het Luther-huis, een toeristische trekpleister.
Luther-house, the oldest half-timber house of Eisenach.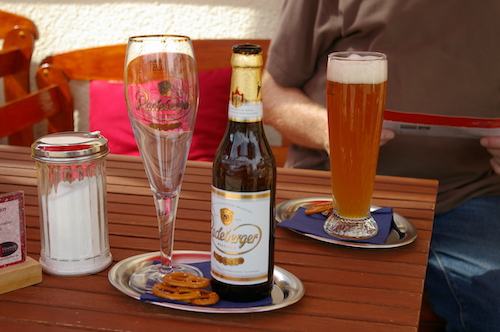 Tegen de ergste dorst, onze toeristische trekpleister!
The weather suddenly turned hot, so we treat ourselves to a beer, with pretzels!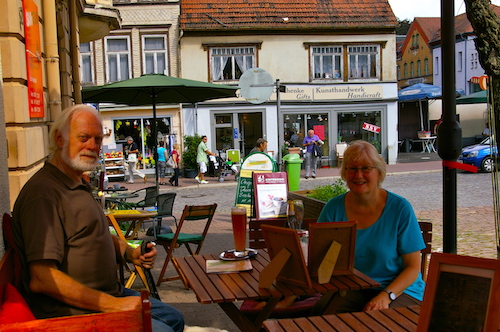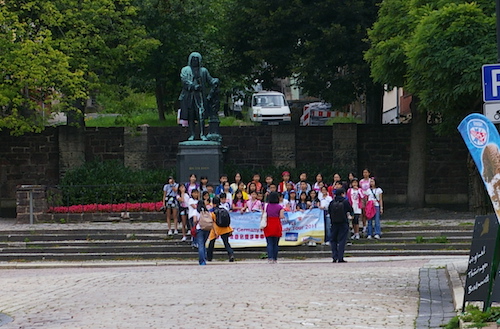 Bussen vol Japanners op bedevaart naar het Bach-huis.
Japanese children taking a group picture with their own banner in front of the statue of the composer J.S. Bach.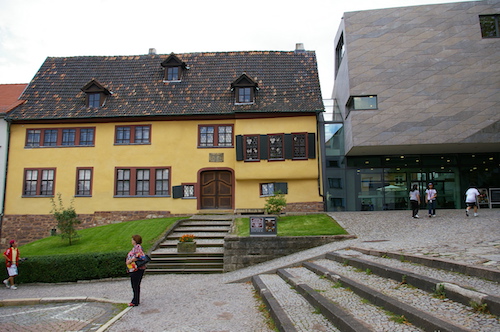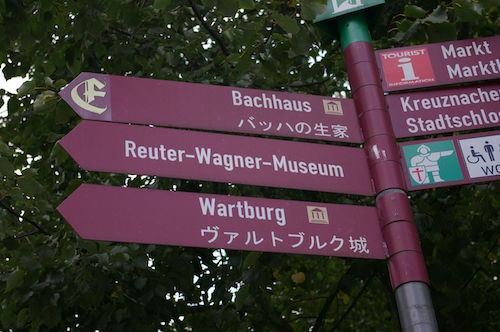 Kennelijk trekt Eisenach veel Japanners, de richtingborden vermelden zelfs Japanse teksten.
Even some signposts are in Japanese. Mind you, we are in the former GDR What a change!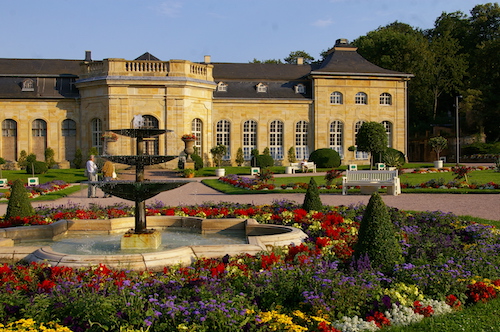 De orangerie van Schloß Friedenstein in Gotha.
We drive 45 mins. to Gotha and walk to the inner city. This is the garden of the Schloß Friedenstein.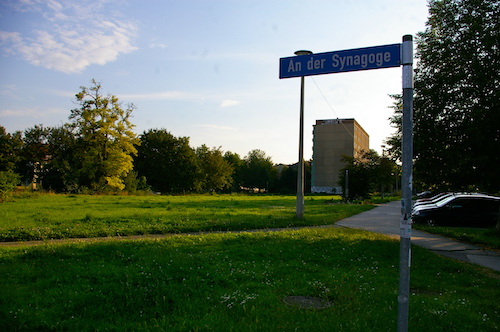 Van de synagoge in Gotha (ook verwoest in de Kristallnacht) is nog minder over dan van die in Eisenach. Een straatnaambordje en een monument.
The synagogue in Gotha was also destroyed in the Crystal Night. A street name and a memorial is all that is left.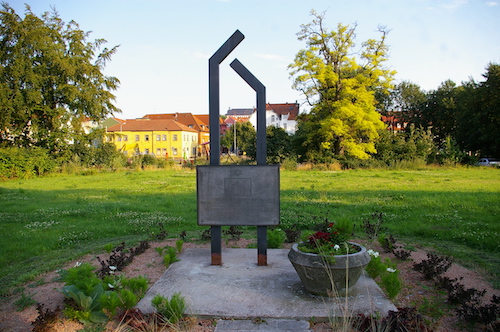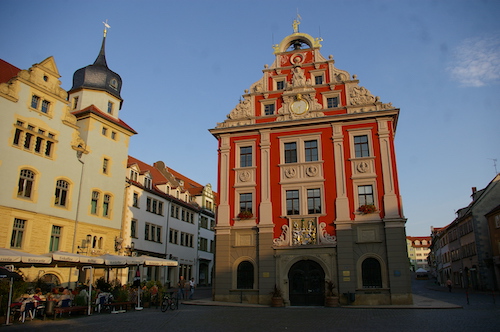 Het oude raadhuis (1567-1574) op de Hauptmarkt van Gotha, in de avondzon.
The old town hall on the main market square of Gotha, in the evening sun.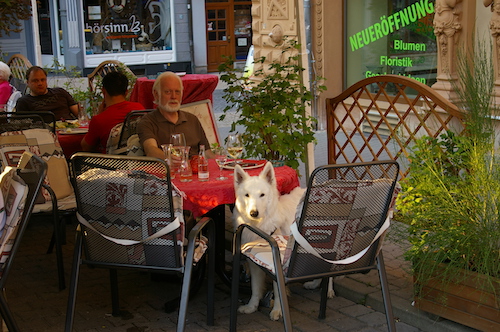 Italiaans restaurant Bellini op dezelfde Hauptmarkt.
We have dinner on the terrace of Italian restaurant Bellini.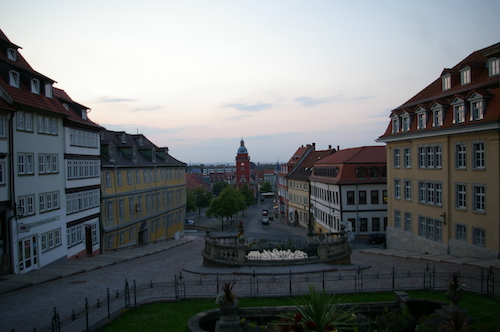 Na het eten lopen we terug naar de camper. Uitzicht op het Rathaus met aan de horizon veel moderne windmolens (te ver voor de foto).
9 PM, walking back to the bus. View on the old town hall.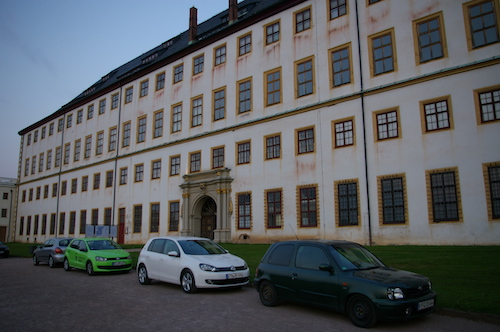 Achterkant (!) van Schloß Friedenstein, dat wordt gerestaureerd met geld van de Europese Unie.
Backside(!) of the Schloß Friedenstein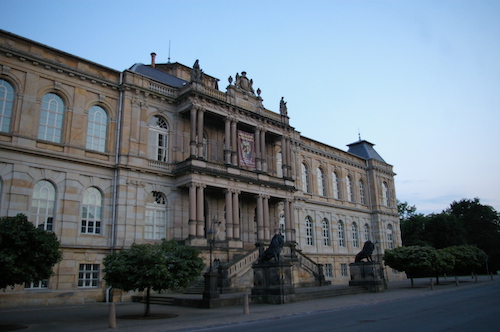 Herzogliches Museum.
And the Duke's museum.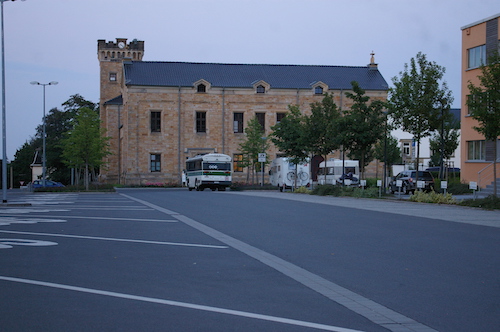 En na een stevige wandeling zijn we blij weer bij Skoolie te komen naast het gemeentelijke busparkeerterrein.
Back at the motorhome parking, where we just took the last available plot. The rest of the parking is for tourist buses, probably early tomorrow morning.
Go to top of page