Zomer 4
Vanmorgen vertrokken uit Münnerstadt. Op naar het Westen...
What came after Münnerstadt: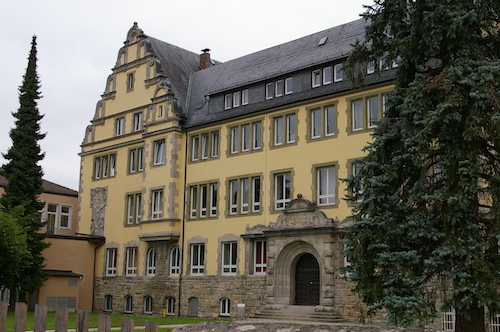 De lokale Stellplatz is in de Seminarstraße. En dit is het Seminar.
The (former?) Seminary in the same street as the motorhome parking.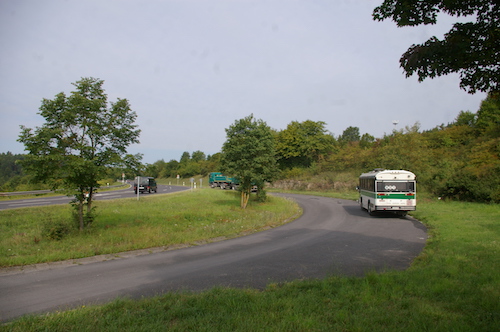 We hebben al geruime tijd af en toe last van een haperende motor door lucht in de brandstofleiding. Maar vandaag krijgen we de motor helemaal niet meer gestart. Net buiten Münnerstadt staan we op een keerlus, waar we niemand in de weg staan. De ADAC komt er niet uit. De volgende morgen nemen we contact op met de firma Thomas Hofmann, die tenminste vertrouwd is met de Cummins B235. Nu wachten we op zijn reactie.

For some time we have had problems with the engine in our school bus because of air bubbles in a fuel line. Now (Sunday afternoon) it doesn't want to fire any more, so we are stuck just outside Münnerstadt. We call the ADAC road patrol, who cannot locate the problem. They advise us to call a firm who knows more about American cars and the Cummins engine. We can only do that on Monday morning. And now we are waiting for an answer if they can find the necessary spare parts for us.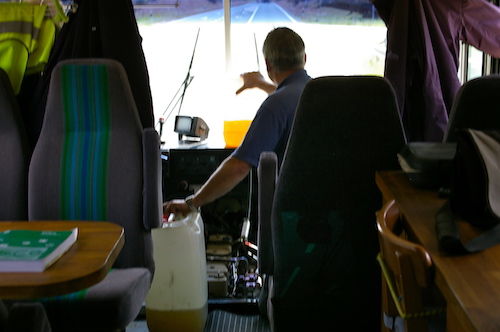 Thomas en Felix komen ter plaatse. Met behulp van transparante kannen voor heen- en terugleiding proberen we erachter te komen waar de lucht in de brandstof vandaan komt.
Thomas and Felix come to visit us. They (and Ernst) try to locate the problem with the help of transparent cans.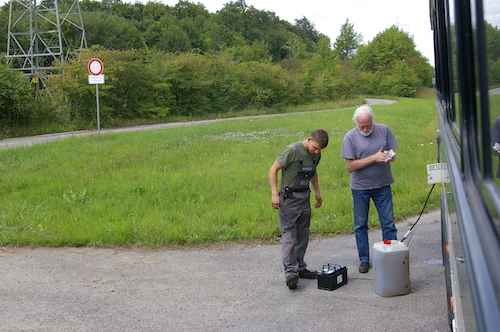 Als de retourtank vol is, moeten we de inhoud terugpompen in de brandstoftank.
When one can is full, the diesel has to be pumped back into our tank.

Uiteindelijk constateert Felix een lekkende aansluiting van de aanzuigleiding op de waterafscheider onder de bus. Nadat die met wat telfon-tape gerepareerd is, loopt de bus als vanouds.
Eventually - after having installed an extra pump and a filter, which does not solve the problem - young Felix localises a water separator with a connection which is leaking. With the help of some teflon tape the bus starts again! All together we are nine working hours further.

's Nachts staan we op een parkeerplaatsje langs de A7. De meeste van dit soort plekjes zijn vol (de nieuwe Europese rijtijdenwetten zijn niet om mee te spotten), maar uiteindelijk is er een waar net een combinatie vertrokken is en waar dus voldoende ruimte is voor ons busje. Keurig plekje met afvalcontainer en putje voor zeepvrij grijs water. Keerzijde van de medaille is dat we slechts 10 m van de Autobahn af staan en dat het lawaai van langsdenderende voertuigen de hele nacht doorgaat. Ondanks dat slapen we beter dan verwacht.

We are drive on along the motorway A7 and spend the night on a parking spot along the road. It is difficult to find a spot at this late moment of the day, because many trucks are already parked for the night. This spot is very noisy but we do sleep after all.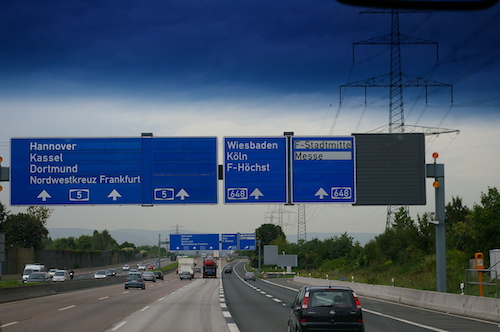 Op weg naar Kronberg im Taunus rijden we verschillende stukken Autobahn rondom Frankfurt am Main.
Next day we drive on, around Frankfurt, to Kronberg im Taunus.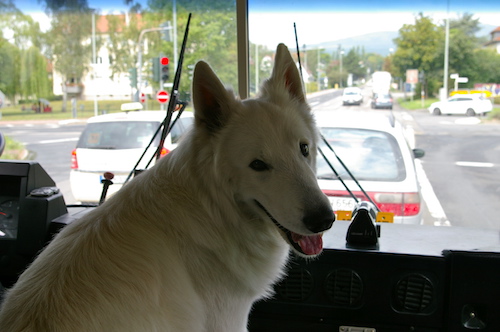 Zijn we er al bijna?
It's getting a bit boring! How much longer?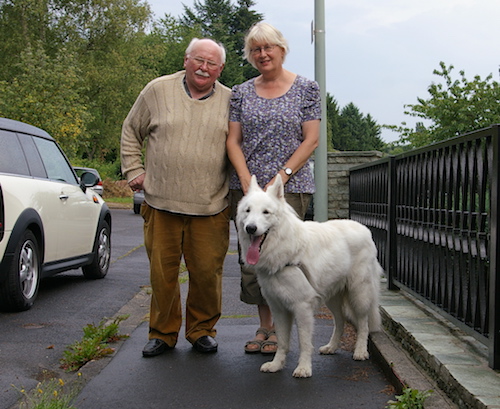 In Kronberg im Taunus hebben we een oergezellige lunch bij Sylvia haar neef Gerd.
In the afternoon we visit Sylvia's cousin in Kronberg.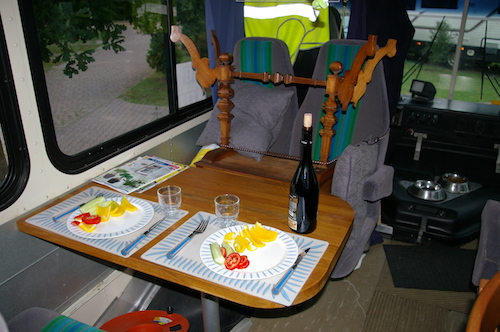 Gerd geeft Sylvia een speeltafeltje dat ongeveer 100 jaar geleden door hun gemeenschappelijke grootvader met de hand is gemaakt. We vervoeren het op een bank aan de eettafel, wat betekent dat we later op de dag het avondeten naast elkaar nuttigen.
This little table is hand-made by Gerd's and Sylvia's grandfather. Gerd gives it to Sylvia to keep. We tie it upside-down on two seats which means we have to eat our dinner side-by-side.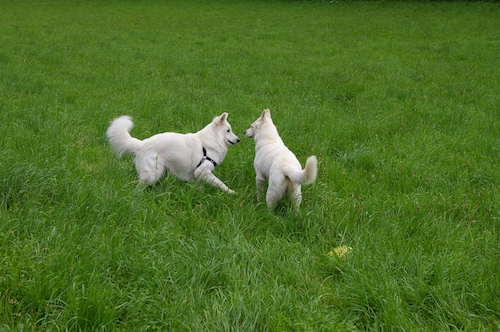 Surprise: Motek ontmoet een vriendinnetje in het hondenweitje aan het eind van de straat.
Before we leave we are taking Motek for a little stroll. Here he meets another little white one. It is time he gets a bit more polite to strangers!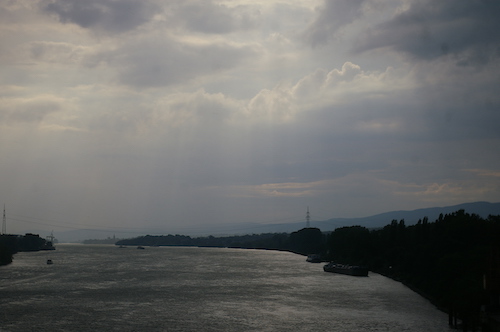 De Main tegen de ondergaande zon in.
On our way west we cross the River Main.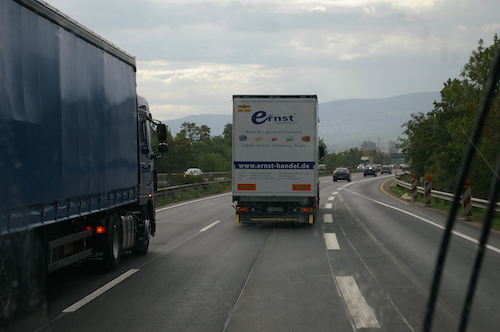 Naamgenoot.
We are overtaken by a lorry of a firm called "Ernst". :-)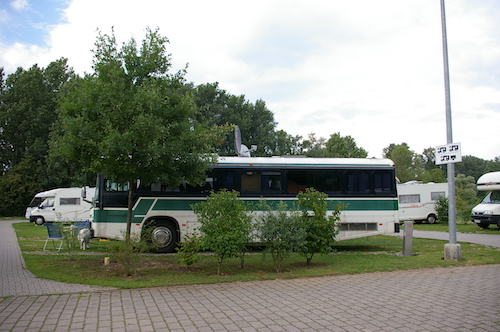 Deze Stellplatz in Bingen am Rhein heeft geen zwembad of speeltuin, maar biedt verder alles wat een camping biedt.
This motorhome parking in Bingen is a luxurious one. Only a swimming pool and a playground are lacking.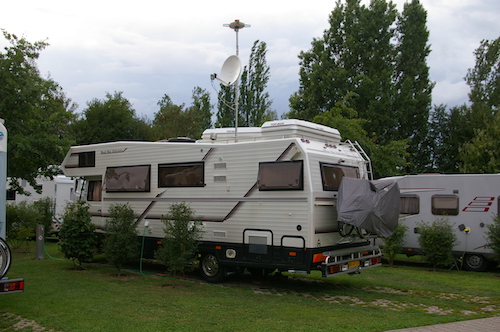 De 613 en andere Düsseldorfers blijven een speciaal plekje in ons hart houden.
A Dutch Mercedes 613 with big living quarters across the path. Ever since our first motorhome project, which was also a so-called Düsseldorfer, we still feel attracted to this type of vehicle.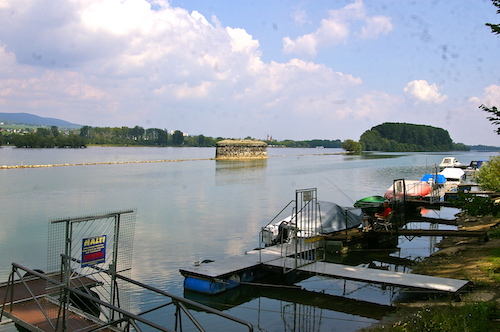 Een paar minuten wandelen vanaf de Stellplatz sta je opeens aan de oever van de Rijn. Duidelijk is nog een pijler te zien waar eens de Hindenburgbrücke was.
When walking Motek we encounter the River Rhine. The bridge pillar belongs to the former Hindenburg bridge, a railway bridge which was built in 1915 and destroyed in 1945.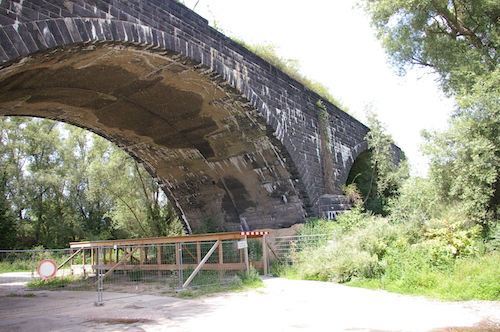 In het bos staan nog de - ook deels verwoeste - bogen van de stenen en betonnen aanbrug die de overspanning met de landhoofden verbond. Het geheel is van een ontzagwekkende grootte.
The leftovers of the concrete and stone arches are of an alienating size!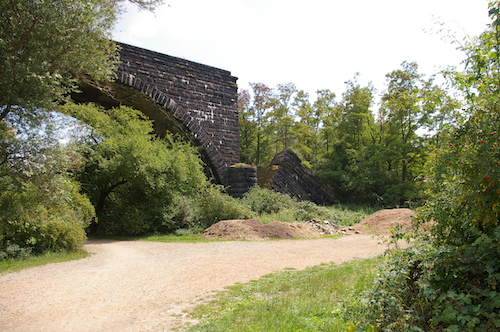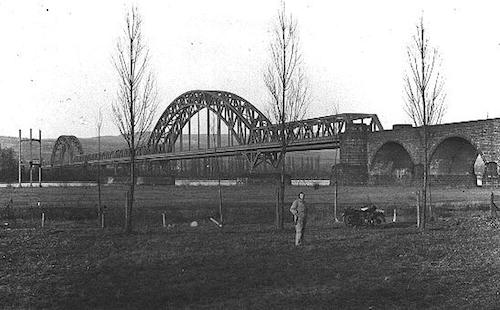 En zo zag de brug er uit tussen 1915 en 1945.
Old photograph of the bridge before its destruction.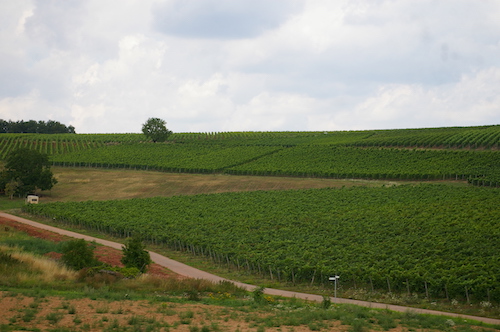 Het is vandaag prachtig weer. We rijden minder dan een uur (genoeg om heet water in de boiler te hebben) door mooie, glooiende landschappen.
We cross green, sloping fields under a bright sun. We drive less than an hour, long enough to heat the water for tomorrow's showers, short enough to keep it interesting.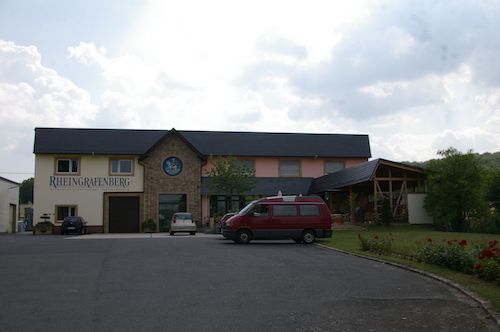 De lokale Meddersheimse coöperatie van wijnbouwers heeft volgens de Bordatlas een eigen Stellplatz. Dat klopt, maar wel voor wat kleinere campertjes.
The Meddersheim winegrowers cooperative offers motor homers a place for the night. However, our Skoolie is a bit big for their parking.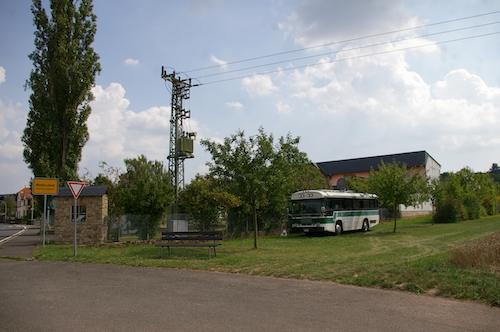 Omdat we wat groter zijn dan de gemiddelde bezoeker, krijgen we een prachtig plekje net buiten het hek, met uitzicht over het Nahe-dal. Links op de hoek (achter de verkeersborden) is een stenen 'huisje' met daarin een etalage met de lokale wijnen. 's avonds verlicht met kerstversiering, net een kamertje.
Because of the size of our bus they give us a special - and very nice - spot just outside the fence. From there we have a magnificent view. In the far left part of the fence (in the stone 'house') is a cosy display of the local wines. In the evening there is a light inside, just like a small living room.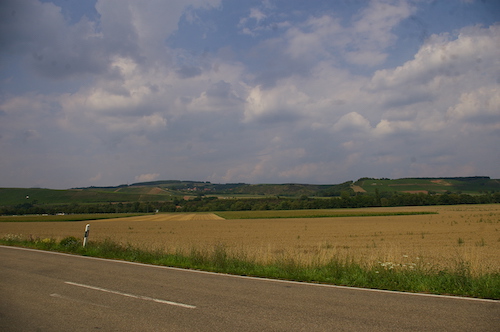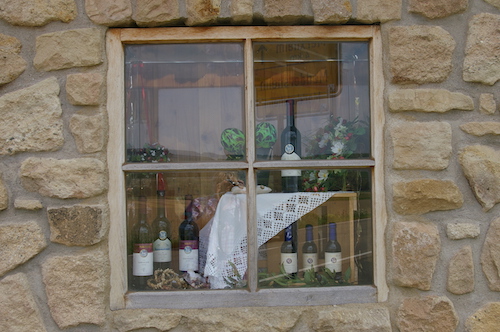 Meer op de volgende pagina. (Anders duurt het laden van de pagina zo vreselijk lang...)
To be continued on the next page.


Go to top of page