12-2
Mei: zelfbouwtreffen in Hollandscheveld.
East Frisia (Germany), followed by a meeting of self built or converted motorhomes in Hollandscheveld (Dutch province of Drenthe).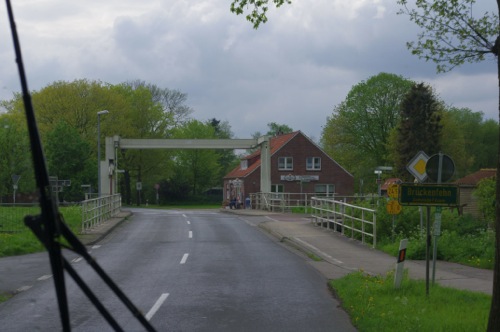 Verder door Oost-Friesland. Het land wordt doorsneden door talloze kanalen, ooit gebruikt voor het transport van turf.
One of the many bridges across the 19th century peat canals.
In veel boerderijen is men overgegaan op het houden van luxe-paarden.
Horses galore in this area.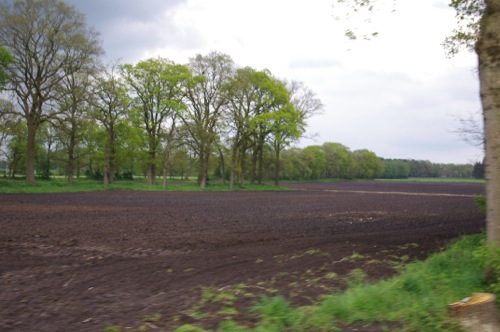 De kleur van de bodem verraadt het hoogveen.
The dark brown/black soil still contains the left-over of the peat.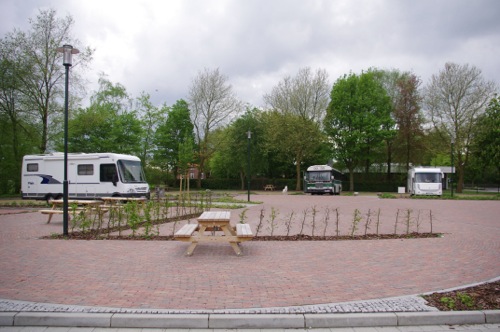 Zeer fraaie, nieuwe GOP in Hesel. Je gaat € 4 betalen bij de VVV op de hoek van de straat. Voor dat geld krijg je ook nog een mooie, gepersonifieerde kwitantie.
New motorhome parking in Hesel.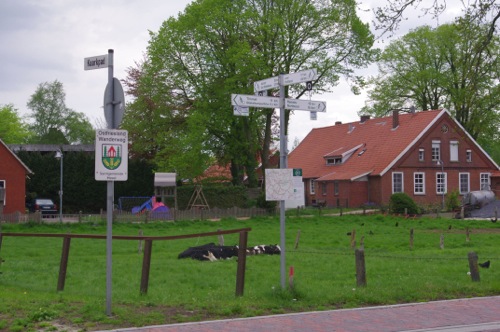 Het is duidelijk te zien dat we hier in een toeristisch gebied zijn.
Bicycle tracks. Anything to attract tourists.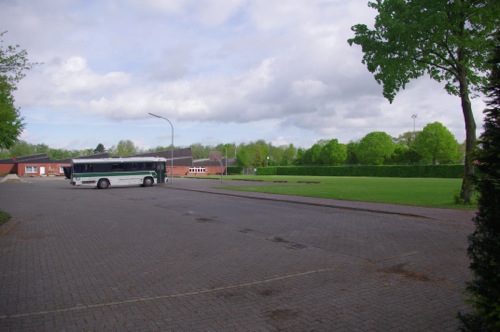 In Rhede overnachten we op het parkeerterrein bij het clubhuis van de schutterij.
Empty (but for one bus) parking in Rhede.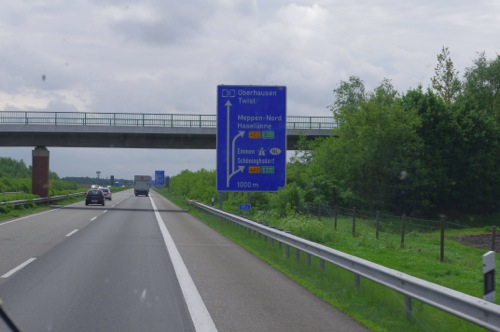 De volgende dag gaat het verder richting Nederland.
Germany is famous for its motorways not for nothing!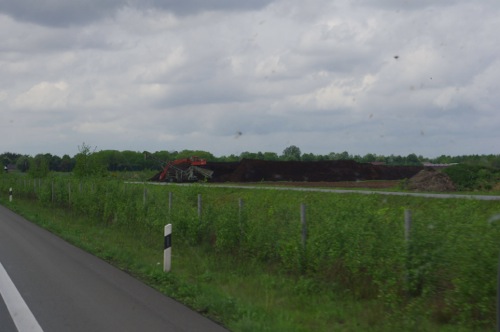 Een laatste stuiptrekking van de turfwinning.
There are still a few peat excavation areas.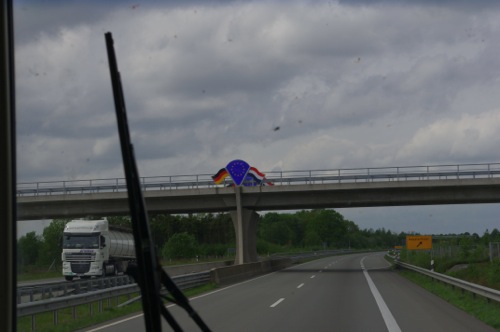 Nederland-Duitsland: 1-1
The German-Dutch frontier. In most of the European Union there is completely free transport of persons and goods, so no customs posts are to be seen.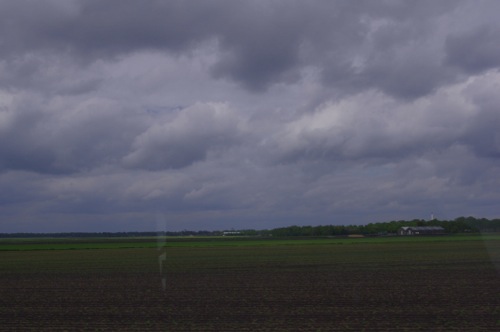 Het landschap is hier erg open, vergeleken bij Oost-Friesland.
Less groves than in East Frisia.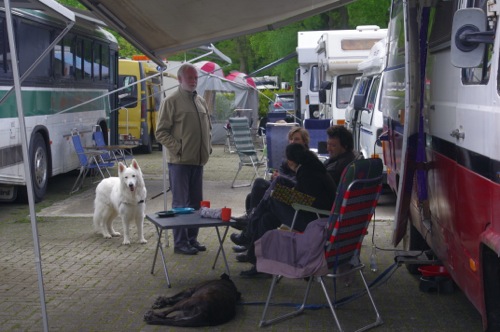 Het Zelfbouwtreffen op De Eikenhof in Hollandscheveld. Omdat het veld erg soppig is, staan we op een verhard terrein. Dicht op elkaar, maar wel gezellig.
In Drenthe we meet old friends. Because of the wet grounds, we have to park very close to each other.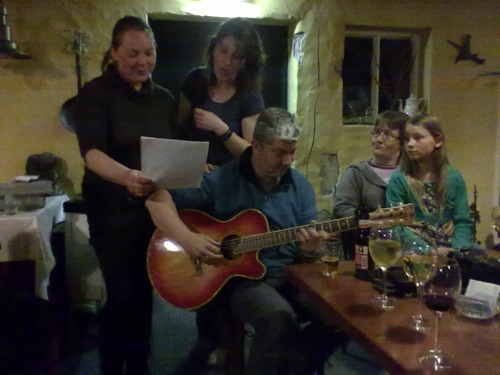 De oude hits worden van stal gehaald. De songteksten worden op diverse mobiele telefoons van het web geplukt.
Community singing in the canteen. Generation gaps are clearly visible.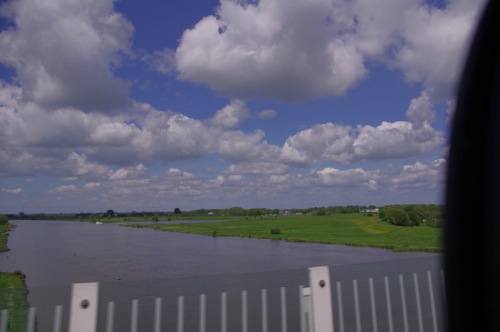 Het verschil tussen Over-IJssel: de IJssel.
Near Zwolle we cross the river IJssel.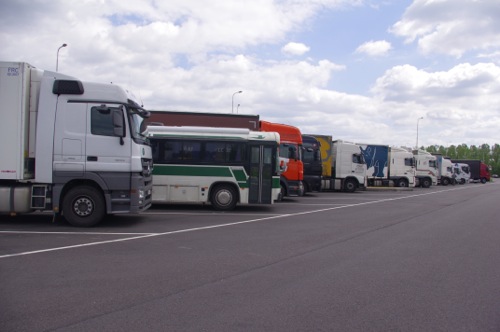 Gezellig plekje voor de laatste lunch onderweg.
Here we have lunch, only hours before we arrive back home. Because it's Sunday, most truckers are grounded until they are allowed to drive into Germany (10 PM).

Eind van de dag zijn we weer thuis. Het gras staat behoorlijk hoog en de Turkse tortel heeft twee eieren, Verder niets te melden.
Around dinner time we arrive back in Beerse. The collared doves behind our satellite dish have produced two eggs. But further everything is as we left it.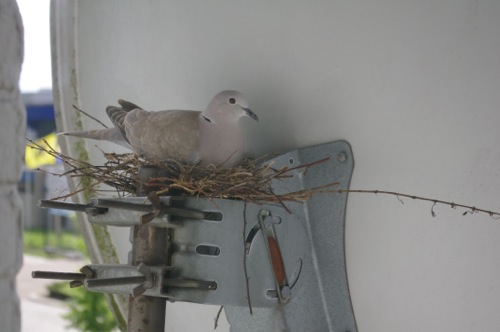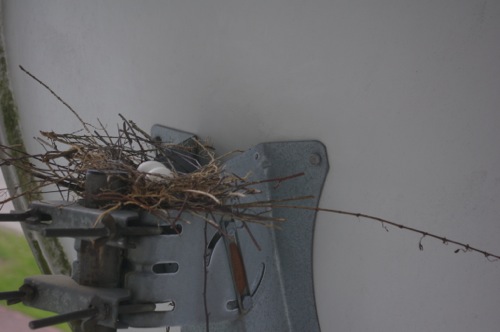 Update: de volgende dag zijn de eitjes verdwenen. In plaats daarvan zitten er twee kleine mini-torteltjes in het nest. Wel goed kijken!
The next morning we see two little chicks, hardly visible, in the nest.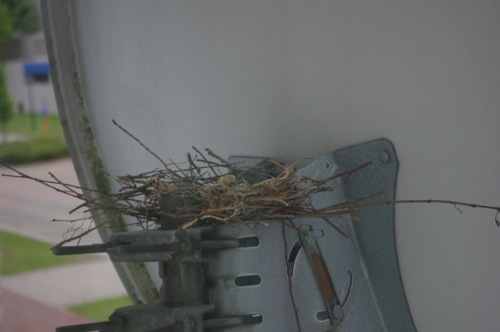 Go to top of page