12-3
Augustus: begin verhuizing en rondreis Noord-Duitsland.
Beginning of the move to Germany - roundtrip through the North.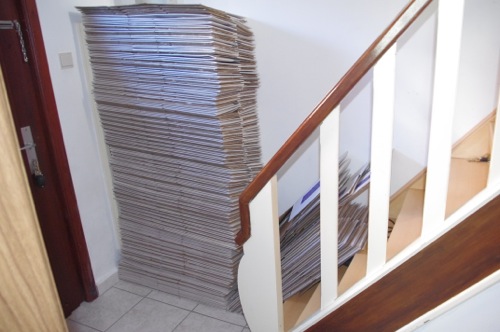 Van onze Vlaardingse vrienden lenen we een indrukwekkende stapel verhuisdozen.
We borrow an impressive pile of boxes from friends of ours, who are seasoned movers themselves.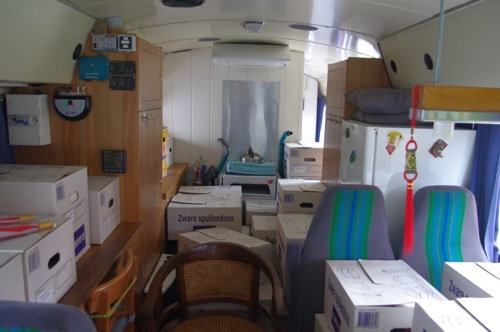 Omdat we onze vakantie in Noord-Duitsland beginnen, ligt het voor de hand een boel spullen die we (hopelijk!) de eerste maanden niet gaan missen en route te verhuizen.
Our motorhome has 8 400 lbs extra freight capacity. A part of it we use to bring a first load of what we'll hopefully not need the next few months in Beerse, to Großenkneten.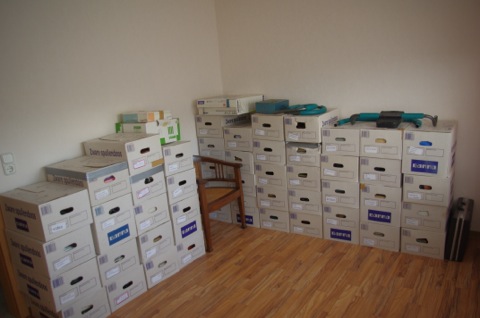 De eerste dag rijden we in één ruk van Beerse naar Großenkneten. De route via Eindhoven-Apeldoorn-Denekamp-Lingen-Cloppenburg blijkt ongeveer 100 km korter dan de weg die we eerder hebben genomen. En in Denekamp is de diesel nog goedkoper dan in Turnhout!
Na aankomst moeten we een paar uur doorbuffelen, maar dan is de bus weer als camper te gebruiken en staan de eerste 80 dozen op de eerste verdieping van ons toekomstige huis.
The first day of our trip we take around 80 boxes to our future home. Carrying them upstairs is quite a job.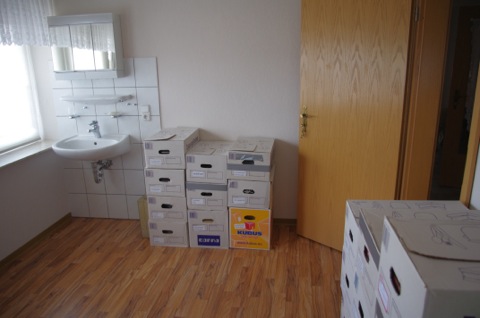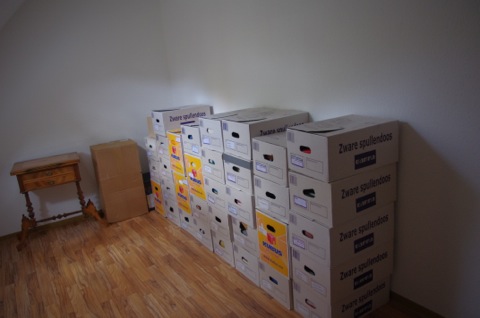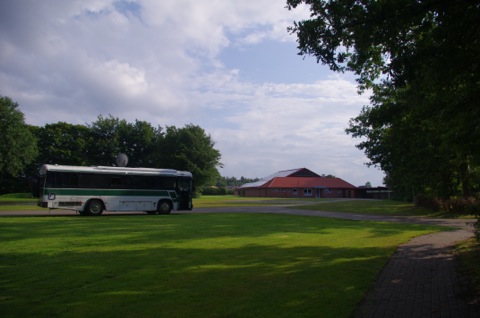 Großenkneten heeft een mooie Stellplatz naast de Schützenverein.
Met het plattegrondje dat we hebben gekregen goed te vinden (Google maps kent het adres niet).
Only 10 minutes from our new house is this beautiful parking where motorhomes can stay overnight.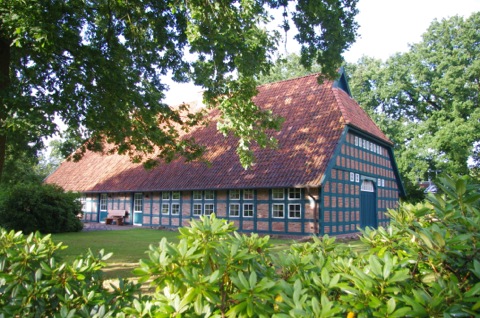 Vlakbij de Stellplatz is het Karkenhus.
This old farm near the parking is now used as a religious community centre.

Vlak bij de Stellplatz is het gemeentehuis. Sylvia gaat wat informatie halen en wordt uiterst vriendelijk te woord gestaan. Ernst houdt Motek gezelschap, die niet welkom is in het gemeentehuis.
The Großenkneten town hall is only one block away. Sylvia asks for some useful information and is helped in the kindest possible way. Motek is not allowed inside, so Ernst keeps him company.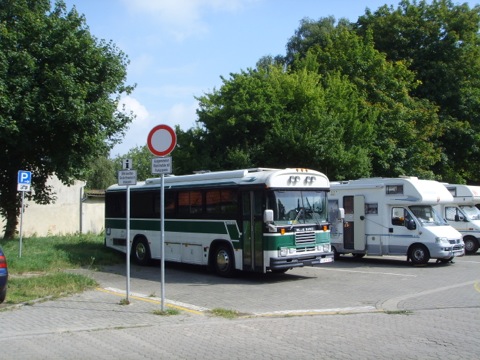 In Delmenhorst mag je gratis staan als je een Parkschein bij de VVV haalt. Maar dat is dan ook voor een week geldig en je krijgt er een informatiepakket bij.
On to the town of Delmenhorst. One needs a (free) parking ticket from the tourist office which is valid for a week!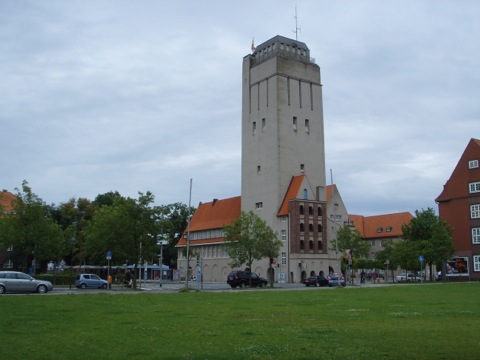 De watertoren staat naast het Stadhuis (beide begin 20e eeuw) waar ook de VVV zit.
Town Hall and water tower. The tower is a unique landmark for Delmenhorst.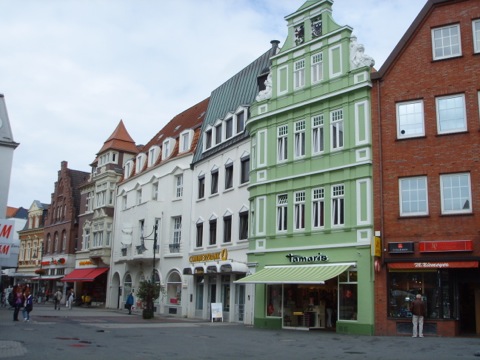 Lange Strasse in het centrum van Delmenhorst
The 'Long Street' in the centre of Delmenhorst.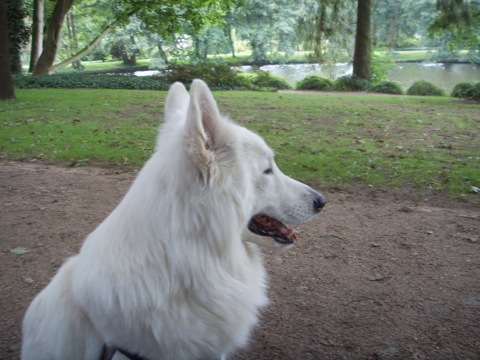 Aan de andere kant van de Stellplatz ligt een park met het kasteel eiland (ruïnes van een Middeleeuws kasteel).
Next to the parking is a beautiful park with an island where a mediaeval castle used to be.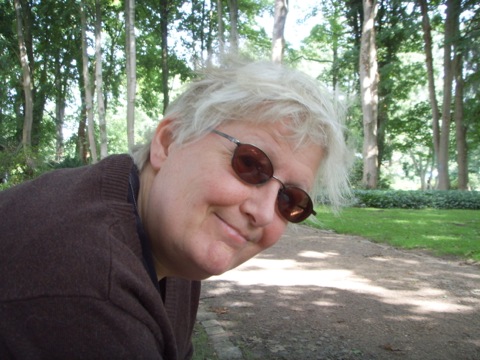 Delmenhorst bevalt goed.
Yes, we like this park ;-)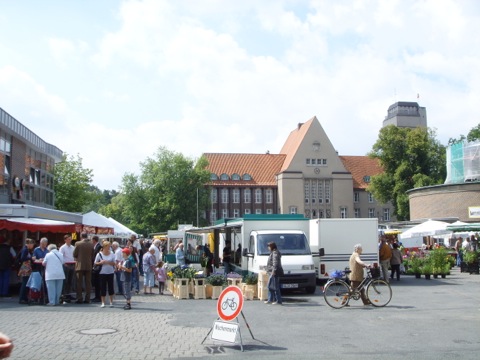 Op woensdag en zaterdag is er markt achter het stadhuis.
Twice a week there is a market behind the town hall.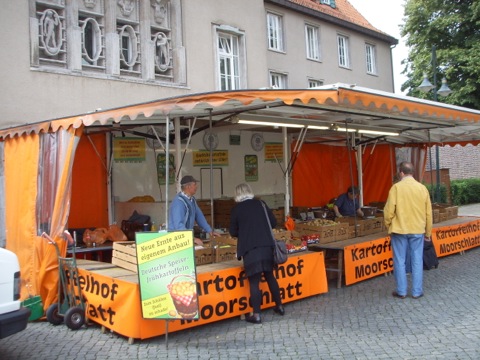 Met nog een ouderwetse aardappelhandel met houten kratjes.
Old fashioned market stall (potatoes)



en nog een …
and another one ..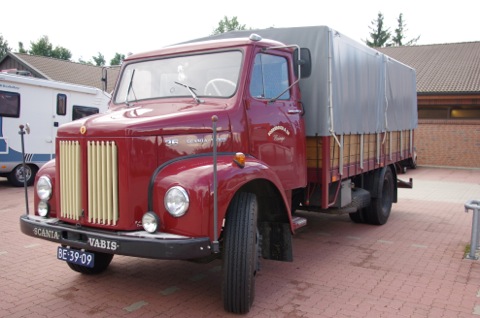 We vervolgens onze weg naar Sittensen waar we op het parkeerterrein van de Aldi deze prachtige oldtimer Scania 36 zien staan.
Next stop Sittensen where we see this old truck from the sixties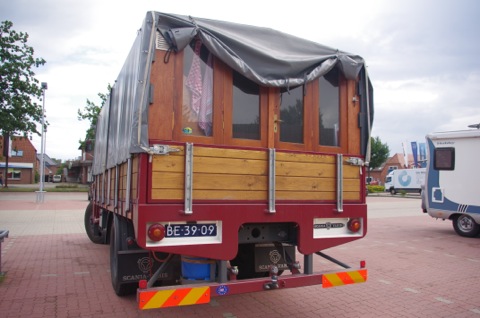 Pas aan de achterkant blijkt het een camper te zijn. Wat een beauty!
… which turns out to be a motorhome.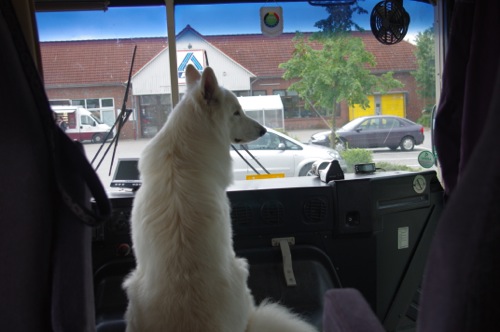 Ondertussen bewaakt Motek de bus.
Our auto-setting alarm device.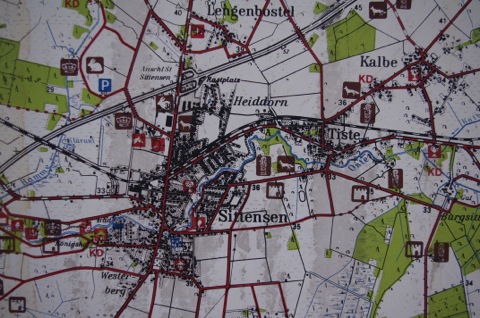 Sittensen ligt aan de Oste
Map of Sittensen on the river Oste.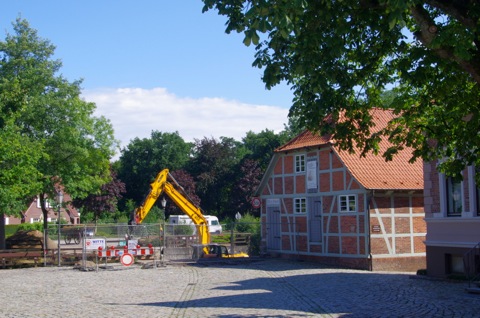 Het bruggetje over de Oste is er even niet… De Stellplatz lijkt onbereikbaar. Maar met het nodige kruip door/sluip door komen we een kwartier later toch waar we willen zijn.
We need to cross the Oste, but temporarily there is no bridge.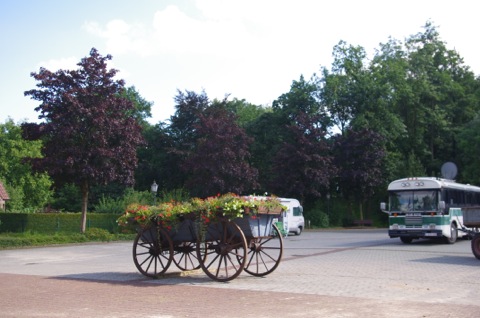 Alweer een prima Stellplatz, gratis en met volop wandelmogelijkheden voor de hond.
With a little detour we eventually reach the motorhome parking, again next to a park.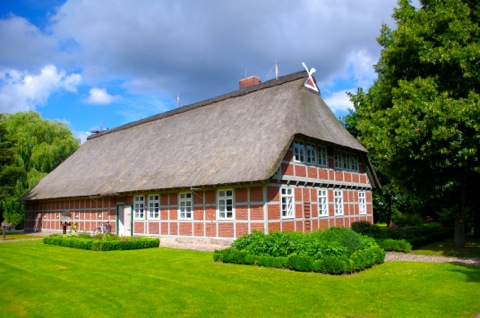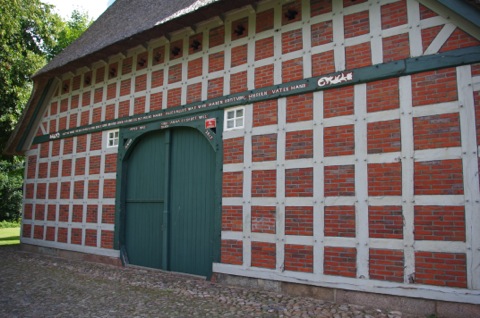 Deze prachtige boerderij komt van een andere plek. Nu weer nieuw opgebouwd, is het een gemeenschapscentrum voor de inwoners van Sittensen.
On the other side of the park is this beautiful old farm, now a community centre.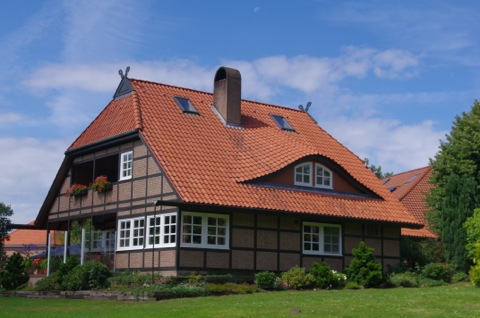 Het is grappig om te zien dat dezelfde stijlelementen nog steeds worden gebruikt.
Houses are still built in the same style.

Van de Oste naar de Este en wel naar Buxtehude.
From the River Oste we go to the River Este. The town is called Buxtehude.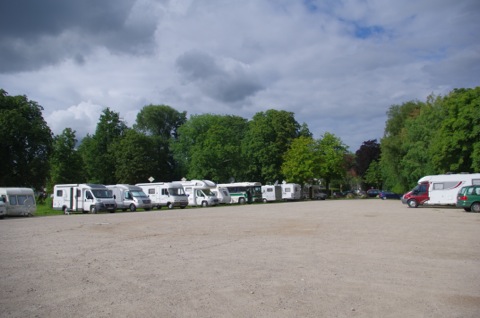 Stellplatz vlak bij de Este
Parking next to the Este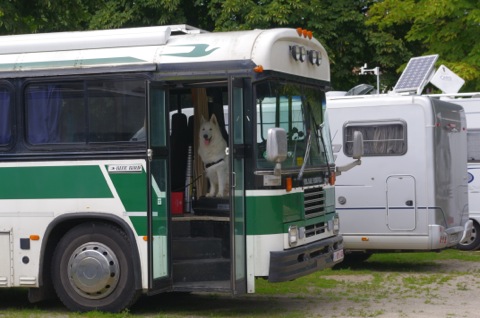 Natuurlijk let Motek goed op of het bazinnetje wel terugkomt na het foto's maken.
Motek is waiting for Sylvia's return.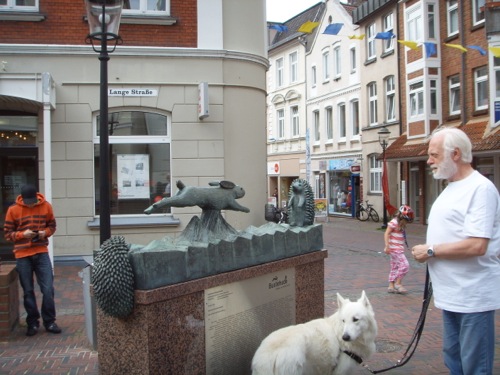 Beeld van het beroemde Grimm-sprookje van de Haas en de Egel.
Statue of the Grimms' fairy tale The Hare and the Hedgehog.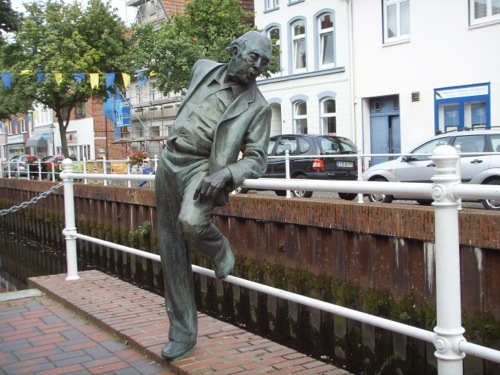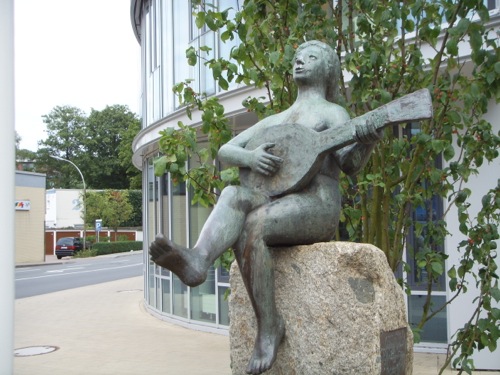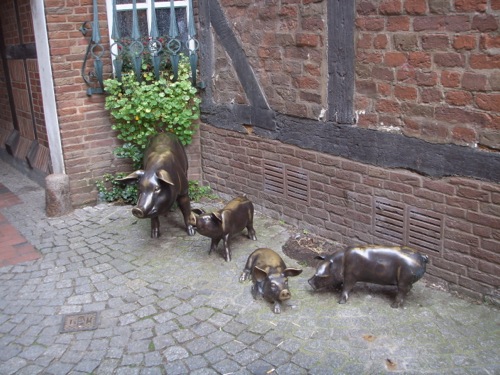 We maken een stadswandeling en eten in restaurant Amadeus.
The town of Buxtehude is full of art.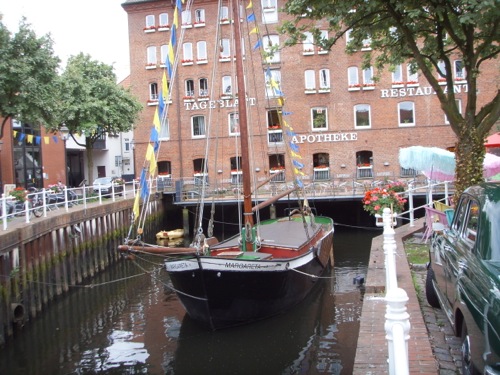 We besluiten eens een dag wat langer te rijden en gaan richting Deense grens, via Hamburg. Dat hebben we geweten!
For a longer day trip we have to cross the river Elbe in Hamburg.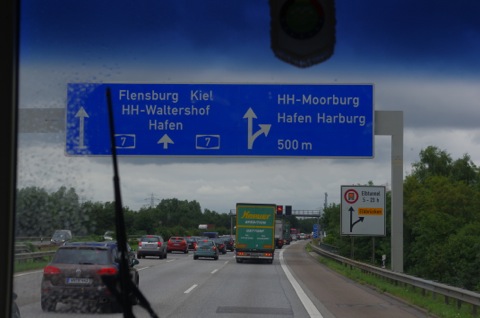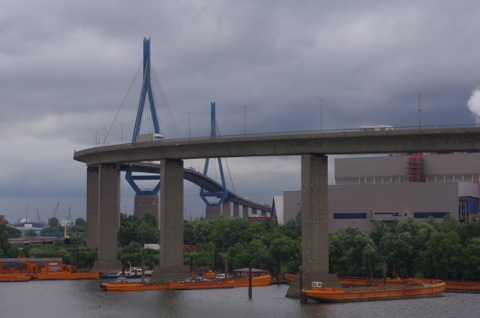 Tom Tom stuurt ons niet over de hoge Elbe-Brücke
We do not take this high bridge over the River Elbe,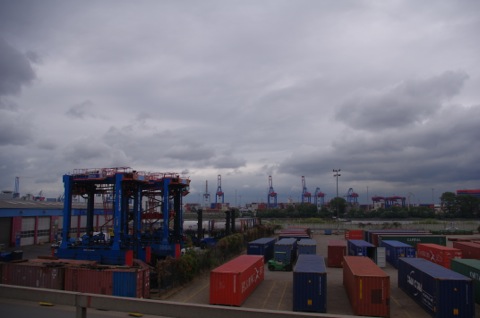 maar we blijven in de file en gaan langs de bedrijvigheid in de haven
but stay in the traffic jam with a view on this very big harbour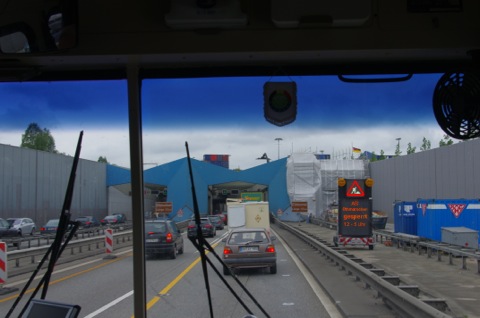 tot we eindelijk de ingang van de tunnel zien.
till we finally reach the tunnel.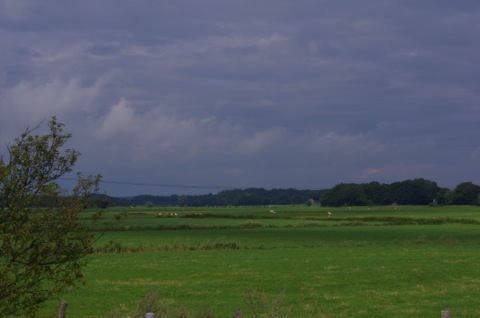 Aan de andere kant van de tunnel (na nog wat file) is het weer groen.
Finally a green landscape again.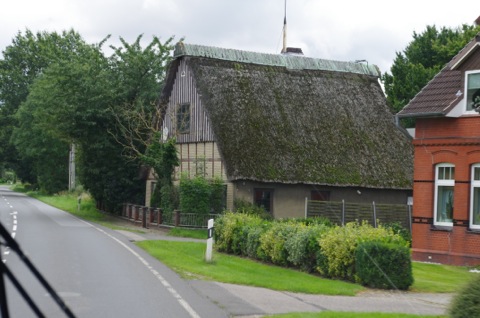 Mooie boerderijtjes
Nice old farms.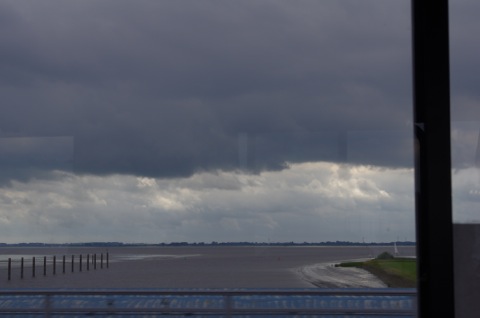 Gezicht op de Elbe.
View on the River Elbe.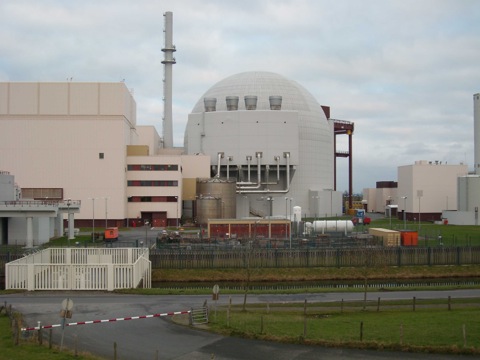 We willen naar een mooie Stellplatz in Brokdorf, bekend vanwege de gelijknamige kerncentrale. Die Stellplatz, direct aan de Elbedijk, is al helemaal vol....
We are heading for the village of Brokdorf, best known for its nuclear power plant. Unfortunately the motorhome parking, next to the river, is full...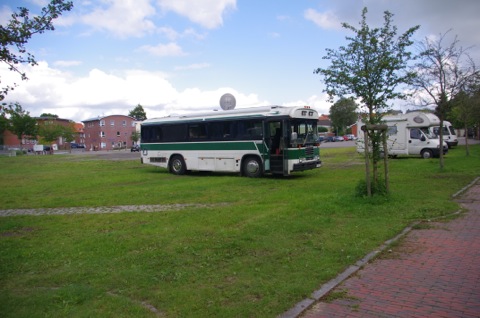 ... maar die in Wilster gelukkig niet.
... but Wilster offers plenty of space.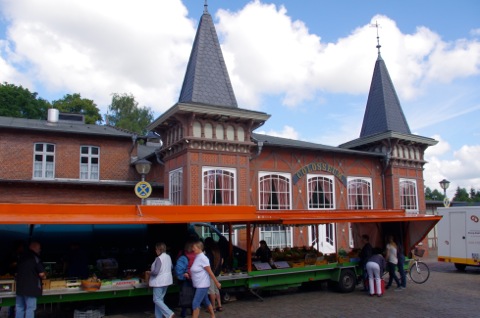 De volgende ochtend is er vanaf 6 uur markt.
The market starts at 6 AM, twice a week.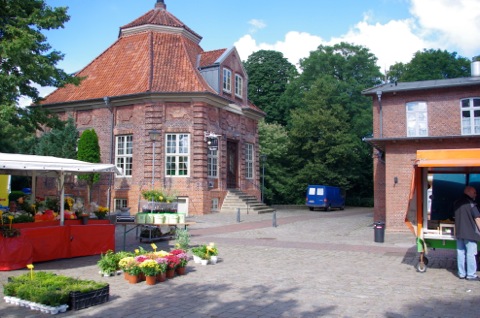 Vroeger was dit terrein een mooie tuin met buitenhuizen voor de staatslieden.
This used to be a country estate in the 19th century.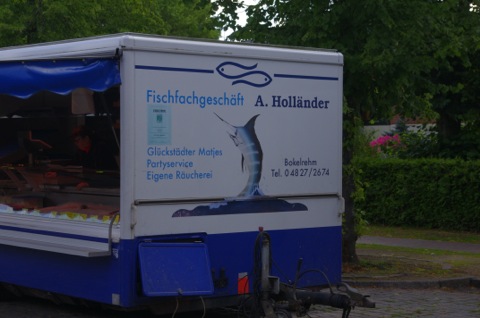 Met zo'n naam moet Ernst wel een harinkje proberen; helaas erg zout, vindt hij.
Ernst tries out the Matjes-herring. Unfortunately not half as nice as the real (Dutch) thing.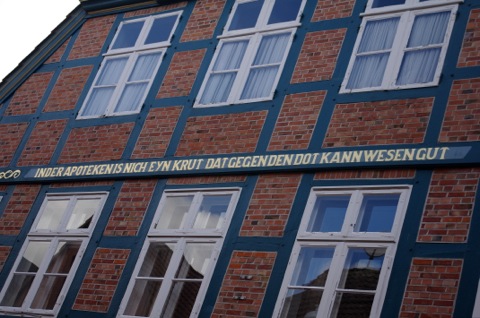 De apotheek kan bijna bij alles helpen ...
There is no remedy against death in this pharmacy ...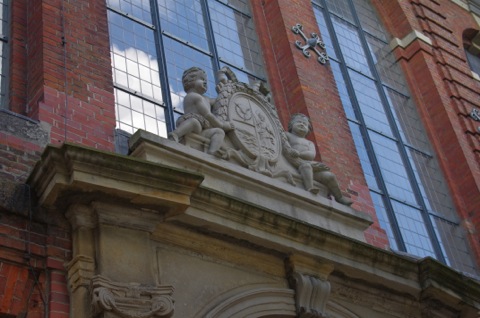 Detail van de kerk.
Detail of the church.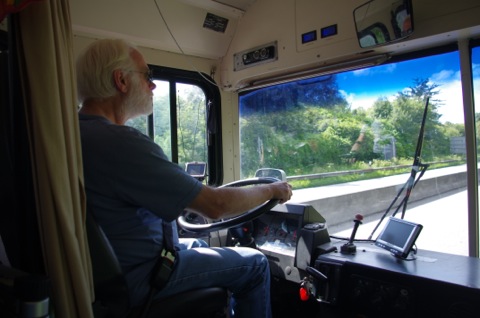 Twee uurtjes op de B77 rijden naar de volgende overnachtingsplek
We drive two hours to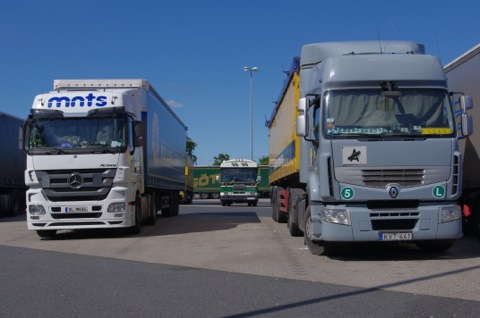 Autohof Wikingerland in het plaatsje Busdorf (sic!) vlak bij Schleswig. Hoezo hebben wij een grote camper?
The truck parking in a village which is called Busdorf (Bus village). Look at our tiny bus!
Go to top of page