12-5
Ludwigslust - Greven
From Ludwigslust to Greven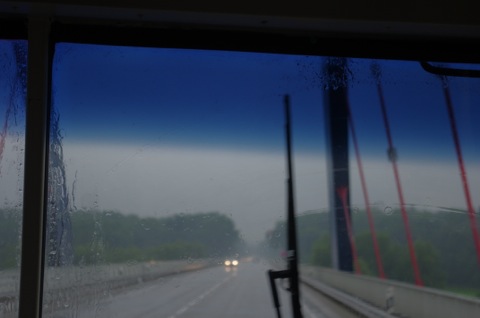 Voor het eerst in geruime tijd regent het vandaag.
Rain …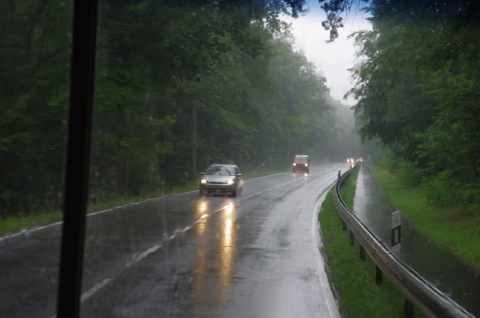 De B191 voert ons urenlang door bossen.
and woods, as Jörg from the motorhome camping in Bobitz has told us.



De Elbebrug
The bridge over the river Elbe...



Een bord herinnert aan het feit dat de Elbe tot 7 december 1989, 10 uur, de grens tussen de beide Duitslanden - en tussen Oost- en West-Europa - was.
... takes us over the former border between East- and West Germany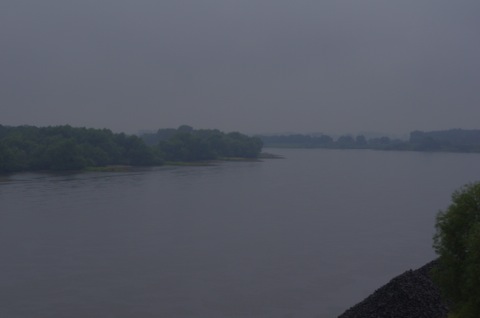 Als we de Elbe over zijn, is de weg duidelijk wat breder dan aan de Oostzijde.
to a better road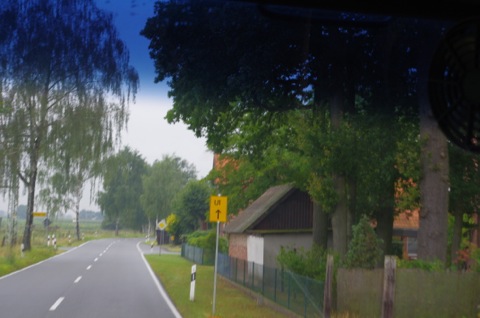 Een omleiding - U(mleitung) 1 - verlengt de reistijd vandaag met een uur.
with a long detour,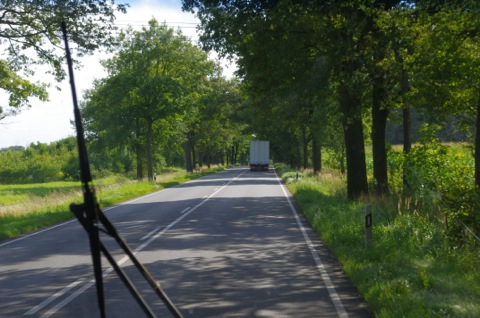 Maar de weg is vrijwel overal even schilderachtig.
nice landscapes and again sunny weather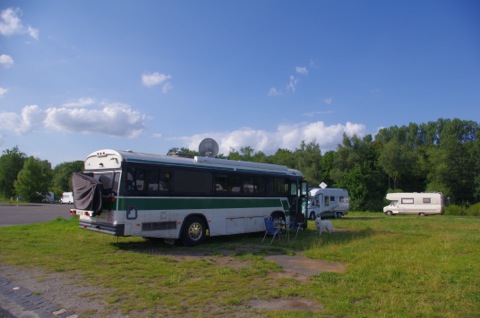 In Celle is altijd een plek voor een camper, ongeacht de maat.
to the huge parking in Celle, where at least 40 motorhomes are parked.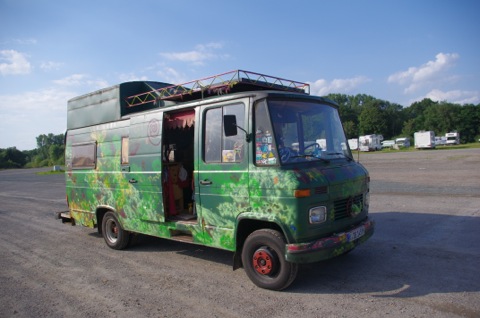 Het lijkt wel of er geen zelfbouwcampers meer rondrijden. Dit is de uitzondering die de regel bevestigt.
This one brings memories of our first self-built camper van.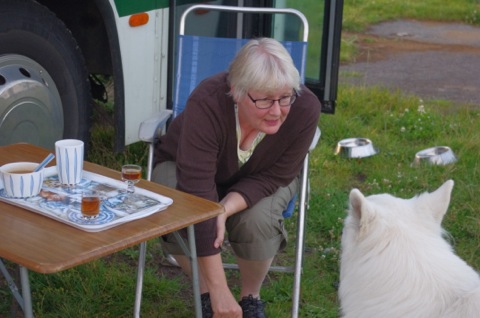 Na het eten een kopje koffie/thee en een klein glaasje brandy. Geen beter leven dan een goed leven!
We have dinner outside, followed by coffee, tea and a small glass of (Spanish) brandy. Motek is ready to play!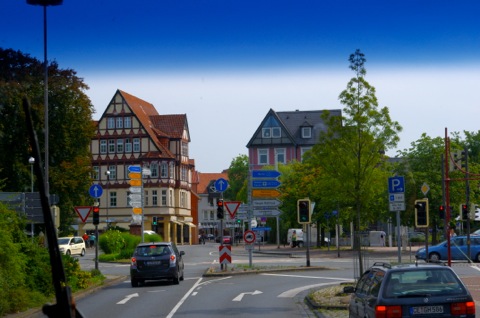 Vanuit Celle nemen we de volgende dag richting Hannover. Ons doel van vandaag is Minden.
Next day we leave for Minden.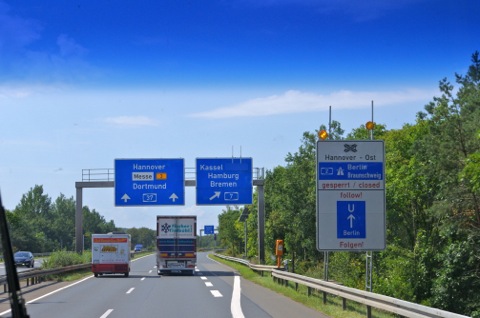 Fahr'n fahr'n fahr'n auf der Autobahn. Dat schiet lekker op!
Motorway 37 takes us to Hannover.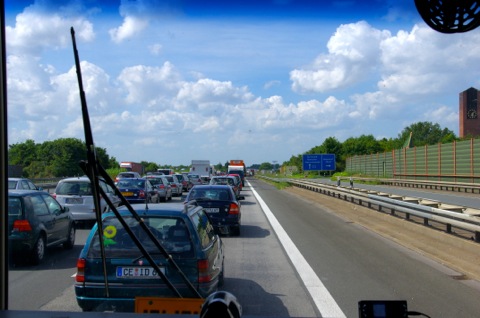 Tot hier dan. We leggen nu 10 km af in een heel uur. Niet echt fijn, want buiten is het 30℃!
86℉ and just like last week, Friday afternoon means traffic jam: we drive 7 miles in one hour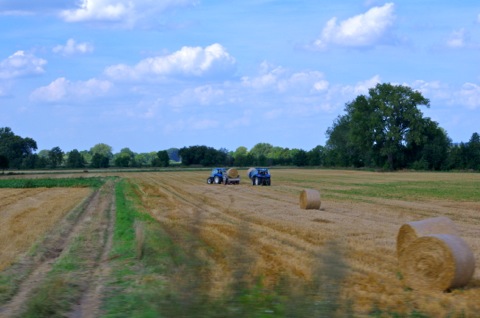 Het warme, droge weer zorgt ervoor dat er links en rechts van de weg volop gehooid wordt.
During the last week and also today we have seen lots of harvesting.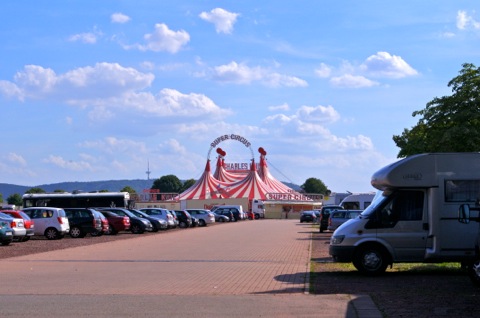 Omdat de grasveldjes vol staan, zetten we Skoolie bij het circus. Niet de eerste keer...
The big parking in Minden. The grassy part near the river is full, so we park next to the circus.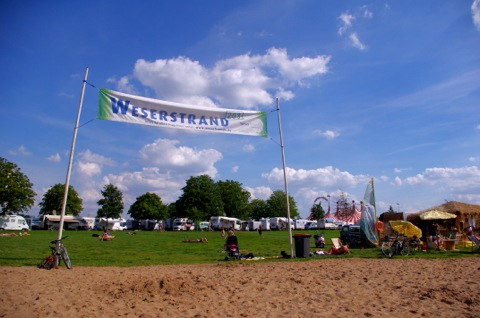 Het recreatiestrand langs de Weser met op de achtergrond de Stellplatz voor 100 campers.
This is why this place is so attractive: an artificial beach next to the River Weser...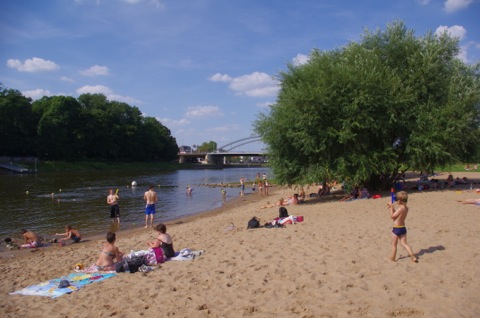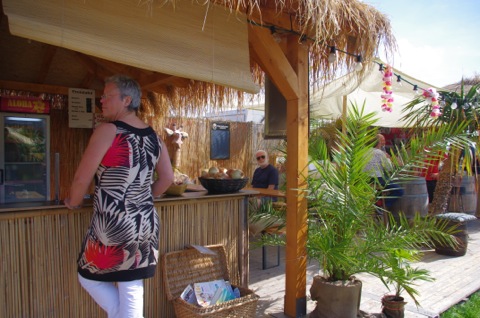 De ontwerper van deze strandtentjes is vast fan van Death in Paradise.
… with a tropical atmosphere …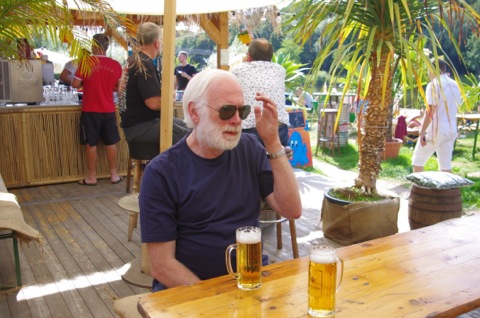 Welverdiend pilsje voor chauffeur en bijrijder!
… and a nice beer on this very hot day.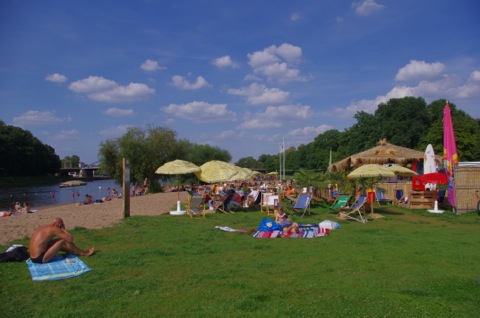 Met temperaturen boven de 30 graden, wordt het strand goed bezocht
Friday afternoon, lots of visitors for the beach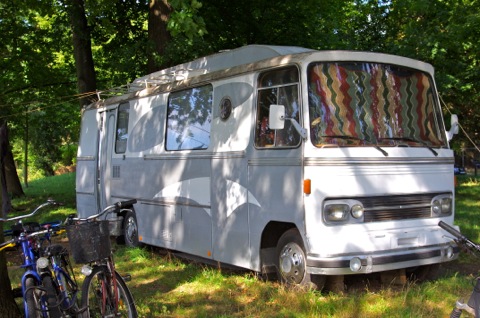 Onder de bomen staat deze Van Hool. Herkomst onduidelijk, want de platen zijn verwijderd.
One of our motorhome friends has an old bus like this one, so of course we have to take a picture. There is no-one around, unfortunately.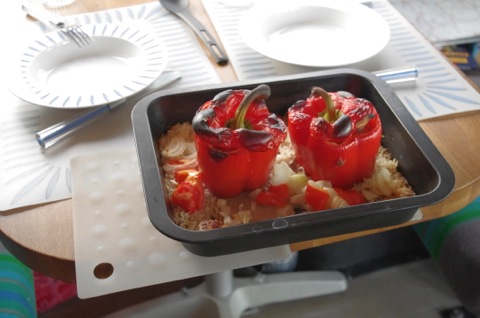 Vanavond gaan we de oven gebruiken voor dit sjabbesmaal
Our gas stove with oven produces this nice shabbat meal, prepared by Ernst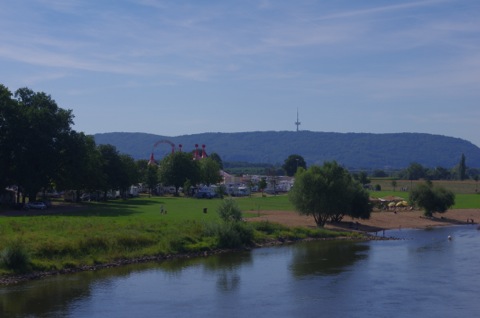 Vanaf de brug overzicht over strand, parkeerplaats en circusterrein.
Overview from the bridge for cyclists and pedestrians.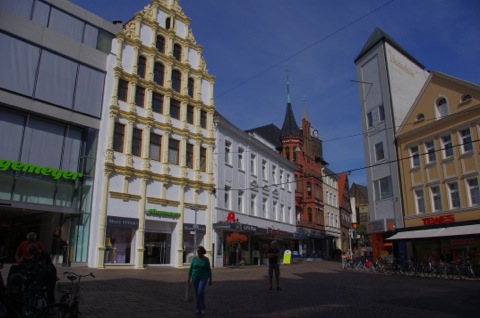 Zaterdagmorgen bezoeken we het centrum van Minden, op zoek naar een postkantoor.
Saturday morning shopping in the centre of Minden.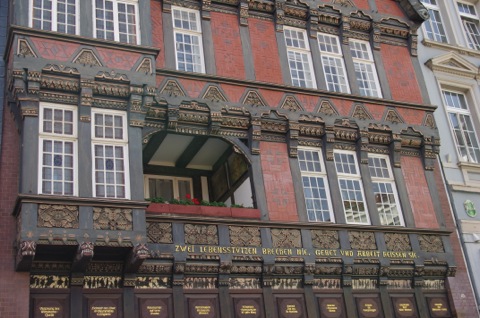 En weer een andere manier om een huis te versieren.
Another beautifully decorated building.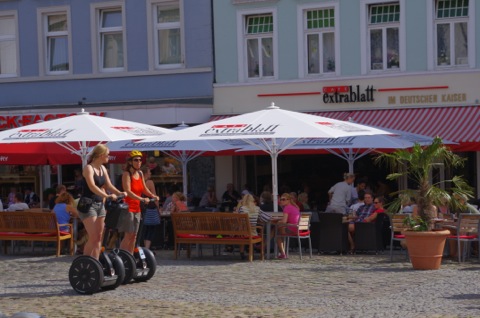 Georganiseerde tripjes per Segway.
Finally we see a row of Segway scooters with our own eyes.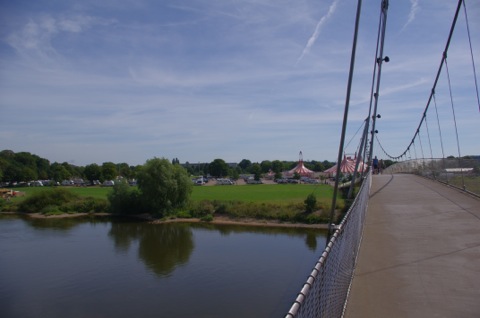 Terugweg via de voetgangersbrug.
Back to the parking over the pedestrian bridge.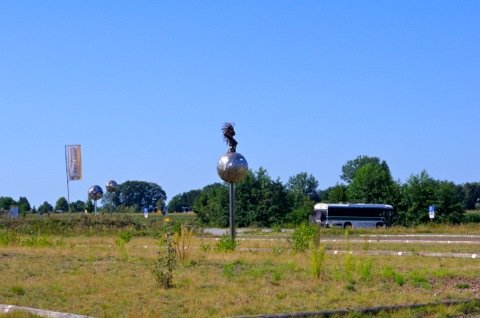 Volgende overnachtingsplek is Rietberg, waar we helemaal alleen staan tussen de planeten, gemaakt door een lokale kunstenaar. Dit is Venus.
Next stop is Rietberg. A local artist made statues of the planets; this is Venus.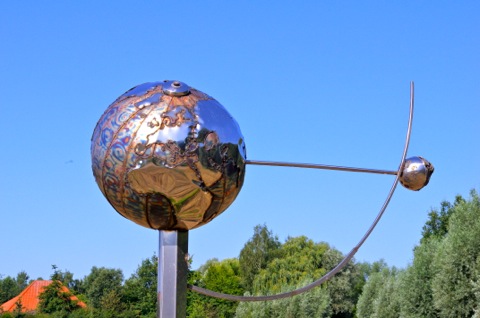 De aarde met de maan.
Earth and moon.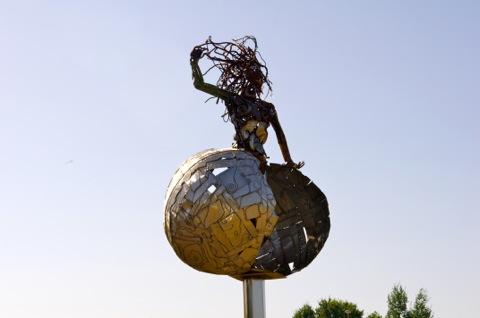 Venus in meer detail.
Venus again.




We staan op een van de grote gemeentelijke parkeerterreinen naast het Bibeldorf.
Next to us is an open air museum about life in Palestine/Israel in the time of Jesus.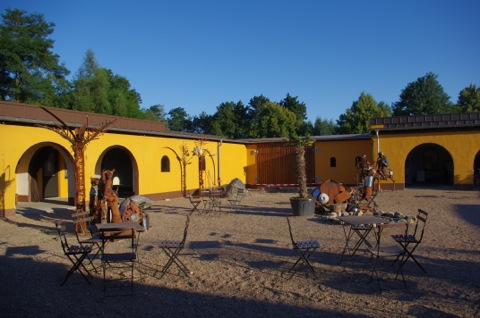 Eva Fricke is zo vriendelijk om ons rond te leiden, met Motek en na sluitingstijd. En dat omdat we ons afvroegen waarom ze op zondagavond een dienst in de synagoge hielden.
We are triggered by the fact that they have a service in the 'synagogue' on Sunday evening. Even though the museum is already closed, Mrs. Fricke is happy to show us around and talk to us about the goals of the Museum, which has been founded by the local Evangelical Church of which her husband is the pastor. We are very impressed by their educational programs.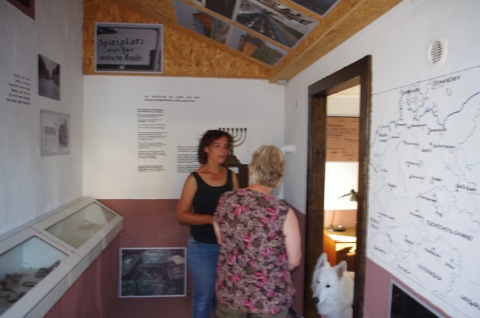 Behalve aan de joodse wortels van het christendom wordt ook aandacht besteed aan de veelbewogen geschiedenis van de joodse gemeenschap in de regio.
The museum deals with the Jewish roots of Christianity but also shows the recent German Jewish history.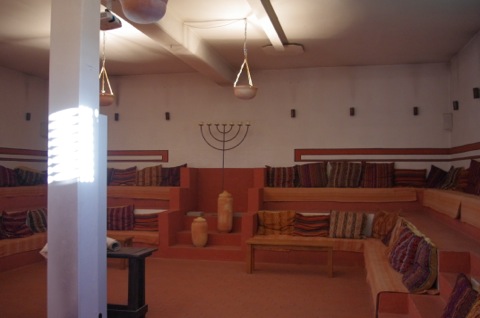 In het dorp is ook een sjoel nagebouwd, zoals die er vermoedelijk in de eerste eeuw zou hebben uitgezien.
On purpose the synagogue has no aron-ha-kodesh. They do have part of a Torah scroll, however.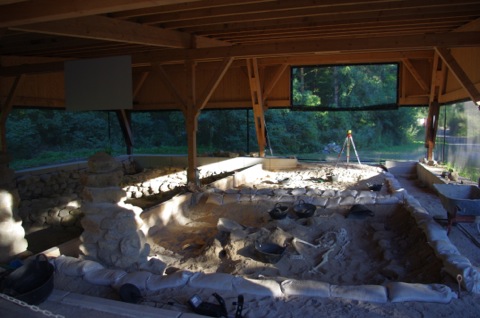 Een nagebouwde archaeologische opgraving is een andere manier om de aandacht van jongeren te trekken.
A replica of a (German) archeological dig, just in Jordan. Another way to get youngsters interested.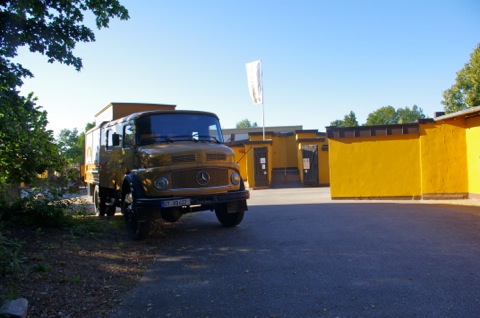 Met dit expeditievoertuig bezoekt men evenementen in de omgeving om aandacht voor het Bibeldorf te vragen.
This old Mercedes truck is used for PR.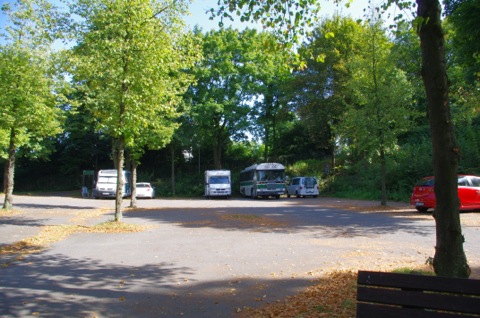 Zondagmiddag zijn we in Tecklenburg waar het heel warm is. Gelukkig zijn de camperplaatsen net in de schaduw.
Motorhomeparking in Tecklenburg.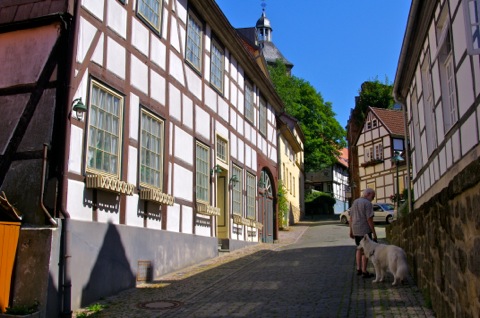 We lopen naar het oude dorp. Dat is behoorlijk klimmen en dalen, maar wel de moeite waard.
Some stiff climbs in the heat take us to the old part of town.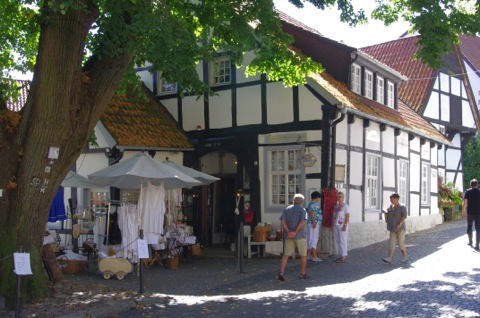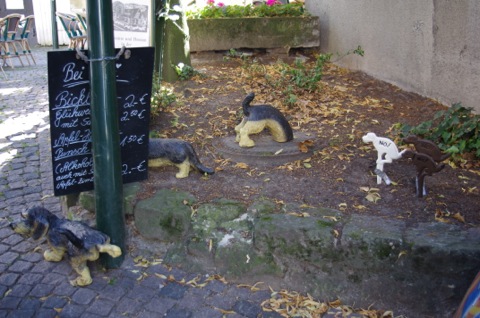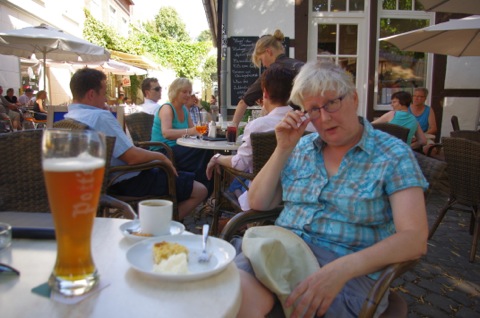 Na al die steile straatjes, toeristen en cadeauwinkeltjes, is het tijd voor een drankje, warm of koud naar keuze. Motek slobbert een grote bak water leeg.
Sunday afternoon, lots of tourists and gift shops, also a nice beer for Ernst, water for Motek and coffee and apple cake for Sylvia.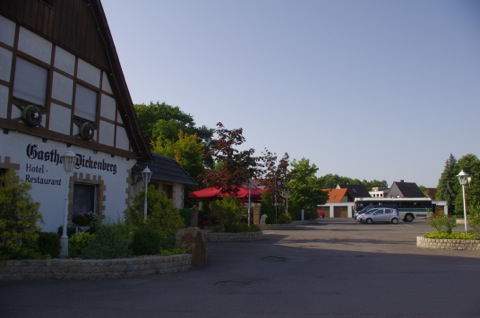 Omdat het zo heet is en omdat we 's avonds TV willen kijken, besluiten we nog wat door te rijden naar Gasthof Dickenberg in Ibbenbüren
We drive on to a restaurant where we can stay overnight and have a nice meal out on the terrace.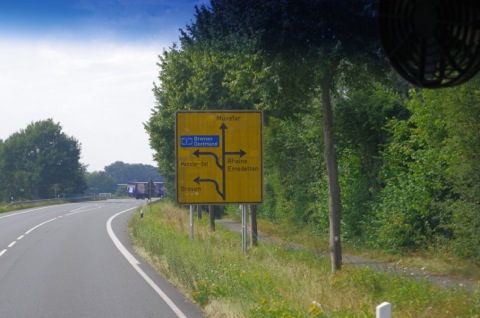 De accu's moeten worden opgeladen en we hebben een plek nodig waar we buiten in de schaduw kunnen zitten, dus op naar Greven
We need some relaxation time out in the shade and electricity for the batteries, so we decide to go to Greven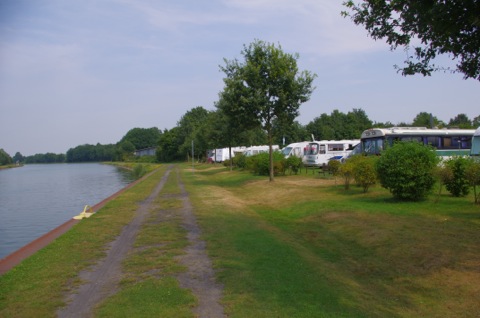 waar aan de Jachthaven aan het Dortmund-Ems-Kanal een betaalde camperplaats is.
where this motorhome camping is situated along he Dortmund-Ems canal.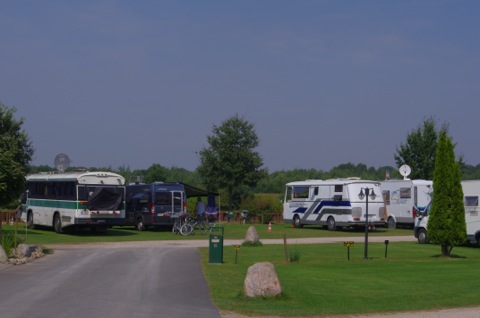 In hetzelfde rijtje deze prachtige Setra S80.
Our neighbour is a 40 years old, beautifully restored, Setra bus.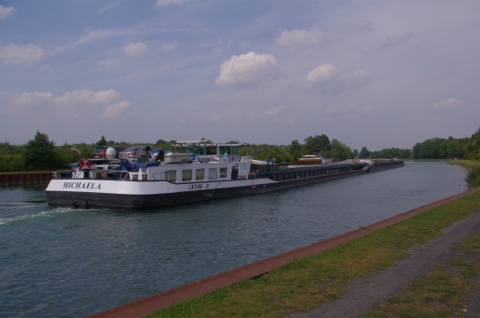 En over het kanaal varen dit soort duwschepen voorbij, met twee duwbakken van samen 180 m lengte.
On the canal we see pushed barges like this one, a pusher plus two barges of 600' in length.
Go to top of page