12-4
Schleswig - Ludwigslust
From Schleswig to Ludwigslust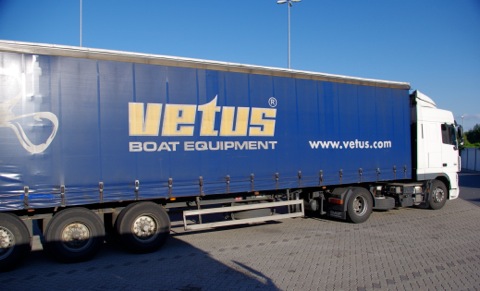 Nederlandse oplegger; Litouwse trekker. Geen punt.
One of the advantages of the EU: this Dutch semitrailer is towed by a Lithuanian truck. Just like that!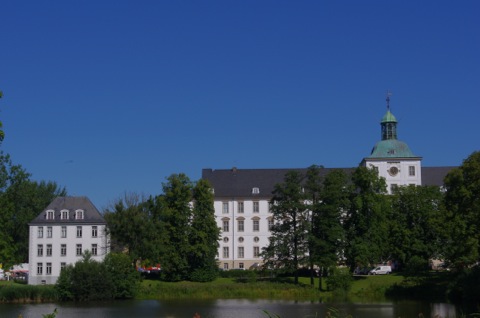 Kasteel van Schleswig.
Schleswig castle.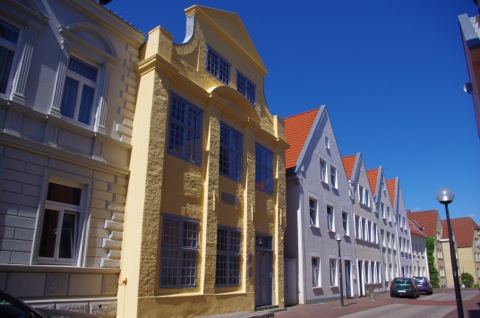 Schleswig: Altstadt.
Downtown Schleswig.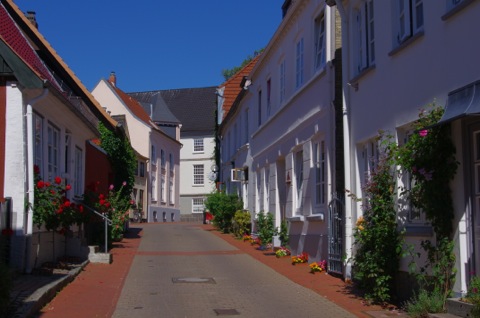 Het oude vissersdorp Holm is een toeristische trekpleister.
Holm, the old fishermen's village, is a attractive part of Schleswig.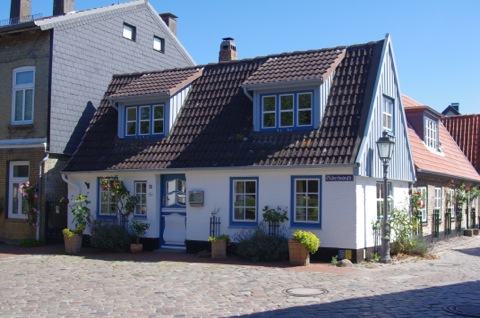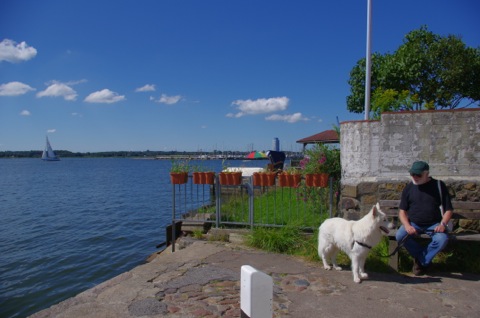 Holm grenst aan de Schlei, de Oostzee-arm, waaraan Schleswig zijn naam ontleent. De meeste tuintjes hebben een steiger.
Many houses in the old village have a jetty in the Schlei, a deep inlet of the Baltic Sea.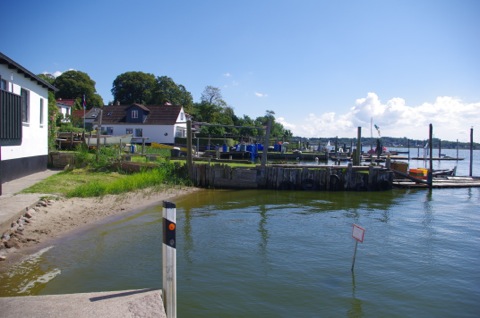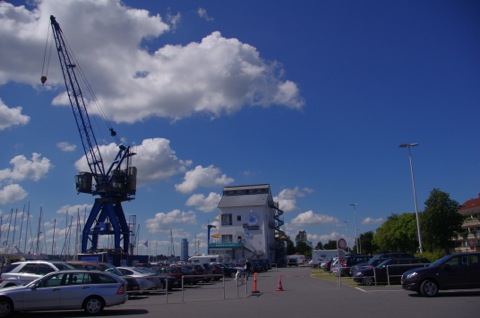 Womo-Stellplatz aan de haven van Schleswig. Prachtig gelegen. En navenante prijsstelling (€ 14)
Next to the Yacht harbour is an RV parking. Beautiful site, with matching prices.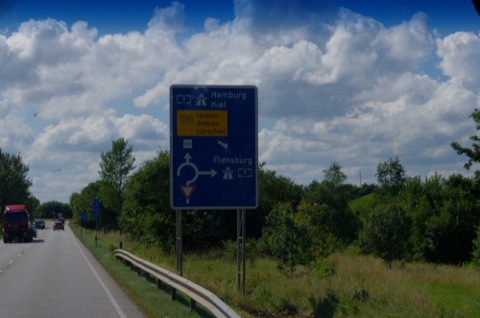 Van Schleswig naar Flensburg is een kattensprong.
From Schleswig to Flensburg is only a short distance.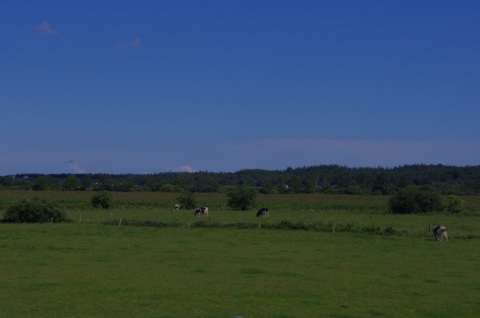 Typisch noordelijk landschap.
Flat as a pancake. Just like Holland.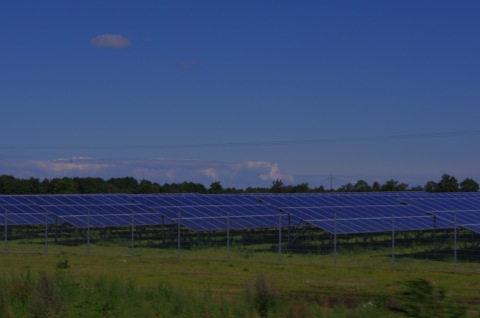 In plaats van veeteelt of landbouw worden hier elektronen verbouwd. Vermoedelijk is dat lucratiever…
Photovoltaic panels from horizon to horizon. Electricity apparently is the new produce.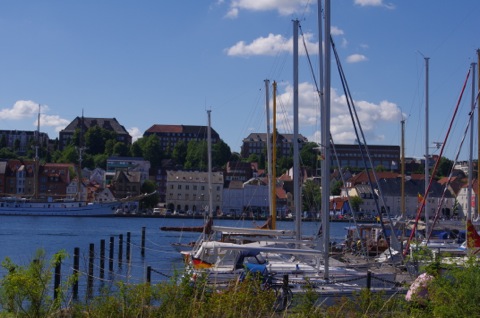 Jachthaven van Flensburg. De nabijgelegen Stellplatz is tjokvol.
Flensburg marina. The whole city is full of tourists. So is the motorhome parking!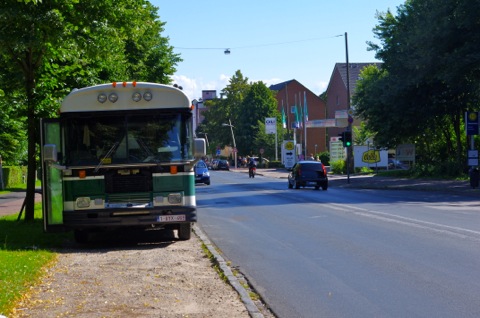 Bij het uitrijden van de stad Flensburg beginnen opeens allerlei alarmtoeters te loeien. Gelukkig onmiddellijk een veilige plek gevonden om de bus stil te zetten.
When leaving Flensburg the engine alarms sound. Within 10 seconds I park the bus along the road. So the damage is limited to...



De platte riem die alternator en waterpomp aandrijft blijkt volledig aan stukken. Nadat de via ANWB ingeroepen ADAC geen been ziet in een reparatie, stellen wij voor een DAF-dealer in de arm te nemen. Want sommige DAFs zijn uitgerust met dezelfde Cummins motor. Truck Centrum Nord heeft een passende riem in het magazijn. Een paar uur later kunnen we verder.
… one fan belt. The Flensburg DAF truck centre has the right belt.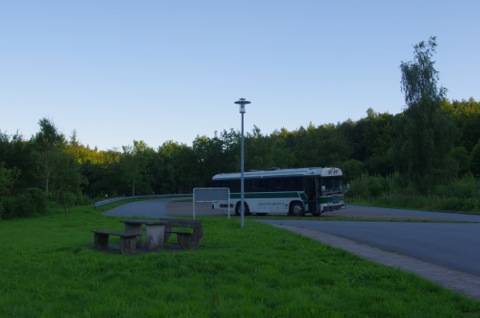 Nadat we weer kunnen rijden, stoppen we langs de B200 richting Apenrade (Åbenrå). Nog net in Duitsland, zodat we geen lastige vragen krijgen van de Deense politie.
Once we're mobile again, we find a place for the night north of Flensburg, along the road to Åbenrå.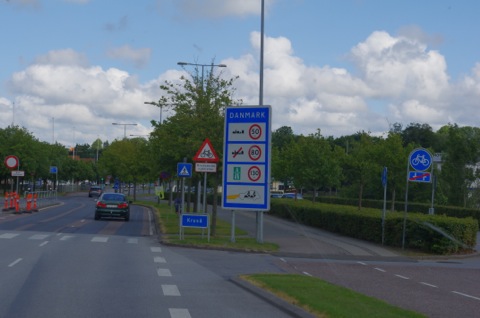 's Morgens verlaten we de Euro-zone… Ooit moest je hier je paspoort laten zien. En je hond opnieuw laten inenten!
Because both Germany and Denmark are part of the Schengen treaty the actual border is hardly visible.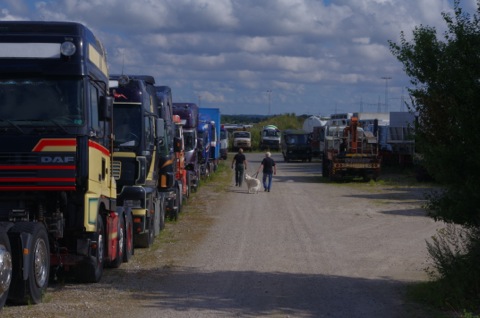 In Padborg, vlak over de grens, brengen we een bezoekje aan een bedrijf dat op Mobile.de adverteert met goede en goedkope busjes. In het echt zien de busjes er stukken minder uit dan op het Internet: de raamrubbers zijn volledig vergaan en de roestblazen zitten overal. Het bezorgt ons een wat vieze smaak in de mond.
Just across the border is a company which is selling large quantities of used freight vehicles. We have a look at some panel vans, but leave rather disappointed. The quality doesn't justify the prices they ask.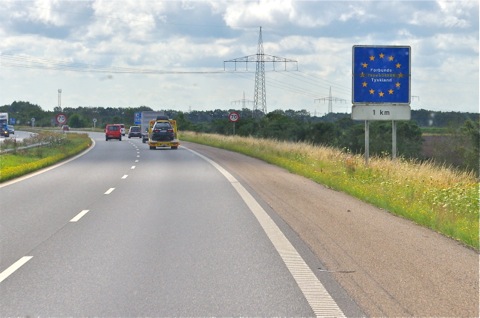 Na deze vergeefse internationale excursie zien we zonder enige spijt het bord "Forbundsrepublikken Tyskland".
So within an hour we are back in Germany.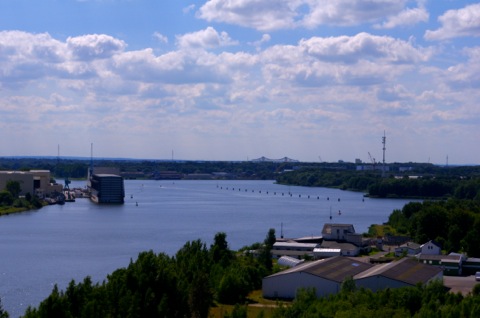 We kruisen het Nord-Ostsee-Kanal.
This canal connects the North Sea with the Baltic Sea.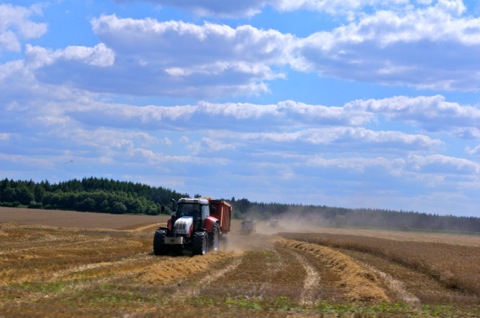 Waar het landschap wat westelijker regelmatig moerassige stukken vertoonde, is het hier in het oosten van Noord-Friesland een stuk droger.
The soil here is much dryer than in the western part of North Frisia.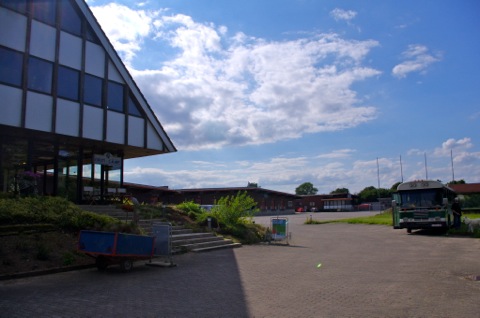 De firma Möbel-Kiste® in Seedorf-Schlamersdorf biedt een ruime overnachtingsplaats. En ze hebben nog heel aardige meubelen ook. We onthouden dit adres beslist voor als we t.z.t. wat nieuws zoeken voor in Großenkneten.
This modern Seedorf-Schlamersdorf furniture store offers a parking spot for motorhomes. Of course they want the travelers to have a look at the shop. We really like part of the collection.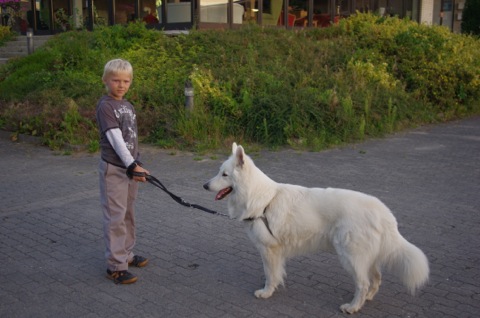 Vanavond kregen we bezoek van een 8-jarig jongetje uit het dorp, dat heel graag buschauffeur wilde zijn. Skoolie was leuk om te oefenen…
This little boy from the village was very much interested in the bus and in Motek. Motek was very friendly for a change.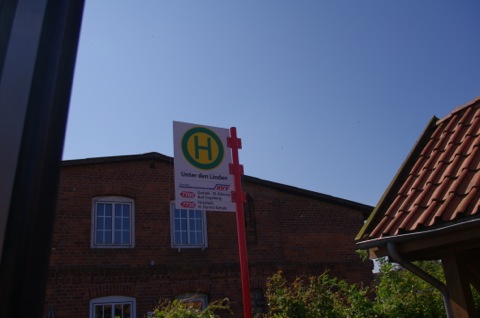 Gisteren stonden we op slechts enkele kilometers van Lappland verwijderd. Nu stoppen we even op Unter den Linden in Berlin.
The villages in the Seedorf municipality have great names: Lappland, Grönland, Weitewelt and Berlin. And in Berlin are a Potzdamer Platz and an Unter den Linden.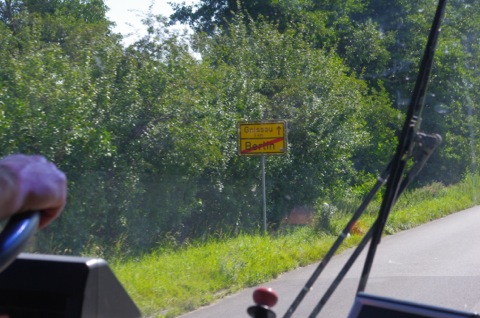 Na Berlin gaan we verder over de Landstraße 69.
Not exactly like leaving the German capital of the same name.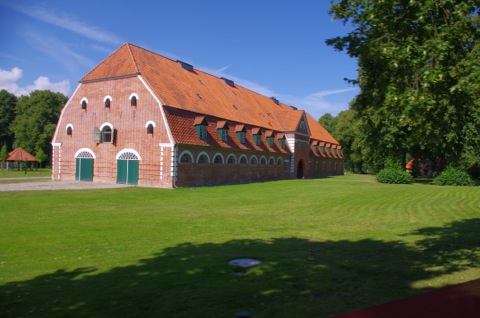 Langs de weg ligt het Pronstorfer Torhaus (1737), nu een hotel.
This grand 18th century house now is a hotel.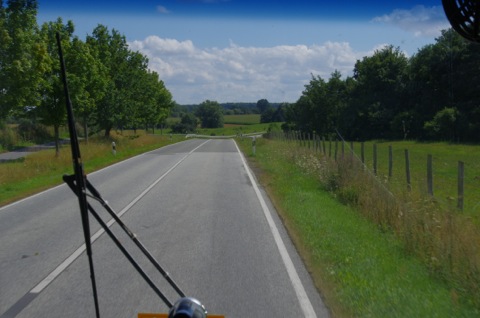 Langs mooie wegen (van wisselende breedte) rijden we naar het Zuidoosten, van de Holsteinische Schweiz naar Nordwest-Mecklenburg.
The roads are well maintained and lead through the greenest of landscapes.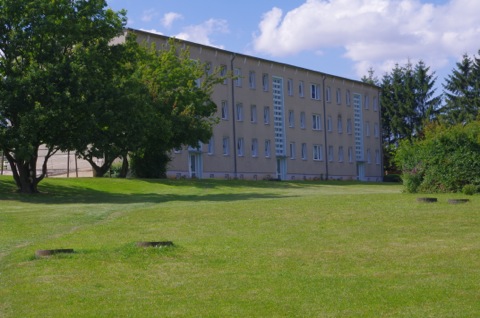 Aan dit soort blokken herken je nog het voormalig arbeidersparadijs. Met een blik betonverf valt dat niet ongedaan te maken.
Now we are in the area of the former GDR. The style of the housing estates reminisces of that time which lasted until only 23 years ago.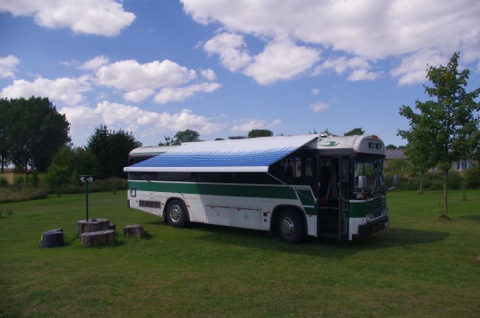 We maken er een relaxed middagje van bij Jörch (AKA Jörg) in Bobitz. We draaien voor het eerst in vele weken de luifel uit, Motek mag los en ligt lekker in de schaduw van de bus.
Early in the afternoon we call it a day: time for laundry and some relaxation under the awning. Jörg's Rastplatz No 6 is one of the nicest motorhome sites we've seen so far.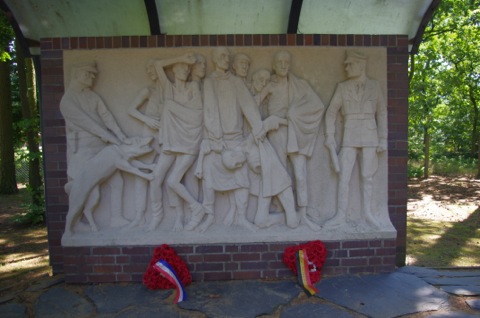 Herdenkingsplaquette voor concentratiekamp Wöbbelin.
In Wöbbelin was a concentration camp that only existed for 10 weeks in early 1945. Still over 1000 prisoners died in those 10 weeks.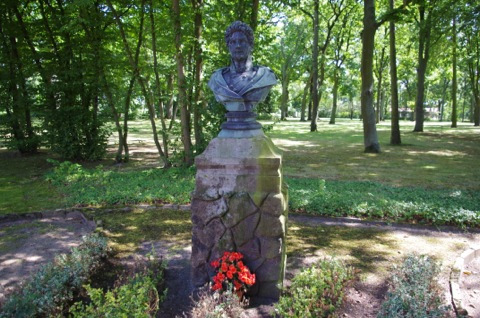 Ook in Wöbbelin is het graf van Karl Theodor Körner, Duits dichter en soldaat. Hij werd het eerste voorbeeld van wat men een 'nationale dichter' kan noemen – de jonge Romantische dichter die, in een kort leven, zijn inspiratie haalt uit de liefde voor het vaderland en zijn verlangen het te zien. Hij stierf in 1813 bij de Slag bij Leipzig.
Wöbbelin grave site of Karl Theodor Körner (23 September 1791 – 26 August 1813), German poet and soldier. He died in the Leipzig battle against Napoleon's armies.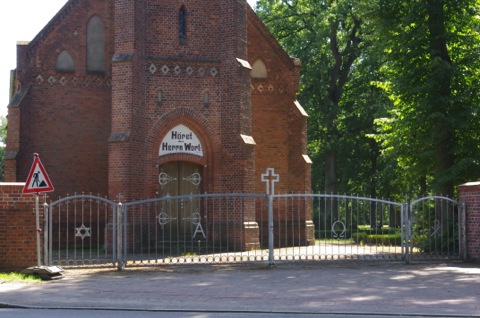 Wie heeft er ooit een kerk gezien met een magen David in het hek?
This church has a remarkable fence...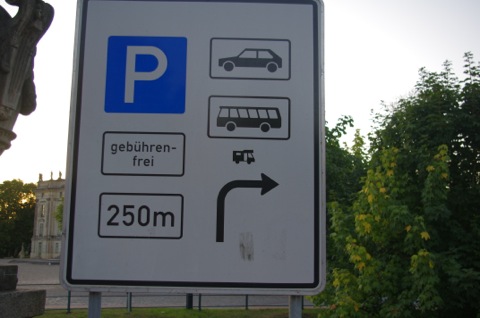 Alleen voor hele kleine campertjes?
For very small motorhomes only?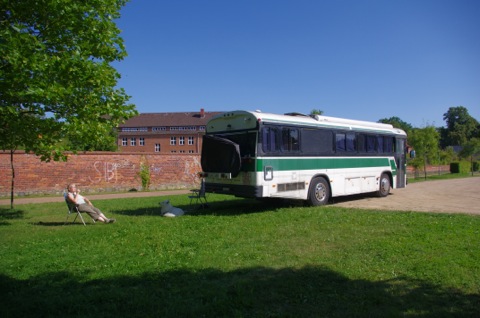 In Ludwigslust zitten we in de schaduw van de bus en wandelen we in het prachtige slotpark.
Sunny motorhome site in Ludwigslust. The site is next to the beautiful castle park.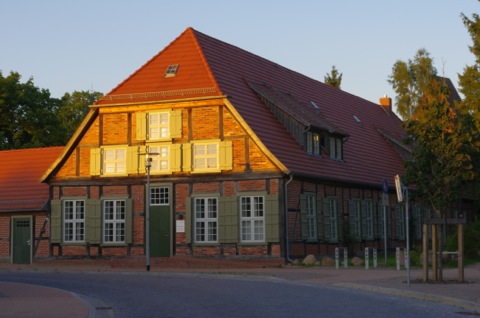 Boerderij naast de Stellplatz
This has been the old laundry house of the castle.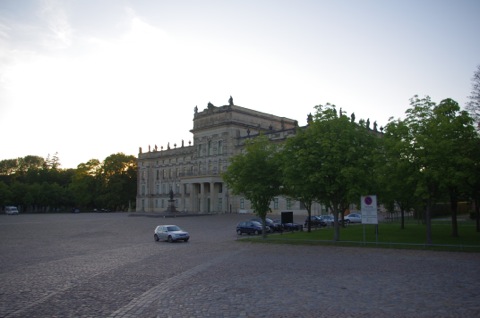 Schloss Ludwigslust
The castle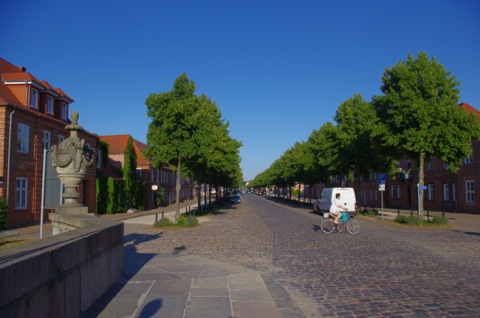 In deze straat waren allerlei bedrijfjes ten behoeve van het slot. Vanaf 1992 is de straat gerenoveerd en nu ziet het er lekker fris uit.
All kinds of small enterprises in support of the castle were situated in this street for centuries.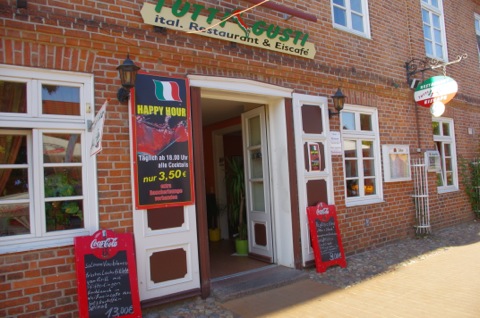 Nu zit er o.a. restaurant Tutti Gusti
Now there is an Italian restaurant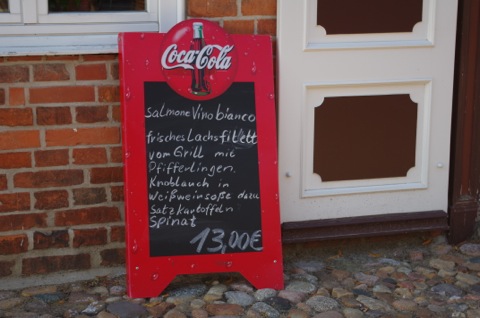 lekker en kasjroet-wise geschikt.
where they serve a nice salmon dish.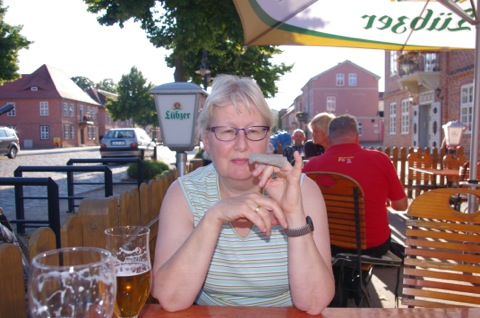 De combinatie van Sylvia en klapstoeltje aanschuiven leidt tot een gekneusde vinger. Dankzij het koude water op het papieren handdoekje valt de schade mee.
Sylvia hurts her finger on the folding chair, but no real damage, thanks to the immediate application of a paper napkin with cold water.
Go to top of page