12-6
Greven - Düsseldorf
From Greven to Düsseldorf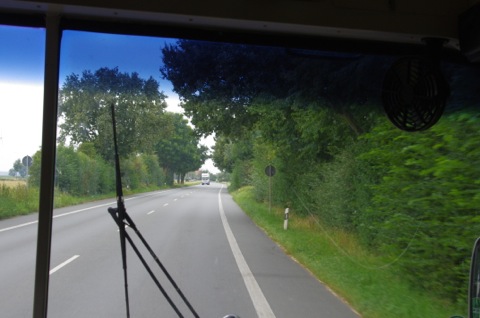 Het is nog steeds behoorlijk warm. Van de jachthaven rijden we naar Emmerich om een mogelijke verhuiswagen te bekijken. Daarvandaan is het nog maar een kattensprong naar Duiven. Bij de Makro vullen we de brandstoftank (en houden enkele tientallen Euro's in de portemonnee) en kopen we meteen een bulk soepjes en koffie. Dat bespaart weer een reisje naar Breda of Best. Bij Staples blijkt de Mio 697 Truck LM in de aanbieding. Dat komt goed uit, want onze Tomtom truck is het snel aan het opgeven (hardwarefout: de batterij wordt niet goed meer opgeladen).
Today is still hot. We are very near the Dutch border and we have planned some shopping: a new truck navigator, fuel for the much lower Dutch price etc.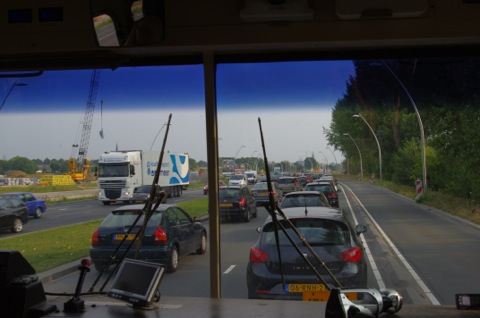 Via Arnhem en Lent gaat het richting
After the shopping spree: rush hour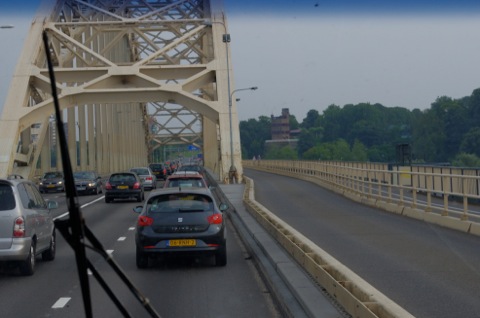 Nijmegen.
to Nijmegen.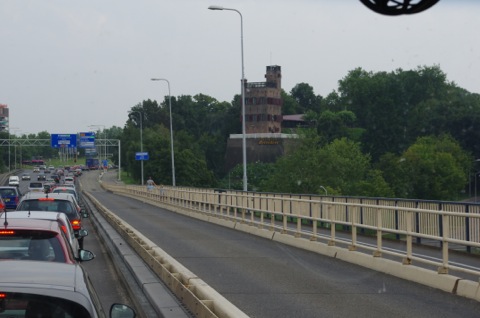 Wij zijn niet de enigen die richting Goch willen. Zo te zien is de Nederlandse verkiezingscampagne volop aan de gang. Wat missen we toch veel…
There will soon be elections in the Netherlands.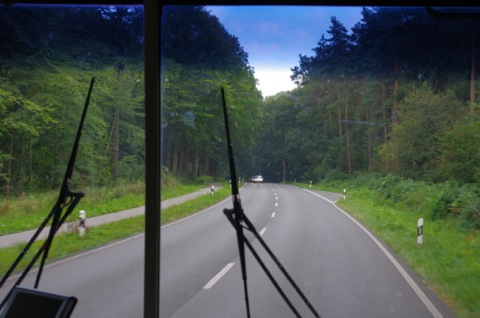 We rijden door het groene Reichswald….
Through the German State Forest (Reichswald) …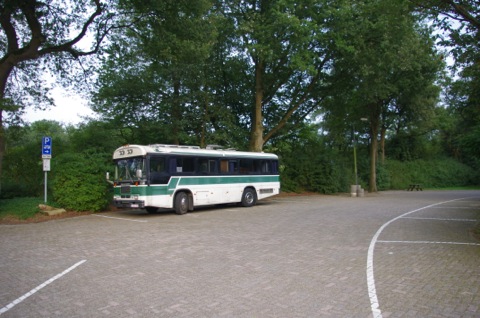 … en vinden een GOP in Ottersum (gemeente Gennep), net aan de Nederlandse kant van de grens.
… and we end up here at this official camper parking spot in Ottersum, back in the Netherlands again.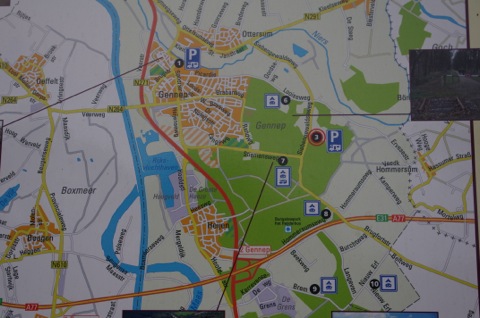 De gemeente Gennep heeft zelfs drie GOPs!
Three official motorhome sites in one municipality!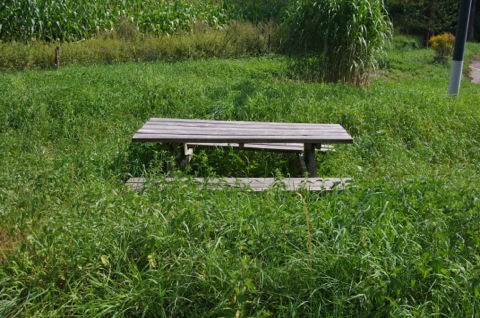 De maaiploeg heeft helaas de picnick-tafel overgeslagen.
Bad news for potential picnickers. The mowing crew forgot them.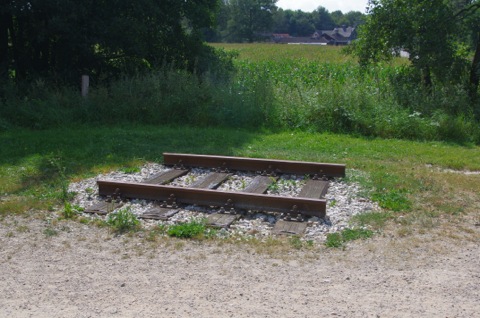 Monument voor het Duits Lijntje, dat hier van 1878 tot 1945 liep.
Here once ran a railroad which connected the Eindhoven area to the German city of Wesel, a distance of 63 miles.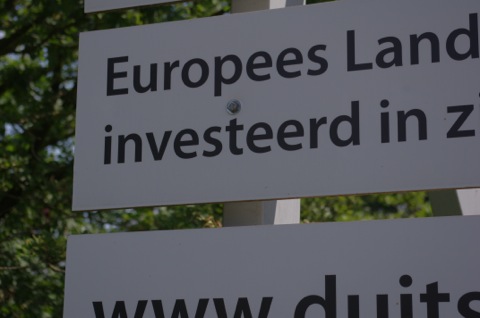 Nederlandse taal is niet langer een verplicht vak voor bordenschilderaars.
Official sign with a giant error in the Dutch text.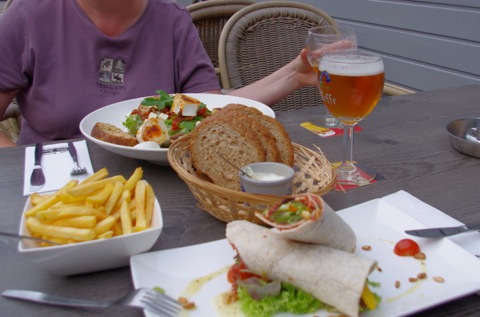 De GOP bevindt zich op het parkeerterrein van Restaurant/Biercafé Old-Inn. Het kost daar geen enkele moeite de gerechten te laten aanpassen aan onze kasjroet-wensen.
The motorhome site is part of the bigger parking of a nice restaurant where they kindly adapt their dishes to meet our kosher-style requirements.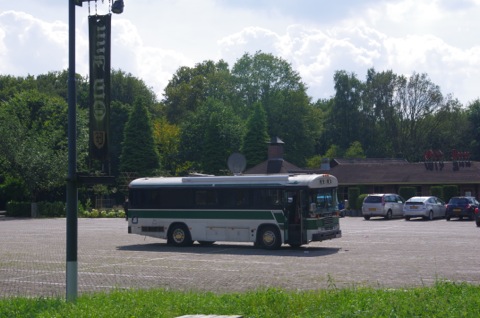 Om zicht op de satelliet te hebben (we zijn gemigreerd van Hellas Sat naar Astra 3) moest de bus een paar meter naar voren. Ruimte genoeg.
We had to move Skoolie a bit to be able to connect to the Internet… and post this page.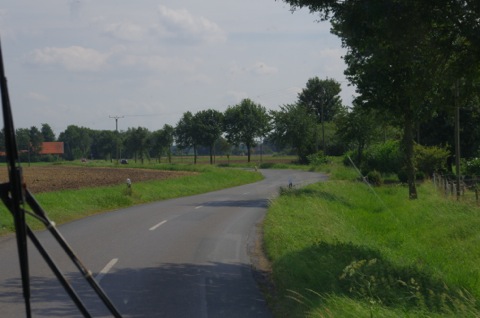 Na Ottersum steken we via Siebengewald de Duitse grens terug over. We slingeren via dit soort dijkjes door een landschap dat sterk lijkt op het Noord-Limburgse.
The landscape on both sides of the border is very similar.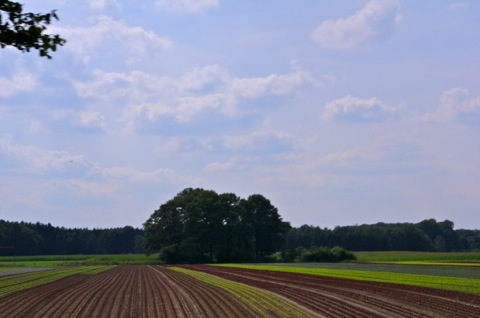 Tuinbouw in de volle grond…
There is alternating open air and…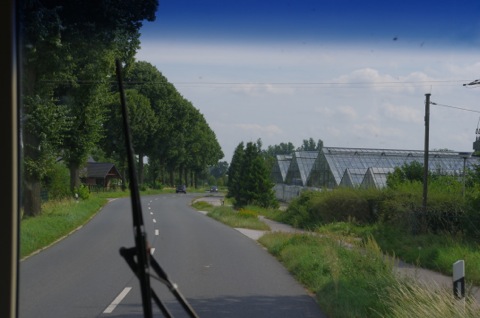 … en glastuinbouw wisselen elkaar af.
… glass covered horticulture.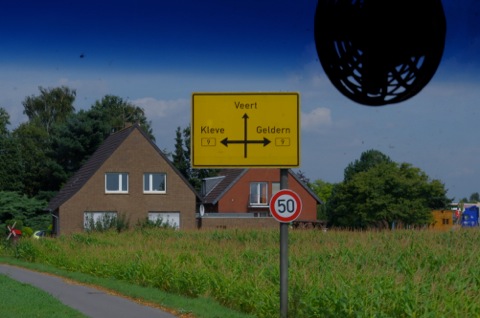 We steken weer eens de B9 over.
The Bundesstraße number 9 has been our companion for several days now. Here we cross it once again.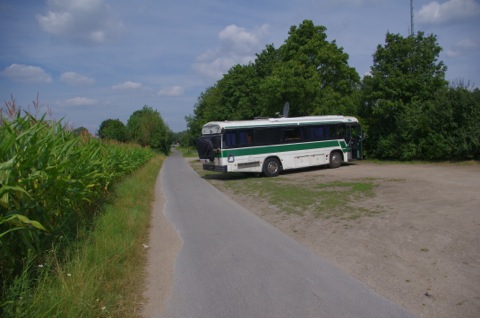 Bij de gemeentelijke sportterreinen van Geldern-Veert is een ruime plek voor campers. De informatieborden en folderbakken zijn door de gemeente verwijderd na voortdurend vandalisme. Het is niet de meest feeërieke plaats tot nu toe, maar er lopen volop paden om met Motek te wandelen.
An area close to the municipal sport grounds is reserved for motorhomes. Unfortunately vandalism forced the authorities to remove the information boards and flyer box. The area is not very charming, but offers great walking tracks for men and dogs.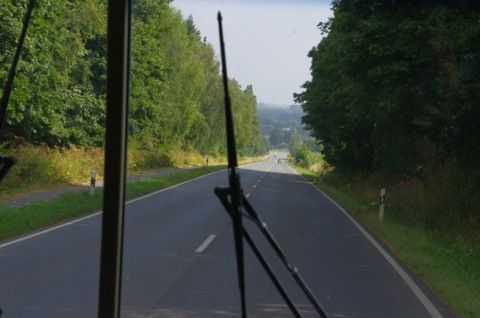 Vandaag een makkelijke dag: van Kreis Kleve naar de aangrenzende Kreis Wesel via de "Sonsbecker Schweiz".
Only 20 miles to Xanten today. Hills, a nice surprise.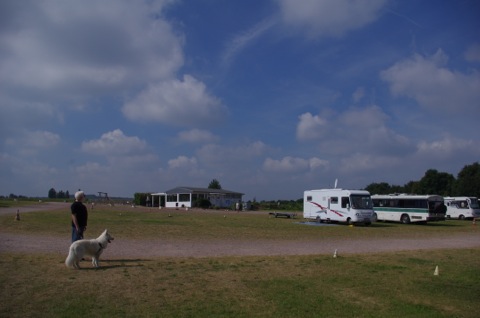 Wohnmobilpark in Xanten: Lid van dezelfde keten als die in Greven, maar stukken minder groen.
Another paid motorhome parking, not as green as the one in Greven, but still okay.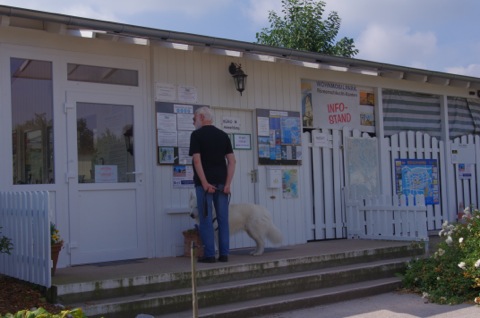 Het lezen van alle gegevens op het kantoortje van de beheerder kost een stief kwartiertje.
A lot of information is waiting for us. The manager will be back at 6 PM.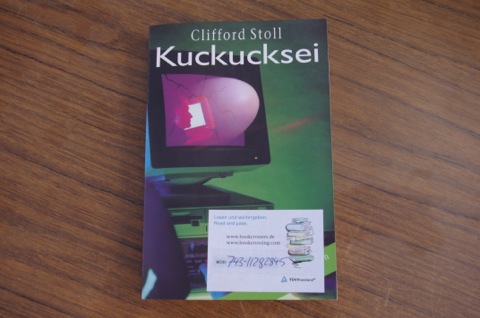 In het kantoortje liggen zowaar een paar Bookcrossing boeken. Sylvia doet meteen zaken: er blijven een Engels en een Nederlands boek hier en er gaat een Duits boek mee.
Four German book crossing books are waiting for us in the office. We take one with us and leave two new ones, one in Dutch and one in English.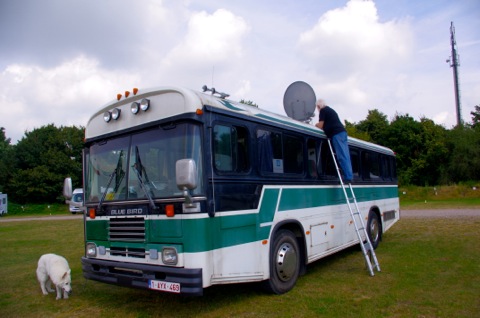 De satellietschotel heeft zoveel speling op een van de aandrijfassen dat een windvlaagje de verbinding al verbreekt. Met een elastiek trekken we de speling naar één kant. Zo kunnen we deze pagina weer uploaden.
Ernst has to fixate the satellite dish in order to receive internet and update our website.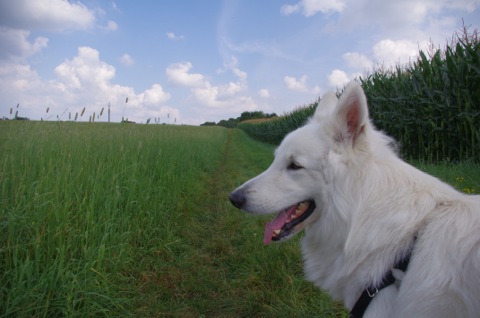 Motek geniet van een stevige wandeling met het vrouwtje
Walking with Motek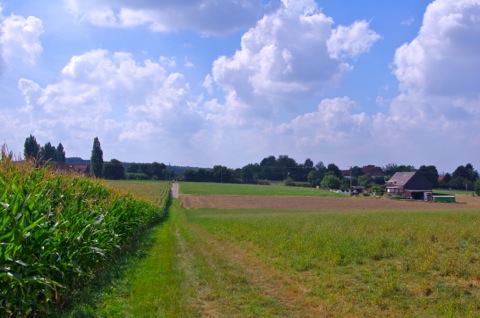 over een paadje door de velden.
along the maize field.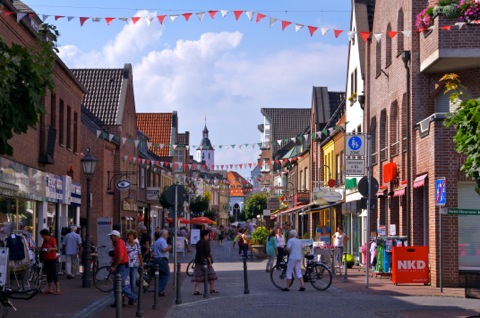 Gezellige winkelstraat in de oude Romeinse stad Xanten op donderdagmiddag.
In the afternoon we walk to the centre of Xanten, which was founded by the Romans 2000 years ago.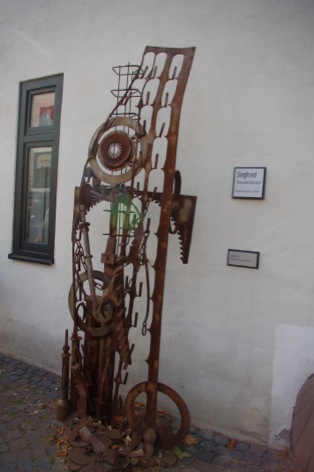 Xanten staat helemaal in het teken van Siegfried en het Nibelungenlied. Hier zien we Siegfried de draak verslaan. (Vereist wel een bepaalde kijk op kunst!)
This "statue" is Siegfried (who lived in Xanten), hero of the Nibelungenlied, killing the dragon.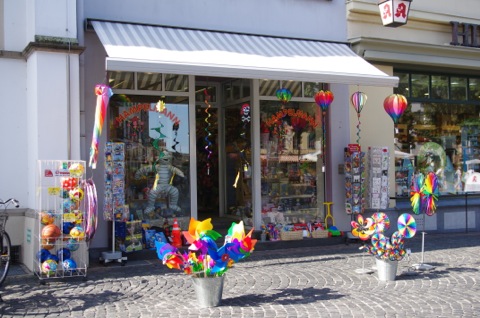 We liepen al wekenlang te zoeken naar… Eindelijk gevonden, bij Hampelmann in Xanten.
Finally we find what we have been looking for at Hampelmann's in Xanten.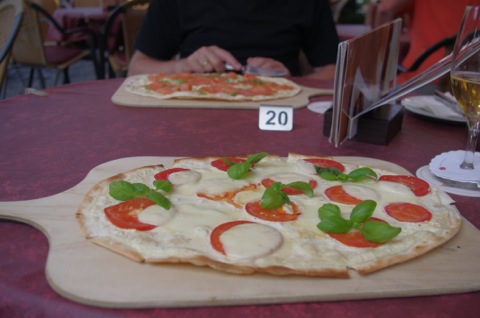 Als diner eten we verrassend lekkere Flammkuchen in het StadtCafé op de Markt, een vegetarische "Mediterran" en een met zalm, "De Luxe", maar dan zonder de garnalen.
We have Flammkuchen for dinner. This dish originates in the Alsace and is then made with cheese and bacon. But in Xanten they have a vegetarian variant and one with salmon (and shrimps, which are left out for Ernst). Think a very thin and crispy pizza, with sour cream instead of tomato sauce and a topping, served on a wooden board.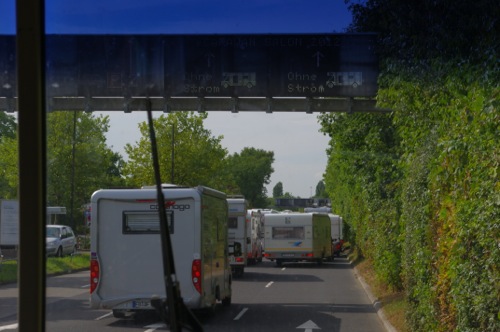 Van Xanten is het niet al te ver naar Düsseldorf. Iedereen lijkt tegelijk aan te komen op het Salon, dus dat betekent een echte file!
We are visiting the Caravan and Motorhome Fair in Düsseldorf. There is a real traffic jam, because everyone is entering the exhibition grounds at the same moment (from 4 PM parking is charged on the next day).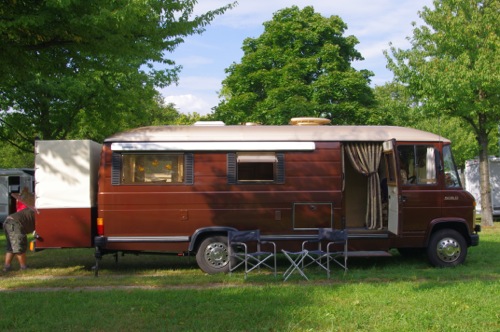 Veel zelfbouwers zijn er niet. Maar we zijn toch niet helemaal alleen.
Beautiful Mercedes van conversion. However, most motorhomes are white plastic factory ones.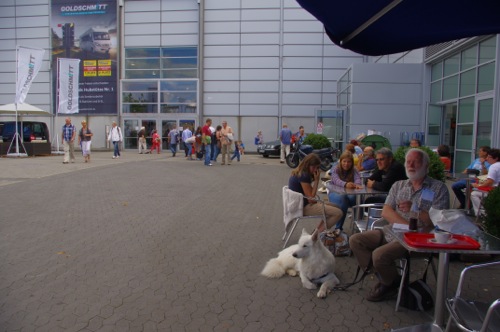 Motek sjokt de hele dag braaf mee over de beurs. En buiten zakt hij meteen door z'n hoeven, zodra we even zitten voor een hapje en een drankje.
Walking on an exhibition is not the nicest job for a shepherd. Hence Motek is so tired that he lies down the moment we stop walking.
Go to top of page