Tacoma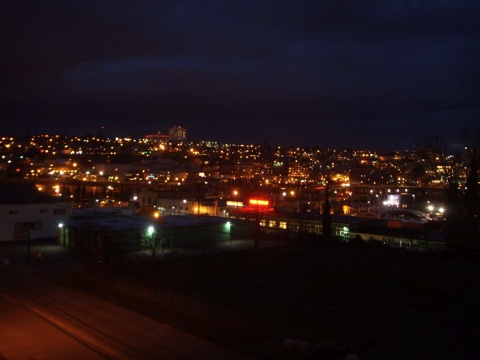 We komen aan in het Tacoma Dome Best Western Hotel nà zonsondergang. Dit is het uitzicht vanuit onze kamer.
View from our hotel room when we arrived after sunset.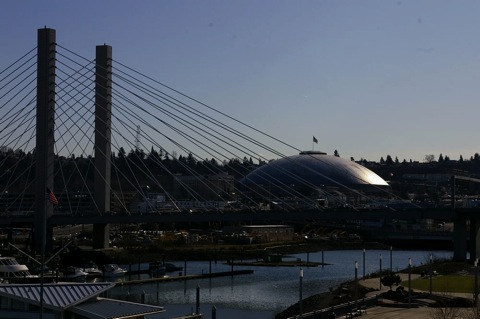 Vanuit het stadscentrum zie je het hotel links van de Dome, achter de spankabels van de brug.

The Tacoma Dome can be seen from most parts of the town. Left of the Dome the Tacoma Dome Best Western Hotel is visible.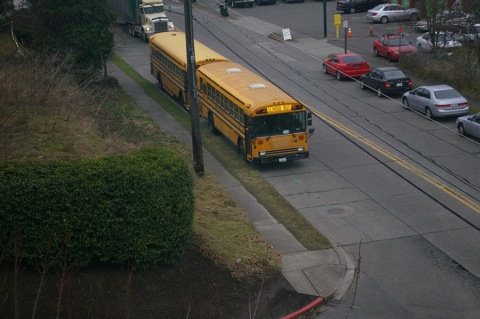 We voelden ons meteen thuis, met niet één, maar zelfs twéé Skoolies voor de deur.

Not one, but even two Skoolies. We felt at home immediately.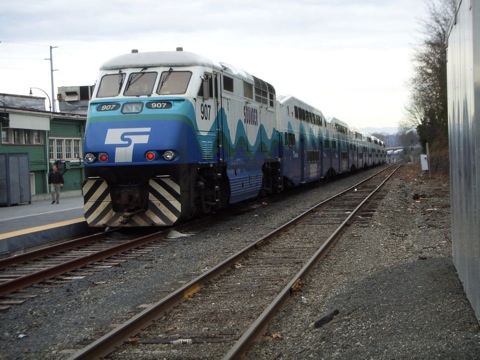 Op minder dan 100 m van het hotel is het eindpunt van de Sounder, de forensentrein die tussen Tacoma en Seattle rijdt. Helaas (voor ons) beginnen de Amerikanen erg vroeg met werken...

The hotel is close to all types of public transportation. Here is the commuter train to Seattle. Unfortunately too early for people who don't have to go to work.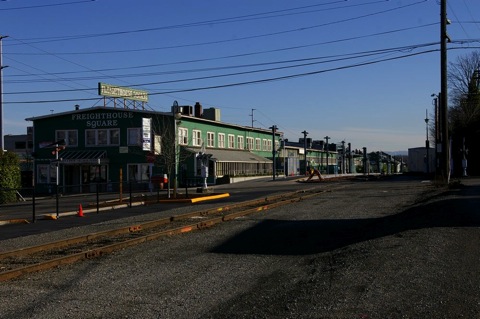 Het oude vrachtstation, nu Freighthouse Square, is tegenwoordig een gezellige verzameling winkeltjes en eettentjes. Zoals in het hele Noordwesten ligt de nadruk nogal op New Age. 

The old railway freight station now is a vibrant and fun shopping and dining experience for the entire family with 14 restaurants and over 35 unique specialty shops, with merchandise ranging from upscale gifts, jewelry, and home furnishings, to a convenience store and video game shop.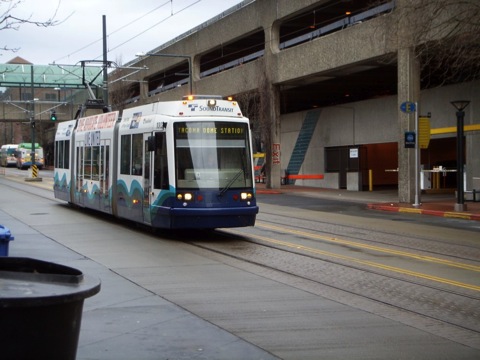 Tussen Tacoma Dome Station en het centrum (Theater District) van Tacoma rijdt om de 10 minuten (overdag) de Tacoma Link, een gratis trammetje dat zich met veel bellen en (blauwe) flitslampen een weg door de stad baant.

Every ten minutes the free train departs from Tacoma Dome Station to downtown Tacoma.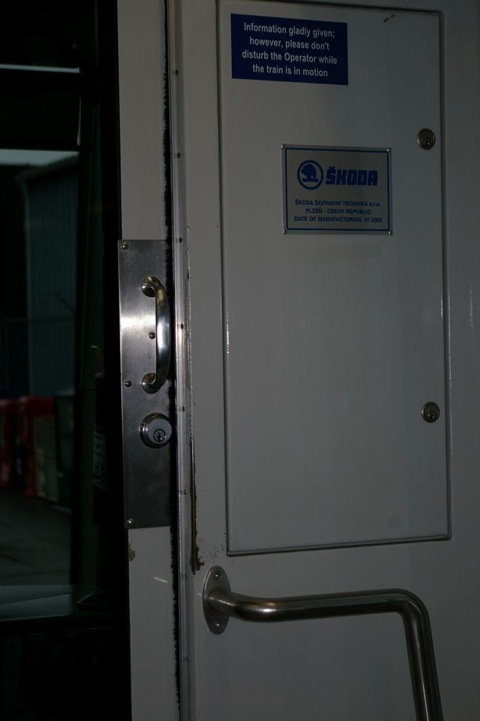 Het trammetje blijkt een echte Škoda, ditmaal niet uit Mladá Boleslav, maar uit Plzeň!

Like our car at home, the train is a real Škoda.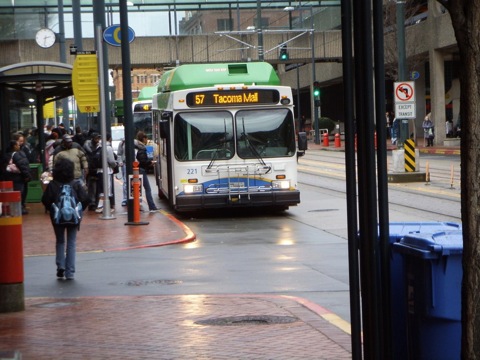 Het busstation strekt zich uit over een behoorlijke lengte van Pacific Avenue.

From the downtown transit center buses depart to all possible destinations.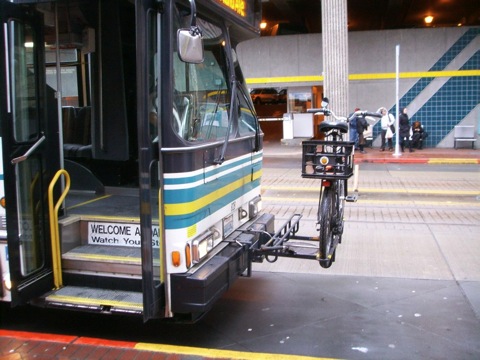 Elke bus heeft een fietsendrager vóórop. De passagier zet er zelf zijn fiets op.

This type of bicycle carrier would be very illegal in most European countries. Too much risk for pedestrians.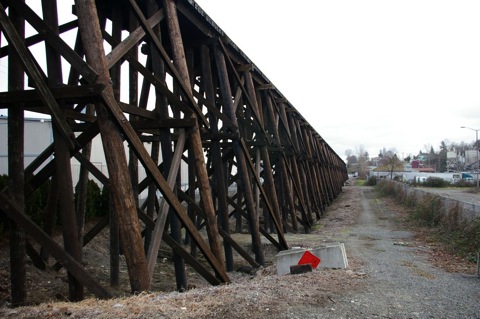 Hout wordt veelvuldig gebruikt als bouwmateriaal. Behalve huizen ook voor spoorwegviaducten. Hier rijden dag en nacht lange Amtrak goederentreinen over.

Wood as construction material. Not only buildings, but also this railway bridge.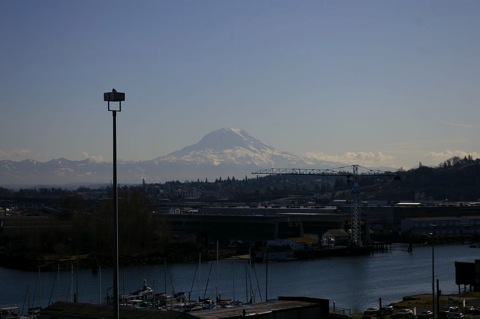 Mount Rainier, gezien vanaf het Tacoma waterfront. Alleen te zien met helder weer. In Tacoma zelf hebben ze het kortweg over "the Mountain".

In clear weather one can see Mount Rainier (or "The Mountain") from anywhere in Tacoma.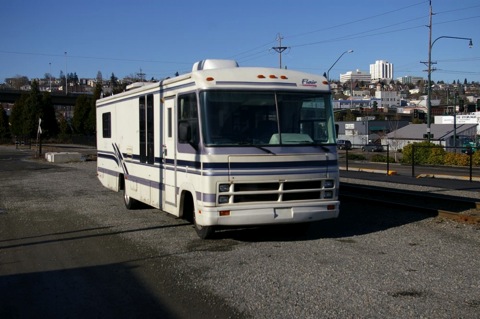 De gemiddelde camper is wat groter dan z'n Europese collega. Hierin wonen mensen uit een andere staat die in Tacoma werken.

Rather than renting a house or an appartment close to work, these people drove their RV from Idaho.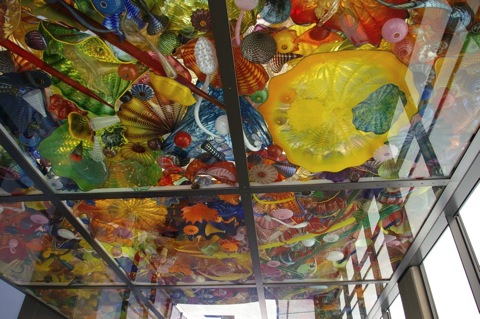 De brug tussen het centrum en het wereldberoemde glasmuseum is gedeeltelijk overkapt met horizontale vitrines, waarin het werk van Dale Chihuly valt te herkennen. 

Tacoma is famous for its Museum of Glass. The bridge leading to it is decorated with beautiful art by Dale Chihuly.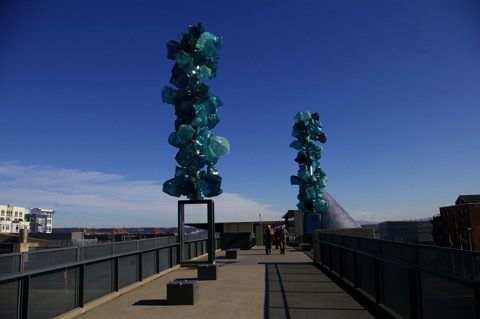 Ook de "Crystal Towers" op de brug zijn van de hand van Chihuly.

Chihuly's Crystal Towers.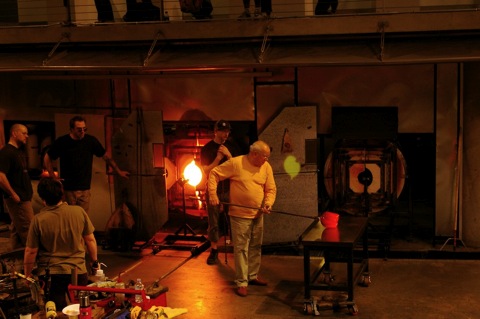 Lino Tagliapietra, de Italiaanse meester-glasblazer, gaf een masterclass toen wij het museum bezochten.

Italian maestro Lino Tagliapietra giving a masterclass, an attraction both for his students and for the museum visitors.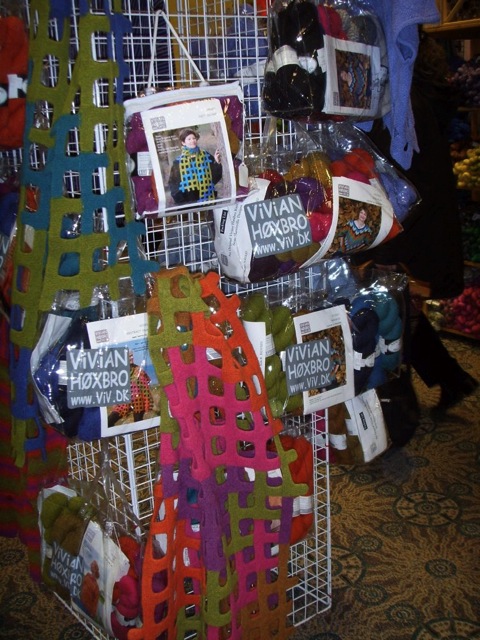 In het Murano Hotel, ook al volop gedecoreerd met glaskunst, wordt de Madrona Fiber Arts Retreat gehouden. Sylvia heeft zich ingeschreven voor een workshop van Vivian Høxbro. Op deze foto wat pakketten van Vivian d'r creaties.

Some examples of Vivian Høxbro's work. Her "Domino knitting" was Sylvia's reason to enroll in Madrona.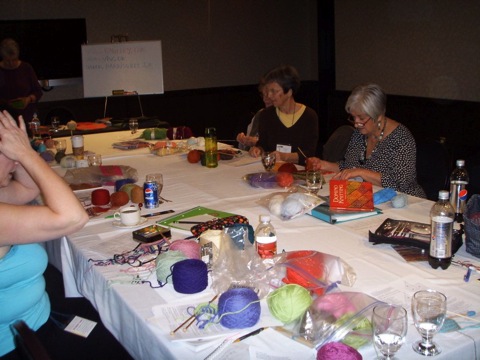 Aan de workshop nemen zo'n 15 dames deel.

The workshop.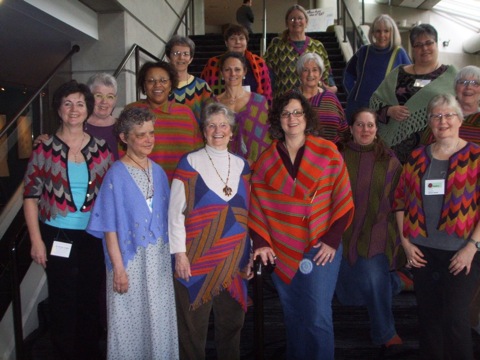 Hier poseren de deelneemsters met een Høxbro-ontwerp.

All participants on the catwalk with Vivian's design.
Go to top of page