Olympia
Marna heb ik leren kennen in Praag waar zij als reizend rabbijn diensten leidde bij Bejt Simcha. Samen hebben we ook deelgenomen aan het opknappen van de joodse begraafplaats aan de voet van de televisietoren in Žižkov.

I first met Marna in Prague where she was a visiting rabbi at Bejt Simcha. She and I have taken part in helping to clean the Jewish cemetery near the Žižkov television tower.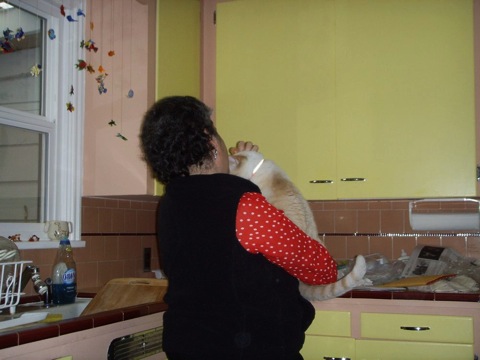 Marna met haar stevige rode kater Shunra.

Here she greets Shunra who had been waiting for her to come home.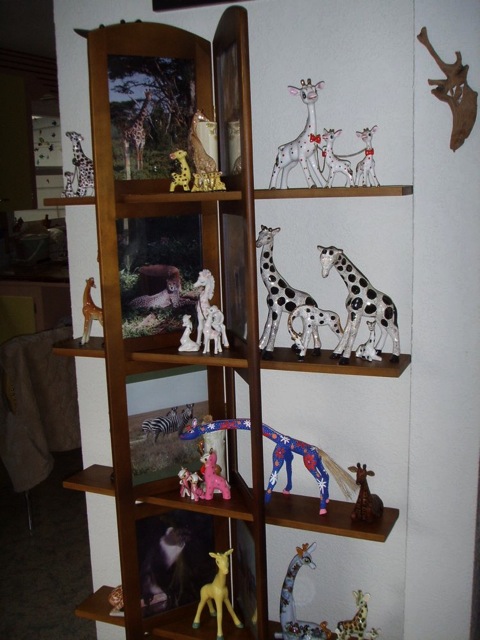 Marna spaart giraffen. Dit is slechts een héél klein deel van haar collectie.

A (very) small part of Marna's giraffe collection.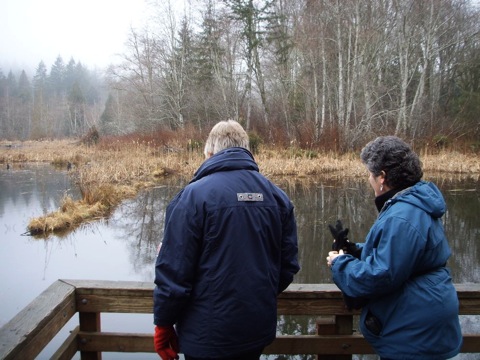 Een mooie boswandeling op Sjabbes. Dit land is door bevers onder water gezet. Helaas hebben we geen bever gezien...

Marna showed us some beautiful pieces of nature. These wetlands were created by beavers. Unfortunately we haven't seen one beaver.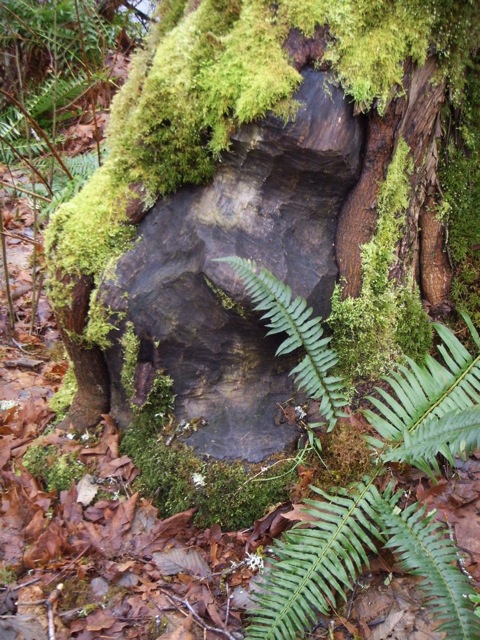 ... maar wel duidelijke sporen van hun geknaag.

We saw, however, some traces of their teeth.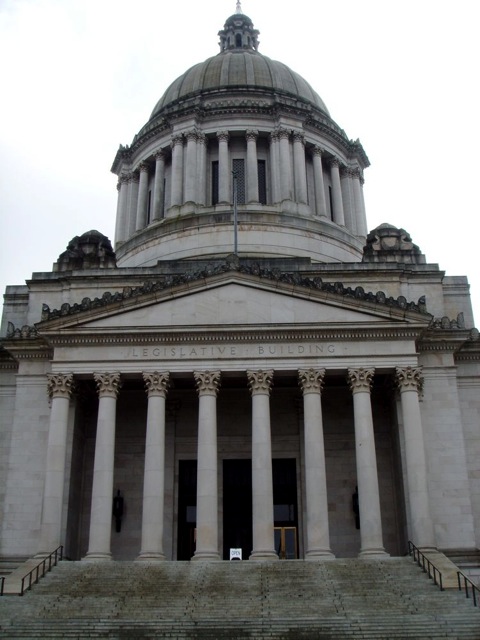 Terwijl Marna deelnam aan een koorrepetitie hebben we o.a. het Capitol bezocht. Hier zetelt de regering van de staat Washington.

Olympia is the capital of Washington State. In this Capitol the House and the Congress of the state meet.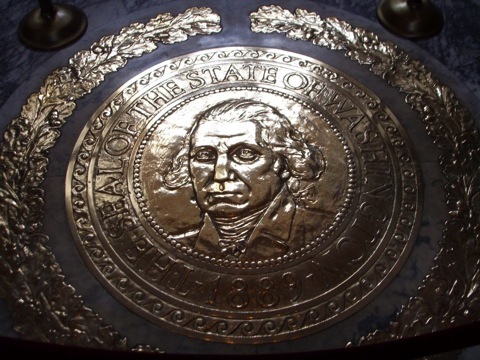 In de vloer zit een wel héél grote uitvoering van het officiële zegel van de staat.

The state seal. About four feet in diameter!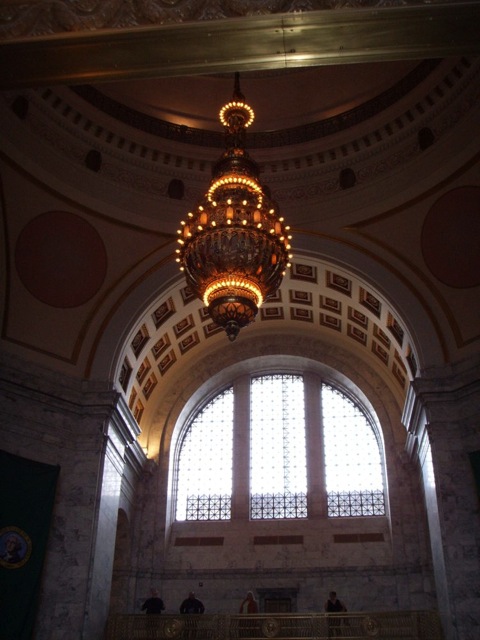 Een hanglamp van 5 ton.

In the middle of the dome there is an impressive chandelier.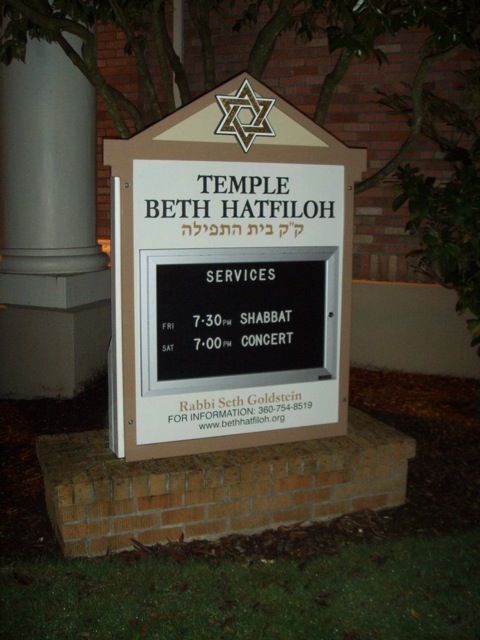 Diensten en andere evenementen in sjoel worden openlijk op straat aangekondigd! No problemo.

Sign announcing all activities at Beth Hatfiloh.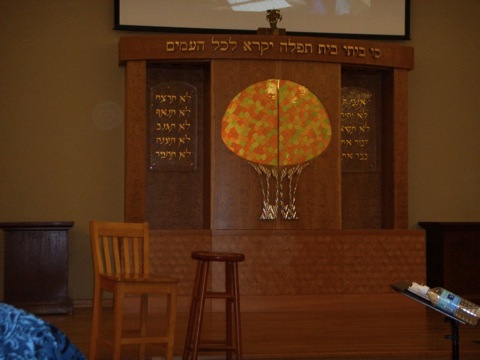 Beth Hatfiloh, Olympia, Wa.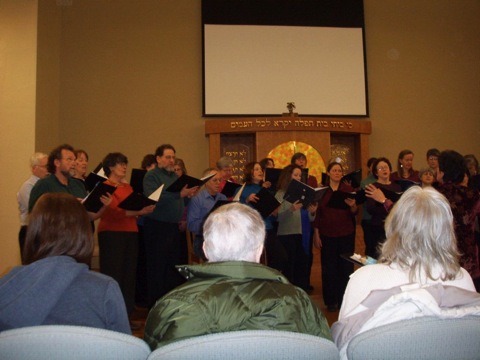 's Avonds (motzei Sjabbat) treedt het koor op onder leiding van de voor dit evenement ingehuurde Linda Hirschhorn.

After Shabbat the concert takes place. Beth Hatfiloh has a beautiful choir, for this occasion reinforced with some more volunteers.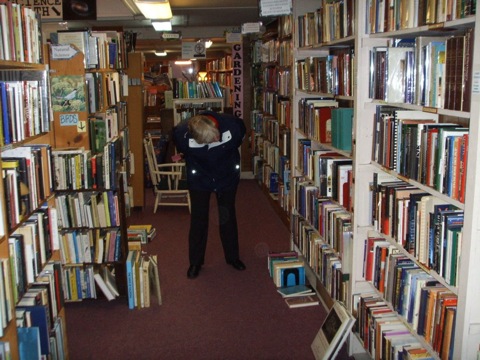 Sylvia kan het niet laten: boekjes!

Sylvia's dream: spending a week in a second hand book store.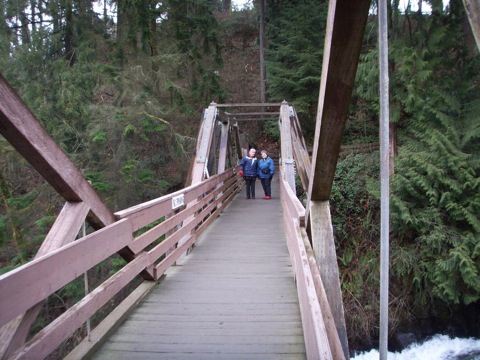 Zondagmorgen laat Marna ons nog een prachtig stukje natuur zien, het Tumwater Falls Park, vlak buiten de bebouwde kom van Olympia.

Tumwater Falls Park, just outside urban Olympia.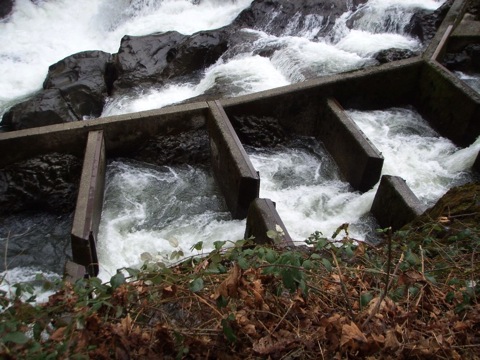 De Olympia brouwerij, wier reclameslogan was "It's the Water" is in 2003 gesloten. Het water is nog wel goed voor de zalmen, die via deze trap stroomopwaarts kunnen zwemmen om in de bovenloop van de Deschutes River kuit te schieten.

The salmons swim and jump up the Deschutes River to spawn.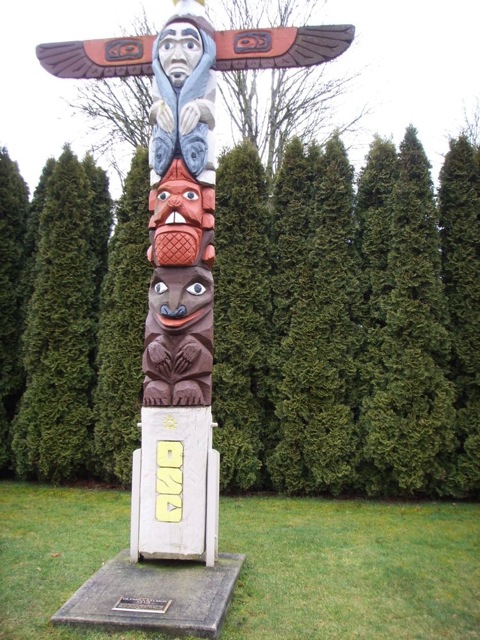 Fraaie totempaal bij de zalmkwekerij in de Deschutes River.

Native American woodcarving art at the salmon hatchery.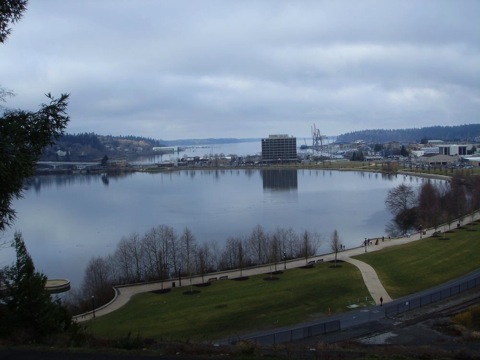 Capitol Lake.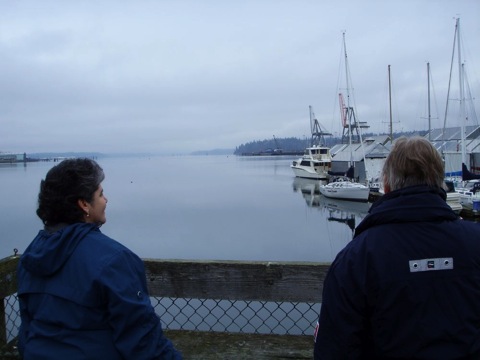 Blik op de Budd Inlet, die in verbinding staat met de Puget Sound.

Before we take the bus back to Tacoma Marna has shown us some of the nicest spots of Olympia.
Go to top of page