Lutter
5-6-7-8-9 juni/June/Juni 2013 Lutter am Barenberge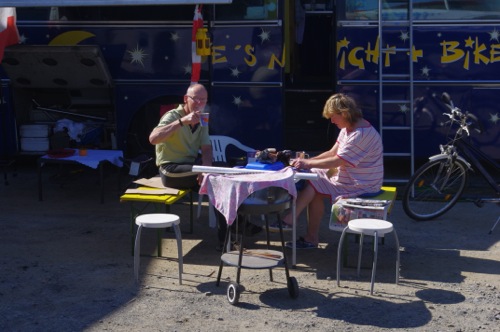 Onze vrienden Stevie en Elke - die thuis ook een Blue Bird hebben staan - zijn op 6 juni getrouwd. Omdat ik (Ernst) als getuige mocht optreden, waren we er al op woensdagavond.
Our friends Stevie and Elke - who also have a Blue Bird bus - were married on June 6. Because I (Ernst) was a witness we were there already on Wednesday.
Unsere Freunde Stevie und Elke - zu Hause haben auch sie ein Blue Bird - sind am 6. Juni verheiratet. Weil ich (Ernst) Zeuge war, waren wir schon am Mittwoch dort.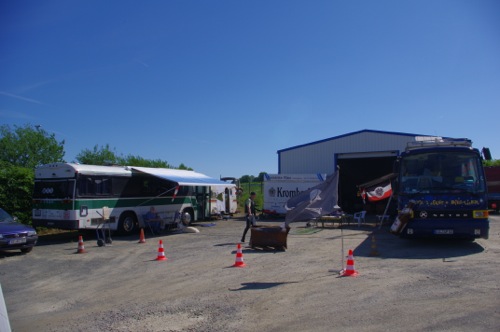 Het parkeerterrein van het transportbedrijf van een familielid was voor de gelegenheid omgetoverd in een camper- annex feestterrein.
The car park of the transport firm of a relative was transformed into a camper cum party area.
Der Parkplatz der Transportgesellschaft von einem Verwandten wurde in einem Wohnmobil- cum Partygelände verwandelt.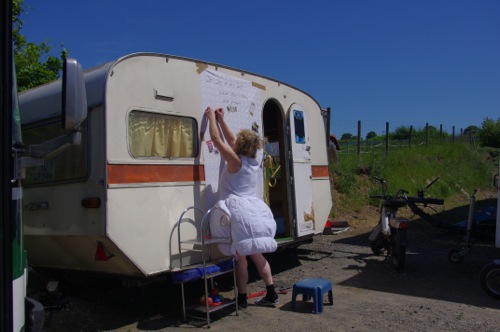 De bruid hangt foto's op tegen de buitenwand van de logeerkamer.
The bride hangs pictures against the outer wall of the guest room.
Die Braut hängt Bilder gegen die Außenwand des Gästezimmers.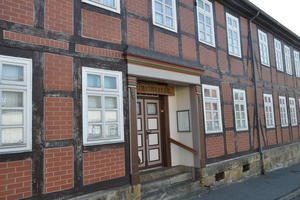 Het officiële deel vindt plaats in het locale museum. We hopen nog foto's van de binnenkant te krijgen.
The official part takes place in the Home Museum. We hope to get some photographs of the inside.
Der offizielle Teil findet statt in dem Heimatmuseum. Wir hoffen noch Bilder des Inneren zu bekommen.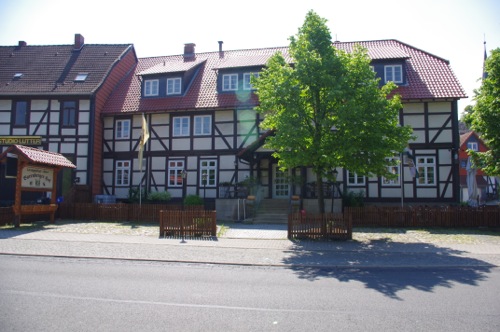 Daarna is er een maaltijd in het Barenberger Hof.
After the ceremony there is a late afternoon meal at this local restaurant.
Eine Hochzeitsmahlzeit gibt es im Barenberger Hof.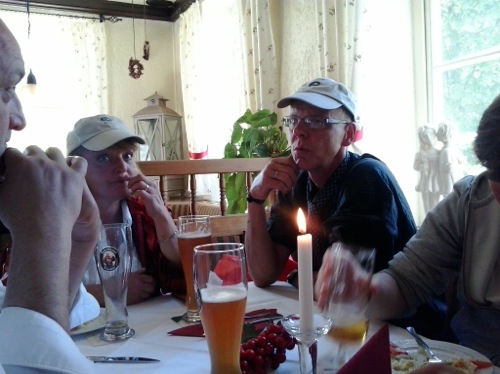 Bruid en bruidegom met hun Blue Bird-caps. Mogen de caps hen ertoe brengen de Bird snel tot camper te gaan ombouwen.
Bride and groom with their Blue Bird caps. We hope the caps will inspire them to start converting their Bird soon.
Braut und Bräutigam mit ihren Blue Birdcaps. Vielleicht werden die Caps sie dazu führen schnell mit der Ausbau des Birds anzufangen.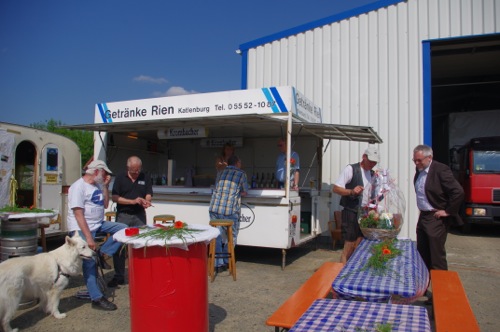 Wat is een Duits feest zonder biertap?
Beer on draught. One of the highlights of the party.
Bier vom Faß!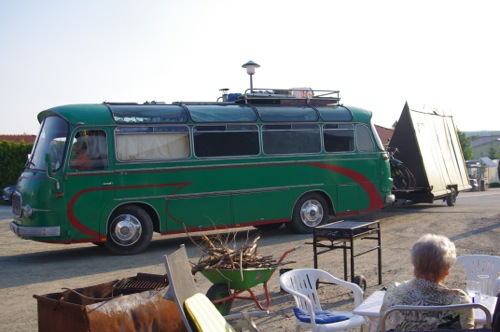 Uwe komt met zijn Setra, de derde bus, met daarachter de aanhanger die het vuurorgel (zie hieronder) herbergt.
Uwe's Setra, the third bus. Behind it is the trailer which houses the fire organ (see below).
Uwe kommt mit seiner Setra, der dritte Bus. Im Anhänger ist das Feuerorgel (siehe unten).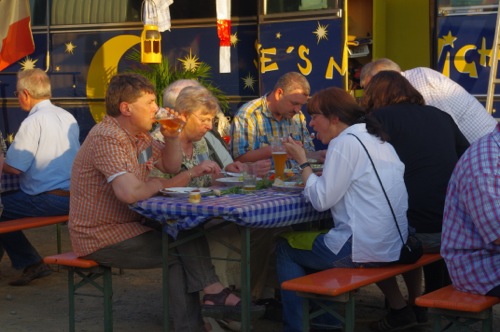 Vrijdagavond vindt er een grootse barbecue plaats.
On Friday night all gather around the BBQ.
Grillen am Freitagabend.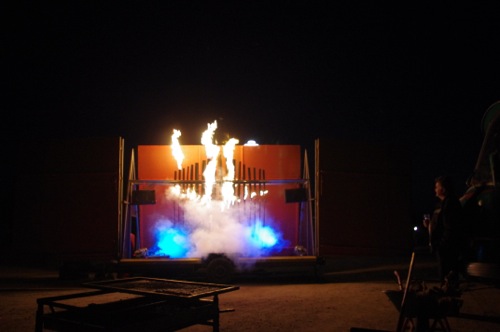 Als het volledig donker is, geeft Uwe een spectaculaire voorstelling met zijn Feuerorgel.
Once it is dark, Uwe gives a spectacular show with his Fire Organ.
Wenn es ganz dunkel ist, gibt Uwe einen spektakulären Auftritt mit seinem Feuerorgel.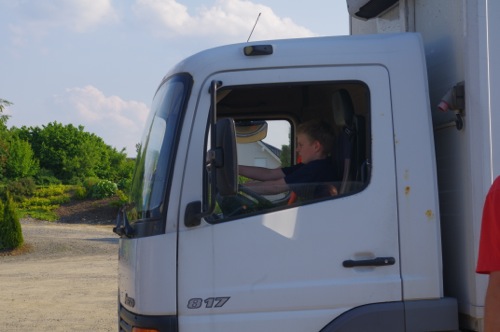 De volgende dag moeten er weer vrachtwagens gerangeerd worden. Deze chauffeur kan zittend niet bij de pedalen, maar ondanks dat parkeert hij deze en grotere trucks op een centimeter nauwkeurig!
The next day the trucks have to be shunted again. Although this driver cannot reach the pedals when he is sitting, he parks this truck (and larger ones) accurately to the inch!
Am nächsten Tag müssen die LKWs wieder nach ihren Plätzen. Dieser Fahrer kann sitzend nicht die Pedale erreichen, aber trotzdem parkt er dieser (und größere) Lastwagen genau auf die Zoll!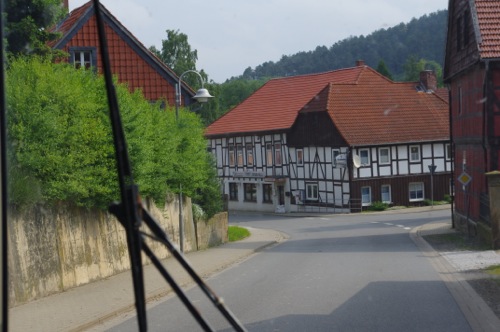 Zomaar een van de talloze vakwerkgevels, onderweg naar huis (Wallmoden).
Just one of the many half-timbered facades, on the way home (Wallmoden).
Einer der vielen Fachwerkhäuser, auf dem Heimweg (Wallmoden).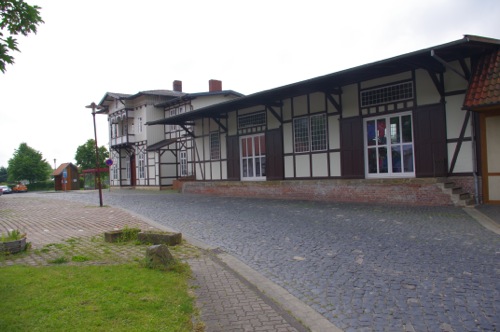 Stationnetje van Baddeckenstedt.
Railway station Baddeckenstedt.
Bahnhof von Baddeckenstedt.
Go to top of page