Blue Bird motorhome for sale
Blue Bird motorhome HAS BEEN SOLD

Vehicle built according to strict American safety standards for school buses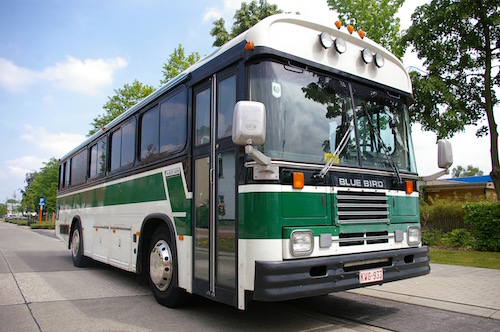 Year built 1998
Mileage 67 350 km (!)
GVW 13 760 kg derated to 9 600 kg (C license)
Length: 9.36 m
Cummins B235, 5.9 l with Bosch injection pump and injectors
160 A alternator; Cyrix battery isolator for household battery

In Germany registered with "Saisonkennzeichen" (April through October)
TÜV (MOT) through April 30, 2017
Gas approved through April 30, 2017
Seven good tires 22.5"
227 l fuel tank
Cruise control with three speed-memories
Rear view camera and monitor
Roof hatch (ventilation and emergency exit)

Thule / Omnistor awning (5 m) with electric control

Thule / Omnistor carrier for two bicycles
Converted by us into a motorhome in 2008-2010 and steadily improved ever since. 
Designed for self-sufficiency:
525 liters of drinking water in three tanks 
120 liter gray water 
40 l hot water, heated by the engine (while driving) or electrically (when standing for 3+ days) 
Truma S5000 with several outlet openings, including towel rack 
460 Ah semi-traction household batteries

NASA battery monitor

350 Wp solar panels with MPPT controller



Victron MultiPlus 12/1200/50 with remote control, so permanent 230 V / 50 Hz.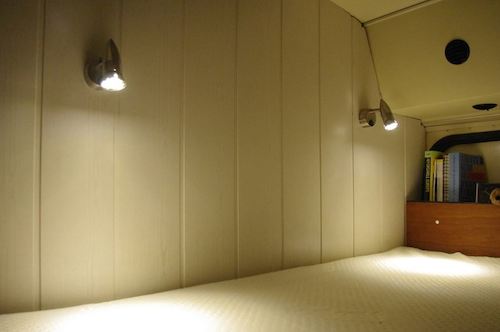 Bed with slatted frame and mattress 140 x 200 


Separate toilet room with Thetford cassette toilet; spare cassette
Separate shower with thermostatic faucet
Basin with cabinet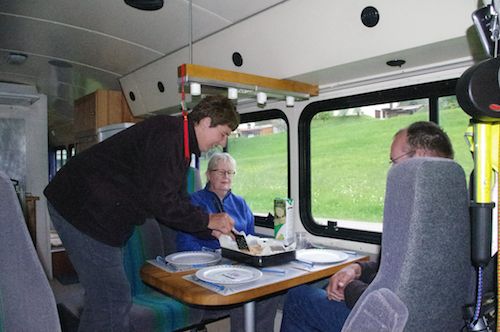 4-person dinette around fixed table *) 

Kitchen *) with milled in stainless steel sink, three burner cooker
and hood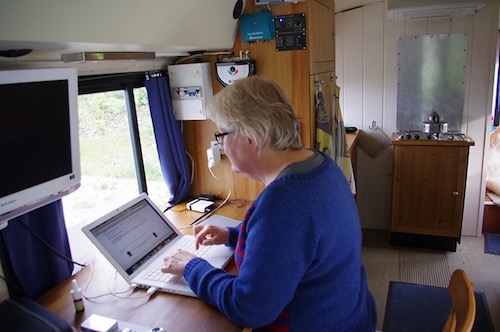 Writing desk *)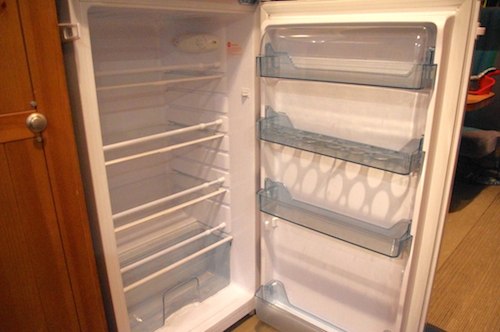 Double-door compressor refrigerator A++
Various cabinets *) 
Safe with combination lock 
Space for extra overhead cabinets 
*) made of solid wood
Alden Mondo 90 cm automatic satellite dish (Astra 1, 2, 3, Hotbird)
HD satellite receiver (CI+ and HDMI), remote control
19" Salora HD TV with DVD player (HDMI), remote control
Radio (FM, DAB+, CD, MP3) above driver's seat
27 MHz transceiver with its own antenna
Radio (FM, CD, MP3), remote control, above bed
All lights equipped with LEDs
Recently installed new parts: 
40 l vapor gas tank with outside filling 


three-ring gas cooker with electric ignition 
40 l indirectly heated boiler (also with 230 V heating)
double-door fridge
The exterior deserves some TLC. The paint is dull, but because of the galvanized sheet metal there is hardly any rust.
Optional:
large amount of Blue Bird spare parts
At additional charge:
Aerogen 12 V wind generator 
Marlec shunt regulator
Contact: skoolie@sittig.us
Go to top of page