Germany
Nu we in Duitsland wonen, moet Skoolie (weer) een Duits kenteken krijgen. Dat betekent een paar aanpassingen, met name aan de gasinstallatie.

Now that we live in Germany, Skoolie should be prepared for the German approval procedure. As opposed to Belgium or the Netherlands, the German authorities look at the propane installation as well. All parts should be not older than 10 years.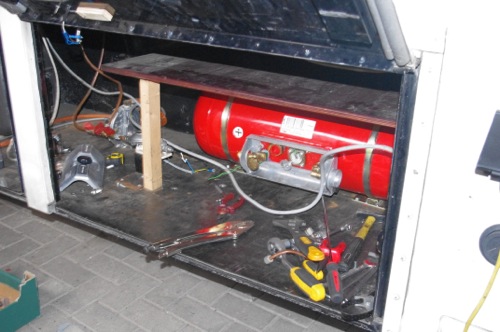 Een brandnieuwe dampgastank met bijpassende ophangbeugels.

Our LPG tank was still good as gold (due to its protected location), but 13 years old… Hence I replaced it with this bright red tank.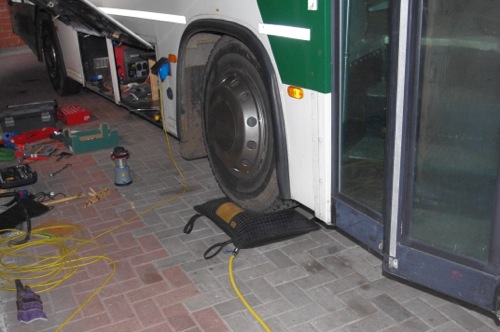 Het hefkussen bewijst goede diensten.

The air cushion (lifts 24.000 kg) which we bought last year, works!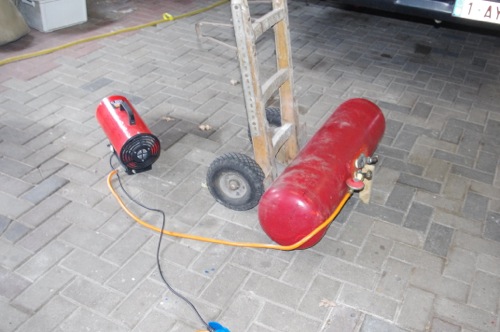 De oude LPG-tank zit nog meer dan half vol. Het gas komt goed van pas om ons heteluchtkanon te voeden.
The propane in the old tank turns out to be very useful as fuel for our air heater.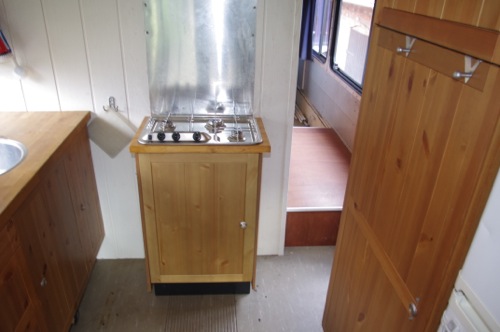 Voor de Gasprüfung moesten we een nieuwe kookplaat (met vlambewaking) monteren. Doordat we bij de inbouw standaard kastelementen hebben gebruikt, waren we een bijpassend deurtje snel klaar.

A new cooker was necessary to pass the German approval test. Ikea sold us a matching door. We lost the grill and oven, but gained some more cabinet space.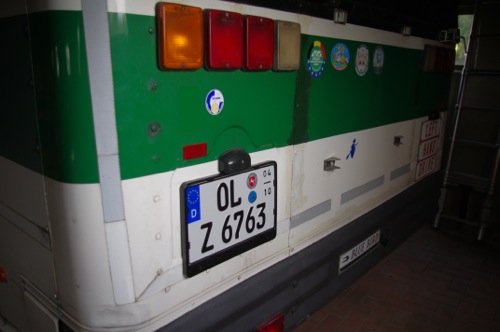 Alle keuringen bij elkaar hebben geleid tot een mooi nieuw nummerbord! De ronde sticker erboven is de Gasprüfung (2 jaar).

And this is Skoolie's brand new number plate. We can go on holiday!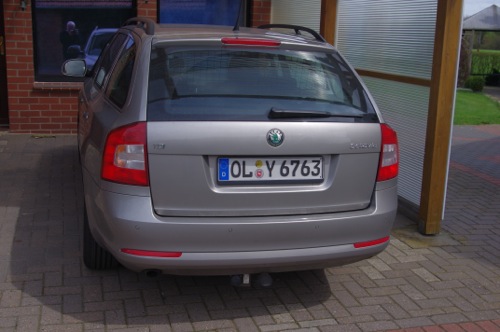 Vergelijk het nummer van Skoolie eens met het nummer van de Škoda ;-)

Skoolie's number is a bit like the Škoda's. No coincidence...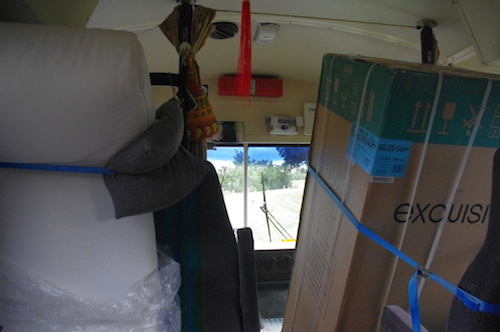 Op de terugweg uit Sleeswijk-Holstein hebben we een nieuwe koelkast gescoord. Gewone huishoudkast, op 230 V AC, maar wel een A++. Hij paste maar nèt op de bijrijdersplaats in de bus.
Because our battery-operated fridge kept giving error messages, we decided to buy a new one. This time it is a normal 230 V AC, low energy consumption fridge. It just fits in our bus on the way home.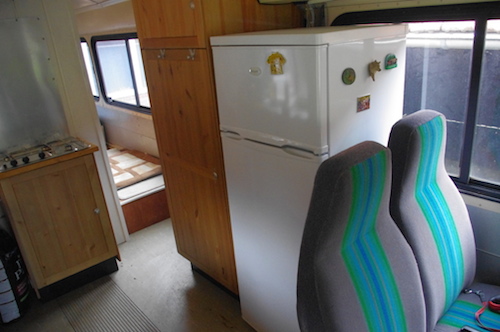 Montage was een kwestie van een kwartiertje.
Fitting it in the old fridge's place was as simple as ABC.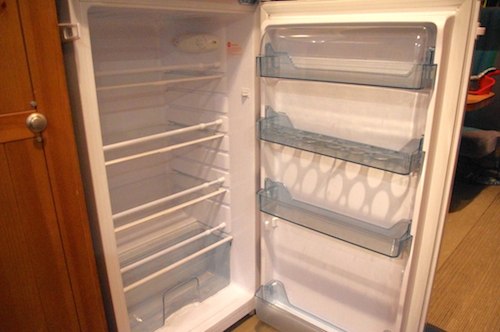 Via eBay nog twee kinderveilige sluitingen en vier stangetjes om de potjes binnen te houden gekocht. Nu is het een echte camper-koelkast.
All the devicesthat make the difference between a household fridge and one for a motorhome or yacht can be bought on eBay.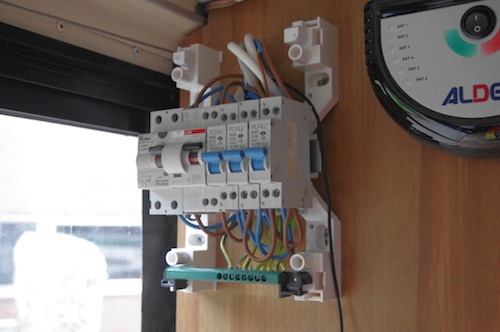 Omdat de koelkast permanent 230 V AC nodig heeft, heb ik de groepenkast uitgebreid met een extra groep. En meteen alle draden van adereindhulsjes voorzien.
I had to expand the distribution board to create a permanent 230 V AC supply for the fridge.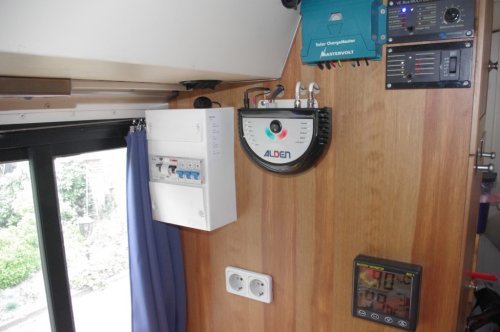 En hier zit alles weer netjes dicht. De dubbele wandcontactdoor is nieuw.
After putting back the cover it looks neat again. The double 230 V power point is also new.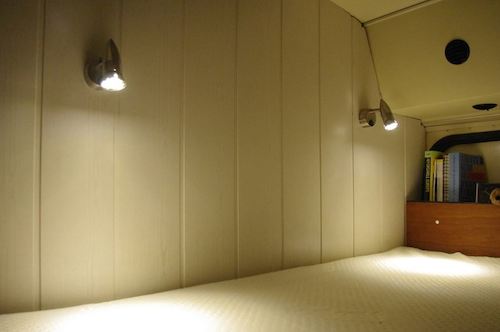 Uit China (eBay): twee nieuwe leeslampjes boven het bed.
Because one of our reading lights was cracked, we ordered two new ones, from China. Together - including LEDs - cheaper than one - without bulb - at Ikea's.
Go to top of page