Changes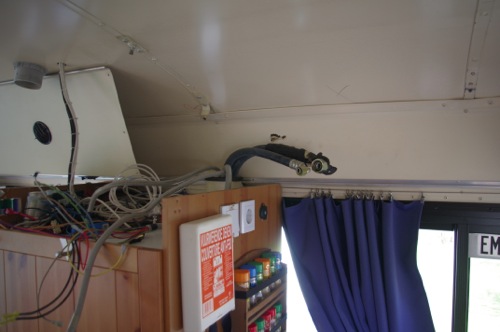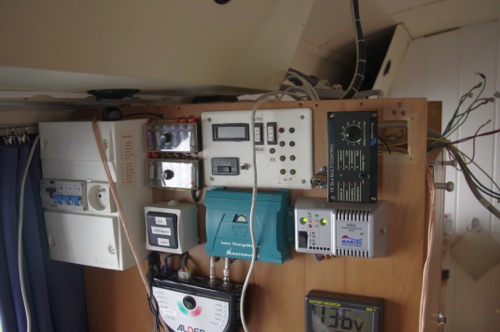 Vandaag begonnen aan een klus waar ik al een poosje tegenaan zat te hikken: het uitbouwen van twee airco's. Als eerste de verdamper aan de rechterkant aangepakt. Nu kan ik aan de aanrecht staan zonder rare kronkel in m'n nek. Er blijft in dit stadium een groot gat over. En veel losse draden. Zodra de kast doorgetrokken is naar boven, zullen we alles weer fatsoeneren. De ducts ga ik ombouwen tot bovenkastjes. En een toekomstige airco zal ook moeten werken in stilstand. Vermoedelijk gaat die gebruik maken van de luchtkanalen van de Truma kachel.
Today we removed the airco evaporator on the right hand side. After installing a higher cabinet all wires will be tidied again. A future new airco will have to work when parked as well.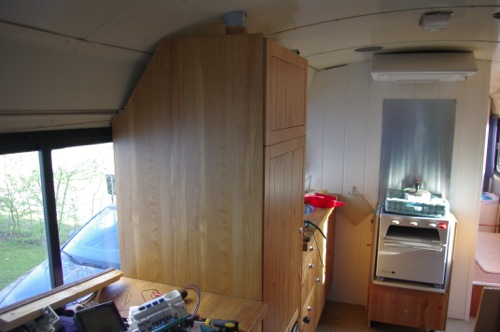 Vandaag met een boel passen en meten een nieuw, hoger zijpaneel tegen de hangkast gezet. Een deel van de elektrische installatie, die je een plaatje hoger ziet, gaat een plaatsje krijgen in het nieuwe bovenkastje op de plaats waar voorheen de verdamper van de rechter-airco zat. Omdat de kleur Fagerland in België en Nederland uit het assortiment is, moesten we naar Duisburg rijden om materiaal te halen.

Here we have just fitted a new cover panel to the left side of our wardrobe cabinet. Some of the electric equipment will move to the inside of the new top cabinet. In this way we re-use part of the space where the airco unit has been. To buy the matching wood panels we had to drive to Germany, because this type disappeared from Ikea's Benelux portfolio.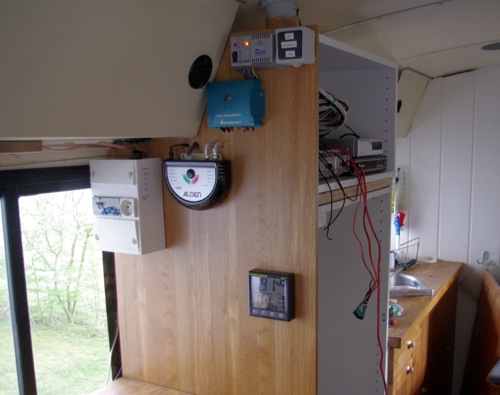 Airco kanaal ingekort en teruggeplaatst. De meest vitale elektrische delen weer vastgezet en aangesloten. De wand wordt een stuk rustiger dan eerst. Alleen de afstandsbediening van de MultiPlus komt hier nog bij.

At last, the electric system is getting back in shape. One more switch box to go, then the front side of the cabinet is done.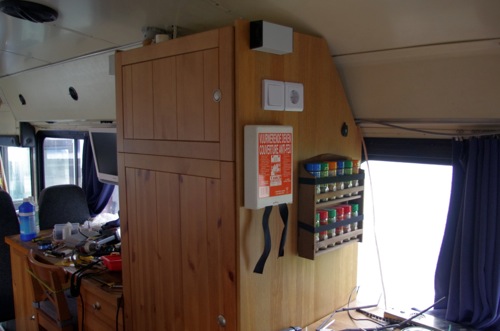 Draden aangesloten, deurtje van slotje voorzien, beide deuren afgehangen, kruidenrekje en blusdeken teruggehangen. Begint al ergens op te lijken.

And this is what it is looking like with the new top cabinet.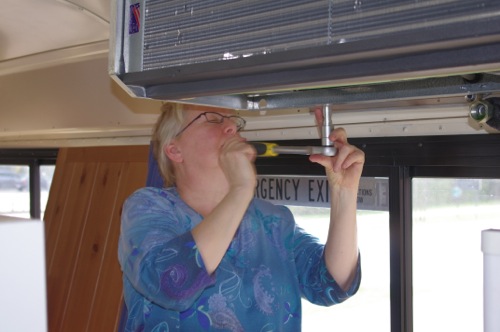 Aan de andere kant moet ook een verdamper verwijderd worden. Omdat de dokter z'n pols verstuikt heeft, doet de operatiezuster het eigenlijke werk.

Because I sprained my right wrist yesterday, the work is rather painful. I am lucky that Sylvia is also a (somewhat) technical person.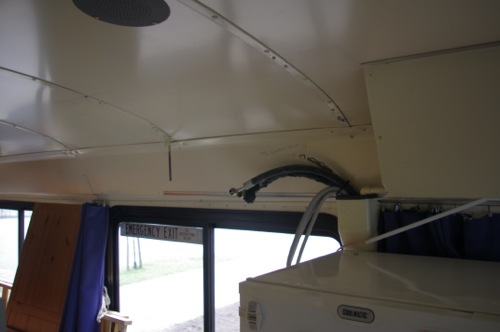 Ook de linker verdamper kan naar het containerpark.

And that is two!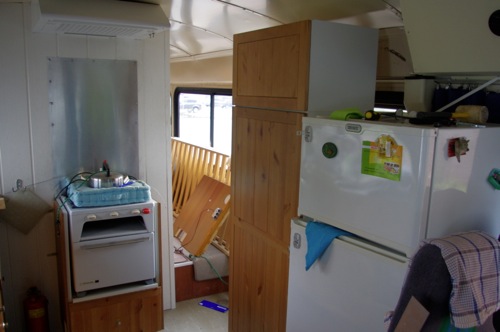 Nieuw bovenkastje. Bedekkingspanelen komen morgen.

The cabinet put back where the evaporator has been. Cover panels are for tomorrow.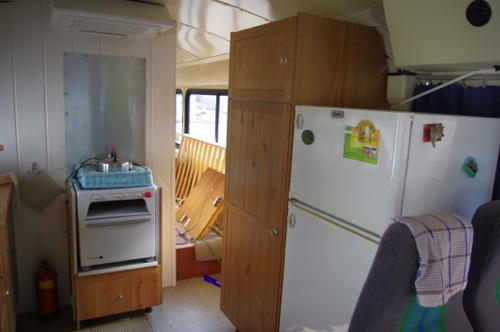 Kast gereed. Nu nog het stukje ontbrekende luchtkanaal aanhelen.

Cabinet with cover panels. For the missing piece of air duct we have some duct stored in our shed.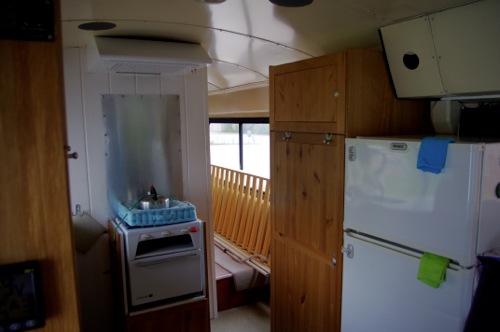 Verbouwing gereed: de airco-verdampers hebben plaats gemaakt voor kastruimte. Hier de hoge kast aan de linkerzijde.

The two airco evaporators have been removed. The left side cabinet has grown taller.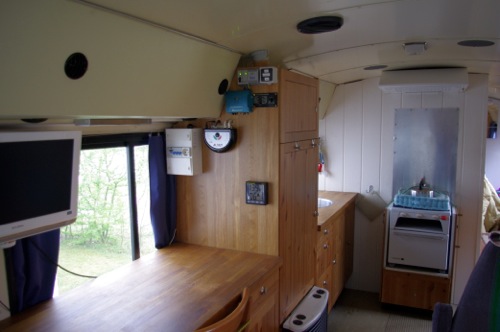 En dit is de voorkant van de rechter(hang)kast. Het bovenste kastje herbergt een belangrijk deel van de elektrische infrastructuur.

Front view of the starboard cabinet. The top compartment is for electric wiring and connections.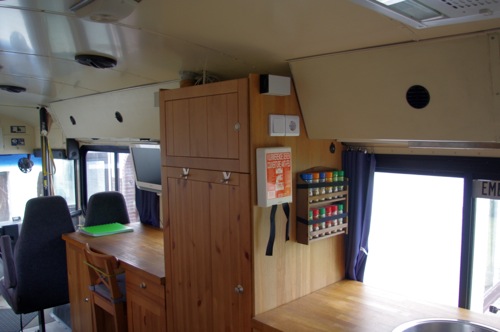 De achterkant van de rechterkast.

Starboard cabinet seen from the kitchen.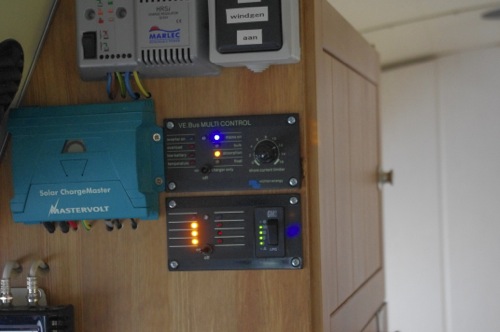 Een defect Victron afstandbedieningspaneel laat zich met weinig inspanning ombouwen tot een niveau-indicator voor schoon en grijs water en gas. Ook het alarmlichtje van de koelkast past er precies in.
I easily converted an old Victron remote control panel into an indication panel for fresh water, grey water, LPG and fridge faults.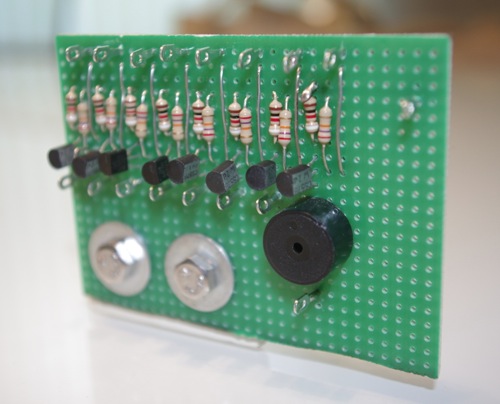 Een nieuw printplaatje gemaakt voor de niveau-indicatie. Acht schakeltorren (4 voor vers water; 4 voor grijs water) en een zoemertje (watertank vol).

Today I made a new circuit board for the level indicator LEDs. The buzzer indicates when the fresh water tank is full.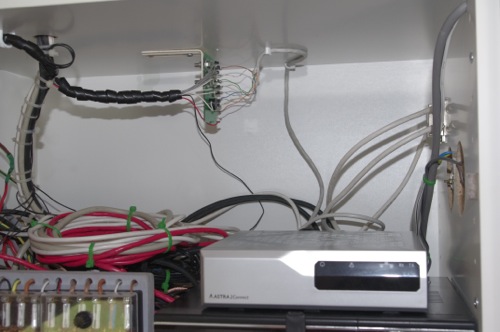 En zo zit het printje boven in de kast. het uitzoeken van de draden van de acht sensoren was een hele klus, vooral vanwege mijn onvoldoende KOV.

The board in place and connected. Colour blindness makes it difficult to handle multicore cables :-(

Go to top of page